App design has always been the evergreen topic for UX/UI designers. With constantly changing design trends, increasing demand for good user experience, and new technologies, the world of app design is rife with competition and opportunity more than ever.
In our quest to provide UX/UI designers with tools they need, we have shared resources such as 10 Best APP UI Design in 2017 and 15 Best App Designs for Your Inspiration in 2018 in the past.
Based on your feedback, we're happy to hear that you really love what we've been serving up in our blog. And, we do listen - your wish is our command. To provide you with more app design inspiration, we at Mockplus will do a monthly roundup of the best mobile app designs.
Here is the first of this series. Enjoy the 21 best mobile app designs of May 2019.
Designer: Alice Kau
Are you looking for inspiration to create an eye-catching cinema app? This example is exactly what you want. It features high-quality photos, the hottest movie and clear design layouts. The black and white color scheme also makes it striking and easy to read.
Cannot help wanting to click the button to buy a ticket of The Lion King movie even it is not a real app?
It is definitely an ideal example for you to design an appealing and practical cinema mobile app.
Designer: Wahab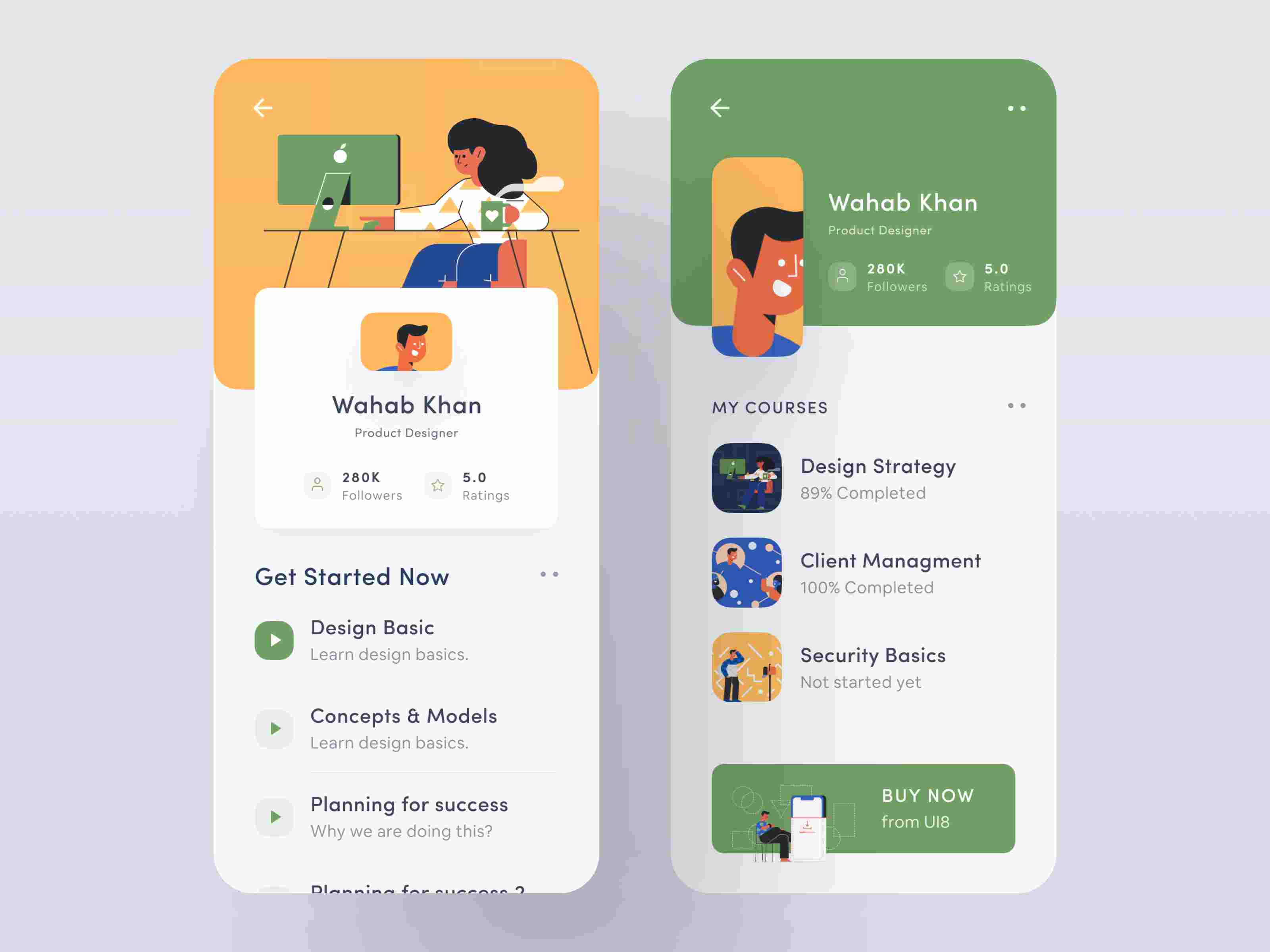 Want to explore some ideas for student profiles? This shot will definitely bring you amazing app UI design inspiration. It features cool illustrations that are super fun and really easy to modify.
All the elements are 100% vector and fully customizable. Simply by changing and overlapping them, you can quickly illustrate the concept of your startup. You can get more ideas from the Design Course App UI, which follows the same styles. In addition, it's compatible with Photoshop, Ai, Sketch and Figma.
Designer: Angel Villanueva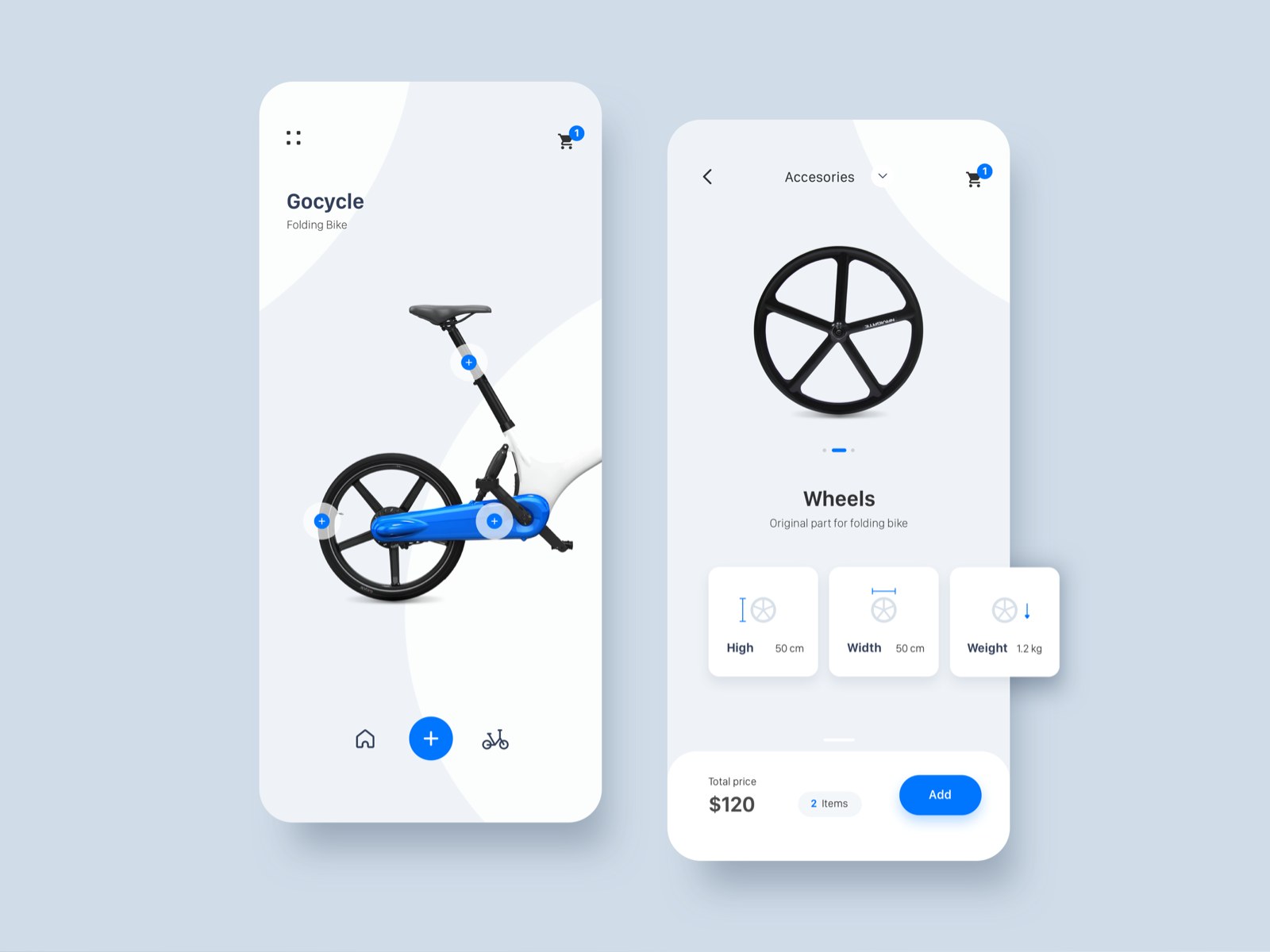 This is a minimalist app concept for a bike shop and bike parts. The whole interface is super clean so you can see every detail of each item. It provides the best way to showcase every part of the bike by providing detailed information, including images. Take wheels for example. You can check their diameter, weight, and price. You can also easily add any part you want to the chart and buy it online.
Designer: Angel Villanueva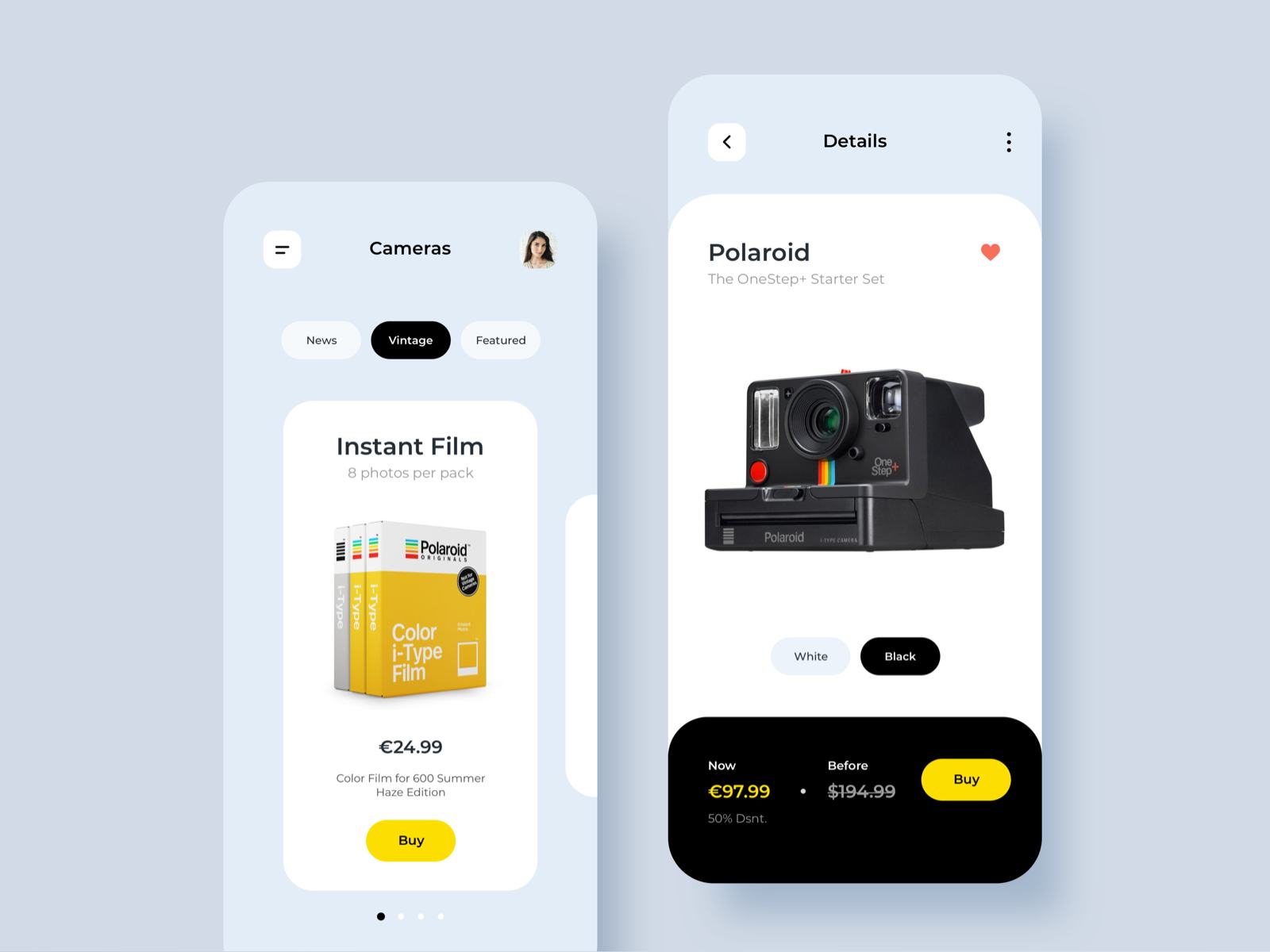 This is a clean, intuitive design that provides good user experience. The designer has included different versions of purchase interactions for cameras and accessories. The soft, clean background presents items to catch the customers' attention. You can swipe to scan the items till you find something you are interested in. All the elements, the arrows, the buttons, and the CTAs are all rounded, providing the user with a comfortable experience.
Designer: Angel Villanueva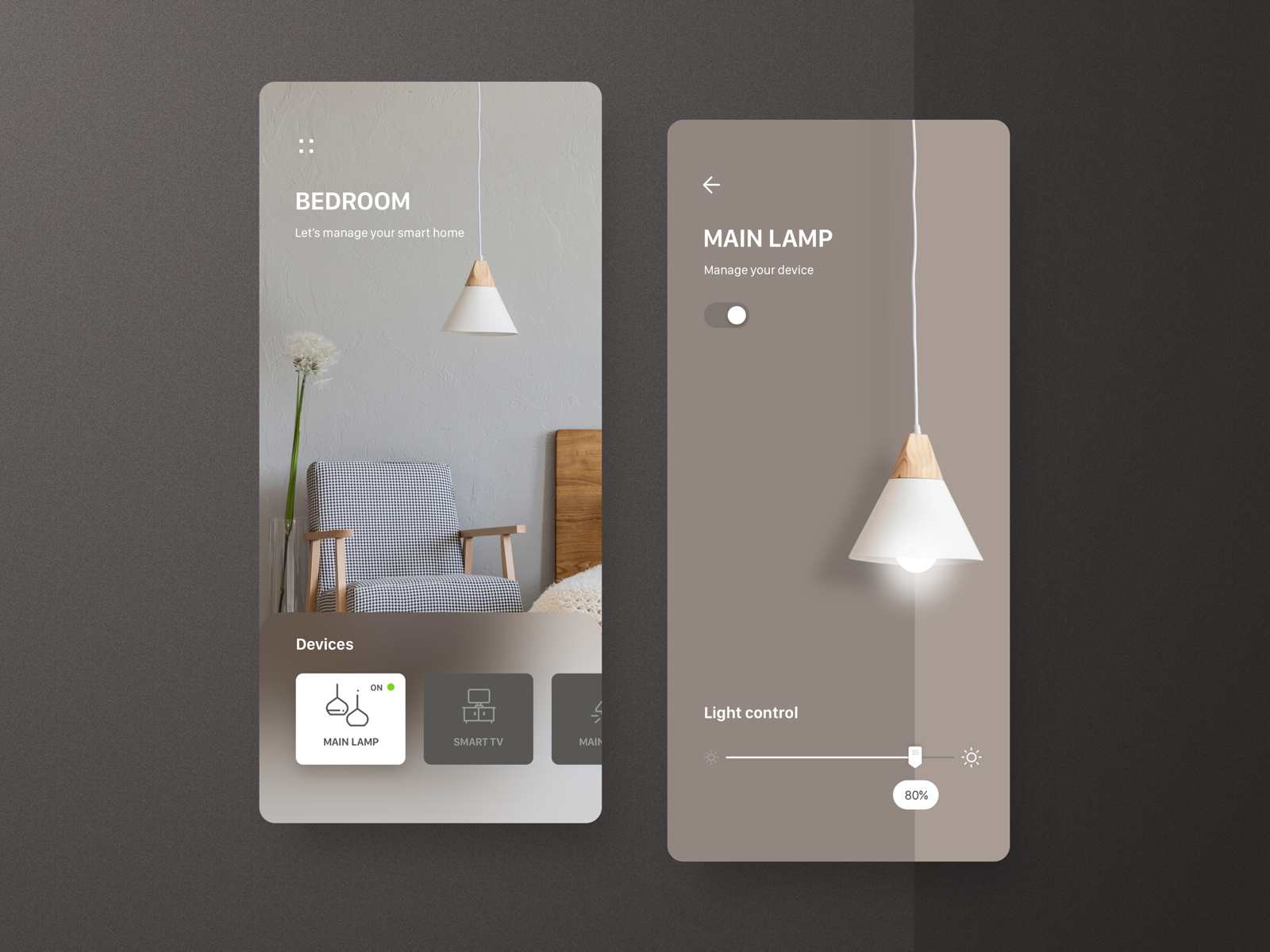 This is a new app design for technology lovers. If you like to have control of your home devices, this app may very well be your best choice. It features nice big pictures to represent your smart home and provides controls to manage your devices. Remote control of the main lamp is visualized by simply moving the slider. The interactions are simple and intuitive, influencing users' emotions and actions.
Designer: Nicholas Ødegaard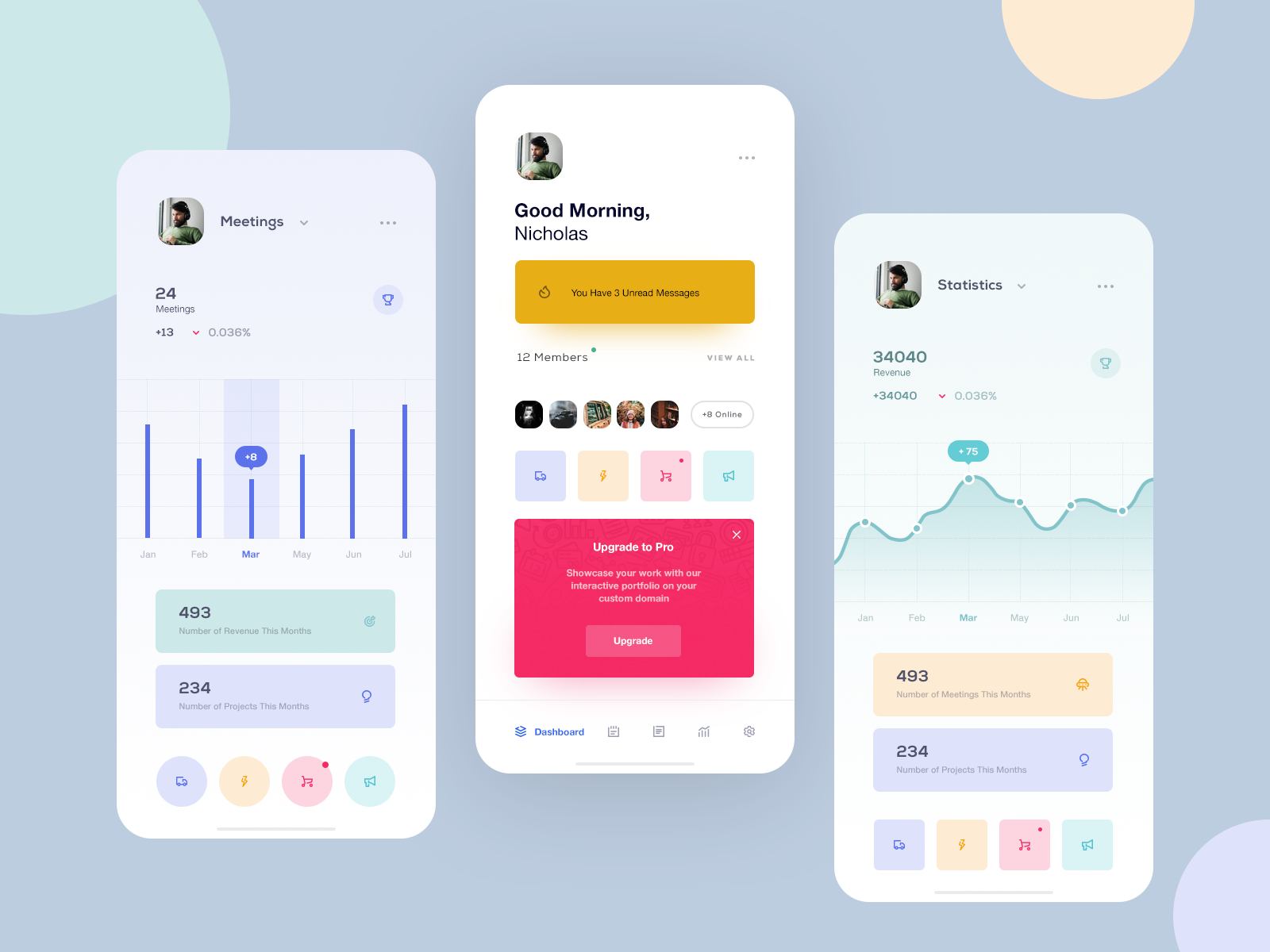 This is a mobile app dashboard design. It features handcrafted components, 100% vector shapes, powerful frameworks and layers, and mobile-first designs. All these elements make the app both visually appealing and functionally effective. Excellent data visualization design highlights essential information. If you want to learn more about dashboard design, check out Dashboard UI Kits and Templates in 2019.
Designer: Oleg Symonik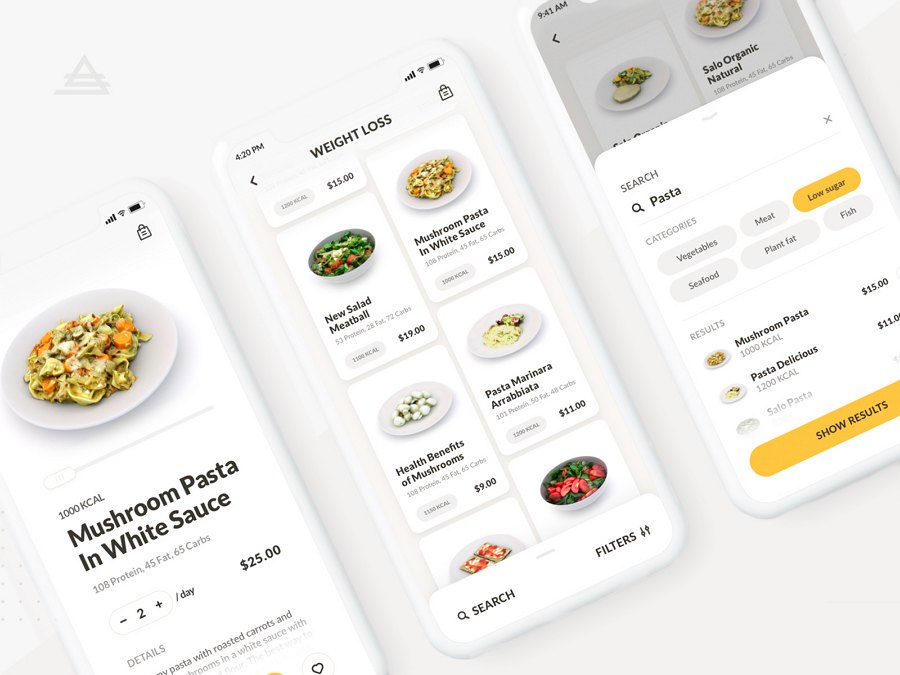 Food delivery is part and parcel of modern life. This mobile app design perfectly fulfills this function. The basic principle followed by the service is the preparation of a comprehensive and affordable meal. As you slide your finger, you can view all the meals and find the one that will satisfy your craving.
Designer: Angel Villanueva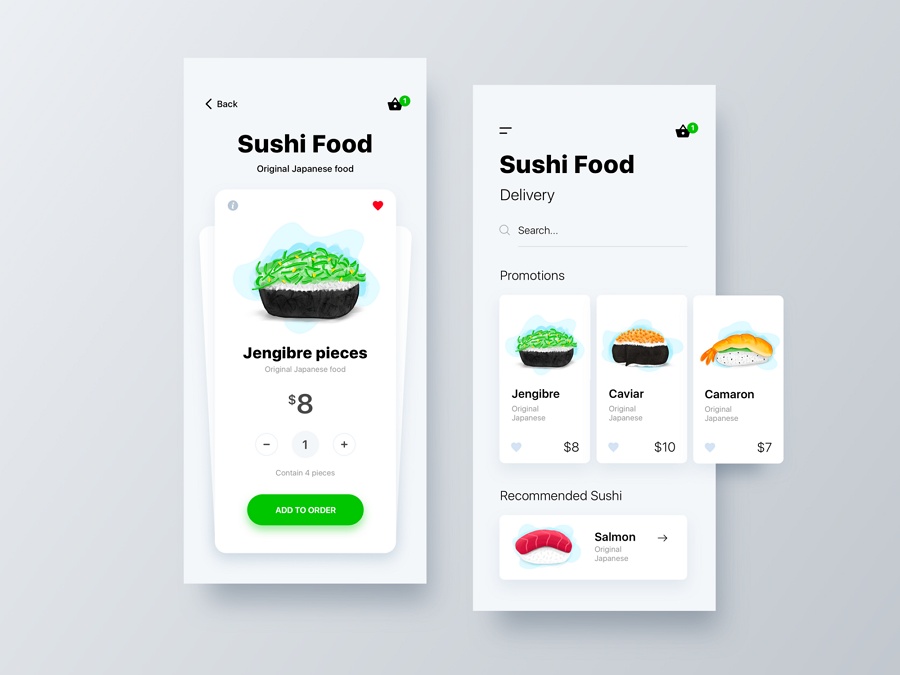 Have a yearning for authentic Japanese food? This application for online sushi orders is what you need. It features a clean, simple style and the designer uses beautiful illustrations to replace the real photos.
This is a wise use of visuals as customers are used to seeing real - often enhanced - photos of food, and with the use of unique illustrations, the app stands out from its competitors. You can swipe the cards to view the details of the meal. Furthermore, it is clear that the designer gave careful attention to how customers perceive the products.
Designer: Nicholas Ødegaard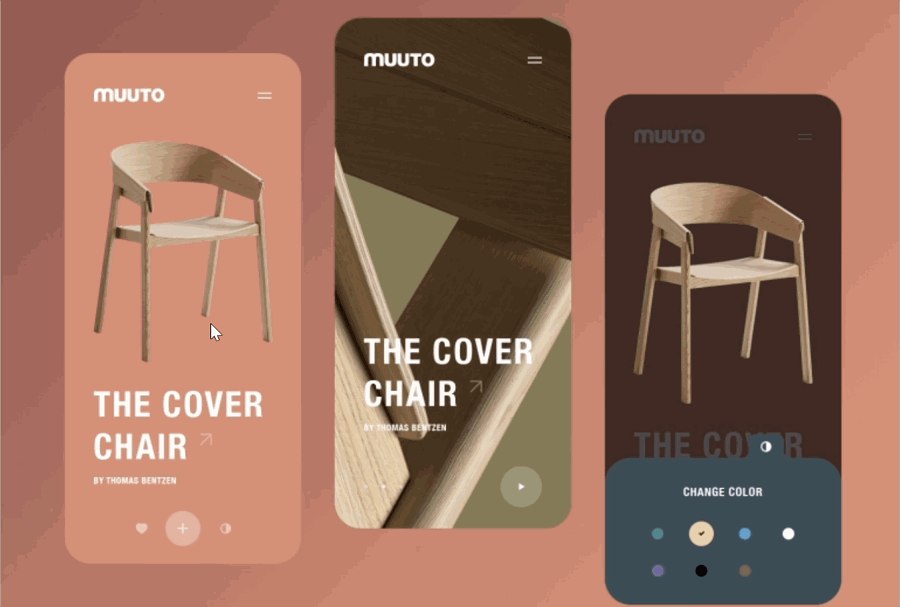 MUUTO Store is a mobile app for purchasing furniture online. In order to show the user every detail of the item, it uses an incredibly wide range of mobile interaction. Interactive animations have always been a hot trend and will not likely go away in future. It's the best way to mobilize user emotions and attract user attention.
Designer: Vitaly Silkin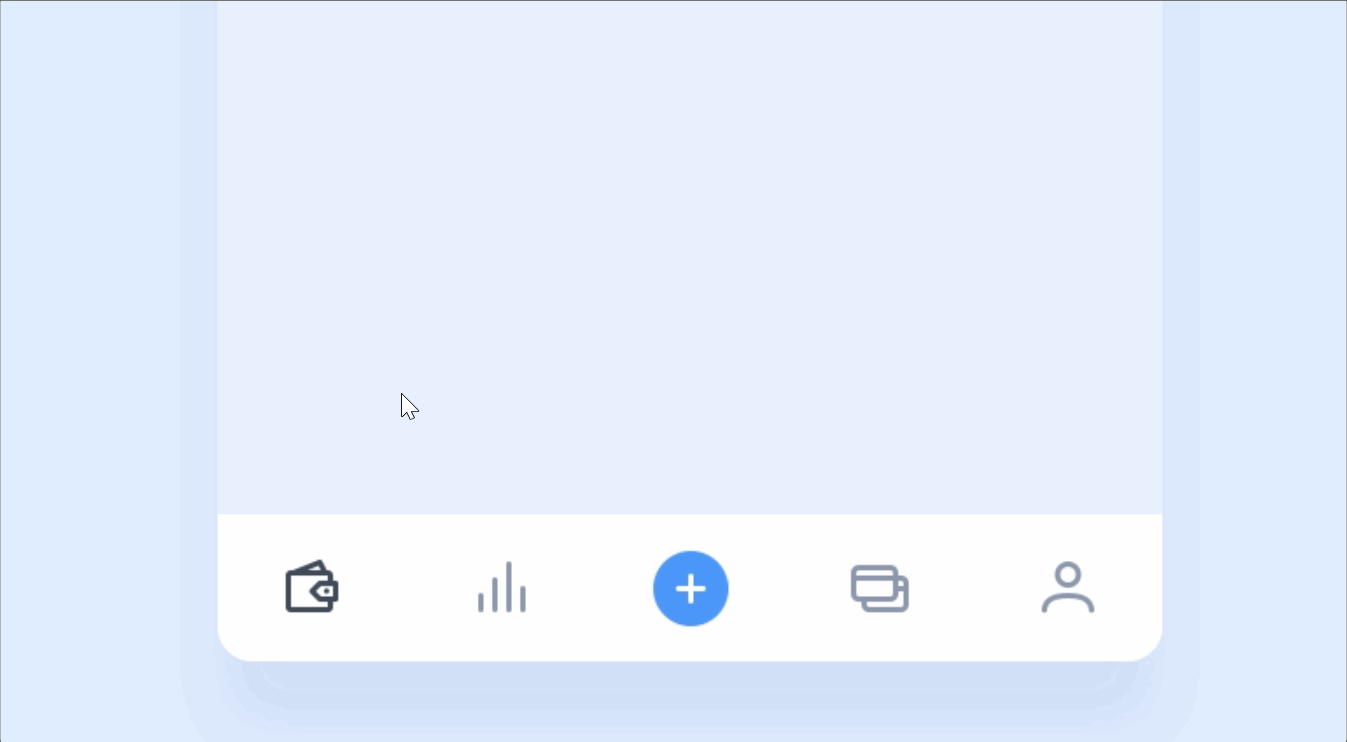 The expanded tab bar has perfectly executed micro animations on the centre icon to attract and inform users. When opening up action options from the tab bar CTA, it expands while the CTA is transformed into the close button.
This gives more context to the action options as they are connected to the tab bar via the CTA. This kind of interaction brings your designs to life. No matter what app you are working on, you can always add micro animations to create fun interactive features.
Designer: UI NOW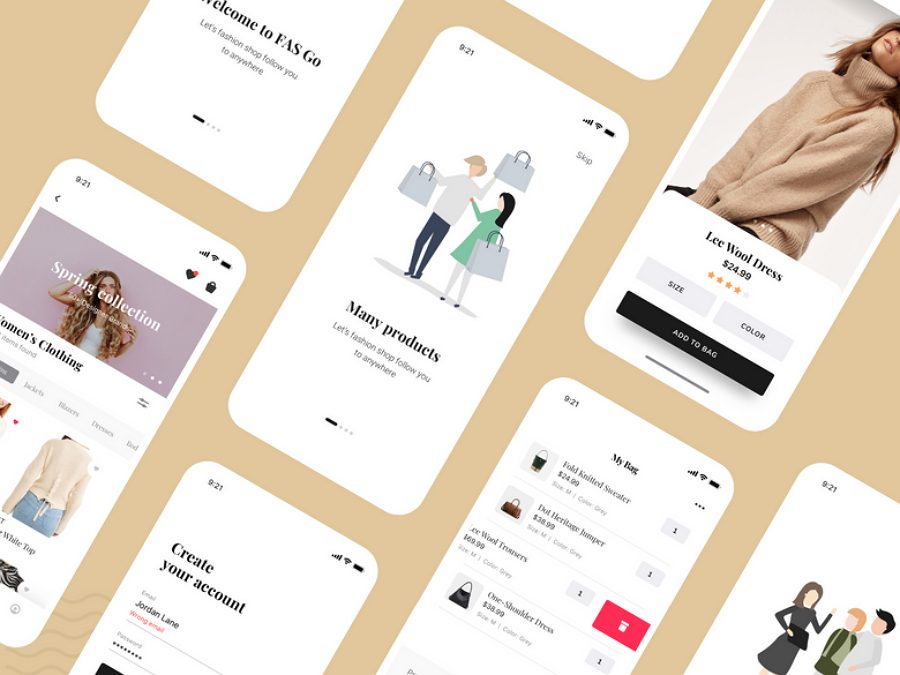 FASGO is a clean, colorful, stylish, and useful app UI kit for eCommerce and fashion stores. It has beautiful UI designs made from scratch, based on gorgeous reusable elements. Plus, it maintains modern design patterns. This fashion app comes with awesome features, including 38 iOS Screens, which are light, highly customizable, well-layered, organized, and compatible with Sketch.
Designer: Thai Hoang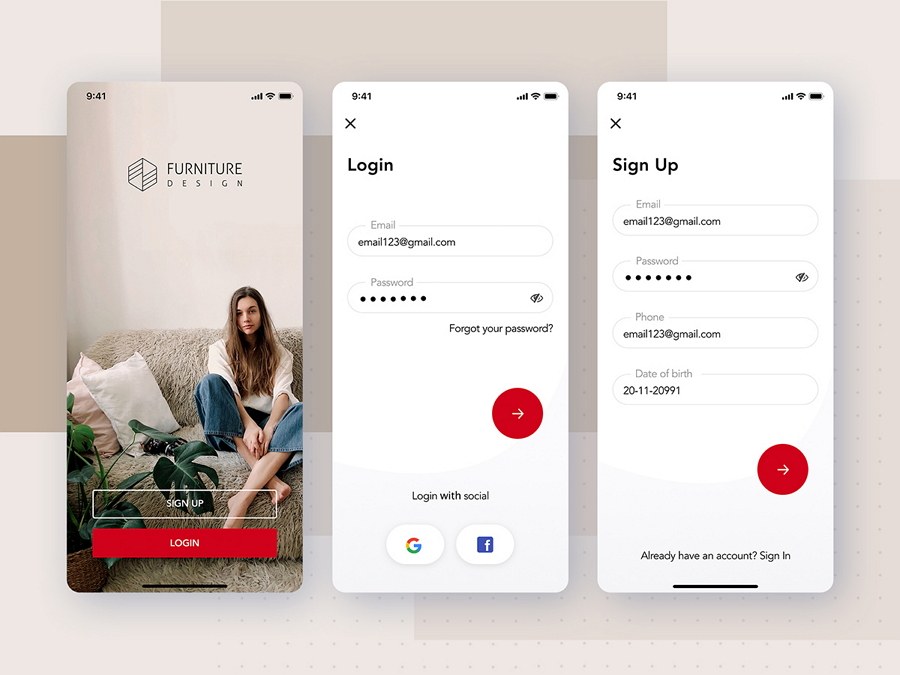 This is a high-quality furniture app template for your eCommerce projects. The carefully crafted eCommerce UI keeps in line with modern design trends and uses fresh colors. The picture on the welcome page is pretty attractive, which is perfect for the theme of the app and draws users' attention at first sight.
The red arrow button creates dynamic UX with great flexibility when signing in or signing up. It is 100% compatible with iOS & Android systems and can accelerate your design workflow. You can easily customize the screens for any project.
Designer: Mousecrafted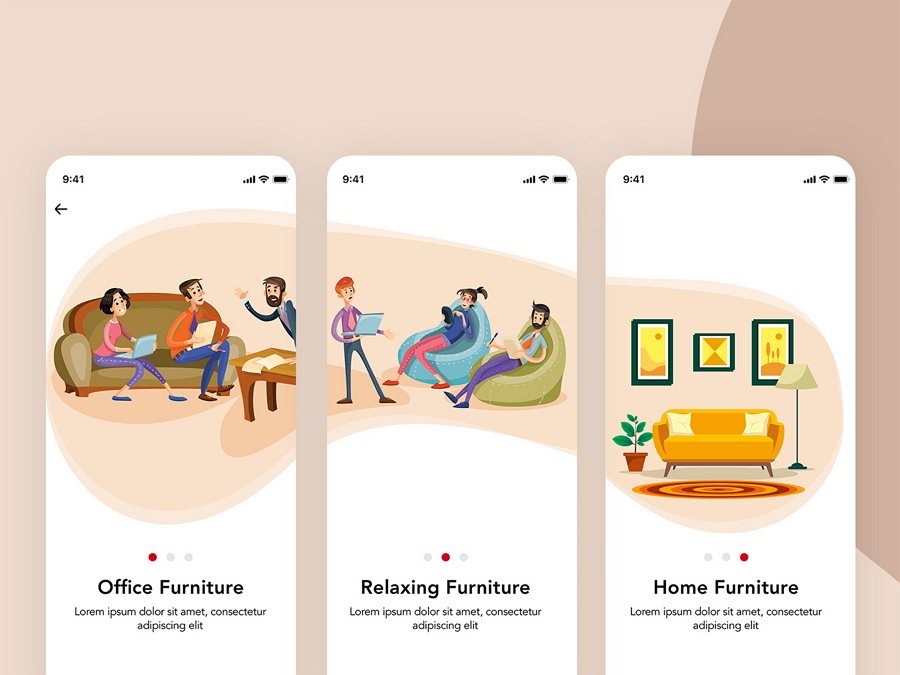 Furniture Design UI Kit is a high-quality pack of 26+ screens. Deviating from usual login and signup screens for furniture apps, it uses illustrations to depict items instead of real furniture photos.、 It has 3 main categories: Home furniture, Relaxing furniture, and Office furniture. It is 100% compatible with iOS & Android systems.
Designer: Isavelev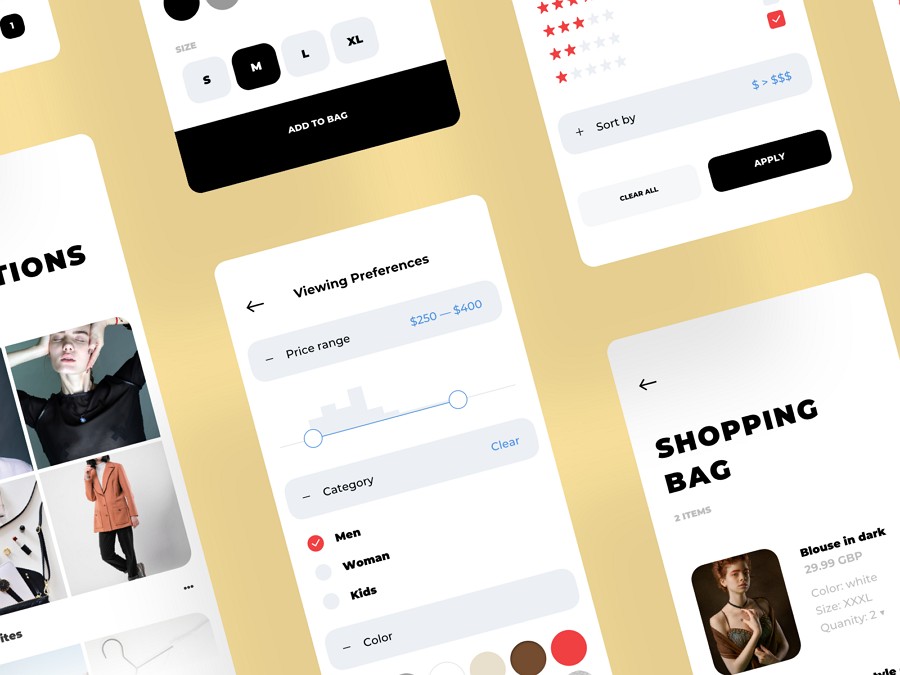 Are you working on an eCommerce project? This kit will inspire you. It features trending design, clean and minimal layouts for mobile, as well as organized layers and groups. You can simply create your shop design with a stylish UI kit for a fashion shop. It uses free Google font Montserrat. In addition, the pixel-perfect vector elements and grid make the interface pop.
All the components are fully customizable, and you can easily use them in Sketch. The screens inside are Home, Shop, Filter, Item, Image, Collections, Collection, Catalog, and Bag.
Designer: Tracey Wong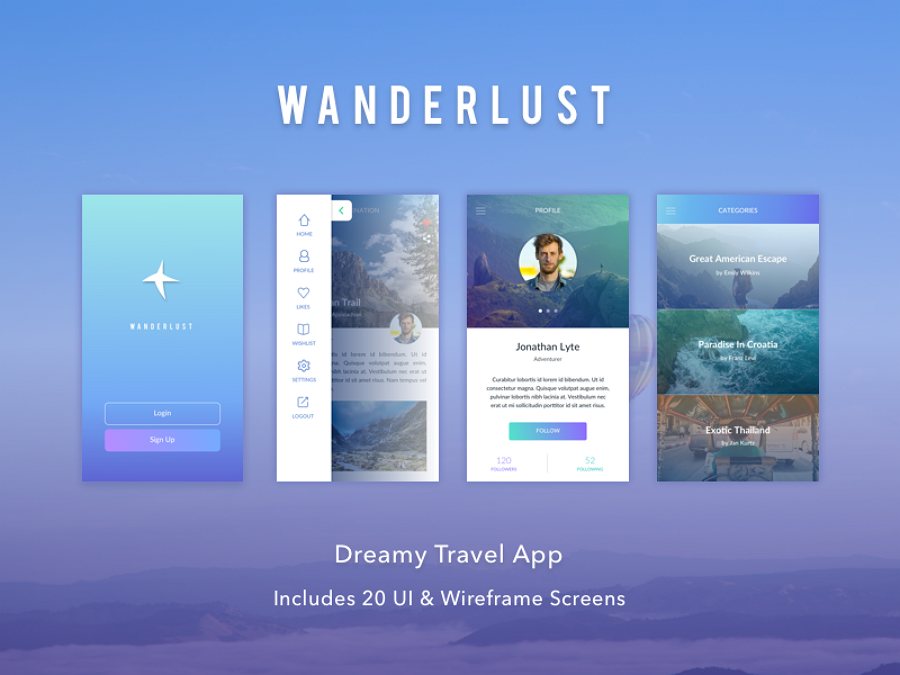 Wanderlust Travel UI Kit is an amazing app for travel lovers. Its carefully designed gradient colors convey emotions powerfully and make you feel dreamy - as is befitting a travel app.
The UI kit is packed with 20 screens including Splash, Home, Destinations, Profile, Wishlist, Likes, Settings, and many others. In addition, it includes 20 wireframe screens, over 20 UI elements, and 23 commercial-free images. All artboard screens are labelled and organized accordingly for editing ease.
Designer: Uiplace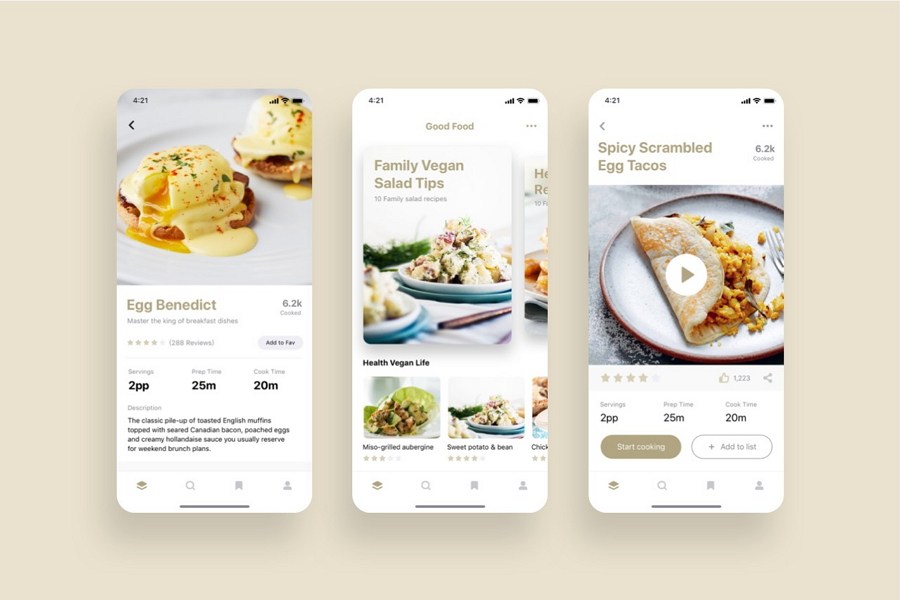 Good Food Recipes App UI Kit is a pack of delicate screen templates. It contains a set of UI elements that will help you to design clear interfaces faster and easier.
The file includes modern features such as Symbols or Components, Overrides, Resize Options, Text, and Layer Styles. It has 24 iPhone X screens, customizable fonts & colors, and 100% vector shapes.
Designer: Papay Wicaksono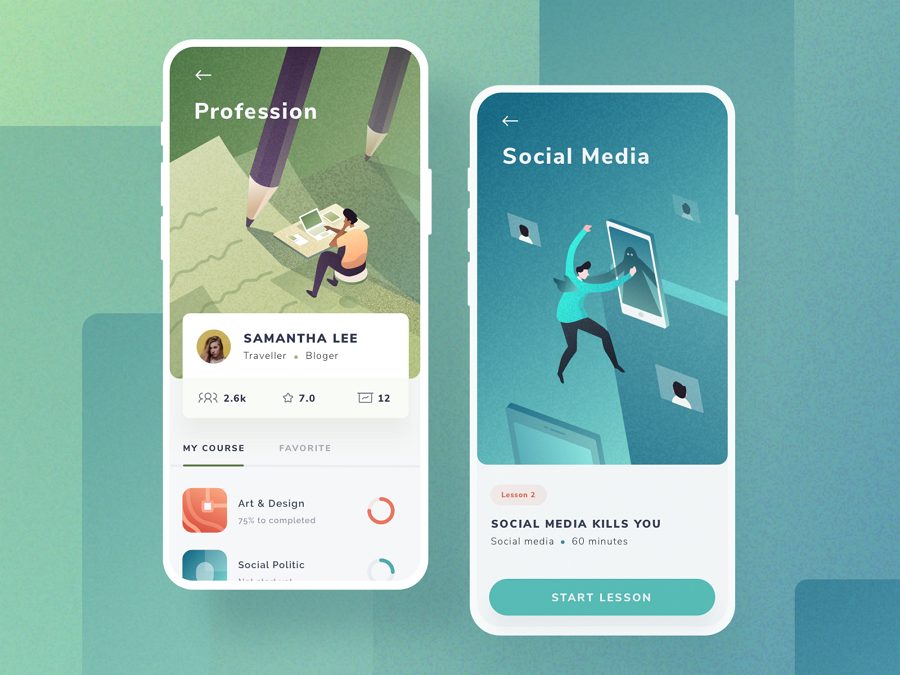 This is an efficient course mobile app design to help you find any courses you like quickly. The designer Papay made these illustrations in a different style from his typical illustrations. He uses a vintage look with the addition of texture.
Designer: Gtamarashvili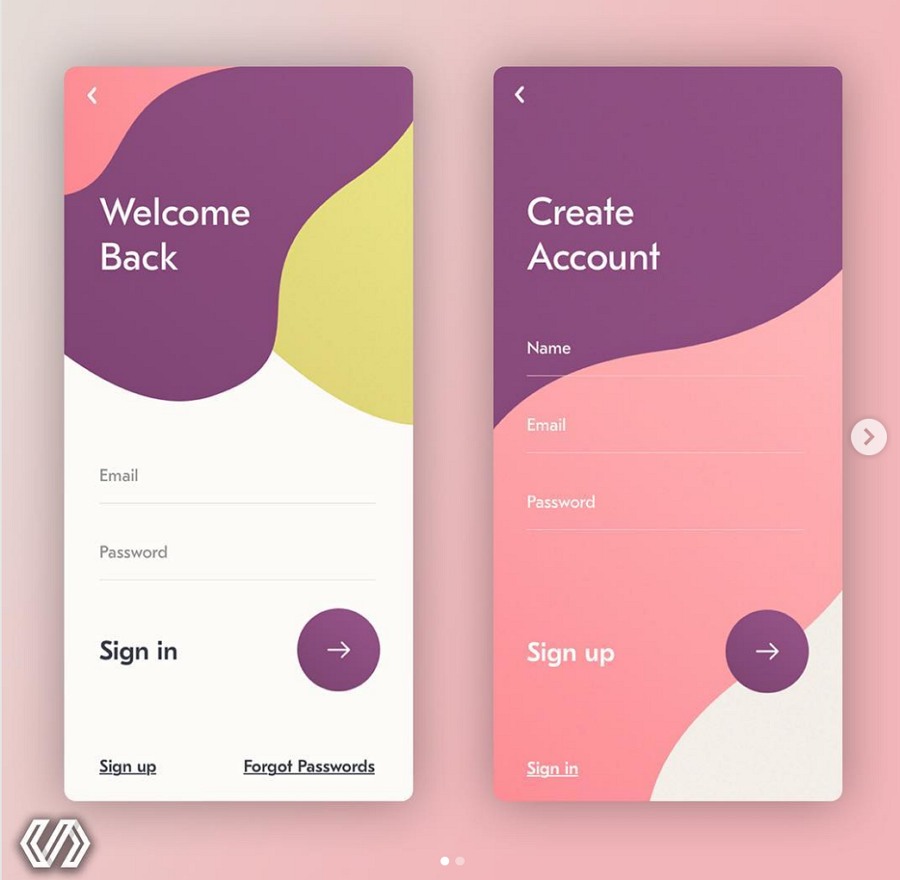 Gtamarashvili is a designer from a team of professional mobile app makers. This mobile UI design is one of their works. The interface looks super clean and simple, combined with elegant flat design. The use of color is impressive and can really affect users' emotions, encouraging them to sign up.
Designer: Nicola Baldo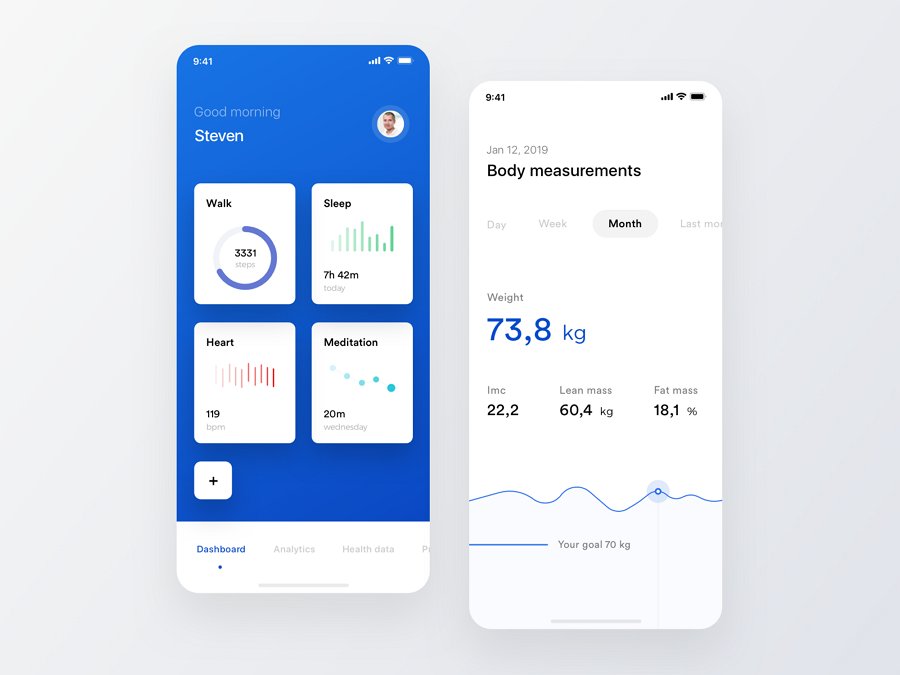 This is a new app that allows the user to have an innovative dashboard with important analysis of main activities, such as physical activity, BPM, sleep, meditation, and much more. It provides detailed medical documentation on the user's health condition so they can have direct contact with their doctor. It also allows for simple actions such as setting a reminder to take required medication.
You can get more screens on Health - Activity & Statistics, which allows the user to decide what activity he wants to do, check his progress through the map and statistics, and to continuously analyze his health and activities during the week, month, or a specific time period.
Designer: Maan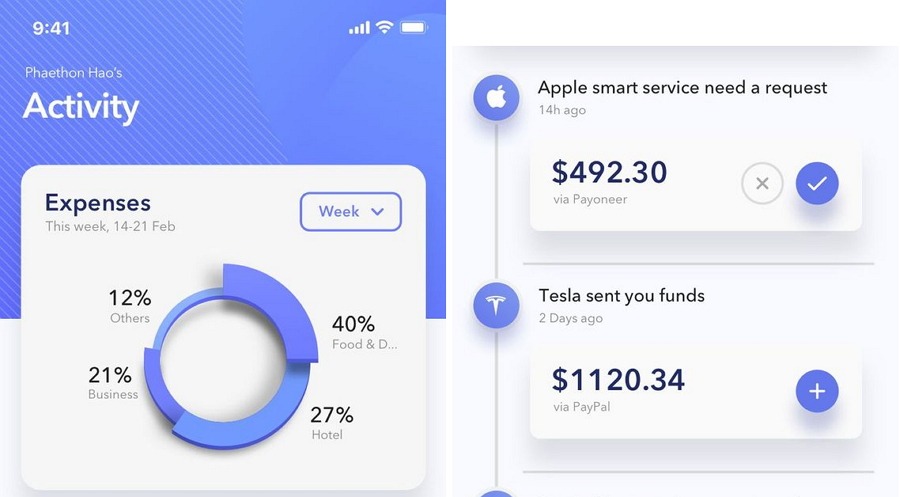 This app's white and blue color scheme is brilliant. With blue being a safe color in design, the combination results in a calm, clean interface. The use of color has always been a major consideration for UX/UI designers, so if you need more guidance, take a look at this resource: How To Use Color In UI Design Wisely to Create A Perfect UI Interface
Designer: Renat Muratshin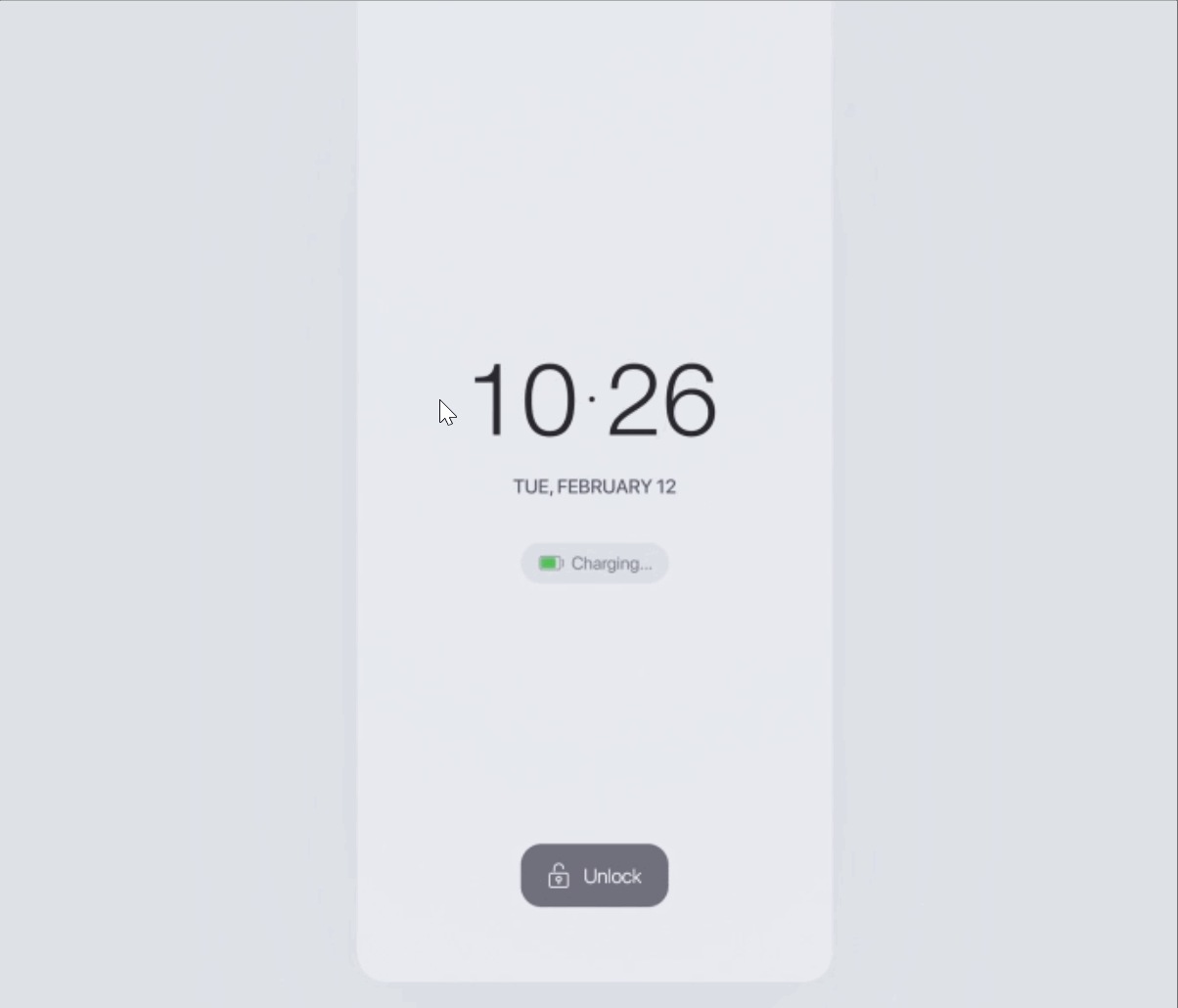 This is an unlock screen interface design. Users often look at their lock screen to check the time, but sometimes, it is very small and difficult to see. The icons on the bottom dock can also be hard to identify at a glance.
This unlocks screen design changes all that. You can check the time and date easily and the animation implementation is excellent. In addition, the location of the battery meter makes the whole interface more aesthetically pleasing.
The above are the 21 best mobile app designs of Month#5 in 2019 selected by Mockplus. We hope the above designs bring you inspiration for your next project.