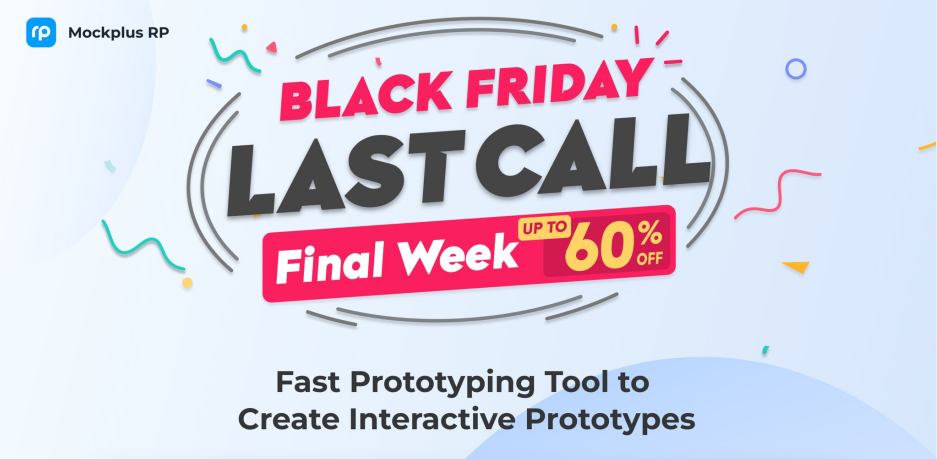 Hey, dear design folks! Mockplus Black Friday Sale is going to end on November 30th, 2023!! Only ONE WEEK left!!!
It's your last chance to get up to 60% OFF on all our products!!!
What are you still waiting for?
Sign up now and unlock a world of savings:
>>> Up to 60% OFF on Mockplus RP
>>> Up to 50% OFF on Mockplus Cloud
>>> Up to 55% OFF on Mockplus Classic
The more you buy, the more you save!
This sale ends on Nov 30. Time is running out!!!
Hurry! Grab this opportunity to get these great deals and save HUGE!
What amazing offers to expect this Black Friday?
To help designers and teams around the world soar their design and collaboration workflow at least two times faster, we are bringing the BEST deals of the year:
1. Up to 60% OFF on Mockplus RP
If you're on the hunt for an online prototyping tool that lets you create prototypes within minutes, test, and iterate – whether on your own or collaboratively, right in your browser – then Mockplus RP is your perfect match.
We are offering the best prices for both individuals and teams:
For individuals:
Annual plan - 50% OFF

Perpetual plan - 60% OFF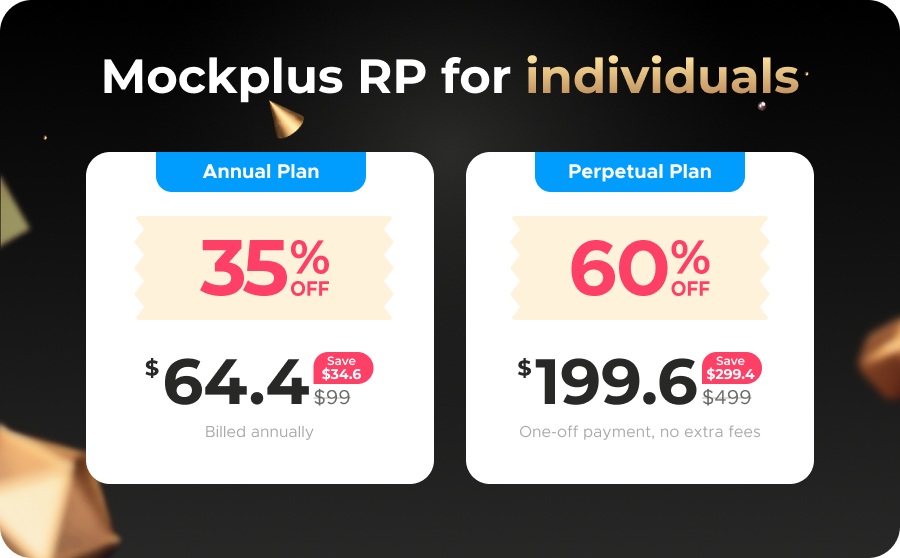 For teams:
Ultimate monthly plan - 30% OFF

Ultimate annual plan for 1-9 users - 50% OFF

Ultimate annual plan for 10+ users - 60% OFF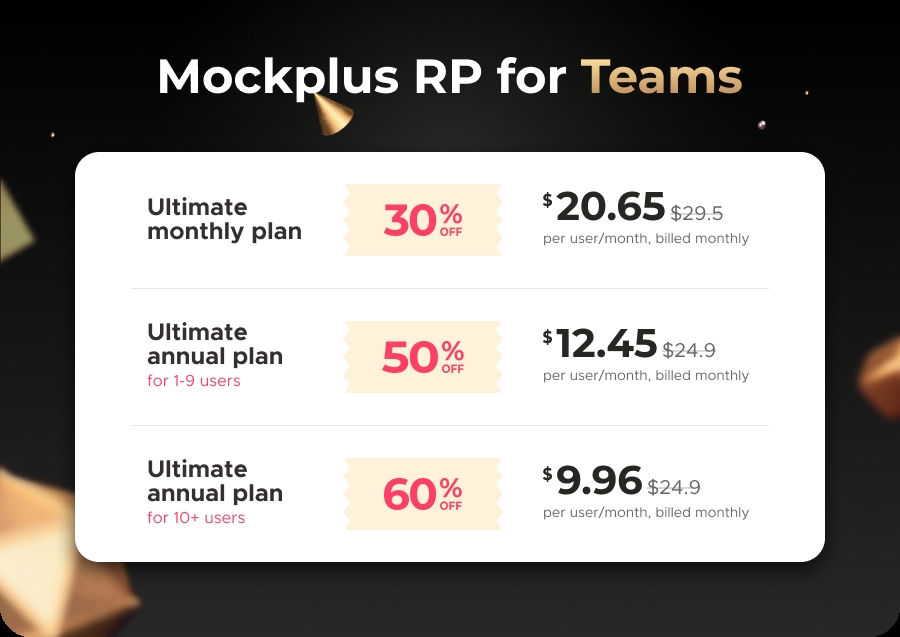 The more users you purchase, the greater discount you will get!
2.Up to 50% OFF on Mockplus Cloud
If you're looking for a design collaboration and handoff tool where designers, product managers and developers can easily communicate and collaborate in one central place, with auto-generated specs, assets and CSS code snippets, go try Mockplus Cloud.
You will get a 50% OFF offer on its Annual plan – as low as $2.48 per user per month: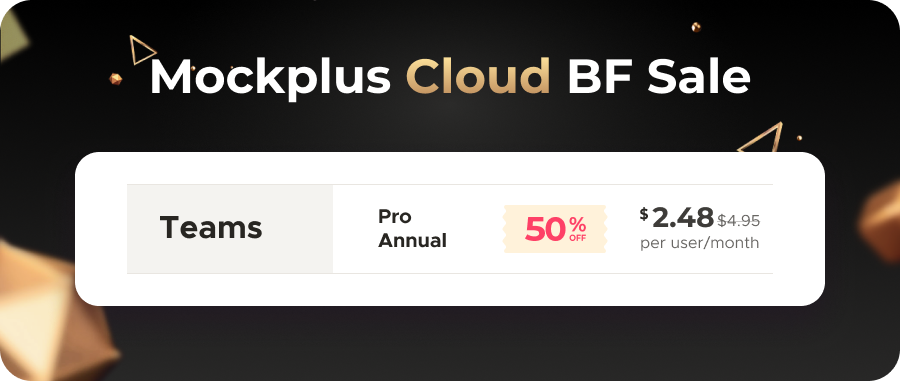 3.Up to 55% OFF on Mockplus Classic
If you are in search of a desktop prototyping tool that brings your ideas to life on your own computer, even without an internet connection, and provides seamless syncing with your team for further collaboration, go get Mockplus Classic.
We also have great offers for our dear Mockplus Classic users:
All annual plans - 50% OFF

All perpetual plans - 55% OFF
Here is the best prices you can get with Mockplus Classic this Black Friday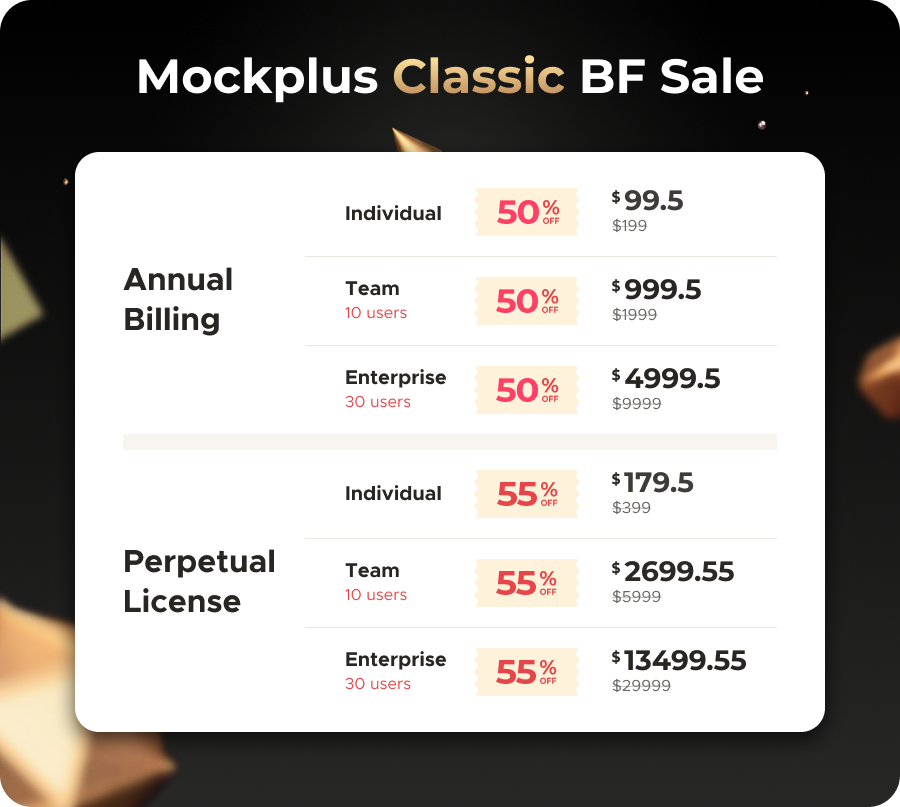 What is Mockplus RP & for whom to use?
Mockplus RP is our web-based prototyping tool perfect for quickly creating from wireframes to fully interactive prototypes. Everything is done right in your browser.
It is not only an excellent choice for individual product managers, UX/UI designers, developers, or any other design freelancers who want to explore design ideas independently, but also ideal for any product teams and organizations that need to have multiple users work on the same prototype in a synchronized way.
Key features:
Premade UI widget libraries and templates

Real-time collaboration

Drag and drop design editor

Reusable design assets and libraries

Lifelike interactions, animations, and gestures, all without codes

Flowchart diagramming with just drag-and-drop

Side-by-side page and component notes

On-screen comments

Extensive exports, like exporting files as images, source file export, and more
This Black Friday, we also have released a new version, bringing a collection of new features to simplify your prototyping, such as Axure file import, PDF export, Smart image and text filling capability and so on. Read more updates now.
What is Mockplus Cloud & for whom to use?
Mockplus Cloud is a design collaboration and handoff tool where product teams can centralize design files from different tools, discuss and finalize them together, and handoff all deliverable to developers via a single link.
It turns your design files from design tools like Sketch, Figma, Axure, Photoshop, and Adobe XD into a format that automatically generates code snippets, style guides, specs, and assets, freeing designers and developers from tons of delivery files and folders.
It is ideal for teams who need a virtual center for designers, developers, product managers and other design parties to communicate and collaborate better, together, in just one place.
Key features:
Import all Sketch, Figma, Adobe XD, Photoshops, and Axure files

Discuss file details and leave comments directly on screen

Annotate layers, groups, or any part of designs for clear intent delivery

Auto-generate all assets, style codes, and specs for Web, iOS, and Android

Create, assign, track, and manage design tasks to ensure timely project completion

Write PRD online and insert related designs for a better explanation

Create and share a design system across teams and products
What is Mockplus Classic & for whom to use?
Mockplus Classic is our desktop prototyping tool designed for individuals and teams looking for an offline desktop solution.
It provides a seamless experience for prototyping design projects on your own computer, even offline, and then syncing and collaborating with your team when you're ready for feedback and further discussion.
You and your teammates will need to download and install Mockplus Classic to start prototyping.
No matter which tool you finally choose, Mockplus will surely let you design faster and collaborate better, together. So, what're you waiting for? Our Black Friday Sale will end soon on November 30. This won't last forever.
Chop! Chop! Be the first to hug this great shopping season and save BIG now!!!
More Black Friday deals for designers and developers
1.ProofHub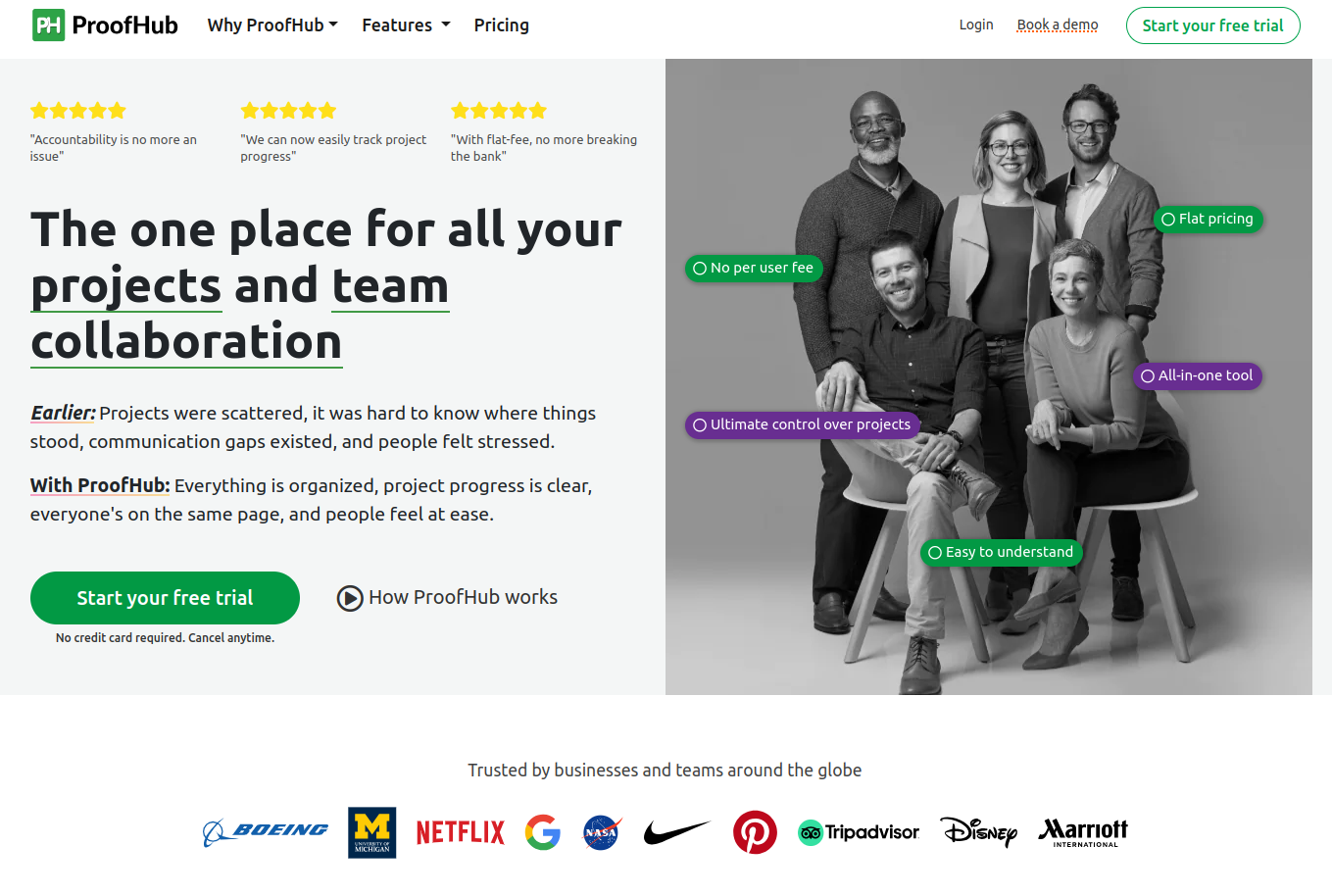 An all-in-one project management and team collaboration tool suitable for teams of any size, ProofHub serves as a central repository for projects in your entire organization. You can plan, schedule, manage, and monitor task progression. The built-in chat and collaboration functionalities ensure that your team members are all on the same page. The flat pricing is the cherry on the cake, as you can onboard as many users as you want without any additional charges.
Discount
: 40% off on the Ultimate Control Plan for six months.
Coupon
: HOLIDAY23 (To avail of the discounted offer, contact ProofHub with the coupon code at support@proofhub.com).
Availability
: Up to 30th Nov 2023
Get the deal now
2.SmartReach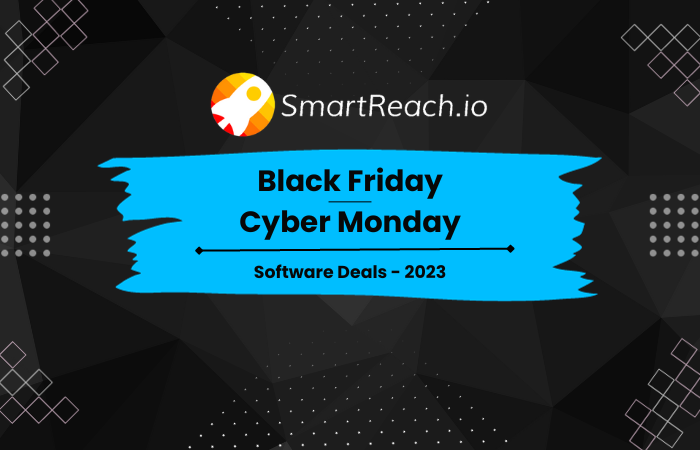 SmartReach, a comprehensive sales engagement platform, excels in cold email outreach focusing on deliverability. It increases sales growth by automating tasks such as prospect finding, email outreach, CRM synchronization, etc. Plus, all plans include ProspectDaddy, the LinkedIn Email Finder Tool.
Key features include shared inbox, multichannel outreach, spam test report, hyper-personalization, prospect management, workflow automation, detailed reporting and more.
Black Friday Software Deal 2023: 20% off on all annual plans for the first year
Code: SMARTREACHBF20
Validity: Till 3rd December 2023
3.Scrollsequence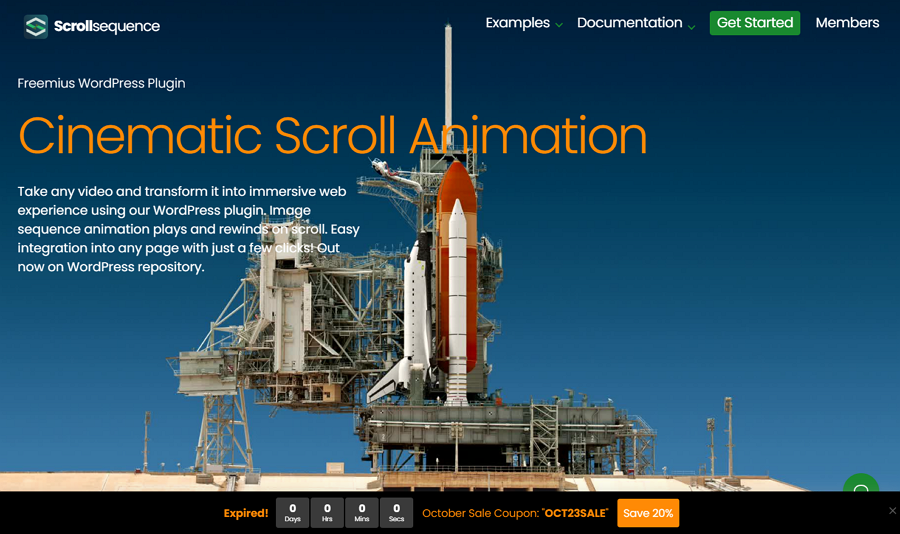 Scrollsequence allows you to create stunning image sequence animations that are controlled with either the mousewheel or with touch. It makes it easy to deliver a powerful message.
Black Friday Offer 2023: 60% Off All Plans
Value: 60%
Coupon: BFCM2023
How to Redeem: Enter coupon code on checkout
Dates: 15-11-2023 to 1-12-2023
4.WPManageNinja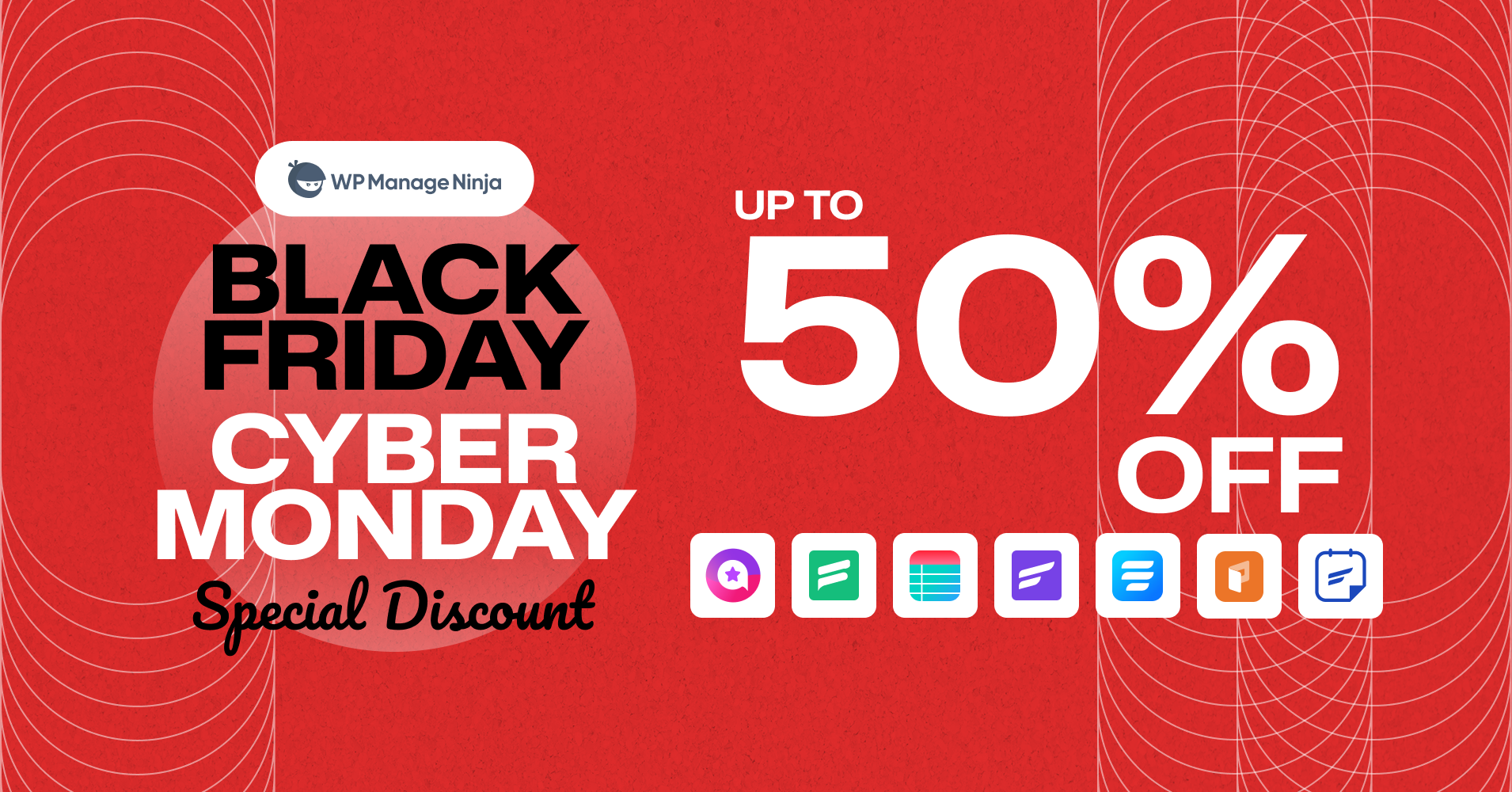 For the special Black Friday and Cyber Monday deal season, WPManageNinja is offering up to a 50% discount on all of its premium WordPress plugins. The deal includes their top-rated products:
Fluent Forms - The fastest form builder plugin.
FluentBooking- The ultimate solution for scheduling in WordPress.
FluentCRM - The complete email marketing automation plugin for WordPress.
Fluent Suport- The best customer support plugin in WordPress.
Ninja Tables - The most popular WordPress table plugin.
WP Social Ninja - The best social reviews, feed, and chat plugin.
Paymattic- The perfect lightweight WordPress payment and donation plugin.
Black Friday Cyber Monday Discount: Up to 50% off
Coupon Code: Auto-applied
Offer Starts: 15th November, 2023
Offer Ends: 2nd December, 2023
5.Pixpa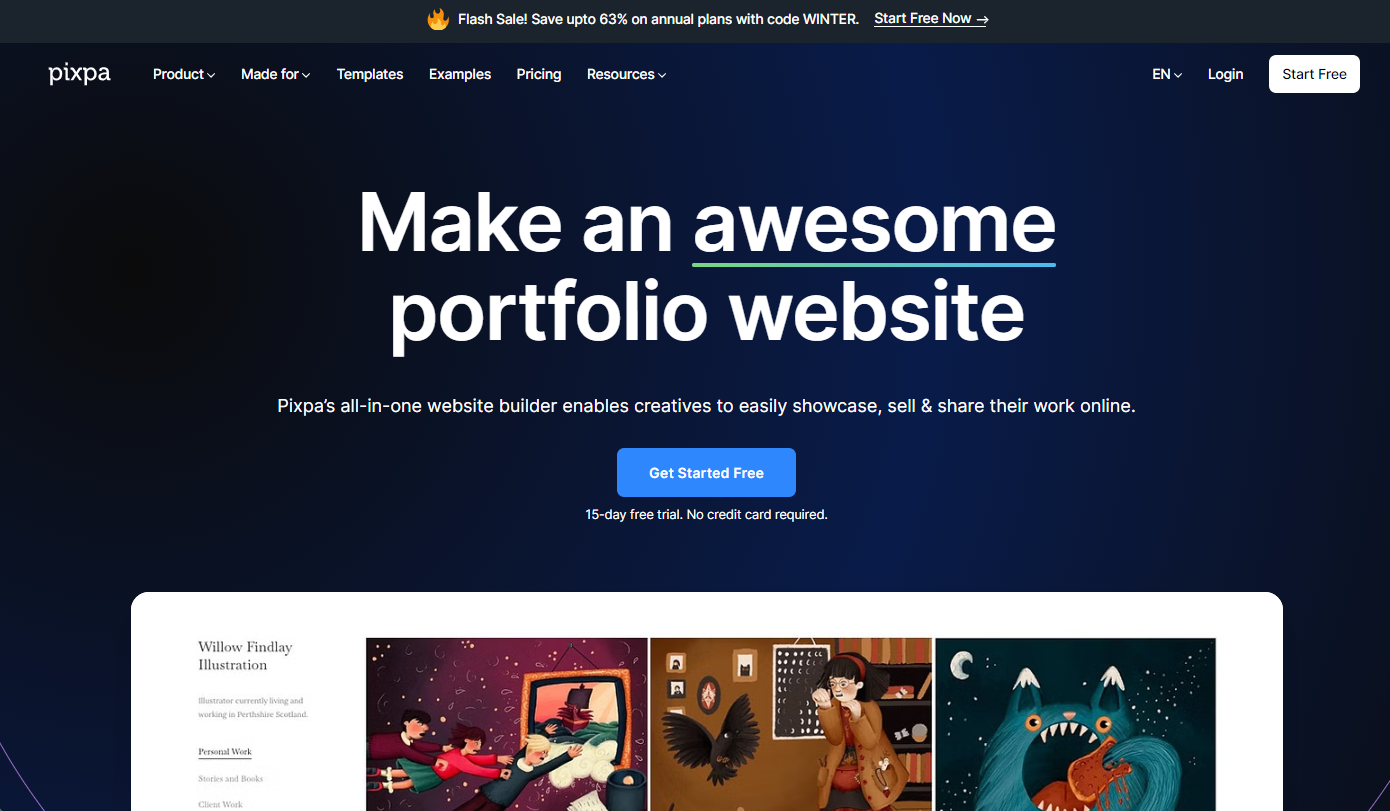 Pixpa is an all-in-one, no-code website builder for creatives and small businesses to create beautiful, professional websites with an in-built online store, a dynamic blog, client galleries, ecommerce galleries, a photo gallery app, and marketing tools. Pixpa's versatile platform has everything you need to showcase your work, share ideas, and sell your work online without any coding knowledge.
Key Features:

Black Friday Deal

Time of deal: Nov 24 - Dec 31
Deal Highlight
Use this promo code
BLFPIXPA50
to avail 50% discount on annual plans and a 63% discount on biannual plans.
6.Consolto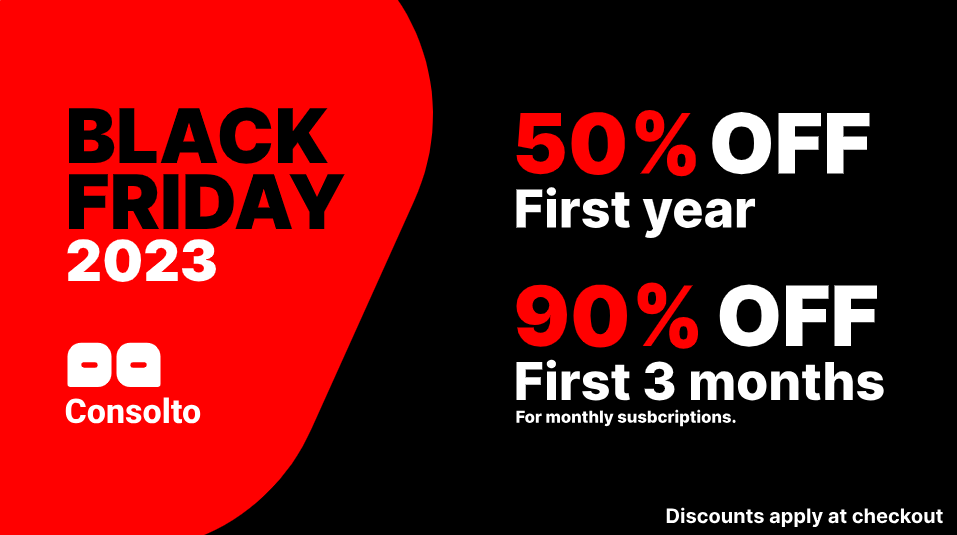 Consolto redefines the conferencing experience for customer meetings, merging the power of live chat, appointment scheduling, and video chat into one unified platform. Tailored exclusively for enriched customer interactions, imagine the best of Zoom, Calendly, and Intercom seamlessly. integrated into one transformative tool.
Deal: 50% off yearly subscriptions for the 1st year
Validity: November 15th to 28th, 2023
7.Snov.io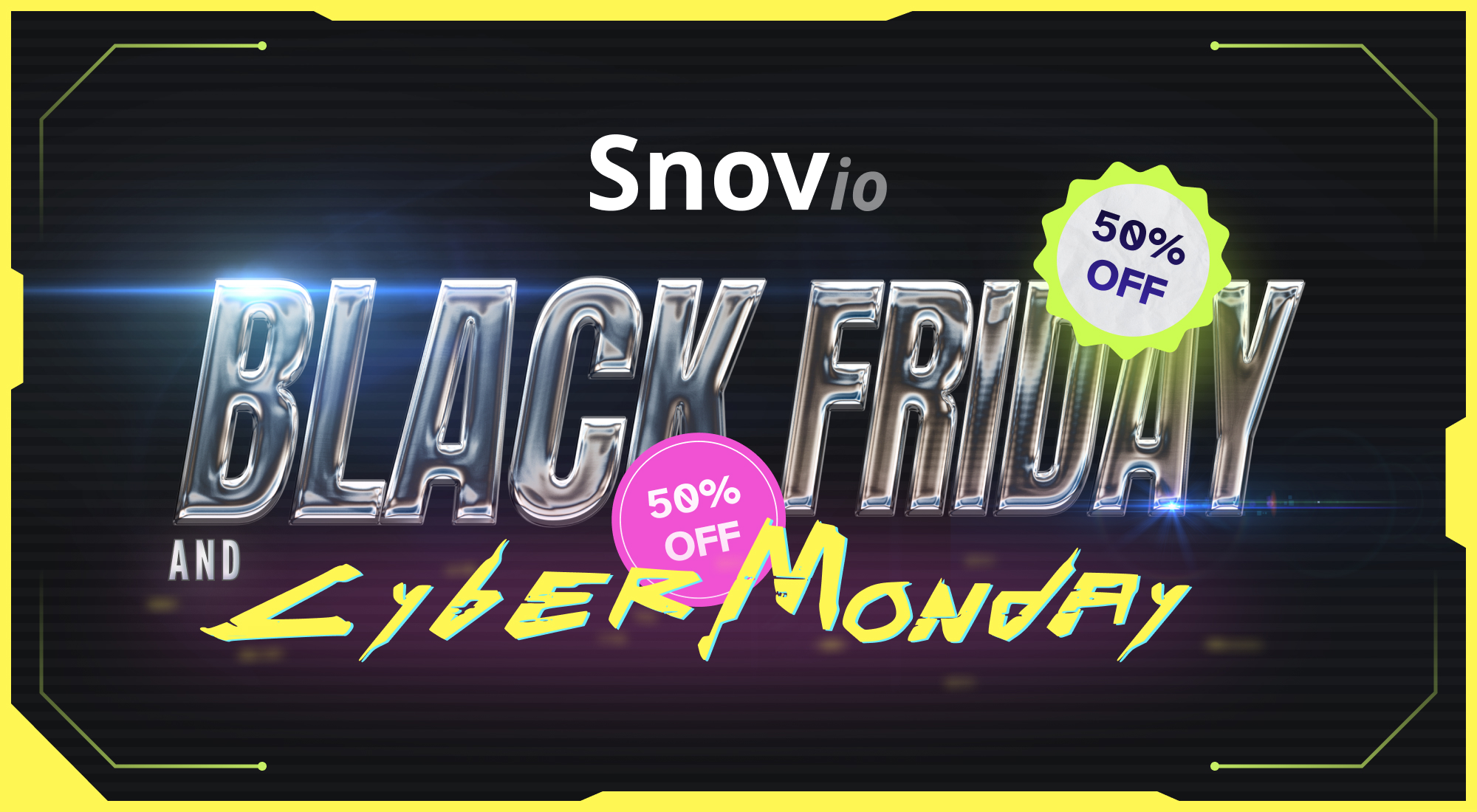 Snov.io is a great tool if you want to boost your SEO outreach and link building capacity to the next level. Snov.io allows you to find email addresses of any professional you want to build links with, create AI-powered personalized emails, and contact experts at the right time with your backlinking or guest-posting offer.
Black Friday Deal: 50% off on annual plan
Coupon Code: BLACKFRIDAY23
Offer Validity: 20th November - 1st December, 2023
8.Turbologo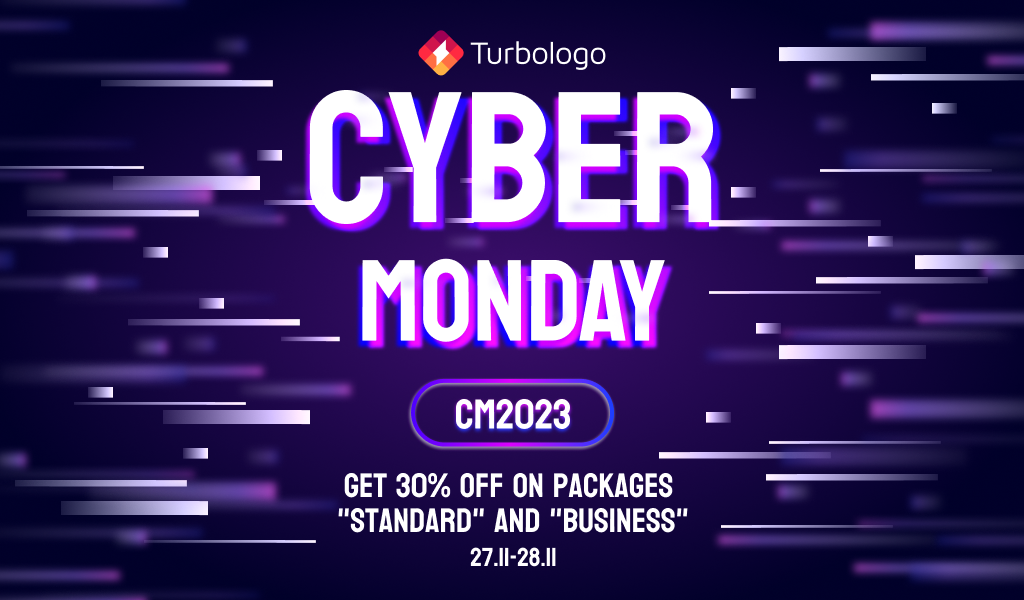 Turbologo is an AI online logo generator that will create your logo in a couple of minutes. Our logo maker allows you to create all types of logos, business cards, covers for social networks, letterheads, favicons and more. Create your unique custom logo with Turbologo for free today!
Use promo code "CM2023" and get a 30% discount on Standard and Business packages from Turbologo. This limited offer is only available November 24-26. Take advantage of the offer!
Discount: 30% discount
Promo code: CM2023
Sales period: 27/11/2023 - 28/11/2023
9.Crocoblock
Crocoblock is an advanced WordPress plugin developer. This Black Friday you can enjoy 40% off on each JetPlugins, 35% discount on Yearly subscriptions, and 30% off on Lifetime.
You'll find everything for building the dynamic website in Elementor or Gutenberg editors.
Discount: 40% discount sitewide
Coupon code: bfcroco2023
Dates: November 20 - November 30, 2023
10.SendFlock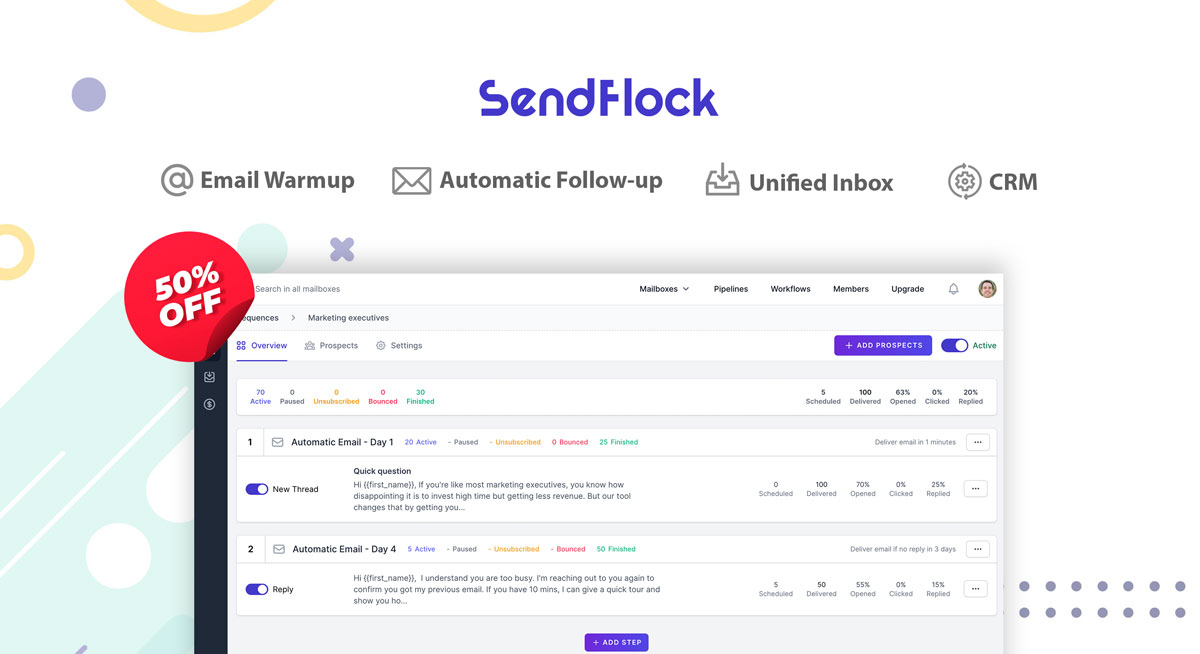 SendFlock is an email warm-up and cold email automation software. It helps SaaS companies get customers without spending money on paid ads or content marketing. SendFlock will be a good option if you want to acquire customers at a low cost.
Deal: 50% OFF on monthly plan
Coupon code: BFCM23
Validity of the deal: November 15 – December 15, 2023
11.ContentStudio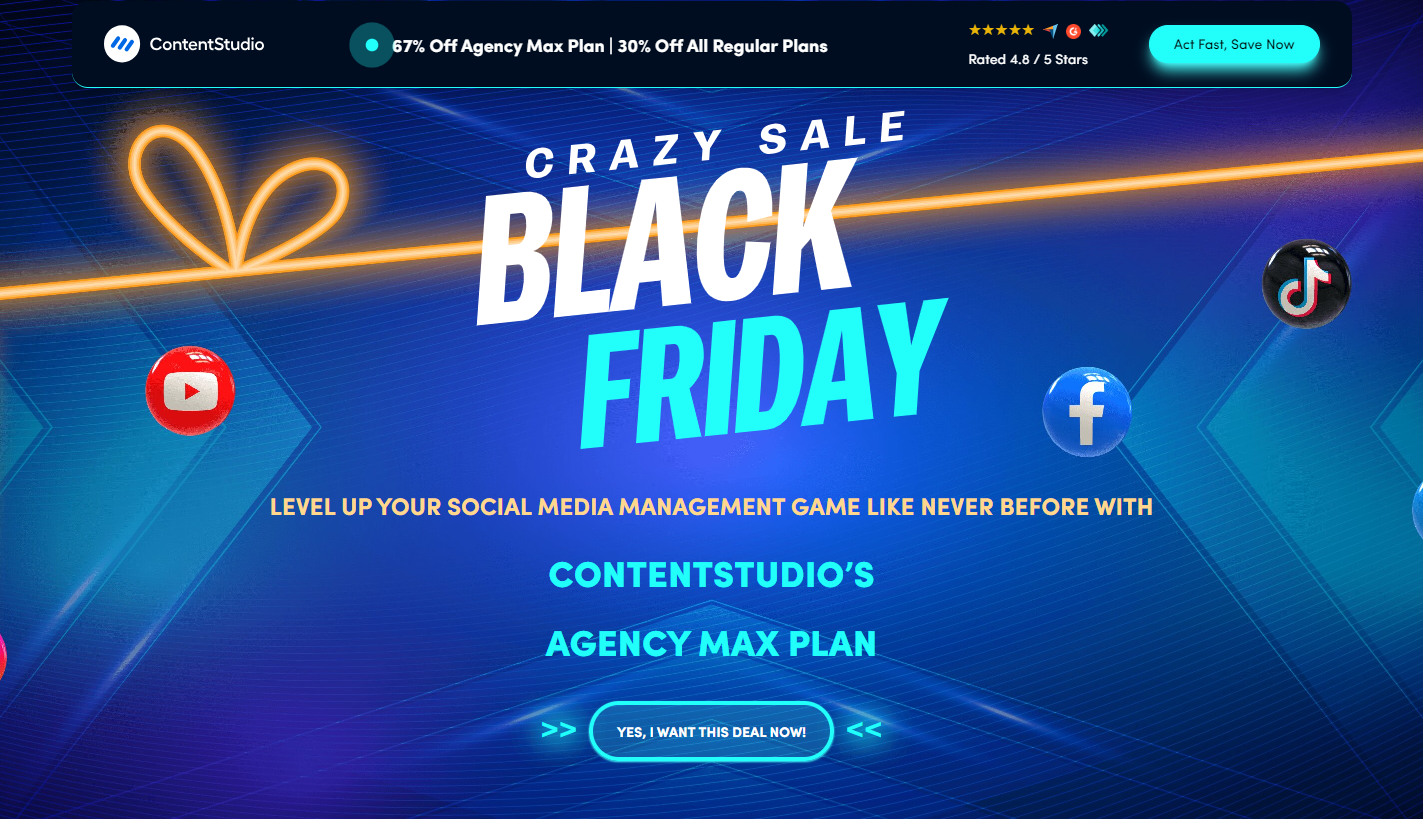 ContentStudio is a comprehensive social media management tool that has proven to be a game-changer for businesses of all sizes. Its robust features include content discovery, curation, creation, and publishing across various social media channels. With its powerful AI engine, ContentStudio helps businesses save time and resources by automating the social media management process. The tool's intuitive user interface, advanced analytics, and team collaboration features make it easy for businesses to manage their social media presence and effectively engage with their target audience. In short, ContentStudio is an all-in-one solution that simplifies social media management and helps businesses achieve their marketing goals.
Discount: 67% Off Agency Max Plan | 30% Off All Regular Plans
Validity: 9 November - 25 November 2023
12.Narrato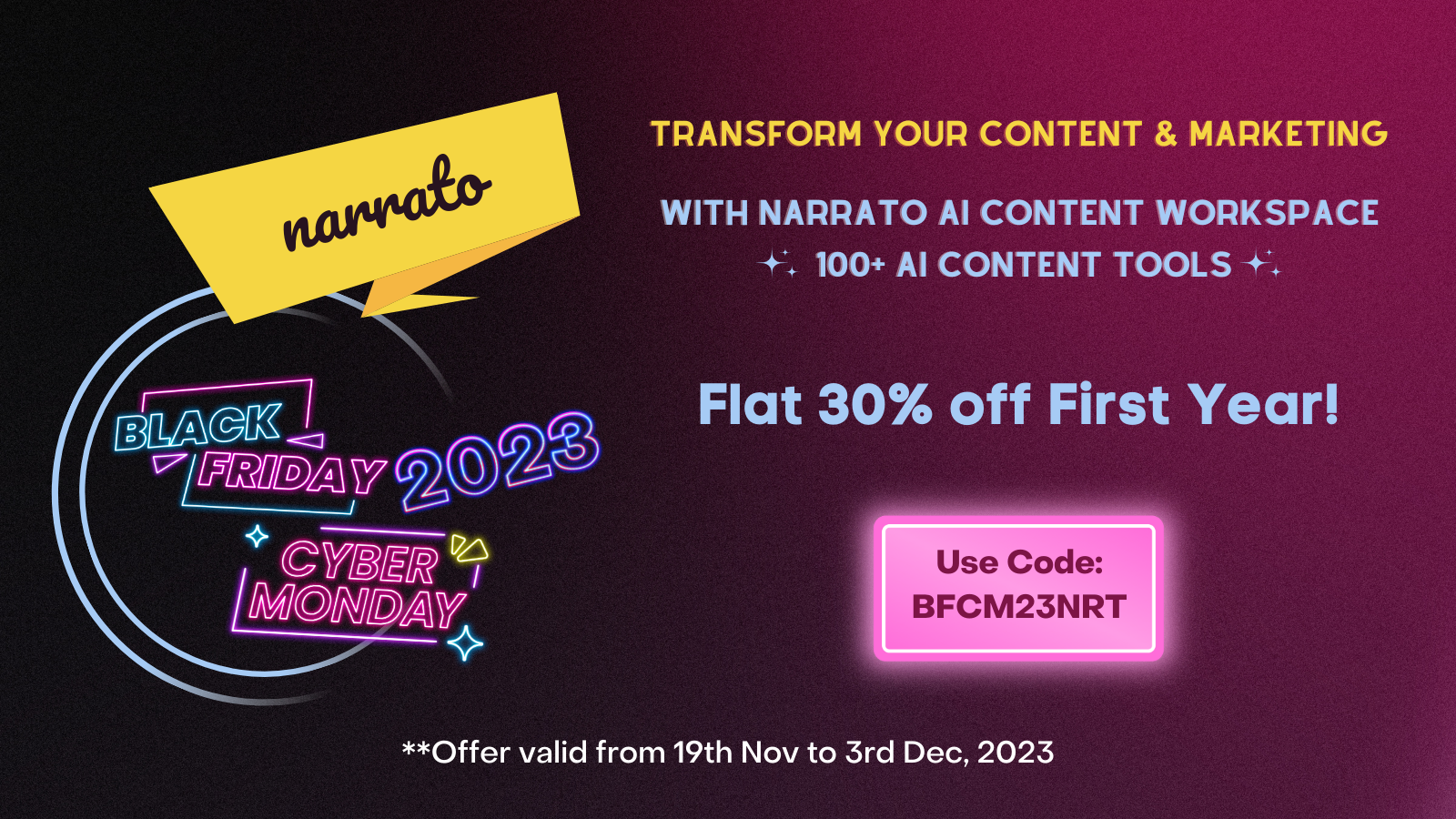 Introducing Narrato, the ultimate AI content creation and marketing workspace designed to simplify and elevate your content creation process. Unlike any other AI content generation tool, Narrato offers a comprehensive range of AI and automation tools that empower you to ideate, create, collaborate, and publish outstanding content - all within a single platform.
One of the most remarkable features of Narrato is its ability to accelerate content production by nearly 5-10 times, saving you valuable time and resources.
Features:
Here's a glimpse of what you can enjoy with Narrato:
1) Access to over 100 AI tools and templates for content creation, planning, optimization, SEO, and repurposing. Additionally, you have the option to create your very own custom AI templates.
2) Meet Narrato's AI Content Genie - the intelligent autopilot for content marketing. It effortlessly generates weekly social posts and blogs based on your provided themes and even optional website URLs.
3) Enjoy the convenience of a complete content creation, collaboration, and management workspace. This includes seamless management of freelance creators, agencies, and other stakeholders involved in the content creation process.
4) Say goodbye to the hassle of finding images. Narrato offers AI image generation as well as a vast library of royalty-free images and gifs for you to search, download, and insert effortlessly.
5) Effortlessly publish and schedule your content to popular platforms like WordPress, Webflow, LinkedIn, Facebook, and Instagram. For everything else, Narrato integrates seamlessly with Zapier and offers API access.
6) Tailor your content workflows to suit your preferences and take advantage of customizable content templates and automation features that make your content creation process a breeze.
With Narrato, creating exceptional content has never been easier. Say goodbye to the traditional hurdles and inefficiencies of content creation and embrace the power of AI and automation to elevate your content strategy.
Black Friday/Cyber Monday offer:
30% off for your first year on Narrato Workspace
Use Promo Code: BFCM23NRT
Valid from: 19th November to 3rd December
13.Inbound Calls & Lead Capture: CallPage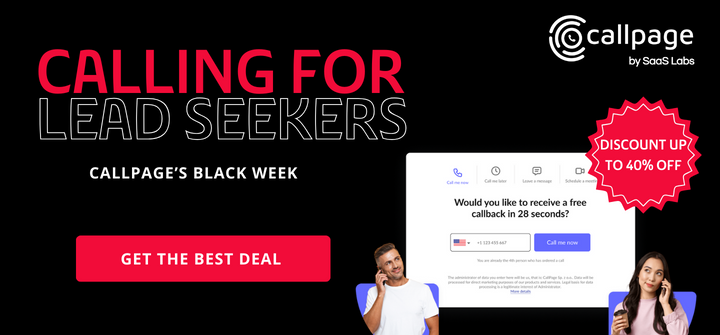 CallPage is a lead capture tool that enables site visitors to request an instant callback or schedule a meeting in just a few seconds. CallPage widget helps increase the number of leads generated from the website by an average of 35%–120%. The CallPage widget helps you gain 30-125% more leads.
Moreover, CallPage is mobile-friendly, responsive, and looks great on all screens.
CallPage's Black Friday Deal: Up to 40% discount
Deal validity: 21.11.2023 - 27.11.2023
14.PDF Reader Pro

With powerful features and a user-friendly interface, PDF Reader Pro is the go-to choice for professionals and individuals alike. It provides all the PDF tools you need, such as editing PDFs, converting PDFs to Office and other formats, organizing pages, annotating, OCR, digital signature, and more. It has proven to be an affordable Adobe alternative!
Our offer is valid from: Nov. 16- Nov 24
15.Groupboss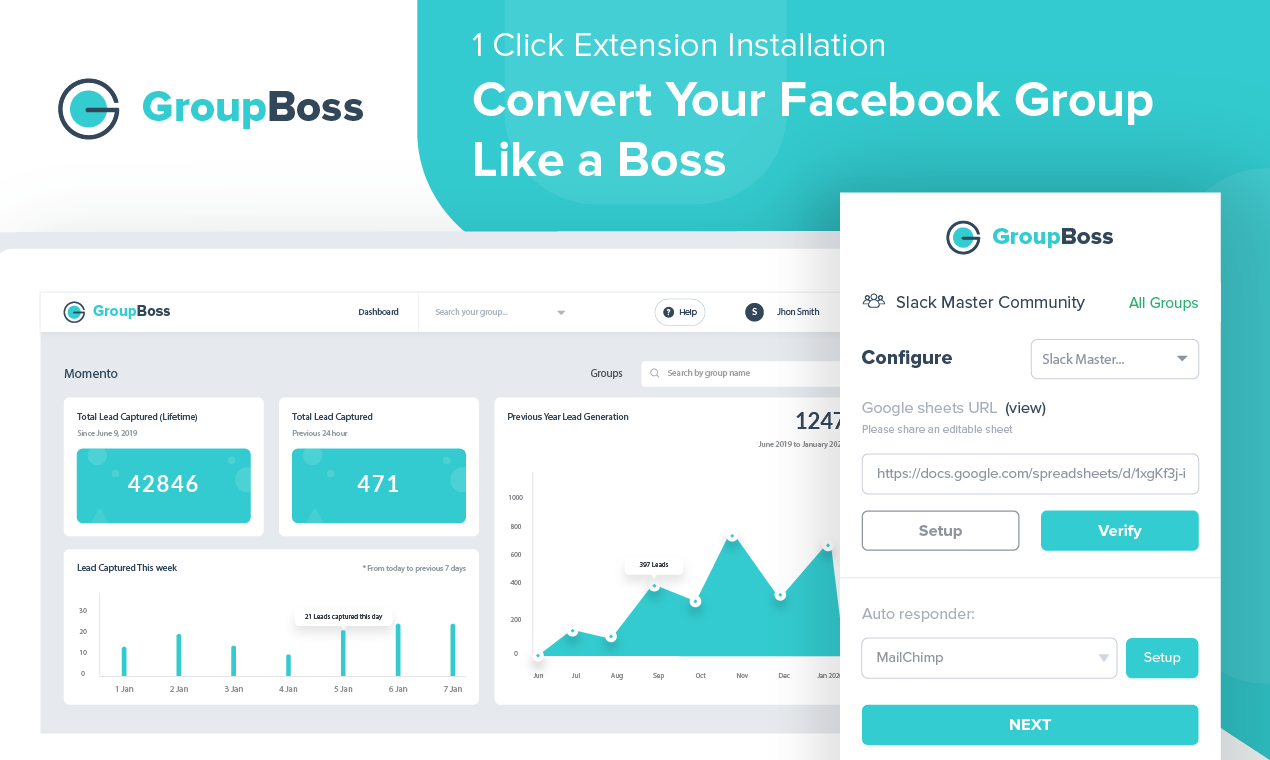 Groupboss is a Facebook group automation tool that helps Facebook group admins collect unlimited leads. Using this tool any group owner can collect the answers to the Facebook group membership questions asked to the new members with a single click. It has direct integrations with popular email marketing autoresponders like Mailchimp, ActiveCampaign, Lemlist and many more.
Cyber Monday Deal: Groupboss is offering a 25% discount on all the plans on Cyber Monday.
Availability: 25 Nov 2023-31 Dec 2023
16.Apploye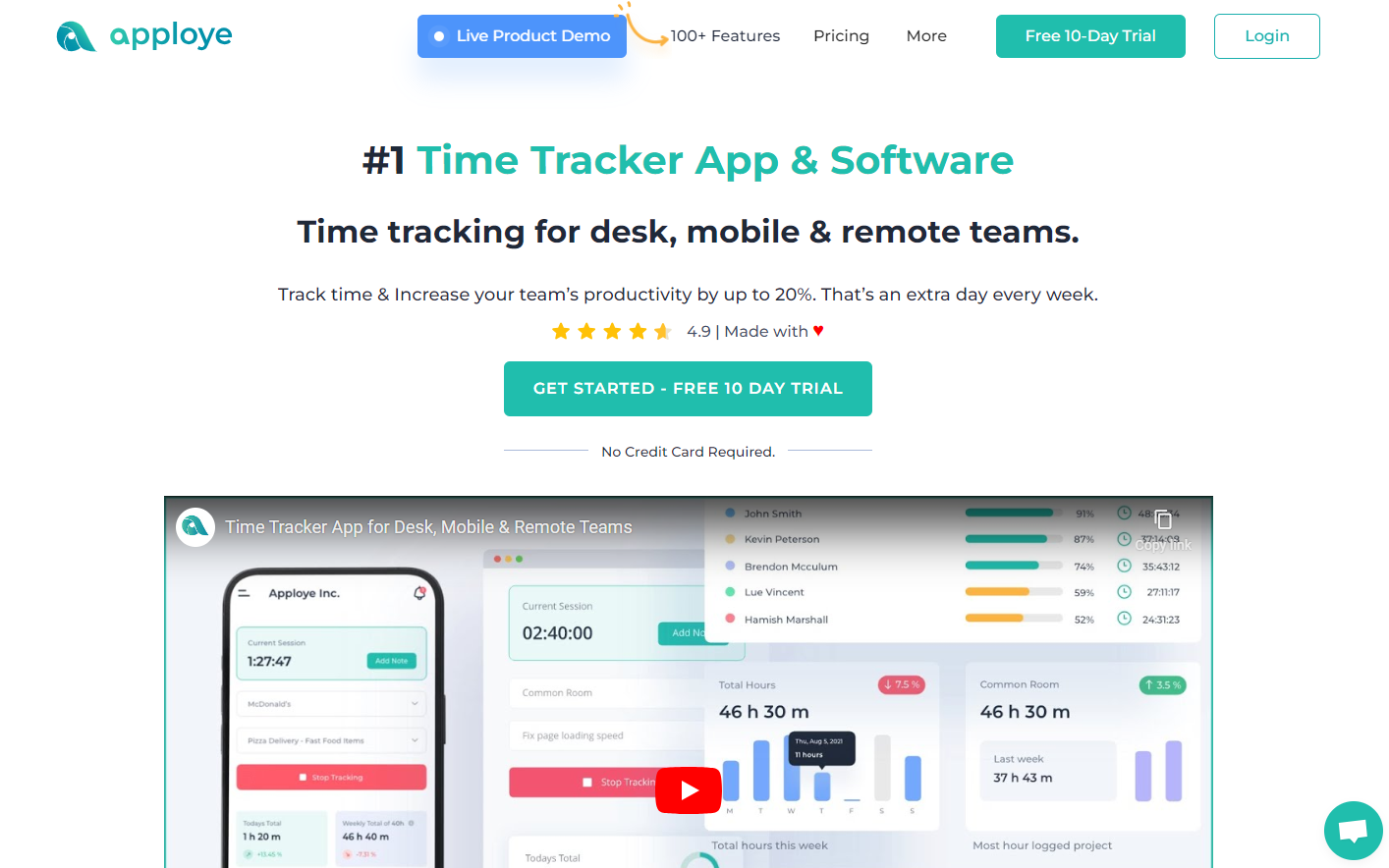 Apploye is an employee monitoring and time tracking software for businesses, enabling them to effectively manage their in-house, and remote teams from one central dashboard. Apploye includes features such as timesheet, screenshots, app, URL tracking, activity levels, payroll, invoicing, scheduling, team, projects & budgets, shift management, attendance, and GPS location tracking. It is suitable for small to large businesses, especially for remote teams.
Cyber Monday Discount Offers: Apploye offers a special 15% lifetime discount on all plans, whether you opt for monthly or annual subscriptions.
Deal Validity: November 20, 2023 to November 30, 2023
Promo Code: apploye-15
17.SE Ranking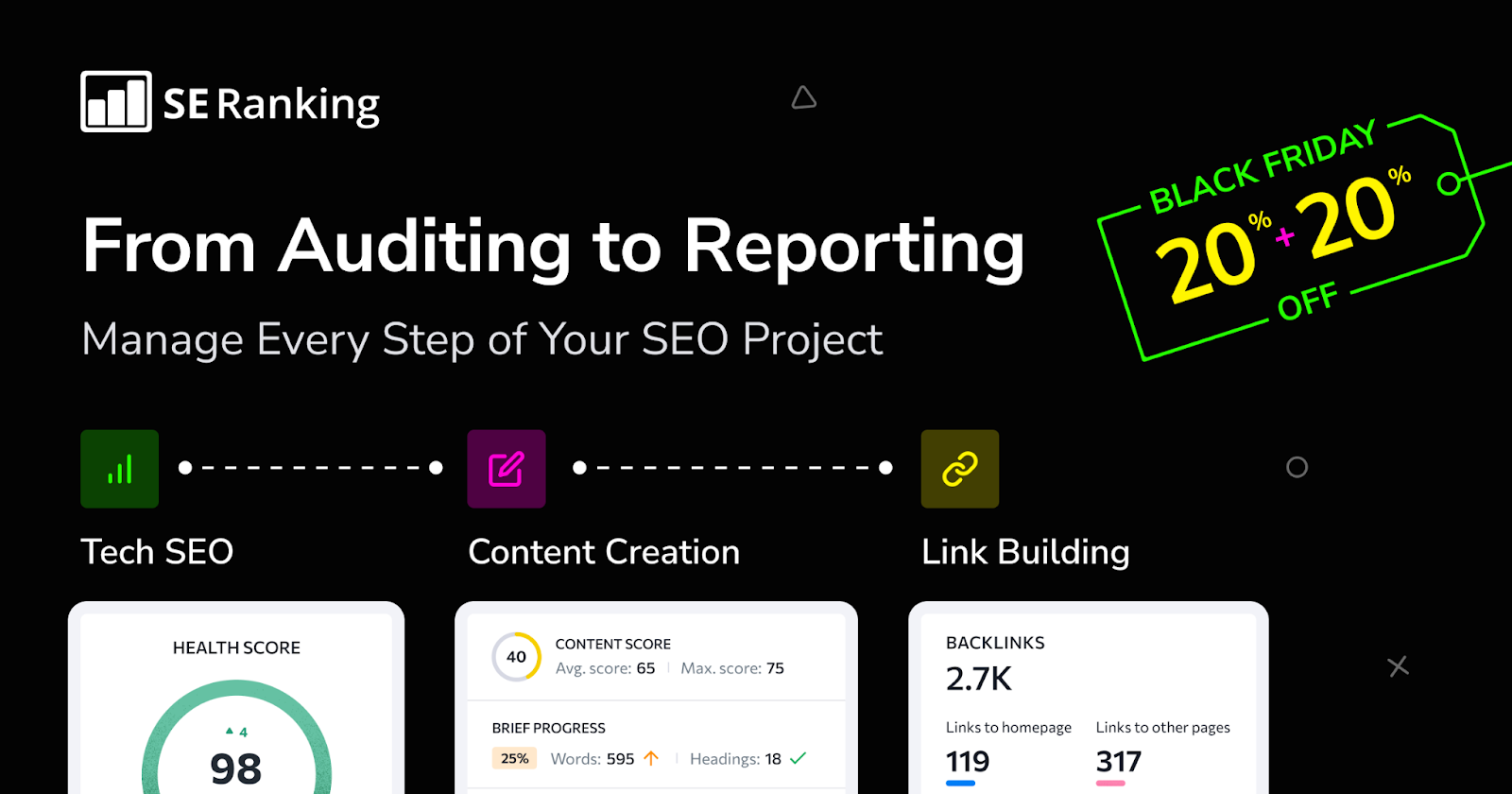 This Black Friday, SE Ranking is doubling your savings! Get an extra 20% off on all annual plans and add-ons, on top of your year-round 20% discount. It's the perfect opportunity for agencies and in-house SEO pros to gear up for the upcoming year. Secure access to all must-have SEO tools at the best possible price! Start your free trial to activate this offer.
Start your free trial and click on your personal link within the platform. Your discount will be applied automatically.
This deal is valid from Nov. 20 to Dec. 4.
18.MySignature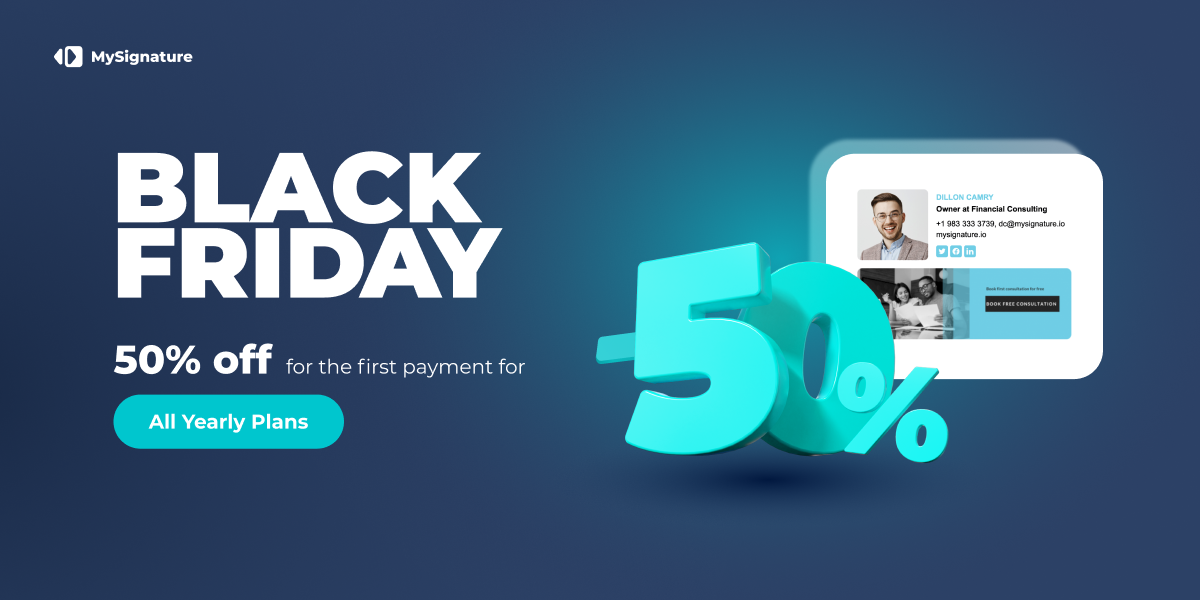 MySignature is all-in-one email signature and email tracking platform. It allows you to easily create professional email signatures and make your business emails stand out from the crowd.
With MySignature you can build brand recognition by turning yourself and your team into brand ambassadors. Embedding a unique email signature will help you advertise the products or services in a more efficient way.
Increase brand awareness, create trust, and boost credibility by creating personalized email signatures with your logo/photo, banner, contact information, links to social profiles, and calls-to-action.
With MySignature you can:
Easily generate your email signature that meets branding requirements
Use professionally designed email signature templates and customize them
Add logo, photo, or banner to make customers trust your brand
Add social media icons or CTA buttons to drive traffic to your page
Manage all email signatures in your Dashboard
Track your email opens and link clicks with no limit
Black Friday Deal:
50% off for the first payment for all yearly plans with discount BF2023MS
Coupon code: BF2023MS
Duration: 20 November 2023 – 30 November 2023
19.Newoldstamp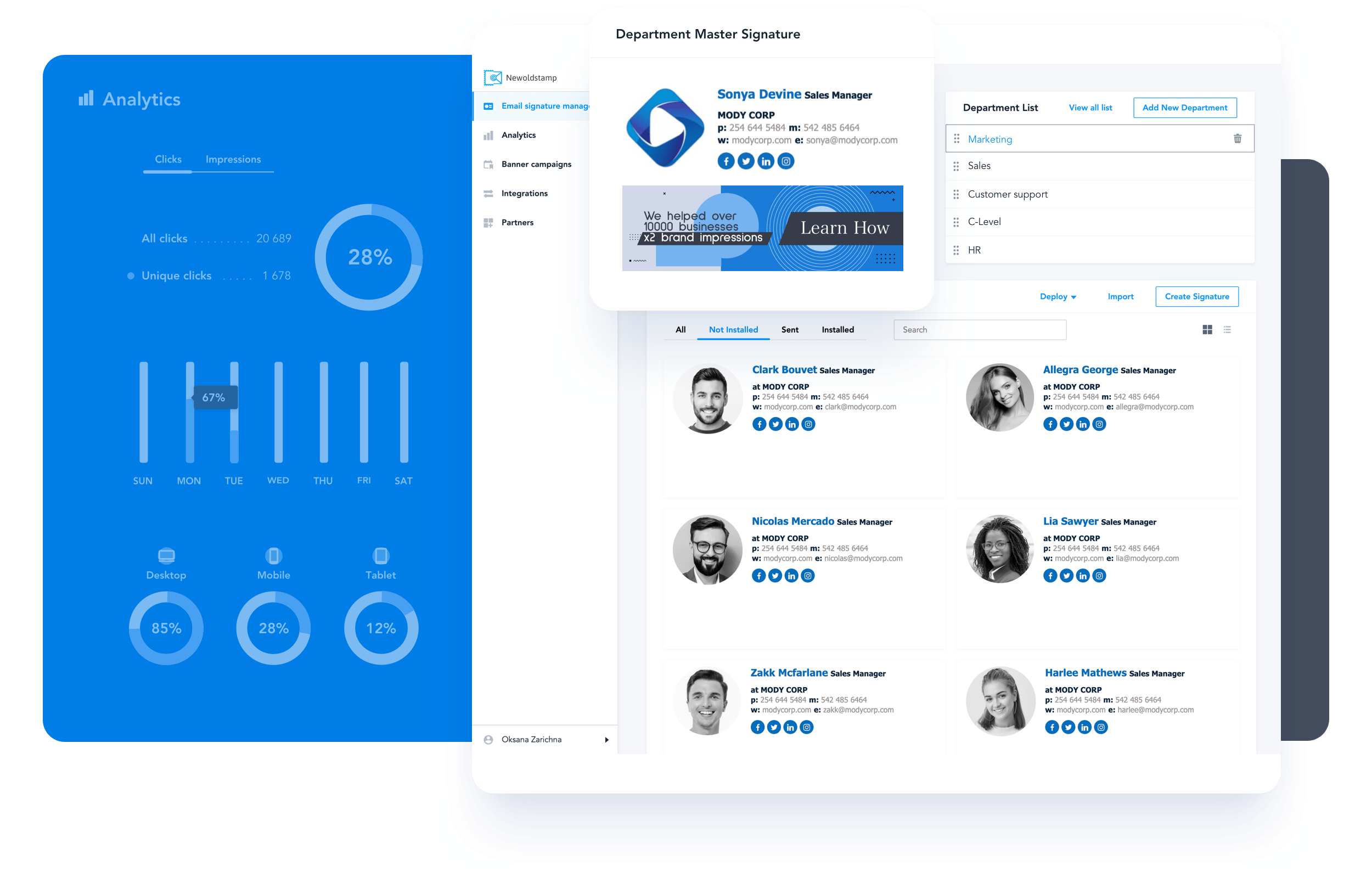 Newoldstamp is the leading email signature management platform that empowers to effortlessly design and implement brand-consistent signatures across the entire organization.
A well-crafted standardized email signature isn't just about contact information. It's a powerful tool to connect with your target audience, potentially creating numerous sales opportunities every day.
With Newoldstamp, your emails become a dynamic marketing asset. You can direct traffic to your website, generate leads, upsell products, and announce both online and offline events by adding clickable links, eye-catching banners with clear calls to action, and interactive buttons to your email signature.
This email signature software seamlessly integrates with popular platforms like Google Workspace, Exchange, and Microsoft 365. Create an email signature that looks fantastic across various email clients (including Gmail, Outlook, Apple Mail, iOS, Thunderbird, and more) and on all devices. Boost your email signature's impact with Newoldstamp!
Black Friday Deal: 25% off on any plan (recurring discount for all next payments) - BF2023NOS
Coupon Code: BF2023NOS
Duration: 20 November 2023 – 30 November 2023
20.SalesBlink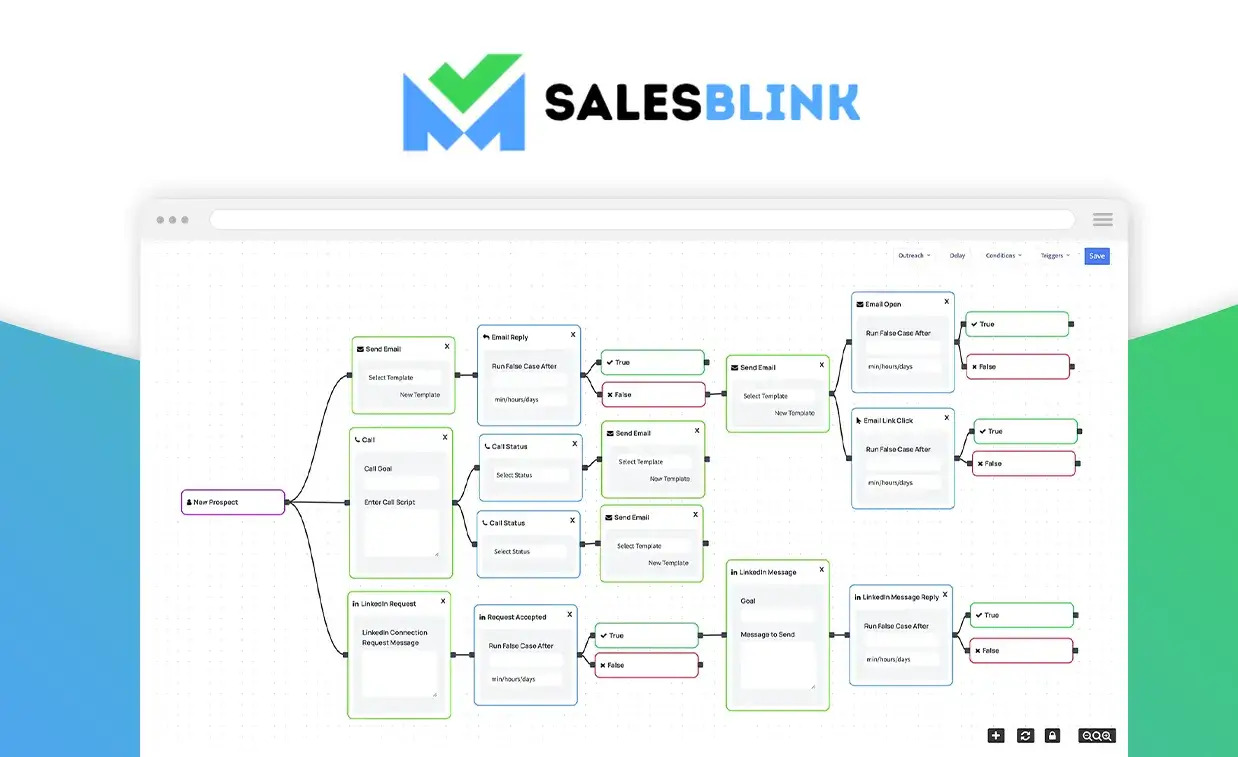 SalesBlink is an AI powered cold email outreach solution using which you can search for prospects, put your cold email sequences on autopilot, view stats and reports for opens, clicks, replies and more effortlessly.
BlinkGPT is SalesBlink's in-house Generative AI that lets you write emails, create sales sequences and much more with just a few clicks.
Integrates natively with Hubspot, Pipedrive, ZohoCRM & Slack
Offer: 50% off on Scale and Business Plans for next 1 year for both Yearly and Monthly Plans
Instructions: Use Coupon "BlackFriday2023" on checkout
Valid until: 1st November - 31 December 2023
21.Receiptmakerly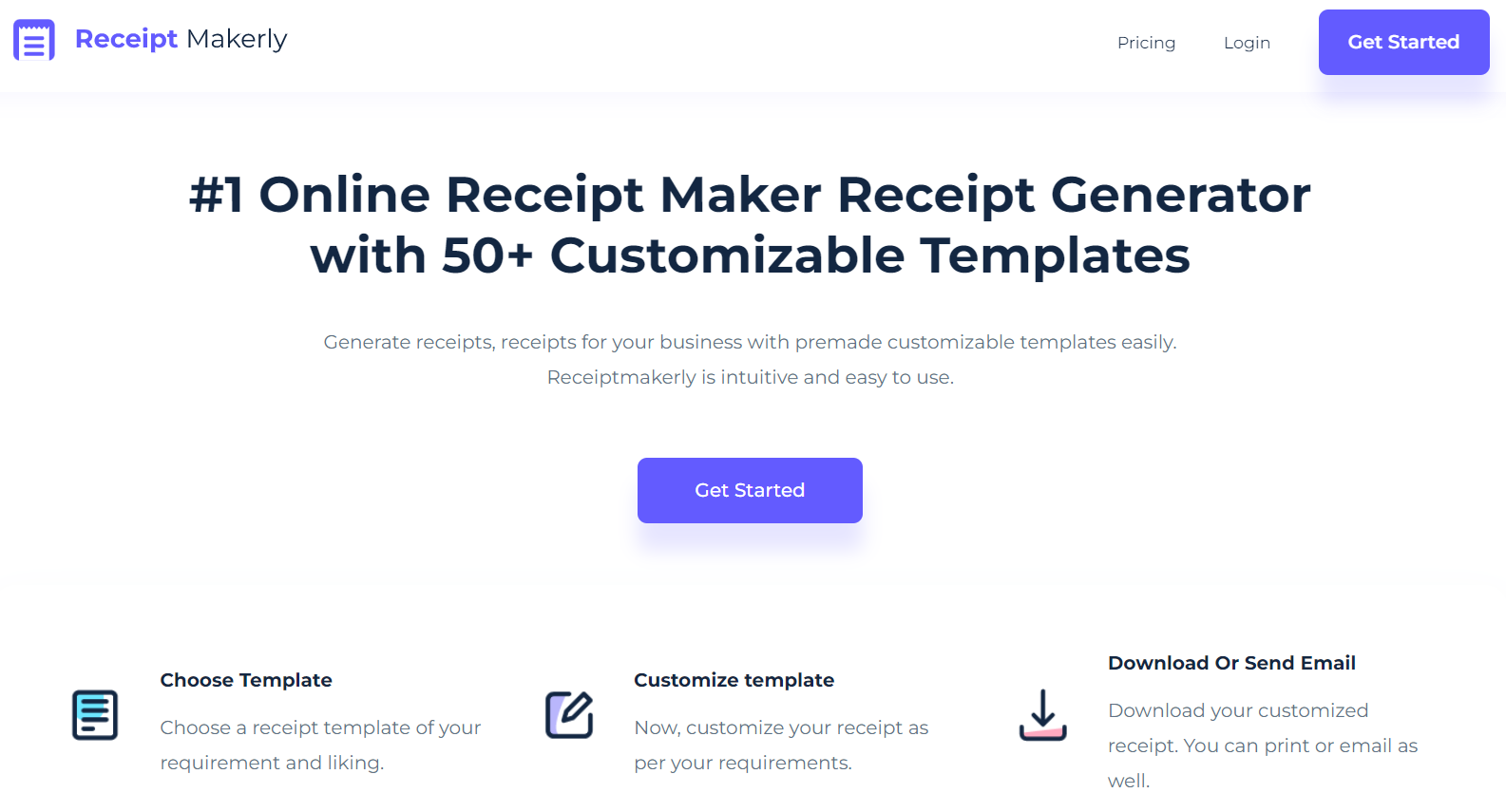 Receiptmakerly is an online receipt maker with 50+ templates that can be customized based on needs. This tool has a cost-effective pricing plan for users. Using Receiptmakerly, a user can generate receipts like Amazon, Uber, Lyft, Ola, Walmart, Walgreens, and many more.
Cyber Monday Deal: Receiptmakerly offers a 25% discount on all plans on the upcoming Cyber Monday.
Coupon: MONDAY25%
Availability: 25 Nov 2023-31 Dec 2023
22.HelpCrunch - 30% off live chat, chatbot, shared inbox, and other customer communication tools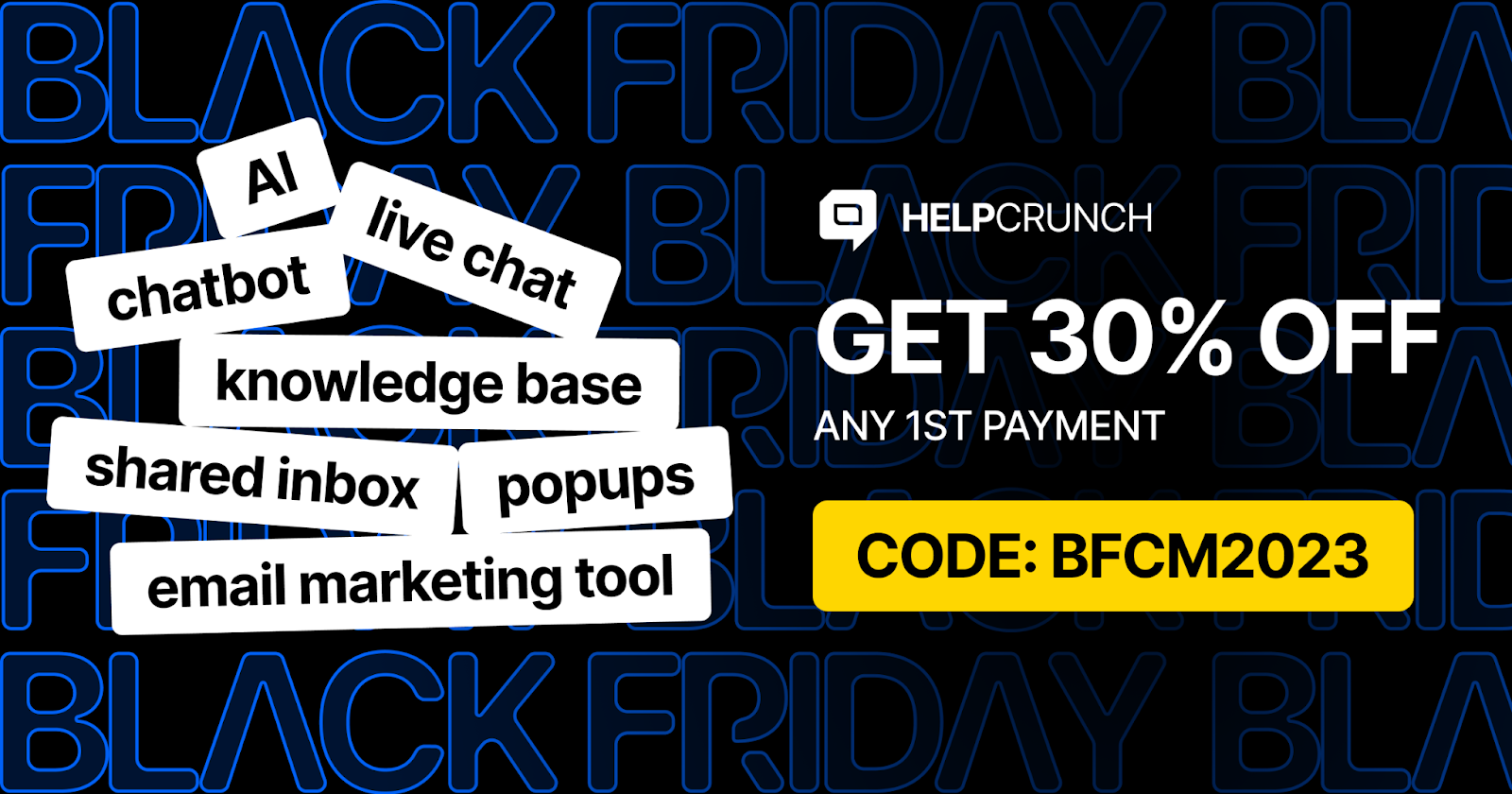 About the product
HelpCrunch is an AI-powered platform for building customer relationships.
The software offers tools for customer service automation with live chat, chatbots, knowledge base, and shared inbox which unifies all communication channels in one place (chat on the website, chatbots, email, and messengers). Plus, marketers can leverage additional HelpCrunch features like email marketing automation and popups for higher conversions and increasing sales.
Get the biggest discount of the year this Black Friday—30% off your first payment. The deal sums up with annual discounts, so you can save up to 50% in total by signing up for a whole year.
Use the promo code BFCM2023 before November 27 to get a powerful customer communication platform at the most affordable price.
23.UserGuiding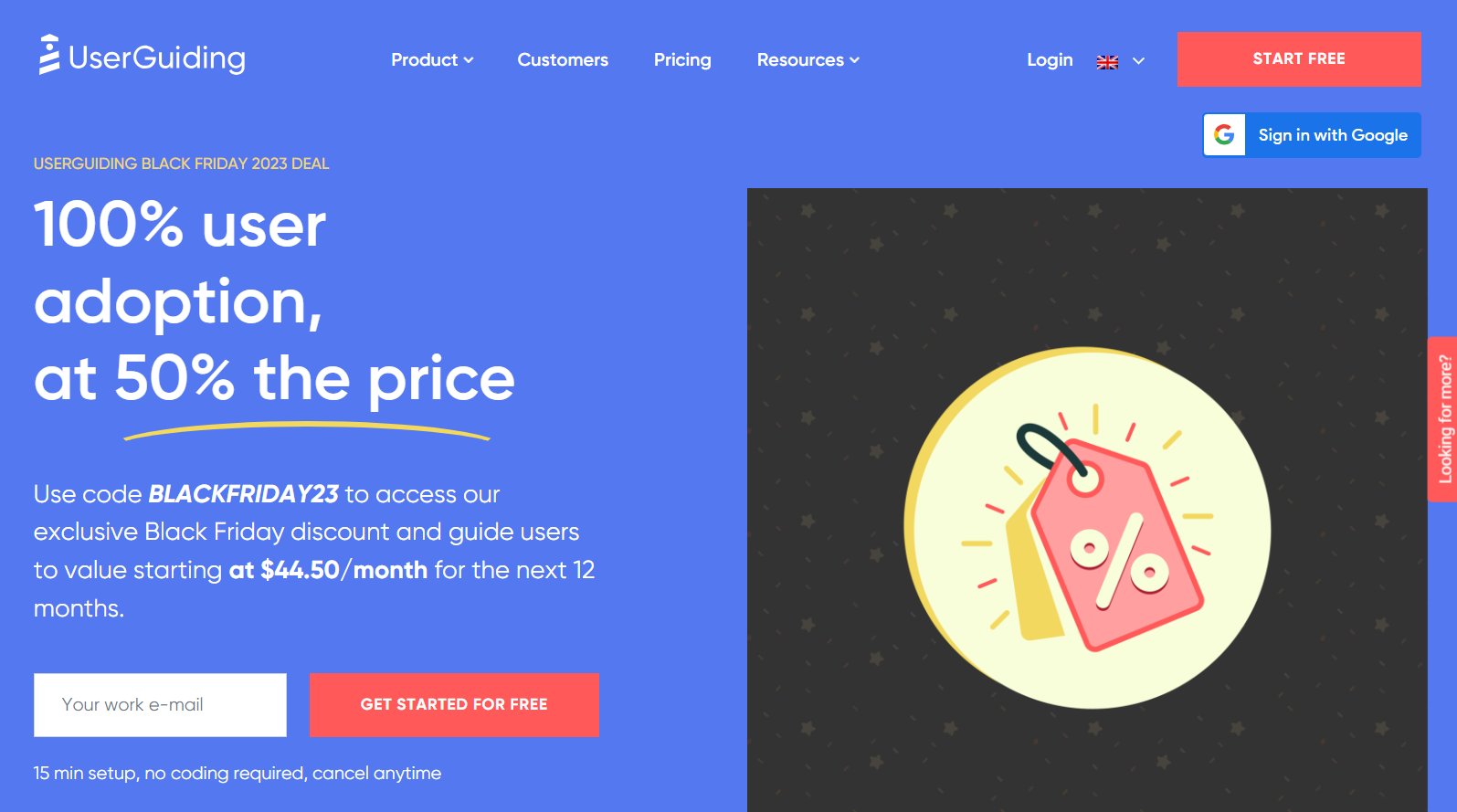 A no-code user onboarding platform that helps startups increase product adoption and reduce churn using interactive walkthroughs.
BF Deal Code: BLACKFRIDAY23
Deal: 50% off on all plans for the next 12 months
Date: November 17-December 15
Get the deal now
24.DoopChat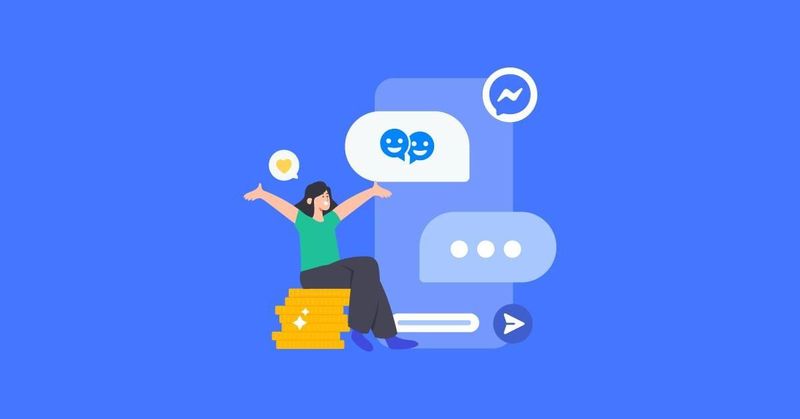 Auto reply to Facebook comments with custom messages. It also sends dynamic replies via Messenger based on commented keywords.
Hiring a social media marketer for your business will cost you thousands of dollars monthly. But an auto-reply chatbot won't cost that much. So, getting DoopChat to work as a Facebook Messenger chatbot is a good idea if you need to save costs while staying creative.
Code: BFCM2023
Discount: 50% off all plans and renewals
Valid: Oct. 20, 2023 - Dec. 20, 2023
25.Writecream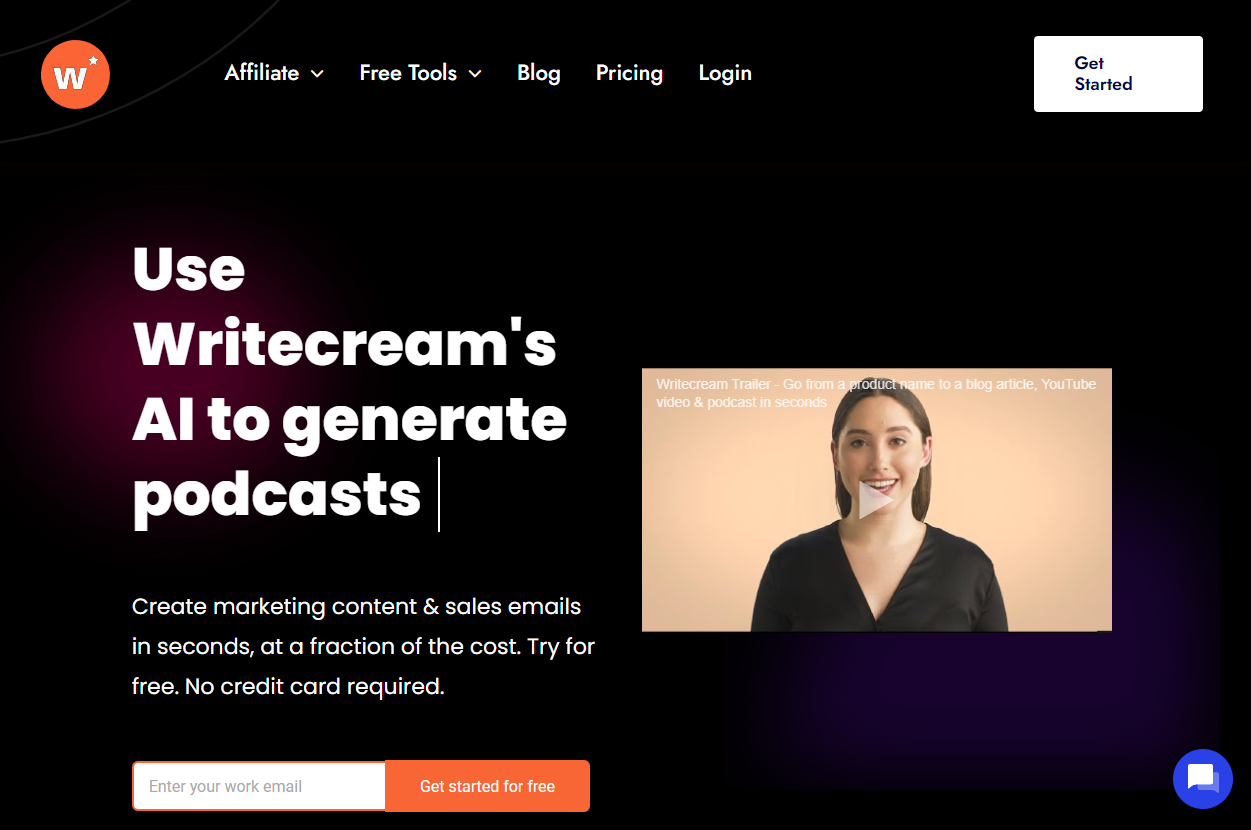 Writecream is an AI-powered text, voice, and image generation mobile app and website. Generate anything from essays, stories, novels, product descriptions, articles, scripts, ad copy, social media posts, and more. Additionally, Writecream features AI-based neural voices that sound like humans. These can be used to generate podcasts and narrations for YouTube videos. Recently, Writecream added a one-click image generation function using DALLE-2. Use these images for social media, NFTs, blogs, etc. Writecream is offering 20% off unlimited plans for Black Friday and Cyber Monday 2023.
Deal: Get 20% off on Writecream's monthly and annual unlimited plans
Coupon Code: WRITE20
Validity: This offer is valid from 18th Nov to 31st Dec 2023
26.Airbrush AI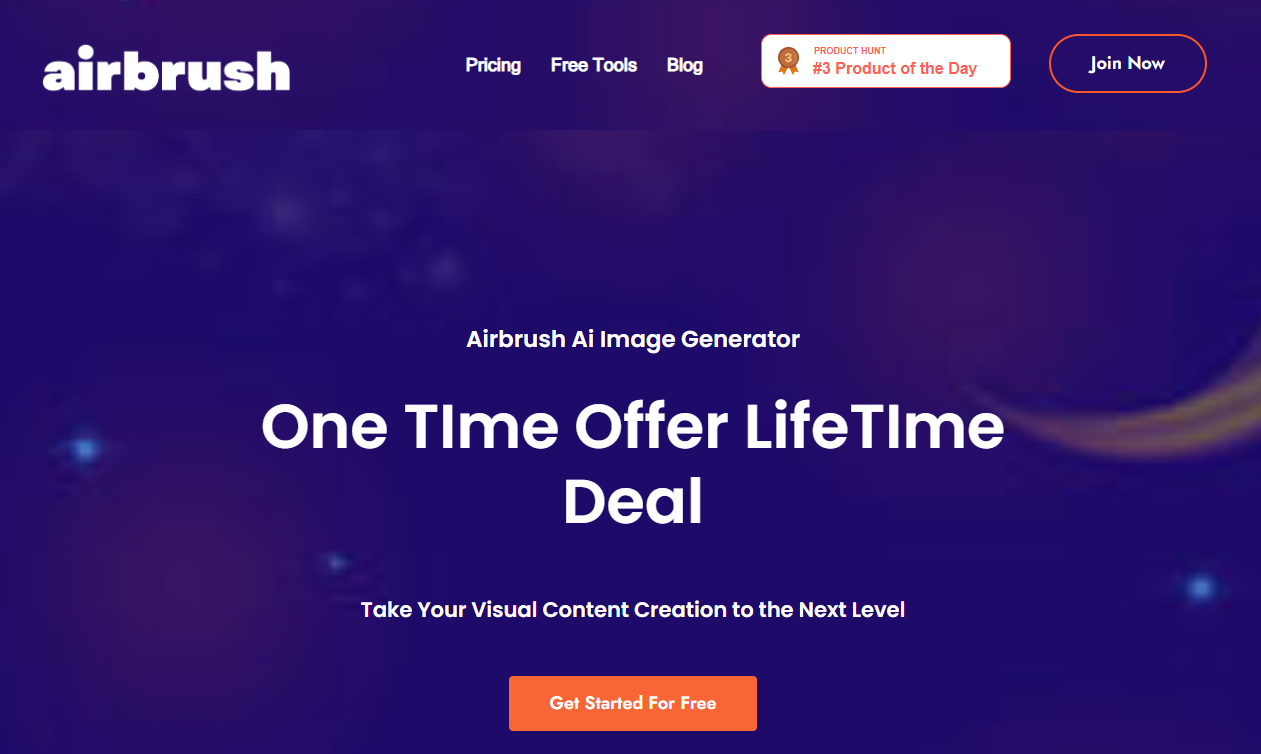 Airbrush is a simple tool that can convert your ideas into images in seconds. Simply enter your thoughts and hit Generate! In addition to converting text to art, Airbrush can also convert images to text, describing the image content in detail. You can upscale images, make cover images for presentations and blog articles, and do more!
Deal: Get lifetime access to Airbrush AI for a one time price of $29!
Coupon Code: N/A
Validity: This offer is valid from 18th Nov to 31st Dec 2023
27.AI4Chat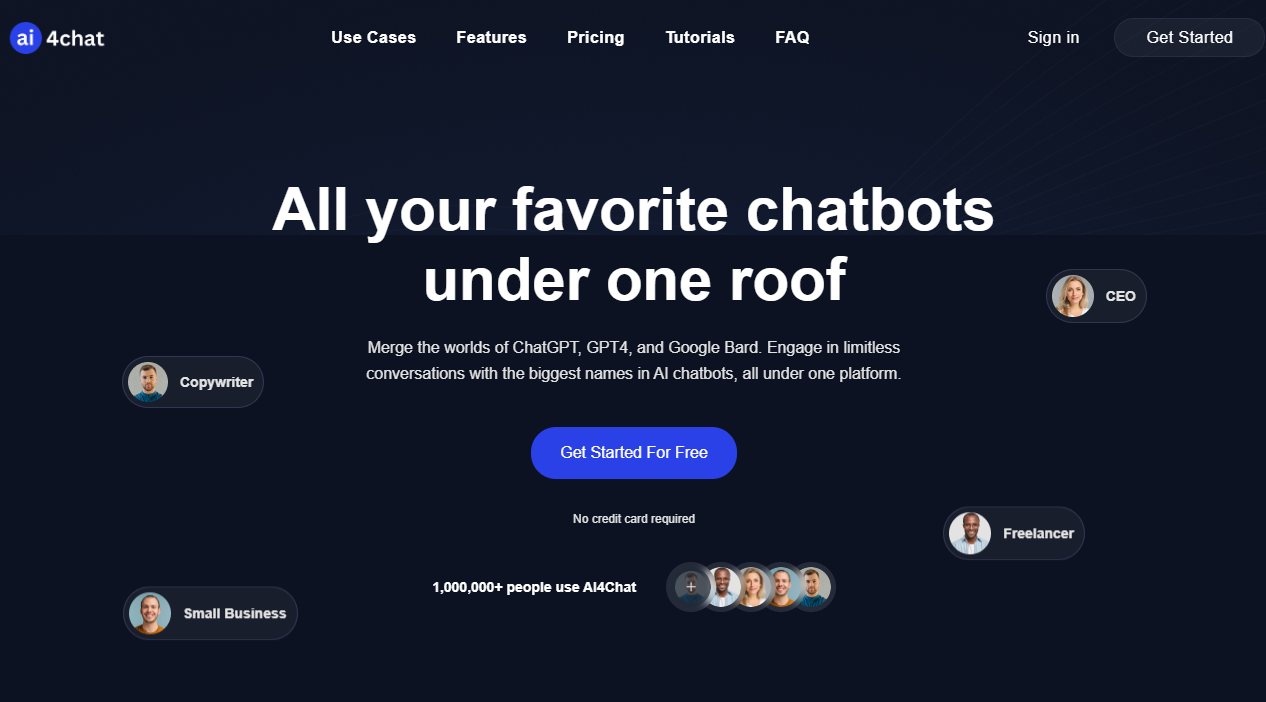 AI4Chat introduces a revolutionary all-in-one chatbot hub, eliminating the need for multiple apps to interact with different AI chatbots. This platform houses a diverse range of bots like Google Bard, OpenAI's ChatGPT and GPT4, Meta's Llama 2, and others, all accessible under a single roof. The app supports over 75 languages, customizable word counts, a variety of conversational tones, and seamless integration with Google Search for real-time information access. Additional functionalities include voice chat in multiple languages and the capability to upload and discuss files and images, enriching the interactive experience. With chat synchronization across devices with the AI4Chat website and mobile apps and a suite of organizational tools like folders, labels, notes and search, AI4Chat is designed to streamline and elevate the digital content creation process, catering to a broad spectrum of user needs and preferences. AI4Chat emphasizes convenience and allows users to explore the realms of generative AI without the hassle of managing multiple applications.
Deal: Enjoy a limited-time offer of 50% off on AI4Chat's Unlimited plans! Secure this exclusive rate now, and rest assured that your price will remain unchanged, even if rates increase in the future.
Coupon Code: Not required. Just visit the website, sign up for an account and redeem the offer
Validity: This offer is valid from 18th Nov to 31st Dec 2023
28.BoldDesk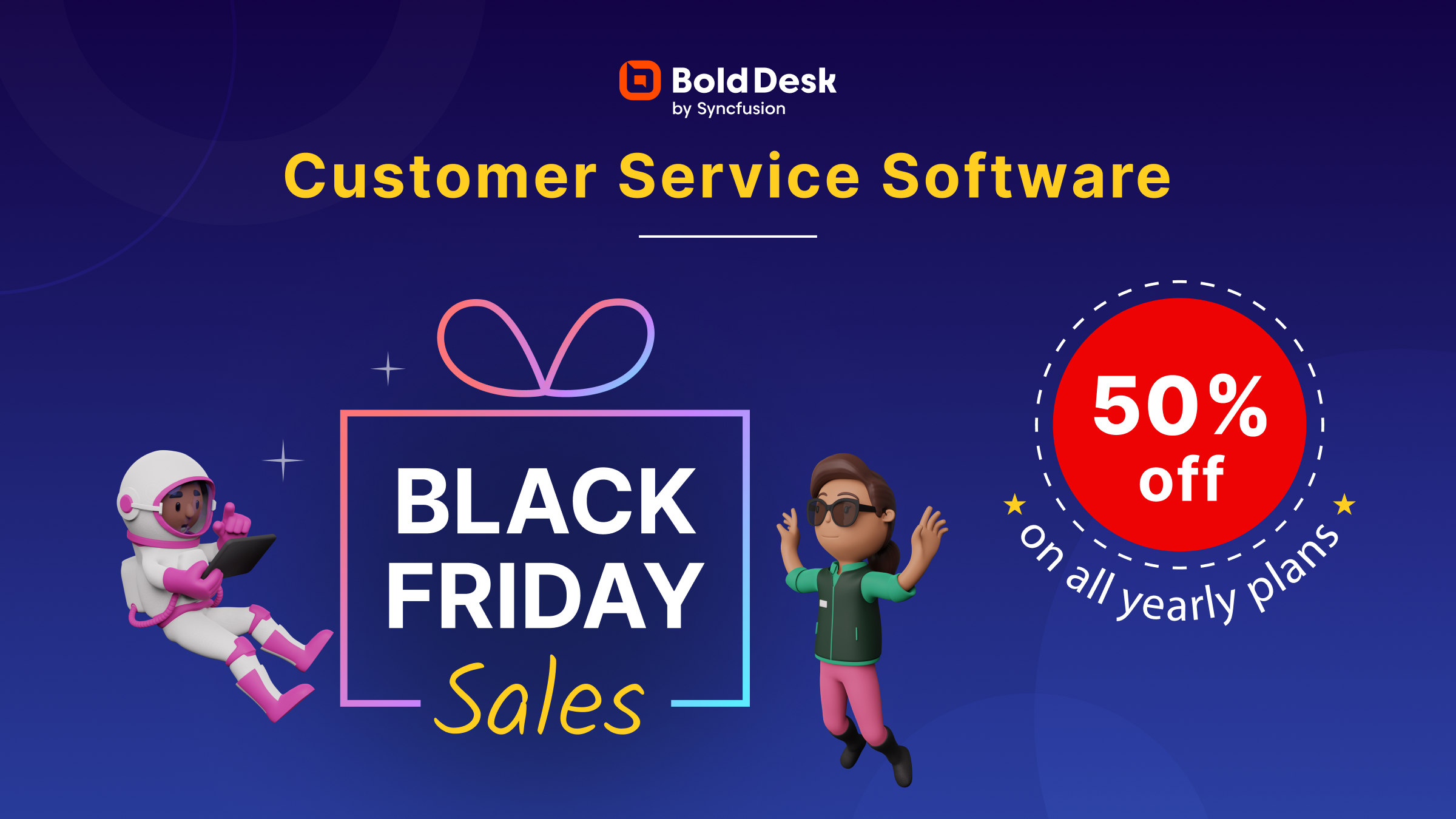 BoldDesk is the ultimate help desk software. It's got everything you need to provide top-notch customer support, with a super easy-to-use interface, automation tools, and reporting.
Deal: 50% off on all yearly plans
Coupon Code: BLACKFRIDAY50
Validity: November 1 – December 5, 2023
29.LambdaTest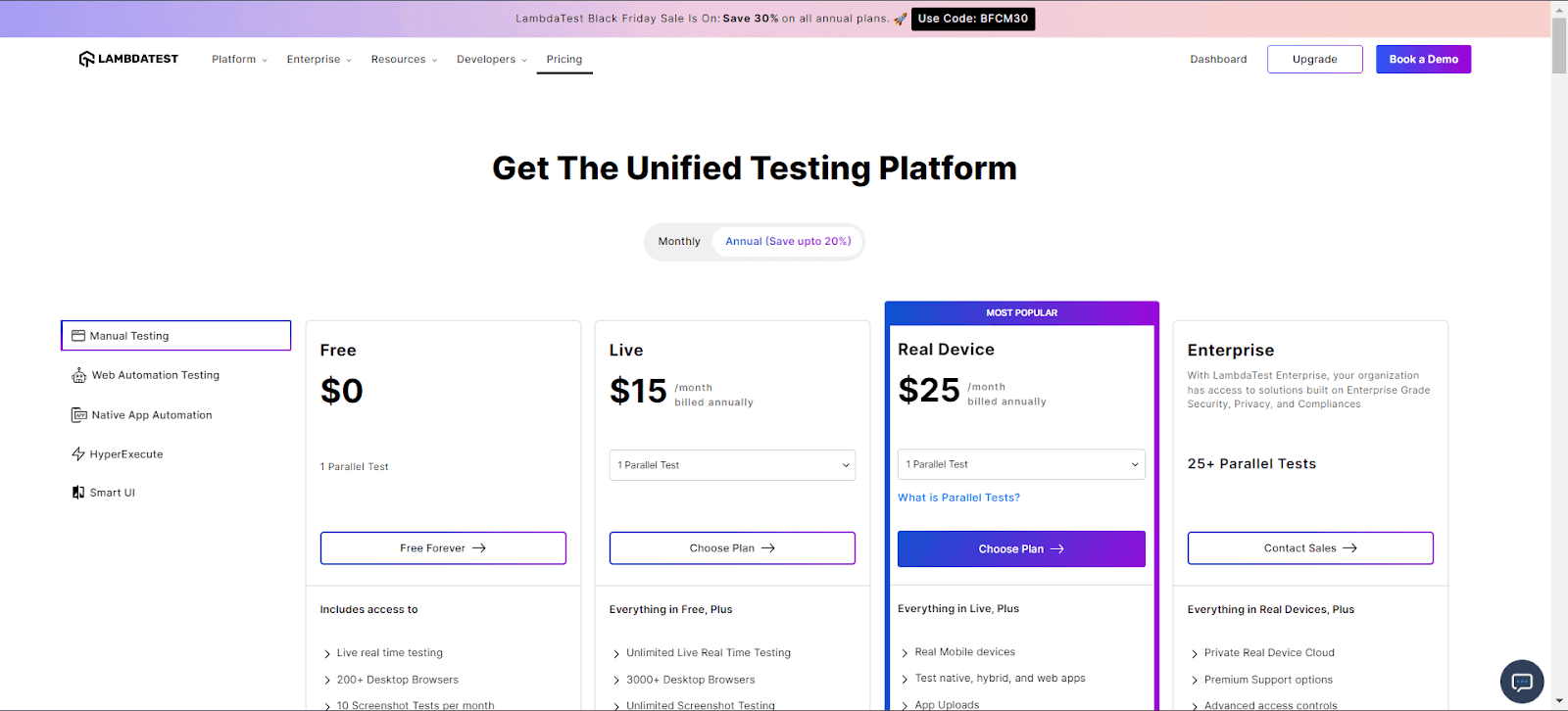 LambdaTest is an AI-powered test orchestration and test execution platform that allows companies to speed up their product releases while maintaining high quality, supporting their digital growth. This platform enables users to perform real-time and automation testing across 3,000 browsers, OS, and device combinations, making it a leading choice among cloud testing platforms.
More than 10,000 corporate clients and over two million users from over 130 countries depend on LambdaTest for their testing requirements. Grab this opportunity and test your websites and apps for Black Friday and Cyber Monday.
Dive into Testing Excellence with a Flat 30% Off on LambdaTest Selected Annual Plans!
Use Code BFCM30 at Checkout.
Offer Validity: 1 Nov, 2023 to 30 Nov, 2023.
30.Product Feed Manager for WooCommerce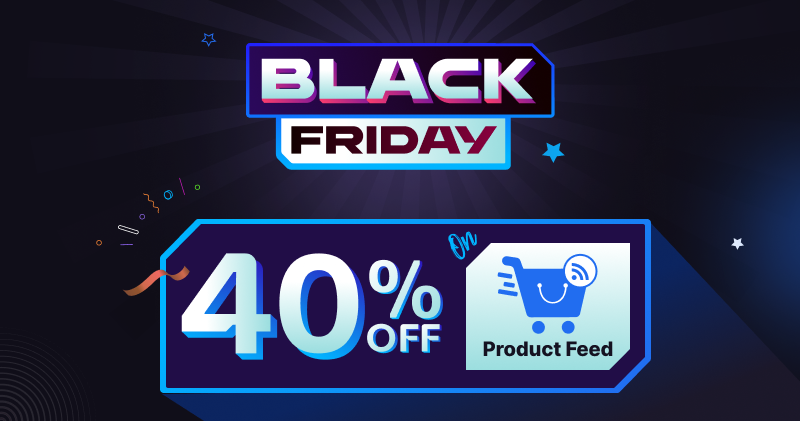 Product Feed Manager for WooCommerce is a special plugin that allows you to create accurate product feeds for 170+ online marketplaces in just a few clicks.
This Black Friday boosts your sales significantly by promoting your WooCommerce products on popular marketplaces such as Google Shopping, Facebook, Bing, Instagram, Walmart, PriceGrabber, and more.
It has powerful features like Auto-Sync with Google, and Feed auto-update so you don't need to manually set anything for getting the updated feed.
Moreover, it has an advanced product filtering feature, feed rules, category mapping, and combined attributes so you can optimize your feed for your desired merchant and get the best results!
Enjoy a flat 40% discount on all Product Feed Manager for WooCommerce plans.
It's the perfect opportunity to take your WooCommerce store to the next level and make the most of the holiday season.
Discount: 40%
Coupon code: BFCM40
Validity: 22nd November to 5th December, 2023
31.Creative Tim Offers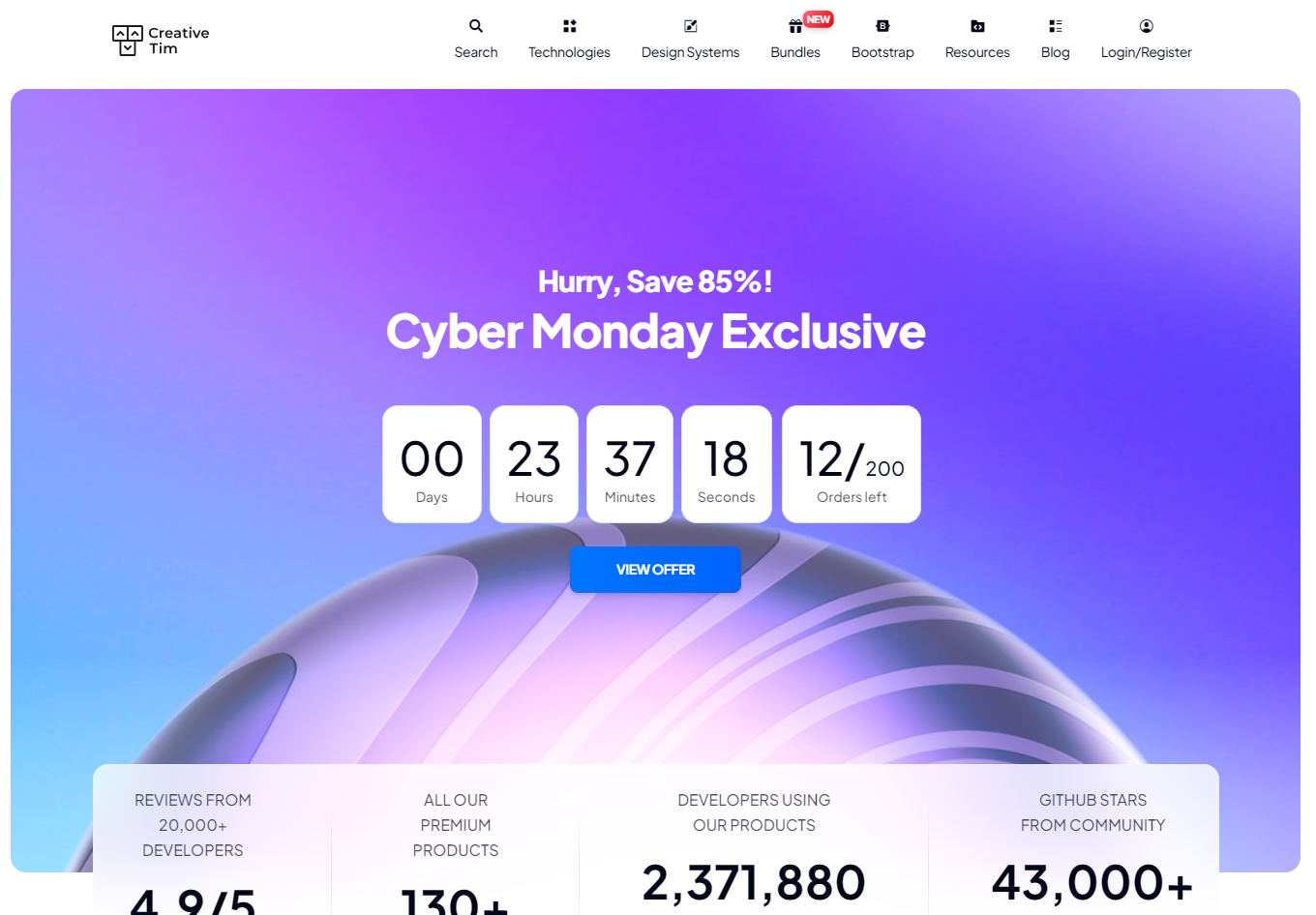 Cyber Monday at Creative Tim is here! Take advantage of the last week of their special offer: join Creative Tim and an exciting surprise is waiting for you. Club members receive the Creative Tim UI/UX Books for free. Immerse yourself in the world of design with titles like "Fundamentals of Creating a Great UI/UX" and "Roots of UI/UX Design.
Don't miss this incredible offer – join the club now and start reaping the benefits today!
Free prototyping tool for web and mobile app design
Free prototyping tool for web and mobile app design
Free prototyping tool for web and mobile app design