Finding the UX and UI design philosophy from fashion designers? Yes, you've opened a little bit twee article. Many people will think that UI, UX and the fashion industry don't have much in common, especially the user experience, but being two fields that need communicate a lot with their customers, the point where they generate their designs are similar. This type of relationship can offer us some unexpected information.

1. What is the design philosophy?

Design philosophy is the superficial demonstration of designers' understandings to the world that is around them, this type of understandings can come out during the process of design in which designers try to find the result. This philosophy can be received from the experience of the ancestors and also from the obtained conclusions based from the knowledge in person to this rapidly changing world. Especially as UX and UI are fruits of the development of technologies, there are more requirements that they should adapt faster for the changes. However, no matter whether it is new or old philosophy, it reflects the values of designers.

"What I find most interesting in fashion is that it has to reflect our time. You have to witness your own moment." Nicolas Ghesquière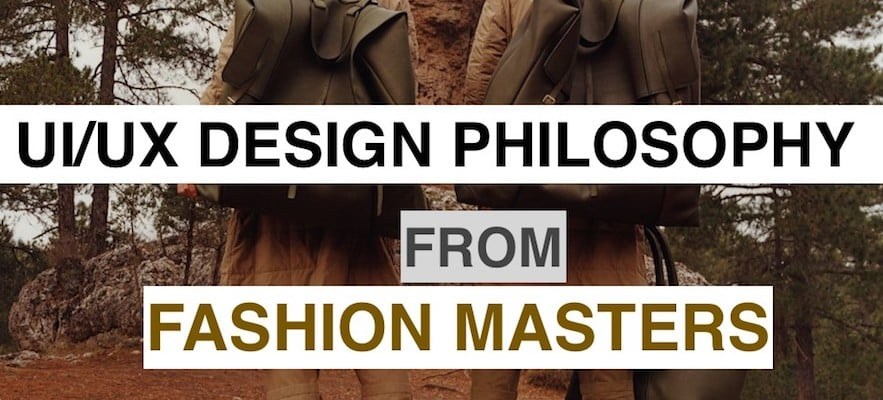 2. Why did I look for the philosophy of UX design and UI in fashion?

As mentioned, fashion design is like that of UX and UI, sufficient and frequent communications with users are essential to realize their requirements. Although their products are of different types, they are created to meet the needs of users, and during design you have to avoid products that nobody needs them. So I decided to find my design philosophy from the fashion world.

The differences is that the UX and UI designs, especially the one of UX, because of the difference between UX and UI design, are relatively more rational, like industrial products and buildings that are created following a quest for precision, you can also say that they are generated from data; While the fashion ones are more perceptual. Sometimes they do not rely on research or data, but with the eyes of designers and rebuilding on their mind with the aesthetic design.

That is why the angle of observation and the conclusions can be quite different. From the rational and the perceptual the bonds and the distinctions of them came out, like the parallel worlds crossed in the fantastic stories in the western literature, these two philosophies are studied separately normally, but some day they have cracks and they cross each other, perhaps we can find a point of balance and bring to the design of UX and UI a little of the perceptual hue.

3. Differences between design philosophy and design style

You will say that at present many products, especially software and web pages have been designed very artistic. Is this an example for the combination of the rational and the perceptual? The truth is that this type of combination is different than what we are going to talk about now, and the difference generates from the distinction of design philosophy and design style.

a. The philosophy of design is the reflection of the world in the minds of designers, it is done with this process: the real world - designer - the world in the mind of designer - reflection in designs. As the intermediary between the real world and the mental world, as long as the world is not changed in his mind, his philosophy will not be another one.

b. The style of design is one of the ways to present the designed world, because we cannot say that the world we see is the real one, we have different eyes and different brains, so the incoming rays and the information processed by our brains are not the same, in the end the world reflected in our mind is not the same either. This world is NOT the real world. And style is only a tool with which we reconstruct our mental world in the real world, although if we ask the designers make designs of the same type products with the same style, also large inequalities will emerge. For example, iOS and Android both are of flat-style, the distinction is still obvious.

Therefore, an artistic website, no matter what style comes out, is not the fruit of the philosophy of UX design or UI of their creators. Of course, every designer has their own style preference because other designers with the same philosophy or similar one created the styles.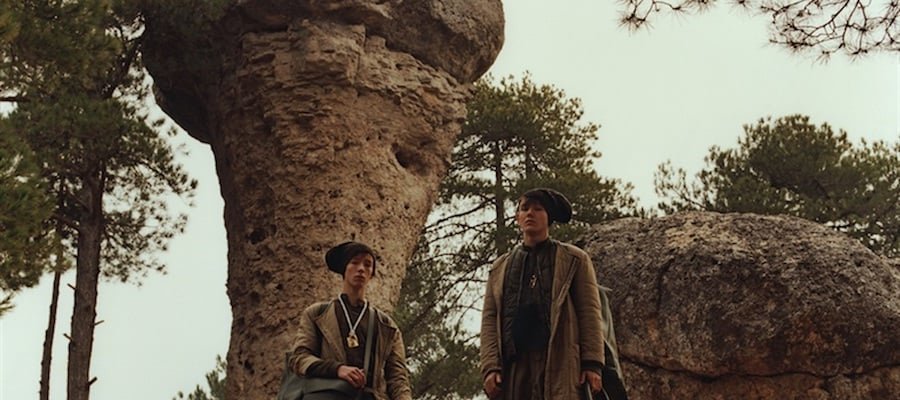 4. What can we learn from the fashion design philosophy?

a. Understand users better than themselves

Apple, being a technology products company, its products have crossed the line between technology and fashion. Their second CEO Mike Markkula mentioned in a memo called "The Apple Marketing Philosophy" that Apple "will truly understand their (customers') needs better than any other company". He did not say clearly that he believed that Apple would better understand customers but the freedom to change their products to customers is very limited. Apple believes that what it offers is enough, nothing more is needed. It's hard to value what Apple did, but being able to better understand users' needs is a necessary faculty for designers.

b. "Create" users' need

Customer needs can be divided into two types: the invisible and the visible. It will be difficult for a customer to find all of his requirements for one product shortly, in this moment UX designers will take the responsibility for helping him find the need that he did not realize. The fashion world is quite mysterious, before launching new products, designers will also create personas like the ones for product development to assume if their customers like them. But when more and more popular models are coming out, we cannot deny their talent in finding the pain point of customer; And another talent of them is to "create" the need, in many cases the clients do not know what they want, but when reveal the new models, each one is as if he had been bewitched and shouts: I want it!

"You should not ask 'why do you wear a hat?' What you really should ask is 'why are not you?' "John Galliano

c. Examine the design from the user's point of view

'Would I Wear This?' (StyleWatch, people.com) This is what Victoria Beckham said in the interview with People.com during the New York fashion week of 2010, and it is her fashion design philosophy. This phrase can be an alarm to all designers, no matter what you design, such as a skirt, a pair of shoes, a mobile app or a shopping website. Attention! It is mandatory to put yourself in the position of user as detectives in detective stories to guess what your users will think: If I were them, would I wear clothes like this? Would I use this app with this way? With what platform would I find this product? When would I pay? At this time, creating personas and User Journey are very useful methods.

"Fashion is not something that exists in dresses only. Fashion is in the sky, in the street, fashion has to do with ideas, the way we live, what is happening." Coco Chanel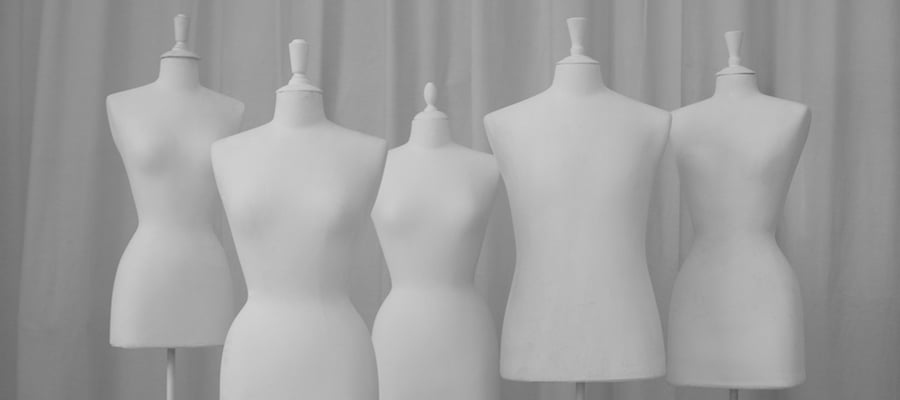 d. Good design does not equate to good experience

This point is a negative example from the fashion world to designers. Like many attractive heels to women, just with pictures or with trying them you look great, but after buying them, a day later you will find that your feet will be to explode. It's a good example of "Good design does not equate to good experience", as UX or UI designer, you may fall into the catharsis of your designs, but customers will just look at you with a sideways glance, if you don't like it, try hard to get your perfect user experience design process.

e. Great design is transparent. (Joe Sparano)

Many designers, especially newbies, always try to show up in their designs, but that can annoy customers because you are not Chanel or Louis Vuitton. It is necessary to focus on creating comfortable products to use instead of polishing. Only when the requirement of being easy to use is made, it's time to discuss other conditions. Like for a pretty jacket, you have to emphasize the beauty of the person who wears it. That's why a good designer has to know how to "steam" in their designs, and let customers find what you design during use.

f. The use of materials

Materials can transport mood. When creating the User Journey Map, an important element is the humor of users. In fashion design, in addition to designer sketches, the use of materials may also reflect their design philosophy and this element can separate potential and normal users. But what is the material of UX and UI designers? For UI, the material can be images, fonts, colors, etc.; UX materials are more abstract, can be user data, and the thoughts of designers, when you match thoughts with user requirements, the use of material has been successful.

In addition to the above points, we can learn much more from the philosophy of fashion design. Naturally, as I said in the first paragraph, the design philosophy is perceptual, because not all the philosophy of others will be useful for us, but if we can know the philosophy similar to the ours, our view and world will expand, and we will understand the users better, which is the reason for the writing of this article.