iOS and Android are the two major mobile platforms, the former uses Human Interface Design while the later adopts Material Design. Designers, app designers especially, when designing a mobile app, usually should choose between iOS and Android first. If you design app for iOS, it must feel so good if your product has the chance to rank high among the countless competitors. That's how design changes our life.
How to Design A Great App for iOS?
Well, if you design app for iOS, I just have you covered. It's true that interface effects user experience directly. Here, I've carefully selected 12 Best mobile app with excellent iOS UI design (IOS Design Patterns) and good user experience, covering lifestyle, magazine, sports, weather, online shopping, etc. Moreover, this is also the right place to discuss the Human Interface Design guidelines. Prepare to be amazed and get inspired.
1. City App
Category: Navigation
Price:$29
System Requirements: Supports iOS 9.0 and Up
City App is a native swift iOS application template for city guide solution for showing interesting place from a city with description. An Augmented Reality Technology is implemented for searching a place from user location through a camera, which is cool and useful. Admin Backend is integrated to manage places data, you can edit, update or delete data.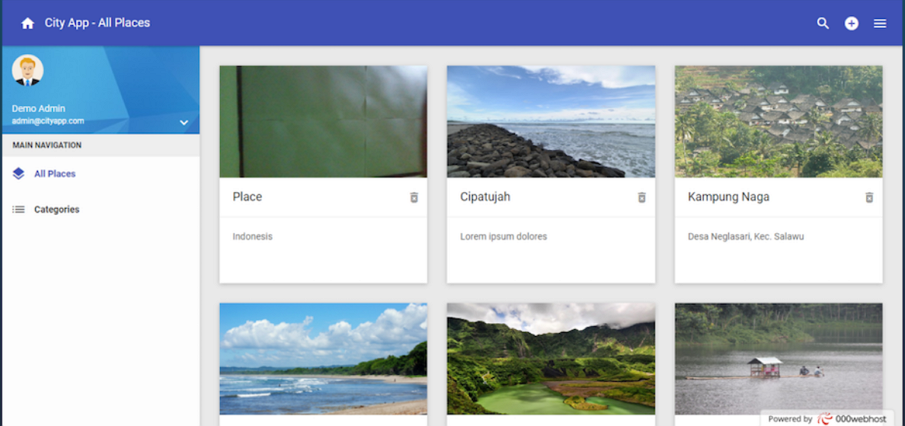 Why I like it:
Integrated with firebase authentication, firebase database, firebase crash reporting,
Online and offline mode support,
Maps support,
Augmented reality-based location,
Image picker, cropper and upload.
Check details.
2. Triibe
Category: lifestyle
Price: Free
System Requirements: Requires iOS 9.3 or later. Compatible with iPhone, iPad, and iPod touch
This is a tool for creatives and DIY crowd. Triibe Leads the way in a brand new community designed specifically for people who make! A simple, visual way to showcase your handiwork and learn from a creative community. Craft, cooking, home, fashion, etc. It's all welcome. On Triibe even little ideas find a lot of love!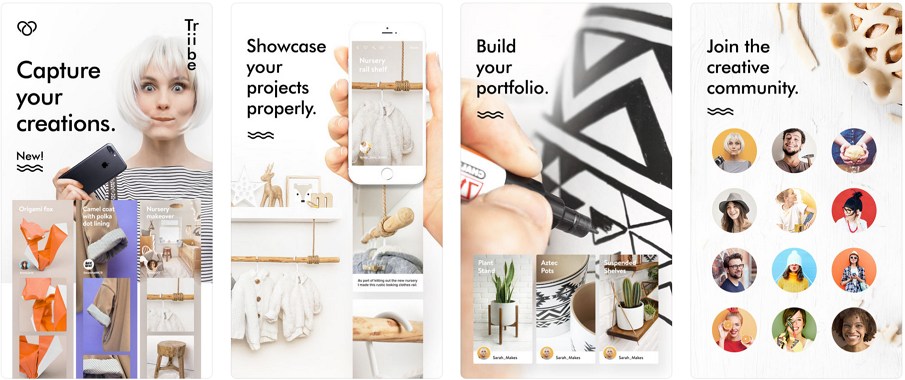 Why I like it:
Your images will look amazing with special filters & editing tools,
Image zoom - pressing on individual project images will then allow you to zoom in,
Comment reporting - easily flag any inappropriate or offensive comment by pressing the '...' icon,
Share options - press & hold on individual project images to share or save them to your device; improved access to project share options so it's quicker & easier to post projects to your other social channels.
Check details.
3. Design Events Near You
Category: Activity
Price: Free
System Requirements: no limitation
This app is designed by Johny vino, a talented designer from India. Design Events Near You is an app for discovering upcoming local design events and all kinds of outdoor activities in your city and nearby places get interesting event recommendation, bookmark events, etc. It has great mobile UI and excellent UX.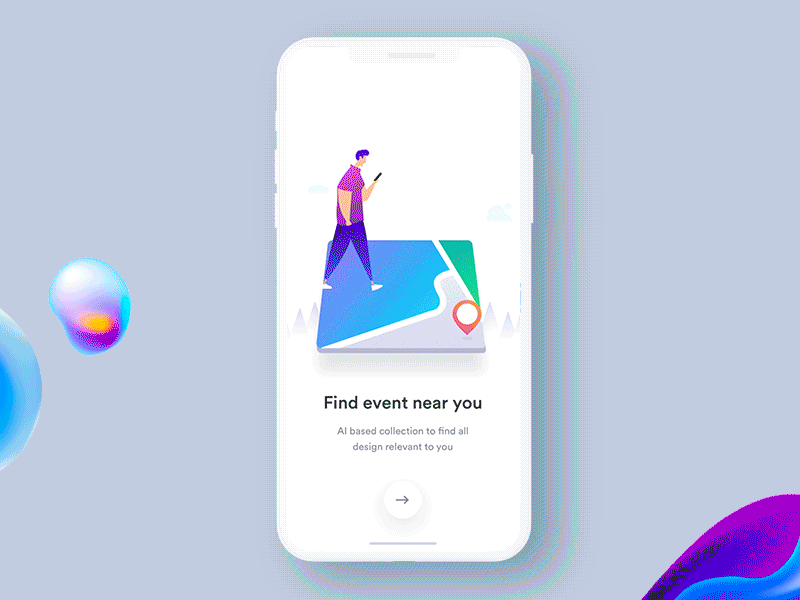 Why I like it:
You can filter events by tag,
A set of illustrations showing different scenes are appealing and funny,
Excellent interactions with different elements is amazing,
Featured buttons, photos and options are animated and vivid.
Check details.
4. Trove: Style & Shopping
Category: Blogger & Fashion
Price: Free
System Requirements: Requires iOS 9.0 or later. Compatible with iPhone, iPad, and iPod touch
With Trove, you can find your favourite fashions any time and anywhere, you can go shopping for endless inspiration and advice from the world's top style influencers, you can follow top style bloggers, discover up-and-coming style influencers, and you can browse "Featured" outfits and follow bloggers that resonate with your style. Also, check back in on your favourites with the "My Feed" tab and add items to your closet to shop them later.
Why I like it:
Inspiration - follow your favourite style bloggers or find new ones that fit your aesthetic,
Discover - Explore new products, clothes, bloggers and kindred sartorial spirits by just browsing your feed,
One click - to save your favourites, discover and explore new blogs and then shop for the items you want with just the click of a button,
Search - search within your area to see who is local, follow them and they will show up on your feed every time you open the app.
Check details.
5. Nowait Guest
Category: Food & Drink
Price: Free
System Requirements: Requires iOS 9.0 or later. Compatible with iPhone, iPad, and iPod touch
You can skip the wait at many of these popular restaurants using Nowait, including Chili's, Buffalo Wild Wings, First Watch, etc. With Nowait, you can see the current wait times for nearby places to eat and put yourself on the waitlist of your favourite restaurant from anywhere - even if they do not take reservations.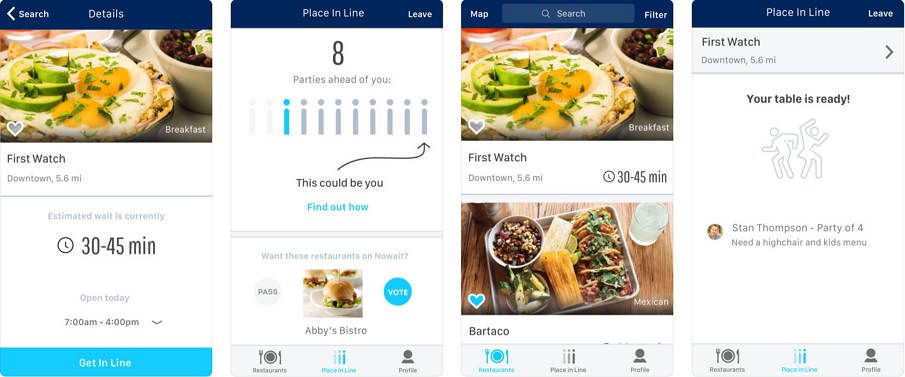 Why I like it:
Save time by getting in line from home, work, or a private yacht,
Gain peace of mind by knowing how long the wait time is at any restaurant near you,
Create harmony in your family by minimizing the wait for hungry children (and adults),
Go shopping, play soccer, take a nap, or spend a minute rating our app with your extra time.
Check details.
6. The New York Times
Category: Magazines & Newspapers
Price: Free
System Requirements: Requires iOS 9.0 or later. Compatible with iPhone, iPad, and iPod touch
Stay up to date wherever you go with The New York Times. It has won an award-winning journalism with the NYT app for iPhone, iPad, and Apple Watch. It features news alerts, multitasking, morning & evening briefings, the daily 360, podcasts, save articles to read later on any of your devices, etc.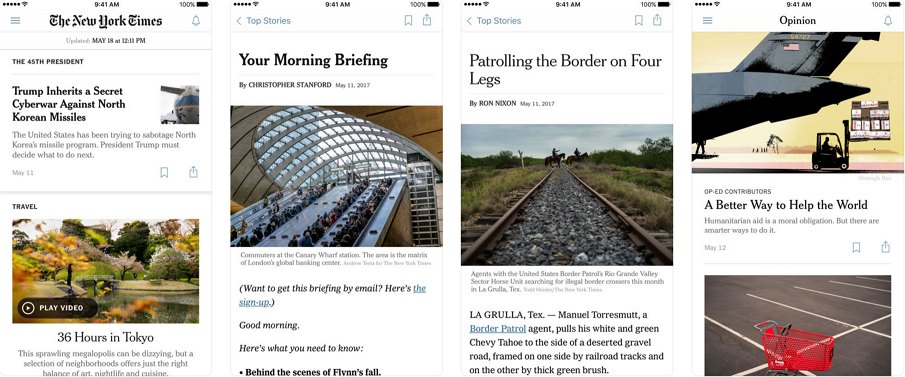 Why I like it:
Catch up quickly by reading today's headlines,
Receive alerts when big news breaks,
Use Handoff to continue reading on your iPhone, or touch save for later to build a personal reading list.
Check details.
7. iPhone X - Todo Concept
Category: Magazines & Newspapers
Price: Free
System Requirements: Requires iOS 9.0 or later. Compatible with iPhone, iPad, and iPod touch
iPhone X - Todo Concept is designed by Jae-seong and Jeong for Norde. It's a new prototype of Todo Concept for iPhone X. The Sketch & PSD mockup is available for free download. You can also check the 60fps motion in the attached file. It's specially designed for the release of iPhone X.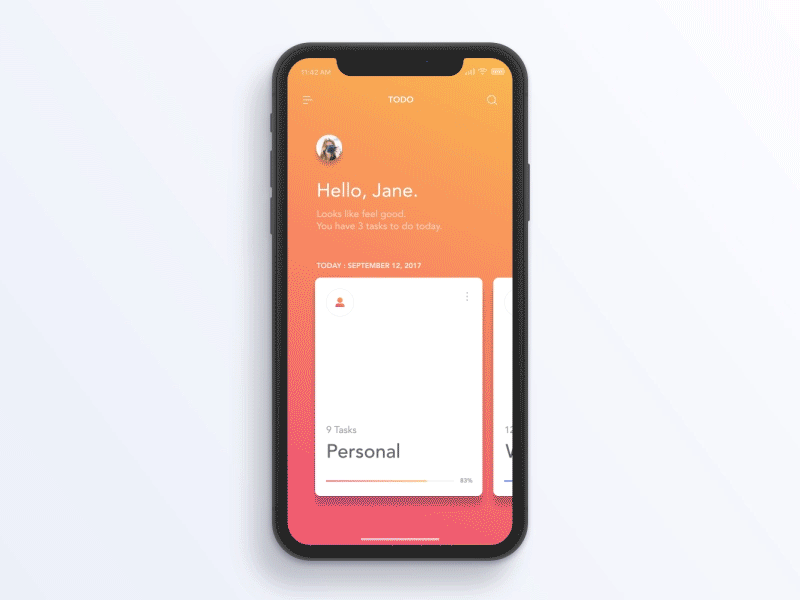 Why I like it:
The transitions are nice and smooth,
Keyboard interactions are well-animated,
The color are compatible and create a clean interface,
Features many vivid animated buttons and options.
Check details.
8. Cloud Music Offline MP3 Music
Category: Music
Price: Free
System Requirements: Requires iOS 9.3 or later. Compatible with iPhone, iPad, and iPod touch
It's a really decent music app for those who love listening to music. You can easily download music from clouds to your device and play offline. This app can totally make your unlimited music library available on your device, like anytime and anywhere. All of the most popular formats are supported: .flac .mp3, .aiff, .m4a, .wav...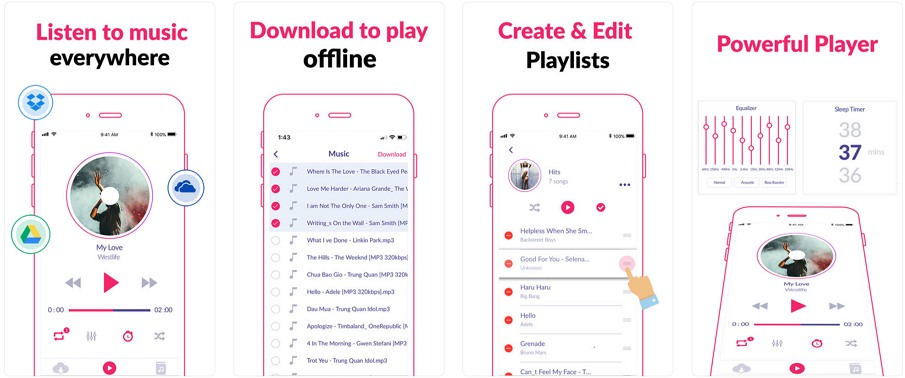 Why I like it:
● Download songs and play without internet or Wifi (offline music player),
● Wi-fi transfer: import music into the app through computer's web browser,
● Open in / Copy to: easy to import files from other apps,
● Unlimited free storage with Google Drive, Dropbox, OneDrive,
● Universal music player for both iPhone and iPad.
Check details.
9. KicksOnFire: Buy Sneakers
Category: Sport
Price: Free
System Requirements: Requires iOS 8.0 or later. Compatible with iPhone, iPad, and iPod Touch.
This app is special for release dates & sneaker news, so sneaker fans can never miss a sneaker release by using this app. It's the most downloaded sneaker release calendar app which you can shop your favourite sneakers and find your grails. The profiles are with personalized releases & price estimates.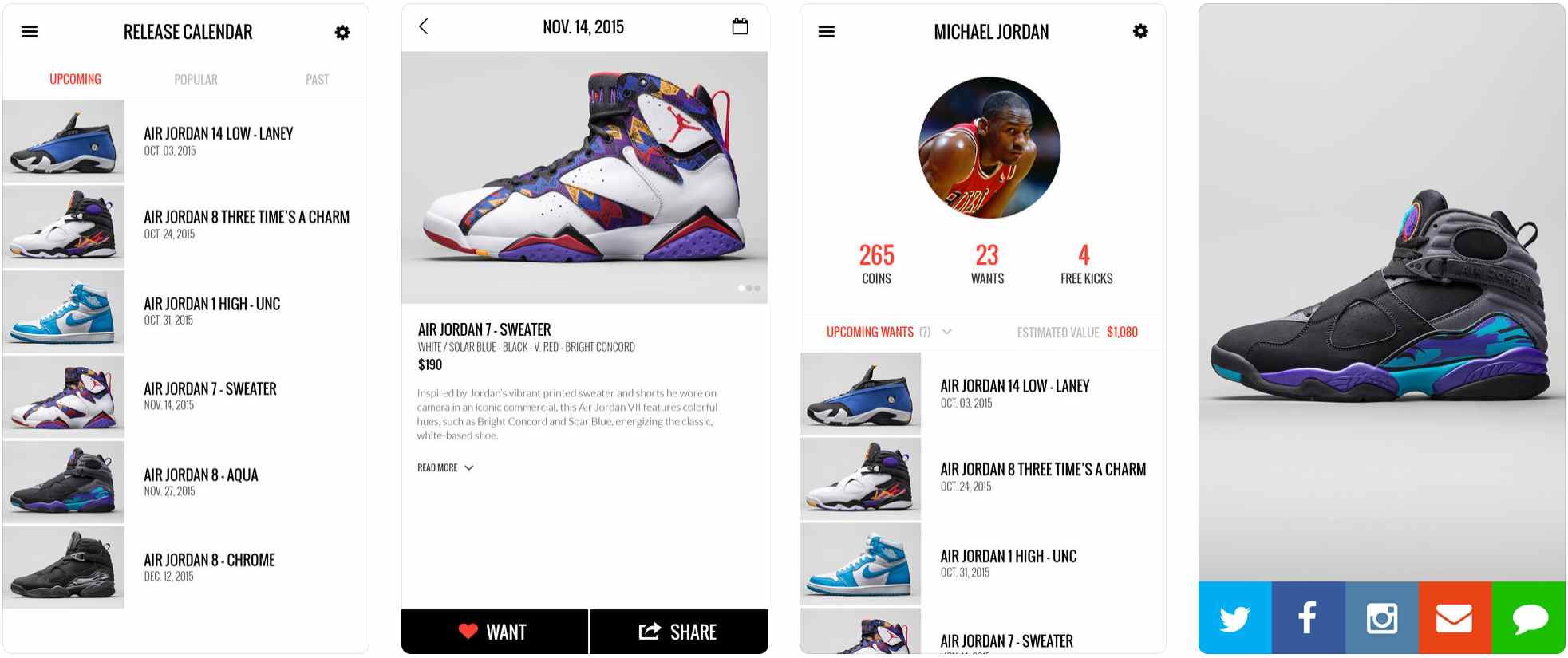 Why I like it:
Set reminders, win free kicks & social share,
Price guide - market value of every sneaker,
Concierge - a personal assistant for each order,
Interactive price charts.
Check details.
10. Airbnb
Category: Travel
Price: Free
System Requirements: Requires iOS 9.0 or later. Compatible with iPhone, iPad, and iPod touch.
You can get an unforgettable travel experience starting with Airbnb. All thing becomes even better with it, like find travel adventures and new places to go far away or near to you, access vacation home rentals, new experiences, and places to visit all around the world. You can book everything for your trip, or start earning money as a host.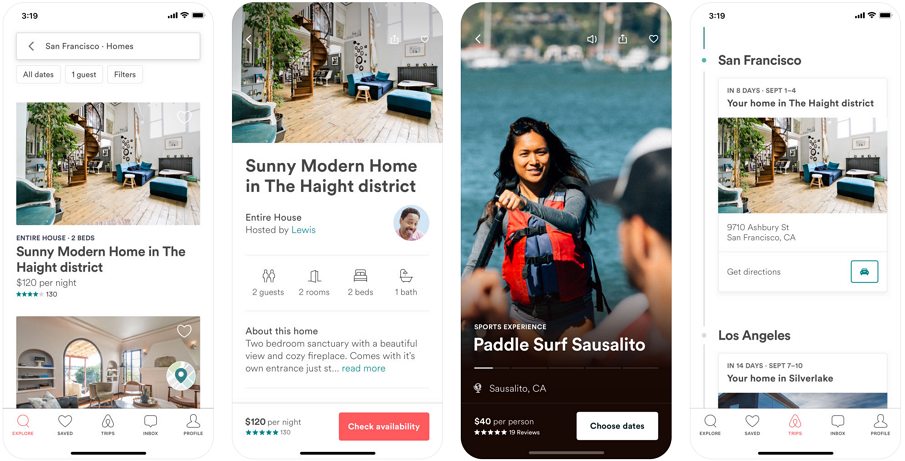 Why I like it:
Book vacation homes - choose from over 4 million vacation home rentals across 191+ countries. Search by price, neighborhood, amenities, and more,
Discover places - find the city's best bars, restaurants, and secret spots. Get the latest travel recommendations on where to go from local experts, celebrities, and hosts,
Book travel experiences - go on local experiences led by native experts, whether it's for multiple days or just an afternoon.
Check details.
11. Local Weather Radar & Forecast
Category: Weather
Price: Free
System Requirements: Requires iOS 9.0 or later. Compatible with iPhone, iPad, and iPod touch.
Local Weather is an app for local breaking weather news and traffic. It's able to switch locations to check on weather in places where you have friends and family. The download is free.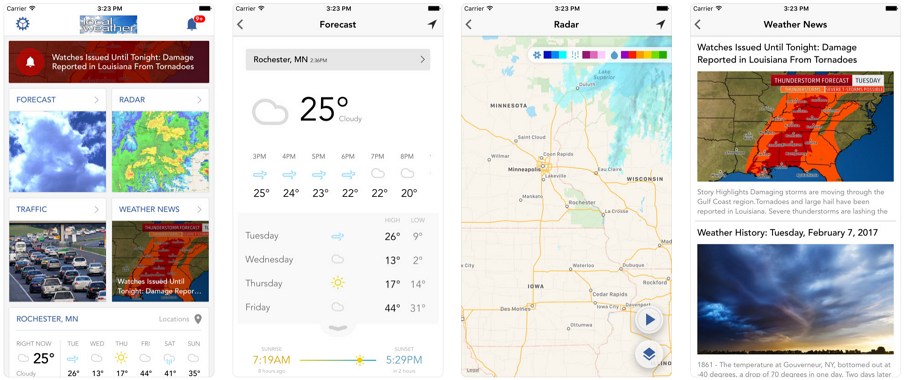 Why I like it:
Provide local forecast, conditions, with satellite maps & doppler radar trackers,
Hourly temperature timeline to plan your day,
Hurricane & typhoon forecasts from the NOAA,
Live traffic and emergency transit alert updates.
Check details.
12. Sofa
Category: Movies, TV & Books
Price: Free
System Requirements: Requires iOS 9.3 or later. Compatible with iPhone, iPad, and iPod touch
Sofa is an iPhone app that helps you spend quality time with a book, movie, or TV show. You can create lists like movies, TV shows, books to organize Sofa personally. You are also free to add movies, TV shows, and books to any list. The whole point of creating lists and adding to them is to actually watch or read something.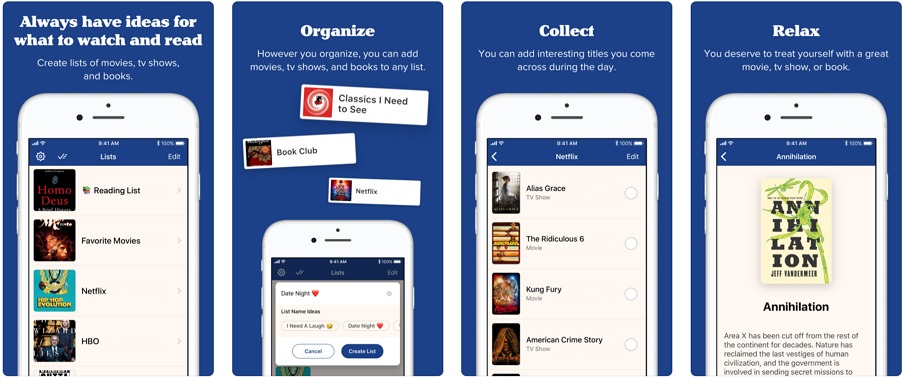 Why I like it:
Move items from one list to another, not all lists are permanent and being able to move items between them makes rearranging things much easier,
You can now dismiss the keyboard, by swiping down, when you're searching,
Items in your Activity view (completed) are tappable,
Track - after you've watched or read something, you can mark it as "done." This removes it from your list and adds it to Activity.
Check details.
Above are the 12 best mobile app UI design inspirations in 2018 (ios design patterns). Most of the apps have risen to the top of the App Store charts. So what's the secret to delivering an extraordinary product? From the above iOS design examples, it's not hard to figure out the importance of the excellent iOS UI interface and the user experience.
iOS design require Clarity, Deference and Depth. Together with the main design principles, including Aesthetic Integrity, Consistency, Direct Manipulation, Feedback, etc. In all, you'll need to meet high expectations for quality and functionality. See how to do it:
Typography
1) Font
How "many" typefaces do you need on a single screen? Maybe one is enough if you choose the right font. A single typeface and a few font variants and sizes can make your font speak. Apple uses San Francisco and chooses font according to the product feature, so you'll see Myriad(Pro) Light for iOS 7, SF-UI for iOS 9. In iOS 10, the San Francisco variants were SF UI Text and SF UI Display.
2) Font size
Mobile screens are limited so font size matters. Reduce eye strain by making things more legible for your reader. Do not use up the screen and break in the reading coherence. For example, use a text size that's at least 11 points in iOS. Below are some details: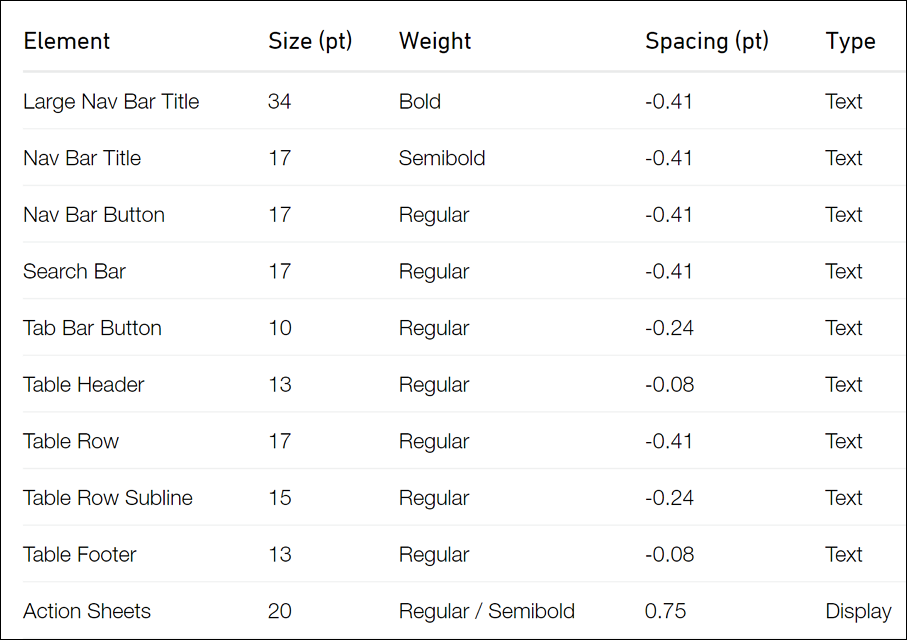 Color in UI design
Color is a great way to impart vitality. It influences UI directly by providing visual continuity, communicating status information and even giving feedback in response to user actions. But colour is such a tricky thing, you need to pay great attention to. Apple has its own vibrant colour palette since iOS 7, which you can use. Also, you can use your own unique style.

Know more: How To Use Color In UI Design Wisely to Create A Perfect UI Interface?
Icons are Esseccial to Interface Design
Icon style of iOS should be simple, recognizable, and focusing on a single point. Usually, you need different size icons for your app, smaller ones for use on the Home screen and throughout the system once your app is installed, as well as larger icons for display in the App Store.

What's know in iOS 11
1)Bolder navigation
This is almost the most impressive changes in iOS 11. The use of bold headline allows users quickly aware of their current location among a large number of label switching.
2) White space in the interface layout
The headline text of iOS 11 contains a set of elements with pictures and descriptions that keep a large spacing between group elements. In this case, the design elements maintain sufficient spacing and can be used to distinguish the hierarchical relationship between the unnecessary decorative elements.
More info check iOS 11 UI Kits Freebie & What's New UI Design Changes in It.
Start with prototyping
In iOS 11, it also adds drag and drop, which allows people to use a single finger to move selected photos, text, and other content from one location to another—and even between apps on iPad. The point is to be quick and simple. For app designers, every time you build a product, start with prototyping can save you plenty money, time and energy, as well as spark your inspirations. Let's see the prototyping tool can help you with.
Let's take a look at prototyping tool Mockplus. It's professional to do prototyping for iOS App design. It offers many powerful functions for you to build a beautiful and unique interactive mobile app prototype:
After using Sketch to design a static mockup based on the iOS 11 system, if we want to continue to make interaction design and team collaboration, it is recommended to install the Mockplus plugin in Sketch. Once you completed design in Sketch, you can export it as an MP file and make Sketch prototyping in Mockplus, which allows designers collaborating and adding annotate with team members.

2) Auto Data Fill to automatically fill data at one time
Designers use all kinds elements to make the interface look appealing and beautiful like pictures. But Is it really troublesome to add images one by one? How about just with one simple click to automatically fill pictures at one time? One can do this with Mockplus.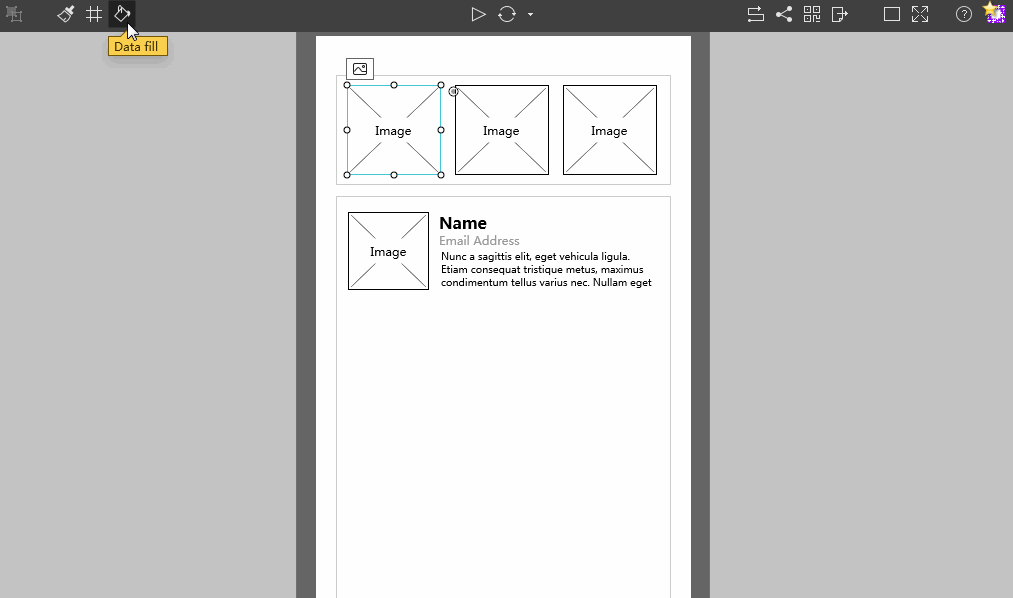 3) More than 3000 vector icons 
As mentioned above, icons are very important in iOS interface design. Moreover, icons can enrich your interface and make it more productive. Mockplus offers over 3000 icons in different categories, and you are free to choose or edit any of them.
4) Drag-and-drop method to create interactions and transitions
It's a good thing you make a good-looking interface. It's better to add excellent interaction on it. Interactions and transitions can make a mobile App UI design more attractive. Just easily drag and drop, you can build interactions with Mockplus quickly and effortlessly.

Collaborate & Handoff iOS App Designs Online Effortlessly
To create a great iOS mobile app, UI designers also need to collaborate with other designers, developers and product managers together. To improve your work efficiency, a good online collaboration & handoff tool, such as iDoc, with a Sketch plugin, Adobe XD plugin and Photoshop plugin, is a nice choice to help you save at least 50% of your time.
With iDoc, you can freely important iOS app designs from Sketch/Photoshop/Adobe XD, generate specs and assets automatically, gather instant feedback and suggestions, create UI flows with one click, handoff designs effortlessly and communicate with other designers, developers and product managers smoothly.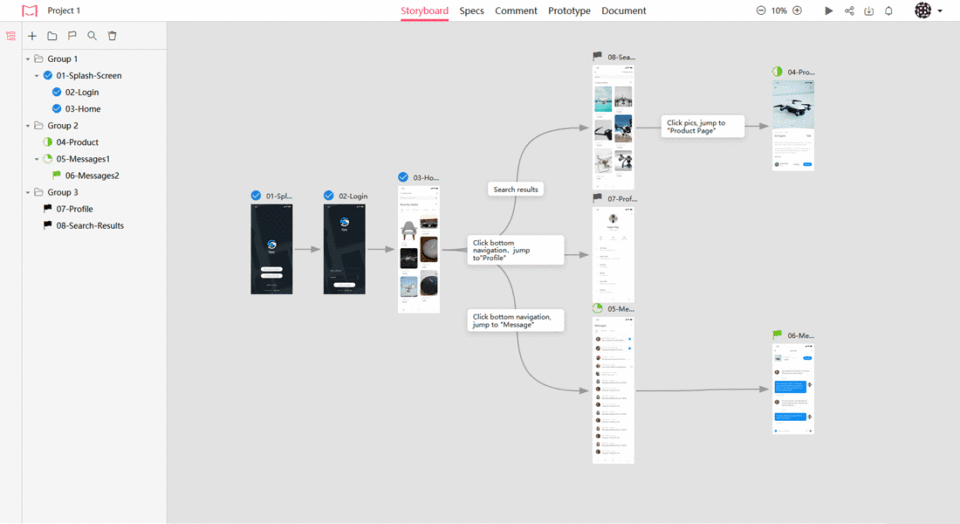 Conclusion
In our opinion there are the 12 best mobile app UI design inspirations in 2018 (iOS design patterns). If you are designing apps then you can take inspiration from these. Design takes risk. Take the chance to go beyond your limitations and rise to the top of the app store. You can do it!