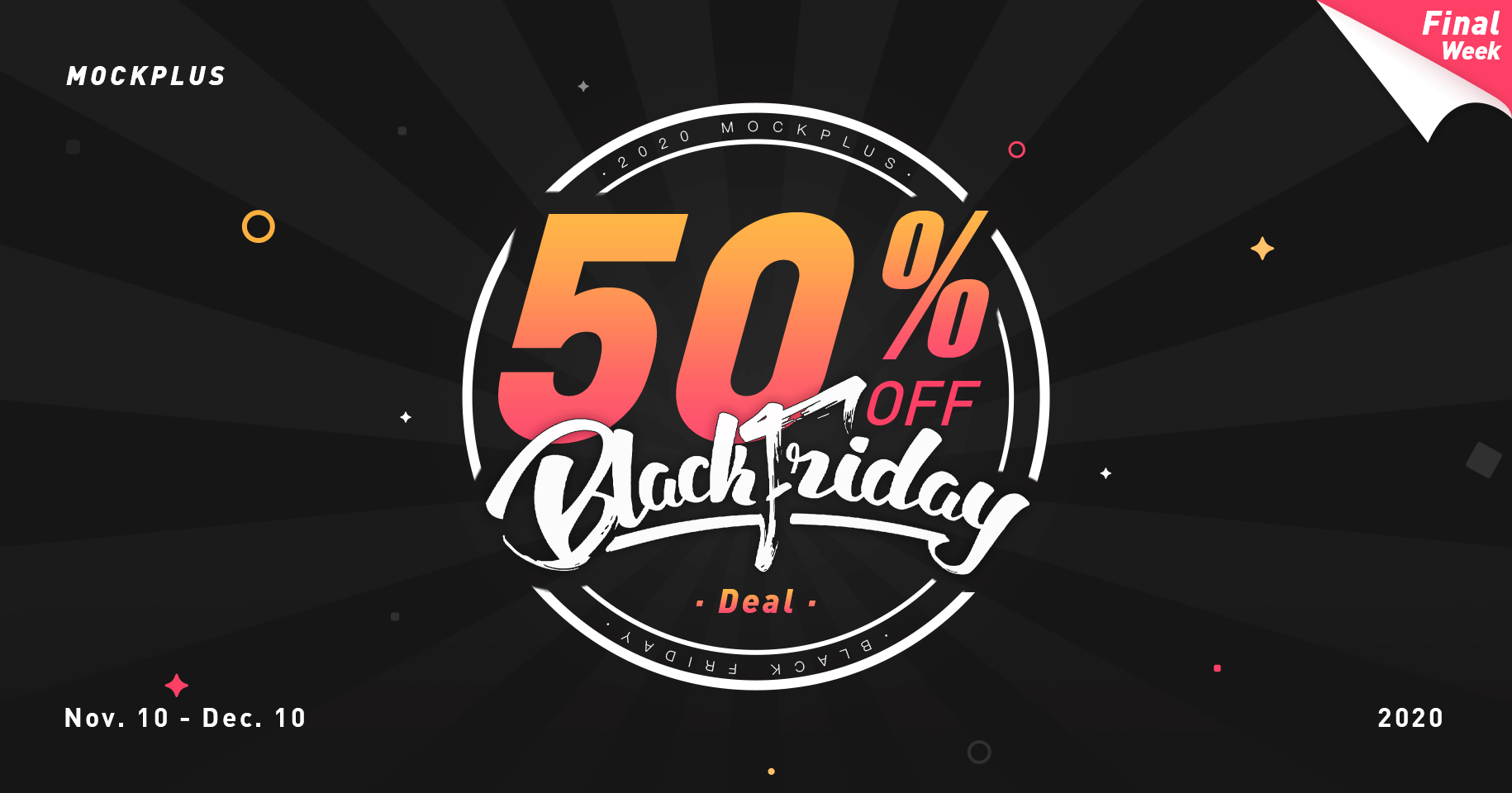 Mockplus Black Friday Sale 2020 — up to 50% OFF Deal had ended last week! Thank you very much for supporting Mockplus!!!
Every designer and product team can still go to our pricing page and enjoy all powerful design and collaboration features at a reasonable and affordable price.
What are the Black Friday deals?
To celebrate the upcoming Black Firday and let designers and product teams design and collaborate better online, we bring everyone two amazing deals:
Deal 1: Buy a coupon early - Get 70% OFF Mockplus Cloud Annual plans
To enjoy up to 70% off discount on all Mockplus Cloud Annual plans, you need to know the following:
Pay just $0.99 for a discount coupon - Before Nov 25

Save up to 70% off at checkout using the coupon - From Nov 26 to 27
Go Buy the coupon and get all Mockplus Cloud annual plans at the lowest price:

Deal 2: Direct purchase - Get 50% OFF everything
If you don't want to wait that long, you can directly take 50% off on all Mockplus plans. No any discount coupon required.
Why to choose Mockplus Cloud?
Mockplus Cloud is an one-stop online product design platform that can bring your entire team, including designers, developers, product managers, clients and even stakeholders, on the same project anytime and anywhere. Your entire product design workflow is connected.
The powerful features you should explore:
Create the custom workflow that suits your team best

Hi-fi interactive prototyping with real-time collaboration

Collaborate and handoff Sketch/PS/XD designs with auto specs, assets and code snippets

Import, collaborate and handoff Axure/Mockplus prototypes with ease

Write, manage and share PRDs online with your entire team

Build, maintain and share design systems online for brand consistency

Comment on designs for better communication and collaboration

Refer designs and PRDs together for better explanation and communication

Draw different flowcharts with simple drag-and-drop
Mockplus Cloud offers everything you will need from prototyping to developer handoff.
What are you waiting for? Get all Mockplus plans with a up to 50% off now! This offer ends on Dec 10, 2020. Hurry! Go get it and save big!!!
Go get the best deal of this year now: https://www.mockplus.com/buy/black-friday
Other Best Year-end Deals for Designers and Developers
1.Pixpa
Pixpa is the ultimate all-in-one website platform for photographers and creatives to showcase, share and sell their work online. Trusted by Pro Photographers around the world, Pixpa enables you to create a beautiful portfolio website in minutes, complete with built-in client galleries, online store, and blog. With plans starting at just $7/mo, Pixpa gives you all the tools that you need to manage and grow your business - all without any coding knowledge.
Deal: Create your portfolio website on Pixpa and get 50% OFF for the first year on all plans. Claim your discount with coupon code - BLFPIXPA50 before 4th December 2020.
Offer URL: Click here
Offer Validity: 24th November to 4th December
2.CodeGym
Learn Java with CodeGym.cc and get confidence in coding!

Only till December 18th, you can get an annual subscription with a huge discount! For only $99 you get a whole year of best coding exercises to level up your programming skills and sky-rocket your career!

What you'll get:

- 24/7 access to the course

- Bite-sized lessons with real programming examples

- 1200 practical coding tasks with instant verification

- IntelliJ IDEA plugin for completing tasks

- Supportive community

Sign up today and start your coding journey with CodeGym!
Offer link: Click here
Offer Validity: Valid till December 18th
3.Creative Tim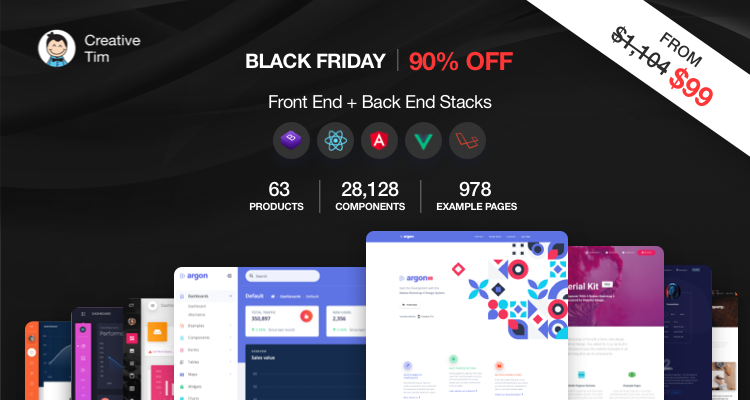 Black Friday at Creative Tim is on! Take advantage of Creative Tim's UI tools at the best price of the year. Save up to 90% OFF by choosing one of these special front-end and back-end Stacks that will save you time and money:
React Stack - 17 premium UI Kits and Dashboards

Bootstrap Stack - 19 premium UI Kits and Dashboards

Angular Stack - 10 premium UI Kits and Dashboards

Vue.js Stack - 15 premium UI Kits and Dashboards

Laravel Stack - 9 premium UI Kits and Dashboards

Ultimate Stack - 63 premium UI Kits and Dashboards
All these special Black Friday Stacks come with three types of licenses available: Freelancer, Company, and Enterprise. No need for a coupon code. All you need to do is visit Creative Tim website and choose the one that best suits your needs.
Hurry up and grab Creative Tim Black Friday deals!
Validity: 23th November 2020 - 7th December 2020 (Cyber Monday included)
4.WrapPixel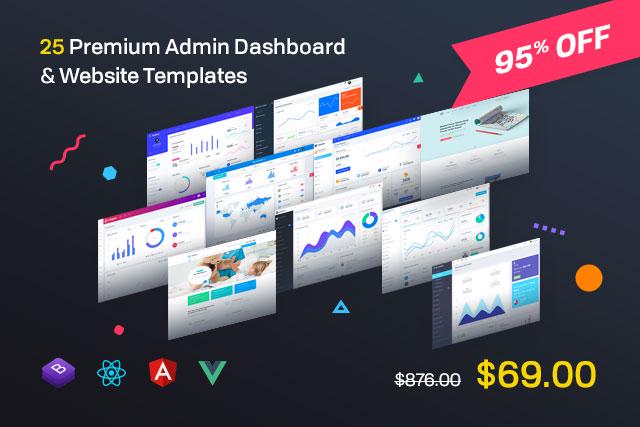 This Black Friday, WrapPixel offer consists of a Bundle of 25+ High-quality premium admin dashboard templates in Angular, React, Bootstrap, and Vuejs, along with Bootstrap 4 UI Kit (including 25+ ready to use website demos and lots of page templates) at a 97% discount. We are offering 4 licenses for our Big Bundle according to the needs.
Freelancer License $69 instead of $896.00

Startup License $129 instead of $1.836.00

Company License $299 instead of $9,376.00

Enterprise License $499 instead of $18,586
Also, they are offering 50% off on any individual template you want to buy. You can use the coupon code "BLACKFRIDAY2020" at checkout and get 50% off.
Discount: Up to 97% OFF
Availability: 23rd Nov – 7th Dec
Coupon Code: BLACKFRIDAY2020
Offer link: Click here
5.GanttPRO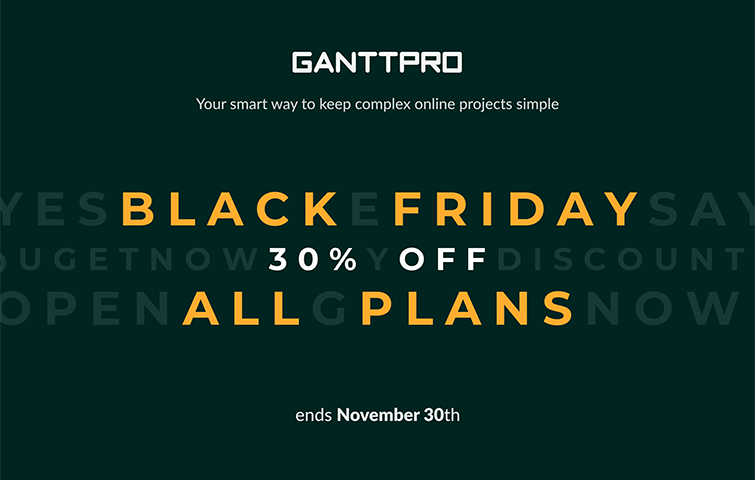 GanttPRO is an online Gantt chart software for project managers and teams. The tool covers daily project management challenges: smart deadline management, timely communication, efficient team and resource management, time logging, and many more.
Deal details:
30% off any GanttPRO plan. Follow the link: the discount will be applied automatically.
The deal is available for those who register from November 25 to November 30.
Offer link:Click here
6.Rawsie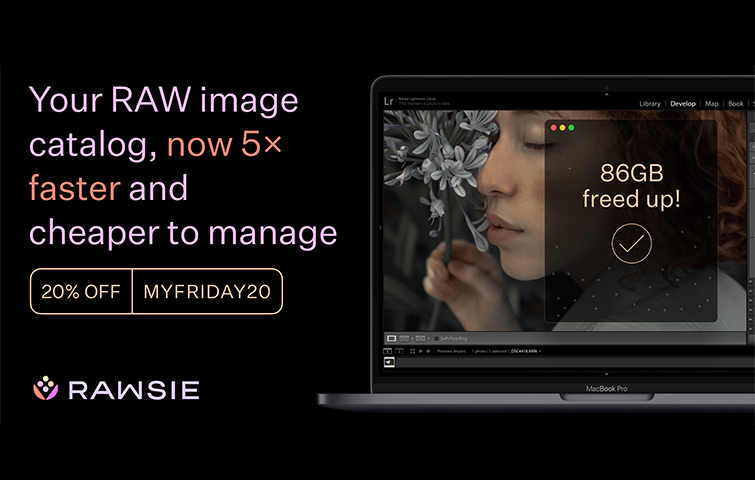 Can you make RAW files smaller like in JPEGMini, but with files still fully RAW? It's actually real now. Rawsie app will reduce your RAW files size by up to 80%, while preserving the dynamic range, resolution and edits in your LR catalogs. You can edit compressed files in your favorite software and boost your workflow and remote load time by 5x while saving tons on image storage with every shoot instead of buying hard drives or upgrading your cloud.
Deal: 20% off
Code: MYFRIDAY20
Dates: Before December 5
Offer link: Click here
7.TemplateMonster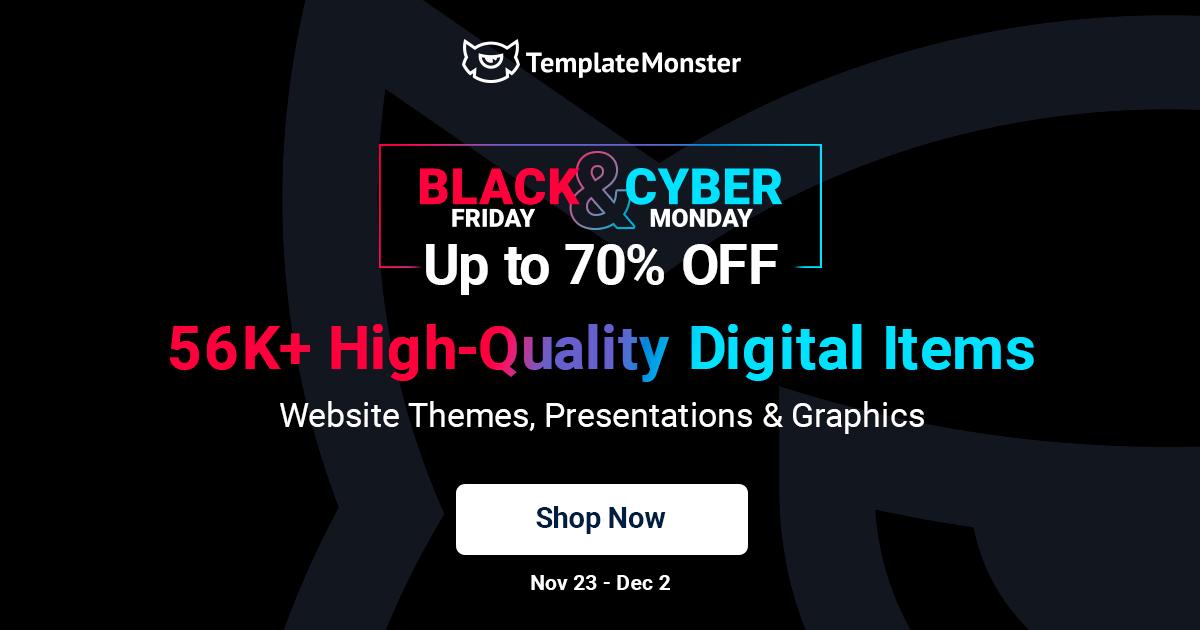 From November 23 to December 2, the following discounts are available on TemplateMonster.
-up to 70% for any template;
-up to 40% for services for creating and promoting business projects;
-up to 40% on any tariff of our One subscription.
The discount will be credited automatically. You don't need a promo code for this.
Offer URL: Click here
8.Vouchery.io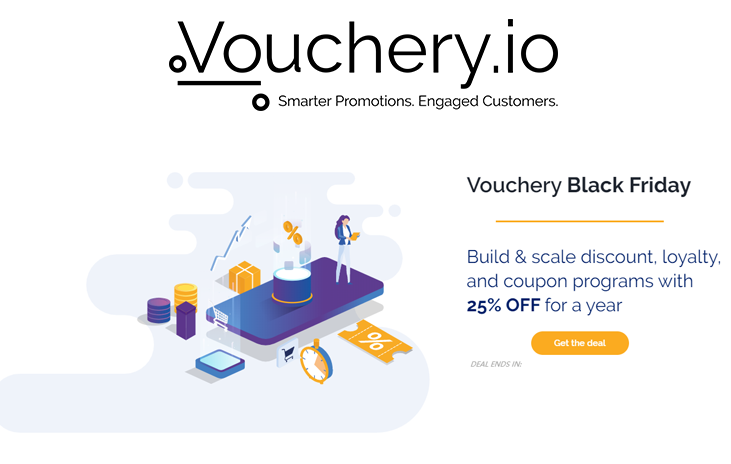 Vouchery is a marketing platform to automate personalized e-commerce promotions like coupons, discounts, referral, and loyalty programs. Our programmable API-based infrastructure enables to timely trigger the most relevant promotion at every step of the customer journey, whether it's an apology voucher, a special occasion promo, or an appreciation gift card for being an engaged follower. Marketers can use our flexible set of rules and restrictions to limit promotions to products, categories, locations, time, and more, to drive customer action and decrease promotional abuse.
Vouchery Promo Hub can be easily connected to any 3rd party e-commerce or marketing platform, to make sure all the coupons are synchronized and redeemable across the multi-channel customer journey, online and in-store. We also have a mobile QR scanner app to enable offline Merchants to easily validate and redeem the codes.
The offer entitles you to get a 25% OFF Vouchery subscription on any plan for a year.
Coupon Expiry: the offer expires on 30th of November at 11:59 PM
Offer Link: Click here
9.Themesberg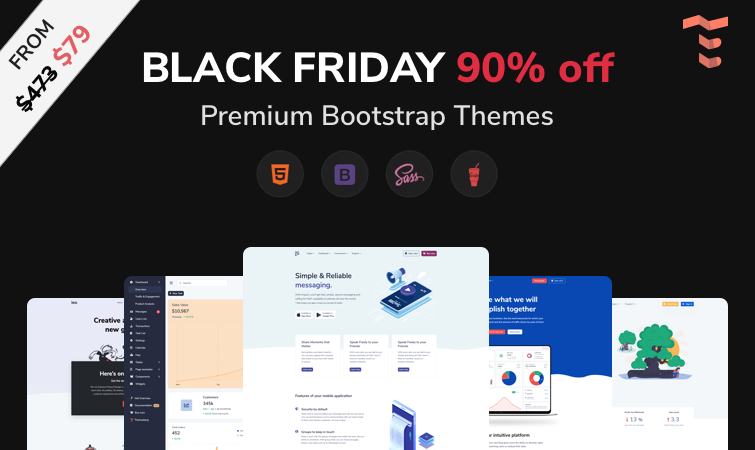 Save up to 94% on every premium Bootstrap theme, admin template, and UI kit released on Themesberg. There are only 150 limited orders available, so hurry up! The list of products is as follows:
Pixel Pro Bootstrap 5 UI Kit

Volt Pro Bootstrap 5 Admin Template

Rocket SaaS and Dashboard Bootstrap 4 Template

Spaces Directory Listing and Maps Bootstrap 4 Template

Neumorphism UI Pro Bootstrap 4 UI Kit

Leo Creative Agency Bootstrap 4 Template

Leaf Nonprofit Environmental Organization Bootstrap 4 Template
You will find that there are three pricing plans based on the licensing terms: Freelancer, Company, and Enterprise. The Freelancer license bundle starts from only $79, while the normal retail price would be $493. All you need to do to view this offer is to go to the official Black Friday Themesberg page.
Offer link: Click here
Offer Validity: Valid before November 28th