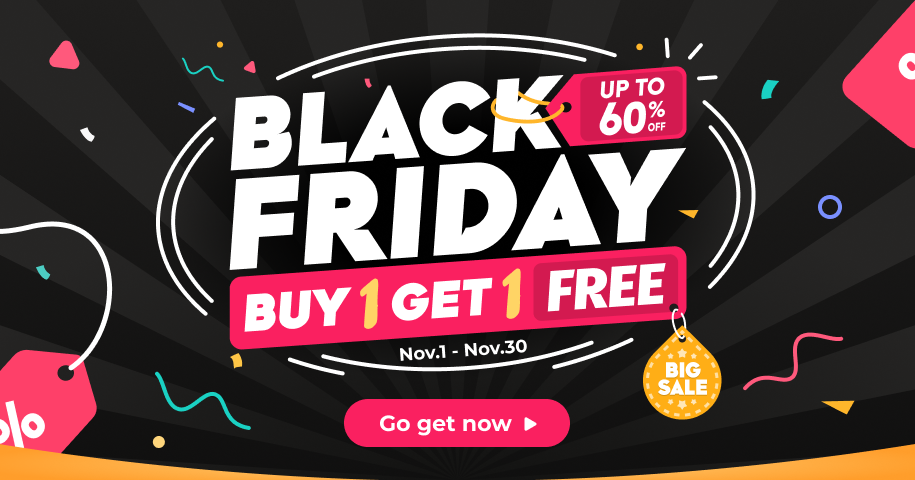 Black Friday is coming. For this Black Friday, Mockplus brings the best deals of the year - Buy one get one free and save up to 60% OFF. You also get chances to win prizes like an iPhone 14 Pro Max, free order and more. Ends soon on Nov.30.
Hurry up! This won't last long! Go get it now and save big!
What kind of deals will you get this Black Friday?
For Teams: Buy 1, Get 1 Free + 20% OFF
For teams, you can buy one and get one for free on top of the 20% off during our Black Friday Big Sale, getting up to 60% off on all Team annual plans for Mockplus Cloud and Mockplus RP.
Cannot wait to learn more? Check the exclusive pricing plans below: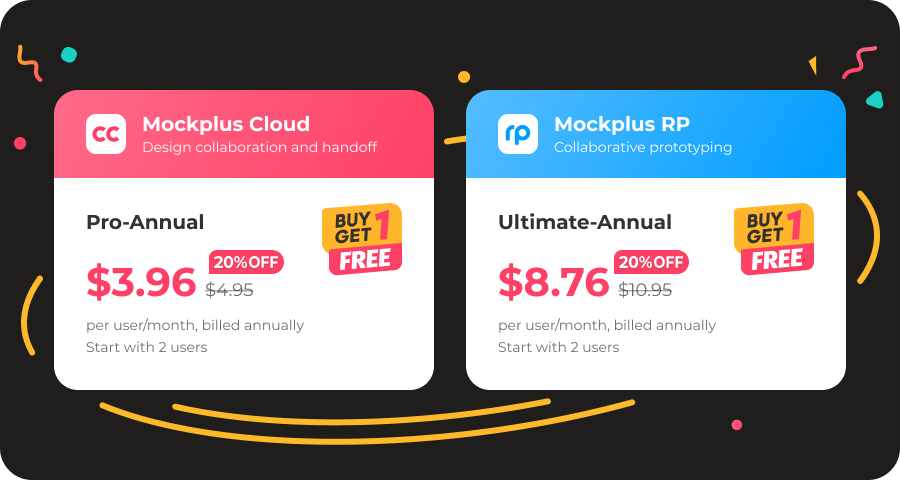 For Individuals: Up to 60% OFF
We also offer individuals the best deals for this Black Friday! Everyone can get up to 60% off on Mockplus RP Individual plans, best for any individual product manager and UX designer who wants to explore design ideas and illustrate design concepts early.
Check the special offers for Mockplus RP below: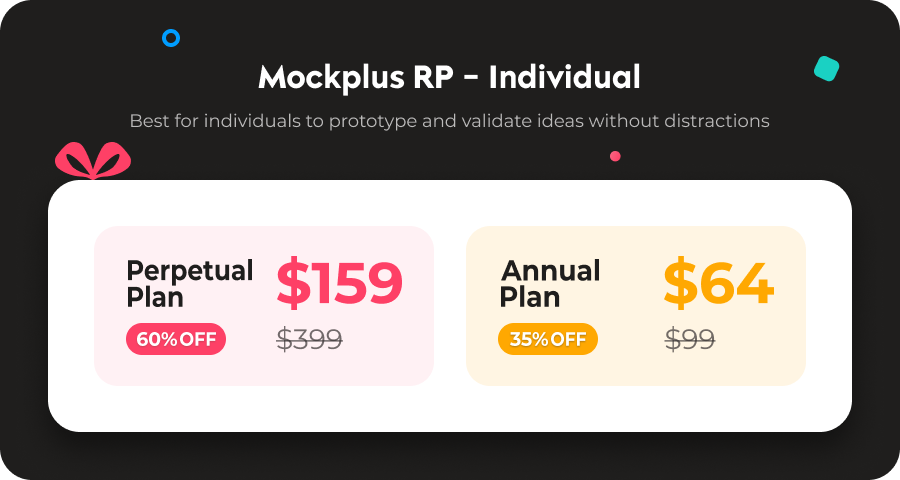 Get chances to win more prices during the Sale
Join our lucky draw to win extra gifts
Want to win iPhone 14 Pro Max, Apple watch Ultra, AirPods Pro2, Amazon gift cards or other gifts? When our Black Friday Big Sale kicks off, log in to Mockplus to join our lucky draw. The more orders you place, the more chances you get to win those surprising gifts ready for you.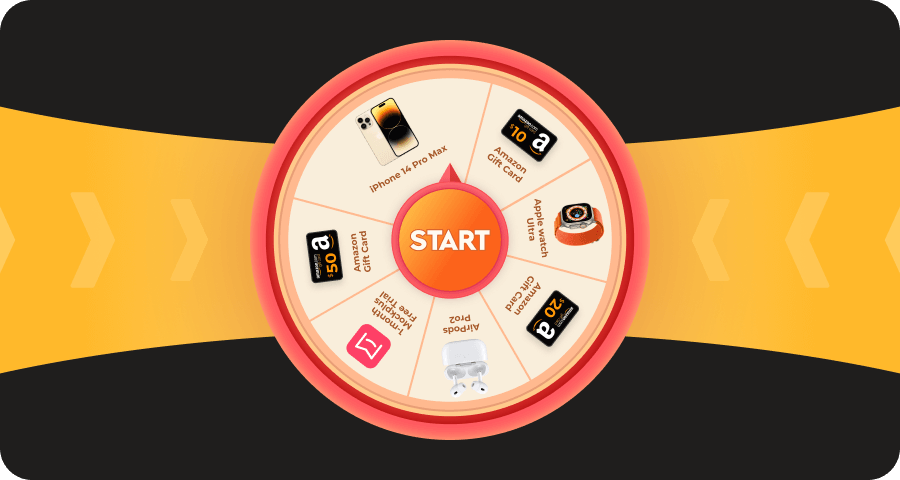 Get your order fully refunded
Want to be free of charge? Mockplus makes it possible for you this Black Friday. Join our Discord community and send your order number to our Mockplus team admin, then you will be one of the lucky ones to get your order fully refunded.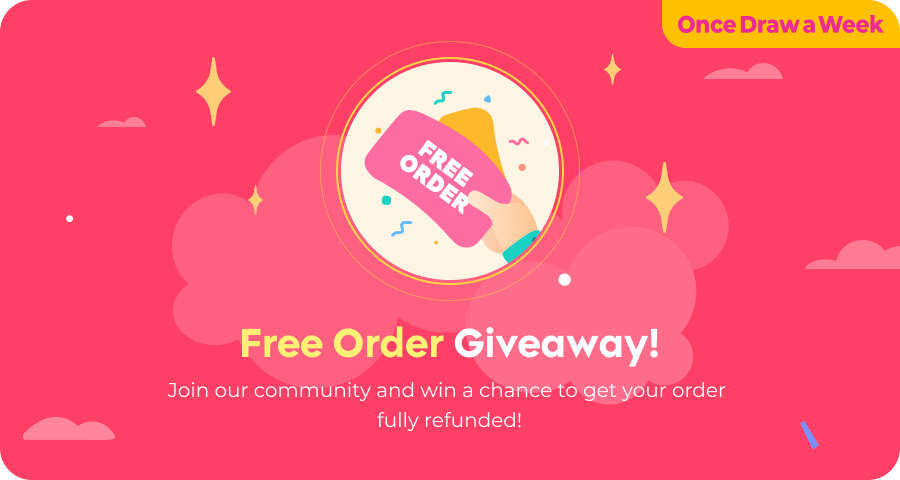 Join our Discord Community now
What is Mockplus Cloud & for whom to use?
Mockplus Cloud, our collaborative platform where product design teams can collaborate effectively and hand off prototypes and designs more efficiently, is ideal for any design team that wants a simple way to share ideas and ship high-converting products faster.
Mockplus Cloud enables you to:
Import designs from Sketch, PS, Figma, and Adobe XD.

Hand off designs to developers with accurate specs, assets, and code snippets.

Collaborate and manage design tasks with ease.

Leave comments on and review changes to designs together.

Track your design process in real-time.

Write PRDs online.

Build and customize your style guide.

Import Mockplus RP prototypes.
What is Mockplus RP & for whom to use?
Mockplus RP is our online interactive prototyping tool perfect for quickly creating from wireframes to realistic, high-fidelity prototypes and animations.
It is not only an excellent choice for individual product managers and UX designers who want to explore design ideas and illustrate design concepts independently, but also ideal for any product team that needs to have multiple users work on the same prototype in a synchronized way.
You can use Mockplus RP for:
Quickly creating anything from sketches, diagrams, wireframes, and hi-fi prototypes with pre-built components and icons.

Directly using our prototype templates to customize the prototype to fit your needs.

Co-editing prototypes with your teammates.

Sharing your prototypes with a single link to get feedback from teammates or other stakeholders.

Previewing your prototypes and testing your design ideas early on.



Both of Mockplus RP and Mockplus Cloud are great tools to help you design faster and collaborate better together.
What's you waiting for? Hurry! Go get the deals and save huge now!
Other Black Friday Deals for Designers and Teams
1.PDFLiner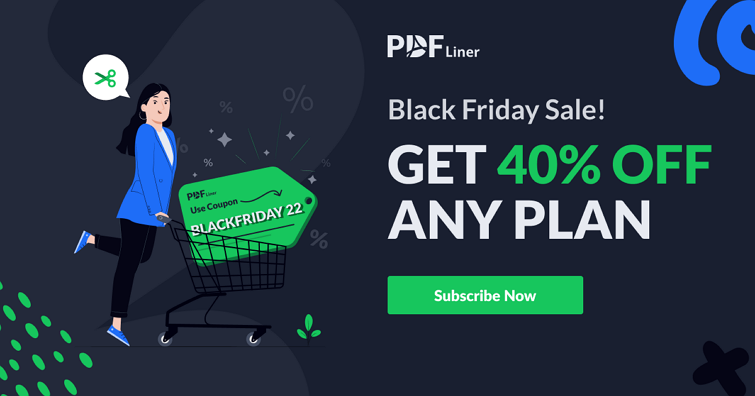 PDFLiner is a platform for working with PDF files (creating and editing files, adding electronic signatures, filling out forms) and electronic document management (cloud storage, form catalogs, document sharing, PDF conversions, locking and unlocking PDFs).
Discount: 40% OFF
Coupon: BLACKFRIDAY22
Availability: 10th Nov – 30th Nov
Get the deal now
2.EngageBay
An integrated all-in-one marketing, sales and support platform with a free CRM built for startups and growing companies. Streamline and grow your marketing, sales & support processes using a single software. Get a unified customer view across all the teams. Market your business like the world's best companies, build lasting customer relationships, sell like the pros, and provide awesome support to your customers.
EngageBay enables you to manage everything, from Email Marketing, Marketing Automation, Sales CRM, Social Media Management & Lead Generation, Landing Page Builder, Helpdesk Ticketing, Live Chat. All in One place!
Discount: 40% off across all plans for new signups
Availability: 14 - 25 Nov 2022
Get the deal now
3.MySignature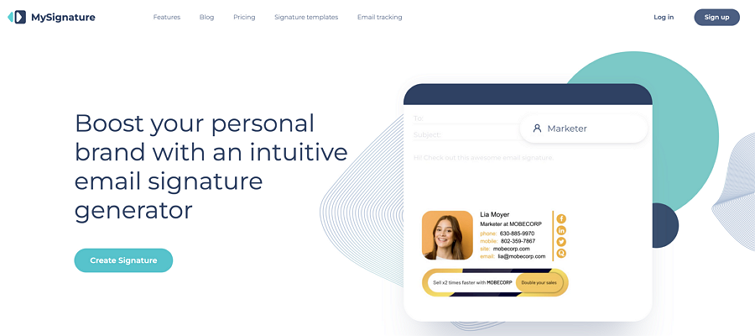 MySignature is all-in-one email signature and email tracking platform. It allows you to easily create professional email signatures and make your business emails stand out from the crowd.With MySignature you can build brand recognition by turning yourself and your team into brand ambassadors. Embedding a unique email signature will help you advertise the products or services in a more efficient way
Black Friday Deal: 50% off for the first payment for all yearly plans
Coupon code: SigFriday2022
Duration: 25 November 2022 – 30 November 2022
4.Newoldstamp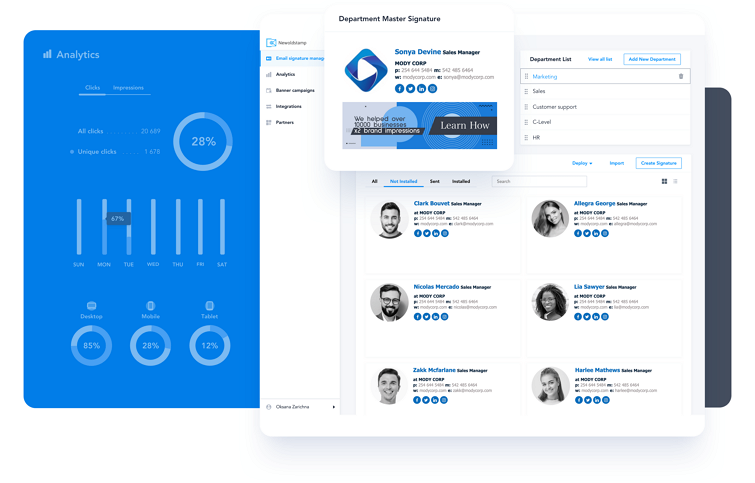 Newoldstamp is the leading email signature management platform that enables businesses to create, customize and deploy brand-consistent signatures across the entire company.A well-crafted standardized email signature can help you promote your products or services to the right audience and create thousands of sales opportunities every day.
Black Friday Deal: 25% off on any plan (recurring discount for all next payments)
Coupon Code: BF2022NOS
Duration: 25 November 2022 – 30 November 2022
5.Pixpa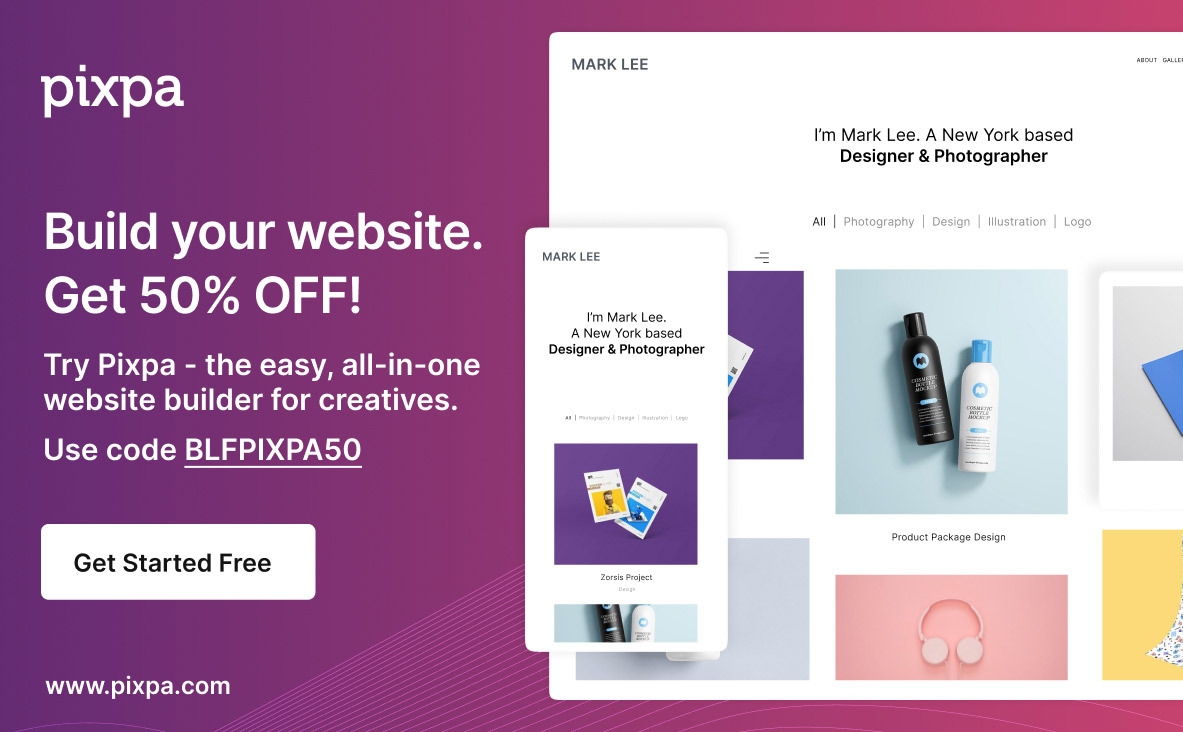 Pixpa is an all-in-one no-code platform for creators and small businesses to create beautiful, professional websites complete with built-in online store, blog, and client galleries. Pixpa's versatile platform has everything you need to showcase your work, share ideas and sell your stuff online, without any coding knowledge.
Time of deal : Nov 24 - Dec 31
Deal Highlight: Use this promo code BLFPIXPA50 to avail 50% discount on annual plans.
6.Heights Platform Deal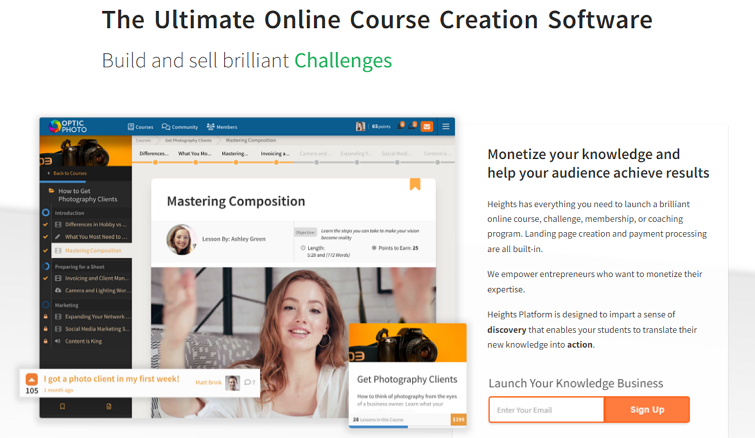 Heights Platform is a customizable, all-in-one online course platform that helps you create, manage, and sell your courses online.
Discount: 30% off the Pro Plan for 1 year + get our course "T-30 Launch" for free ($200 value) and learn to launch your online course in 30 days. (Total savings of $560!)
Availability: Nov. 21st 2022 - Nov. 29th 2022 at 11:59pm US Central time
7.ContentStudio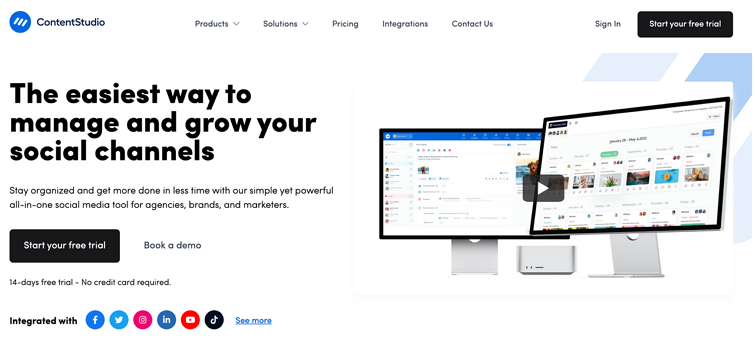 ContentStudio is the easiest way to manage and grow your social channels. With ContentStudio, you can stay organized and get more done in less time. ContentStudio is a simple yet powerful all-in-one social media tool for agencies, brands, and marketers. ContentStudio helps you publish across all your channels, track performance with detailed analytics, collaborate with team members, and more. With ContentStudio, you can save time and get more done. ContentStudio is the best way to grow your social channels. Try ContentStudio today!
Discount:
ContentStudio offers 30% off on Annual plans
Offer Starting Date: 01/11/2022 Offer Ending Date: 25/11/2022
9.Chisel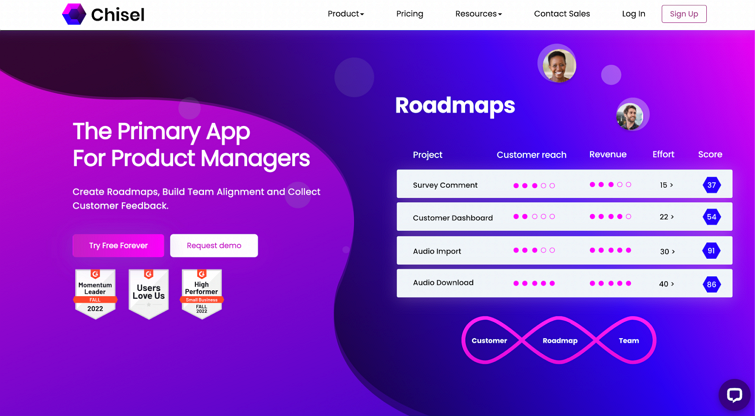 The first product roadmap software built on input from real-life PMs, Chisel, helps you focus on the things that matter most to your business with real-time solutions to do your job faster, better, and more efficiently. From idea generation and ideation to prioritization and execution, this unique scalable SaaS solution helps you work smarter.
Thanks to Chisel, creating roadmaps, aligning internal teams, and collecting feedback have never been easier. It has been designed to help product managers move 10x faster in doing their day-to-day job.
Black Friday Deal: use this promo code RoadmapHeroes to get a 20% discount on the premium plan.
Coupon Validity: Three months
10.Internxt Black Friday Offer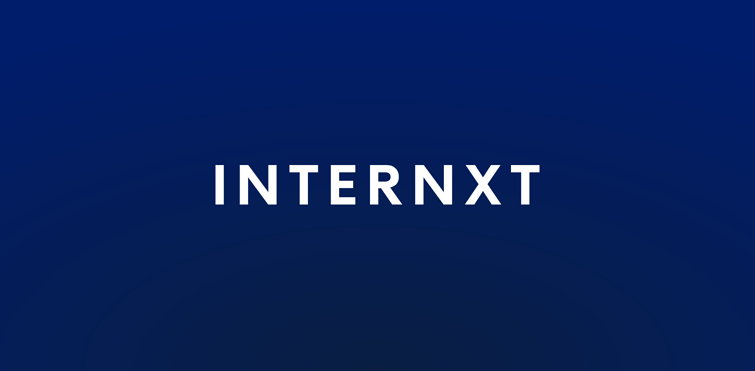 Internxt is a fully encrypted, open-source cloud storage provider designed to put users first and protect clients' data privacy and safety. All files uploaded to Internxt's cloud are end-to-end encrypted and scattered across a distributed network.
Internxt users get access to Internxt Drive, Photos, and Send. All three services work together to empower users to store, share, and back up large files and photos securely. On top of their primary services, Internxt also offers two free privacy tools: a Virus Scanner and a Password Checker.
Deal details: Get 60% off Internxt's biggest 2TB plan for one year!
Coupon: None
Deal timeframe: November 21 - December 5, 2022
11.Chanty

Chanty is an all-in-one team collaboration platform for remote and onsite business teams of all sizes. Chanty offers an unlimited searchable messaging history, audio and video calling with screen sharing, task management with the Kanban board, voice messaging to communicate on the go.
Chanty offers the following deals for the Black Friday 2022:
Deal details:
Coupon: none
Deal available: November 21 - December 5, 2022
12.Crocoblock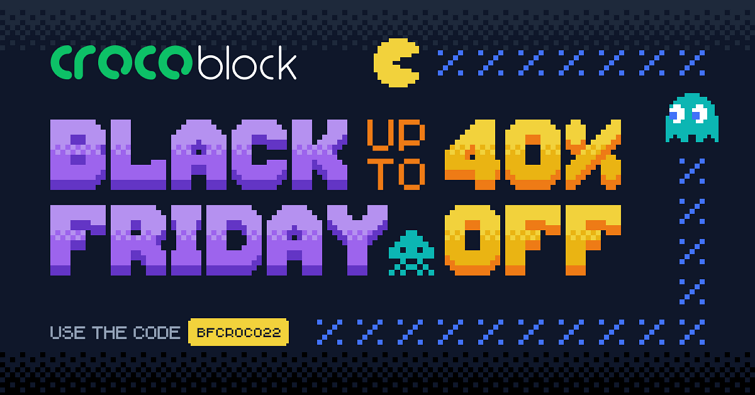 Crocoblock is a reputable WordPress plugin development company from Ukraine. Its team of professionals with many years of experience in website creation produces excellent plugins under the name JetPlugins for Elementor and Gutenberg users.
Each of the 20 JetPlugins can bring drastic improvements to WordPress builders. But they will really shine out when used in a bundle. This year on Black Friday, you can get a 35% discount on yearly and a 30% discount on lifetime subscription plans for a complete toolkit of Crocoblock products. If you want to purchase individual plugins, expect a 40% discount.
Dates: 22nd - 30th of November, 2022
Deal: up to 40%
Coupon code: BFCROCO22
13.Groupboss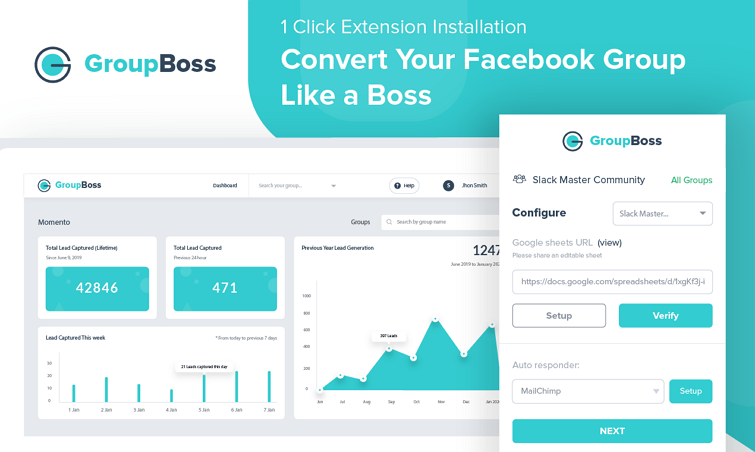 Groupboss is a Facebook group automation tool that helps Facebook group owners to collect unlimited leads. Using this tool any group owner can collect the answers to the Facebook group questions asked to the new members with a single click. It has direct integrations with popular email marketing autoresponders.
Discount: Groupboss is offering a 25% discount on all the plans on Cyber Monday.
Coupon: MONDAY25
Availability: 29th Nov 2022-31 Dec 2022
14.Receiptmakerly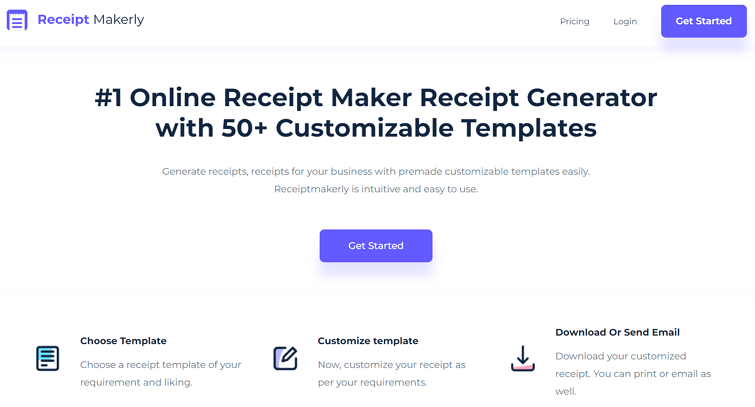 Receiptmakerly is an intuitive online receipt maker with 50+ templates that can be customized based on needs. This tool has got cost-effective pricing plan for users. Using Receiptmakerly a user will be able to make receipts like Amazon, Uber, Lyft, Ola, Walmart, Walgreens, etc.
Discount: Receiptmakerly is offering a 25% discount on all plans on the upcoming Cyber Monday.
Coupon: MONDAY25%
Availability: 29th Nov 2022-31 Dec 2022
15.NetHunt CRM

NetHunt CRM is a sales automation tool for sales and marketing teams. It's natively integrated with Gmail and LinkedIn. Organize the customer base, build a pipeline to see blocked deals, automate, and create forecasts you can trust.
Discount: 20% off any plan for 12 months for new users
Coupon: NH_BF_2022
Availability: November 25 - December 12, 2022
16.SE Ranking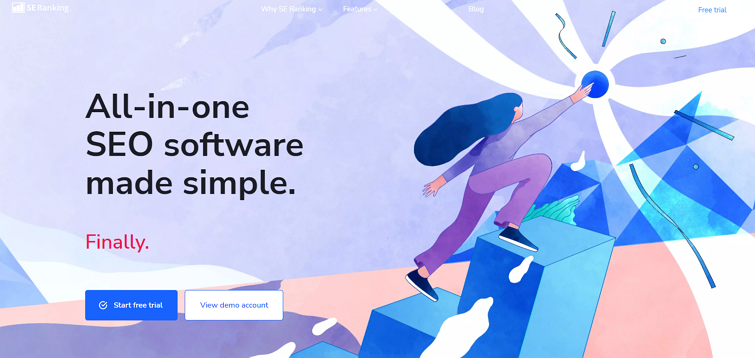 SE Ranking is an award-winning all-in-one SEO solution that exceeds user expectations. With a complete set of SEO tools, professionals can automate all of their routine tasks—from competitive research and backlink analysis to website audit and SEO reporting. On top of that, new assets are being added to the platform every year. Three AI-powered tools were released in 2022 alone: On-Page SEO Checker, SERP Analyzer, and Content Marketing platform.
Depending on your needs, you can choose one of SE Ranking's Black Friday offers. Get an annual subscription at a 20% discount, free access to the Content Marketing tool, or save big on user seats. No promo code required—your personalized offer is waiting for you at checkout.
This Black Friday offer is valid from November 21 through December 5.
17.Narrato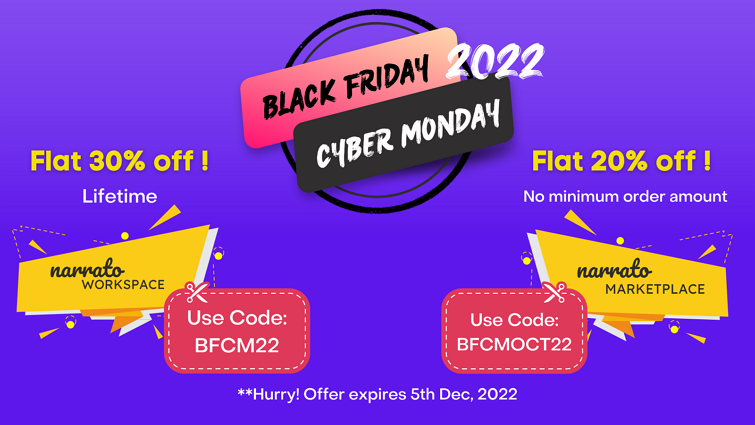 Narrato brings you amazing deals for Black Friday and Cyber Monday 2022 on both Workspace and Marketplace platforms!
Get flat 30% off Lifetime on any plan on Narrato Workspace. Create and publish winning content, collaborate with your team, and manage all your content and assets on a single platform. Use Code: BFCM22
Get flat 20% off on your Narrato Marketplace orders, with no minimum order amount! Get high-quality content written by expert freelance writers for your blogs, articles, website, and more. Use Code: BFCMOCT22
Both offers last till 5th December 2022.
Narrato Workspace is an all-in-one content workflow management platform. Enjoy the convenience of having all your content tools in one place with Narrato. Collaborate with your entire content team, clients and stakeholders seamlessly.
18.WPVR - Virtual Tour Builder for WordPress - Flat 30% Off
WPVR allows you to create stunning virtual tours & impress the visitors of your website.
It's a user-friendly and easy-to-use plugin that turns your 360 panorama images into live Scenes that your viewers can control.
And once you connect multiple scenes, it becomes a complete virtual tour of your property, office, showroom, hotel, or any other place you want to promote.
On top of that, you can set your custom buttons for navigation and set countless visual content inside the hotspots.
It's not expensive to create virtual tours with WPVR:
-> You can use panorama images captured with your smartphone
-> The plugin is at a 30% discount throughout the Black Friday season.
Use the code 'BFCM30' to get a flat 30% discount on any plan of WPVR.
Validity: 20th November to 5th December 2022.
Coupon Code: BFCM30
19.Product Feed Manager for WooCommerce - Flat 30% Off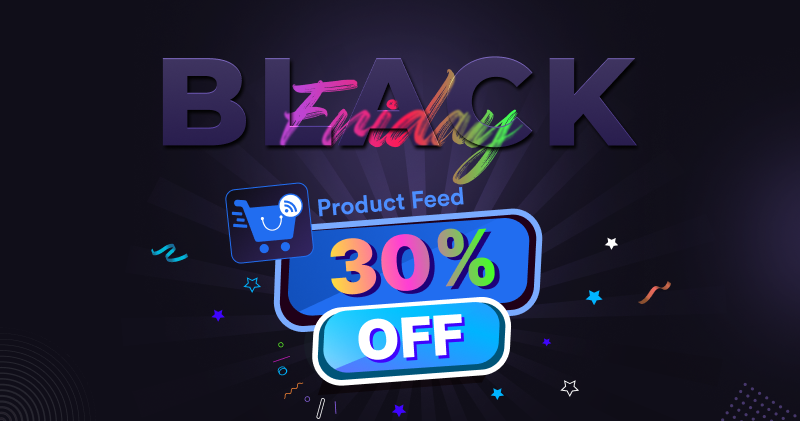 Product Feed Manager for WooCommerce is one of the best Woocommerce product feed generator plugins that help you sell on popular marketplaces effortlessly.
This plugin lets you generate proper product feeds for over 170+ large online marketplaces. The super simple UI of the plugin helps you create flawless feeds in only 3 clicks.
The best part is, the Product Feed Manager for WooCommerce plugin comes offers you extensive product filtering, scheduling feeds, and product attributes customization options, so you can create the perfect feed and boost your WooCommerce store's sales right away.
Use the code 'BFCM30' to get a flat 30% discount on any plan of Product Feed Manager for WooCommerce.
Validity: 20th November to 5th December 2022.
Coupon Code: BFCM30
20.WPFunnels - Easiest Sales Funnel Builder - Flat 40% Off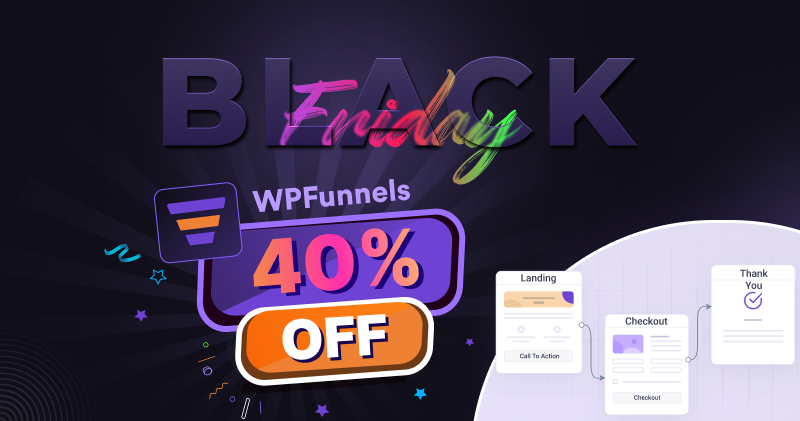 Whether you are selling WooCommerce products, offering courses, or simply trying to generate leads - WPFunnels helps you create effective sales funnels visually on your own. This holiday season, use this reliable WordPress funnel builder to guide your prospects through special offers and make them spend more.
Save more this Black Friday - Get 40% Off on all WPFunnels plans!
Validity: 16th November to 5th December 2022.
Coupon Code: Auto-applied.
21.Breadnbeyond

Breadnbeyond is an award-winning explainer video company specializing in producing animated explainer videos. We create engaging animated explainer videos that help you introduce your brand, product, or service to the world – all from scratch, no template.
Get up to 40% OFF for an ultimate explainer video!
22.TemplateMonster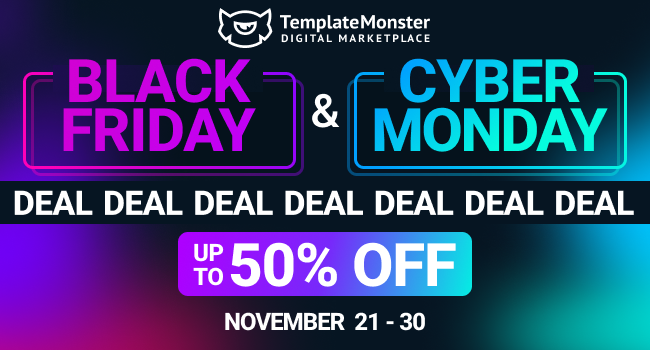 TemplateMonster is a marketplace that has everything for website building and business promotion. You cannot miss the biggest sale of the year so you will have a chance to get a lot of discounted items. Make sure to visit the marketplace on November 21-30 to grab up to 50% discounts. In addition to this, you will be ready to purchase
MonsterONE
with a brilliant discount.
It will cost you only $449 (
$749)
for a lifetime plan and $149 (
$229
) for a yearly subscription.Date: November 21 - December 1Discounts: up to 50%
Date: November 21 - December 1
Discounts: up to 50%
23.SmarterQueue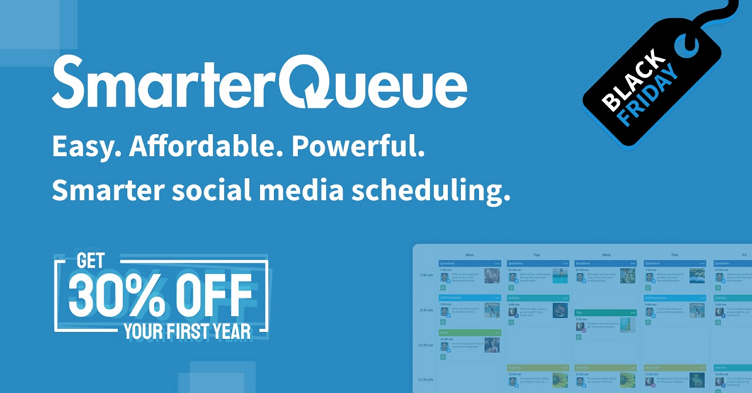 SmarterQueue
is the most powerful and user-friendly social media scheduling tool. With content discovery, smart scheduling, recycling, and analytics, you can grow your business and brand faster and more easily than ever before.There are solutions for every use case:
Personal Brands & Solopreneurs

In-House Marketing & Social Media

Freelancers & Independent Consultants

Agencies
Discount
: Over the Black Friday/Cyber Monday weekend, we are offering 30% off our full-pricing for new customers:
30% off your first year (when paid annually)
Date
: Black Friday, November 25th to Cyber Monday, November 28th
24.Creative Tim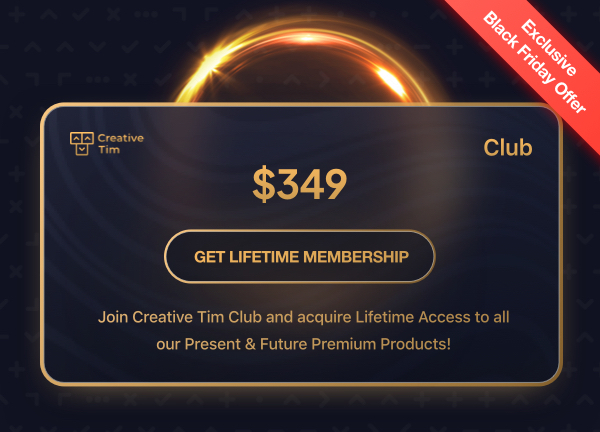 Black Friday at Creative Tim is coming with the most exclusive offer. Join Creative Tim Club and get access to all their Premium products For Life. What does it mean? You will have access to all their present and future products, and your design hours will be covered forever:
UI Kits
Admin Templates
Mobile Templates The Priority Support is included; crazy, huh? Watch out for this offer, there are limited memberships!
25.SocialBee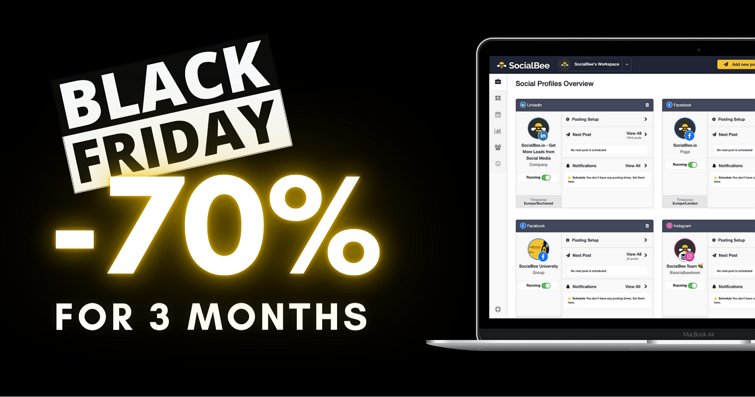 SocialBee is a social media management tool that allows users to create, schedule, and post content to every major social platform from one place. Say goodbye to manual posting and time-consuming tasks—it's time to centralize all your tasks within one platform and maintain a consistent posting schedule with utmost ease.
Discount: 70% OFF for 3 months
Coupon: SOCIALBEEBF22
Availability: 21st Nov – 28th Nov Get the deal now
26.WPManageNinja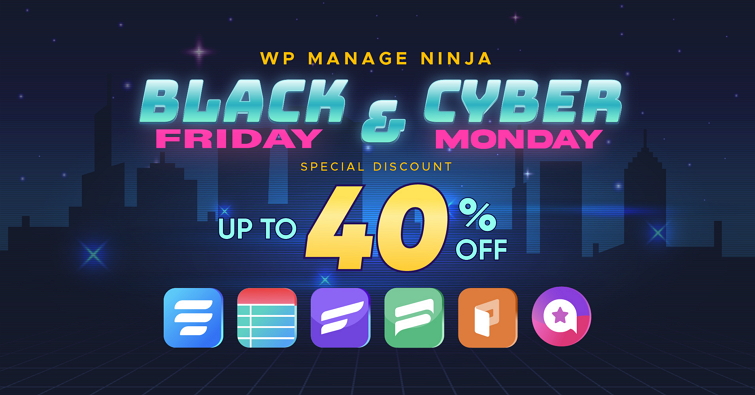 WPManageNinja is offering up to 40% discount on all of its premium WordPress plugins and themes this Black Friday-Cyber Monday sales season. The deal includes their top-rated products:
Fluent Forms - The fastest form builder plugin
FluentCRM - The complete email marketing automation plugin for WordPress
Ninja Tables - The most popular WordPress table plugin
WP Social Ninja - The best social reviews, feed, and chat plugin
Discount:
Annual: 40% Off

LTD: 30% Off
Offer Starts: 15th November 2022
Offer Ends: 2nd December 2022
27.UXPressia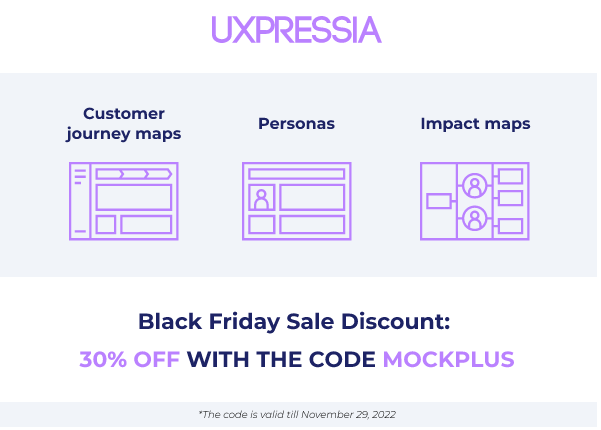 UXPressia is an online platform for visualizing and managing user journey maps, personas, impact maps. Build maps from scratch or take advantage of 100+ pre-filled templates for different industries.
Discount code: MOCKPLUS.
GO TO UXPRESSIA
28.HelpCrunch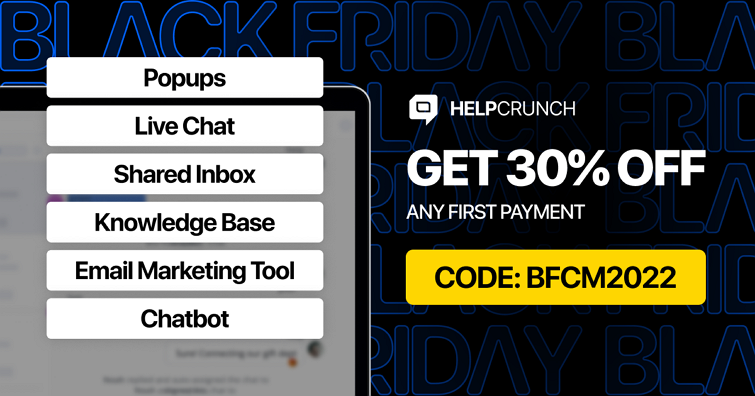 HelpCrunch is a multi-functional platform that combines live chat, chatbot, knowledge base, and shared inbox tools for all communications with your customers, no matter the channel.This Black Friday season, you can get the entire arsenal of HelpCrunch tools at a 30% discount on your first payment. The deal sums up with annual discounts, so you can save up to 50% in total by signing up for a whole year.Use the promo code BFCM2022 before November 30 to get a powerful customer communication platform at the most affordable price.
Discount:
30% off any first payment
Availability:
Nov.14 - Nov.30
Get the deal now
29.Astra: Best WordPress theme for faster websites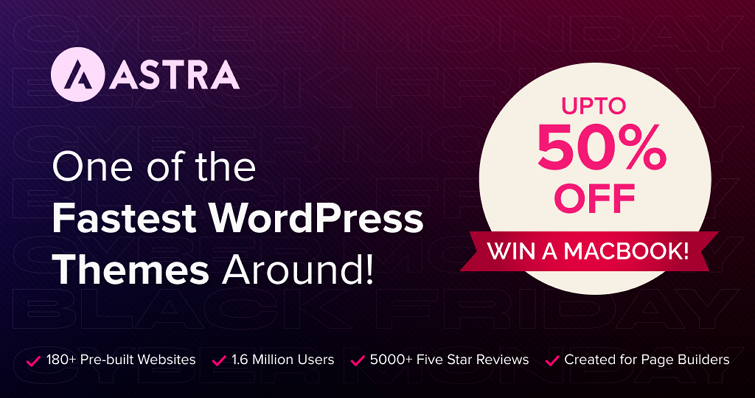 Astra is a lightweight WordPress theme ideal for building any type of website. With over 1.6 million users, Astra is the most popular theme in the WordPress ecosystem. It offers an ever-growing library of pre-built Starter Templates created with your favorite page builders.
Astra Pro comes with addons like custom layouts, mega menus, sticky headers and advanced benefits like priority support.
Discount: Up to 50% off and Macbook Air giveaway

Coupon Code: Auto-applied

Validity: 22 Nov to 2 Dec 2022
30.Astra Growth Bundle: Everything you need to scale your business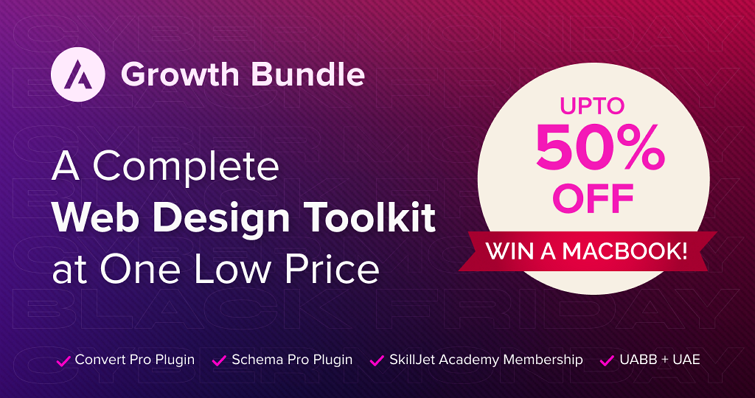 The Astra Growth Bundle gives you access to all Astra Pro features, 230+ Starter Templates, the WP Portfolio plugin, Ultimate Addons for Beaver Builder, Ultimate Addons for Elementor, Convert Pro, Schema Pro, as well as access to all our future plugins such as Spectra Pro.
Growth Bundle also enables access to the SkillJet Academy - an entire library of premium courses from industry leaders, absolutely FREE.
Discount: Up to 50% off and Macbook Air giveaway

Coupon Code: Auto-applied

Validity: 22 Nov to 2 Dec 2022
31.Ultimate Addons for Elementor: Most popular Elementor addon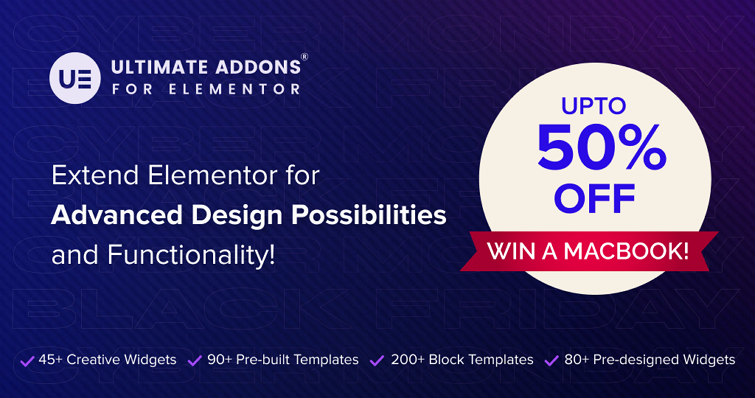 The Ultimate Addons for Elementor plugin is a must-have for any website using the Elementor page builder. It comes with 40+ widgets and extensions, 100+ creative and customizable website templates, and 200+ section blocks to speed up your workflow.
Ultimate Addons is a popular plugin currently used by over 646,396 web professionals to enhance their web design capabilities with Elementor.
Discount: Up to 50% off and Macbook Air giveaway

Coupon Code: Auto-applied

Validity: 22 Nov to 2 Dec 2022
32.ThemeSelection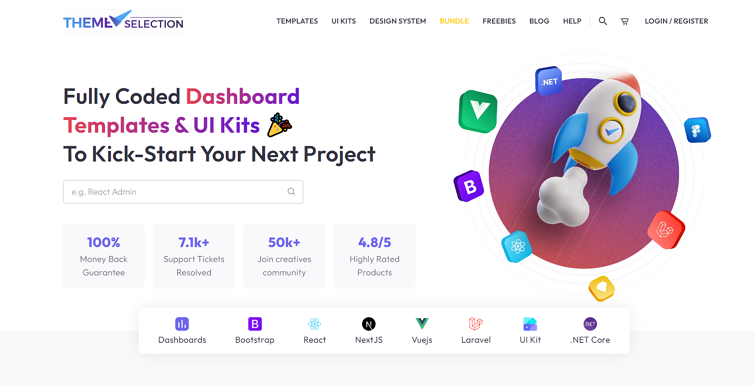 ThemeSelection offers premium quality, developer-friendly & easy-to-use Admin Template & UI Kits for web developers & web designers. Using these professionally developed Admin templates you can develop responsive web apps.
You can create any kind of web app such as SaaS apps, Fitness Apps, Educational Apps, E-commerce apps, etc.
ThemeSelection is giving 30% OFF on this Black Friday & Cyber Monday.
Time of deal : Nov 9 - Nov 30, 2022
Promo Code: CW30OFF
33.Apploye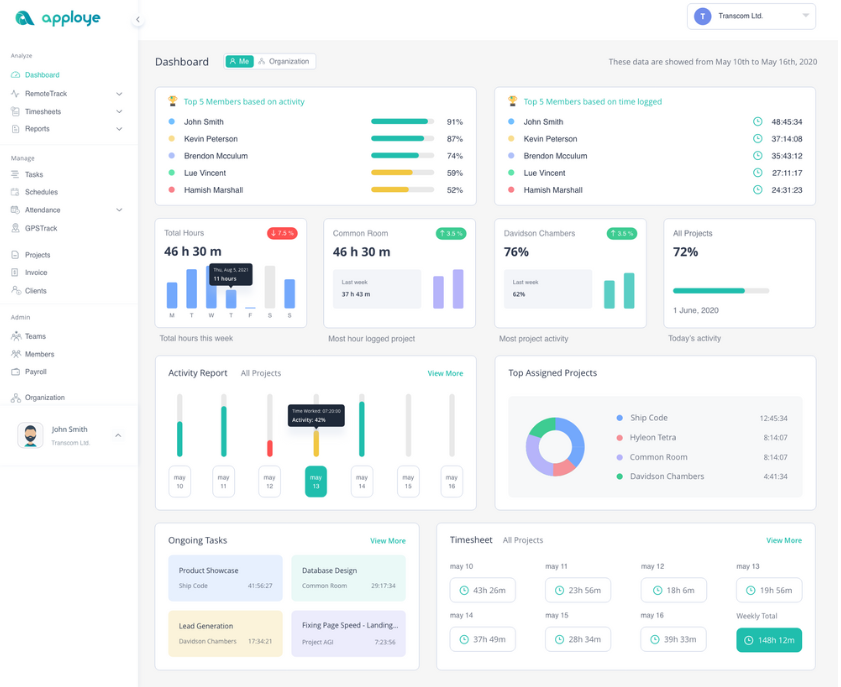 Apploye is a user-friendly, simple time-tracking program with hundreds of features at much lower prices. It provides features like time tracking, screenshots, app, and URL tracking, activity levels, payroll, invoicing, reports, projects, and, GPS position monitoring. Additional features offered by Apploye include an idle timer and a Pomodoro timer.
Cyber Monday Deal:15% off on all Apploye plans
Coupon Code: apploye-15
Duration: 28 November to 3rd December 2022
34.Social Champ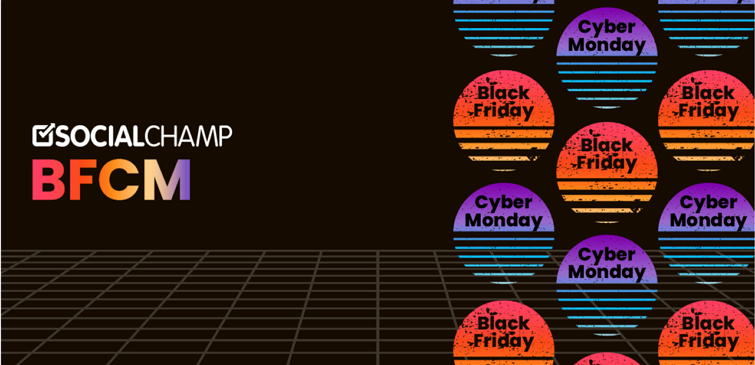 Social Champ
is a social media management tool that supports all major platforms and provides automation solutions for enterprises of all sizes! You can create, edit, design, schedule, track, and monitor all social media posts with multiple amazing features within the tool.
Deal Description:
Save credits on all plans;
Save $11 on two-months, $69 on bi-annual, & $174 on annual Champ plans!

Save $39 on two-months, $235 on bi-annual, & $594 on annual Business plans!
(The deal is valid for new users only.)
Coupon Code:
Use the code "
BFCM2022
" at the checkout.
For more details:
https://www.socialchamp.io/offers/
35.Simvoly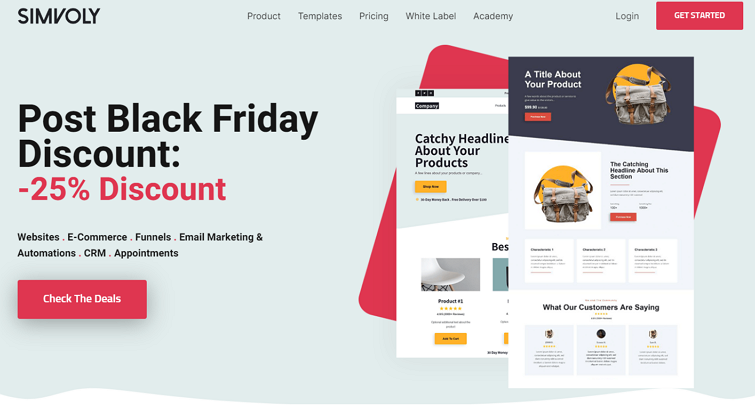 Simvoly is an all-in-one platform to build your website, funnel and e-commerce store to grow your business online. If you are building websites for customers, Simvoly is the only 100% white label platform that you can also provide as your own "Do-it-Yourself" solution for your customers.
Discount: Simvoly - 30% for the first 12 months; Simvoly White Label - 20% off first any first year with discount code BF2022
Deal Validity: 24th -29th of November
36.POWR

POWR just makes your website or online store more actionable for better lead collection and conversion improvement. It's a leading suite of 60+ affordable, easy-to-use, customizable website apps that require no code like popups, image galleries, video sliders, social feed embed, and customer reviews, just to name a few.
POWR integrates with hundreds of platforms such as Shopify, Wix, Wordpress, BigCommerce, Squarespace, and more, or can be added directly to an HTML website.
Black Friday Deal: 50% off any yearly subscription plan
Coupon Code: POWRBFCM2022
Duration: Expires 29 November 2022
37.Salesflare

Salesflare is an intelligent sales CRM for small and medium-sized business selling B2B. It's super easy to use, plus it automatically tracks all about your customers through its deep integrations with Gmail, Outlook, Linkedin,...and automatically enriches your customer data with email signtures and available information. On the Pro plan, Salesflare additionally allows you to send email sequences, find 500 email addresses per month (including from its Linkedin sidebar), build custom dashboards, and set team persimissions.
Get 20% off fpr 6 months on the Pro plan. Just apply the discount code "BF22" after your free trial. Valid till Dec 31,2022
38.Planly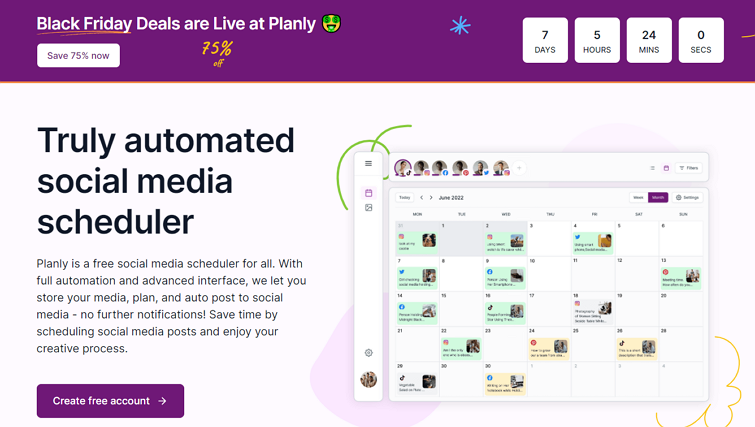 Planly is a freemium social media scheduler that helps you plan and schedule your posts on TikTok, Instagram, Twitter, Pinterest, LinkedIn, Facebook, and Google Business Profile.
Deal: 75% OFF on monthly plans and 50% OFF on annual plans.
Start date: 11/20/2022
End date: 12/05/2022
39.Snov.io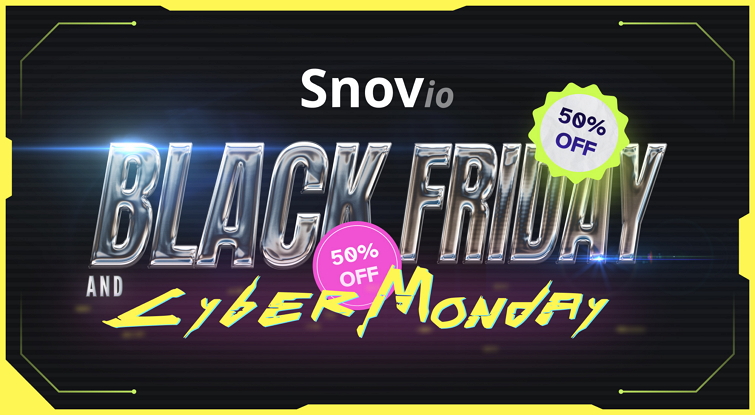 By having a Snov.io account, you can find emails by name, a company domain, or social url. What is more, the tool allows you to do both search single emails or do bulk email lookup.
Email Finder Extension helps you to find emails of potential leads from any website, while Li Prospect Finder Extension will quickly scrape email addresses from LinkedIn.
All emails you collect are automatically verified and can be added to your list within a click. You can segment your newly generated leads as per your need and start sending your personalized email campaigns right from your Snov.io account.
Secure a full year of sales at the best price of the year - get your annual plan at 50% off only till November 30.
Promo code: BLACKFRIDAY22
40.SalesBlink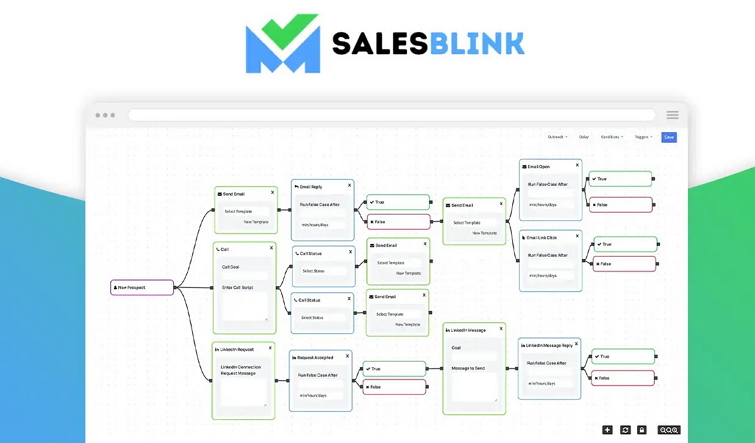 SalesBlink is a sales outreach automation suite using which you can search for prospects, put your cold outreach sequences on autopilot, maintain and manage pipelines and prospects.
It is a full-stack cold outreach platform that can take you through prospecting to outreach to closing on full throttle. It is a fully-loaded package for automation of multi-channel cold outreach clubbed with generating leads and managing them.
Offer: Get a Lifetime Deal at just $149
Valid until: 1st Nov - 31 Dec 2022
41.Abyssale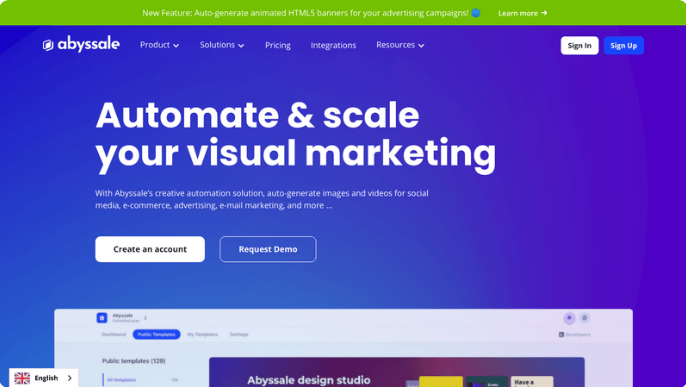 With Abyssale's creative automation solution, auto-generate images and videos for social media, e-commerce, advertising, e-mail marketing, and more …
Deal: 50% off all annual and monthly plans for 1 year
Coupon code: Redeem coupon code BLACK50 at checkout
Start date: October 24, 2022
End date: December 1, 2022
42.Serpstat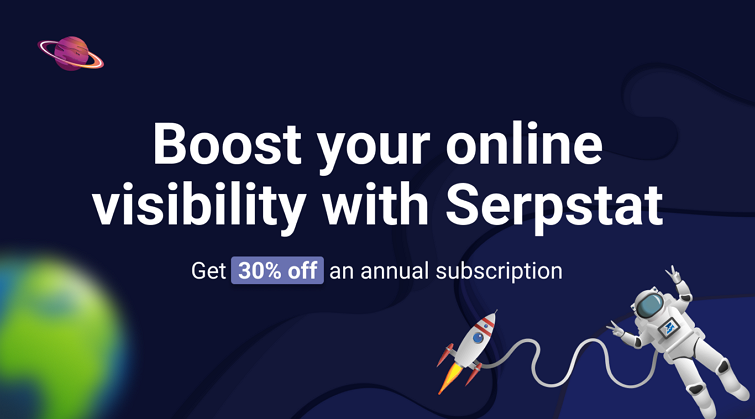 Serpstat is a go-to platform for digital specialists, which has more than 50 tools for competitor analysis, keyword research, backlink analysis, audit, keyword clustering, daily rank tracking, as well as AI tools for content generation. Improve your search engine rankings and work with your projects from one platform.Discount: Get 30% OFF on the 12-month subscription for all pricing plans!
Availability: November 16, 2022 - December 20, 2022 Get the deal now
43.nTask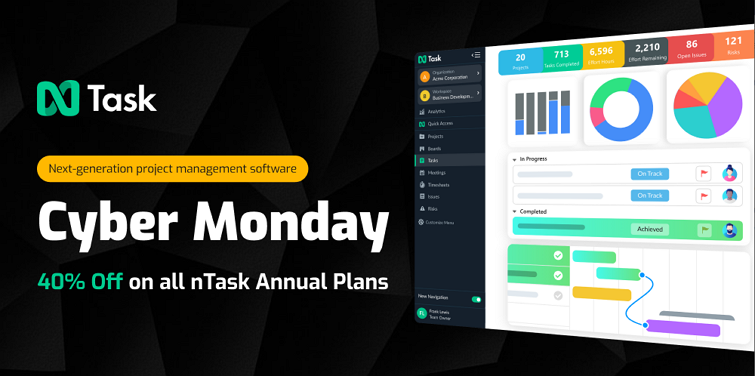 nTask is an all-in-one task and project management tool that help individuals and teams to get work done with productivity.
The app is loaded with all the features to help users to manage, organize, collaborate and deadlines for their projects. nTask gives features such as Gantt charts, task management, to-do list, project management, meeting management, issue tracking, and risk management.
Cyber Week Offer: 40% OFF on all Premium and Business annual plans
Offer Validity: 29th November
Promo code Premium plan: BFCM2022
Promo code for the Business plan: BFCM2022
44.AdSpyder

AdSpyder is a SAAS-based ad intelligence tool that provides analytical insights into your rival's digital advertising strategy. It lets you monitor advertisements across multiple platforms at the moment: Google Search, Google Ecommerce, Facebook, and display ads from Yahoo!, GDN, and other popular networks.
Deal:Get up to 90% OFF on all annual plans
45.SmartReach

SmartReach is an all-in-one sales enablement platform specializing in cold email outreach focusing on email deliverability. The easiest and fastest way to grow sales is by helping you find prospects, automate email outreach & follow-ups, and sync to multiple CRMs. It offers ProspectDaddy (Linkedin Email Finder Tool) free with all plans.
Key Offering: Multichannel Outreach for Sales Automation (Email, Linkedin, Whatsapp, SMS, Call), Email Automation, Shared Inbox for Sales Team, Spam Test Report, Email Warmup, Campaign Warmup, Email Validation, Improved Prospect Management, Detailed Reporting Panel.
Black Friday 2022 Deal: 20% Off on All Annual Plans for the First Year
Coupon Code: SMARTREACHBF20
Validity: Till 3rd December 2022
46.CatFolders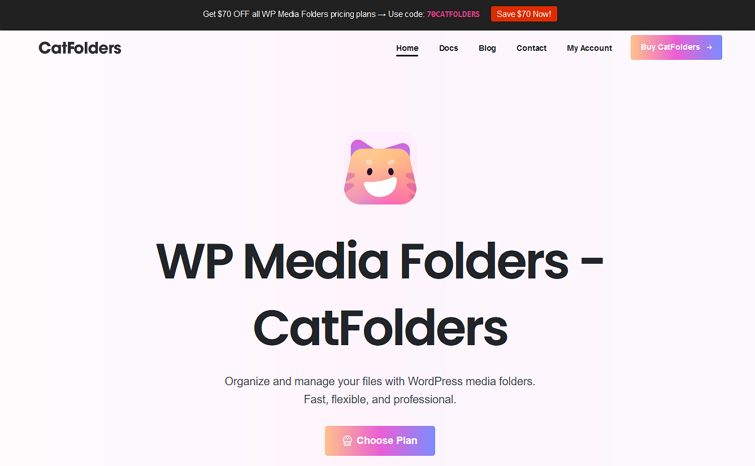 CatFolders plugin allows you to create folders and subfolders in your WordPress media library. It helps you sort files and folders easily no matter which page builders, themes, or third party plugins you're using! And best of all, CatFolders – WP Media Folders offer unlimited-site licenses for all freelancers and web agencies at an affordable price.
Valid: Nov 1st - 30th, 2022
Black Friday Discount Code: 70CATFOLDERS
Benefit: Get $70 USD off all WP Media Folders pricing plans
47.Scrollsequence Black Friday Deal 2022 – Get 50% Discount
Scrollsequence is the best way to create beautiful, interactive, and responsive scrolling stories without a single line of code.
If you were waiting to buy Scrollsequence then this Black Friday time is probably the best to get it at a huge discount.
ScrollSequence Black Friday Discount : 50% off
Coupon Code: BFCM2022HALFPRICEDEAL
Validity: From November 23,2022 to Dec 22, 2022.
48.MojoAuth

MojoAuth is an authentication platform that allows you to improve the user experience with easy-to-use passwordless authentication methods like Email Magic Link, Social Login, Biometrics, Email/SMS OTP, and Passkeys. As a result, users can authenticate themselves easily and faster when compared to traditional password-based login.
Deal: 50% discount on all annual plans
Coupon Code: BLACKFRIDAY2022
Validity: 1st November to 30th November 2022
49.Weblium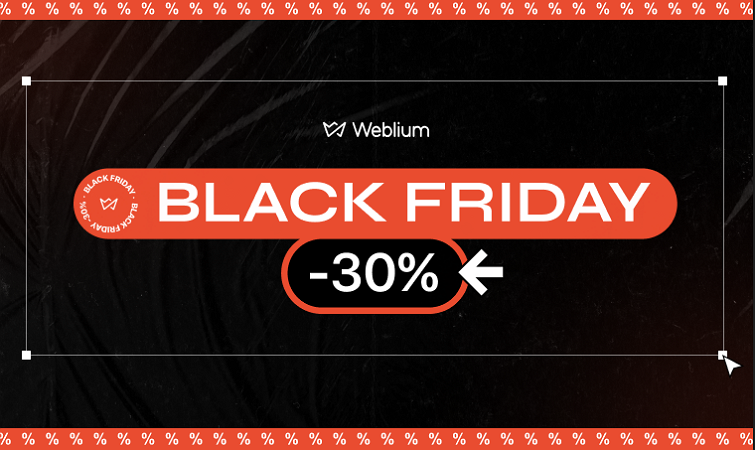 Weblium is a project, the main product of which is an effortless website builder, which allows you to create a stylish, modern adaptive site with your own hands. Without the help of programmers and designers.
Weblium features:
More than 300 customizable site templates

Flexible page editor with 250+ ready-made blocks

Pop-up builder

Built-in CRM system

Contact forms for lead collection with popular integrations — Mailchimp, Zapier etc.

24/7/365 technical support

High speed and advanced SEO settings
Weblium is suitable for any task: from a personal website to the online store with thousands of products. Creating a website on Weblium is easy and affordable. Try it and see for yourself!
Black Friday Offer: 30% off on the Pro plan annual. No promo code required
Offer Validity: from 21th to 30th November 2022
50.Scribe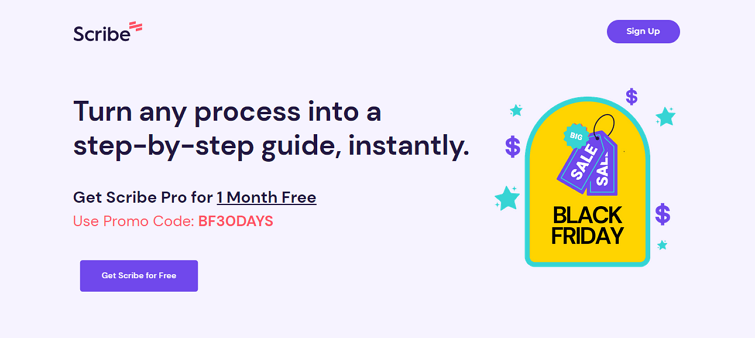 Scribe is the fastest, easiest, and most effective way to share how to do any process. By capturing your browser or desktop workflow, Scribe automatically creates visual, step-by-step guides with text and screenshots. Hour-long walkthroughs and customer trainings are a thing of the past. Scribes are ready to share, link or embed instantly. It's time to get your time back!
Black Friday deal: One free month of our Pro plan ($29 value)
Promo code: BF30DAYS.
Validity: Dec 2nd, 2022.
51.Consolto
Consolto is the best conferencing platform for customer meetings. Live Chat, Appointment scheduling and video chat in one cohesive solution, specifically designed for customer interactions.
Think Zoom+Calendly+Intercom in one tool.
Highlighted features: Video-chat focused CRM for heavy customer-meeters
Key Offering: If you run remote meetings with customers, you need a tailored solution that includes Video conferencing, appointment scheduling, live chat and a CRM in a cohesive and smooth package.
That's Consolto.
Discount offered: 50% off yearly subscriptions for the 1st year
Validity: November 25th to December 2nd, 2022
53.UserGuiding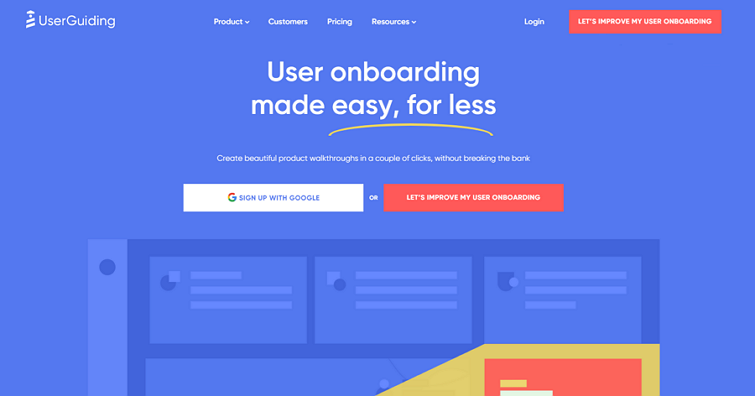 UserGuiding is an all-in-one product adoption platform that helps websites and web products improve their user onboarding and digital adoption.
Discount Offer: 50% OFF ON ALL PLANS
Discount Code: BLACKFRIDAY22
Validity: November 14 - December 16
54.Writecream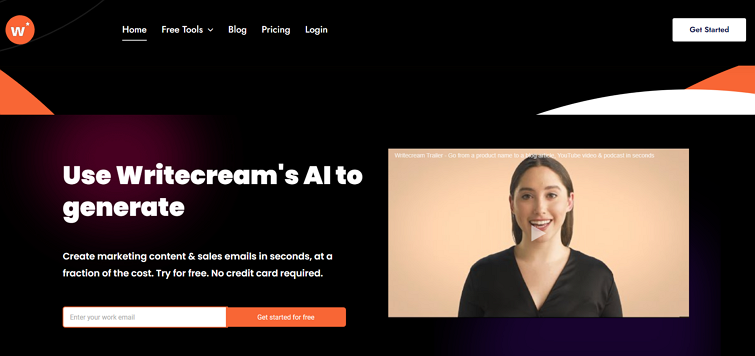 Writecream is an A.I-powered text, voice, and image generation software. it can generate any piece of text, ranging from essays, articles, stories, novels, scripts, ad copies, product descriptions, social media posts, and more. In addition, Writecream has AI-based, neural voices that sound like human. These can be used to generate podcasts and voiceovers for YouTube videos. Recently, Writecream added a oneclick, image-generation feature that uses DALLE-2. Use these images for social media, NFT, blogs, and more.
Black Friday Deal: Get 20% off on unlimited plan (use coupon WRITE20 at checkout)
55.Themesberg 90% Off Bootstrap, React, Tailwind CSS Themes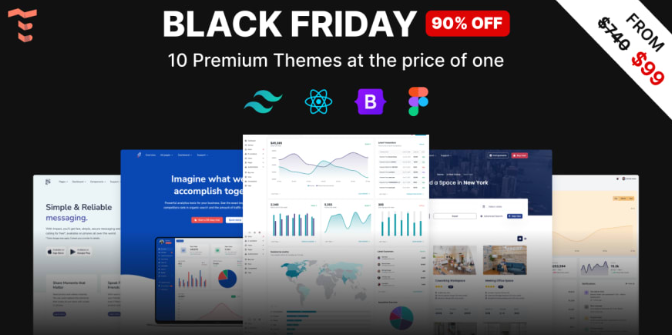 There are 10 premium themes and templates that are being offered for only the price of one with a 90% discount. You've got one of the most popular Bootstrap 5 Dashboards, a Bootstrap 5 UI Kit, a React dashboard, a Tailwind CSS theme, and many more.
Get the offer: Themesberg - Black Friday 90% Off(link: https://themesberg.com/black-friday)
56.BannerBoo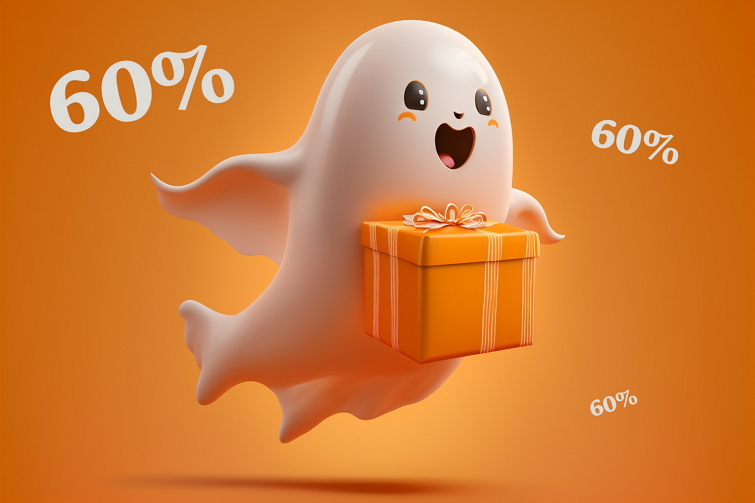 BannerBoo is an online banner maker for the fast and easy creation of static and animated ads in GIF, MP4, HTML5, PNG, JPG formats. Create ads from scratch or choose from many templates for different industries. Enjoy "Smart Animator" and "Smart Resizer" functions, as well as thousands of clip-arts, icons, and photos. BannerBoo is perfect for digital agencies, ad platforms, and in-house marketing teams.
Black Friday Deal: 60% off all BannerBoo Premium Plans for the first three months!
Deal Flight Dates: 20.11.2022 - 20.12.2022
Deal Promo Code: BLACKFRIDAY
Deal Landing Page: https://bannerboo.com/plans/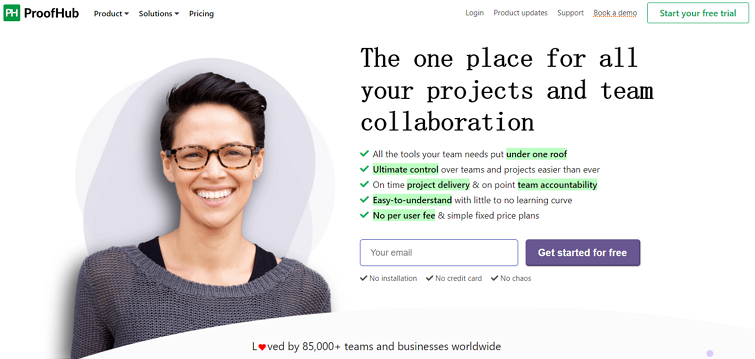 ProofHub gives you the ultimate control and tools your team requires to manage projects and collaborate in one place, eliminating the need to invest in multiple tools. It makes it easier to plan tasks, discuss ideas, organize files, and deliver projects of all sizes- bringing order to chaos.
The Offer: ProofHub Black Friday offers you a Flat $89 per month (for 6 months only) when billed annually and $99 per month when billed monthly, on the Ultimate Control plan that is otherwise priced at $150 per month on monthly billing and $135 per month on annual billing. Unlimited users are allowed on both pricing plans.
58.CallPage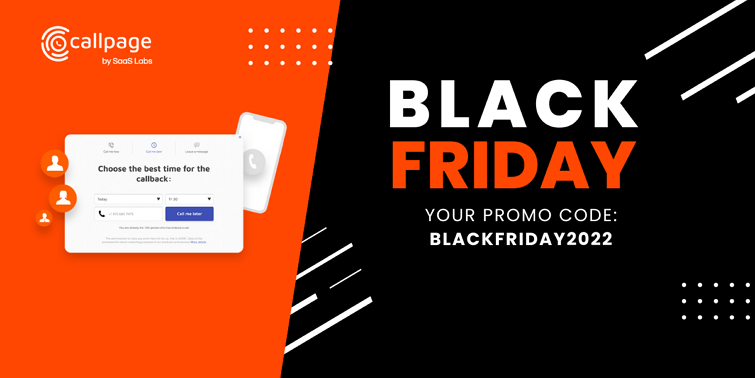 CallPage is a lead capture solution that, once installed on a website, allows a website user to order instant phone contact in just 28 seconds. According to data provided by CallPage, the widget helps increase the number of leads generated from the website by an average of 35%–120%.
SaaS Black Friday Deal: 45% discount on a one-year subscription to any CallPage plan,
Promo code: BLACKFRIDAY2022
Offer Validity: 22nd to 25th Nov 2022