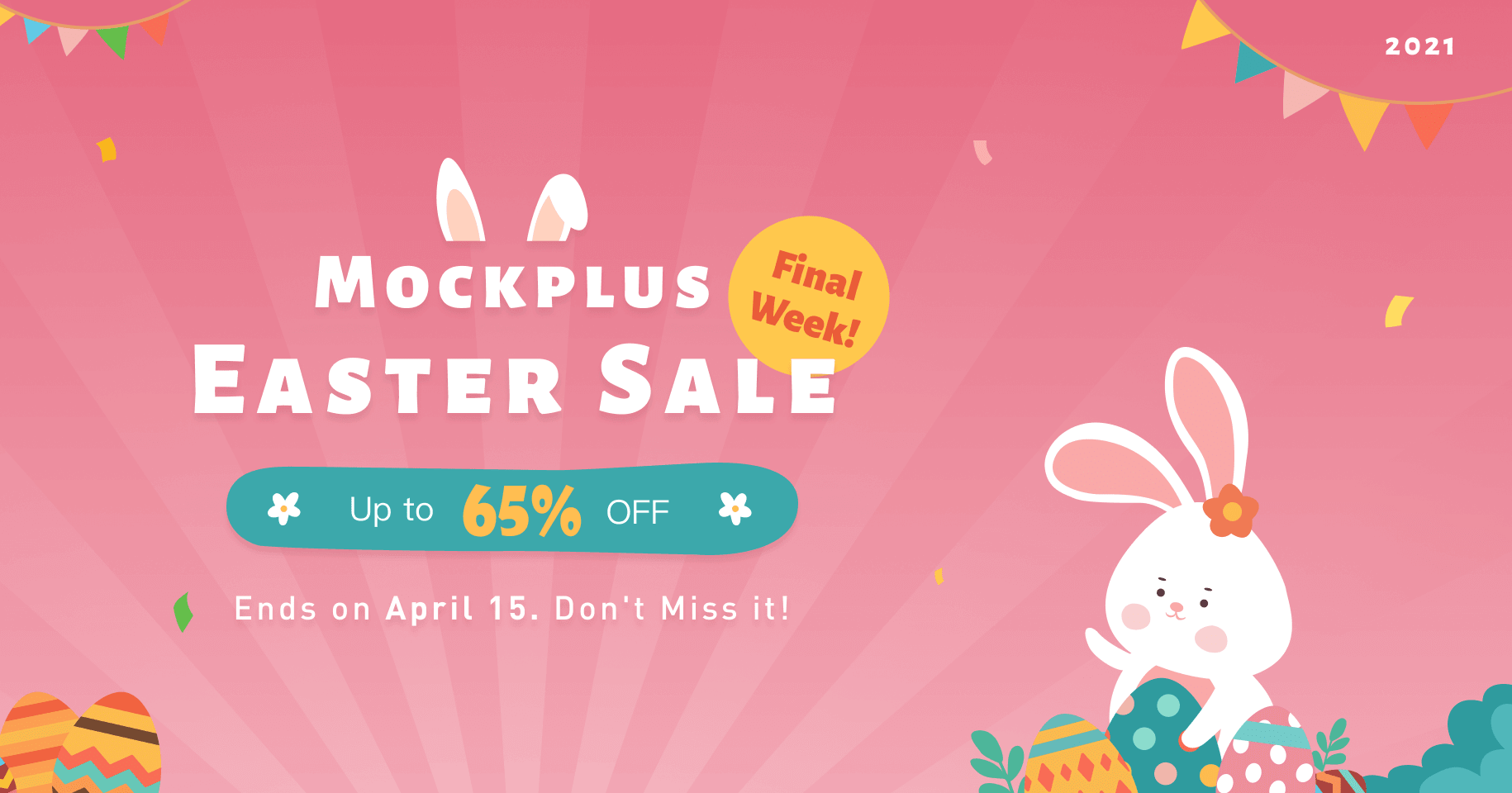 Time is running out. Mockplus Easter Sale is going to end in 24 hours!
Last chance to play our Easter game and win a prize - up to 65% off all Mockplus products.
Time-limited offer!
Hurry up! Go get it now and save huge!
What are the Easter Sales?
Mockplus is evolving how we design and collaborate. This Easter, we are bringing you huge savings on Mockplus through discounts and games:
Mockplus Cloud
To level up your team collaboration, we have a special easter edition that bundles 5 users at a much lower price:
Cloud Pro annual billing - 45% off

Cloud Ultimate annual billing - 49% off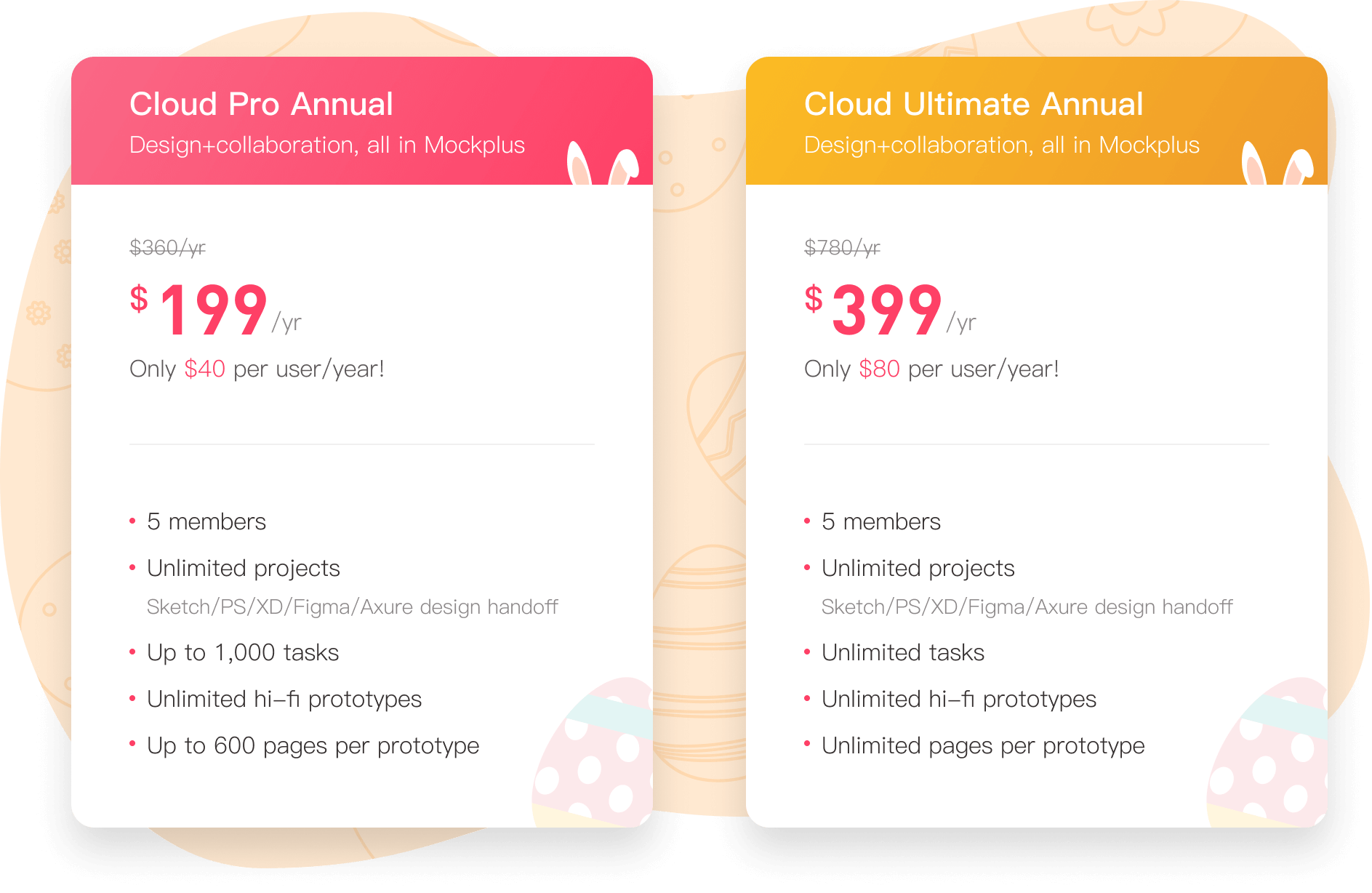 If you need more than 5 users, you can still subscribe to enjoy the same discount for any extra users, as low as $40 per user per year (up to 45% off).
Mockplus Classic
You can save huge on all Individual, Team and Enterprise plans:
Buy yourself a better prototyping tool at a lower price now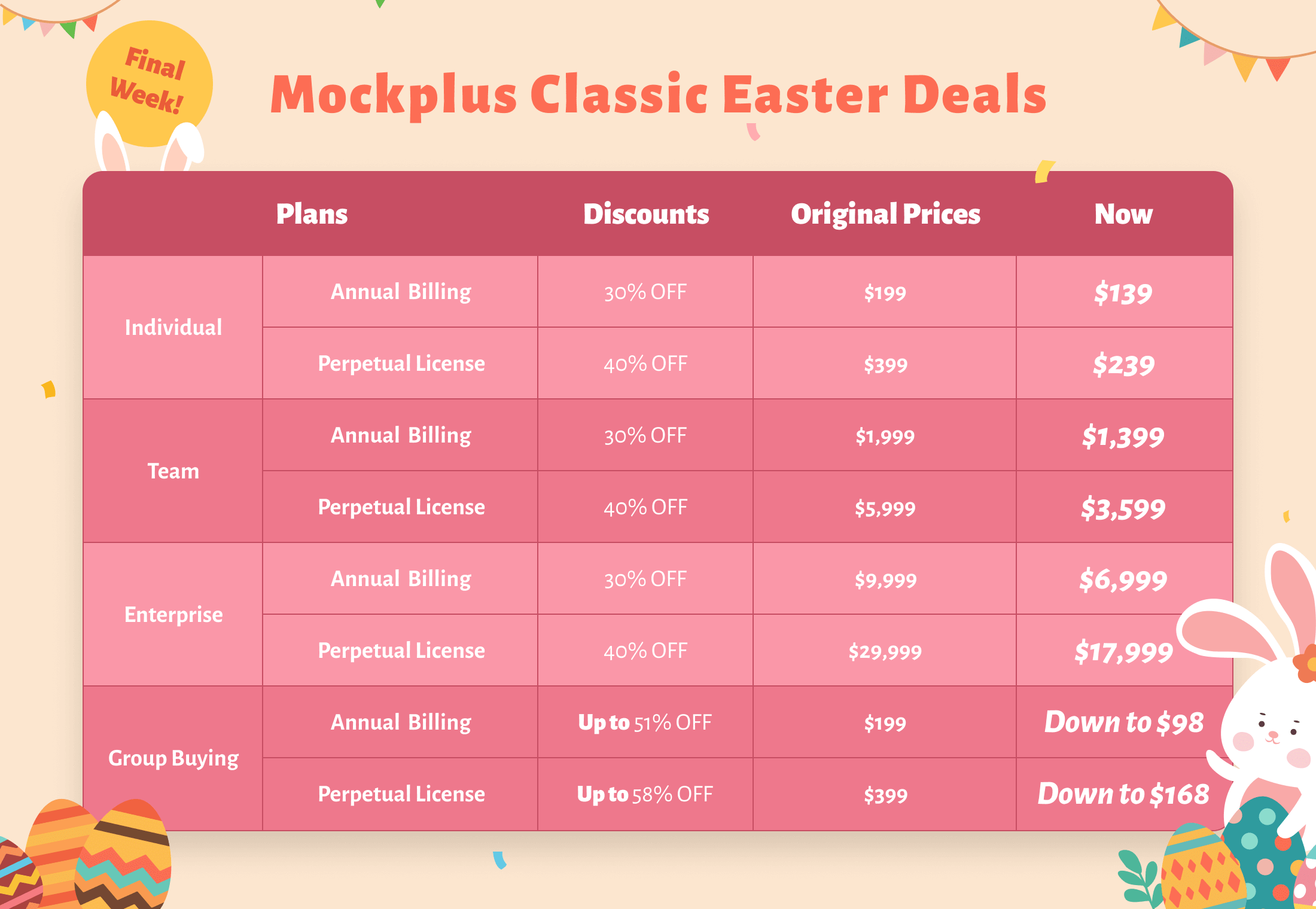 Play our Easter game & Win up to 65% off sitewide
Want an even lower price? Play our easter game to unlock a Super discount - up to 65% OFF all Mockplus products. Just crack all 6 easter eggs to get a special discount code and save big on any Mockplus Classic and Mockplus Cloud plans.
Share your stories & win an extra prize
Your feedback helps us create better products. We would love it if you can share any story of how Mockplus has helped your team out. Share a story with us in the comments before April 15. The three most-upvoted comments will win an extra Easter prize - a $399 Cloud Easter Ultimate Edition.
Why you should choose Mockplus Cloud
Product design now involves a whole team, not only designers but product managers and developers. With Mockplus Cloud, your whole team can design, prototype, collaborate and hand off, together, all in one place - giving you a more unified and fluent workflow.
Key features:
Online design & prototyping
Make lifelike prototypes in minutes with built-in components, icons and templates

Create custom logos, components and illustrations with vector tools

Style components as you wish, with advanced editing modes

Create states and interactions so your designs work like the real thing

Co-edit with your team in real-time
Design collaboration
Comment and collect feedback directly on design screens

Customizable task management

Write PRD online and refer to related designs and documents

Role-based team and project management

Keep track of team and project activities
Design handoff
Integrations with: Sketch, Adobe XD, Photoshop, Axure and Figma

Review design screens with your team in real-time

Overview all project screens in one place and create user-flow with drag-and-drop in Storyboard

Hand over all deliverables to developers with a single link

Export all assets and code snippets in one click
Design system
Create and manage your design system online with your team

Gather all colors, fonts, components and other assets from design tools like Sketch

Connect your design and engineering together.
Mockplus Cloud streamlines your entire design workflow, all the way from design, to prototyping to developer handoff.
What are you waiting for? Go play our game and get up to 65% off Mockplus now! This ends soon on April 15th.
Time is running out! Go get Mockplus Easter deals now: https://www.mockplus.com/mockplus-easter-sale/
Other Easter offers that you may need
Looking for more Easter offers to save big? Go check this: Best Easter Sales & Deals