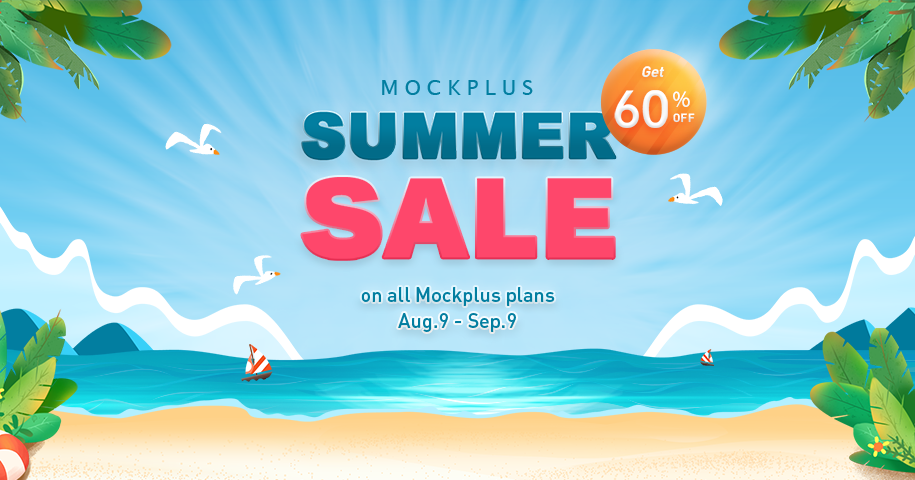 Mockplus up to 60% off summer sale was over yesterday!
Thank you everyone for supporting Mockplus during this summer sale.
We hope you all have a wonderful time with Mockplus.
What tools are on sale this summer?
Mockplus aims to give users the fastest and smartest tools to design the best UI/UX together. This summer, we are bringing you huge sales on all Mockplus design products:
Mockplus Cloud
For better team efficiency, we have a special offer this summer that upgrades your design team for 5 users at an amazing price:
Cloud Pro annual billing - 45% off

Cloud Ultimate annual billing - 49% off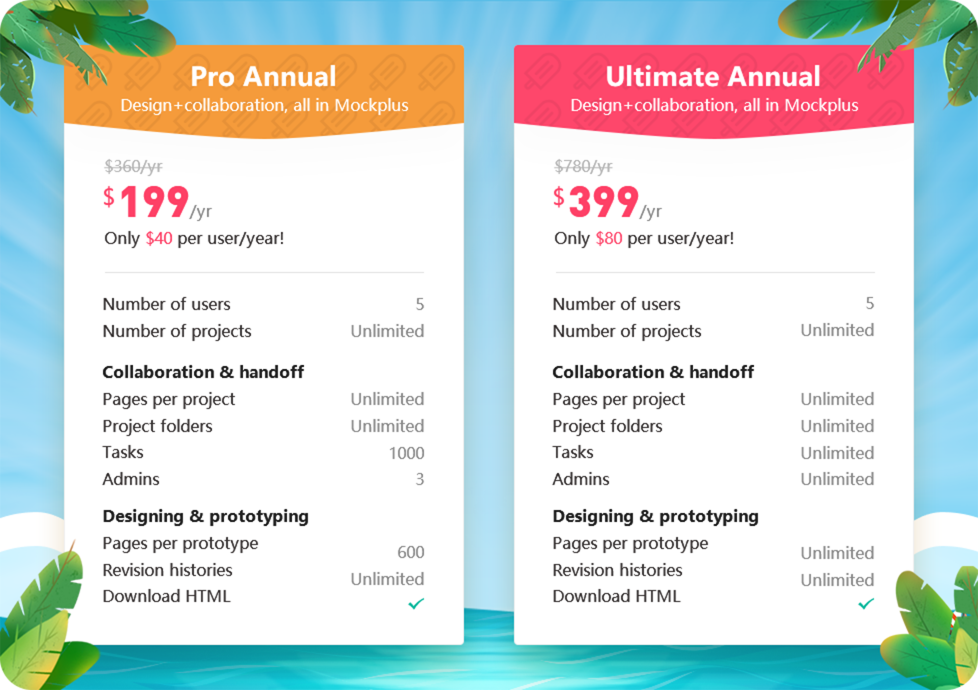 If you need more users, you can purchase extra users with the same discount, as low as $40 per extra user/year.
Mockplus Classic
All Mockplus Classic plans are covered this time, Individual, Team and Enterprise plans:
Annual billing - 30% off

Perpetual licenses - 40% off

Group buying - Up to 58% off
Buy this powerful desktop prototyping tool at a lower price now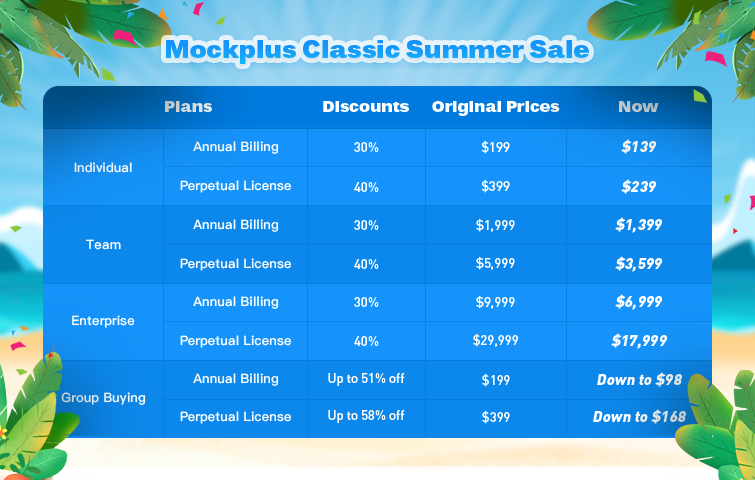 You can select any plan and enjoy this amazing price on any plan.
Get an Extra 20% OFF code & Save up to 60%
Want to save even more when purchasing Mockplus? You can still click the floating gift box to take a further 20% OFF on every purchase. Just enter that discount code at checkout and save up to 60% on selected Mockplus Classic and Mockplus Cloud plans.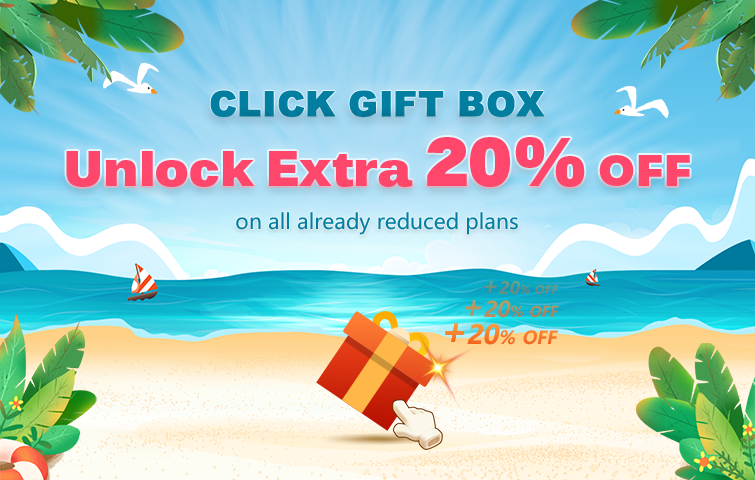 Mockplus Cloud VS Mockplus Classic
Mockplus Classic is a desktop prototyping tool that helps you translate ideas into interactive prototypes. It focuses on the prototyping process only.
Mockplus Cloud is an all-in-one web-based product design platform for designers and product teams to design, collaborate and hand off designs in one place. All in the Cloud.
Mockplus Cloud comes with far more advanced features:
With a built-in online prototyping tool, you can:
quickly create web or mobile app prototypes with components, icons and templates

co-design on the same page with your team at the same time

draw vector shapes and combine them to create custom graphics

create responsive layouts

add lifelike states and interactions
With the powerful team collaboration, you can:
share designs across teams, discuss and leave comments directly on screens

create, track and manage design tasks

link PRD and design pages together

manage team and project permissions with roles
With the developer-friendly handoff, you can:
Import designs from Adobe XD, Sketch, Photoshop, Axure and Figma

All design specs, assets and code snippets are automatically generated

Mark custom design specs directly on designs

Hand over all deliverables to developers with a single link

Export assets and code snippets in one click
With a great design system manager, you can:
create and manage your visual language with your team

Add and access design assets through design tools like Sketch
For students, teachers and educators:
Mockplus Cloud is a great teaching tool that allows students and teachers to work on the same design project and see what changes have been made instantly. Students can also prototype their own projects separately, and share with teachers through a single link, so teachers can review the project from anywhere via a link and leave comments directly on the prototype page.
For product teams or design teams:
Mockplus Cloud connects the entire product design workflow in one place, from prototyping, collaborating to developer handoff. A scalable design system can even be built, shared and reused across teams, all shared online in one place.
Whether you are trying to prototype or collaborate on a project with your team, Mockplus Cloud offers a faster and better solution to help you save time and money.
For teams, we recommend Mockplus Cloud over Mockplus Classic for all of the collaboration benefits.
What are you waiting for? This crazy summer sale ends soon on Sep 9th.
Time never waits! Hurry! Go get Mockplus summer sale now: https://www.mockplus.com.