Hello design folks, we're launching the 2023 prototype template design contest, inviting all of you to design and submit web and app prototype templates to show your design talent.
You will get a once-in-a-lifetime chance to win brilliant awards and prizes like Apple Watch, Apple AirPods, and Apple Pencils. Every participant will also win $50 for each entry (up to $150 for each participant).
So why are you still waiting? Submit your work before May 15, 2023, and grab the chance to be chosen!
Hurry up! Register and submit your creative prototype template now!
Who can join?
Whether you are a designer, product manager, or even developer, you can join if you have a design idea to prototype! And you don't need to worry about having design skills. Mockplus makes all your design ideas possible with a few simple drag-and-drop actions!
Reasons to Join
- Get outstanding awards and prizes like Apple Watch, Apple AirPods, and Apple Pencils.
- Win up to $150 amazon gift cards.
- Show your design work to a global audience.
- Practice your UI/UX, prototype, and product design skills.
- Enjoy a 30-day free license of Mockplus RP.
- Get a golden chance to become our template contributor and reach long-term cooperation.
How to join?
Use our online prototyping tool Mockplus RP to create static or interactive web & app prototype templates for submission.
Here is the timeline you should know:
- March 15, 2023: Open for entries - Register and redeem the 30-day free license
- May 15, 2023: Entry deadline - Create and submit your prototype before this deadline
- May 16-18, 2023: Judging phase - Our judge team will review entries and pick winners
- May 22, 2023: Winner announcement - Three winners will be announced and notified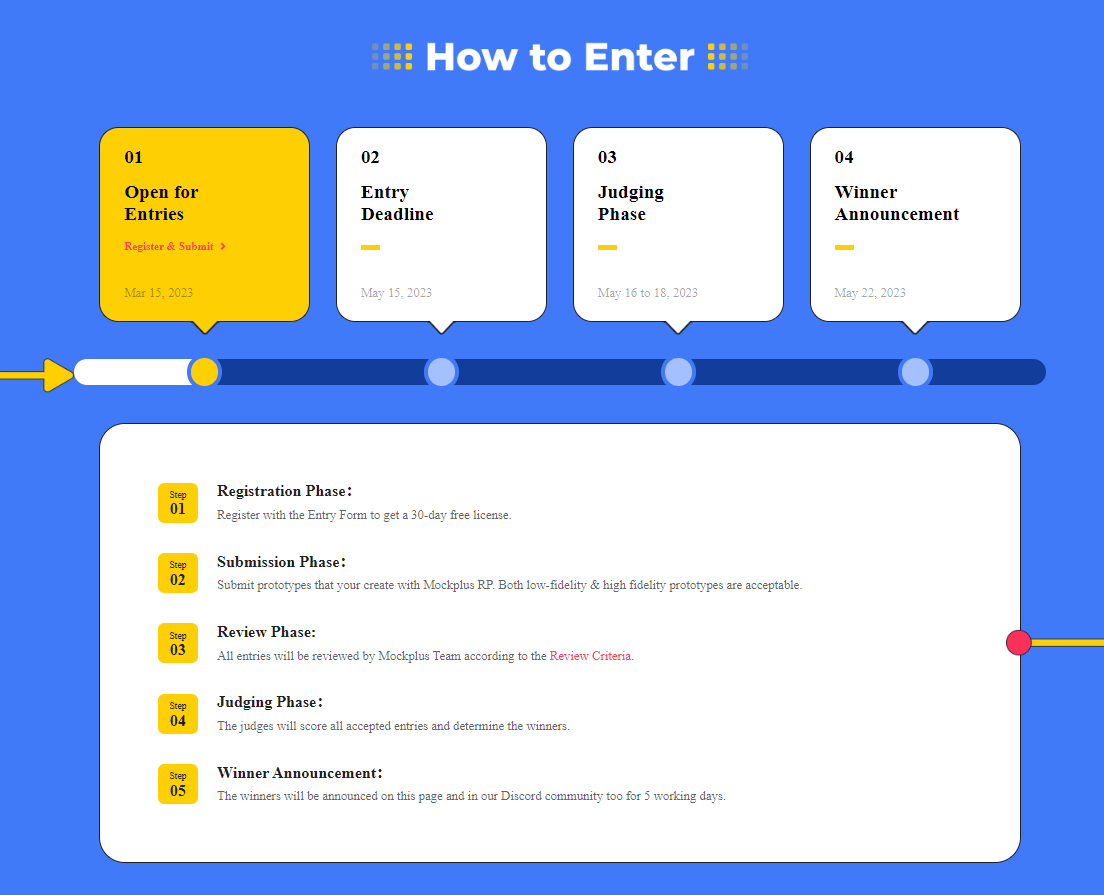 What Awards and Prizes will You Get?
Three awards and prizes will be given according to the creativity, usability, reusability, aesthetics, and more factors of all the accepted entries. And these include:
- The Best Usability Award - 1 winner will be selected to get the Apple Watch SE
- The Best Creativity Award -1 winner will be selected to get the Apple AirPods 2nd Generation
- The Best Aesthetics Award -1 winner will be selected to get the Apple Pencil 2nd Generation
Is that all? Of course not!!!
All the participants will also get a Bonus of a $50 Amazon Gift Card for each entry.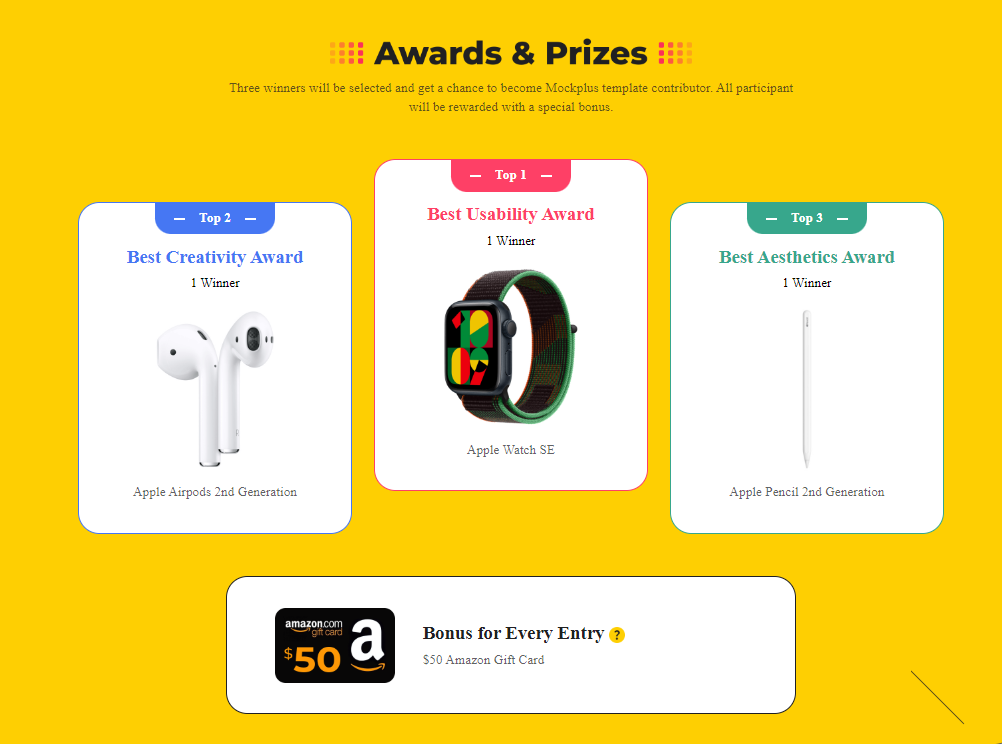 Learn more
Our Judging Team and Criteria
We're inviting an international judge team of professional designers to review your design work. This will also be a good chance for you to get valuable and professional advice to improve your design skills.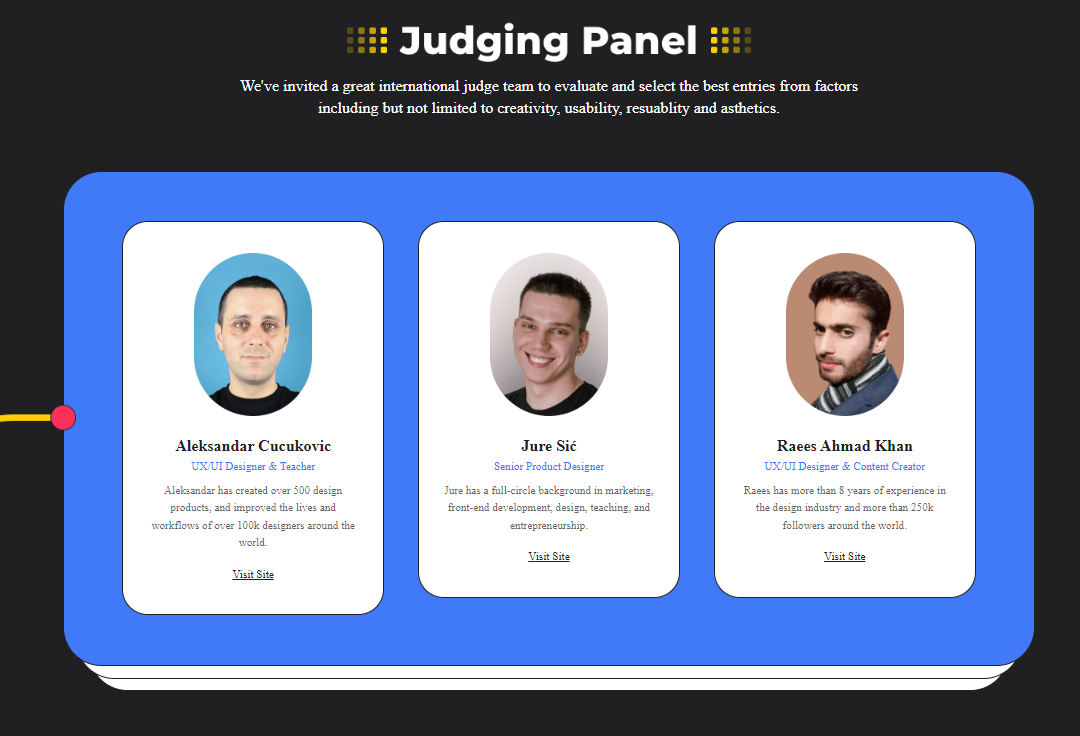 Plus, they will also carefully evaluate all your entries and select three winners by following these criteria:
- Each entry must be original and not use content from other entries or design work.
- Each entry should be fully customizable and reusable for others to create their own quickly.
- Each entry should be user-friendly and easy for others to edit and scale.
Terms and Conditions You Should Know
- Ensure that all your entries are made with Mockplus RP. (Don't know how to use Mockplus RP? Watch video tutorials to get started in minutes. )
- Ensure to create at least 10 pages for each prototype template.
- Make sure to modify your work as we require carefully. If your modified version has been rejected again, it will become invalid and be disqualified for another review.
- Please also be aware that your submitted work can be freely posted, used, and displayed in any media by Mockplus.
- All the rights are reserved by Mockplus team.
What are you waiting for? The contest is live now! Register and submit your prototype template before this May 15, 2023: https://www.mockplus.com/prototype-design-contest