Good design is good business. Many organizations realize the importance of having a good design. They are willing to invest resources in creating a more streamlined design process that will help them rapidly scale and reduce the time to market for the products they make. These organizations invest in creating a practice of Design Operations (DesignOps). In this article, we will discuss what DesignOps really is, what responsibilities a DesignOps role has, and how DesignOps impact design culture.
What is a DesignOps?
Despite the term 'DesignOps' being discussed in many different contexts, for many designers, 'DesignOps' is still a buzzword. Some design practitioners limit the idea of DesignOps to just a single activity, such as maintaining a design system. In contrast, others think of those in DesignOps roles as unicorns who can do almost anything related to design. Let's find out what DesignOps really means.
DesignOps is an approach to building stronger design teams. DesignOps (design operations) are people in the design department responsible for managing and organizing the design process within an organization in a way to maximize its effectiveness. Similar to DevOps, which aims to improve the development process, DesignOps aim to help design teams to work more effectively.
DesignOps focus on humans—end-users of a product, and people who create this product. Meaningful user experience is the number one priority for DesignOps. DesignOps ensures that the team practices human-centered design and prioritizes user needs when they create products. Enabling the product team to deliver at scale for the organization is another important goal that DesignOps aim to achieve.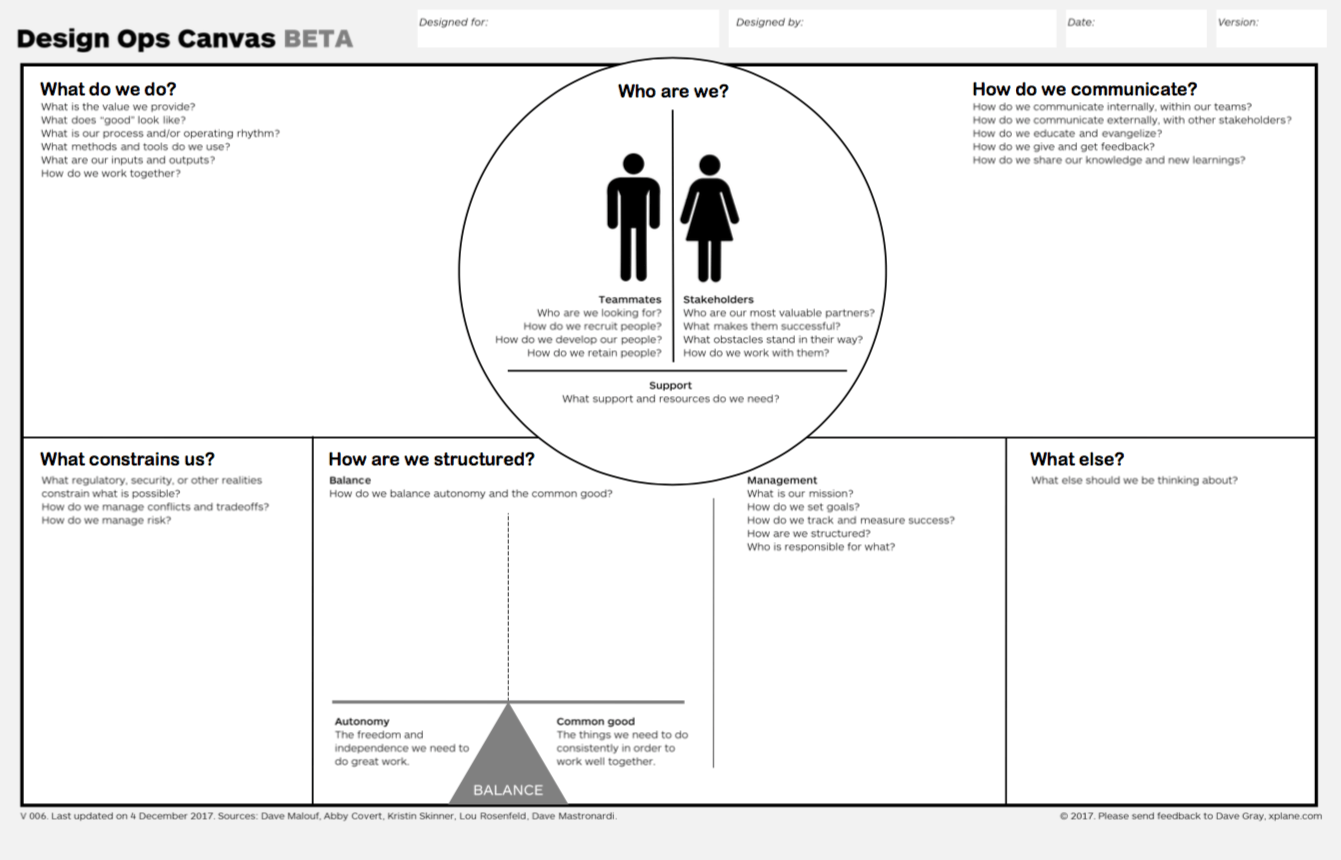 DesignOps Canvas helps summarize information about the design process in an organization in a format of a diagram that can be shared with team members. Image by XPlane.
DesignOps involves a wide range of activities, including:
Resource management. DesignOps understand the needs of the product team and communicate the needs to stakeholders. DesignOps allocate the budgets so that the teams have the resources and support to do their best work.

Finding and hiring the right team members. DesignOps care about growing and evolving design teams. They know what design talents the team needs and hire people with the right skills and motivations to become a great addition to the team. DesignOps often establish interviewing practices that will help the team find the right talents.

Creating employee retention strategies. DesignOps care about people in a team. They aim to reduce turnover in the design collective by fostering a positive work atmosphere and standardizing career pathways for all team members.

Tool selection. DesignOps try to find tools to help team members make the most of the design process. Tool selection includes tools that the design team uses to craft design artifacts (i.e., prototyping tools like Mockplus RP, 3D design tools like Blender, motion design tools like Cinema 4D, etc.) as well as tools that help to optimize project management (i.e., task management tools like Jira, Trello) and daily communications inside the team (i.e., team messengers like Slack, tools for video calls like Zoom or Google Hangouts). DesignOps not only help to choose the right tools but also ensure that team members feel comfortable using the tools because the toolset should be consistent among all team members who participate in the design process.

Process improvement. DesignOps define a structure for regular team activities such as brainstorming sessions. They can introduce changes in how designers do their work if they think it will help the team work more effectively. For example, DesignOps might want to change how design brainstorming sessions are organized and invite developers to the sessions if they think it will help improve the design process.

Designing an organizational structure for design teams. DesignOps aim to create complementary design teams. Such units have all the required team members to develop a good design. For example, if DesignOps know that the team will need to create motion design, they will hire motion designers for the team.

Defining the role of an individual design practitioner. Process improvements might also change individual roles and responsibilities. For example, if DesignOps think that UI designers should manage the design system, they will add this to the list of UI designers' responsibilities.

Contributing to design strategy. In many organizations, DesignOps are involved in strategic work. They join strategic sessions with management to discuss how the product should be built from the design perspective. It helps to balance business objectives with users' needs and wants.

Data analysis. DesignOps takes part in data analysis to understand how well the product meets the needs of customers and stakeholders. DesignOps help to define metrics that organizations will use to evaluate the quality of the design and design process. Based on the data analysis, DesignOps can identify areas for improvement and decide what changes in the design process should be made to create better products.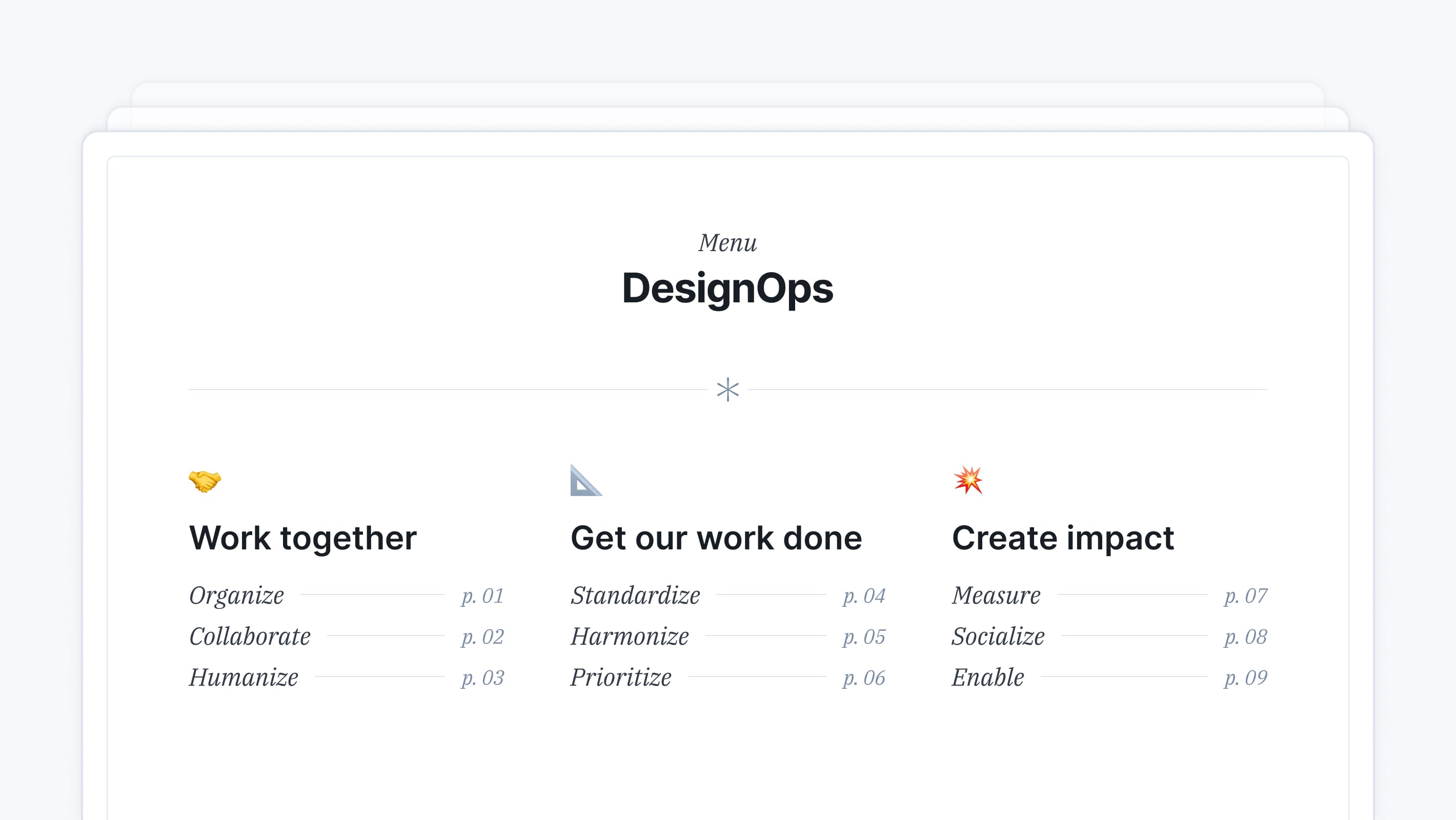 DesignOps work closely with product team members (designers, developers, product managers) and business owners. DesignOps act as a bridge between the product team and business owners since they know the needs and expectations of both sides.
Why is DesignOps important?
When an organization starts to think about creating DesignOps, it's a clear sign that this organization reached a higher level of design maturity. Such organizations begin to care more about the people who work in the organization and the product they create. People in an organization and the product they make are two things that DesignOps care about the most:
DesignOps care about the product that the team creates. DesignOps help organizations to improve the effectiveness of their design processes. They help establish a design process that allows product teams to release better-quality products faster.

DesignOps care about how people work together. DesignOps takes an active part in improving design culture. They help to ensure that team members have the support they need to do their best work. It can include access to the right tools and technology and adequate support and training.
What role does DesignOps play in a team?
DesignOps is a broad topic because there are many activities required to create consistent and quality design. Here are some of the critical responsibilities that DesignOps have:
Establishing and maintaining design systems. DesignOps helps to create and maintain design systems that provide consistent visual and interaction standards for products. It includes defining and documenting user interface components, visual styles, and interaction patterns. DesignOps are also responsible for writing design guidelines that team members use when they create a product.

Selecting the right design tools. DesignOps helps to select design tools that enable the team to work efficiently. Toolbox typically includes tools for design collaboration, version control, and project management.

Create a shared vision about changes within an organization. DesignOps have solid skills in communicating the changes to team members. When team members have a shared understanding of why they need something, they will be more willing to accept this change.

Facilitating communication and collaboration. DesignOps helps to facilitate communication and collaboration between designers, developers, and stakeholders.It includes conducting design reviews, coordinating presentation sessions, and organizing training sessions.

Socialize design work. DesignOps take an active part in the reward and recognition of design achievements. They act as design evangelists and share success stories that motivate team members to create good designs.

Measuring and improving design performance. DesignOps helps track and measure design teams' performance and uncover bottlenecks in the design workflow. It includes gathering and analyzing data on design quality (such as the number of issues found in products after release) and implementing processes and practices that help to minimize the number of problems.
It's worth saying that every organization is different and might have specific needs, so the responsibilities of DesignOps might vary drastically in different organizations. Ultimately, the responsibilities of DesignOps should be selected according to the organization's pain points. For example, if a company constantly faces problems with design-developer collaboration, DesignOps should prioritize activities to improve this collaboration.
How to improve the design workflow with DesignOps?
Organizations typically realize they need to hire DesignOps when they already have established design processes. So when DesignOps join the organization, their first goal is to review the design process and identify areas of improvement. Here is a series of steps that DesignOps go through when they improve the design process:
Documenting the current design process that the organization follows. DesignOps are documenting the steps that the team makes when they create a product. They aim to do it as clearly as possible so that every step provides all required details for analysis. A tool called user journey, commonly used in product design, can be very handy when documenting the current design process. DesignOps create a journey the team goes through when creating a new product.

Analyzing the design process to identify areas for improvement. The analysis aims to identify areas where the design team can perform better. Here are a couple of examples:

When DesignOps notice a lot of manual work during the visual design phase, they might want to learn more about the design system used in the organization to understand why the system doesn't allow the team to work more efficiently.

Suppose DesignOps notice that the development team finds many issues in UI design after the design handoff (i.e. undocumented properties). In that case, they might want to implement design review sessions that happen before the handoff and improve the feedback process.

Specifying required changes. After the analysis, DesignOps might wish to propose the required changes. During this step, DesignOps try to find the right balance between the effort needed to make a change and the potential outcome of this change. They prioritize changes that are easier and cheaper to implement and, at the same time, will give a considerable boost in productivity.

Define clear metrics of success. The improvement process never starts until the team defines metrics of success and sets a baseline measure. Metrics are typically selected according to the business's goals

Track changes over time. Improving something is not a one-and-done exercise. It's an iterative process, and DesignOps introduce change and track how well the changes work for the design team. They collect this information using analytic tools (i.e., use a task manager to track the general performance of the team) as well as conduct group sessions and 1-to-1 interviews with team members to understand the team spirit.
How does the team invite DesignOps?
After learning the list of responsibilities that DesignOps have, you likely realize that a single person can't focus on all these components. That's why in many organizations, DesignOps is not a single person but rather a dedicated team of design practitioners that manage the design process within an organization. Design generalists are typically promoted to DesignOps because they have diverse knowledge in the design domain.
DesignOps are not necessarily the strongest designers, but they have a nice balance of hard and soft skills that help them to understand how designers and developers work and communicate with various team members and stakeholders to convey the interests of the design team to them.
The future of the DesignOps
DesignOps is more than just a role that a design practitioner has in an organization. DesignOps have a very specific mindset that helps the team work effectively. They understand the importance of thinking about design holistically and establishing standardized processes & methods that will support design collectives in what they do.
In the next few years, many design collectives will embrace this mindset so that they will be able to do DesignOps activities on their own. As a result, no DesignOps-explicit role will be required because team members can evaluate current processes and introduce necessary changes.
Conclusion
DesignOps are not a revolution in the design industry; they're evolution. The quality of design that a company produces has a direct impact on the business's bottom line. The DesignOps plays a critical role in helping product teams to be more effective and efficient. DesignOps achieve this goal by optimizing the process the team follows when they create a design and improving the organization's design culture.