INSIGHTS OF THE INDUSTRY-LEADING UXERS AND PMS IN CHINA
---
Interviewer: Julie, the Planning Manager at Mockplus
Interviewee: Miao miaozi, the UI designer
With the high expectation, we have invited the first female designer, who called herself as Miao miaozi, to our UXer Talks. It's a very happy time to have an interview with Miao miaozi. Like most of the young designer, she is humor, lively, and easygoing. As an experienced designer, she has been a UI designer for 5 years in 3 different companies. The first one is a design company once working for some big Chinese companies including Ping An Insurance (Group) Company of China, Ltd., Qian Hai Life Insurance CO., LTD, and Baoneng Group. The other two companies are startups. In addition to the UI design, she also did interaction design. Currently, she is a freelance designer located in Guangzhou. In her spare time, she usually likes reading, photography, floral, and food. A totally artistic youth. Despite the high pressure as a freelance designer, but she is good at enjoy from the bitterness.
Let's go to know this funny UI designer.
Graphic design ≠ UI design
Q: What is your major in college? Graphic design?
A: No, I was major in the Digital Media Technology. Only a little difference of one world from digital media art, but they are not the same thing totally. The Digital Media Technology belongs to the computer department, so I also know how to fix the computer. Sometimes, I just doubt that I am a man. We learn the development of C, C + +, as well as higher mathematics, linear mathematics, and physics. Now think back, in fact, I just like made a wrong choice (laughs).
Q: Then, why you choose to be an UI designer?
A: Although there will be some professional courses about software design in the junior years, I felt that I didn't have learned enough. Then, before the graduation, I went to Beijing for 3 months of full-time learning in a UI design training institution. At that time, the mobile Internet was not hot in China, most of the UI designers were transited from web designers. In fact, the course was not system as today, we and the teachers were groping to learn.
Q: In fact, many people have misunderstood that UI design equals to graphic design. But as far as I know, UI includes many aspects. Could you please introduce the difference between UI design and graphic design?
A: At first, the work of UI design and graphic design are different. UI (User Interface) faces the user of the machine. While graphic design faces more scenes and tends to express more. There is a little difference of the software use, but UI design will be more similar to user experience.
Q: So the UI design has a close connection with interaction design and UX design?
A: Yes, when doing UI design, you must consider the interaction and experience. Put aside the interaction and user experience, it's immature to do UI design. Some companies will have interactive designers, and the PMs will check on the interaction and user experience design, but I think the UI designer also should think about these in the UI design process. For example, I have been doing UI, if you ask me to do the packaging design, I can not do it. The two industries both are targeted and professional. In fact, it's helpless in China for many UI designers been called as artwork.
Q: It seems that the UI designer is a combination of scientific and artistic.
A: Yes.
Communication is the best way to find inspiration
Q: What was the reason for you to be a freelancer instead of working at office?
A: I was working for a foreign company, then the headquarters removed the Chinese branch and the product transferred to another domestic company. So our team was dissolved. And then, I found that I can make a living by being a freelance designer. The disadvantage is that I just be an indoor girl, and almost eat all kinds of takeaway within the radius of 3 km (laughs)
Q: Any other reason? Is there any difference between making projects by with the team and only by yourself?
A: Of course. But the difference is not very obvious. I personally feel the only difference is the communication cost will be greater than the company. When you work for a company, you may have been working with a fixed team, and now you have to meet different teams every time.
Q: Which mode is more efficient for you? The personal project or the team project?
A: The team work is more efficient, because it has a clear division of labor, and the team members will have more inspiration collisions. In addition to experience, the design inspiration is also very important.
Q: Have you ever been out of inspiration?
A: Of course.
Q: How do you deal with this situation?
A: I will find the relevant material to get inspiration, such as visiting Pinterest, Dribbble, Huaban (a Chinese website about design), and AppStore. And sometimes I will have a communication with my friends who are also designers. Also, I will ask my boyfriend who is a programmer to analyze the science, users, and where should I pay attention to. I'd love to find inspiration from communication, it's helpful sometimes.
Q: Can you give us a brief overview of what you have done?

A: I have done lots of projects, including the touch screen UI, smart TV OS, mobile, Web, and games. There are some online Apps like the intelligent detection, Tanbao, and FHI. I like the FHI most.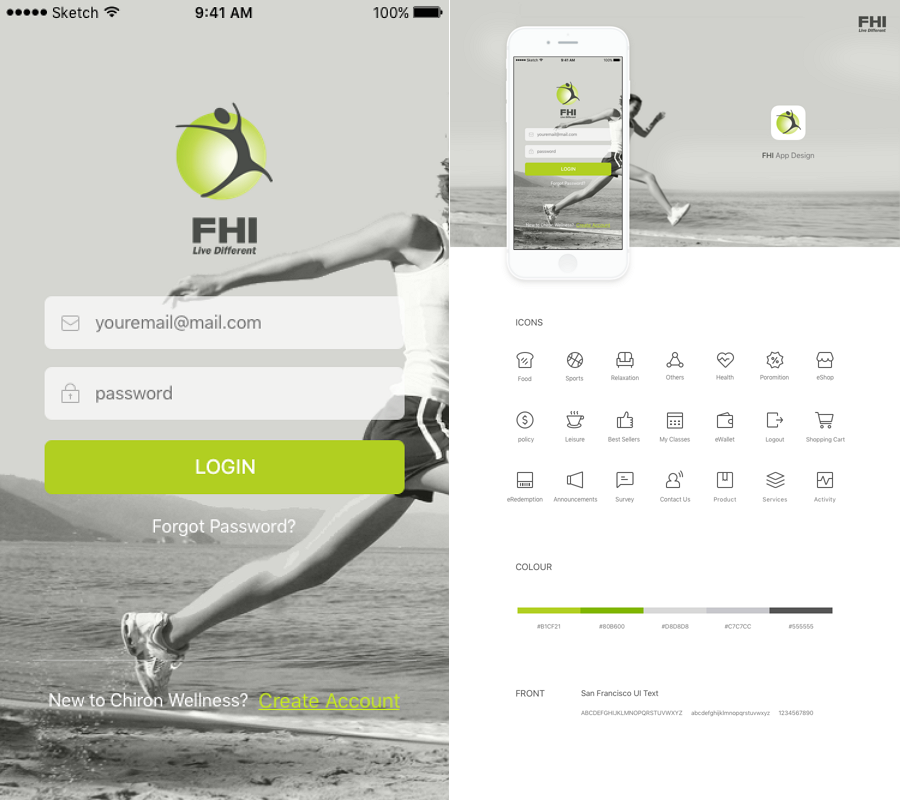 Q: Why?
A: It is an online healthy website with a clean user interface.
Q: What are the differences on user needs between domestic and foreign projects?
A: In fact, from the aspect of UI design, I think there is no much difference. From the aspect of user needs, the foreign projects will be more biased in practicality. Well, it does not mean the domestic projects are not practical, but the proportion is different. Like FHI, there are not many recommended modules.
Q: I personally prefer the clean and simple design style, but for UI designer, you must hold each different design styles.
A: Yeah ... different products have different styles. The style is close to the product. Like this website, it sells some health products and courses, so it will not need too much lively atmosphere and colors.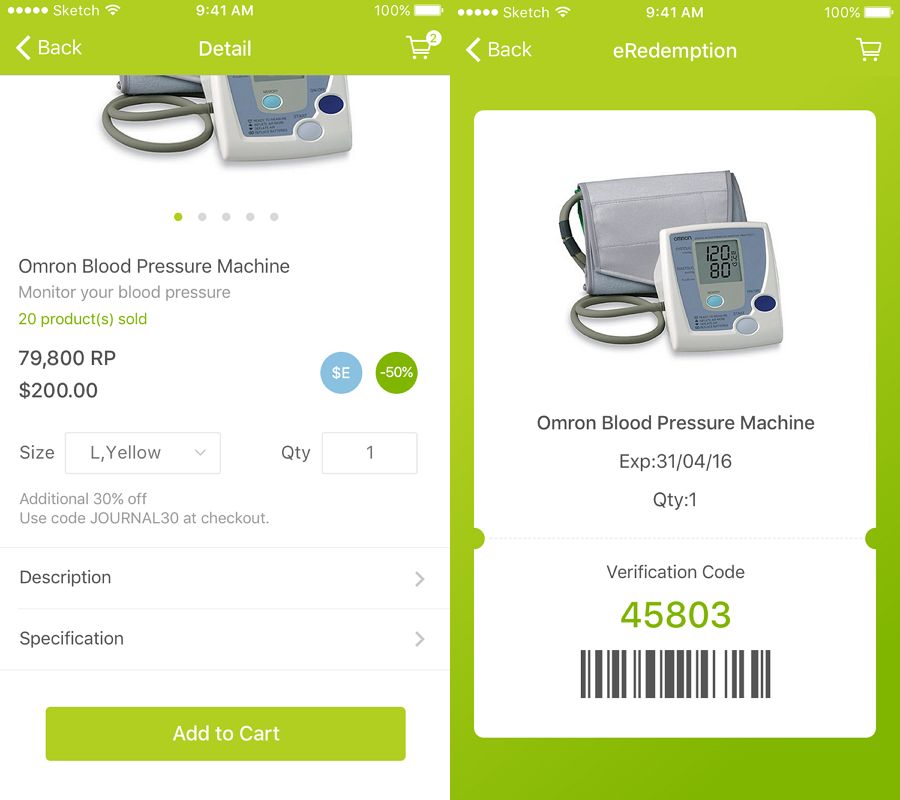 Q: What if the clients have a different opinion with you on aesthetic, how to deal with it? Be compromise or insist on your own ideas?
A: I'll try to persuade them, but if I cannot do it, I have to compromise. Actually, the user-oriented design and customer-oriented design is not really the same, sometimes I feel very helpless. Because some customers do not know what they want exactly, but I have to find a suitable point from the communication.
Q: The communication is so important to ensure the user experience as well as to make customer satisfied.
A: Yes. But in fact, sometimes the customer will be closer to me than the user. I'll share a funny little story with you. Once I made a project for KTV. I designed a title with an artistic text with a low identification. The feedback from customers said that the words cannot see clearly. That's right.
Q: Which prototyping tool do you usually use?
A: For the simple design, I use Balsamiq and Sketch. Occasionally, I will use Axure. At present, I'm learning to use Mockplus.

INSIGHTS OF THE INDUSTRY-LEADING UXERS AND PMS IN CHINA