INSIGHTS OF THE INDUSTRY-LEADING UXERS AND PMS IN CHINA

---
Interviewer: Doris, the Planning Manager at Mockplus
Interviewee: Rox, Senior visual designer at Tencent

Rox, a senior visual designer at Tencent TGideas. He is also a music creator, drummer and environmentalist. He likes to express his real feelings in his works and always be outspoken even on the public platforms. His works have a magic power to touch people, for which he has become the "master" in his field. Everyday there are people who wishes to get advice from him. He doesn't like the free riders among them, but he's never been tired of answering the questions. Sometimes he is cynical, but he never forgets to deliver beautiful and positive things to others.
"As long as you have a dream and you are not so lazy, you will definitely make it true."
In today's UXer Talk, I'm most delighted to have Rox, the senior visual designer at TGideas (the official game-design team at Tencent) here with us. He will share his opinions on design with us.
I'm proud of being a member of TGideas
Doris: What's your feeling about TGideas?
People know TGideas because it's the official game-design team at Tencent. In fact, early from 2014, the team hasn't only been a purely game design team already. It's much more a team which focuses on maximizing the promotion effect by using limited time and space costs. In the future, TGideas will experimentally make amazing things. In my eyes, TGideas is the "highest land" at Tencent, also the highest land in this field. I'm very proud of being a member of TGideas.
Doris: Rox, tell us something about your work at Tencent.
Rox: Now I am in charge of the visual design, overall planning and follow-up of key projects. Sometimes I make music for my team, or design for some artist collaboration projects.
In the eyes of Rox, TGideas is the "highest land" at Tencent when it comes to design and creativity. He is proud of being amember of it.
Design is a rational work
Now Rox is in such an excellent team and he has thousands of followers on various platform. He fully deserves the "master"title which gave by them. But if you ask him "How to make good design?" , you won't expect that he would answered with only two words: "rational" and "serious".
Doris: You wrote on your Weibo that "Designis a rational work. The heart of design is to solve problems. " Could you please interpret this sentence for us?
Rox: "I want to talk about this from three aspects. First, design is not art. Visual design, as far as I can see, is at most visual expressions of product features, you know, feature is the heart.Design can be used to show your anger or deliver positive things, but the mostimportant role of it is to convey information, not just show something formally."
"Secondly, now many designers blindly follow some "Ganhuo (very practical knowledge)", "Tutorials recommended by Masters", "Case Sharing", etc. Years ago when I started to learn design, there's no shortcuts. I got everything by learning them little by little. I don't like the environment now, really. A lot of people are "buzzing" about design, however, good designs are from rational designers, and the heart of design is to solve problems. Now many beginners believe that to learn design is equal to learn design tool. That's not true. Your mindset is very important and the key principle is to solve the real problems with the help of design tool.
Thirdly, let's see what "she ji (design) " in Chinese mean: "she" is to preset and "ding" is to plan. Aren't these two words wise and rational enough?
Learning design isn't equal to learning software.
Everything exists for a reason
When I asked him about his favorite works, Rox showed me the followings: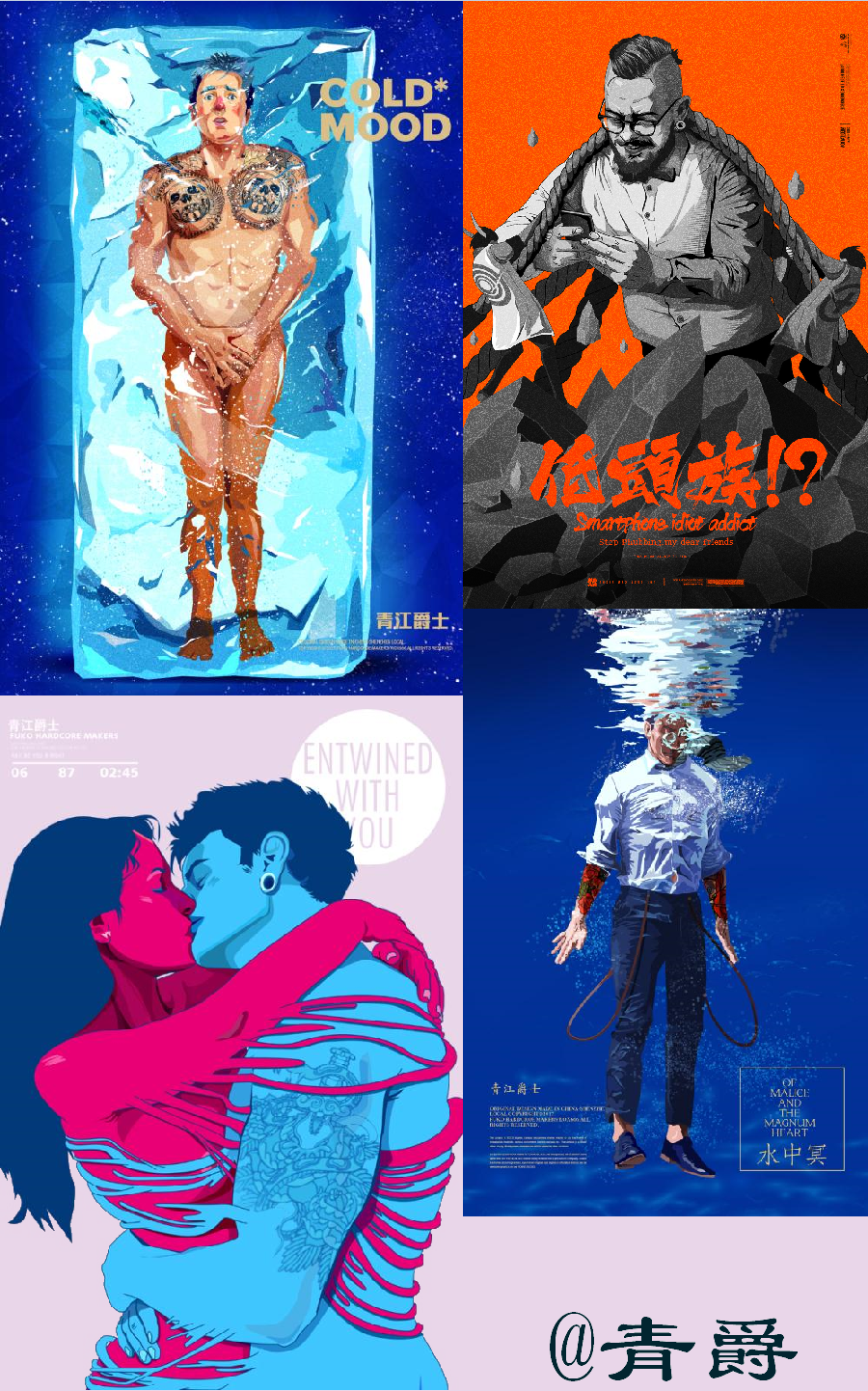 All of them seem to have some implications. (Of course, different people have different interpretations to these works.) Taking the "Smartphone Idiot Addict" for example, the addict has two braids, which are pulled by two little people. So did the Addict become an smartphone idiot only because he was obsessed with the content on his phone? Or he just has to be addicted since something in the smartphone had tied him on the phone. I think that since there are two punctuation here: a question mark and an exclamation mark, Rox wants to show both of them in this work.
On seeing these works, I guess that you would think that Rox must be an design "artist" who emphasizes on "expressing". No, no, no. In fact, when in work, Rox is very rational. Like this:
The design strategies of 618 Quality Carnival Held by JD.COM
1 Rox first extracted the keywords "carnival", "universal", "lively" and "quality" from the project background and the slogan of JD.COM.
2 User Research: What are the preferences of the main customers of JD.COM?
3 Summarize the general impressions of people on E-business promotions:
-High saturation colors
-The formalities of promotions
-Prominent Titles
4 A combination of the design trends in 2016: connection, flat, gradient and curve.
5 Based on all of them, Rox determined to use:
Color: warm color, high saturation
Shape: light spots, light beams and flows.
...
"Everything exists for a reason. "
Although Rox is a visual designer, the rational part in his design ideas still worth to draw lessons for UX designers and product managers. Just like in product design, to be user-centered and base your design on the real data is exactly the embodiment of ration. Every usability testing and iteration is for calculating accurately and making everything "reasonable". As he has said that to learn design isn't equal to learning design tool, which happens to coincide with the philosophy of Mockplus, that is, designers shouldn't waste too much of their time on learning software. Therefore, easy-to-learn and easy-to-use are important features of a good design software.
Find the works of Rox on Zcool: rox666.zcool.com.cn

INSIGHTS OF THE INDUSTRY-LEADING UXERS AND PMS IN CHINA