INSIGHTS OF THE INDUSTRY-LEADING UXERS AND PMS IN CHINA

---
Interviewer: Doris, the Planning Manager at Mockplus
Interviewee: Code Ling, Designer of SerCle
Code Ling, a UI/UX designer of SerCle App, also a front-end developer, is now working in a Software Company in Puxi, Shanghai. He Enjoys a wonderful life, go to the gym, listen to electronic music and surfer on the Internet, on Dribbble, Behance, Pinterest, Youtube, etc. Also, he likes to go for communities like OverstackFlow and SegmentFault for inspiration. Code Ling claims himself as a typical designer of Pragmatism, who values the actual function of a product, as well as be in fashion and user-friendly. He has plenty plants and two parrots in accompany. Praying for a world with No War.
In this UXer Talk, we are honored to have Code ling, the designer of SerCle App, to share his own experience and his insightful views of design.
Code Ling and SerCle
SerCle is a Life Service APP swept over North America. It's kinda similar to the DianPIng.com in China. That is, each service provider will receive rating and evaluation from consumers. The massive amounts of data can provide a great references and recommendations for more users. But the service providers active in SerCle are mainly of small scale. Besides, due to the lifestyle in American, SerCle is mainly used for online booking orders.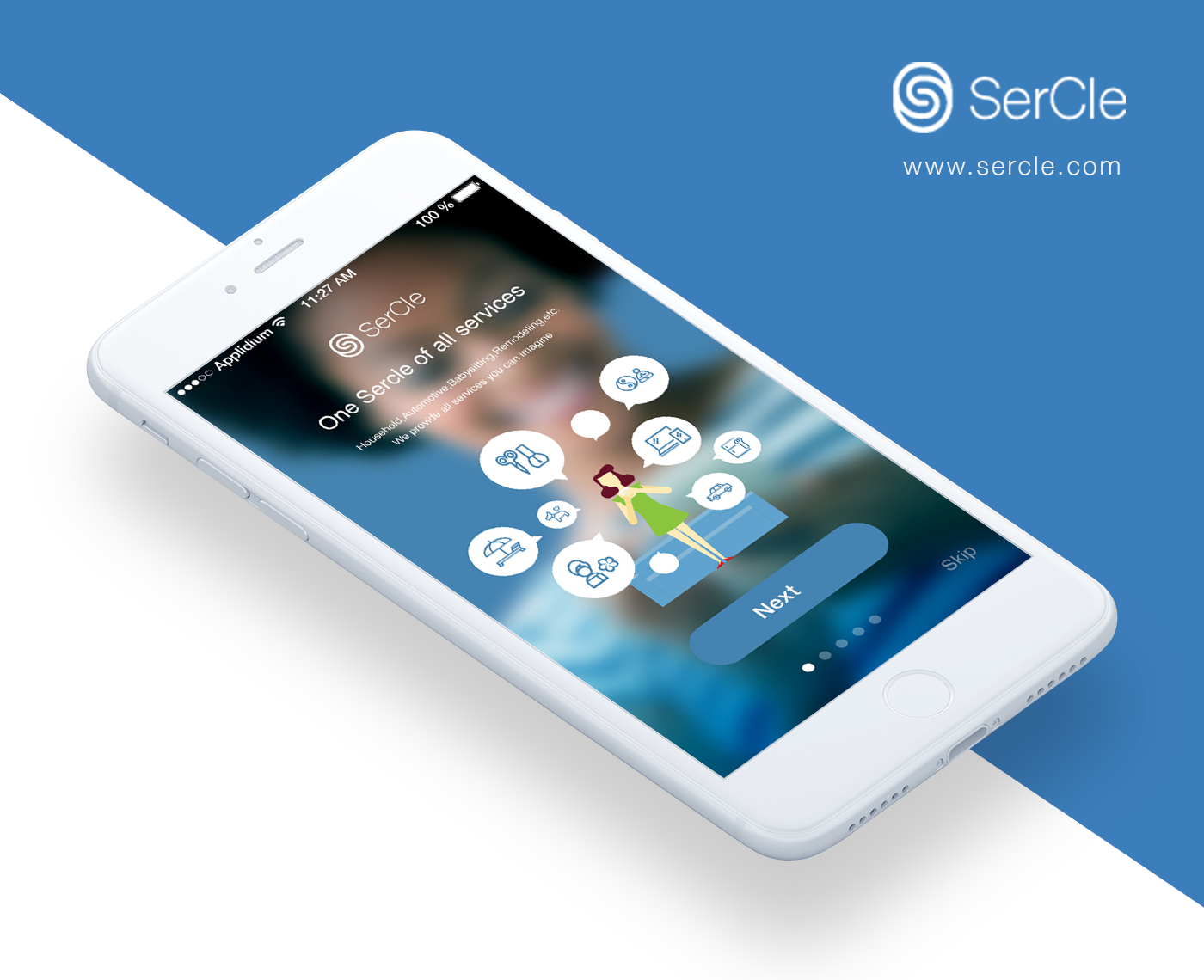 (SerCle App)
As we all know, life service App is frequently used in daily life, so the user experience is much more important. As a native Chinese designer, how does Ling manage the lifestyle of Americans successfully?
D: "Nice to meet you. Mr. Ling. We are very pleased to have you here. Ok, let's start with SerCle. So, Mr. Ling, what is SerCle actually?"
Ling: "SerCle is an American native project that I have been involved in in 2015. It is a life service App. Users can book a variety of services on it, like, haircut, plumbing, babysitting, etc. Almost everything related to life service. Likewise, service providers can publish their services on it. "
D: "As you said, SerCle is mostly used for foreigners. I was wondering how did you manage the user experience of the native users successfully?"
Ling: "We have lived in America for 2 months to get familiar with the native living habit, but still, something need to consider twice in the design, this is mainly by the US colleagues to correct."
D: "According to your 2 months of observation, what's the different lifestyle between the Americans and the Chinese in your opinion? Especially on the usage of an app?"
Ling: "Well, actually, in basic, it's the same. What's different is the details. For example, Americans use Facebook a lot, from the children to the elderly, almost everyone has a Facebook account. They tend to log in an app via Facebook"
In America, Facebook is every where, and Americans usually log in an app or a site via Facebook.
DianPing.com: a typical life service App domestic and abroad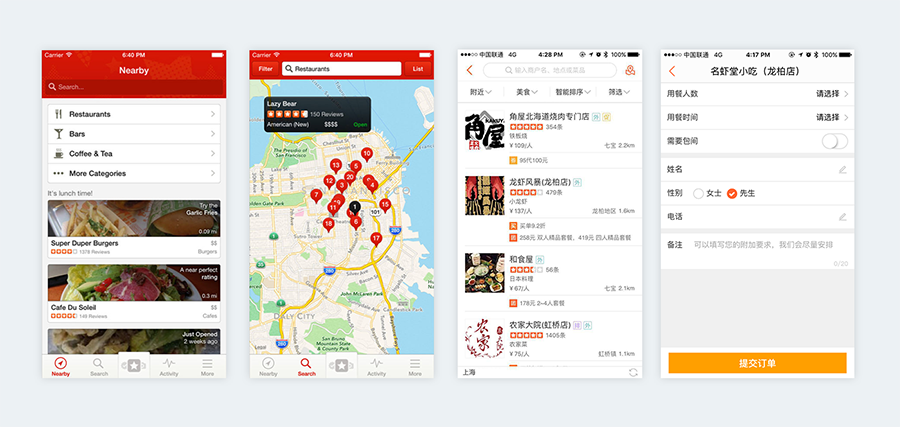 (Yelp vs DianPing.com)
In America, the most widely used life service website is Yelp, but in Ling's experience, DianPing.com offers better user experience.
D: "Do you have a reference in your mind? or were you planning to make it a great App before you get started with SerCle?"
Ling: "yes, DianPing.com gives me lots of inspiration, especially the booking process part.I personal favorite is the interface of "quality concessions"column, which provides a classified section for quick navigation, and then subdivides into the classification of the recommendation. The bottom of the list is simple and clean. In addition, the color scheme is wise, the dark gray really matches with yellow, very elegant and advanced. The Greek pottery also adopt this color scheme "
"Availability" is the most important in design
For a life service App, the biggest challenge is the availability to users. But the real situation is more complicated. Ling has encountered a lot of difficulties associated with usability.
D: "Any specific difficulties in the design process? How did you deal with it?"
Ling: "A mass of things need to consider when design the booking process. Americans have this habit that they tend to charge by the hour. But the thing is, some services are "uncertain" about time, like haircut, it is difficult for users to accurately estimate how long they should book. So in the end, we abandoned the strategy of pricing by hour but by consumption type."
D: "That is the same with we go in China. Whether you dye hair, perm, or simply have a haircut, all paid according to type."
Ling: "exactly." It is of great importance to ensure the availability of a product or a prototype. Any product, if not fit in under a real scene, all the wonderful creation or new ideas of it is in vain. It is no wonder that designers and product managers are so concerned about the usability test.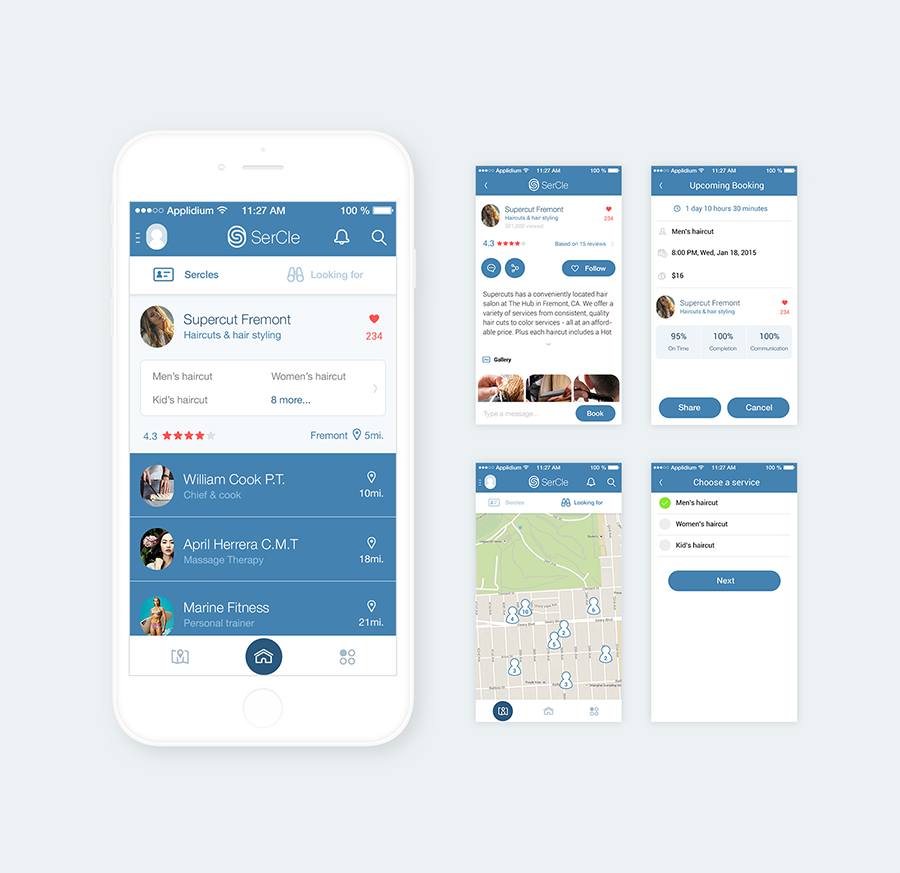 (SerCle App)
Original passion and intention of the Founder
Ling: "In fact, SerCle is created for the Chinese-American in California. The stockholder of SerCle is one of them. He has seen too much scenes that these grandparents, who can't speak English, are helpless when something went wrong during the time they are helping raise babies in America. And this App is definitely a big help to those elderly. SerCle's slogan is "SerCle knows No race,No group, you can find whatever you want on it."
Ling is very satisfied with the great convenience that SerCle brings to people.
Ling's Design inspiration: practice makes perfect
D: "A common topic,how do you find your design inspiration?"
Ling: "I am a pragmatist designer. I always adopt the most convenient pattern for users. And I give prior to the color scheme that users are easy to accept, which is a safer choice, but I do consider the fashion color. Besides, I make collections of the good design which brings more benefit to users by screenshot. As for design inspiration, accumulation is a must. It's like copy and paste. You apply the great method you have saw and make adjustment according to the specific need, so it became yours. The ways of gathering inspiration are vary to designers, some seek in life, some in literature, some tend to think revise, etc. I make observation of life. For example, once I was listening to music on Xiami App, there was a shortcut for users to change the theme by the changing environment every 2 hours, and this design I make use in my own work later."
Indeed, inspiration doesn't happen out of thin air, you can only spark it by real experience. Ling suggests younger designers learn from the great works on Dribble, Pinterest and Behance, this can be a big help.
What's Suitable Is The Best Design
As a designer, Ling believes that What's Suitable Is The Best Design.
D: "What kind of design do you think can be a good design?
Ling: "Good design must be applicable and easy to use, while excellent design should be of practical use and good-looking both. This is also what I pursue. For example, the bicycle sharing system, they have mobike and ofo,I think mobike is more applicable than ofo. You just need to scan the QR code,then a mobike can automatically unlock, besides, you just need to close the lock after use, no other additional operation on the phone (such as click the "end of the trip"). Ofo is much more complex, you need to manually enter the code, sometimes need rotate to set the code, this can be really annoying.
Ling's view of design tools
A good tool can sharpen your skill. Choose a right tool is important for every designer. Let's see how Ling get this:
D: "How is the importance of a tool to a designer? By the way, which design tool are you using now?"
Ling: "It's certainly important to find a suitable tool, and now I'll consider the presentation and review of a tool before i make my choice. Like Adobe XD."
"I'm not an expert of Mockplus yet, but I do appreciate it's powerful presentation and review function. Besides, some other features, like Team Collaboration, which allows comment and mark up the project easily. It's really useful, so i'll definitely try Mockplus out."
Mockplus: Professional Rapid Prototyping Tool Support multi users working on the same project. You can Comment and mark up the project easily. Various review ways, supports export HTML, pics and tress. Over 3000 components, With a simple drag-and-drop, you can build interactive prototypes effortlessly.
Chinese design, march to the world
Nowadays, Chinese designers and design works are gaining increasingly recognition among the whole world. Wechat ranks number 6 in the Global Best App list. Ling also mentions this great achievement, "A great number people are using Wechat in California, China's design is on the way to leading the world."
D: "If any chance you could work with more foreign employers, will you take it? Wha do you think of Chinese designers going to the world?"
Ling: "yes, i'll take it. The opportunities and projects are both very important. As for going to the world, Chinese design has been very international already. Chinese designers, web and app, all not inferior to America's or Japan's, are showing great value to the whole world. Recently, our front end vue frame has enjoyed great popularity. But still, some are still not open-minded enough, and we may face some manage limitations, however, despite these, we are doing a great job in design and development field."

INSIGHTS OF THE INDUSTRY-LEADING UXERS AND PMS IN CHINA