So happy to see you again in UXer Talks. This time we have Tolecen, the author of "ScanScan". Never heard of it? It doesn't matter. I bet you will want to try some of them later. For those who are both rational and romantic, listen to me, this article is especially for you.
Let's start from an inspirational story of me. No, no, no, don't leave. It's necessary since many people have met the same troubles, and that's where the first App, ScanScan, can help.
It was in a winter. I wore heavy and shuttled between my dormitory, library and cafeteria. I was preparing my postgraduate entrance exam. If you take a close look, you will find most of my books were published long time ago, the pages turned yellow, like other students'. Some materials, which I collect online, are PDFs. For markups and see the characters clearer I copy them. But when I got the copies, I found that the characters are still illegible and a lot of blank left on these pages. That's inevitable. At that time there was no "ScanScan". Too bad!
ScanScan --- The Easiest Solution to Character Recognition
ScanScan is an OCR tool used on mobile phone. It recognizes the characters on images and output them accurately to text. Also, it does translation work. ScanScan can benefit people in many ways, for instance,
You hit on some beautiful paragraph when reading. At that time, ScanScan it and make notes easily.
At work, sometimes you need to convert images, PDFs or some contract files to electronic documents for better storage. At that time, just ScanScan it. The App saves you from typing word by word. Certainly a proofreading is needed.
When you travel and study abroad, ScanScan helps you to read guideboards and identificaitons, so that you won't be put into an awkward situation.
Besides, characters on your ID card, shopping receipts can all be recognized with ScanScan.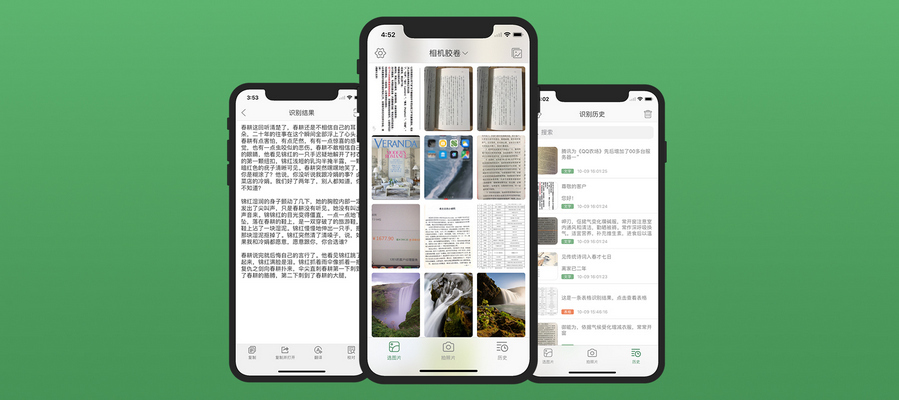 Why you need ScanScan to do character recognition?
Many widely used OCR tools have the following limitations:
The accuracy and speed are low.
Very limited languages and formats.
Disordered segmentation.
Only characters on high quality images can be recognized.
ScanScan has won a large number of fans quickly after its first release. Why?
The accuracy couldn't be higher, even if the picture are distorting.
High processing speed. ScanScan does better in speed than most of its competitors.
Support batch recognition. (multiple images for a time)
Relatively accurate segmentation.
No image download is needed. Scan the image directly without any complicated procedures.
Translation and proofreading features.
It is indisputable that ScanScan is a good OCR tool. But for the author Tolecen, there's a lot of things need to be done.
"The recognition accuracy for vertical characters, just like those on ancient books is not good enough. This is, in fact, a common problem in this filed. ScanScan is trying hard to improve this feature. Also, the recognition of handwritten characters is also a difficulty, since everyone has its own style. It's complicated to make it. And for those formulas and multi-language text, ScanScan can't handle them very well now.
Even though there's still a lot of things to do, ScanScan still stands out in accuracy, speed and user experience among OCR tools used on mobile.
The User Experience Brought by ScanScan
There are some features of ScanScan are specially designed for better experience of users. For instance:
The framework of homepage. To reduce users' operations, the picture selecting page will display after they launching this App. Users can also set the first page as picture shooting, which can meet various needs of them.
The "slide-to-select-characters" feature was optimized to a very smooth extent.
Proofreading feature. The original image is put above and the output text below. It's more convenient for users to make proofreading in this way.
The "Copy and Open" feature after recognition is also an initiative of ScanScan. Users can quickly go to the App they want after copying the output text.
As for Album selecting, ScanScan supports cloud images loading. Many people have thumbnails in their mobile phone, but ScanScan will load the original images first.
Is such a good tool free-to-use?
Not really, but you don't have to worry about that.
"It costs you ¥3($0.5) to use most of features of ScanScan. There's no limit. You can recoganize, edit and translate,etc. For those who requires higher accuracy, $5 In-App purchase will meet all your needs."
Now, ScanScan only has its iOS version. "I'm considering developing one used on android, but it may take long." L
That's ScanScan, a beautiful and practical tool App.
Wait, where is the romance you have promised?
In fact, the girlfriend of Tolecen is the product manager of ScanScan. She likes to make reading notes but couldn't find a good-to-use character recognition tool, so Tolecen developed one for her. That's ScanScan. The white cat on its logo? Yes, that's the kitty of her girlfriend.