In April of this year, Google launched a new design look for Gmail with an updated material design color scheme, more blank areas, and exquisite icons. It also brought some changes to Material Design, in particular, Material Theming, which is designed to customize Android material design application to better reflect the product's brand. Basically, the new scheme allows developers to make small changes to colors or fonts and apply them throughout the theme.
Google's material design is meant to unify the user experience across its various platforms. Bearing in mind the average person's day-to-day habits, from a material design point of view, we raise the question, "What are the best material design apps for Android in 2018?"
Here is a curated list of material design app examples for Android compiled by Mockplus. Take a look to jumpstart your own creative process.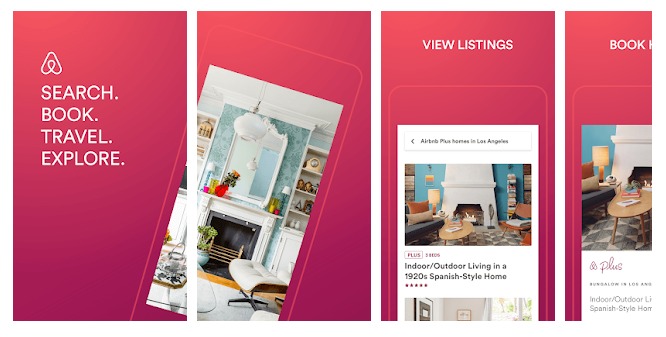 Downloads: 360,000+
Product features:
Unified UI design for multiple platforms
Streamlined system icons, buttons, and layouts
Image construction
One of Google's tenets is "Fast is better than slow." Airbnb clearly follows this philosophy and takes action by respecting the user's time with a precise design from login, browsing, to booking. And, throughout the journey, users are guided clearly and quickly. While the Airbnb breaks down the overall goal into smaller chunks, it avoids complexity in appearance and maintains a comfortable user experience.
Airbnb's visual appeal does not come at the expense of efficiency. The use of high-quality photographs - both on the web and mobile versions - makes for tight focus and offers users a wide range of options. In addition, both the Android and iOS versions retain the design of the bottom navigation bar, providing a consistent and comfortable experience across platforms.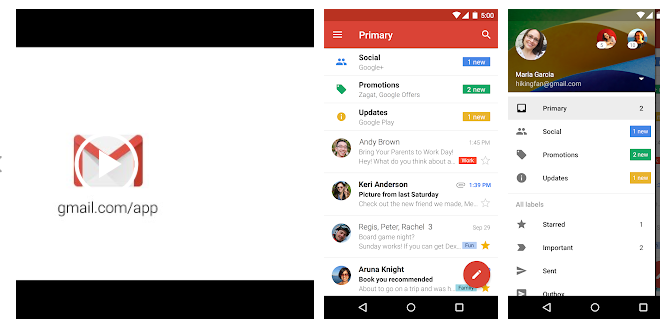 Downloads: 4,616,329
Product features:
Material Theming
Smart selection of common responses
Exquisite material design style icon
Added sidebar
The average person today is no stranger to Gmail. In the new version of Gmail, Google introduced a new material theme design look, a new material design color scheme, more blank areas, and sophisticated material design icons. The change in design gives it a more modern style and will serve as a model for other Android apps in the future.
As early as the Cloud Next 2018 conference, Google showed Gmail for the Google Material Theme update for Android. The tech giant stated that, in order to match the recent network revision, Gmail for Android will get traditional desktop features such as density options and quick attachments in the inbox view.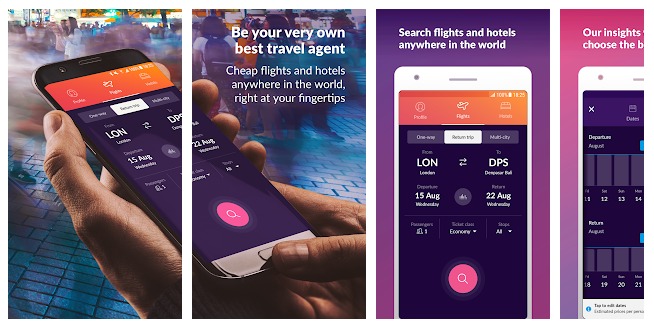 Downloads: 42,575
Product features:
Exquisite material design color matching
List design
Material Design button
Momondo is a multi-purpose travel app for finding, comparing, and booking flights and hotels. The selector for the departure and return dates uses a bar chart to indicate the price. The flight search page uses different sized types to create a powerful information hierarchy. When viewing a potential flight, selecting FAB allows the user to adjust their preferences.
As one of the winners of the 2017 Google Materials Design Awards, Momondo is a great material design app template embodying the fundamentals of material design in mobile applications. And, following the theme of Google material design, it is constantly inspiring new Android mobile application design direction.
"We are constantly experimenting with the design of our applications, leveraging the Material model while maintaining a unique Momondo style. With careful consideration of each feature, the design will iterate before any release."
- Emmet Farrell, chief Android designer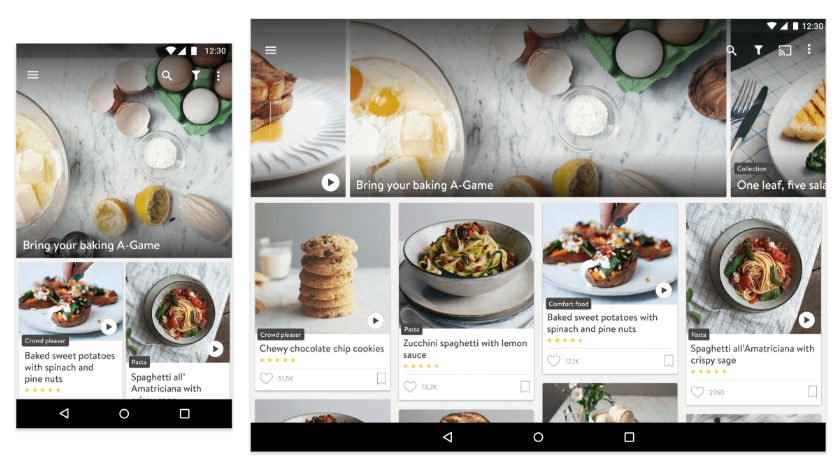 Downloads: 22,088
Product features:
Expressive layout mode
Large and attractive photos
The unique layout of Kitchen Stories makes it work seamlessly on a variety of devices. Large and attractive photos attract users to click and learn new recipes. The overall user experience is the result of a streamlined combination of details and not individual, separate actions. Indeed, this is the epitome of a user-friendly mobile app: the user doesn't even realize the designer's hand guiding them to make a decision intentionally. However, if there's a detail missing - no matter how minute it may be - the user will definitely feel it.
Kitchen Stories excels at creating effective, easy-to-scan layouts for recipes of all screen sizes. For the busy individual who does not excel in the kitchen, cooking apps have become a regular fixture at home - whether viewed on a tablet or a phone. And, when cooking, one does not want to dirty the device screen as much as possible. Organized content like Kitchen Stories minimizes the number of times one has to touch the screen.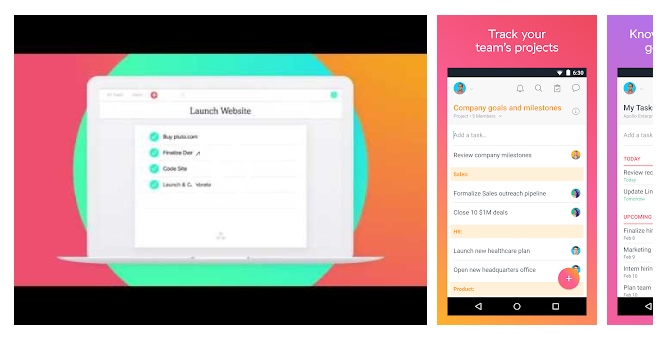 Downloads: 20,844
Product features:
Floating button design
Repeated interaction design
The design of Asana's Android app maintains the brand's visual identity without distracting the user from the core functionality of the product. Interaction design of the floating button is presented well in this application. New tasks can easily be created by clicking on the brand FAB to start a new project, conversation, or task. Thus, learn how to design an excellent floating action button is quite important to grow conversation and business.
An application built on more efficient and better collaboration needs to be visually focused and clear so that users can concentrate on getting the job done. In this regard,Asana facilitates work efficiency and collaboration through short, repetitive interactions, and does not deviate from content themes.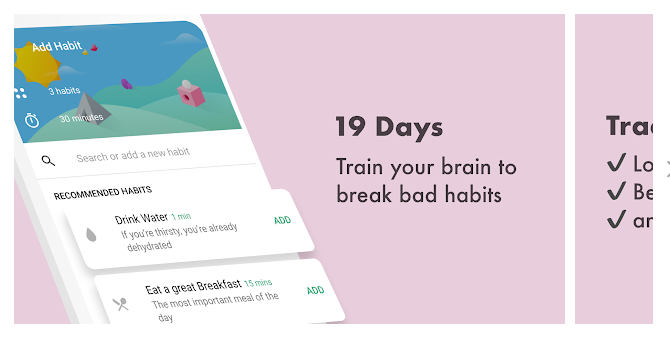 Downloads: 206,169
Product features:
Illustration design
Animation design
Color card
As a Google's most glamorous material design awardee, and the Android material design app nominated for the Google Play Best App Award, Fabulous should be on every designer's "learn and dissect" list. This is the best material design app template to learn from in terms of UI design, interaction, font, colors, and layout.
Fabulous entices users through illustrations, animations, and playful sounds. Vivid images make the user experience enjoyable as well as encourage the user to complete offline tasks and cultivate good habits. The color card shows the user's goal and the percentage of goal completion.
The fascinating illustration style of the app is impressive and helps increase user retention, especially after inviting the user to complete the first goal-setting experience. Clear state transitions, pleasing goal completion animations, bold notification styles, sophisticated soundscapes, and personalized and direct email alerts make for a fulfilling experience for the user.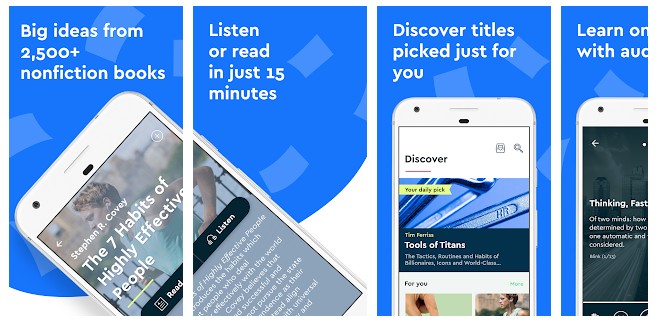 Downloads: 16,625
Product features:
Clear type layout
Blinkist offers a 15-minute summary of over 2,000 best-selling non-fiction books. For each book, the app provides an overview and specifies the target audience. A clean layout and easy-to-read types make the app easy on the eyes.
In Blinkist, the brand identity is highlighted by images, actions, and especially fascinating typography. The type layout establishes a clear hierarchy while maintaining a reader-friendly presentation by using blanks comfortably. Simple text labels further enhance the presentation. The end result is a unique and attractive reading experience.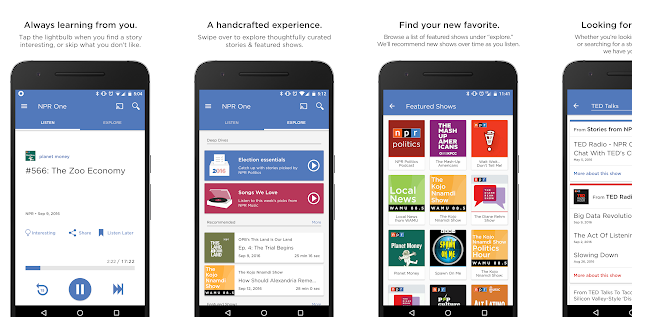 Downloads: 13,228
Product features:
Responsive UI design
Material design
NPR One offers stories from national and local public radio stations, shows, and podcasts. The same set of information will vary on different devices, and its responsive UI design is ideal for tablets, smart watches, and mobile screens.
The multi-platform design allows NPR One users to consistently perform tasks in a way that feels natural to each device. Even the content is adaptable, providing a range of programming that allows users to find topics of interest in the format they prefer. The story is well organized and can easily be used for targeted search as well as casual discovery.
"With Material Design, we are able to effectively organize content in public broadcasts and present content in a way that encourages occasional listening while notifying the public about local and national issues. This is an accessible experience that everyone can use. Public broadcasting".
- Product Owner Tejas Mistry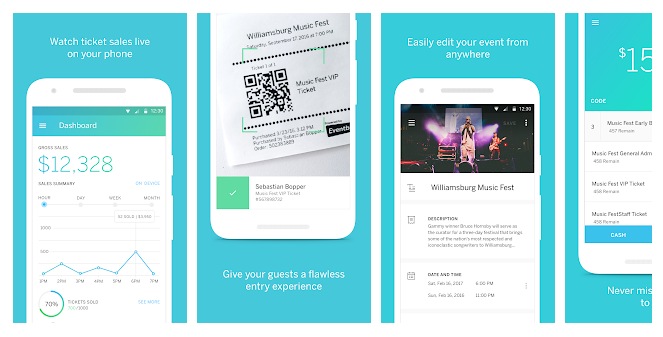 Downloads: 1,598
Product features:
Interaction design
Usability design
Eventbrite Organizer is a one-stop shop for business event management. Total sales, hourly sales charts, and sales ticket percentages are clearly displayed in the app's event dashboard. Event planners can edit event information, ticket types, and prices directly in the app.
With the clear structure, navigation, and usability, Eventbrite Organizer subtly simplifies the entire event management process from creation to completion. The application provides effective support for many of the tasks that the organizer is responsible for, without letting the user be overwhelmed.
Summary:
Last year, the Mockplus team compiled 10 practical Android App UI design examples for design inspiration. Google's material design guideline update is a clear signal that designers and developers have to follow the trends in Android application design. We hope that these 9 excellent Android material design applications will expand your knowledge base and be reflected in your new products.