A beautiful and effective background or pattern design for mobile apps does keep users focus on app UI content. It will also improve the overall visual appeal, creating an immersive mobile app design.
2019 saw many new trends in app background or pattern design, such as backgrounds using videos, abstract geometrics, blurred images, and custom illustrations and many more.
However, as an app designer, how can you follow these trends to create a fashionable and effective background or pattern design for your mobile app project?
Here, we've selected 36 of the best app background design examples and free resources. We hope you will find some inspiration for the list.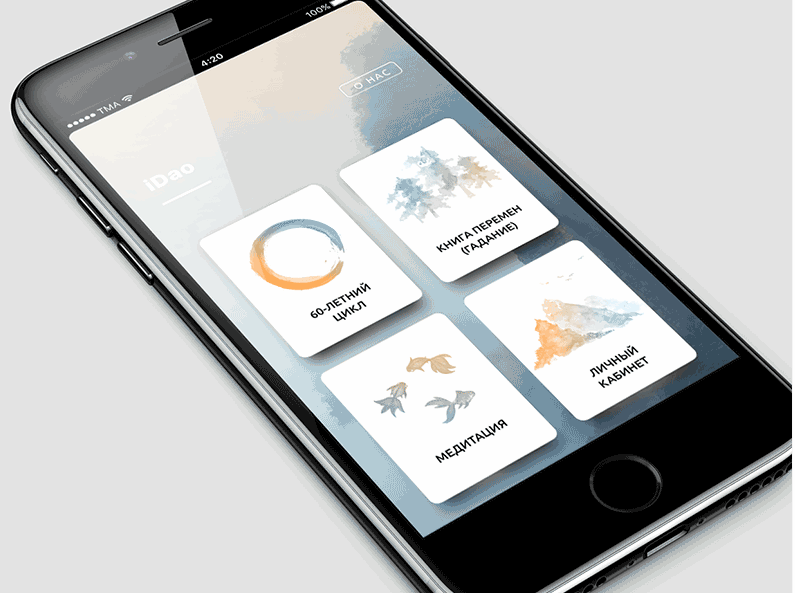 Designer: The MakeApp
App category: Learning app
Highlights: Chinese style; foggy effects
iDao App is a fresh learning app for users to learn about ancient Chinese knowledge of humankind and the world around us.
It has a very beautiful watercolor style background. The layered fog that flows with the gentle breezes also makes this app more immerse and mysterious, just like the ancient Taoist culture.
Design tips:
Use eye-catching visual effects to personalize your app background
For example, glowing, foggy or changing color gradient effects will improve your background design. The Chinese style will also make it easy to stand out from the crowd.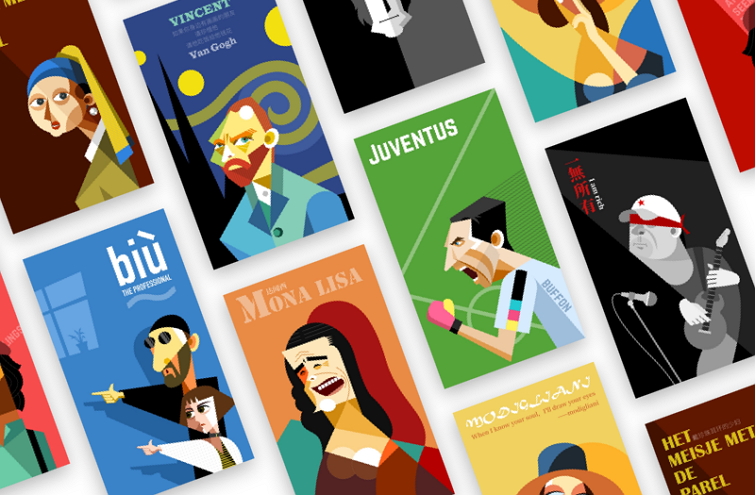 Designer: JAM
App category: Novel reading, art or drawing app
Highlights: Illustration background; humorous painting style
Creative and eye-catching illustrations are being used more and more for mobile app background designs in recent years. An illustration customized for your mobile app helps retain the user's attention easily.
This trend can also be seen in Mobile Phone Background, many funny custom illustrations are used as the app backgrounds. The designer is inspired by famous paintings from all over the world. They are redesigned in a very humorous way. This is fantastic.
Whether you are designing artwork for a novel or a drawing app, you are sure to find inspiration in these background designs.
Design tips:
Add custom illustrations to tell a story and enrich your app backgrounds
There is no denying that a good custom illustration can create a truly eye-catching design. It also gives you an opportunity to tell a story about your brand, company or product in a more interesting way.
So, why not try some custom illustrations to enrich your app backgrounds?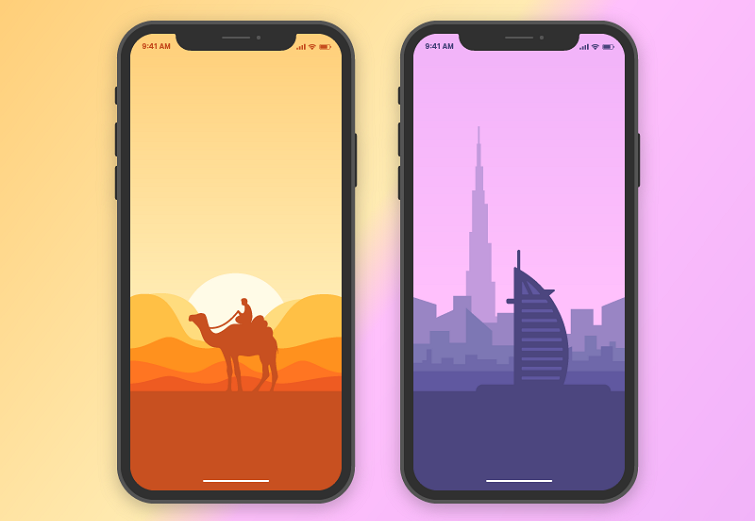 Designer: Andrei Honcharuk
App category: Travel app
Highlights: Overlapping graphic elements; Color gradients
Arabic World App Background is another illustration-based background design for mobile apps. Unlike the previous one that used rich colors, this one uses a monochrome color scheme. Orange with different opacities that allow different graphic elements to stand out and be layered with each other.
These overlapping graphic elements include some wonderful Arab landscapes that give a real sense of space. Perfect for a travel app!
Design tips:
Use overlapping graphic elements to improve your background designs
The UI for a mobile app is often too limited a space for designers, like you, to really showcase their talents. But if you want to create a feeling of depth within the limited space of the app screen, overlapping elements can make a real difference.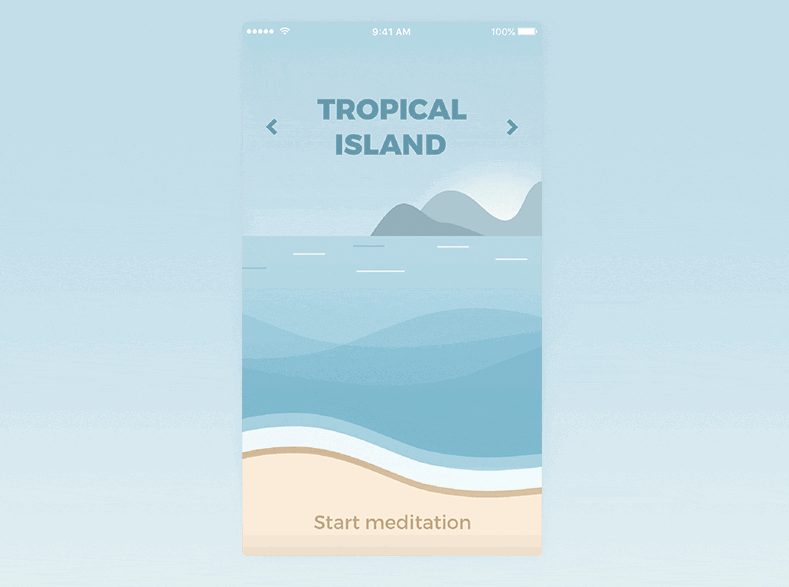 You can also animate these overlapping graphic elements to create a more engaging app UIs.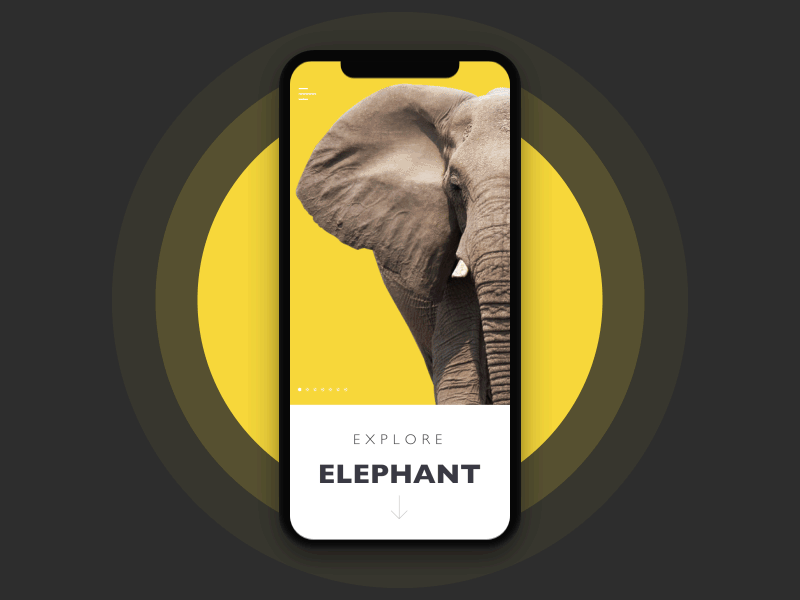 Designer: Tubik Studio
App category: Educational app
Highlights: Dark theme
Nature Encyclopedia App is an educational mobile app devoted to nature and exploration. It uses a very trendy dark mode to make its UI content stand out.
The extensive use of black is balanced perfectly by highlights in yellow of e.g. the numbers, graphics, and animations, which keep the user's focus on the content, making it more immersive.
Design tips:
Use black backgrounds to highlight your app UI content
Dark mode becomes very popular these days. The black background design is also very fashionable. It helps create a higher contrast radio, making users unconsciously focusing on shown UI content.
However, this will only happen if you get your black color scheme just right. Yellow and black, white and black, or red and black are good choices for an effective color scheme.
As a designer, you will understand the power of color better than most. You will know what color scheme will suit your UI background perfectly.
You also have the option to add a black background with different textures to improve your app designs.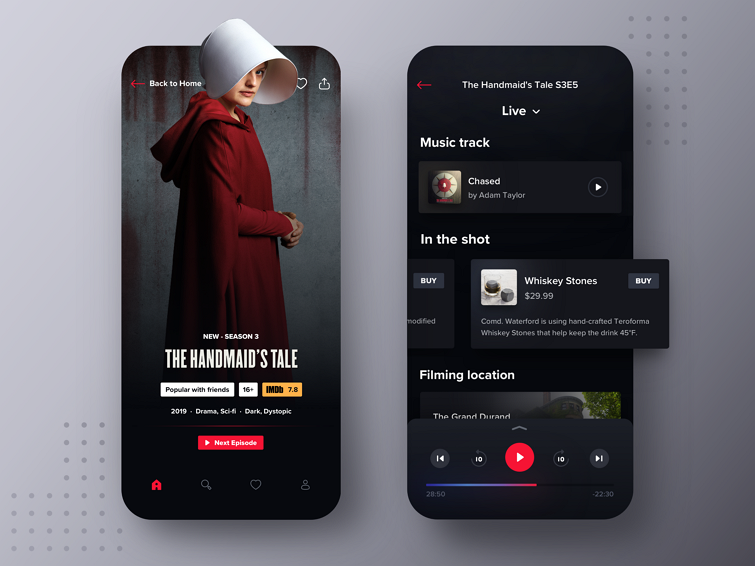 This mobile app uses not only a dark theme, and also choose a bloody wall texture to create a scary atmosphere, attracting users to view more details.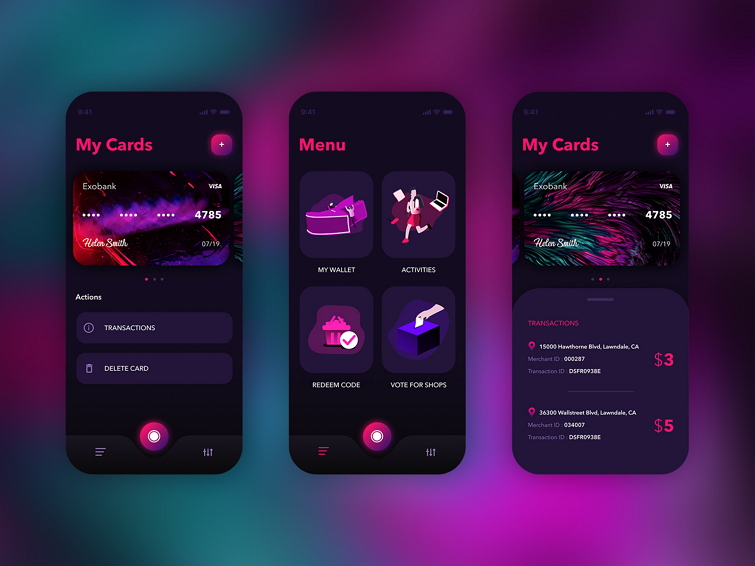 Designer: Juless Design
App category: charging station app
Highlights: Dark theme; Black and red color scheme
Dark Card Background is a mobile app that is used to search for nearby charging stations and pay for charging electronic devices.
This app also uses a dark theme. The design involves overlapping cards and works perfectly against the black background, creating a more artistic and effective feel.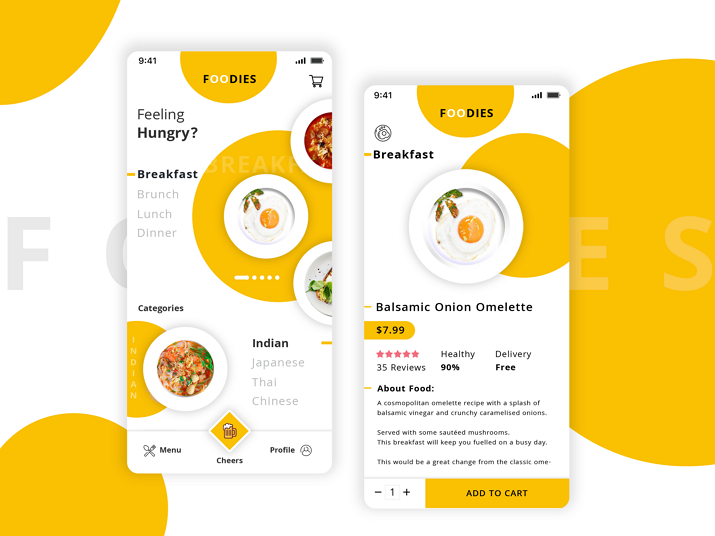 Designer: CMARIX TechnoLabs
App category: Food app
Highlights: Minimal style; Geometric shapes
Foodies is a minimalistic food app with a simple yellow & white color scheme. Its background uses several geometric circles and a large amount of white space which makes the dishes stand out.
Moreover, the yellow circles echo with round dish plates, making the entire UI design more harmonious and easy on the eye for users.
This is a great example of a modern or minimalistic app background design.
Design tips:
Use simple geometric shapes to create modern UI backgrounds
Geometric shapes are simple but can be powerful in-app UI designs these days. Their advantage is that they will never draw much attention away from the app UI so that the user's focus stays on the UI content.
The most important thing is that simple geometric shapes do not require any fancy tricks or illusions. Even UI/UX design beginners can easily create amazing, modern app backgrounds with several geometric shapes.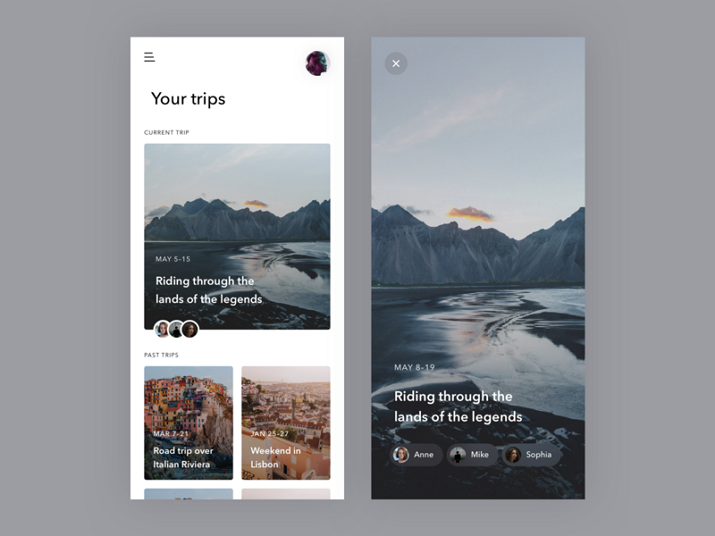 Designer: Vilém Ries
App category: Travel app
Highlights: Whole image background
Wonder App is a travel app that allows users to search and find the best travel destinations quickly.
To attract more users, the designer directly uses a single image of the destination as its UI background. Used in this way, the destination image engages the user straight away with a beautiful image of the destination they are thinking about. The user feels as if they are already there!
Design tips:
Use whole images to deliver app themes or features effectively
A picture is worth a thousand words, right? Instead of a long narrative, an intuitive and vivid image always helps deliver a message and attract users easily.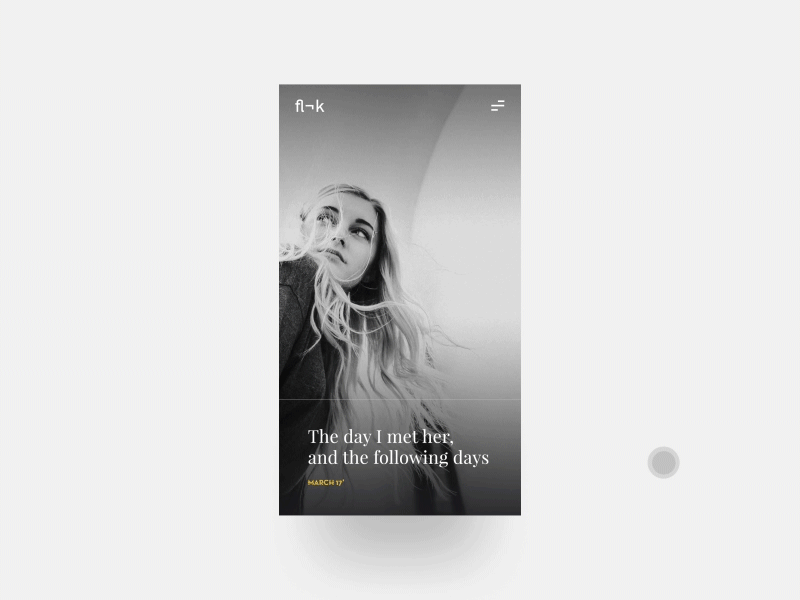 Choose representative pictures as app backgrounds, delivering a message and creating a unique atmosphere for your app easily
In Mockplus (an all-in-one digital product design platform), while translating your app background design ideas into fully interactive prototypes, you can easily use its "Image" component to import your desired background images.
Also use its powerful app UI libraries and rich interactions to bring your ideas into life with ease.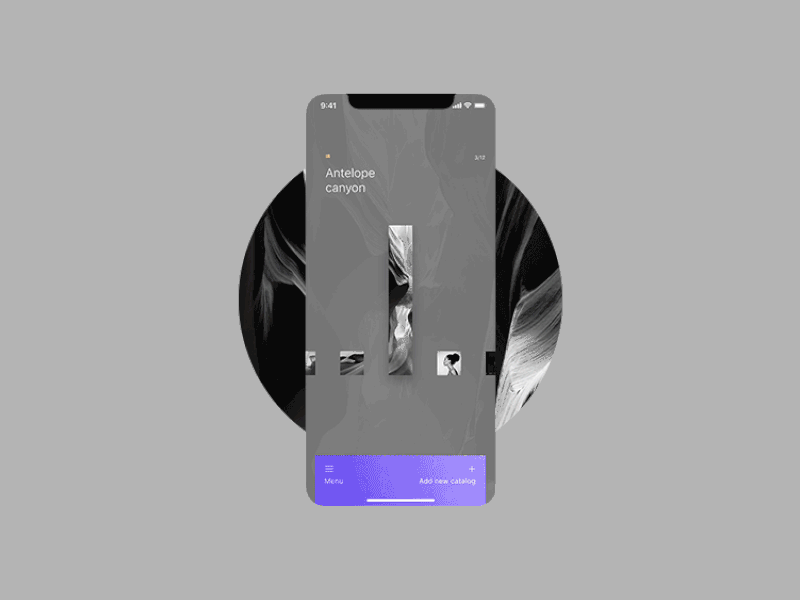 Designer: Vilém Ries
App category: Travel app
Highlights: Image and shape masking design
This example showcases a simple animation of a photo mobile app.
To engage users, the designer chooses the best photo works created by users as its backgrounds.
Moreover, in order not to draw much attention away, the designer also adds a shape mask to blur the background photo, creating a more artistic and high-end app design.
Design tips:
Add a mask to blur your image backgrounds
A personalized or attractive background image sometimes draws too much attention away from the main screen.
So, to avoid such troublesome problems, you just need to add a text or shape mask to blur your background image, creating a more engaging and artistic app UI.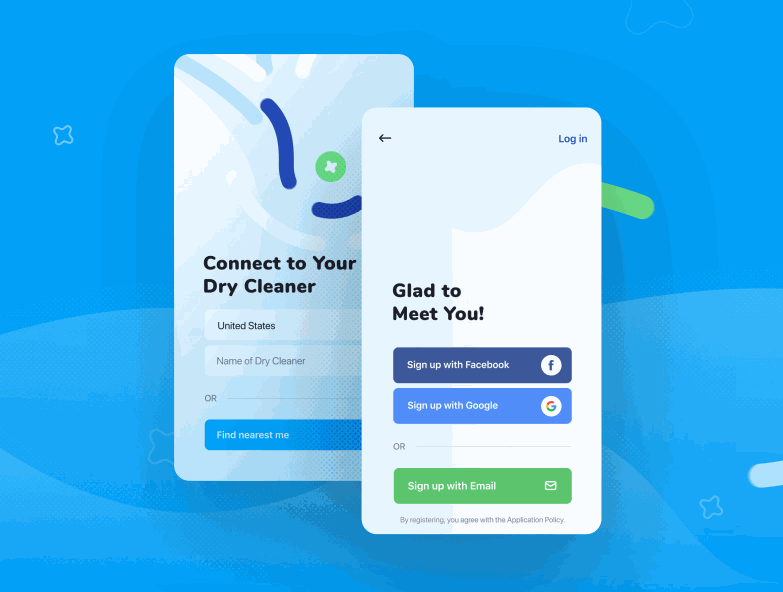 Designer: Alexander Plyuto
App category: Dry cleaning & laundry app
Highlights: Animated background
This example presents the login & sign up design of Meet CleanCloud, a dry cleaning and laundry app.
The designer uses simple line animations to engage users. Such interesting micro animations work very well to reduce the negative users'emotions while they are filling the log in &sign up forms.
Design tips:
Use animation backgrounds to interest users
In comparison with a single image, animations can be a quick and easy way to maintain the interest of app users. But, take care! You don't want to end up with a noisy or confusing screen. So judge your use of animation backgrounds carefully, perhaps using micro animations instead, if possible.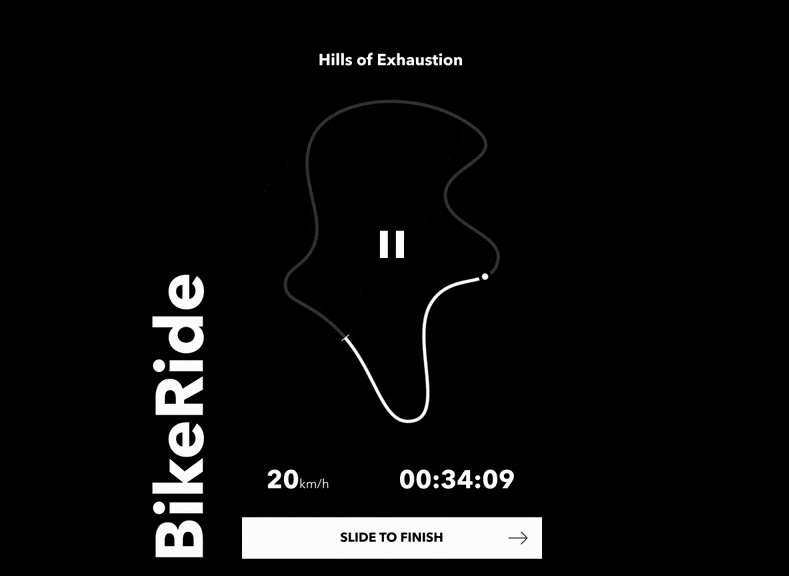 Designer: Kirill Shapoval
App category: Travel app
Highlights: Video background
Video background has become a trend in 2019. The designer of Mountain Bike Tracker App Video Background also follows this trend and uses a biking video to attract users. Instead of a long promotional introduction, video background with simple, short words arouse users' interest more effectively.
Design tips:
Use video background to present your products more vividly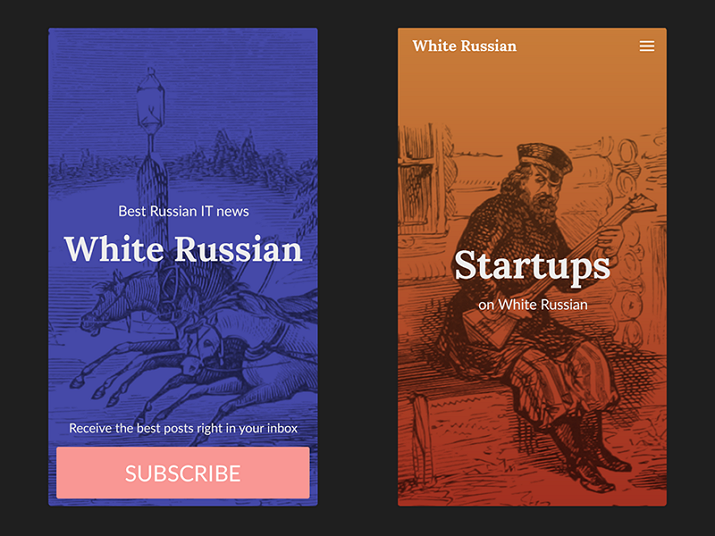 Designer: Norde
App category: Novel, art or drawing app
Highlights: Retro design style; handwriting illustration background
The designer uses unique handwriting illustrations to create a very eye-catching and personalized retro background. In combination
with the elegant white fonts, these illustration backgrounds help make an artistic and old-style atmosphere.
This could help you create the perfect novel or drawing app.
12. Landing Experiment App Background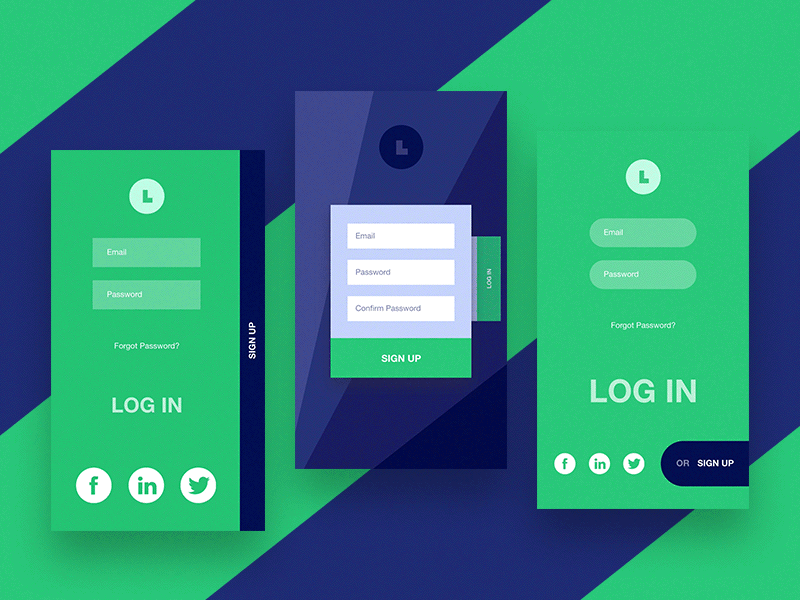 Designer: Yaroslav Zubko
App category: All apps
Highlights: Split screen with different colors
Split screens help present the app functions intuitively, and guide users through the apps easily. Many designers use split screens to improve their website/app designs in 2019.
The designer of this app also chooses split screens. Furthermore, to emphasize the two functional sections of the split-screen, he also uses two different colors, green and dark blue, to help users distinguish them visually.
If you also want to create a split-screen with different colors, this example could be a good one to follow.
Design tips:
Use colors to split your screens and UI functions
Best Mobile App Background Design Resources Free Download
Want more? Check out 20 of the best free mobile app background design resources:
Designer: Vinay Balganur
Highlights: Abstract geometric shapes
This is a small bundle of abstract triangle backgrounds for mobile apps. They use rich colors. It is easy to pick the one you want and use it to create your own app backgrounds quickly.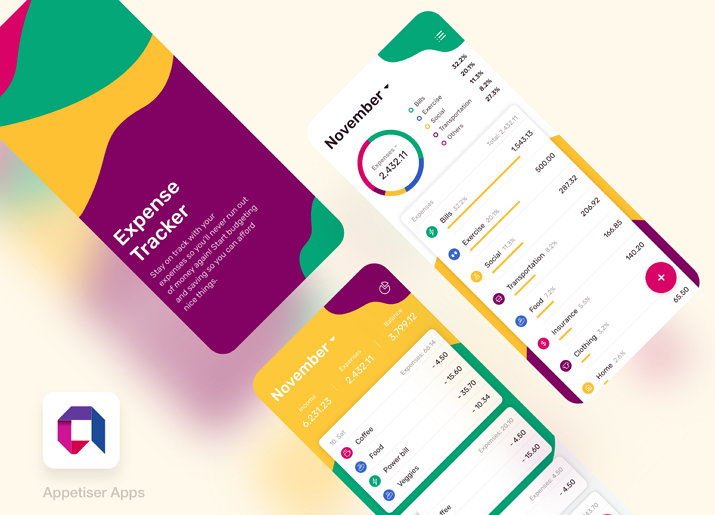 Designer: Janice Jao
Highlights: Color blocks; fluid effect
Expense Tracking app uses rich color blocks to split the UI backgrounds, creating a modern and striking app. The fluid effect also makes it more natural and easy to catch for users.
This UI bundle works perfectly with Adobe XD. It is also free for personal use.
If you use Adobe XD often in daily work, this freebie is perfect for you.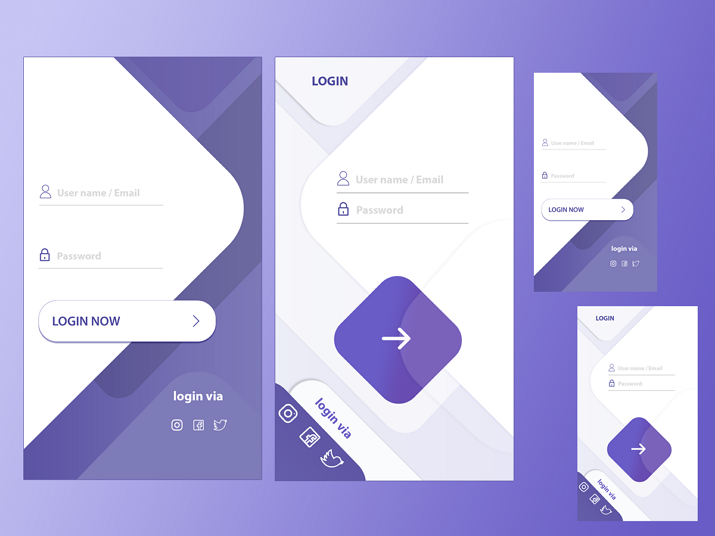 Designer: Harvani anjali
Highlights: Geometric shape background
Free Login Screen Background features a geometric shape background. It is modern, effective and artistic. You can freely download and further edit it in your Photoshop with ease.
Now, it is only available for personal use.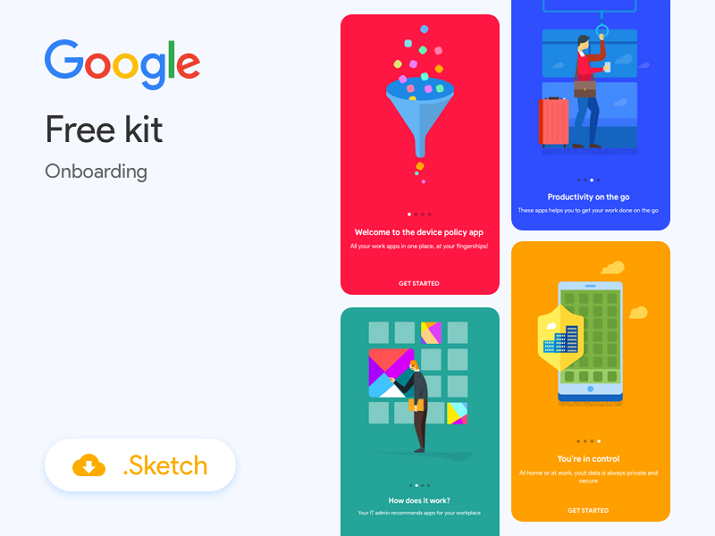 Designer: Johnyvino
Highlights: Beautiful illustration background
This free Google onboarding kit has been desired with very beautiful illustration backgrounds for mobile apps. All illustrations work well with Sketch and are also free for personal use.
If you are looking for great illustration background designs to beautify your app UIs, this kit would be ideal.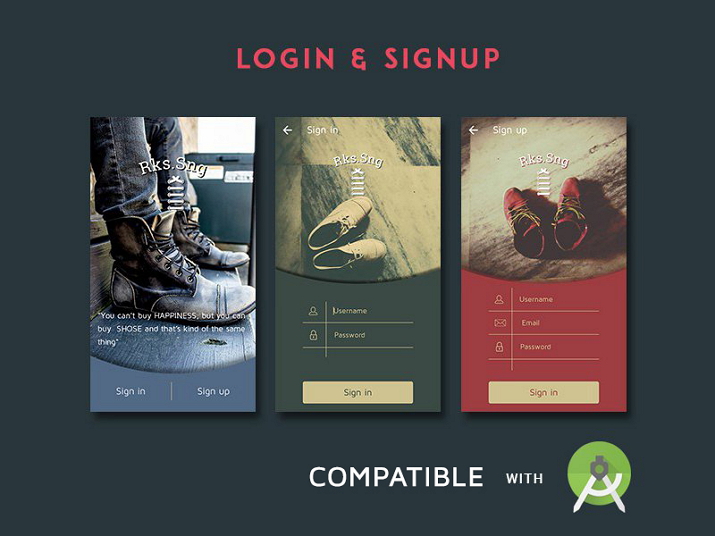 Designer: Wsdesign.in
Highlights: Retro background design
Free Login Signup Background uses old-style images, fonts and color schemes to create a retro background design. You can freely change the images to create your desired retro app UIs.
If you are working on a shoe or shopping app, this background design would be a perfect choice.
Besides, this background design works well with the Android studio. It is free for personal use.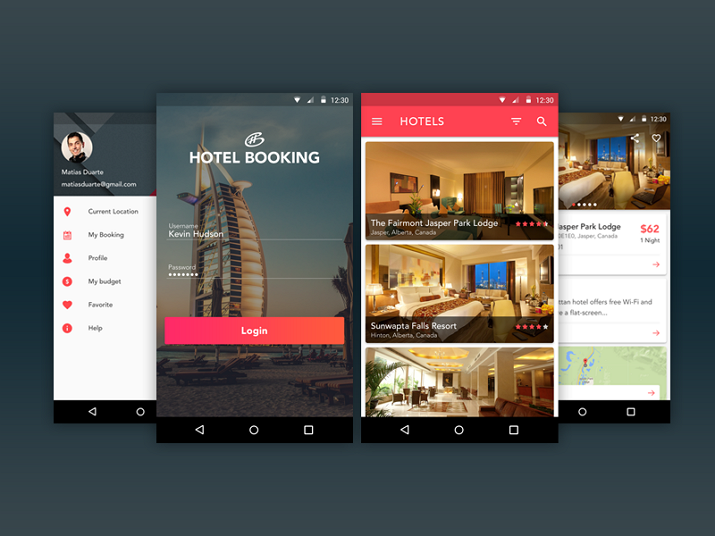 Designer: Vaijanath
Highlights: Image background
This is a free mobile UI kit for a hotel booking app. To showcase each hotel in its best light, the designer uses many high-end and high-quality photos as the app UI backgrounds. Such designs give the users a better impression of the hotel and help them decide quickly, if they want to make a booking.
This is free for personal use and provides a PSD file.
If you are looking for a travel or hotel app, this UI kit would be a good one to get started.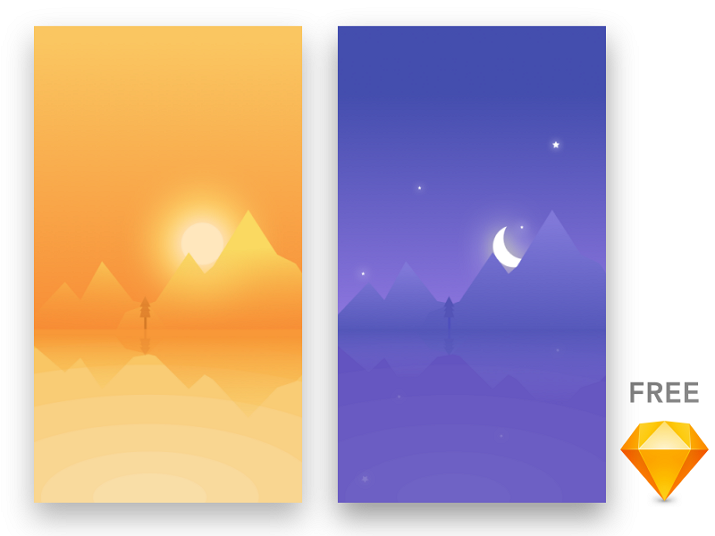 Designer: Prem Gurusamy
Highlights: overlapping graphic elements; gradient colors
Weather App Background Free is a freebie for weather apps. It features overlapping graphic elements. The color gradients also help improve its visual appeal effectively. Now, it is about 200
KB, and can be freely modified in Sketch as you wish.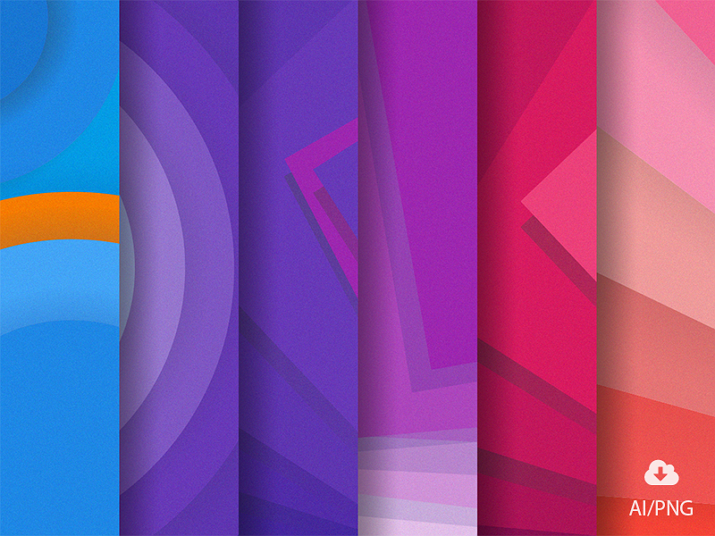 Designer: Oxygenna
Highlights: Abstract geometric shapes
Material Design Backgrounds is a free, new set of material design background designs available for mobile apps and websites. It offers you 30 of material design backgrounds with rich colors and abstract geometric shapes. They all are modern, beautiful and artistic.
Both PNG and Adobe Illustrator file formats are supported. You can feel free to download them to create an engaging mobile app.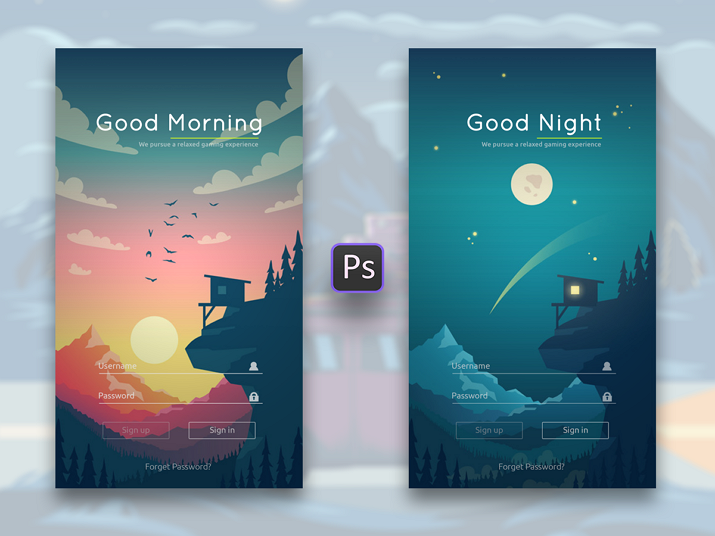 Designer: Yogesh Solanki
Highlights: Illustration background
This freebie is the login page of a game app. To reduce the bounce rate of this game app, the designer uses immerse, beautiful
illustration backgrounds to engage users. These customized illustrations showcase beautiful sunrise and night landscapes, providing users more relaxing and enjoyable gaming experience.
It is now available in PSD format and also free for personal projects only.
In addition, the designer has created many other good-looking app UI designs. If you are looking for inspiration for your app designs, this would be a great place to start.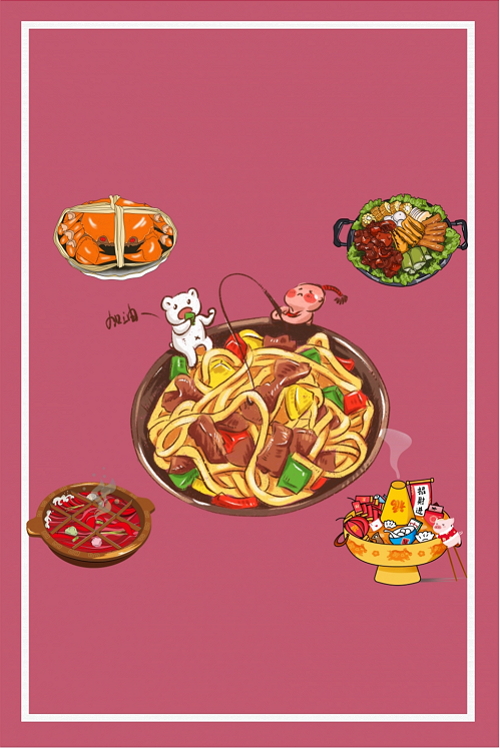 App category: Food app
Highlights: Cute Illustration background
Free Simple H5 Background Material has very cute food illustration backgrounds. It is now available in JPG and PSD formats. The image resolution is about 3545*5315. You can free download it to create a cute and interesting food app.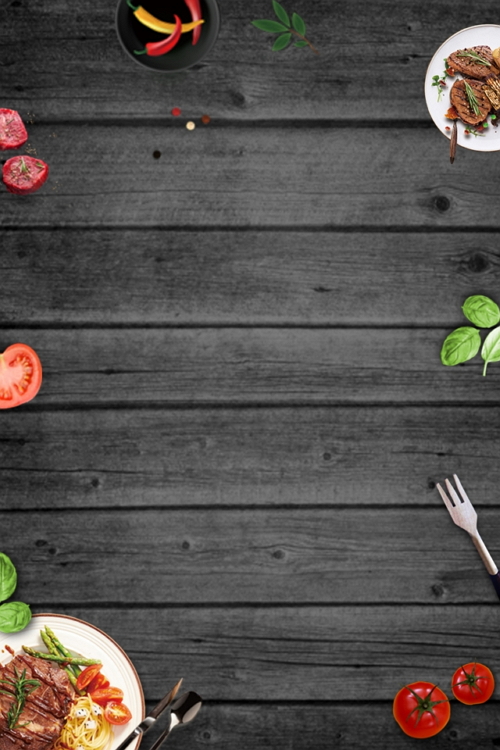 App category: Food app
Highlights: Woolen texture background
This freebie features a woolen texture background. In combination with delicious tomatoes, steaks and other dish images, it is perfect for you to create to a great western food or restaurant app.
It is created in high resolution. You can freely download, edit and share it in JPG and PSD formats.
Also do not forget that it is only free for personal use.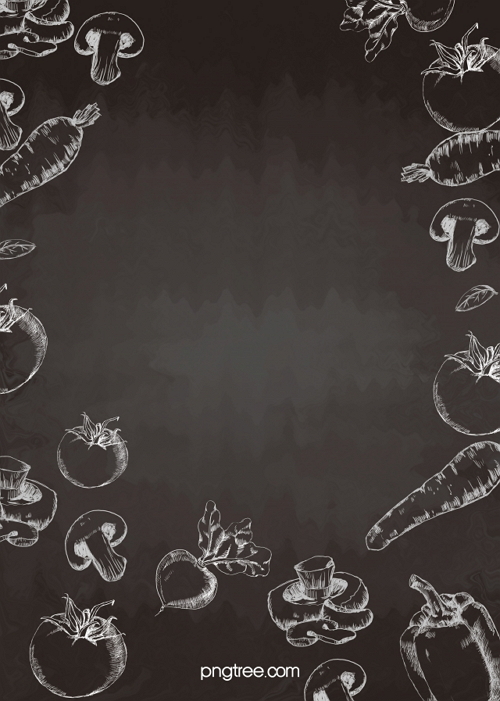 App category: Food app
Highlights: Blackboard Style background
The designer uses a unique blackboard style design, creating more personalized app UIs. The handwriting objects are also really eye-catching. It is good to be used as a loading or onboarding page of your mobile app.
It is now available in PNG and AI formats.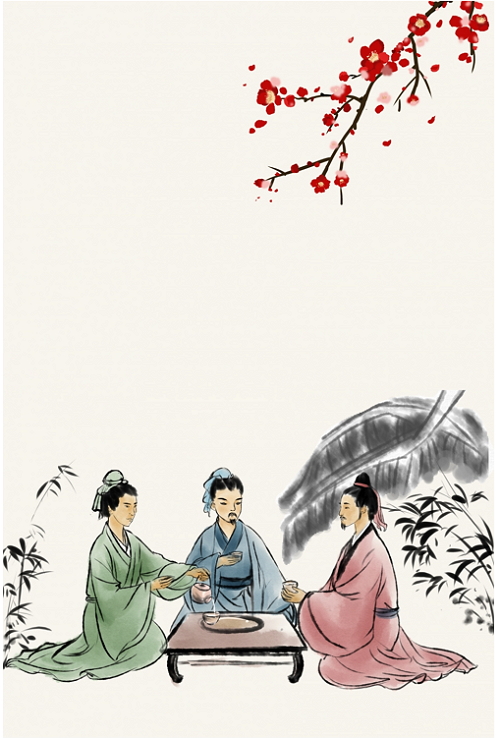 App category: Learning app
Highlights: Chinese style
Mobile Phone H5 Interface Background features a Chinese style. The watercolor style painting is beautiful and distinctive. It is a good resource for you to create a Chinese style learning app.
It offers JPG and PSD files, and also is free for a personal projects.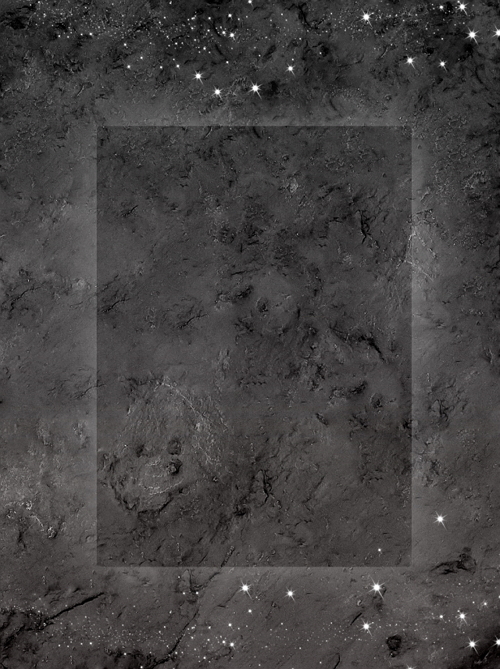 Highlights: Stone-like texture background
This black background design for mobile apps has a very eye-catching stone-like texture, helping create a very old-style atmosphere. It is a good resource for you to build a retro-style mobile app.
It is also created in high resolution(1024*1369), and works well with Photoshop.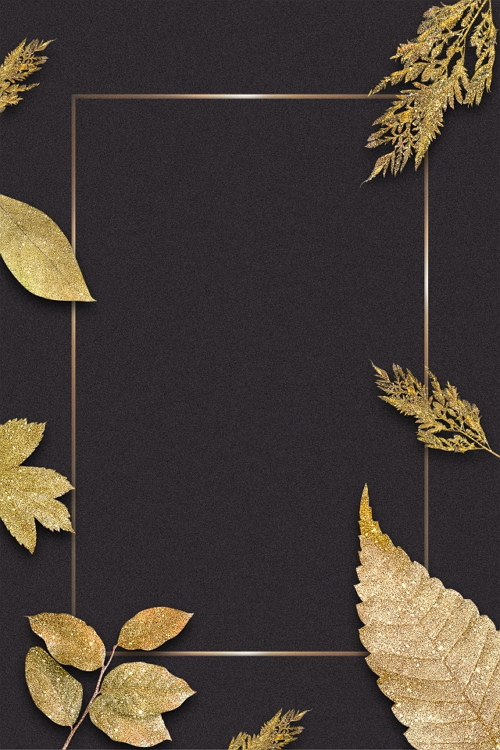 Highlights: Stone-like texture background
Black Gold Paint Texture App is a black background design with striking golden paint texture. It is perfect for you to create a high-end and elegant app, like a cosmetic app. It is also available only for personal use.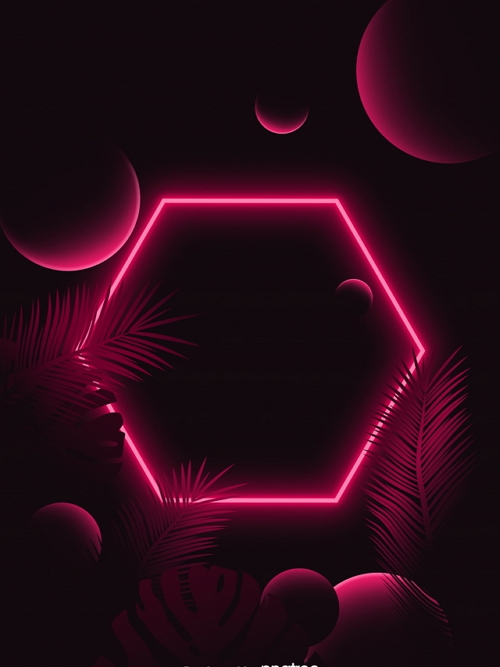 Highlights: Black triangle background
This freebie is another black background design with an abstract, glowing triangle. It is ideal for you to create a high-end and mysterious mobile app. Just use your imagination to combine it perfectly into your app designs.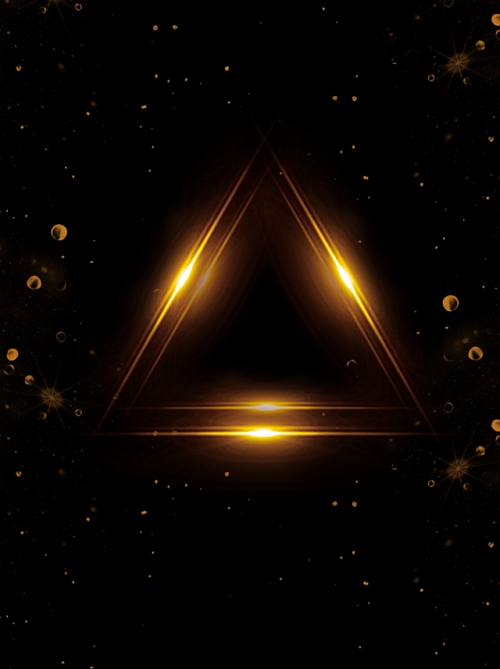 Highlights: Geometric shapes; tropical leaf; overlapping effect
Black App Background Free is created with a striking black & red color scheme. The glowing geometric shapes and tropical leaves improve the visual appeal effectively.
It is highly recommended for you to create a distinctive cosmetic or music app.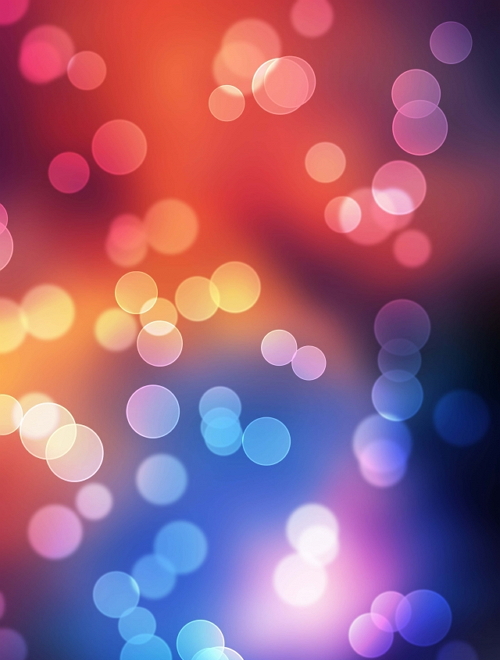 Highlights: Light effects
H5 Light Effect Background Design features rich colors and fancy light points. The blurred effect also helps present the UI content clearly.
So, it is good to create a modern and fantastic mobile app.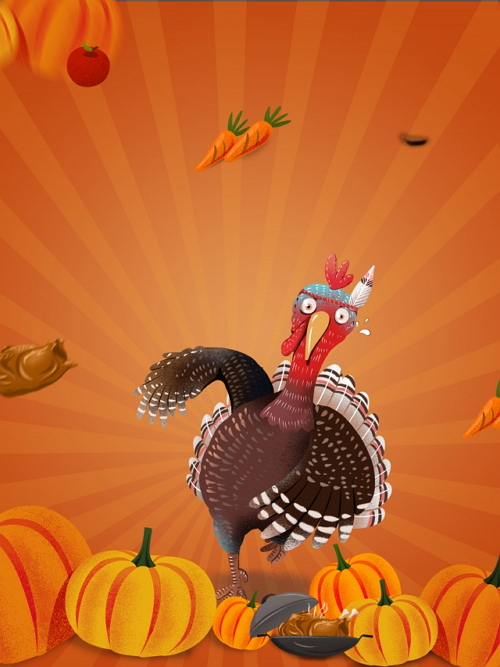 App category: Food app
Highlights: Cute turkey illustration
Turkey Background Design for Android App is made for Android users. It features a cute, fun turkey illustration. It has JPG and PSD formats.
It will be a good resource for you to create an eye-catching and effective sale screen for Thanksgiving Day.
Best Mobile App Background Pattern Designs
You can also take a look at the below best app background pattern designs for inspiration: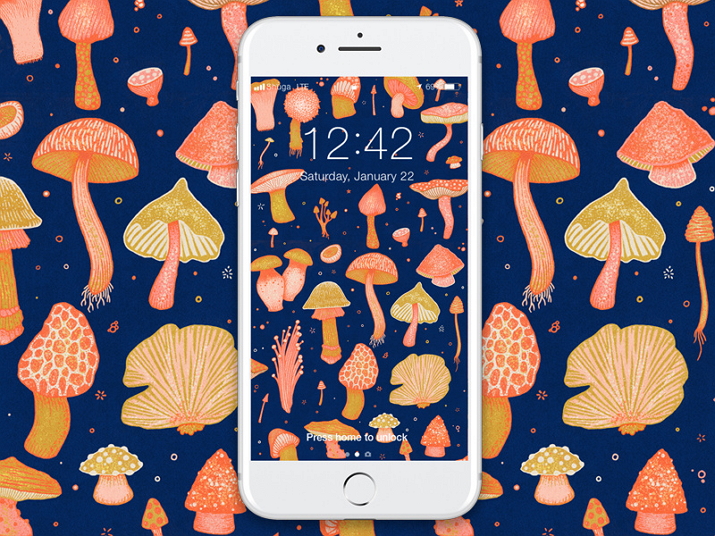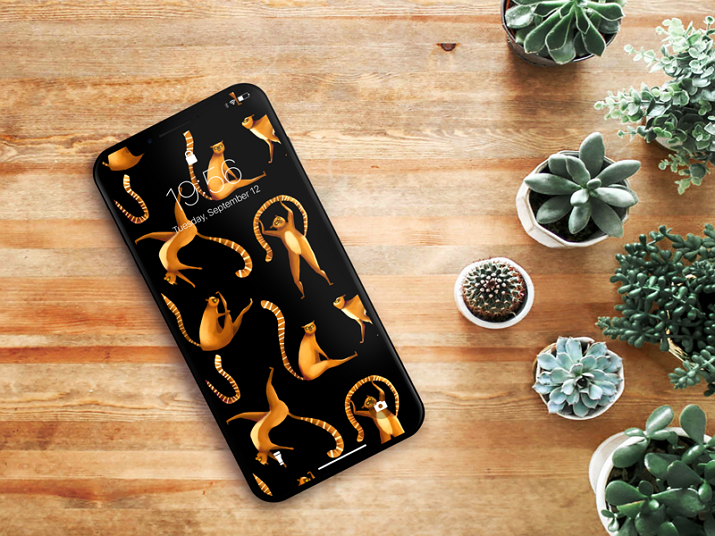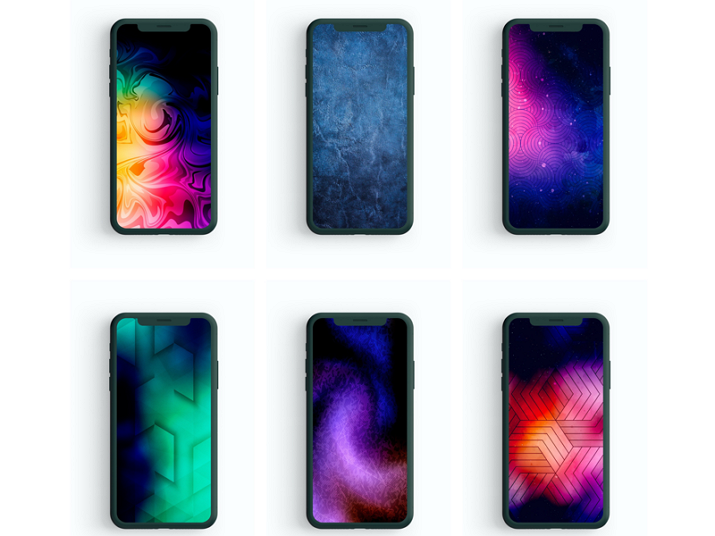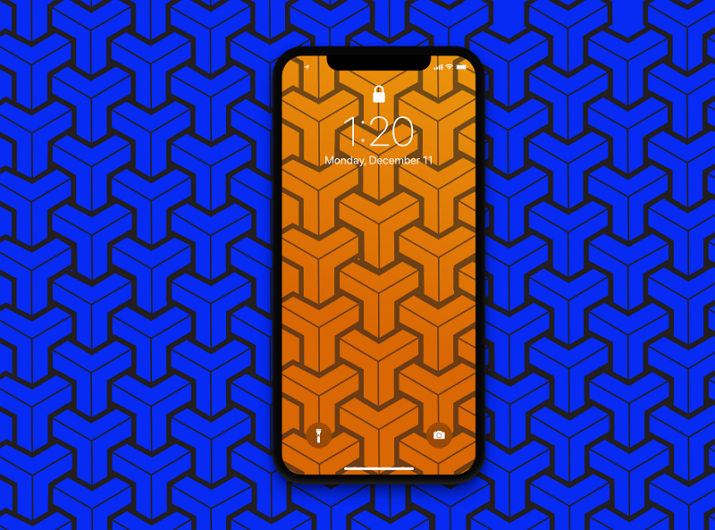 ">How to Create An App Background for Your Project?
There are many effective design tools that you can use to visualize your app background design ideas. Sketch, PS and Adobe XD are the most widely used, and provide rich design tools for you to create a gorgeous background design for your mobile projects from scratch.
2). Mockplus
Mockplus is another practical design tool to create a fancy app background. It is an all-in-one product design platform that
allows you to bring your app background ideas into life with simpled rag-and-drop.
With comprehensive and powerful features, you can also prototype your entire mobile app, add rich interactions and animations, get feedback, collaborate, test, comment, review and even handoff your app designs with ease.
Create your background designs with handy app background builders
If these design tools don't work for you or your design team, here are some other app background builders you could try:
1). Wallpaper Maker
This mobile app allows you to create distinctive wallpaper and background designs for your mobile project with ease. It provides
over 1000 ready-made templates to visualize your design ideas quickly. If necessary, you can also directly add an image to bring your ideas into life.
As its name suggests, Gradient Wallpaper Maker allows you to create a gradient app background with ease. With powerful gradient color tools, you can also add 5 colors at a time to spice up your app background. Different combinations can create different design results. Choose your desired colors freely and create a unique gradient background for your mobile projects.
3). Background Maker
Background Maker is a handy tool for you to create a personalized app background. It provides powerful color tools to create a gradient background. Other geometric shape tools, such as simple lines, triangles, and circles, etc, also allow you to add designed geometric shapes for your app background designs.