Looking for the best free mockup tool for Mac to turn your ideas into high-fidelity prototypes so that you can show them to other product managers and designers easily as a UX/UI designer? Or merely want to get a free download of Mac mockup software to upgrade your wireframe to the next level, which let you get more practical feedback from users or designers? No worry! Top 4 free Mockup tools for Mac UX/UI designers will be covered here:
Firstly, What's a Mockup in UX/UI Design?
A mockup in UX/UI design often indicates a high-fidelity model that includes the main parts and functions of a web/mobile application. In comparison with a raw hand-drawn draft, a mockup has been added with more photos, layouts, colors, visual effects and farther details. So, it is more beautiful and often used as a final design of an app to collect the feedback from different users or designers. However, since it is not clickable and operable, it is also not as real as a prototype.
What's the Difference between Wireframe, Mockup and Prototype?
When it comes to UX/UI design, designers often have inevitably mentioned or heard about three important terms, such as "wireframe", "mockup" and "prototype". However, do you exactly know the differences between wireframe, mockup and prototype? Honestly, from my point of view, the three terms actually indicate three stages of an iterative design process.
The first stage: Draw a wireframe
At the very early stage, when UX/UI designers just get ideas about a web/mobile app, they will often sketch them out as soon as possible for later testing and improving. And that hand-drawn app draft with no colors, no interactions and no farther details is called "wireframe".
The second stage: Create a mockup with more details
And then, after discussing their ideas with other designers, product managers and developers, they often will also edit and add more colors, layouts, layers, visual effects and details there so that the app model could be more practical and real. And at this stage, this colorful and high-fidelity model is called "mockup".
The third stage: Build a prototype with smart interactions, animations or transitions
And then, in order to make these mockups more operable and clickable, designers will often add interactions, animations and transitions to these high-fidelity models. And in the moment, these clickable and interactive mockup models are called "prototype".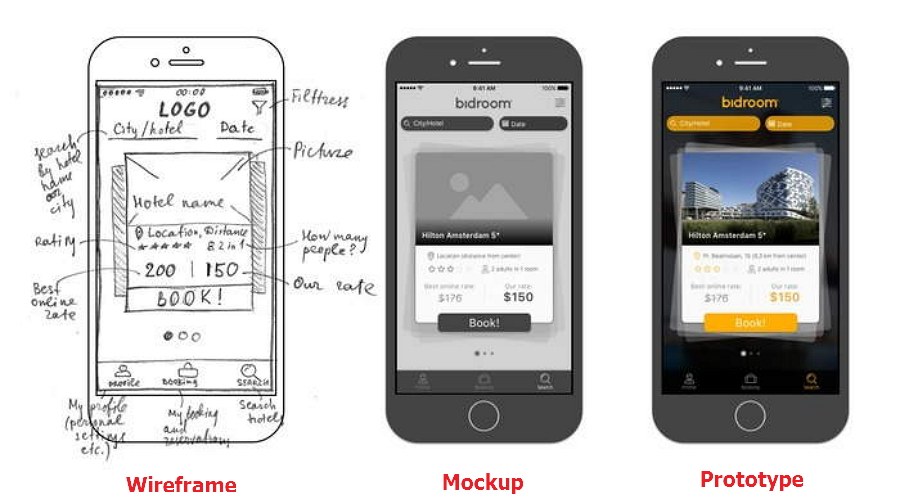 Therefore, a wireframe is often a roughly drawn design to include the main flows and functions of a web/mobile app.
A mockup is a more realistic presentation of what an app will look like, except that it is not able to be clicked or cannot be used as a real one.
And a prototype is a more elaborate model that allows you to click, preview and test whether your design is operable.
In short, these three terms are different and have their own features.
However, in these days, in order to improve the competitiveness, these prototyping tools are not completely pure wireframe/mockup/prototyping tools. For example, some wireframe tools also allow you to create simple interactions. Some mockup tools also enable you to sketch drafts on a whiteboard, like Balsamiq (which is able to be used as a wireframe tool or a mockup tool ). Overall, merely choose one that suits you best no matter whether it is a wireframe, mockup or prototype tool.
Since many app model tools are not pure wireframe/mockup/prototype tools, here we will illustrate 4 best free mockup tools for UX/UI designers to build an excellent mockup on a Mac computer:
Balsamiq is a simple and free mockup tool for Mac, and allows users to sketch out the interface of a web/iOS/Android app on a whiteboard with Mac OS computer/laptops. Its Quick Add function also enables designers to search and drag components to complete mockups interfaces quickly.
Moreover, with a hand-drawn look, it is more likely to give designers a feeling that they are seamlessly drawing their mockups with real pen and paper. And its team collaboration function that allows different clients and customers to describe their needs or suggestions online are also worth trying.
However, since it is a mockup tool that needs designers to sketch everything out, it is not so proper for users to complete a Mockup or prototype with super details.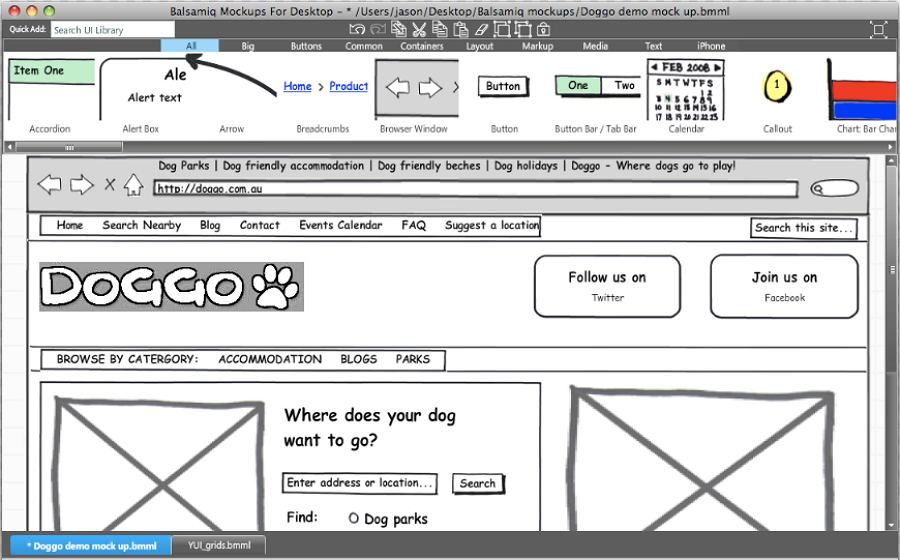 Mockplus is an easy, fast and all-in-one prototyping tool that allows you to create a wireframe, mockup or prototype as you wish. It offers many easy and fast functions:
Offer more than 3000 icons and 200 components to rapidly build a wireframe/mockup/prototype.
Enable designers to create interactions in a visual way with simple drag-and-drop.
Introduce a Repeater function that allows designers to make repetitive elements effortlessly.
Offer 8 methods for designers to preview and share prototypes/mockups easily.
Support

team collaboration

that enables designers to improve, comment or mark up a project collaboratively.
Offer various types of pre-designed templates that could be easily imported and used to save your time, like social, music, tourism and learning app templates.
In short, no matter whether you are trying to build a wireframe, mockup or prototype project, Mockplus could be a nice choice.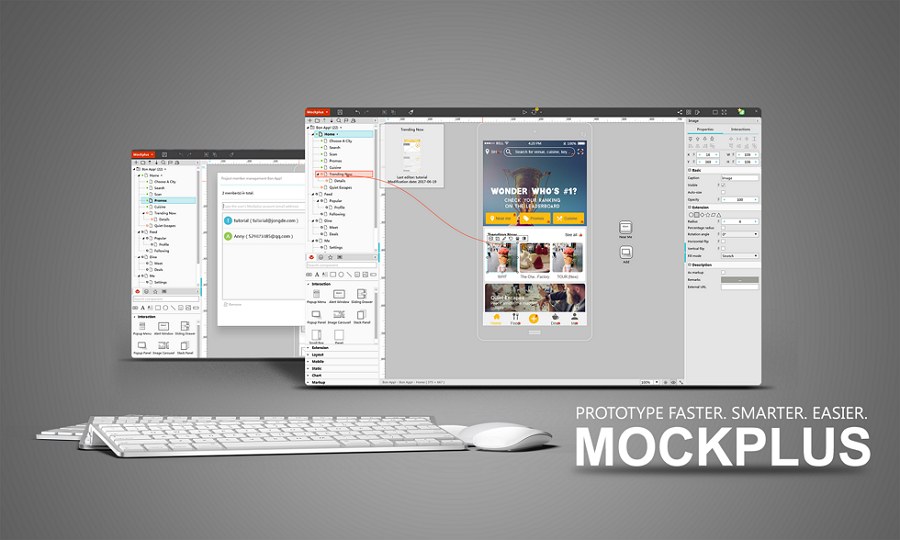 Pencil project is a simple and open-source GUI prototyping tool for Mac UX/UI designers to create mockups. It offers various built-in shapes and components for designers to draw different types of app interfaces. And you can also use it to export the mockup drawings to different formats, like PNG, PDF, SVG and ODT formats, etc. Moreover, if necessary, add some inner-page links with this tool for your mockups.
So, in this aspect, it is a good choice for UX/UI designers to draw a mockup with no complicated colors, layouts and details.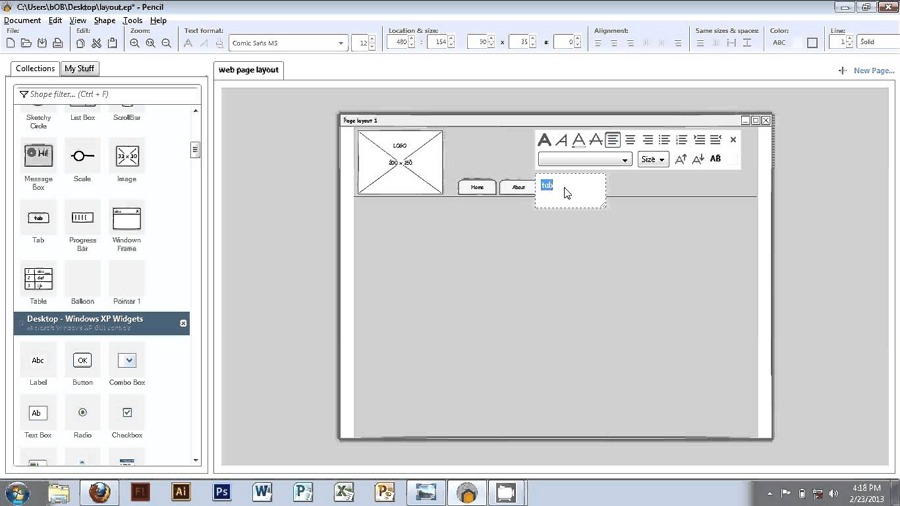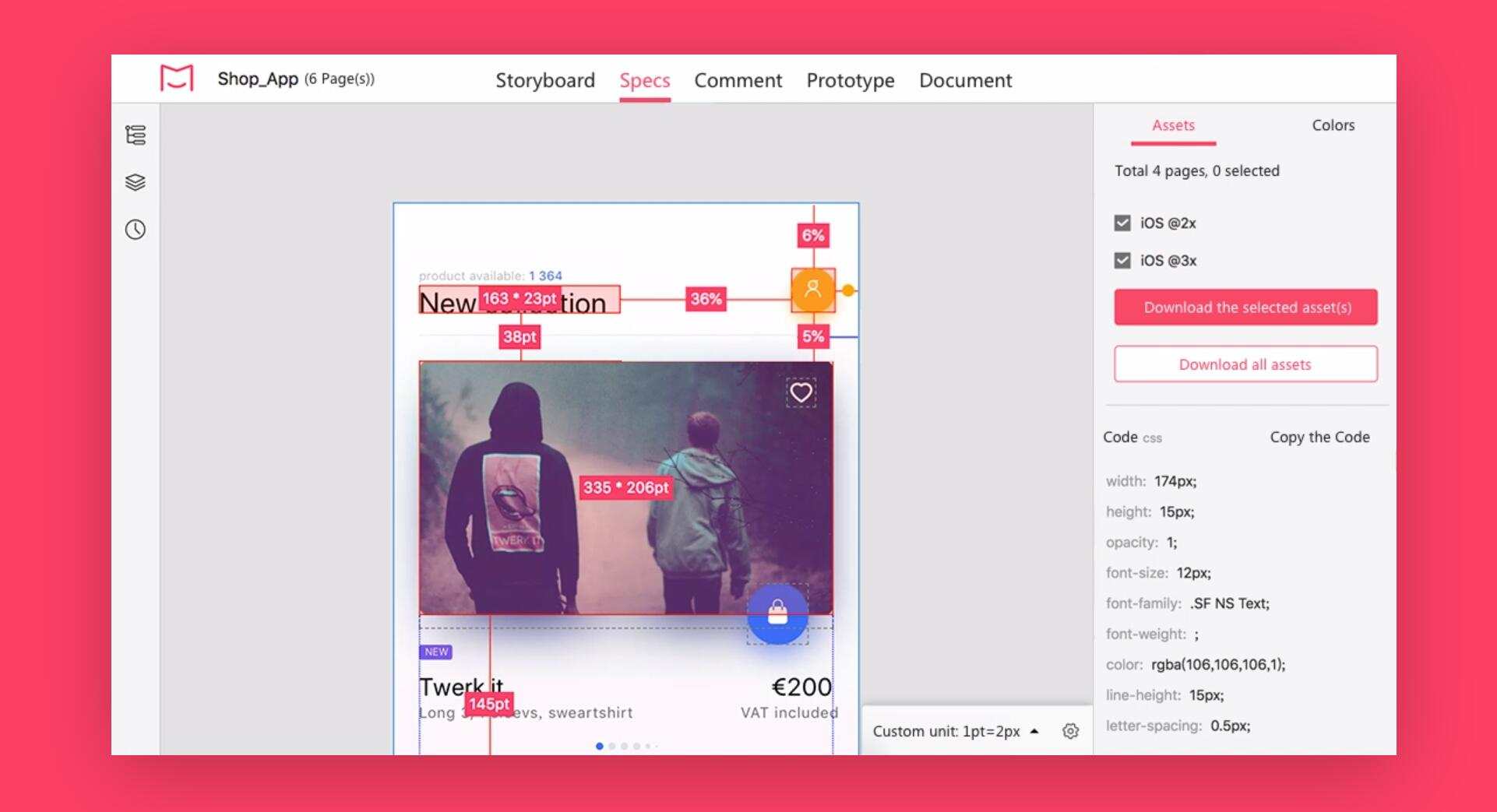 Mockplus Cloud is a handy design collaboration and handoff tool for designers, developers and product managers to upload, prototype, comment, test, iterate and handoff designs online collaboratively and effortlessly. The automatically-generated specs, assets and code snippets help designers and developers save at least 50% of work time.
Everything (such as Syncing designs/specs from Sketch/PS/Adobe XD, commenting designs, creating UI flows and interactive prototypes, checking and downloading design specs/assets, uploading prototypes from Axure/Justinmind/Mockplus and product documents, and design handoff, etc) can be done with simple clicks and drag-and-drop.
Everyone gets 5 projects and 5 team members for free. Everyone registered can create 5 projects and invite 4 team members for free as well as unlimited collaborators.
InVision is a web-based tool for UX/UI designers to edit, share and test an interactive mockup online. It features for its team collaboration that enables users to import a wireframe, add or edit interactions/animations there collaboratively. Moreover, since it is web-based and supports most web browsers, it is also able to be used on both of a Mac and Windows computer.
So, it is better for designers who want to edit and improve a clickable mockup online or get feedback and suggestions soon from other designers, users, clients, product managers and more participants.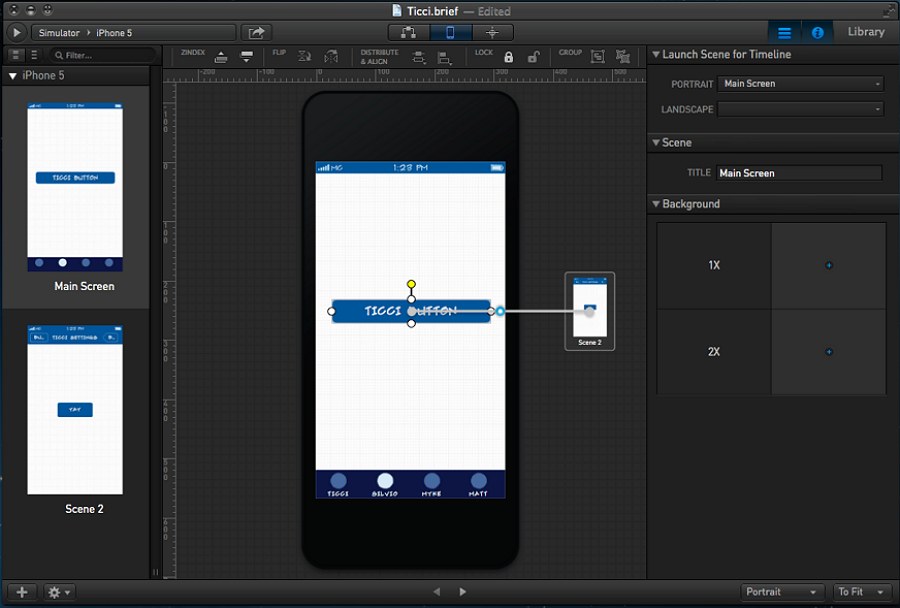 Conclusion
Overall, Balsamiq will be nice for you if you do love drawing everything out with your pen. And Mockplus could be perfect for you to easily and rapidly create and build a mockup with rich colors, super details, distinctive layouts and vivid interactions. And Pencil project will also be a good choice to draw a mockup with no complicated details. Of course, if you have worked out a wireframe and wanted to edit and improve it collaboratively online, both of Mockplus and InVison are worth a try. Have a nice day!