Online portfolio websites are essential for illustrators, designers, graphic designers, artists, and other creatives to start their careers and find an ideal design position around the world.
A great portfolio website brimming with illustrations or featuring an illustration style not only showcases their design work more effectively and impressively. It also has an instant visual appeal to all potential employers, making them easily stand out from other job hunters and land their jobs quickly. This is why illustration portfolios have become one of the overwhelming design trends among designers and illustrators.
To help you showcase your design talents to all potential explorers clearly, we've picked 20 of the best illustration design portfolio examples, templates and ideas that you should see to get inspiration before you start designing yours.
Why does illustration design portfolio matter?
These days, when designing a website, illustrations work much more effectively than videos, photographs and pure texts to clearly deliver a message to visitors. A great illustration design portfolio combines all the benefits of illustrations and works more than just illustrations.
Here are the main benefits that illustration design portfolios can bring:
Showcase your best work in a more interesting way

Engage interviewers more effectively due to the unique visual expression

Create a memorable brand identity quickly, such as using an illustrated mascot

Tell your design stories in a more funny and immersive way

Increase the visual appeal of your portfolio websites easily
How to make a good illustration portfolio website?
Here are 4 of the best video and text tutorials that you should check to create a good illustration portfolio:
1.How to make an amazing illustration portfolio
This video tutorial talks about how a designer or artist can make an amazing online illustration portfolio. What different things should be included, what format your portfolio should come in, and what portfolio platforms you should choose to create yours, and far more information are introduded.
2. How to build a great digital illustration portfolio
This video tutorial shares all the tips that you should follow to create your first great digital illustration portfolio online.
3. How to make an online portfolio step by step
This video is a step-by-step guide to help you create an amazing online portfolio by using Wix. You will also learn some useful tips when following the steps to make your portfolio.
Top 20 free web platforms to create perfect portfolios
This text tutorial introduces 20 of the best online web platforms you should use to create your own portfolio. No matter which one you choose, never forget to prototype, preview and test your portfolio ideas in advance by using a good design tool before you start making your portfolio on those web platforms.
We've also handpicked 20 of the best illustration portfolio examples and templates for your inspiration:
1. Lavi Jacobs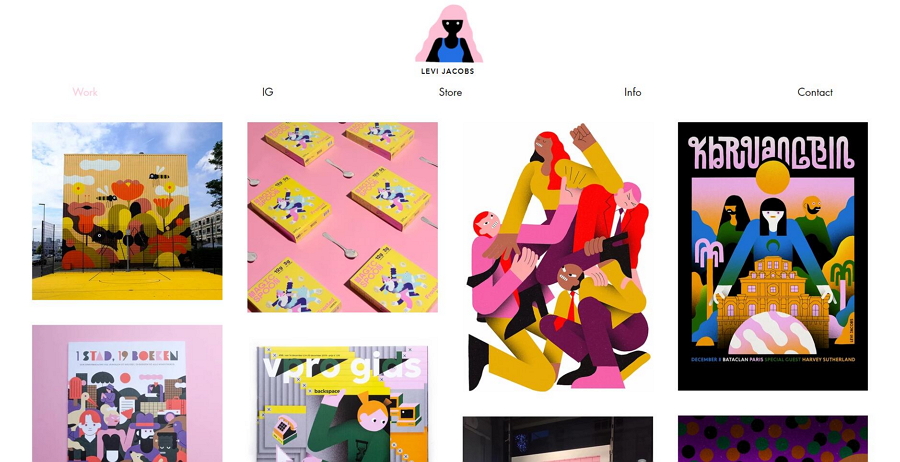 Highlights:
Lavi Jacobs is a talented illustrator and animation designer. His portfolio website has a really refreshing and stunning look by showcasing the best design works and cases with eye-catching colors and textures. The trendy broken grid layouts also make it easy for visitors to navigate between different works and cases.
For me, the most creative part of this portfolio is the animated logo that changes from a young girl into a cattle, a penguin and other visualized figures when slowly rotating around.
2. Natalia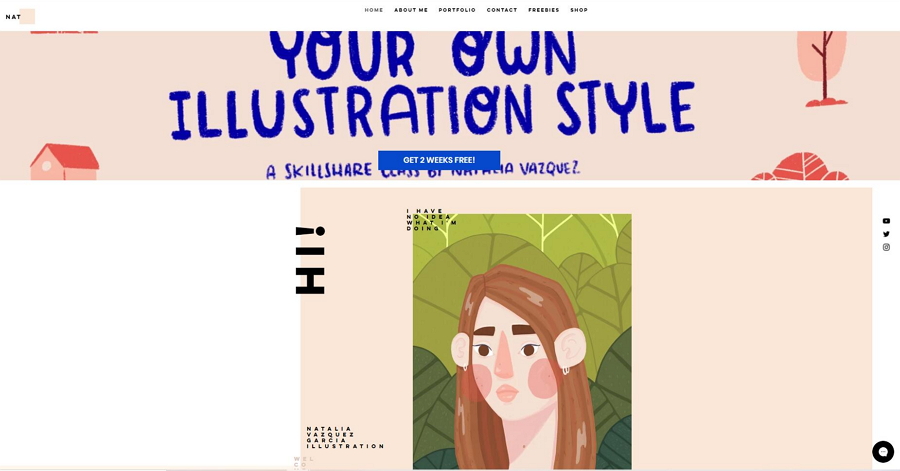 Highlights:
Natalia is an illustrator and graphic designer from Barcelona. Her online portfolio website features a fresh and personalized design style showcasing all design works with smart sliders. The one-page design style also makes it easy for visitors to navigate around.
3. Headof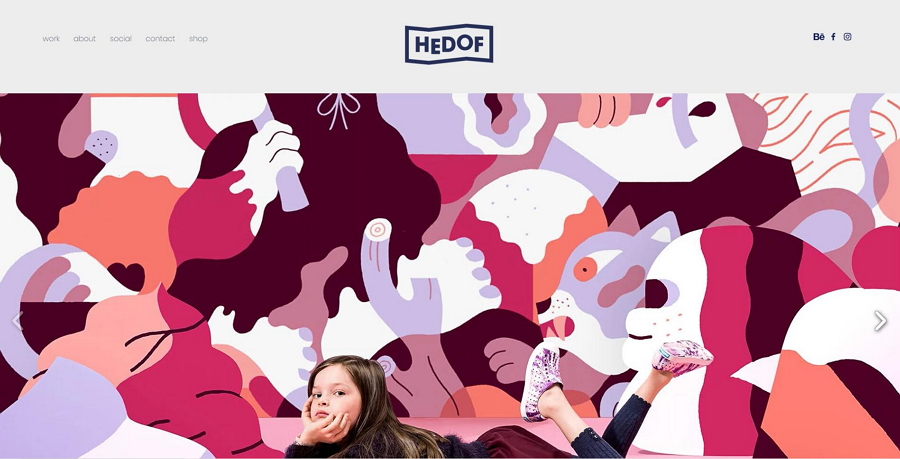 Highlights:
Image carousels

Neat grid layouts
Headof is a simple online portfolio website for a one-man design studio that uses a full-screen illustration image carousel to showcase all the best design cases. The clean and near grid layout also presents all illustration works clearly. All visitors are allowed to download some of those beautiful design work images for inspiration.
4.Charis Tsevis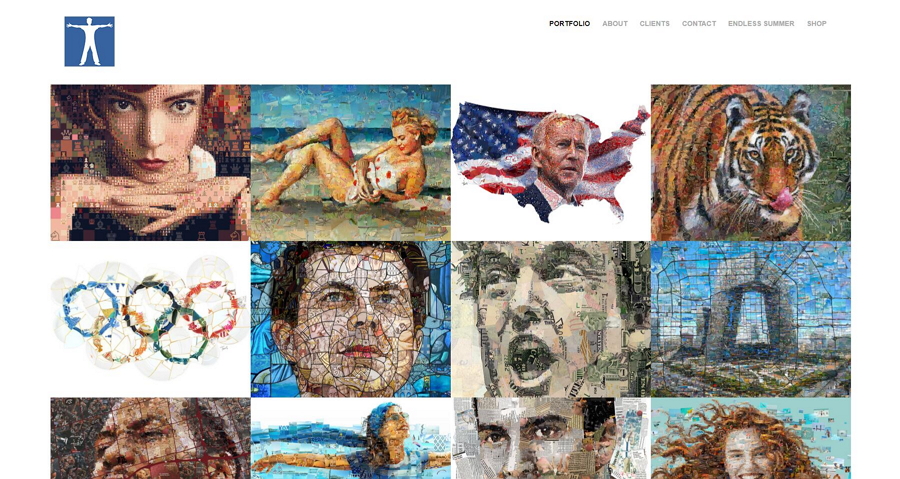 Highlights:
Our entire team is a fan of this portfolio website since it showcases a series of design work with rich textures. Nearly all images consist of different things when you zoom in the image at a much larger ratio.
Take the first mosaic image as an example. It uses a variety of chess symbols to create a mosaic portrait of Beth Harmon, aka Anya Taylor-Joy. Very creative, right?
5.David Sierra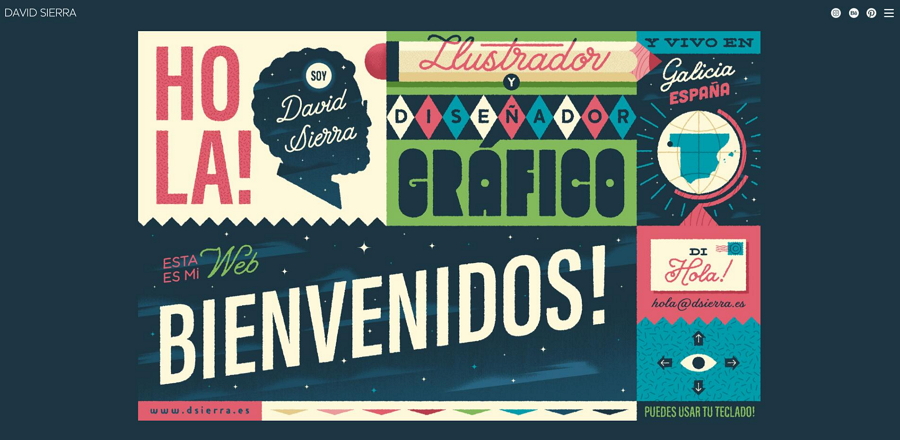 Highlights:
Old-fashioned design style

Full-screen and high-quality image carousel
David Sierra is a minimalistic portfolio with an old-fashioned design style. Its home page utilizes a series of full-screen image carousels to showcase different illustration works. We do really love its illustrations with cohesive and beautiful colors.
6.Susann Hoffmann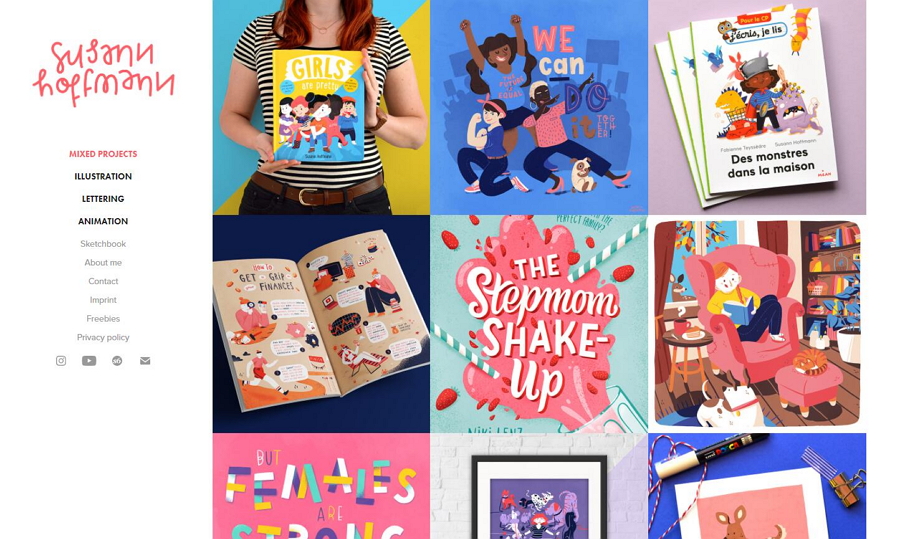 Highlights:
Susann Hoffmann is a freelance illustrator and animator that create beautiful illustrations and other designs for children. Her online portfolio showcases many cute illustrations with candy colors. The sidebar on the left side is also a good touch for visitors to navigate between different website pages.
7. Marie Morelle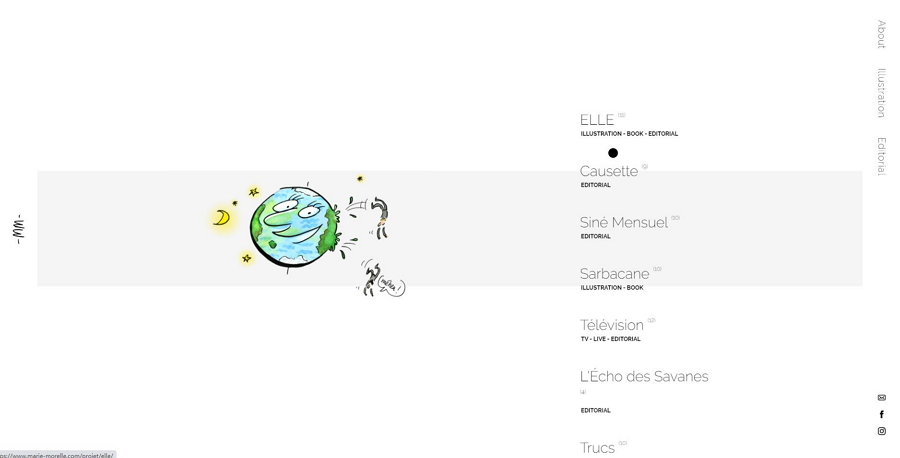 Highlights:
Interactive navigation meus

Personalized hand-drawn illustrations

Interactive illustrations
Marie Morelle is a graphic designer and illustrator based in Paris. The portfolio website of Marie Morelle features a minimal design style. The designer uses a creative and interactive navigation menu that guides visitors to view the details of different design cases with ease. Some of the hand-drawn illustrations are interactive, making it interesting and immersive for visitors to explore.
8.David Van Der Veen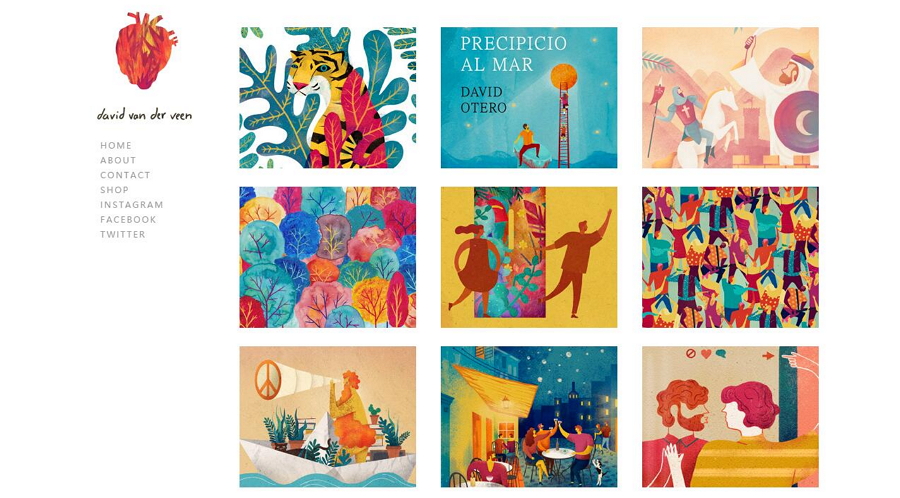 Highlights:
David Van Der Veen is a professional designer that has experience in illustration design, graphic design, and brand design, etc. His portfolio website showcases many creative illustrations with bold and vibrant colors in a clean and neat manner.
We do really like the burning heart logo that grasps the visitors' eyes quickly. The color of this logo design matches with all illustrations, creating a fantastic visual feast for visitors.
9.Jon Illustration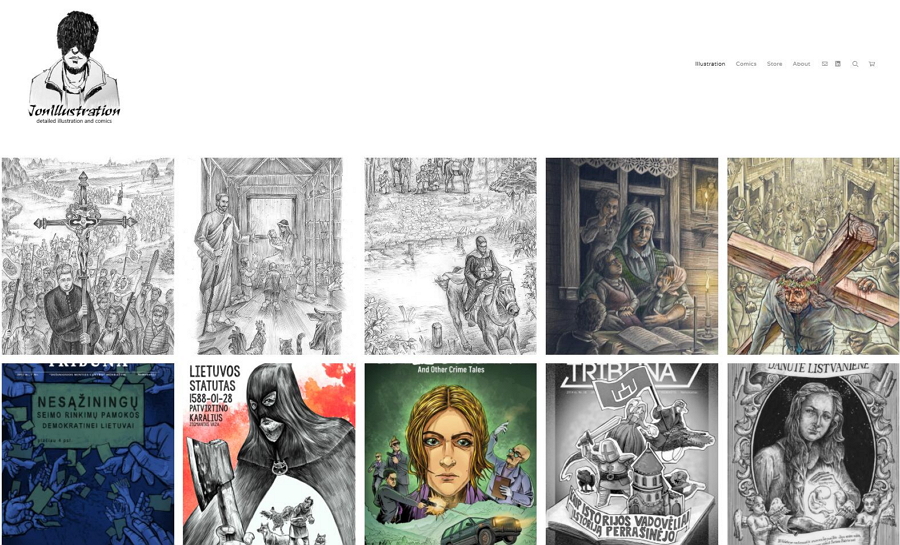 Highlights:
Jon Illustration is the online portfolio of Jurgis Jonaitis, a professional illustrator from Vilnius, Lithuania. His portfolio showcases hand-drawn illustrations in black and white. Some of them also use colors to create a really distinctive design style.
While scrolling the slider left and right, visitors can switch to a full-screen mode, making a great user experience.
10.Sergio Roads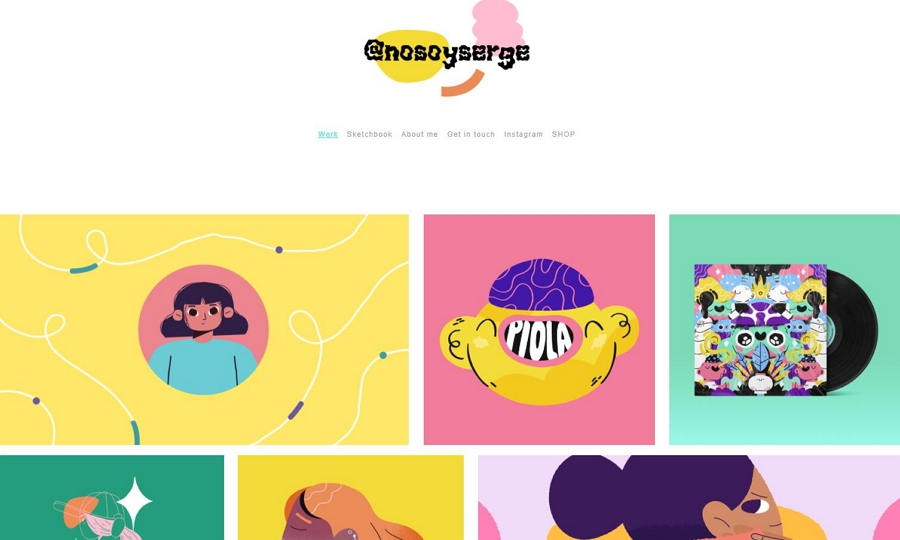 Alt: Sergio Roads
Highlights:
Sergio Roads is a digital illustrator and art director. His illustrations and sketches features bright candy colors and vivid characters. His online portfolio is very minimalistic, which perfectly suits his design style and makes all design works stand out easily.
The logo design with unique fonts makes it easy for visitors to remember and spread, which is also a good try of business branding.
11.Jonathan Holt
Highlights:
Jonathan Holt is a visual designer based in the San Francisco Bay Area. Most of his illustrations are brimming with talent and imagination. Along with bold and bright colors, all those illustration designs make the online portfolio stand out easily from other packs.
Furthermore, the portfolio uses a unique layout, not the common grid layout, to showcase all design works for a better UX.
12.Jake Daly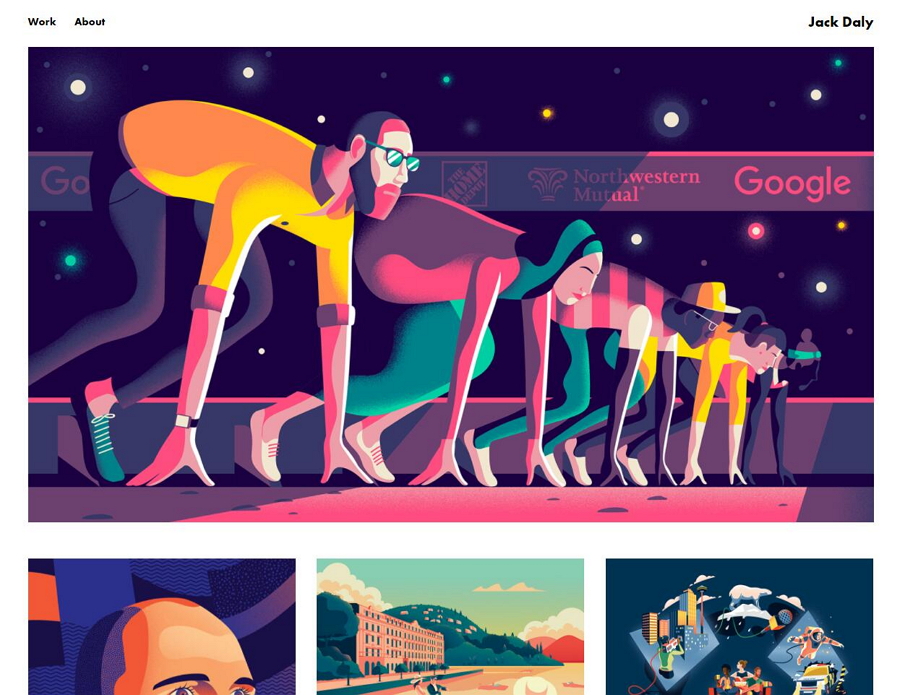 Highlights:
Modern design style

Website layout

Minimalistic design
Jake Daly is an experienced illustrator and designer that enjoy creating bold and conceptual work. We do love his illustrations with bold colors, shadows, and fonts. He uses a simple grid layout and minimalistic design elements to create a clean and immersive illustration portfolio.
13.Daniel Saras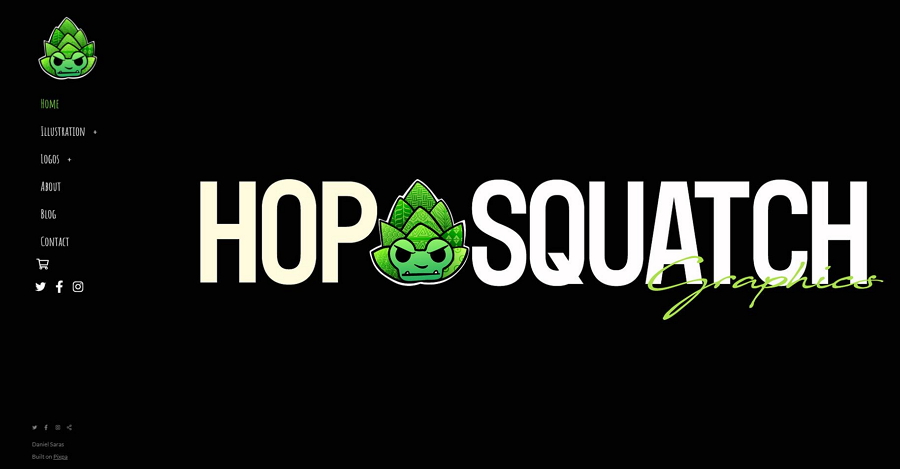 Highlights:
Daniel Saras's online portfolio website has black backgrounds that standing out all the best works presented there, giving this site a luxurious and high-end feeling. The foldable sidebar on the left allows visitors to show or hide some items based on their needs. While presenting the specific design cases, Daniel also uses a storytelling style, making it easy for everything to read and understand.
14.Illustrator, Designer & Artist Portfolio Template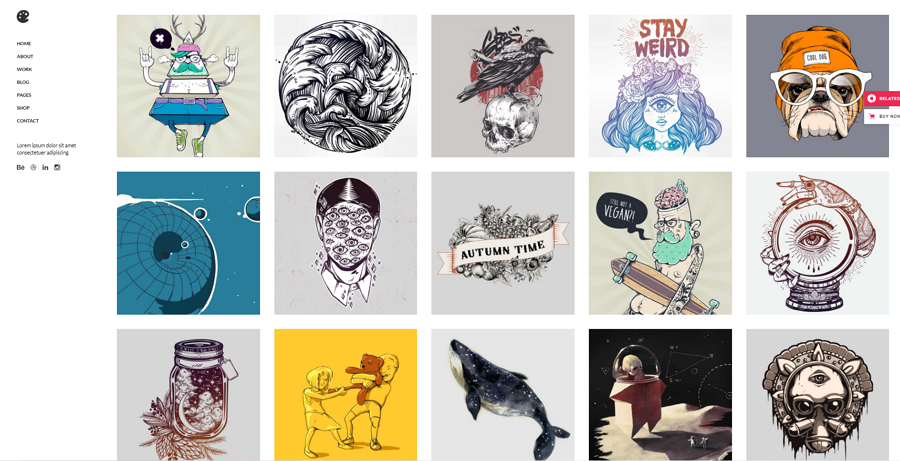 Price: $75
Features:
Illustrator is an online portfolio website template specially made for illustrators, designers, artists, storytellers and others. To showcase the works and talent of different creatives, this template provide all users with up to 14 design themes and home page options.
The fully customizable and responsive interfaces make it easier for every user to create a portfolio depending on their needs.
15.Bridge Illustration Website Template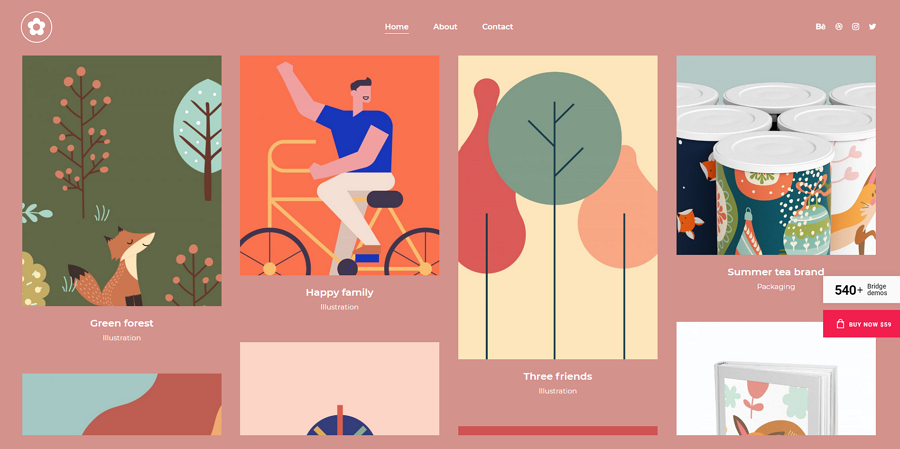 Price: $59
Features:
540 demos and features

Hundreds of design styles

A wide range of modules, elements and sliders
Bridge is one of the best-selling WordPress website templates. It provides up to 540 demos and features that you can use to create your own portfolio with ease.
16.Bryson Illustration & Design Portfolio Template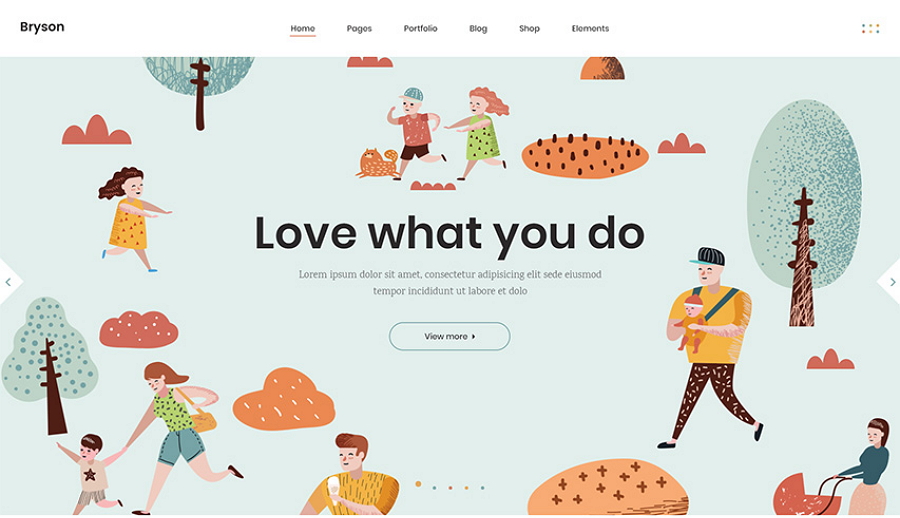 Price: $75
Features:
Bryson is a beautiful illustration portfolio suitable for illustrators, freelancers, designers and artists. It allows you to choose from different design lists, sliders, hovers, animations, color styles and others to turn your portfolio ideas into a true piece of art.
17.Haar Portfolio Template
Price: $79
Features:
Rich home page options

Numerous design styles

Interactive showcases, carousels and sliders

Customizable portfolio layouts

800 Google fonts
Haar is a modern illustration portfolio template with various home page and inner example options. You can feel free to choose from different home pages, example showcases, carousels and sliders, customizable layouts and fonts to create a distinctive desired portfolio.
18.Tahoe Portfolio Template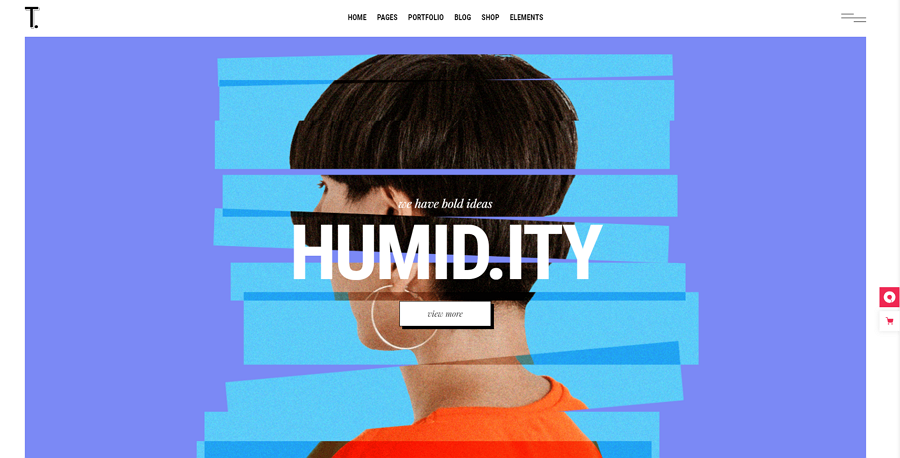 Price: $75
Features:
Over 20 layouts

A full set of home page options

Fully responsive

Various hover, header and slider types
Tahoe is a WordPress template for design agencies, designers and artists to showcase their design skills in a striking manner. This template is packed with over 20 layouts, 3 header types, various home page options and far more resources to build a portfolio without writing any codes.
19. Mishka Creative Portfolio Template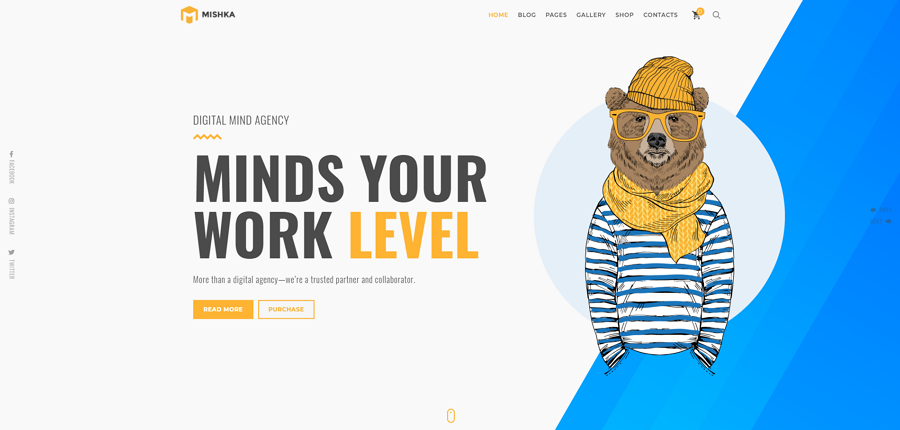 Price: $59
Features:
Mishka is a good alternative for designers and other creatives to showcase their design works in a unique and personalized way. This template is packed with a full set of pages, like home page, contact page, blog page, custom 404 pages and more.
20.Halogen Innovative Portfolio Template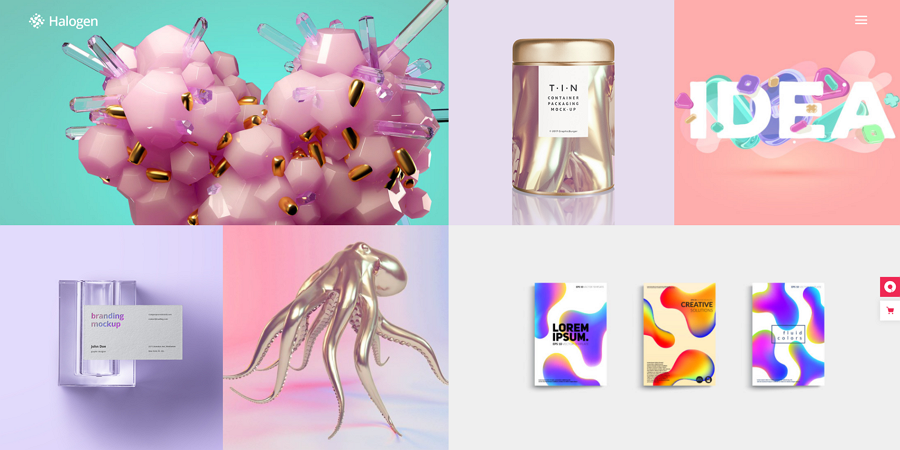 Price: $75
Features:
Various customizable home and inner pages

Numerous layouts and features

Rich headers and footers
Halogen is a useful toolkit for designers, illustrators and freelancers to create a modern portfolio website. It is packaged with many home and inner pages, numerous portfolio layouts, headers and footers, dark and light logo options, and more features.
Wrap Up
Illustration portfolios have become one of the trends among designers, illustrators and other creatives alike. If you are considering creating an illustration portfolio to showcase your design works and talent, all illustration design portfolio examples, templates and ideas in this article can definitely help you.