With design sprint, you can reduce the time for completing a task. For remote teams, design sprint makes it easier than any other form as it decreases cost and travel restrictions, and remote team members can work at any favorable time. The design sprint is a procedure that may help you take a concept and turn it into a functional product. A design sprint is a method that is used to ensure that you are not spending time on things that you do not require or that you do not desire.
During design sprints, participants brainstorm potential solutions to a particular problem and evaluate those. A Design Sprint is a fantastic way to come up with ideas for new goods and services since it is centered on the process of finding a solution to a particular issue. In addition to this, it gives you the opportunity to get feedback from the members of your team on their thoughts on your concept before you release it to the market.
What is Design Sprint?
A design sprint is a short but intense period of time allocated to the completion of a particular task. It involves the entire team, from authors and designers to strategists and project managers. The design sprint enables you to capture your thoughts quickly. It also allows collaboration with other individuals who share an interest in the same issue and with external specialists who may offer insightful feedback.
The design sprint is usually a total five-phase procedure. Those phases are exploration, sketch, decision, prototype, and validation. It deals with a specific problem, approaches it with different decision-making techniques like six thinking hats, and finds out multiple solutions to solve the problem. The basic requirement for a design sprint's success is having all your team members on the same platform. Design sprint has got success on platforms like Google, Uber, Lego, and many more organizations.
Traditional Design Sprint Vs. Remote Design Sprint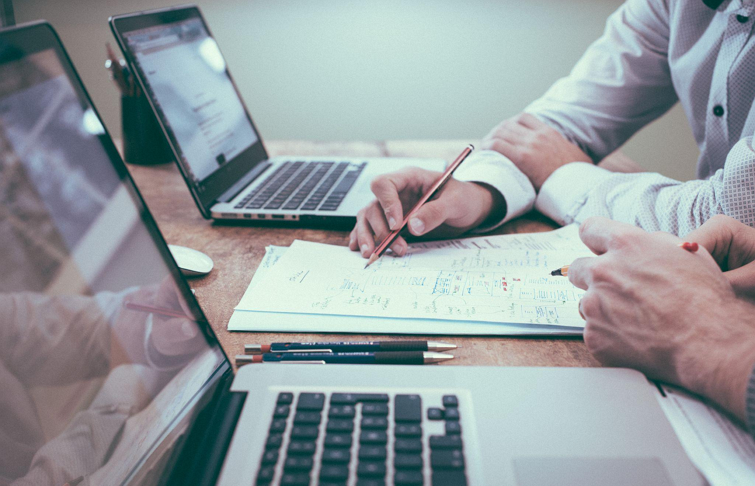 Traditional design sprint allows team members to stay in the same room, like creating an in-office meeting session with the team members. Traditional sprint involves paper prototyping, which is also useful in modern sprint design. But with the advancement of technology, the remote team has become more successful than the traditional way of designing sprints.
The conventional sprint design process requires detailed planning and organizing of the sprint session. But remote design sprint requires more robust planning as you must deal with remote team tools. Traditional sprint does not require some appliances, whereas remote design sprint needs a good laptop or PC, headphones, monitor, keyboard, etc.
Running your Remote Design Sprint: a step-by-step guide

Phase 1: Understand
The sprint design process begins with the "Understand" step, which is the initial stage. This phase involves defining the problem space, establishing a shared knowledge base, and identifying potential participants. Next, knowledge specialists from the company are invited to participate in the Lightning Talk process. They are requested to describe the issue area from the company's viewpoints, the user, the competitor, and the technology.
Phase 2: Define
During the Define phase, the goal is to establish what the specific content is and what potential solutions may be. During the defining stage, the team will analyze all the information discovered during the understanding phase. This will determine the type of information that will assist them in solving the problem. At the conclusion of this phase, you will choose a focus for your Sprint, along with objectives, success metrics, and signals.
Phase 3: Sketch
Sketching is essential to the creative process in any design sprint. As individuals look for inspiration and answers in alternate spaces, this facilitates the development of ideas and the generation of new ones. During the sketch phase, individuals start looking for ideas in various media such as paper, books, or other materials. This is the beginning of the creative process. First, every team member will produce ideas on their own, and then the team will collaborate to refine those ideas into a single, well-articulated Solution Sketch for each person.
Phase 4: Decide
The team of designers and developers finalizes the content for a prototype during the decision phase. It is a critical phase in the design sprint process. Decision-makers are advised to focus on what they need from the prototype and how it should be provided during this phase. They must consider their target audience, company objectives, and intended result. The decision-making process may involve several rounds of prototypes, each with a different sketch.
Phase 5: Prototype
A design sprint is an interactive approach that allows you to rapidly test your ideas and get input from your target audience. During the Prototype phase, the Design Sprint team will collaborate to develop a prototype of your idea. They will utilize this chance to investigate several concepts and get input from stakeholders. As a result, you should now be able to comprehend what makes your idea distinctive and how it would function in practice.
Phase 6: Validate
Validation is the concluding phase of the Design Sprint process. It enables you to assess whether your concept is still worth pursuing or whether it is only a passing notion that will never materialize into something tangible. Testing your idea on stakeholders and observing their reactions might help you determine whether or not you have met Sprint's goal.
You may have to discard everything you've accomplished thus far and start from scratch, but at least you'll have the peace of mind that your efforts have not been in vain. After your Sprint, you will have either a validated concept or an invalidated concept to refine.
Advantages of Remote Design Sprint in 2022
Right Problem Identification and Explanation
A remote design sprint is an excellent method for identifying the correct problem. You will be able to identify the right issue and convey it to your consumers. The remote design sprint ensures that the problem is clear and readily explained to the team. Identifying the right problem is half the battle won. In the first phase of designing a remote sprint, you must ensure that your team members are aware of the exact problem they should solve.
Interactive Session
Remote design sprint provides you with interactive sessions with your remote team members. While the planning, mapping, sketching, and decision-making phase, team members can participate in the remote interactive session. Interactive sessions not only make a good bonding among the team members but also improve your remote team's productivity.
Efficiency
Efficiency is the capacity to do any given task with the minimum amount of resources and time available. Yes, it has been tried and tested, and it is believed that running a design sprint with a team may increase the productivity of any remote team. Design sprint makes all the team members focused on a particular task that needs to be completed within the week. This process completes any work within 15-20 days, which would take 1 month to complete other than a remote design sprint.
Experts Opinion
If your team works from home, you can collaborate with experts from around the world. Expert advice is a valuable source of knowledge for any team. They can share their expertise with other team members to enhance their goods or services. They assist you in understanding what your customers want and how they will react if you give them a particular service or product.
Sound Decision-Making Process
You are able to create a clear and concise decision when you are engaged in a remote design sprint. Because a sprint often lasts for perhaps a week, decisions are taken fast and obviously with utmost importance to completing the task. Design sprint helps team members to make sound decisions in a short period of time which reduces time wasted on any task.
Access to Large Talent Pool
Instead of choosing a talent nearby, you will be able to employ top talents from around the world. Remote design sprint shows more potential while completing any task within sprint time. With the participation of a broader talent pool during a remote design sprint, strategic workforce planning is a possibility that should not be discounted.
Challenges of Design Sprint for Remote Team
For every remote team, the first challenge that comes to mind is collaboration problems. A recent study of Hubspot found that 26% of managers believe collaboration is the main problem for all remote teams.
Good coordination and effective collaboration are necessary at every stage of the process when planning a sprint for a remote team. The effectiveness of the collaboration is largely determined by the tools that are used. The remote team needs to pick out the appropriate tools. If you don't pick the correct tool, you might spend more money rather than save less.
The remote team's cultural and time differences have always been a huge concern. Because your team members will be from all over the world, you will not have the same time in two separate regions. Keeping meetings engaging is a major problem for remote design sprints. However, this difficulty will be easily solved with effective team coordination and time management.
Time management for every remote employee is very important as you won't have any in-office monitoring opportunities. To know whether your working from home employee or remote team member is performing their job or not during designated working time, you can use employee monitoring software to track and monitor your remote team members.
Tools for Remote Teams to Conduct a Design Sprint with Remote Teams
Product Design Platform: Mockplus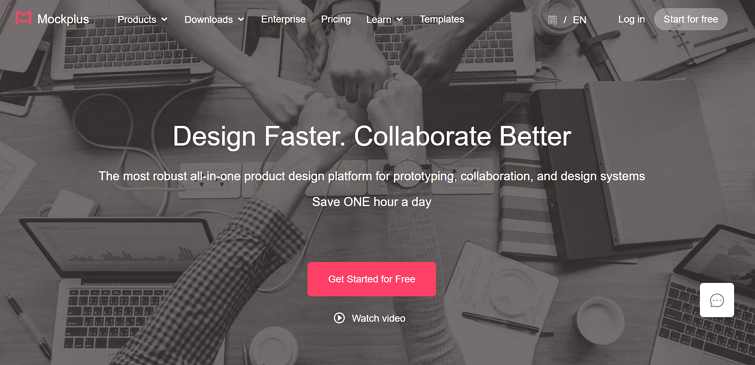 Source: Mockplus
Mockplus is a simple prototype tool for Android and iOS that includes UI components and icon libraries, and buttons for your remote marketing team product design. The phases of conception, prototyping, and developer handoff are all rolled into one using Mockplus. Its pre-built components, icons, and drag-and-drop features enable users to finalize a screen's design in a very short amount of time. Multiple users can work simultaneously on the same project in Mockplus.
Video Conferencing: Zoom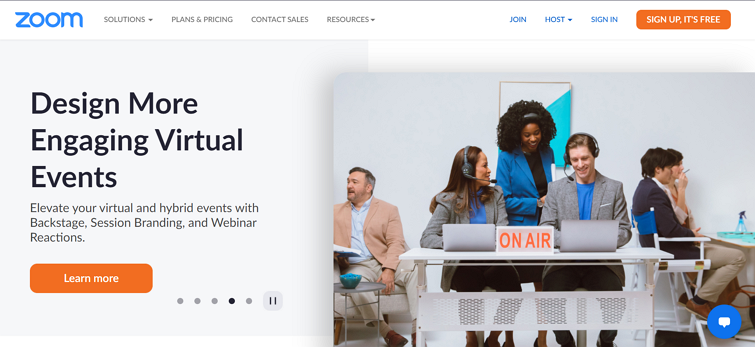 Source: Zoom
Zoom was introduced in 2011 with limited functionality. However, later software improvement has made zoom the most popular video conferencing software on the market. Nowadays there are a lot of Zoom alternatives, too. The features such as Voice calls, video conferencing, screen sharing, and many others facilitate remote teams' organisation. You can make it simply by using an explainer video for training or onboarding for your team. Your team can record any important meeting for the remote team members who could not attend to any circumstances.
Messaging: Slack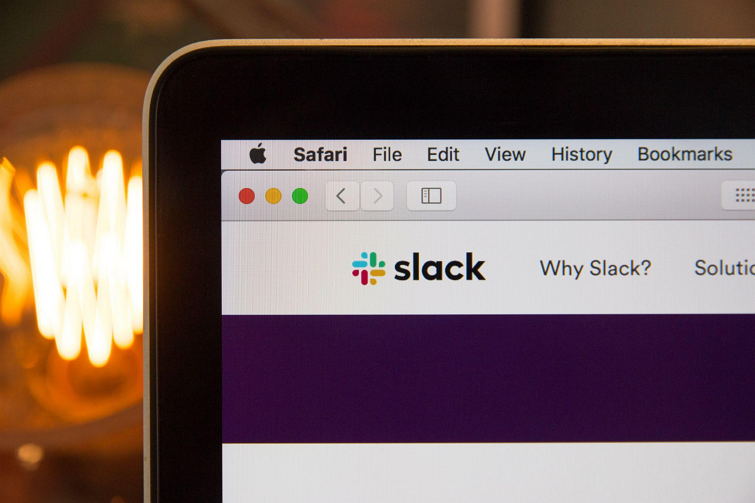 Source: Slack
Slack is a messaging tool that will cover all your remote team messaging. It has one-to-one messaging features, and you can create different rooms for group messages. Slack software is widely considered one of the most effective techniques for team collaboration and is the undisputed leader in the messaging app market. It is very easy to use, and new users can easily connect with your remote team through this software.
File Storage: Dropbox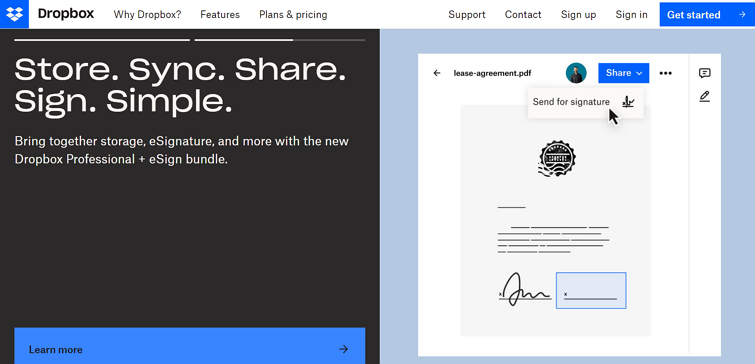 Source: Dropbox
Dropbox is a cloud storage service that facilitates easy file access. It is an excellent way to save your files, but it also allows you to share them with remote team members. Dropbox's numerous features make it one of the most popular file storage and sharing services. It features a very straightforward, user-friendly UI. It is compatible with Windows, Mac OS X, Android, and iOS. Dropbox is a great choice for remote design sprints to store info.
Remote Employee Time Tracking: Apploye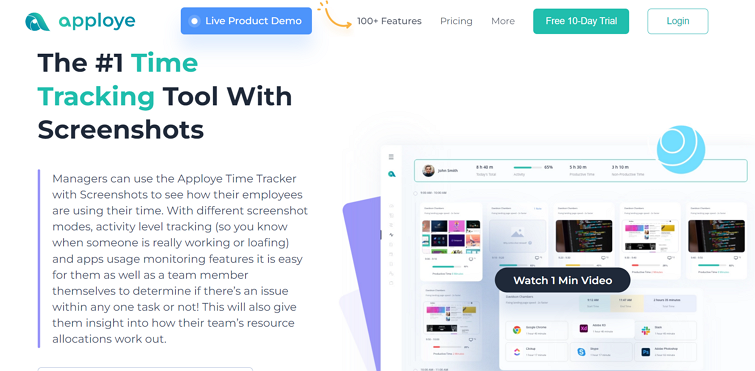 Source: Apploye
Monitoring and tracking remote teams is super easy with Apploye. As sprint management for remote teams requires monitoring of team members, then Apploye can be a good choice. Apploye offers real-time tracking with screenshots, timesheet management, reporting and payroll management for employees, Pomodoro tracking, and many more features to manage your team effectively.
Project Management: ClickUp
Source: Clickup
The ClickUp project management tool is a web-based solution for creating and managing projects. The program may produce reports, plan tasks, monitor progress, and assign roles. This program adapts the dashboard to the team's and the project's needs. Because it is widely configurable and provides good access to all projects and tasks, ClickUp is widely considered among the most effective project management software products now available on the market. Project management for your remote sprint design will be a lot easier with the help of this software.
Product Copy Management: Frontitude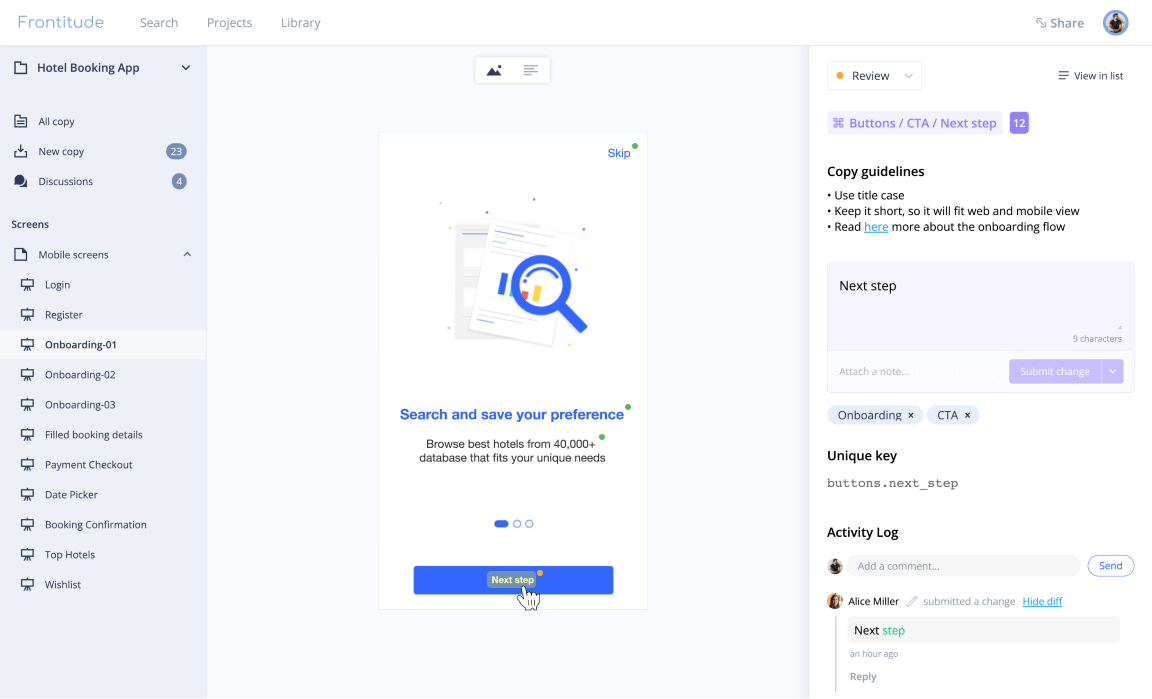 Frontitude provides design teams with a single source of truth for managing product copy. Using Frontitude, you can bring all your product copy together in a single workspace that's supercharged with advanced search capabilities, smart tagging, and version control. You can sync it back effortlessly to the design tool, localization tools, code repositories, and spreadsheets, to make sure everyone uses the latest version.
Conclusion
Design sprints are an excellent method for increasing productivity and efficiency. With a design sprint, teams concentrate on the problem they are trying to solve and strive to complete it as quickly as possible. This allows e team members to complete their job in an effective manner and avoid spending time on things that are unnecessary to their project. A remote design sprint poses a few challenges. But with the proper tools and execution strategy, a design sprint will double the productivity of any remote team.