Updated 6/24/2020: We added more valuable advice and resource for you to know better about user jouney map. Let us know what you thin about it.
User journey maps are important UX tools to help designers build a website or app from the user's point of view, and create a product that really suits the user.
However, since user journey maps come in different forms, sizes and shapes, not all designers, especially some new starters, understand how to get the best out of them.
So, to help you make full use of journey maps, here we will cover the basics:
What is a user journey map?
Why it is so important on design?
The difference between user journey maps and user flow diagrams
How to create a user journey map
What is a user journey map?
A user journey map (also known as a customer journey map) is a visual presentation —often an easy-to-understand diagram or flowchart — of the process that a user or customer goes through in order to achieve a goal on your website or app. It helps designers build a website or app from the user's stand, and have a better understanding of the users' needs and pain points.
Most user journey maps are designed with main parts below: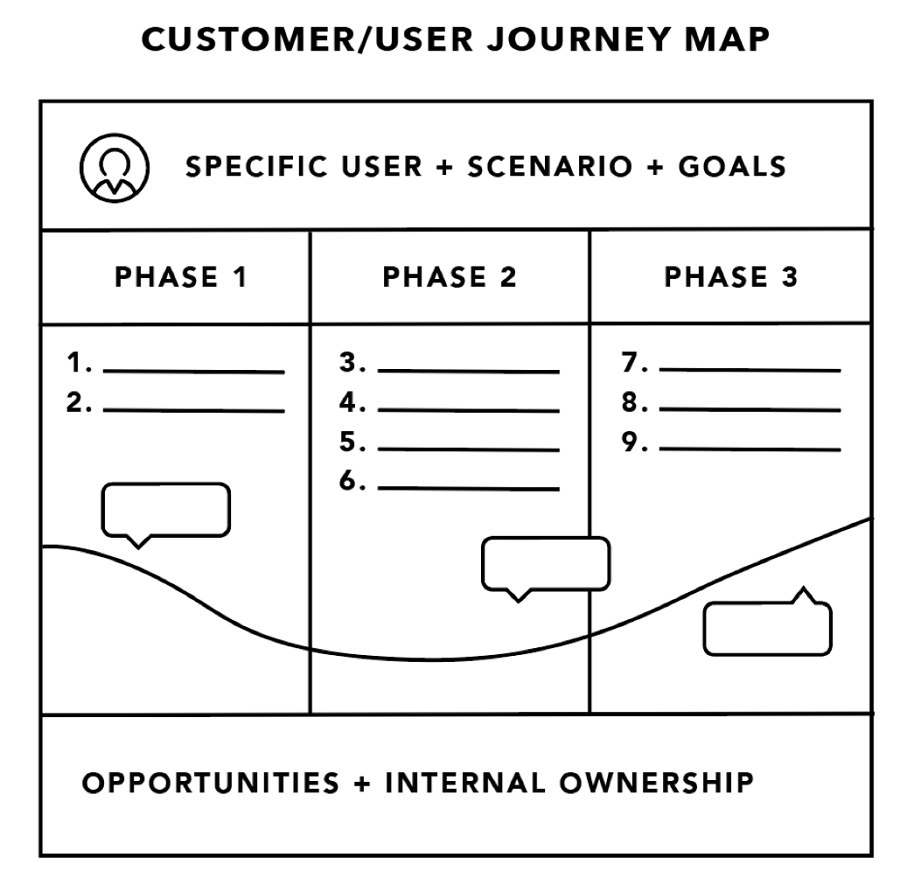 1. Specific users + Scenario + Goals: Introduce a clear portrait of the user: what are their needs; what are their expectations; what is their main focus; what are their views and feelings?
2. Timeline: Explain step by step about how users achieve their goals. Here you should cover user actions, thoughts, and emotions in detail.
3. Others: Extra information, such as opportunities, insights, internal ownership, solutions and so forth can be added here to explain or expand on your design.
Why user journey map is so important?
A user journey map enables companies or design teams to better understand their audiences and improve their experience in ways such as:
Creating a better user experience
Studying all phases of a user's journey on your website/app helps you to understand your audience better, making it easier to create a better user experience.
Helping customers achieve their goals more easily
An effective user journey map means a better user experience with customers achieving their goals more easily.
Helping product teams communicate and collaborate better
Mapping out everything makes it easier for your entire product team to share, communicate, and collaborate on the designs more efficiently.
Demonstrating designs better to clients and stakeholders
An intuitive user journey map leads to clearer demonstrations of your designs and can thus attract more potential clients and stakeholders.
An effective user journey map increases the chances of your company producing superb UX and a great product.
User journey vs user flow
User journey map focuses on those situations where the user interacts with your website or app. It maps out the different stages and scenarios a user will experience and provides a macro view of the interactions between the user and your website or app from start to finish.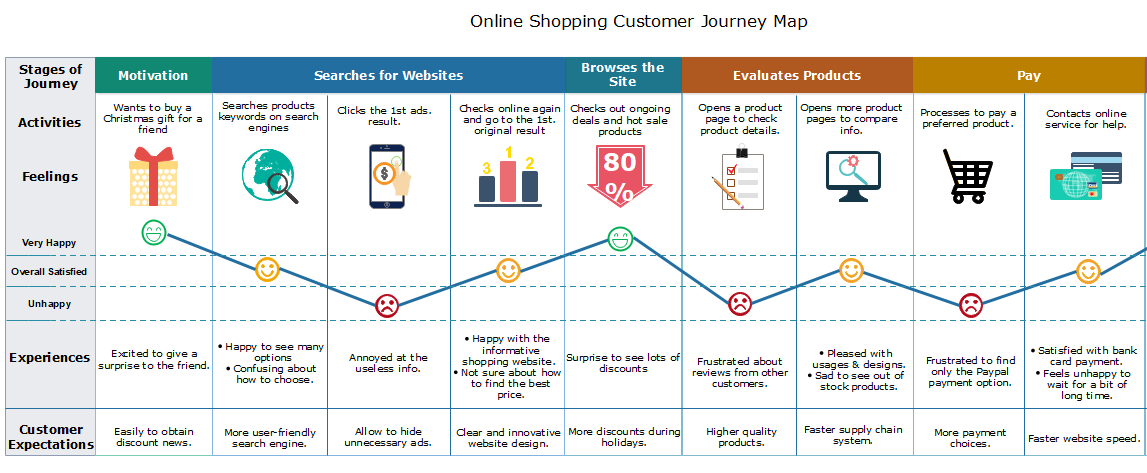 This example of a user journey map shows how the map focuses more on the macro view of all the instances in which a user will interact with your product or service.
User flow depicts the actual route that users follow to achieve their goal on your website or app. It focuses more on the micro level, illustrating the specific steps users take to complete their actions.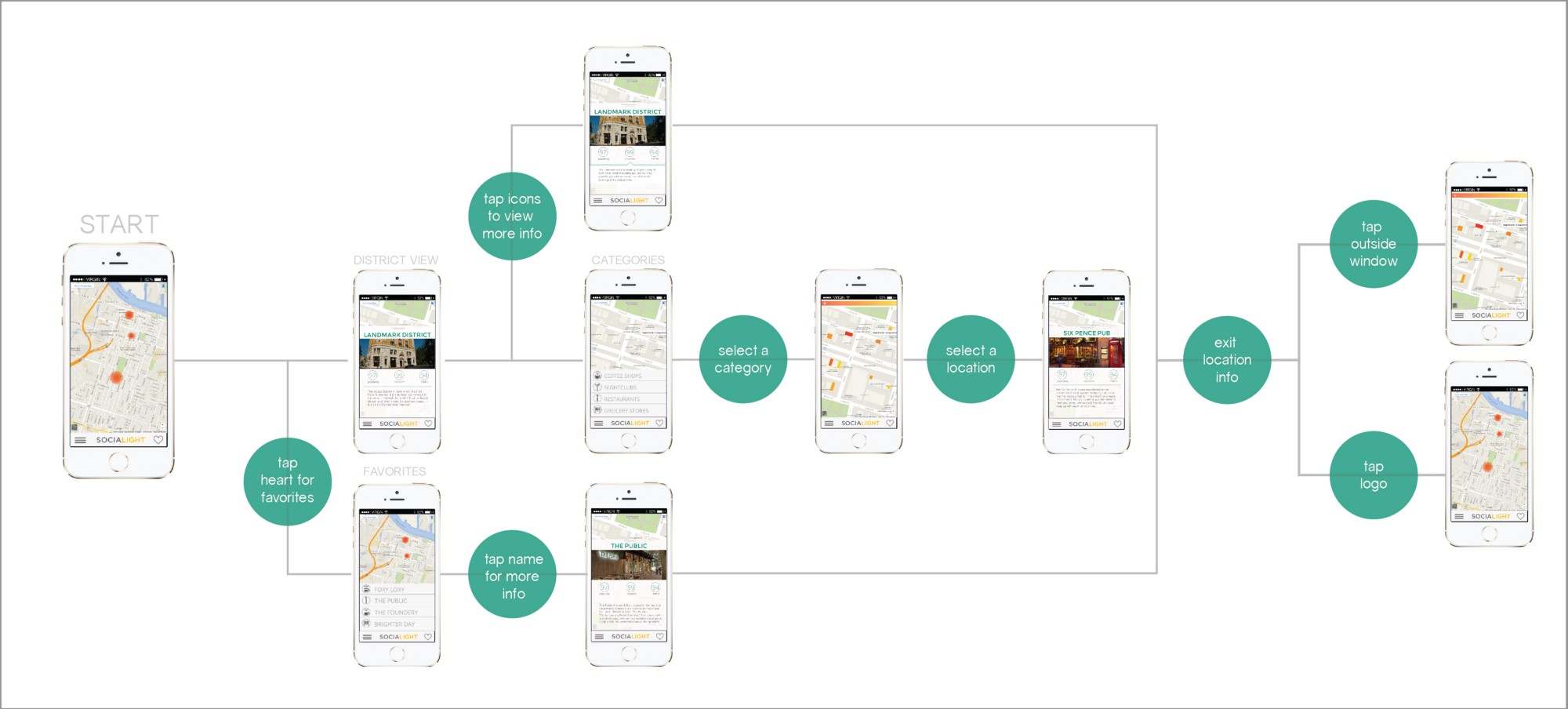 User flow focusing more on the specific actions as a user interacts with your products.
If you are still confusing about these two terms, check out differences & similarities between User Journey and User flow.
How to Create a Customer Journey Map?
An effective customer journey map helps designers understand users and provides insights that help create better customer and user experience. But, as a new starter, how can you create a customer journey map? Here are three ways that you can consider:
1. Search for user journey map examples to get inspiration
Newcomers to the process can find plenty of inspiration from existing well-crafted user journey maps. Here are 8 of the best user journey map examples for your inspiration:
Student Journey Map
Student Journey Map is a concept user journey map that lays out step by step how an international student can interact with the program to complete a Master's degree. It analyzes the main decision and action points; it acknowledges the thoughts and feelings the student might experience at each stage; it covers the pain points; and it offers possible solutions.
Tradeworthy Job User Journey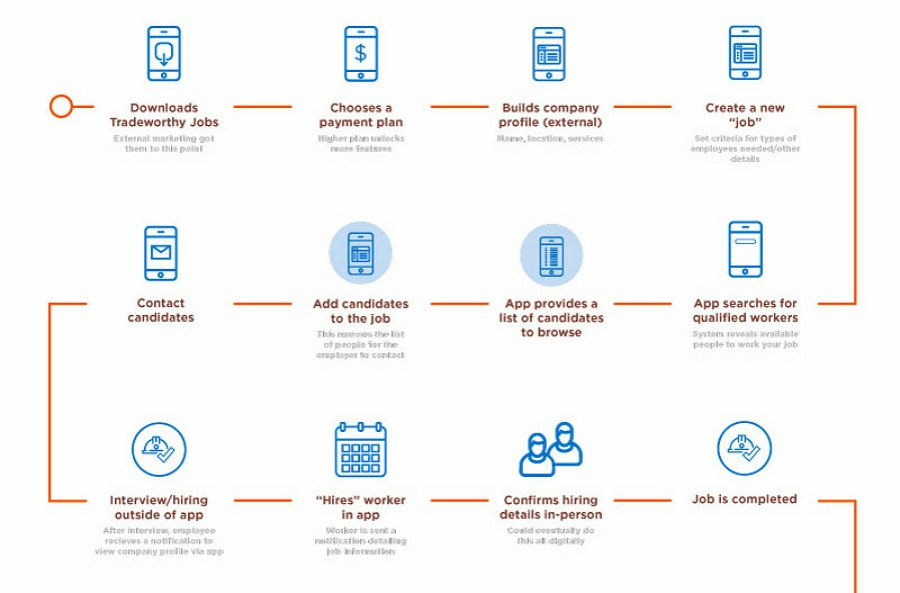 Tradeworthy Job User Journey visualizes a typical journey for a construction manager looking to use the Tradeworthy Job App to hire an employee. It gives a clear depiction of the entire interaction flow.
User Journey Map for Health Pal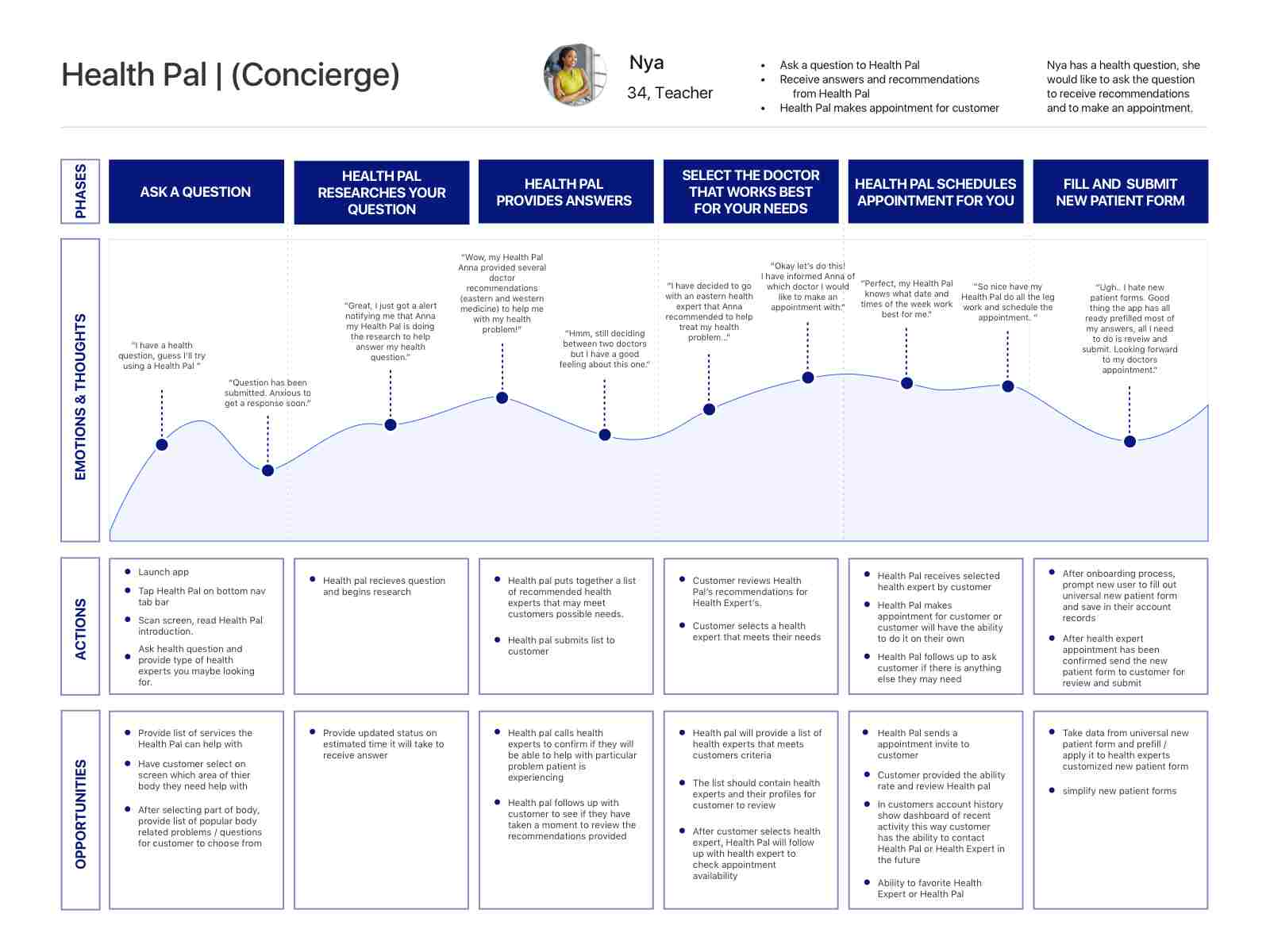 This user journey map was made for a Health and Wellness service that enables the use to find the best doctors and book appointments. It illustrates the journey through the user's eyes, using a concept persona. It focuses on the main phases, actions, and opportunities on the journey as well as on the thoughts and emotions a user might experience.
User Journey Map for GymDog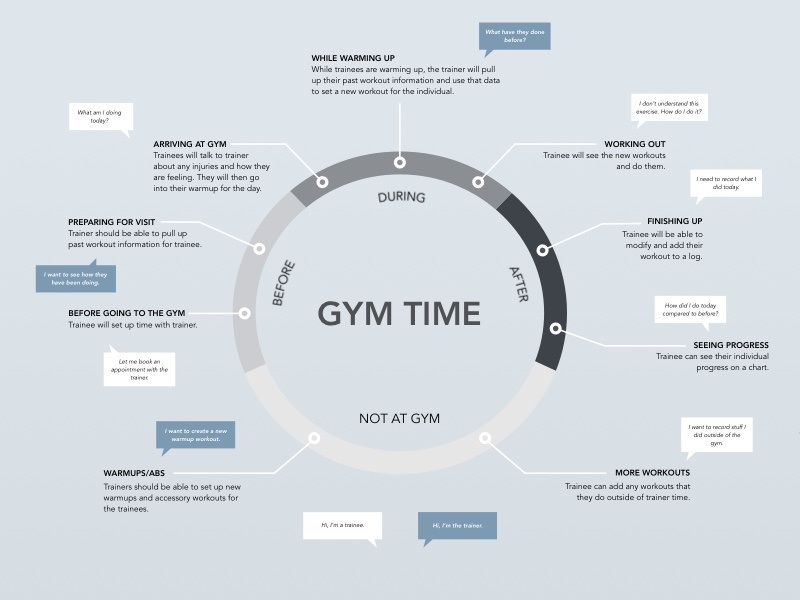 User Journey Map for GymDog is a creative customer journey map made for a gym app. From this map, you will see how the trainer and the trainee can use the app to interact at each training session. The circular presentation is clear and intuitive in demonstrating the different stages of the process.
User Journey Map Template Bundle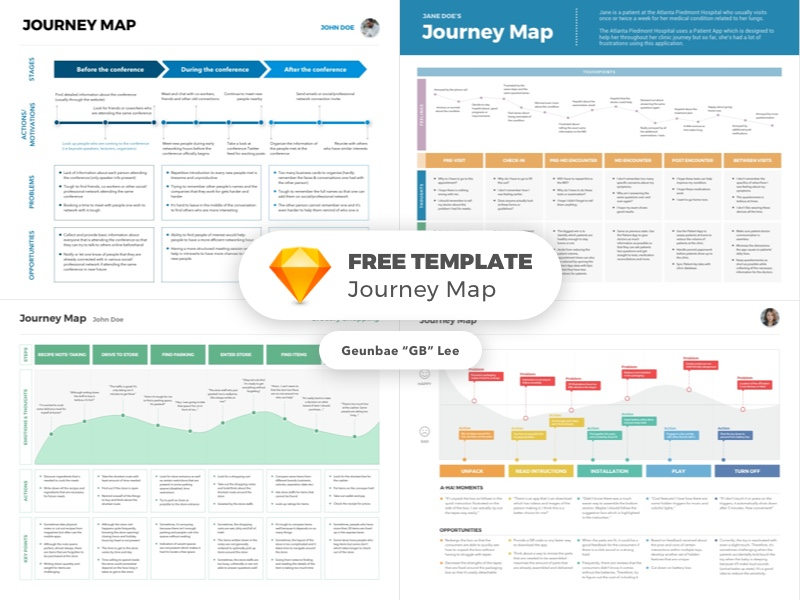 User Journey Map Template Bundle is a typical user journey map template bundle that works for many programs. It contains a range of typical map templates in different styles. You can download them and use them as templates for your own designs.
Persona and Journey Map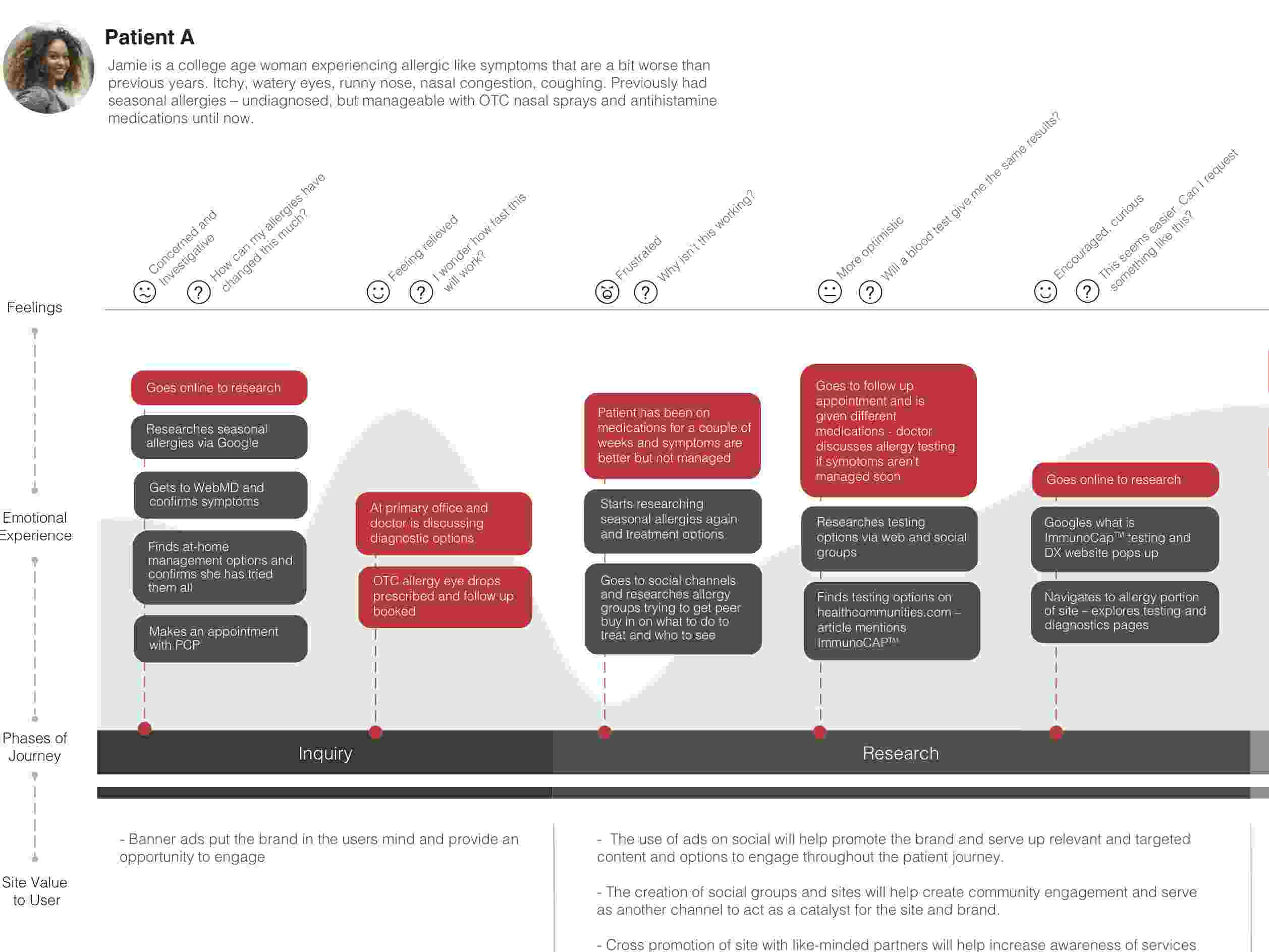 Persona and Journey Map is made for a pharma enterprise website. It illustrates how users feel at each stage as they interact with the site.
Hey User Journey Map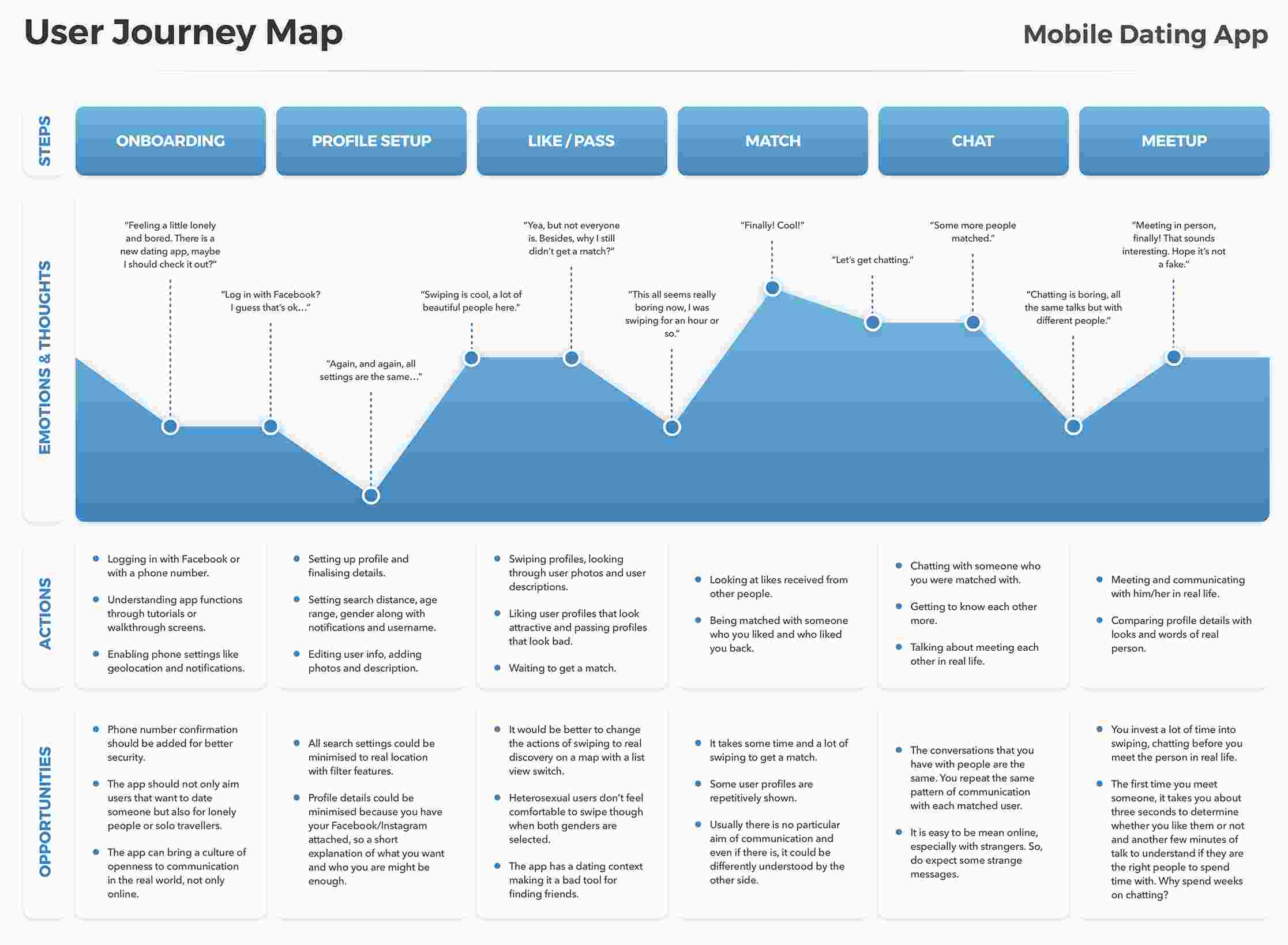 Hey User Journey Map visualizes the user journey on a mobile dating app. It fully maps out the actions that users take and details their likely emotions and thoughts as they seek to meet new people.
User Journey Map Simone Chosse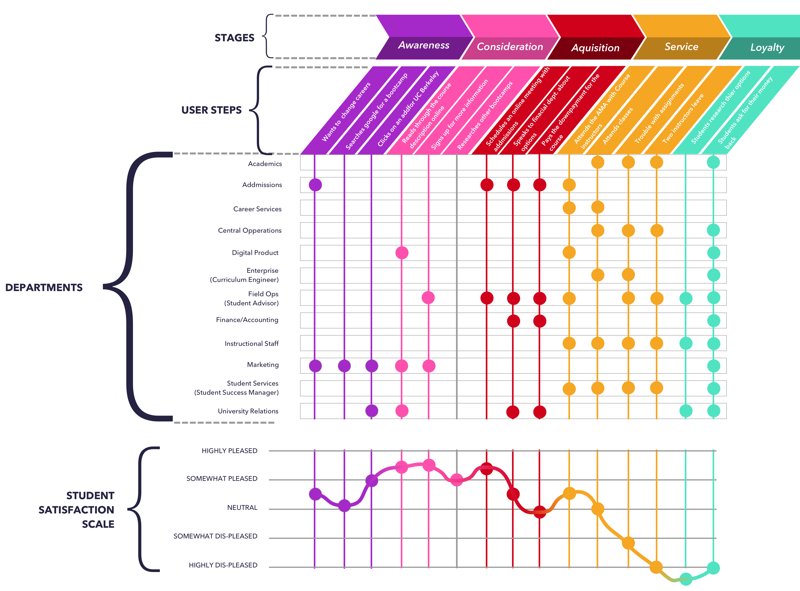 User Journey Map Simone Chosse uses brightly colored visuals to present the user journey map. It is a good example of how you can create an effective journey map with rich visuals.
2. Download and use a user journey map template
The fastest way to create a user journey map is to download and use a template. To help you find desired templates quickly, we've picked the best websites to download a user journey template:
Dribbble is the go-to option for designers and creatives looking for inspiration or wanting to share design work and resources. It is also a good place to find the best and latest user journey map examples and templates. Not only are many of these user journeys or maps effective, but they are also free to download.
Behance is another good place for designers to share their design projects. You will find a number of the latest user journey maps and related projects are also shared here.
3. Use a user journey mapping tool to draw everything from scratch
If you are not familiar with using templates, you can choose a professional user journey mapping tool instead. Here are 3 of the best user journey mapping tools:
Smaply - online user journey mapping tool
Smaply is an online user journey mapping tool that would enable you and your team to visualize, share, and demonstrate customer journey maps, personas, and other stakeholder maps. Your team will find it easy to share the journey maps, comment on them, and create different exports.
Giffy - online diagram and flowchart drawing tool
Giffy is a lightweight online diagram and flowchart drawing tool. It provides a full set of diagramming shapes and templates to help you create a brilliant user journey map. You can also invite others to collaborate with you on a journey map.
Microsoft Visio - online flowchart and diagram maker
Microsoft Visio is an online flowchart and diagram maker that can help you create professional user journey maps with modern shapes and templates. With Microsoft 365*, your team can all work on a diagram at the same time. Visio is sold as an addition to MS Office.
If you still have questions about how to create a user journey map, check out this step-by-step video:
Wrap Up
The goal of creating a user journey map is to create a version of a site that can be shared, so that your team can think about the user experience and then communicate and collaborate on their design ideas. This all leads to a better outcome in your final UX design.
We hope this guide will help you understand the importance of the user journey map and enable you to create your own effective journey maps.