To be an UX freelance, many aspects are involved: self-discipline ability, working environment, business source, cooperative partner, pressure, UX design skills and other professional skill, etc. These problems also exist in most freelance work. How to solve these problems depends on yourself.
Most of UX designers and developers must have considered being a freelancer. You may have tried it many times and failed many times; you may insist till now; you may be now on the right track as a freelancer with freedom. Faced with harsh social realities, we designers may yearn for a freelance work that is free of time, money, and travel. Countless designers are on the way to freelance work, and I used to be and may also be in the future. Freelance work can bring you many benefits a company can't give. However, it is not as easy as you think. You may be faced with a lot of difficulties and hence you must deliberate it. Here are five questions for you to think about before you decide to go freelancing.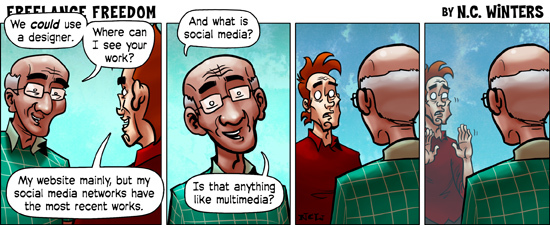 1. What are your long-term business channels?
Here I emphasize on a long-term business channel but not a full-time job. Are you going to base your UX freelance work on outsourcing, that is, to depend on various platforms to link the cooperation between you and your clients? Or will you create your own product to sell? Does it enable you to support your two or more years' financial and psychological demands?
Long-time dependence on outsourcing requires a reliable and solid partner. Otherwise, a longstanding lone battle may be too much for you and end in failure. Yet it doesn't mean that outsourcing can't support your freelance work. You need stable outsourcing sources. It's fine to relyonly on stable outsourcing sources when your personal brand is somewhat famous. It requires designers' patience in communication with clients and abilities of cooperation on money and other issues. Only when there is a sound partnership with your clients, can your outsourcing be well sustained.
Being an UX freelance, you may be faced with various outsourcing platforms, initiative clients, bids, product sales, sales in a third party platform, etc. You will figure out the most suitable way for you after the experiences of all kinds of ways to outsource. Remember that opportunities are given by yourself.


2. Where are your clients from?
It makes a big difference whether your clients come from home or abroad, in terms of business channels, design standards, integrated skills, product quality and at least language requirements and fund settlement. Therefore, you really should carefully measure your abilities. Freelance work can be one of your alternatives or your sole income source. If you want to do UX freelance work at home, the environment in all aspects should be taken into consideration, such as the copyright protection and purchasing capacity of your country. Environments of freelance work at home and aboard can be very different, so you should deliberate your target groups.


3. Can you handle the authorization of your works (either in design or development) or even your intellectual property management?
When going UX freelancing, can you protect your intellectual property rights and literary rights? When a dispute over copyright or an infringement occurs, can your incomes be ensured and not beinfluenced by lawless persons and companies? Be careful about the possibility that your income be decreased because of copyright and hence you become someone's ready source of money. Don't give away your deserved returns to someone opportunistic.


4. How do you position yourself in starting to be an UX freelance?
Can you ensure your abilities as an UX freelance? How do you define the rudimental requirements of freelance work, such as skill requirements, target requirements, cooperation requirements, and language requirements? These requirements directly determine what kind of freelance jobs you can do, how long you can keep going, and whether you can be competent at overseas freelance jobs. Don't misunderstand that it makes no difference to do any kinds of freelance work. There will be different workflows and requirements of different kinds of freelance jobs, such as a job in a crowdsourcing platform, signed designer, or tele-education teacher.


5. Can you ensure that your UX freelance work is in a benign circle?
Have you been well-prepared to be an UX freelancer? Do you have multiple skills to make a living in a harsh environment? If not, with simple a few skills, cooperation is a key problem for you. You should ponder how and where to find your partners, how you deal with the interest problems, where you carry out your UX freelance work, and how to cooperate with your partners. You are not able to complete a whole set of merchantable design works by just a few pictures. Now you are not doing some design exercises in a website or making some tutorials; you are not playing a partial role in a company. When you choose to be an freelancer, almost all the jobs have to be done by yourself and the final results of your work should be merchantable design works. Endowing your design works with commercial values is the most difficult task for you and requires long-playing exploration and practices.
That is, you should improve your comprehensive abilities, such as the abilities to establish your private brand and to popularize your works.Put it more specifically, you need to know how to get your works on the first pages or featured pages of Dribbble, Behance and other blogging platforms.


Final words
Someone may query whether one person can be a full stack and handle the whole jobs. Why not? As an UX freelance designer, I can spend three or even more times on my job than other counterparts do: I can write code and promote my works on weekends when other people enjoy themselves; I can continue writing code and drawing. Time passing by, with the improvement of all kinds of skills, I'm able to get familiar with all the aspects of freelance work and make a breakthrough in work efficiency. In this situation, my work time and fun time can be flexibly allocated: I can stay at home writing code on holidays when people pour in across the overcrowded tourist stops; I can go traveling and hence avoid the peak travel period when everybody is sitting in their offices. No pains, no gains. It's not bad. However, the precondition is that you should make more efforts and bear more solitude and pressure.
Read more:
1.Why Can't You Be an Freelancer
2.How to Boost Your Freelancing Visibility
3.5 of the Most Important UX Design Skills to Please Your Users