It's becoming harder and harder to gain trust online and convince people to become regular customers. With the scale of competition that increases by the minute, an online business, be it small or huge, has to be smart. This is why more and more marketers give User Experience the first priority.

What is User Experience precisely?
Nielsen Norman Group summarises user experience as follows: "User experience" encompasses all aspects of the end-user's interaction with the company, its services, and its products."
At the same time, Wikipedia tells us that user experience "refers to a person's emotions and attitudes about using a particular product, system or service. It includes the practical, experiential, affective, meaningful and valuable aspects of human-computer interaction and product ownership. Additionally, it includes a person's perceptions of system aspects such as utility, ease of use and efficiency."
So what does it all have to do with your conversion rates? The truth is - conversion rate and UX go hand in hand. If your website has amazing user experience your customers will return for more of your services or products, a well crafted user experience widens the sales funnel and increases the user engagement, providing your business with more opportunities. And if it's bad… Well, let's just say you will see the rise of bounce rate, at the very least.
So what can you do about it?
In this article, we will show you 3 UX tips that are sure to help you increase the conversion rate and get closer to those business goals of yours.
Start With a Clean Layout
Your website's design is the first impression people get about your business, the home page in particular, obviously. Naturally, you'd want to have all the main messages on the home page. This is where it is important to understand that the key is to include main messages, which does not mean all of them.
Too much information, too many elements, and features create clutter and poor user experience. There has to be enough content for the users to get interested in what you are offering, put in an easy to comprehend way. Here is a couple of good tips:
Put an essential content above the fold.
Keep it simple and short.
Link the logo to the homepage.
Make sure the rest of the pages are linked with the homepage and are easy to navigate to, and back to the homepage.
Polaroid website is a great example of a clean homepage layout: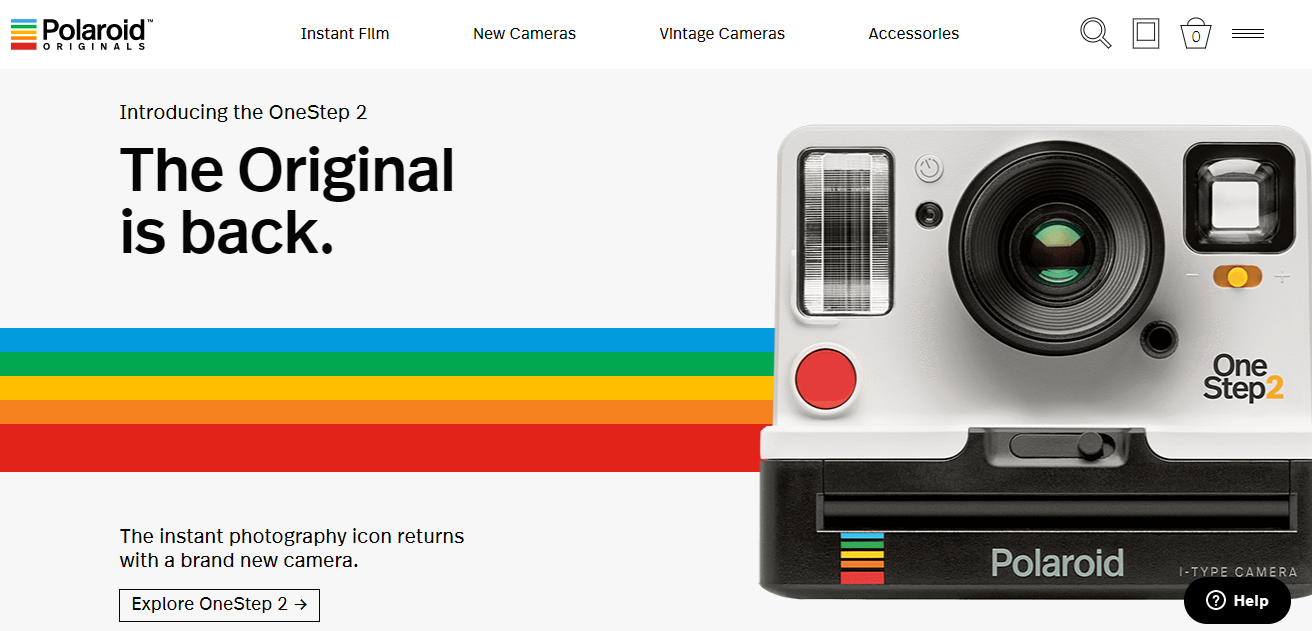 Make Sure It is Accessible From All Devices
Responsiveness is an exceptionally important part of user experience design. Just think about it - would you say a website, that doesn't let you browse it comfortably on your smartphone, has well-crafted user experience? Would you use such a website again, or get frustrated and look for their competitors with a properly responsive website?
With the rise of mobile technologies, mobile traffic grows by the minute. More and more people are using their smartphones and tablets to browse the internet on a commute, from work, and even at home. And it makes sense, it is easier and faster to get the phone from your pocket and look up whatever it is you need. And if they can't use your website on their smaller devices, they definitely won't bother to look it up on the computer. Thus you lose potential customers.
Therefore, you have to make sure your website is responsive and performs perfectly on smaller devices as well as on a desktop. So if you are looking to launch a website powered by WordPress (it is the most popular CMS after all) make sure to look for a fully responsive WordPress design.
Create a Powerful CTA
Call to Actions are the most powerful tools when it comes to conversion rates. They are what tells your website visitors what they need to do to get what they came to you for.
We've seen lots of websites with no clear Call to Action, we can bet you've come across such websites too. And left confused. You don't want your own website users to leave because they didn't figure out what it is you want them to do.
Creating a powerful Call to Action requires a bit of research and quite a lot of testing. And while there is no one size fits all, there is a number of quite useful recommendations.
First of all, we have to mention the color. It obviously needs to be contrasting to the rest of the page, since it has to be easily spotted by the visitors. But keep in mind, when choosing a color for your CTA buttons, that it needs to be complementary to the rest of the design too, not clashing with it. Try to avoid plain colors and pay attention to shades. It is also a good idea to look into the psychology behind the colors you want to use, you don't want to end up with the color that sends an opposite message to the one you are trying to convey.
Then you need to think about the actual call to action, that it the text. Try to avoid such words as "continue", "next", "more", "submit". Do your best to tell the customers what they will get when they click the button, but use as little words as possible. It is a button after all. So the space is very limited.
And finally you need to consider the placement of your CTA buttons. It is generally considered best to place than above the fold, where the visitors can see as soon as they land on your page.
Here's a good example of nicely done CTA for you:
Final Thoughts
No online business can survive in this day and age without providing their website visitors with good user experience. Well thought, through user experience creates a positive impression and makes customers come back again and again.
We know there is much more that can be done to increase conversion rates by fine-tuning the UX, but these three tips we gave you love are the most essential steps you need to take if you want your business to beat the competition and leave them far behind.