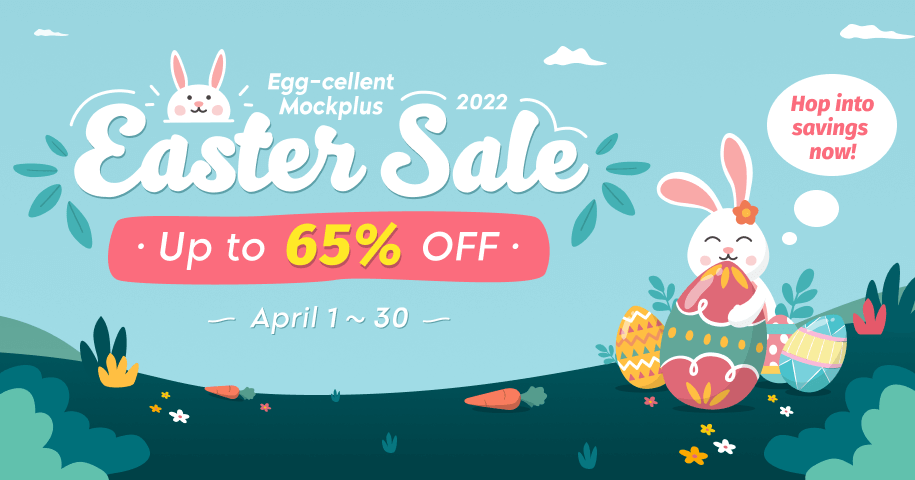 Hello everyone! Mockplus Easter sale - up to 65% off any order - is going to end soon in HOURS! If you are looking for a powerful design product design tool to empower your product design and collabroation, go get Mcokplus before this Easter offer ends.
Time-limited! Ends soon. Hurry, go get it now and save huge now!
What are the Easter sales?
Mockplus Cloud
To optimize your workflow and team collaboration, we have a special Easter edition that bundles 5 users at a much lower price:
Cloud Pro annual billing - 45% off
Cloud Ultimate annual billing - 49% off
If you have more than 5 users, you can still subscribe to enjoy the same discount for any extra users, as low as $3.3 per user per month (up to 45% off).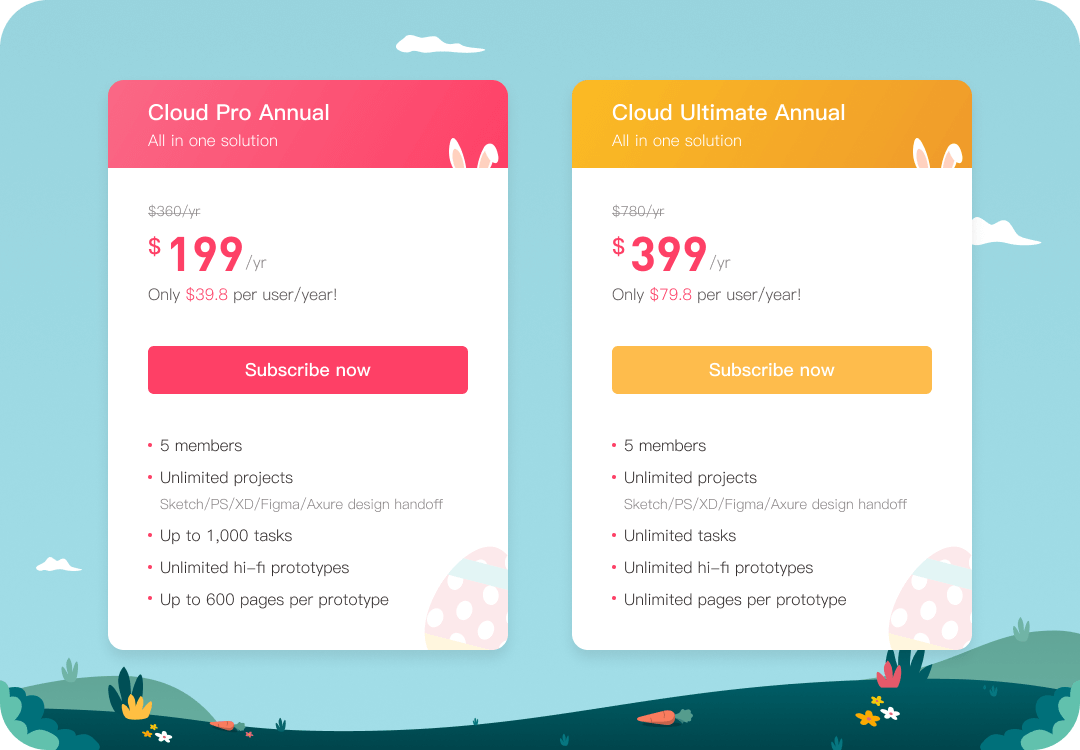 Mockplus Classic
If you are using Mockplus Classic, we are offering you huge discounts on all Individual, Team, and Enterprise plans:
Annual billing - 30% off
Perpetual licenses - 40% off
Group buying - Double discount
Buy our desktop prototyping tool at a much more affordable price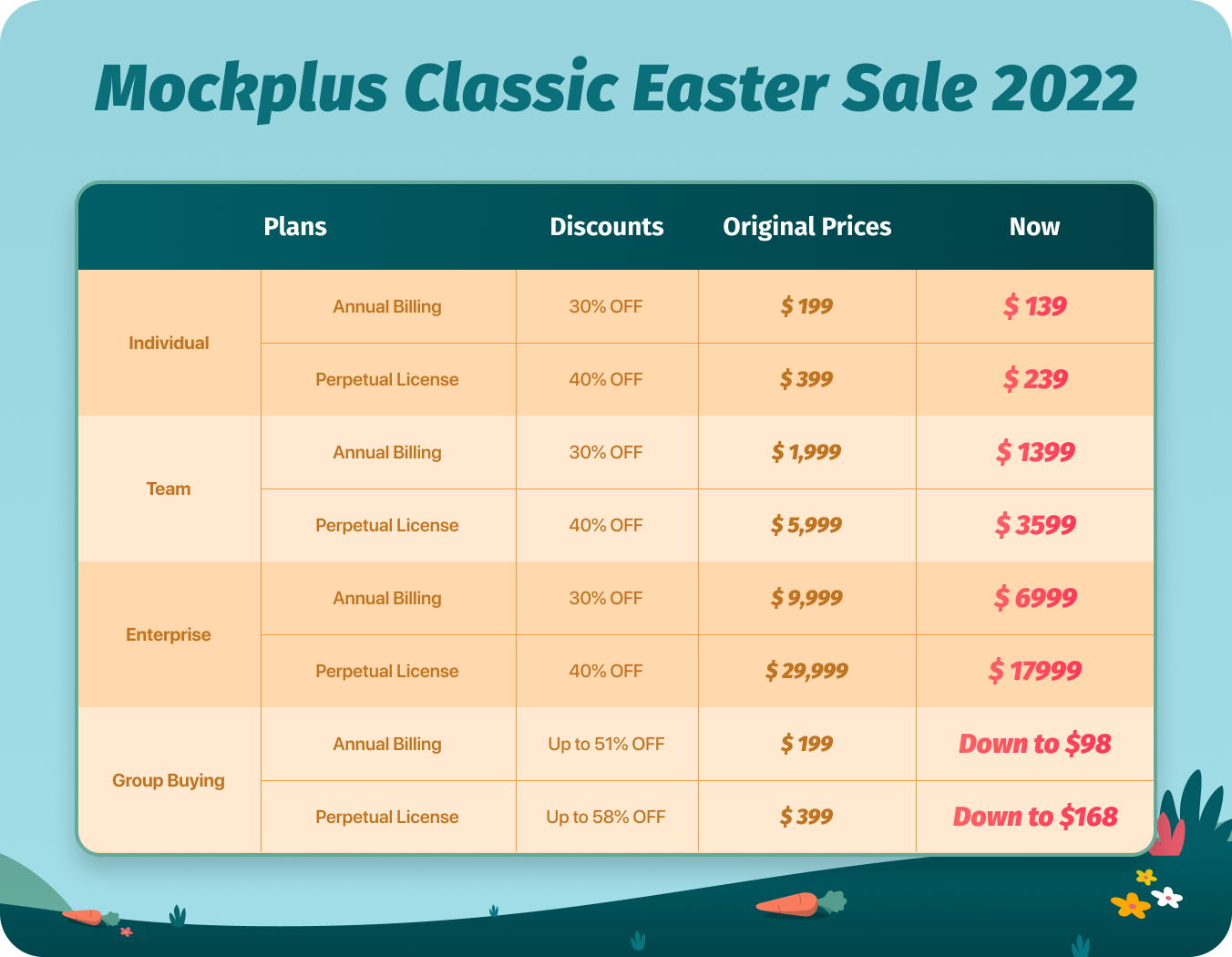 Crack our Easter eggs to win up to 65% off
Want to save even more? Just play our Easter Game to get an Extra 30% OFF sitewide, saving up to 65% OFF on any Mockplus Classic and Mockplus Cloud plans.

Why should you choose Mockplus Cloud?
Mockplus is a web-based platform for product teams to prototype, collaborate and handoff designs in one place. It has everything your product teams need from ideation to execution. Mockplus's seamless workflow integrates the whole process of product demand, prototype, and development, helping to transform the way your team collaborates.
Key features:
With our online rapid prototyping tool, you can:
create lifelike prototypes with a huge set of components, icons and templates
make your prototypes like the real thing with many kinds of interactive animations
draw custom graphics with our vector tools
create responsive layouts
co-edit with your team in real-time
With our powerful collaboration, you can:
upload prototypes from Axure, Justinmind and Mockplus to further collaborate with your team
share designs from Sketch, Adobe XD, Photoshop and Figma across teams
comment, review, test and iterate designs with simple clicks
write PRD online and refer to related designs and documents
manage team and keep track of team activities with roles
With our developer-friendly handoff, you can
import designs with assets from Sketch, Adobe XD, Photoshop and Figma
automatically generate design specs, assets and code snippets
mark custom design specs directly on design screens
inspect, copy and download design specs, assets, code snippets with one click
With our great design system manager, you can:
create and manage your brand's visual language with your team
add and access design assets with design tools like Sketch
maintain the consistency of your brand language
Mockplus offers you everything your team needs, from prototyping to developer handoff, which greatly streamlines your entire product design workflow.
What are you waiting for? Our exclusive offer for Easter ends in hours.
Hurry to grab the deal and save huge now!