It's no need to repeat how much important of the great app design inspiration for designers. To save your work and time, our Mockplus team just did the work of compiling the best app design inspiration examples for you on a regular period.
So let's see what's new about the best app design examples we bring to you!
Designer: Alexander Plyuto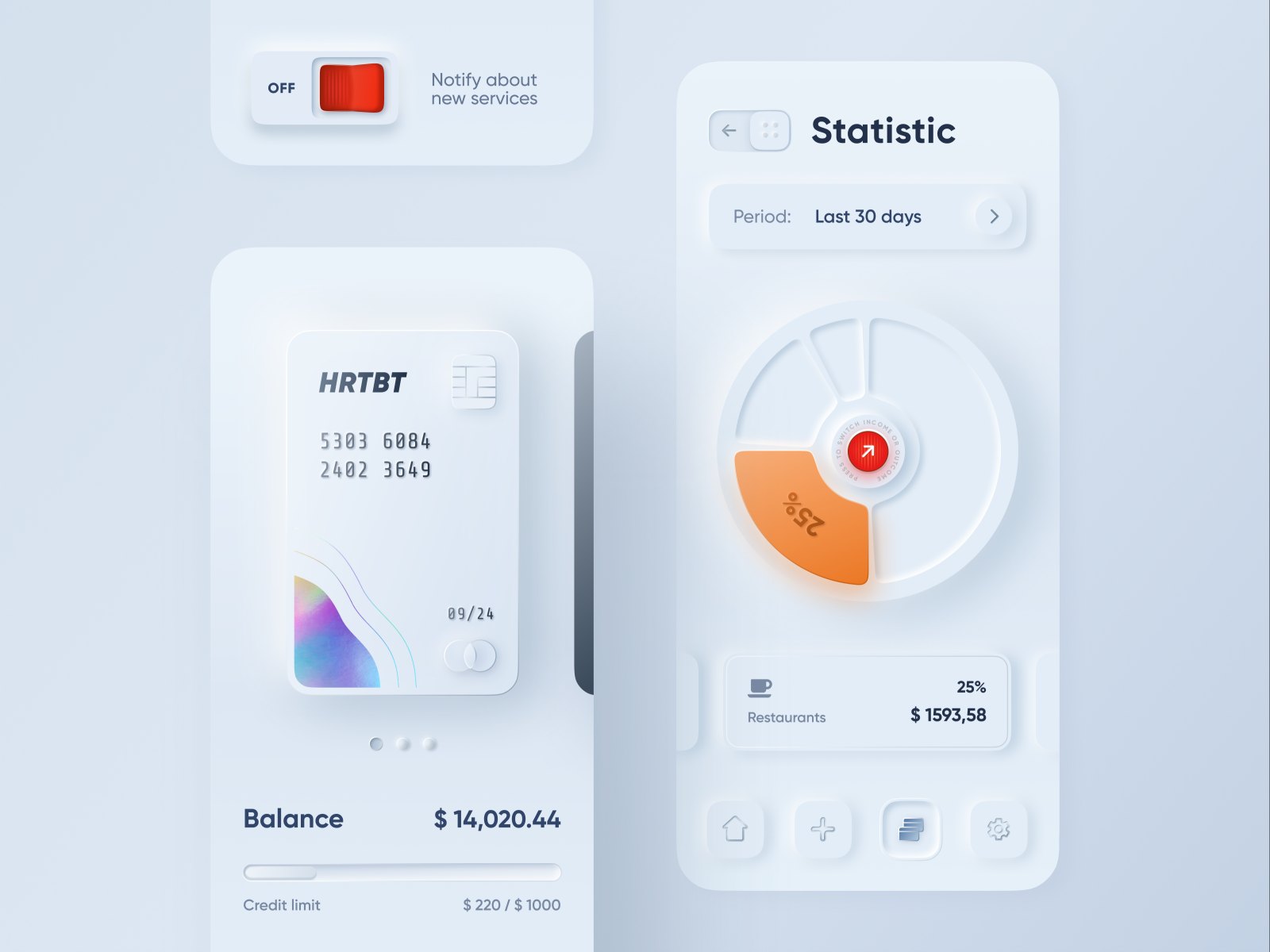 We are all familiar with the flat design which is trendy at present. But we may forget how popular of skeuomorph once. This banking app acts in a diametrically opposite way and is designed in a skeuomorphic style.
If you want to know how skeuomorph lives in the mobile interface, this app sets a great example. It also teaches you how to combine it with the trendy minimalist style.
Designer: Dimest
Movie 2.0 is a great app design with a colorful background and smooth interaction in a creative manner. The highlights of this design are the card arrangement of poster and movie details, the interaction of the poster carousel, and the movie screen.
All the visual elements are well organized and presented in high fidelity under a real user scenario. That not only prominent the creative design itself, but also gives a great user experience for users.
Designer: Outcrowd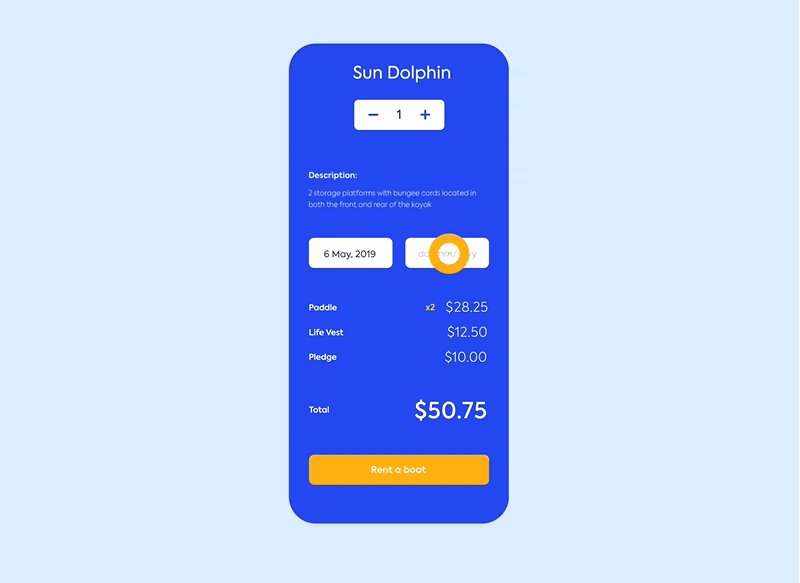 Rent a boat is a mobile app design concept that allows users renting boats and going kayaking with friends. The mobile interface is designed in a minimalist style and has very cute illustrations. Bright and vivacious color matching of this app freshes users' mind and relaxes them with a light mood to enjoy the holiday.
Breaking the grid design of the boat cards makes the interface more impressive and dynamic. Also, users are likely to use an app with easy operation. Smooth gesture interactions simplified the selecting process of this app.
Designer: Anton Tkachev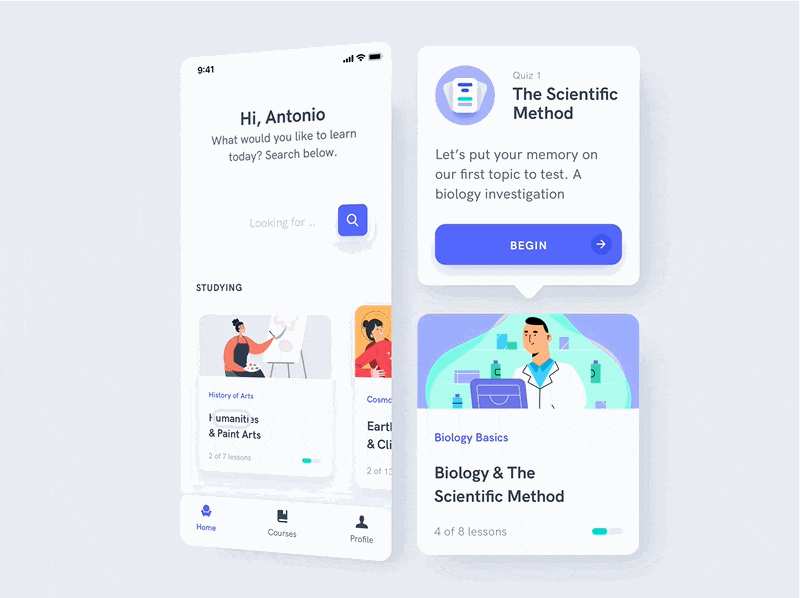 Here Estudio provides you an easier searching experience on professional online educational courses. In this UI Kit, it totally contains 58 UI screens with different themes. All of them provided with dark & light modes. Most importantly, the whole design is compatible with both the Sketch app and Adobe Photoshop.
Designer: Cal Esatama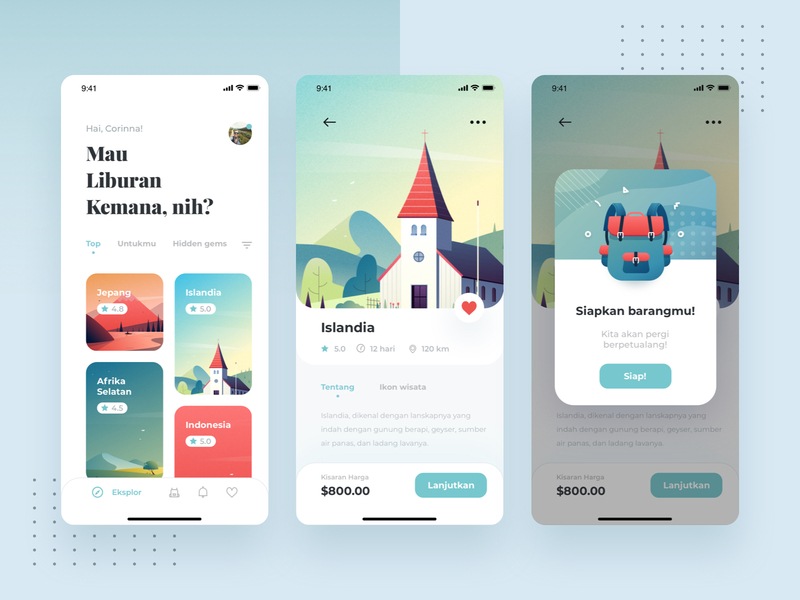 This is a great traveling app with a nice design. When users want to find a place on the earth for travel and adventure, this app will give them the best choices.
All elements are presented in a cool and relaxing flat design. Warm and relaxing colors are used for the Finnish cartoon illustration.
Designer: Den Klenkov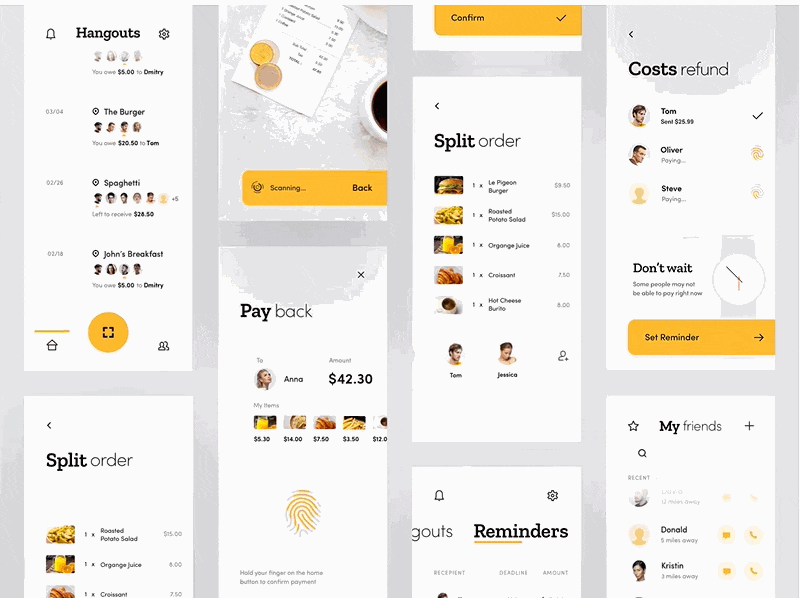 How do you manage your restaurant bills? Don't you feel annoyed to calculate your part of the check-in in the restaurant?
Den Klenkov makes this problem easier. He designed HanGoo, an iOS app that simplified the process of bill splitting in a restaurant. With it, you can scan a bill, add friends, split it and get your money back in seconds. The frictionless process not only solves the problem but also provides a great UI/UX.
Color values, fonts, and user flow are provided for reference on Behance. Just go for checking if you are interested!
Designer: Saepul Rohman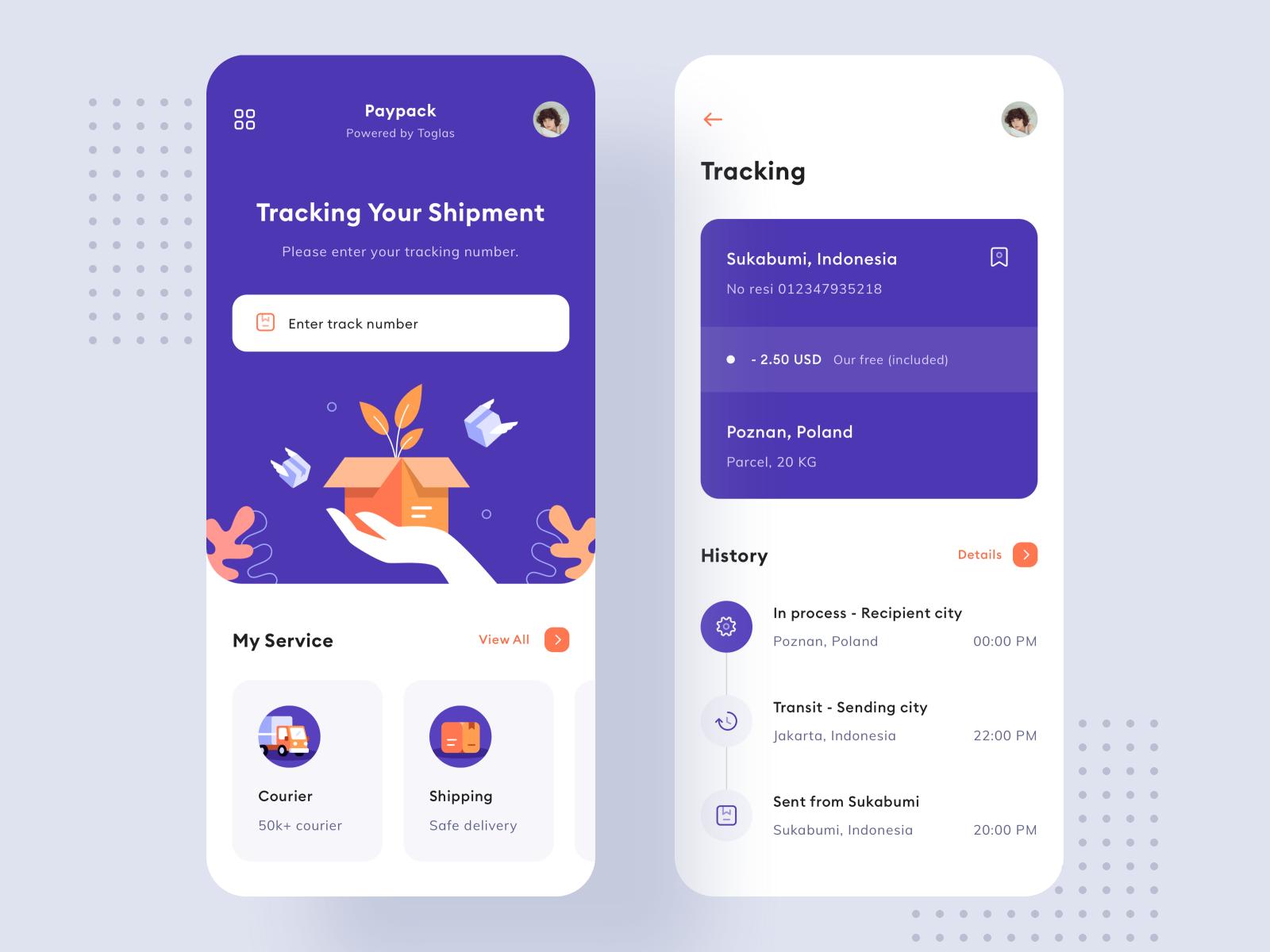 Paypack is an app designed for people to send goods safely. With it, you can track the delivery process of the goods that have been sent. Also, it has many features such as Courier, Delivery, Scan Code, Tracking Number, and others. By the way, I love the color matching and lovely illustrations.
Designer: Outcrowd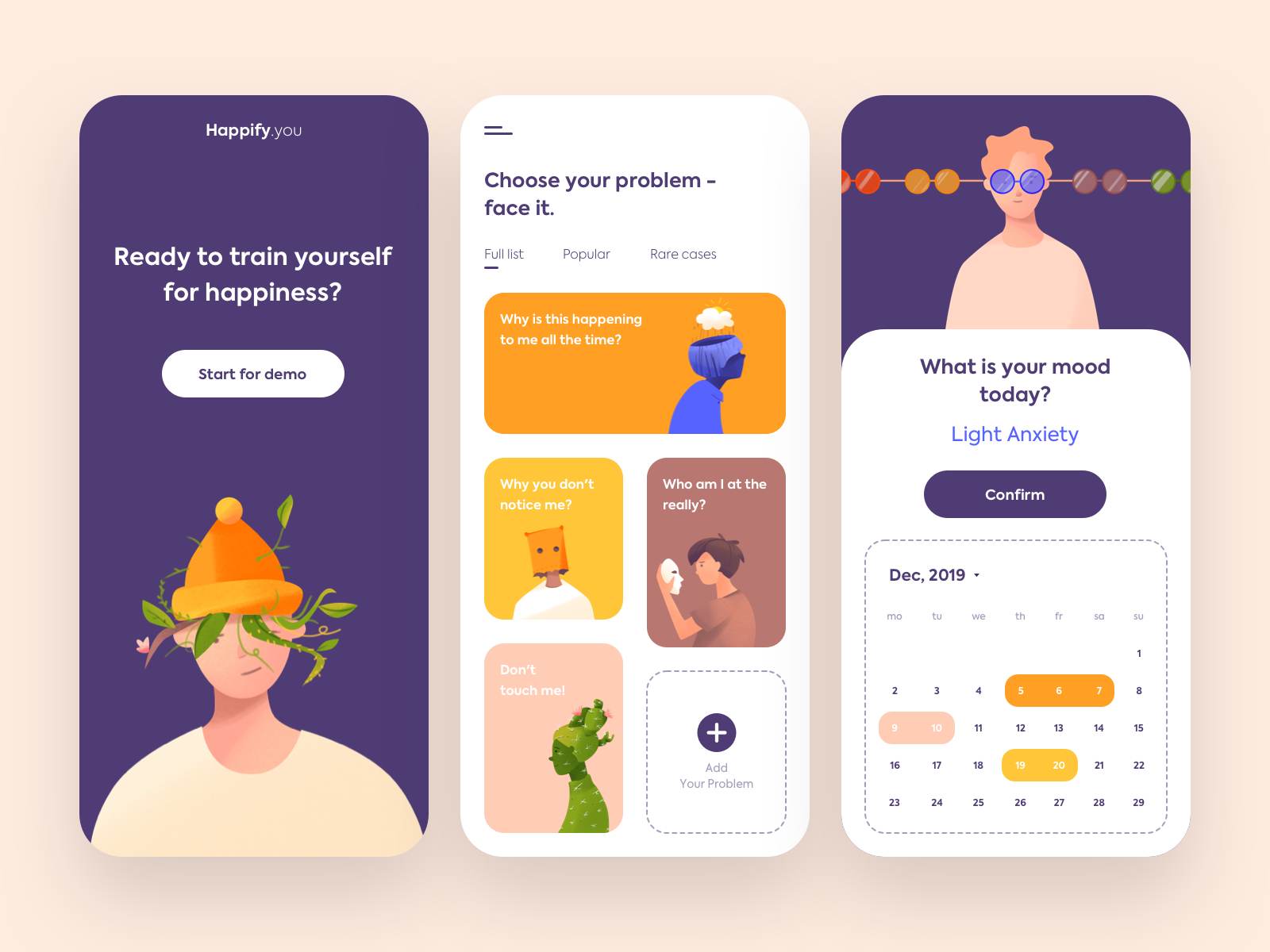 Mental health awareness is a popular and significant topic for modern people. Happify is an app aiming to improve the mental state for adults. It provides a lot of useful and positive psychology, cognitive behavioral therapy and mindfulness methods to guide users.
It's a great example of a card UI design for mobile apps with warm and peaceful color matching.
Designer: Outcrowd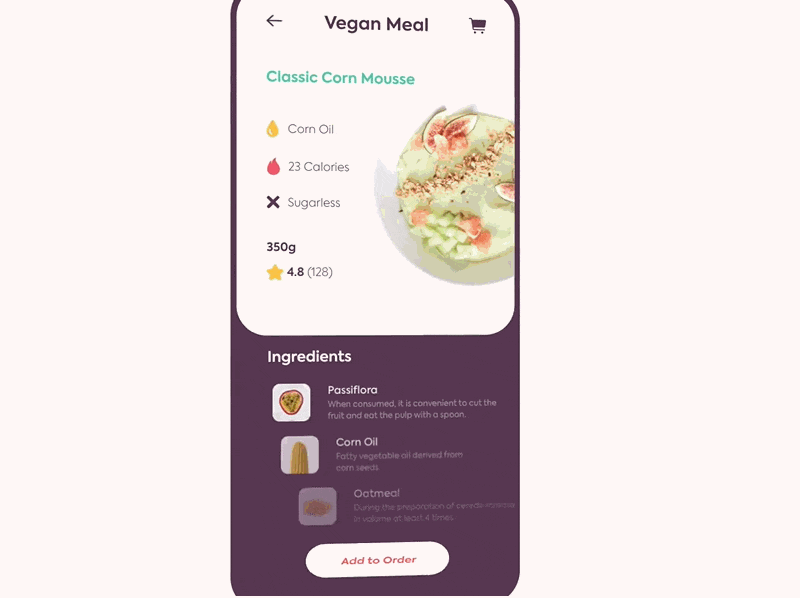 This mobile app is totally presented by animations. Each operation on the interface is operated by gesture interaction. In this shop, vegetarians can order a dish made out of veggies and fruits by clicking and swiping. With a few clicks, you can select a category and place an order.
Designer: JIANGGM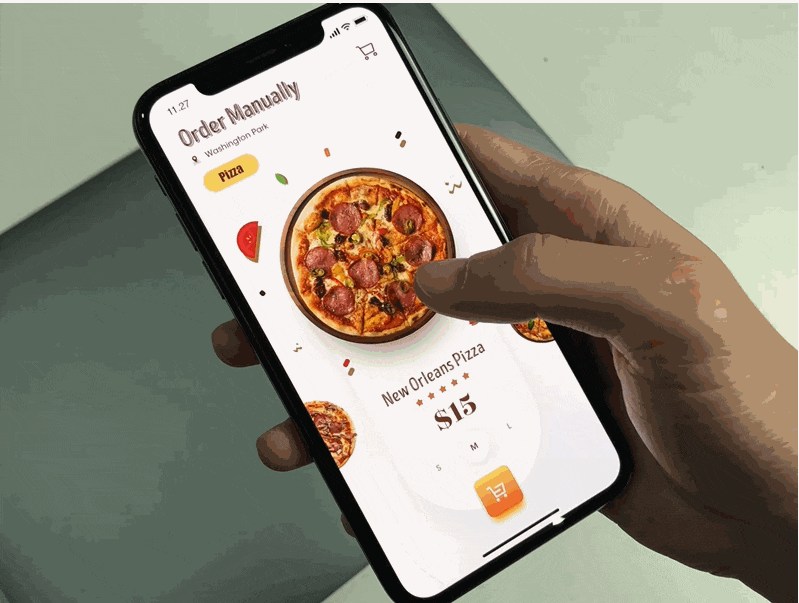 Another super UI animation app design! C4d elements added in this interface for a more quasi-physical style, which makes the pizza more attractive and delicious.
In addition to the smooth animation presentation, the designer also provided the key elements of this design such as fonts, colors, and tools.
Designer: Cuberto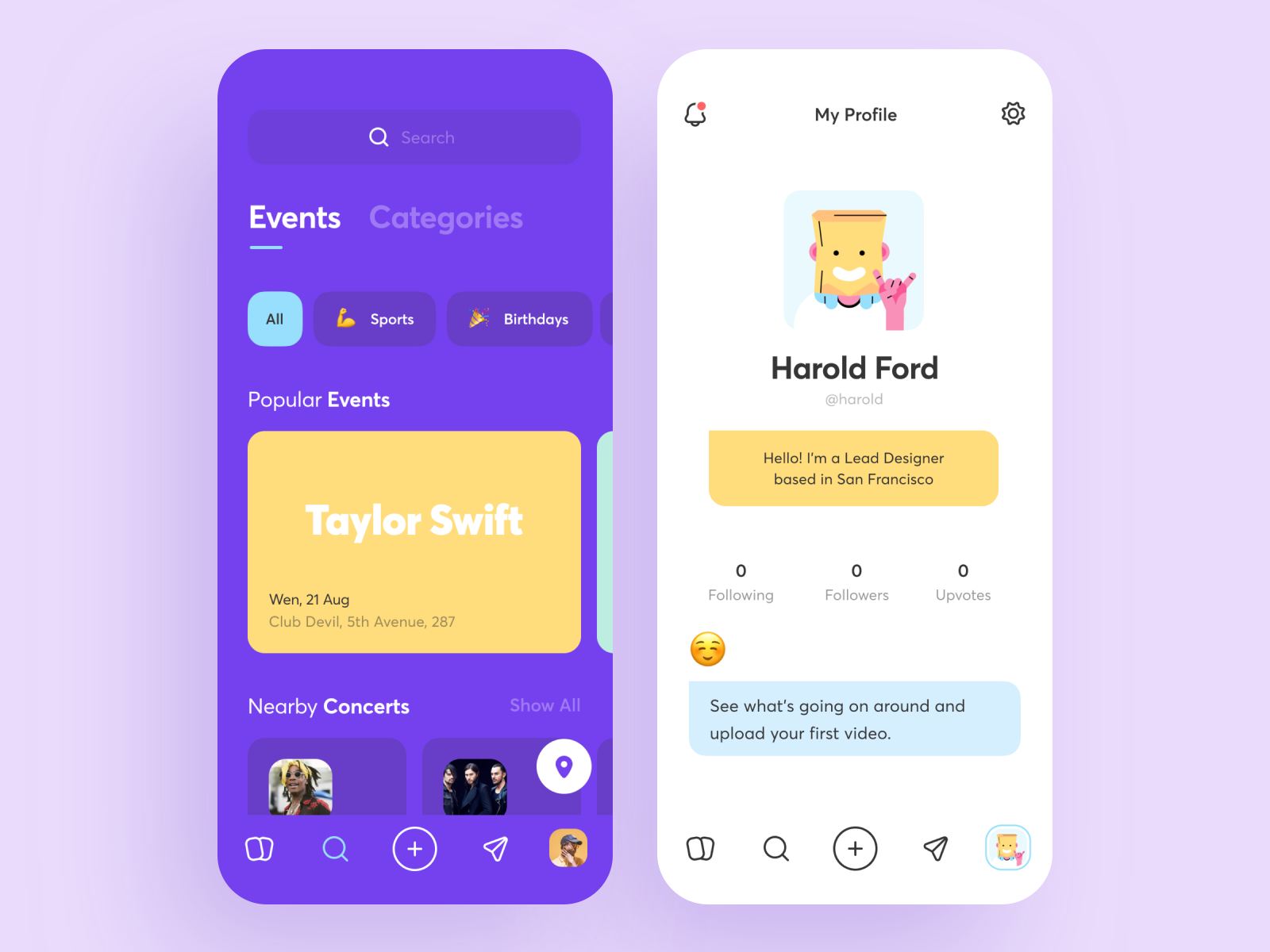 Sufboard is an app designed for young people to find events host nearby, such as sports, birthdays, concerts, etc. Rounded elements used a lot in the UI design.
Designer: Yi Li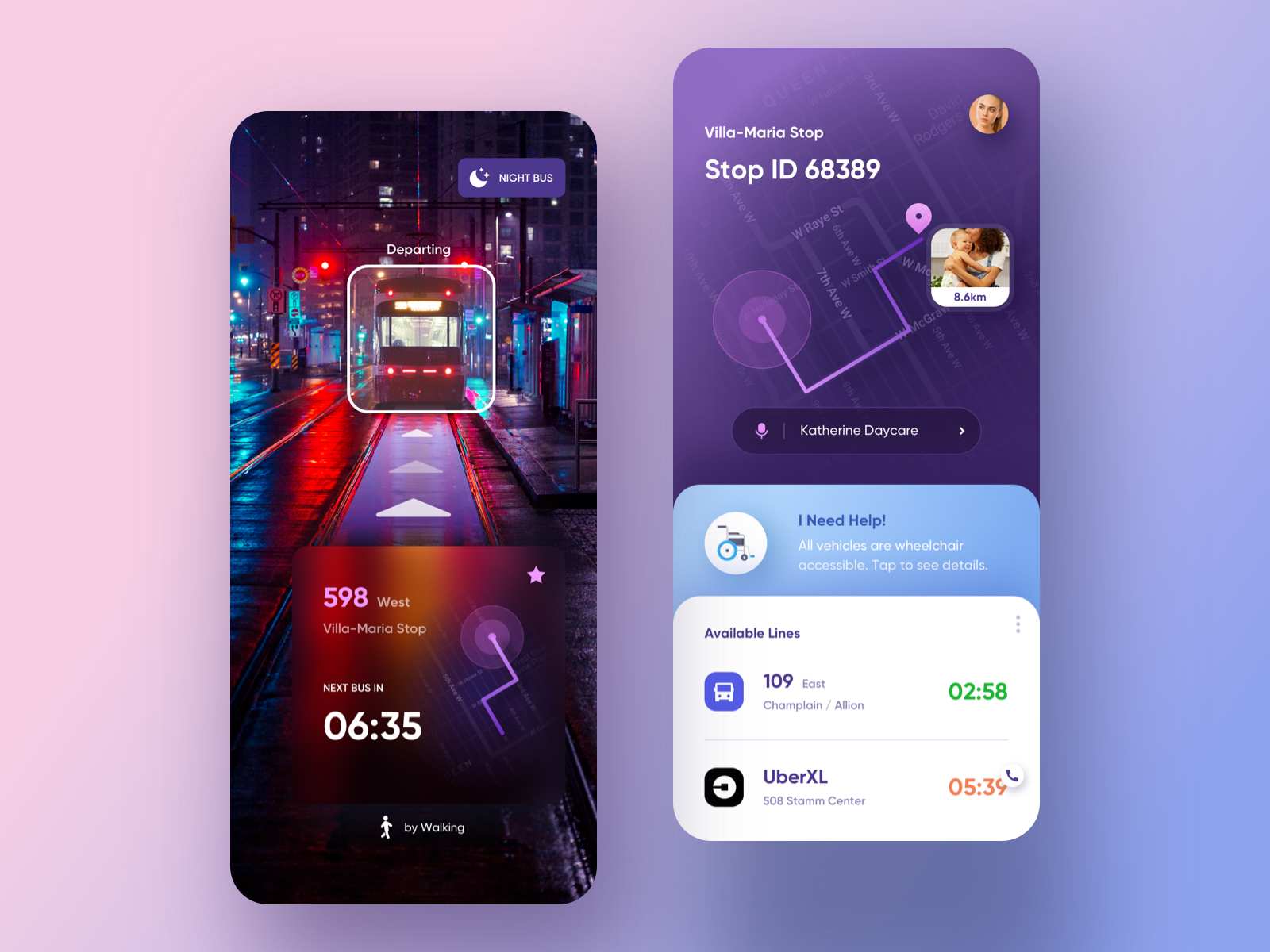 A public transit app designed by Chinese designer Yi Li. The flashing gradient colors help to create a modern and technological style.
With reasonable data of bus arriving time, it could guide users to the bus stop/metro station by checking available lines and making a proper time schedule.
Designer: Julia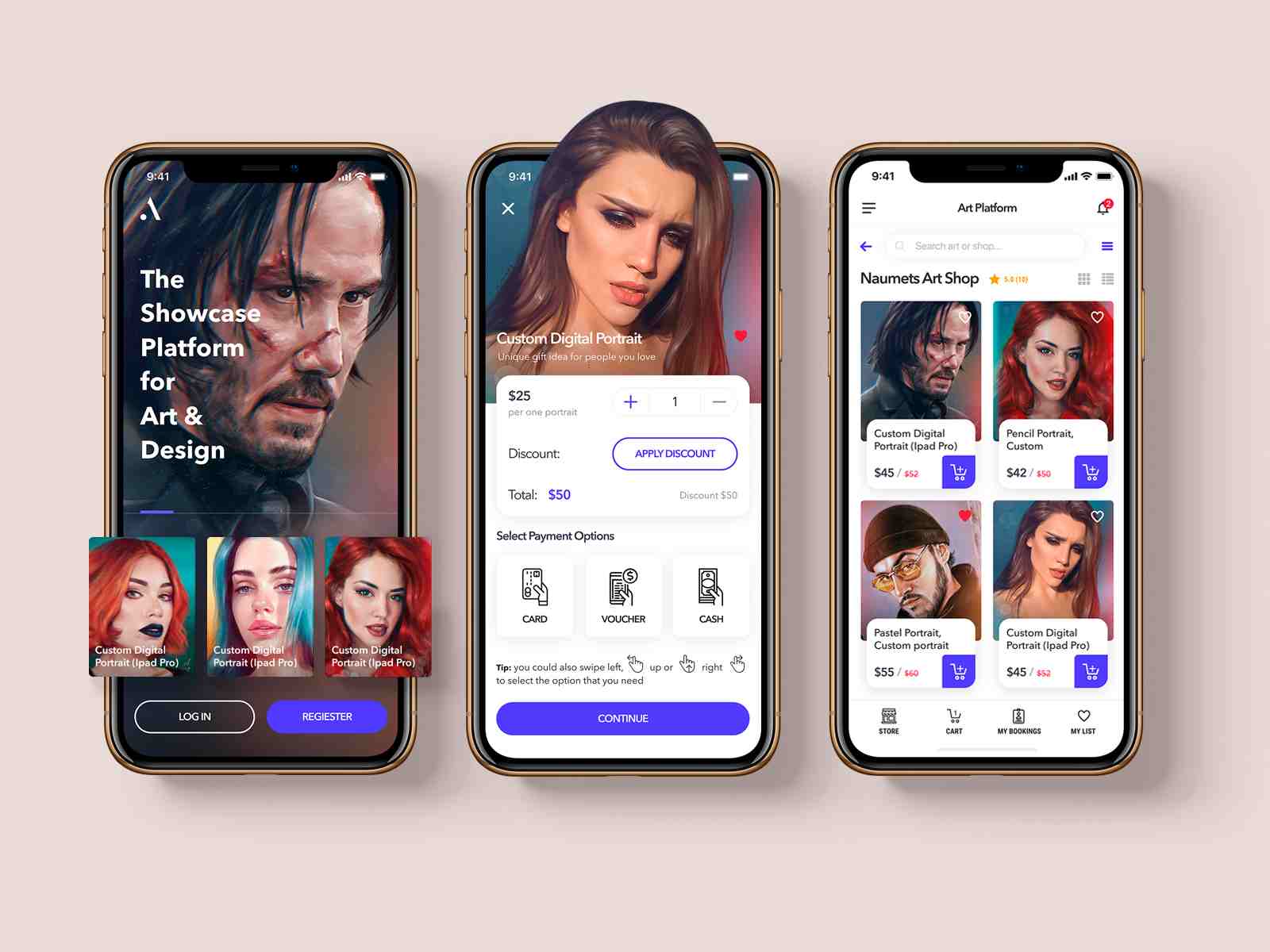 Art platform is a concept app design created for art and design showcase. The main service on this app is providing customizable digital portrait for customers. That's a quite unique gift idea for the one you love.
Different from other UI design of apps, the main visual element here is presented in oil painting style. The contrastive gradient background and the eye-catching purple let the user focus more on the CTA buttons to move forward.
Designer: Taras Migulko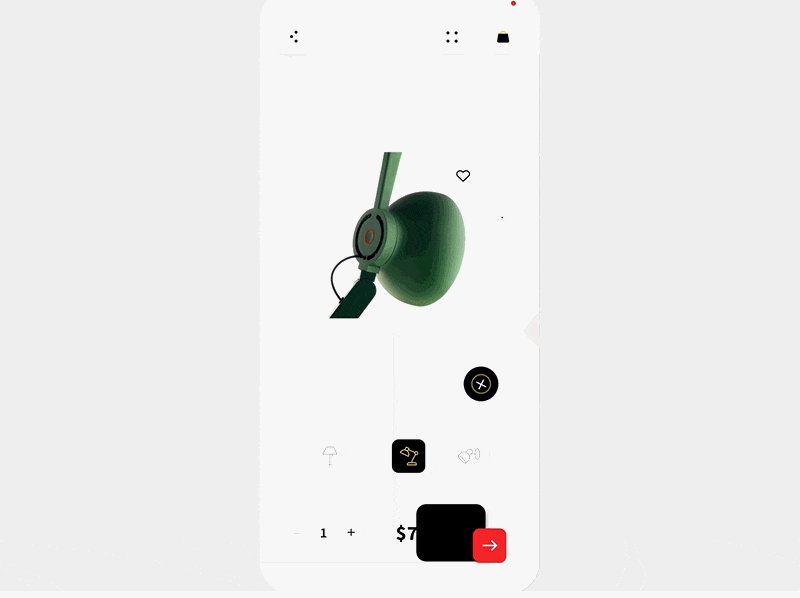 This is an animated modern mobile app template with lots of elements for easy online store creation. For example, images, colors, fonts, and details.
Designer: Outcrowd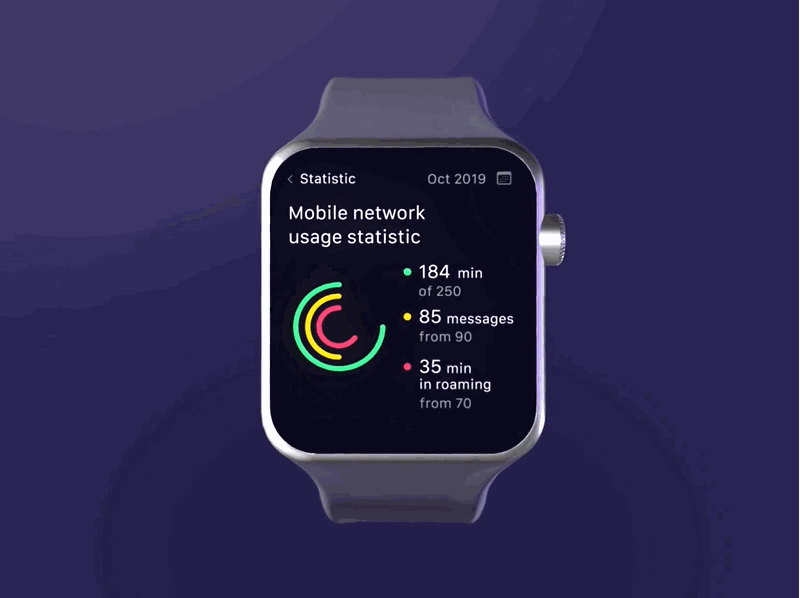 Circle is an app designed for Apple Watch. It helps to track and control the condition of your mobile network and internet connection of your smartwatch by data statistics.
Bright contrasting colors are used in the UI design that providing a better visual experience to see the visual data in any interactions with the Apple Watch. With this design, the bad light and indirect viewing angle can be all compensated by vivid contrast colors. Smooth and natural animation simplified the interactions to close users and the app.
Designer: Anton Tkachev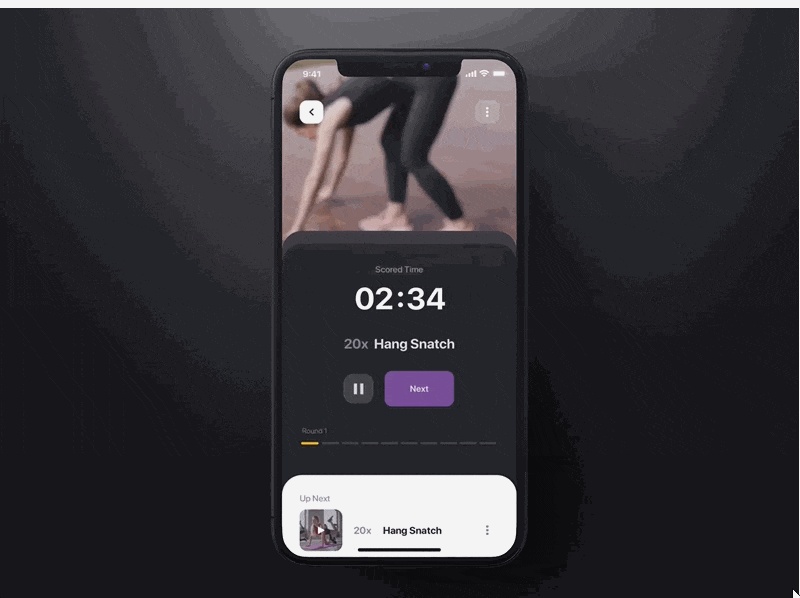 Savage is an iOS app UI Kit related to fitness consisted of 25 pixel-perfect screens. The whole template is easy to customize in Sketch and Figma.
Features such as global color, fonts, dynamic components, and responsive elements are all included.
Designer: Anton Tkachev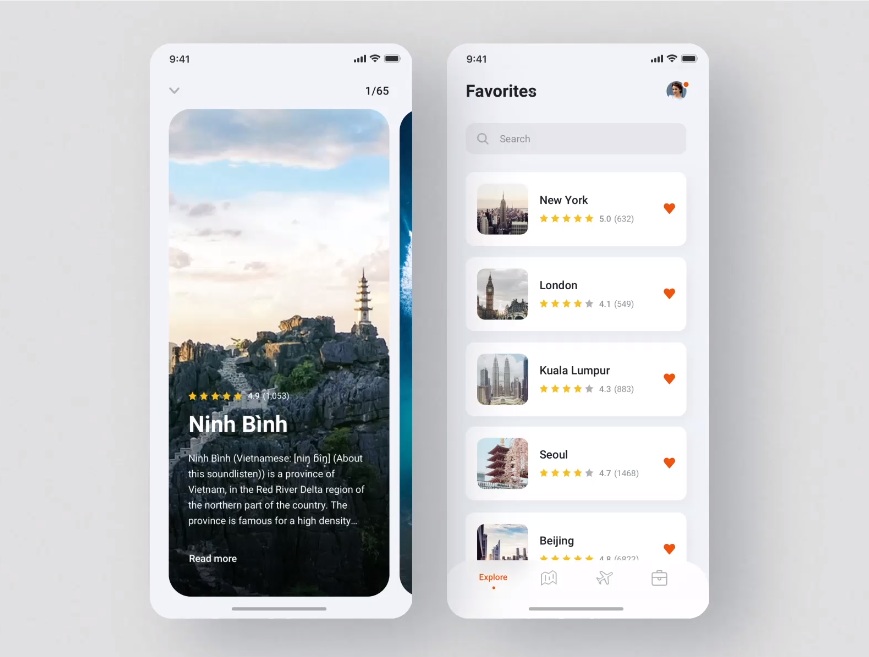 iOS 13 is here! Have you updated your app design for that? Nomad is an easy-to-use UI kit for traveling app. It's fully customizable with 40+ premium quality iOS screens and 300+ UI elements. All the elements included here are 100% vector.
Designer: Keomeo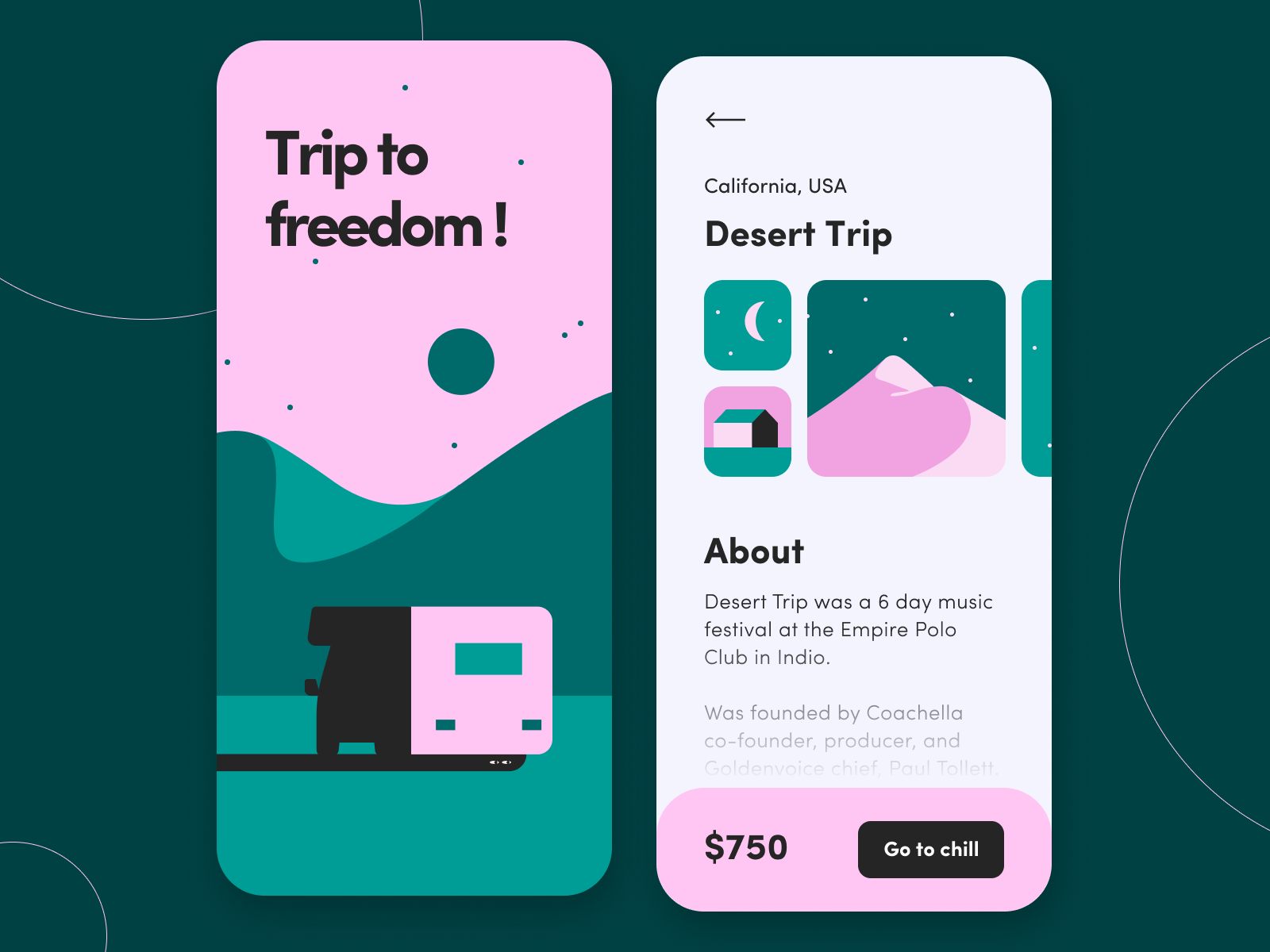 Desert Trip is a traveling app specially designed for trips in the desert. It designed to offer introductions and suggestions for users to have a trip in the desert.
It designed with flat design and fresh colors. Light & dark modes are provided with different color matching for the same UI.
Designer: Frannnk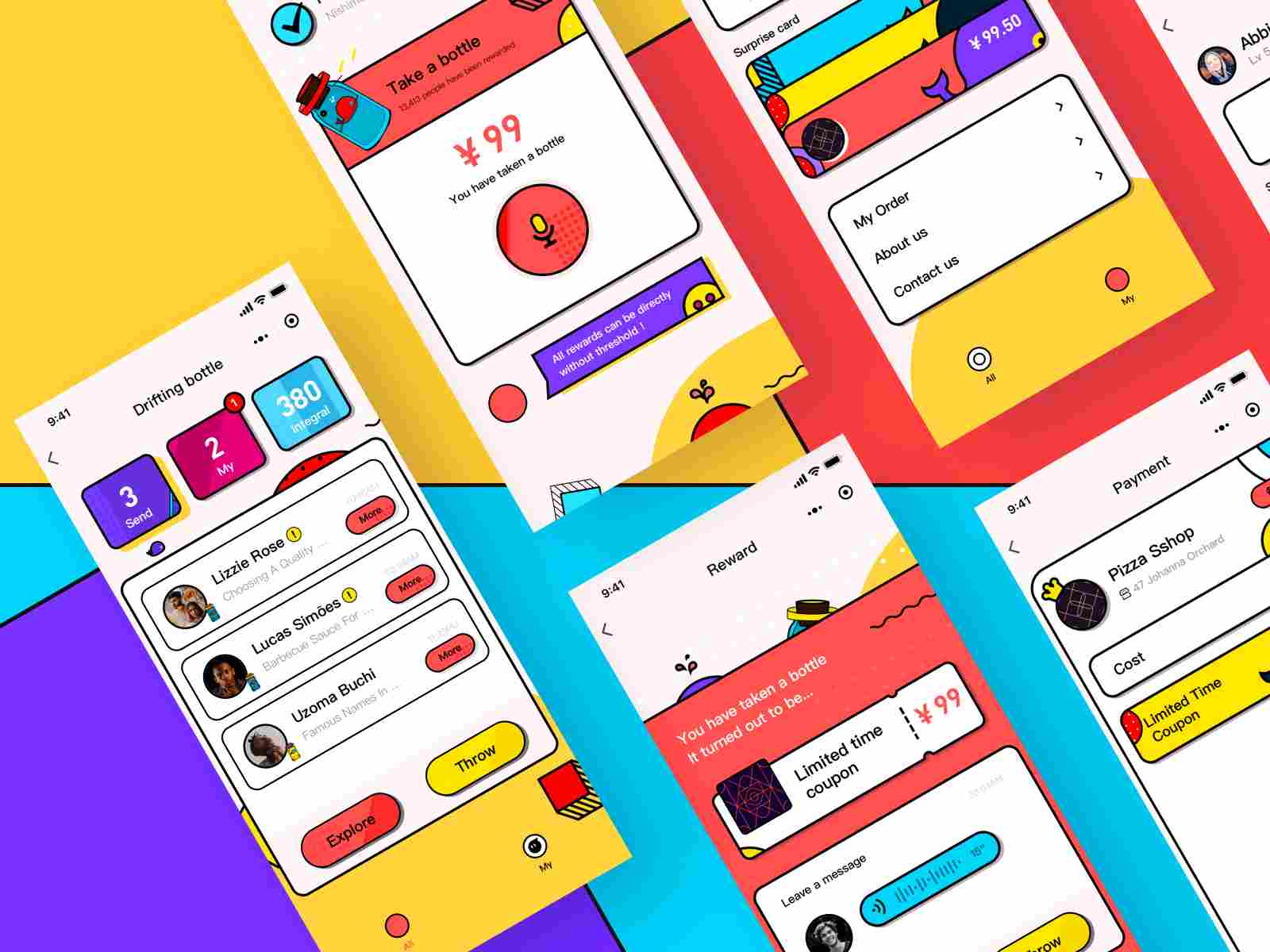 Drifting bottle is an app providing users with dining discounts. With it, users can find the best-priced stores through it.
The interface is designed in cute cartoon drifting bottle elements with mind-blowing color matching.
Designer: Alexander Plyuto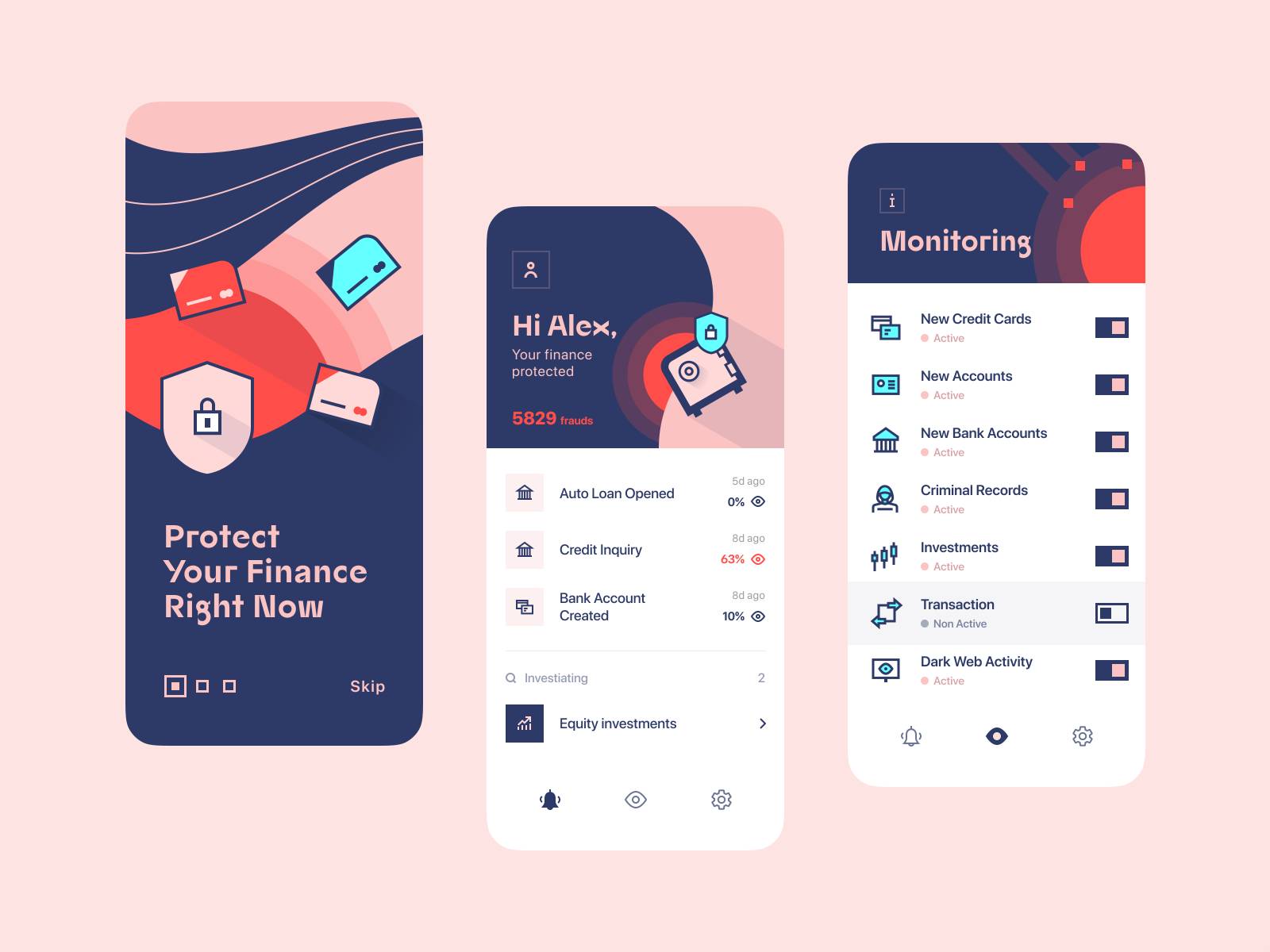 Literally, Finance Anti-fraud is an app designed to fight financial crime. We don't know how many financial crimes and how many financial frauds are committed every day. With it, you can protect your finance by identify potentially unsafe and suspicious manipulations.
The interface is designed with solemn colors of red and black to make you believe its impartiality.
Conclusion:
That's all for app design inspiration listed by Mockplus contributing to your mobile app design in the future. I hope you'll find it's helpful!