As a UX/UI designer, a competitive and responsive online portfolio website can be particularly important for you to fully show off your design talents and attract the attention of more employers, recruiters and clients.
However, there are tons of online portfolio websites that claim to help create unique and professional online portfolios in the market, and you just don't know which one of them would be the best choice?
Here are 24 best free online portfolio sites for you to create perfect UI/UX design portfolios:
As one of the most widely-used free online portfolio websites in the designer communities, Behance not only attracts millions of UX/UI designers, artists and photographers around the world to continuously upload their excellent design works for building cool personal design portfolios each year, but also appeals to many interviewers, recruiters and hiring managers for browsing these designer portfolios and looking for new talents.
So, in this aspect, Behance is definitely one of the must-have online portfolio websites for you to display your designs and land a good UX/UI design job over the internet.
What you can get:
Free sign up and create your own profile with personal information, including contact and social media information, etc.
Free upload and edit your UX/UI design cases/photos easily with its advanced file editing tools.
Free add multiple owners to a collaborative design project.
Quickly interact with site visitors and get feedback by reading their site comments.
Quickly search and discover latest UX/UI designs for your inspiration.
As an all-in-one portfolio site, it also allows you to search and browse good UX/UI design jobs posted by trustworthy companies or employers from different countries and regions.
In short, as a free online portfolio website that can help designers display various design works in details, Behance is often used by designers to showcase the latest design works/concepts and search for feedback and suggestions from other designers/clients as well as sharing free design kits.
Of course, it will also be a good place for you to create a unique portfolio site.
As an online site that is quite similar to Behance, Dribbble is also another popular free online portfolio website among UX/UI designers. You can easily create a free account and share small screenshots of your designing processes, professional logo designs, design drafts, interactive prototypes, app design concepts, and more designs.
Moreover, as an online site specially made for designers to present different design projects in the very beginning, Dribbble is also a good platform for designers to display new design works, improve design skills, share and communicate design ideas.
What you can get:
Free register and create your own profile.
Free showcase photos of different design works, processes and current projects.
Free search and follow outstanding designers for communicating design ideas.
The Dribbble Meetups block allows users to join various designer communities and activities.
Check and browse the latest UX/UI designer positions there.
The Blog section offers a nice place for designers to share the latest designs, ideas, and experiences.
And unlike Behance that can present design cases with super details, Dribbble only allows users to display screenshots of different design works. So, in order to attract more employers and recruiters, designers often use Behance and Dribbble together.
For example, firstly upload a group of high-quality and eye-catching design screenshots for arousing the interests of site visitors, and then leave a Behance link with design work details for encouraging them to keep on reading. This will be far more effective than using Dribbble alone.
In short, as an online portfolio site that features for showing beautiful design photos, it is also a good choice for you to create perfect portfolios online.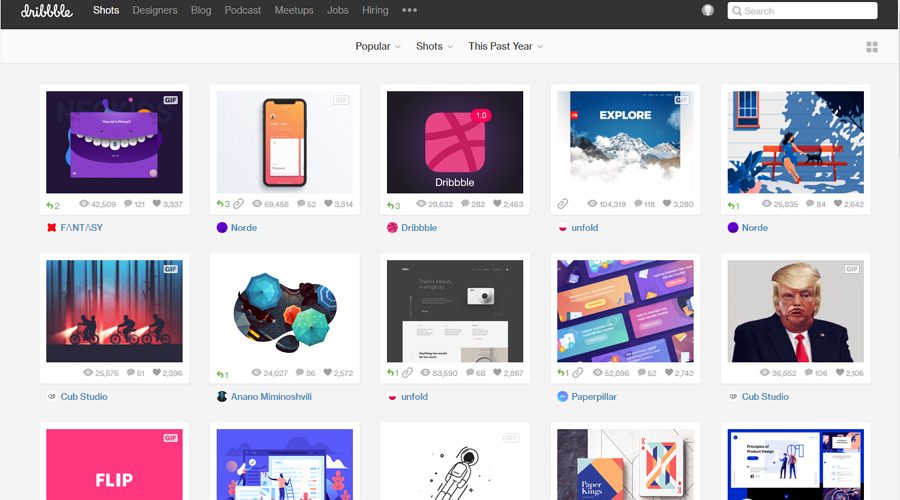 Pixpa is the go-to choice for designers among other creative artists. This website builder is incredibly easy to use, as it offers a visual solution to display your portfolio. This portfolio can be your UX/UI work or any other creative work you find worth showing. All you need to do is drag and drop content, arrange and customize things as per your needs, and you are done.
If you are mainly looking to show your work through images, then Pixpa's incredible galleries provide you with the option of displaying images in a number of ways. This can range from small grid-like displays to large and full-width displays; the choice is up to you. There are specially designed layouts that are good for both vertical and horizontal images.
The text also plays an important role, and Pixpa has taken care of that. Text can be used along with images, whether in galleries or in blogs. You can even have multiple blogs on your website.
When you create a page through Pixpa, you make use of content blocks which has hundreds of features built-in; these features can be placed wherever you require.
What you get:
Free 15-day trial without the need for a credit card.
Mobile ready site
No coding required
Share, proof, and sell your work through Client Galleries
Sell products, services, and digital files through integrated e-commerce
Mobile gallery apps to share images quickly to your clients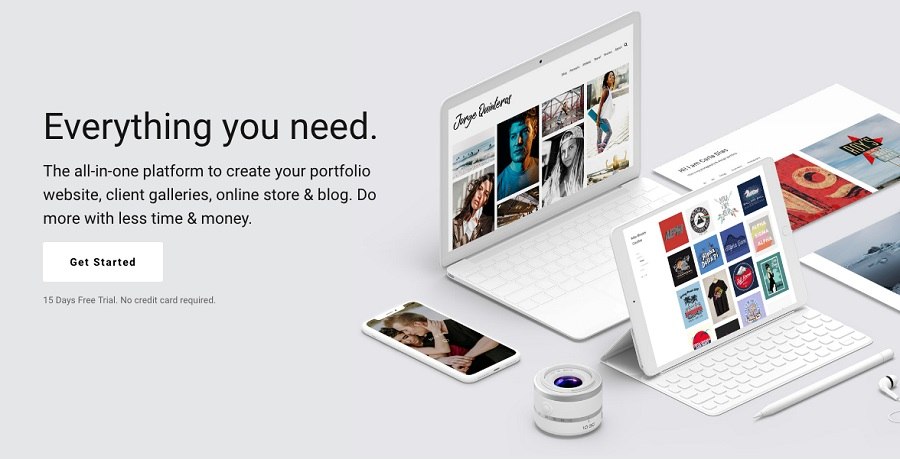 Vsble allows you to create a free portfolio website without any experience or money quickly and easily. It is a fully responsive portfolio website builder with a drag & drop interface and a constantly growing template collection. Vsble was developed with one goal in mind: simple portfolio creation & management with beautiful design templates and powerful functions for anyone from photographers and stylists to makeup artists, models. Vsble is for anybody who wants to create a beautiful website quickly without fiddling with settings and go live.
Instead of offering only the usual gridded layouts, Vsble comes with totally different design template styles with horizontal, vertical, and even omnidirectional navigation and beautiful effects. The templates are all mobile-ready, can be switched between each other with one click without re-uploading or readjusting the images & contents. You can also customize fonts & colors. The best thing: All designs are included in both plans at no extra cost.
What you can get:
• Lifetime FREE portfolio website with SSL, Cookie bar, and cookie policy page for peace of mind of being GDPR compliant.
• All designs are included and free to use
• Adjustable fonts & colors with PRO plan
• GIF Support, unlimited Video embedding, and Video Landing pages
• Drag & drop interface
• VIP password lock for gallery pages
• PDF tool so that clients can create downloadable image selections
• Connect any third party domain and get FREE SSL from Vsble
Vsble offers a "forever free" package for artists working with limited funds or smaller portfolios, as well as a PRO plan. The forever free plan comes with a free .vsble.me URL, including SSL and a limit of 80 image uploads but unlimited video embeds and pages. The PRO plan unlocks unlimited uploads, colors & font customization, the possibility to connect any first-level domain (with free SSL from Vsble), and GDPR friendly visitor statistics.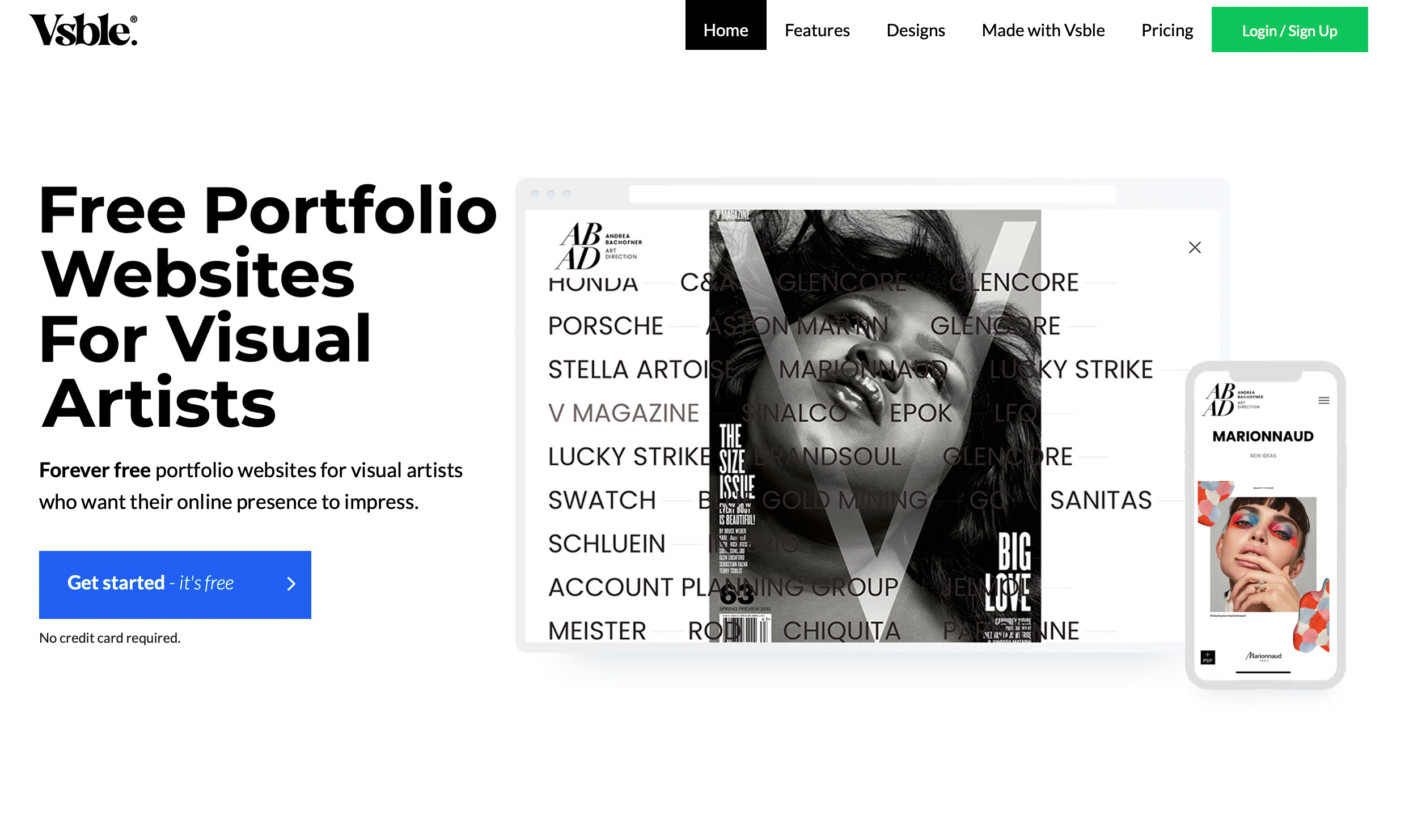 Coroflot is also a good worldwide online portfolio website for UX/UI designers though it is not as powerful and famous as Behance and Dribbble. With over 2 million images for over 150,000 creatives published from different designers, artists and photographers every month, Coroflot becomes one of the most professional online portfolio sites.
Its well-integrated job board (which is "the largest and most active platform specifically targeted for the hiring needs of companies") is also really worth trying if you are coincidentally applying for good UX/UI design positions on the web.
What you can get:
Free join and create your own profile with work samples, work and education history, and more personal information.
Always pay much attention to uploading three best work samples that can best represent your design skills and industry experiences.
The Design Job section enables designers to quickly search for desired UX/UI design positions with different key words.
Check average designer salaries in different locations.
Search and view talented designs easily.
In short, if you create an online portfolio site for applying for a UX/UI design job, this website could be nice for you.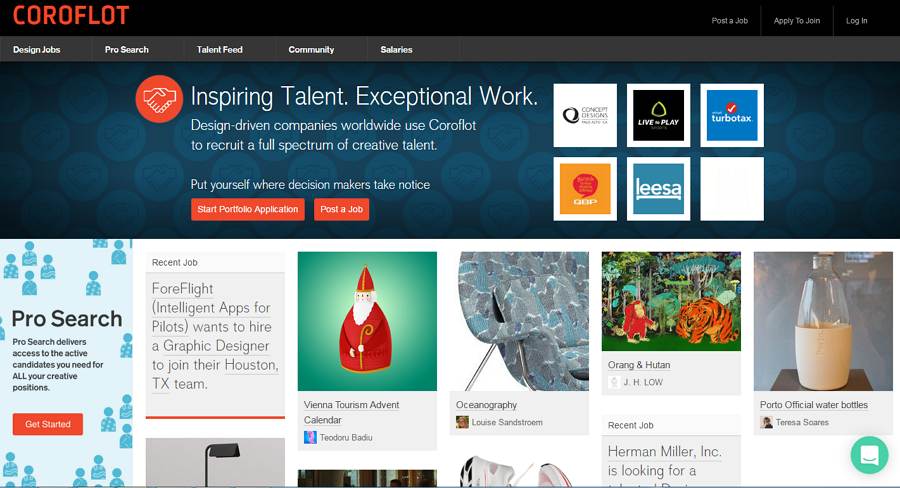 As one of the free tools included in paid Adobe Creative Cloud plans, Adobe Portfolio enables designers to quickly create beautiful and high-quality personal portfolio sites in minutes. It also offers users a free Creative Cloud subscription service. And since Adobe is one of the sponsors of Behance, Adobe Portfolio allows designers to syn design updates to Behance for free.
What you can get:
Pick/customize a layout to present your best UX/UI design works more beautifully and creatively.
Import design projects at Behance easily.
Synchronize the latest Adobe Portfolio design works to Behance easily and quickly.
Get free access to the full Typekit font library, if necessary.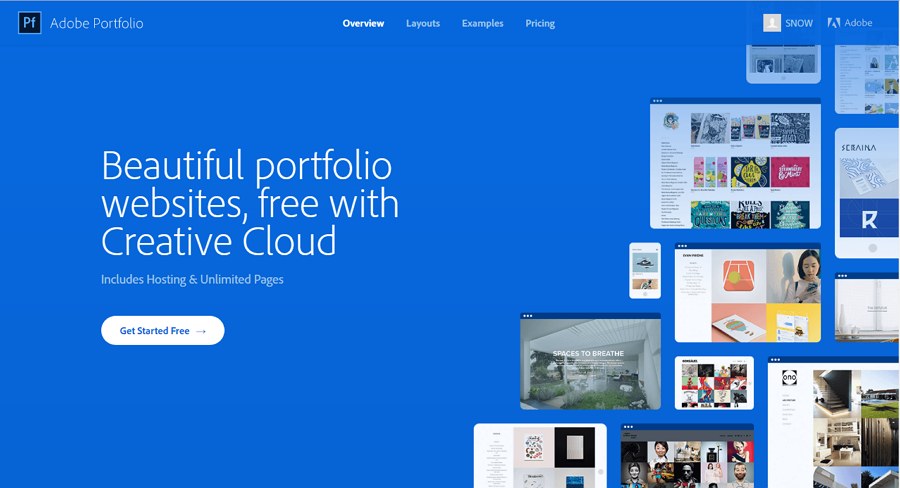 Elink is a web app that allows anyone to create a beautiful looking online portfolio page in minutes!
Elink.io works by letting users choose an online portfolio template and simply add links to any type of content- links to your Behance projects, designs on Dribble, freelancing projects, websites, cloud files, social media profiles (Facebook page, Twitter account, YouTube channel, Instagram etc), or any other content you would like to share with your audience.
Traditionally, your portfolio is often scattered over multiple destinations like Fiverr, DeviantArt, Behance, Dribble, Upwork, and similar platforms. With elink, you can bring all your work under one roof using any of elink's 30+ portfolio templates! Just copy and paste your links and elink will generate an awesome and professional-looking portfolio page for you in minutes!
You can then easily embed this page on your website, send it as a newsletter, or share it on social media as a single web page!
What you can get:
Free account available
Track engagement levels, referral sources and the location of your audience for each portfolio page you create.
30+ mobile-responsive and aesthetically pleasing templates
No coding required
Mobile responsive web pages
One-click embed on the website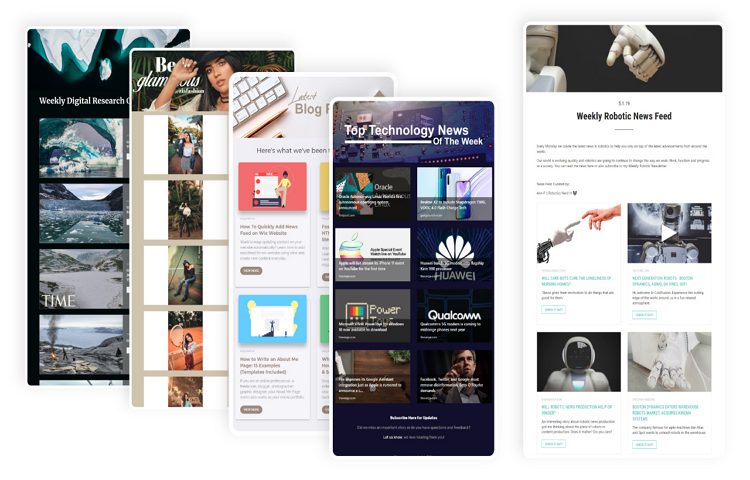 8. Carbonmade (Offer free account)
With over 15 million images and 1 million portfolios, Carbonmade is an easy-to-use and hassle-free online portfolio site. It offers beautiful visual-based themes and unique domain name services.
And, as a tool originally used to make life easier for designer fellows, Carbonmade is much better for UX/UI designers who want to meet more talented designers, share design works and communicate with them there.
Moreover, it also features for its simple and easy-to-use interface.
What you can get:
Get customer support and project archiving services.
Allow you to upload SD videos and audios.
Get a bunch of gorgeous portfolio themes.
So, if you want to be able to build an online portfolio with ease and fast speed, this simple and fast Carbonmade would be a good try.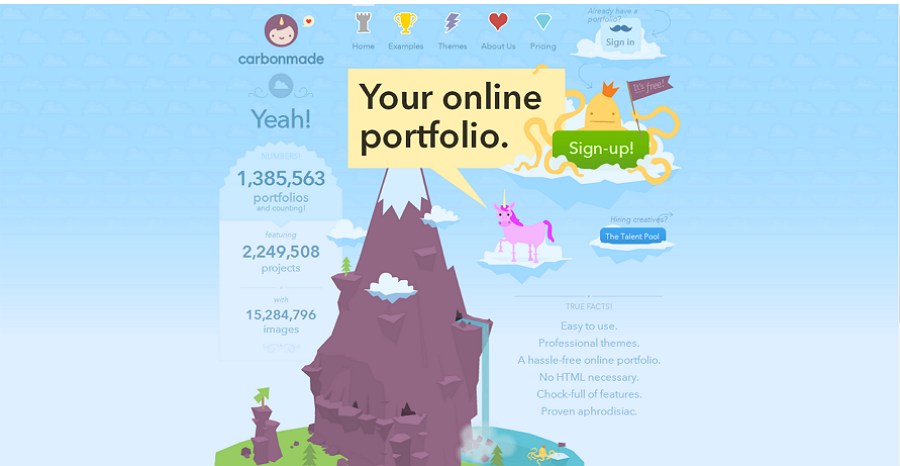 9. Cargo (Offer free account)
Cargo is also a simple and effective online portfolio site that allows designers to create freestanding personal websites with a series of pages and their own URLs. Unlike common free online portfolio websites that typically allow designers to easily register to create an account, Cargo needs designers to be invited to join. Moreover, it is popular with UX/UI designers for offering a variety of diversified well-designed portfolio templates.
What you can get:
Its free basic service offers 12 projects and 3 pages for free.
Provide 40 portfolio design templates for designers.
Allow users to build an online portfolio site with their own domain names.
Get a selection of typography from Webtype, Type Network and Google Fonts, etc.
In a word, Cargo is more suitable for designers who want to freely choose well-designed portfolio templates and create their own portfolios more quickly and effectively.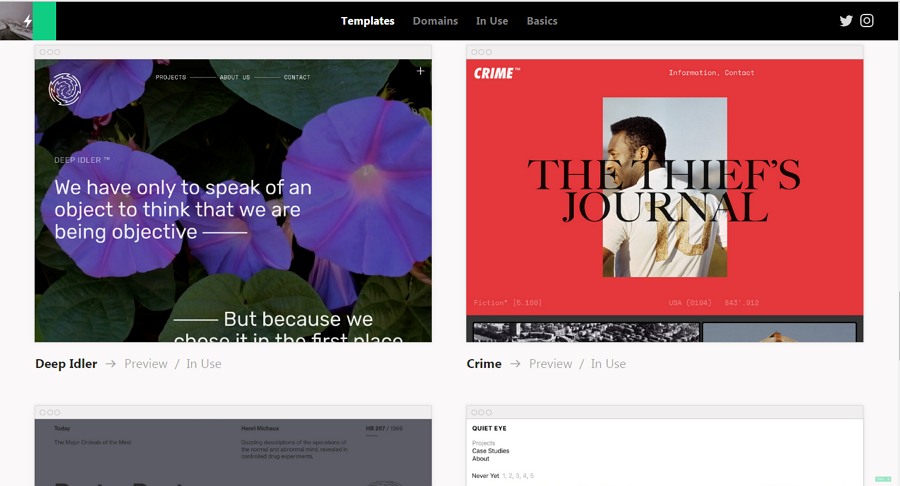 10. Crevado (Offer free account)
Crevado is also a free and easy online portfolio builder that enables designers to create online portfolio sites and showcase their UX/UI design works on the web. It allows users to customize their sites and upload design files with different formats, like photos, videos, GIF images, PDF and more formats.
Moreover, as a responsive portfolio site, it is also accessible from most electronic devices, including a desktop computer, laptop, tablet and mobile phone, etc. In addition, since it supports easy and fast online payment through PayPal and Fotomoto, it is also very easy for designers to sell their design works online.
What you can get:
Free register for a basic account with 30 images and 5 galleries.
Offer Google Analytics Reporting.
Offer a free trial plan (up to 14 days) for designers to see whether it is worth paying.
Support 9 basic themes.
Sell your design works through PayPal and Fotomoto, if you do have paid for a premium account.
So, if you are a UX/UI design freelancer and planning to sell your portfolio works online, you can just give it a try.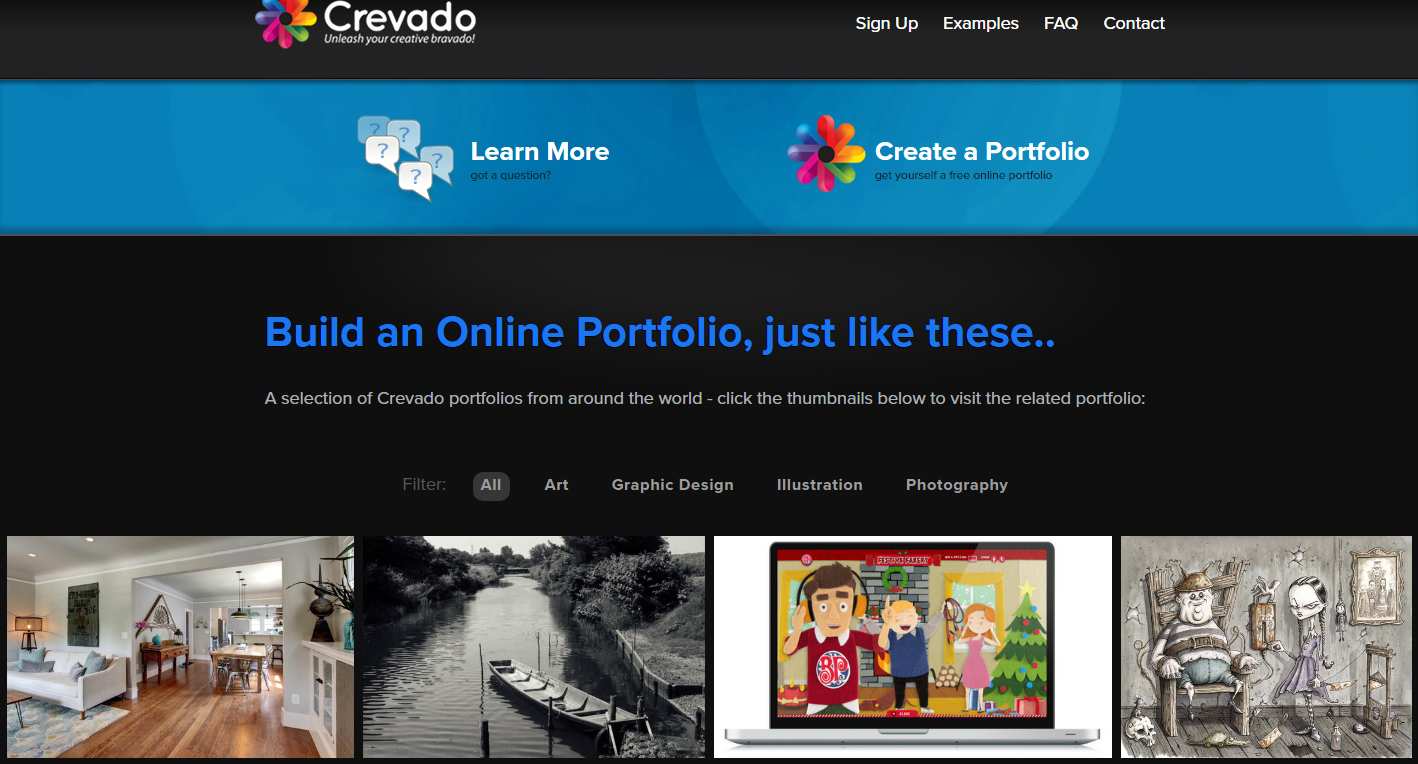 11. PortfolioBox (Offer free account)
PortfolioBox is a simple online portfolio made for creative designers and allows them to create a truly unique portfolio website by using any style for any page. And it also enables users to manage galleries, e-commerce, blogs and many more services. Moreover, It also offers a free domain name service for your portfolio site.
What you can get:
Offer a variety of language services, like English, Chinese, Japanese and French, etc.
Offers two types of accounts: a Free account and a Premium account that needs to be paid.
Its Free account allows users to host 10 projects, 30 images and 10 pages for free.
Its all pro-templates will be unlocked free for 30 days if you are using a free account.
Offer a free domain name service for your site.
Therefore, if you are planning to use no standard templates and design your portfolio sites on your own, this site would be perfect.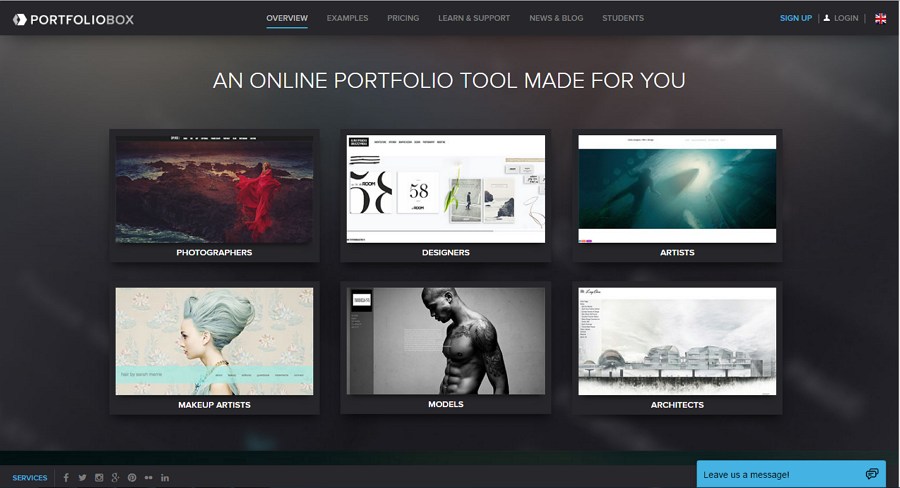 12. Portfoliopen (Offer free account)
Portfoliopen is a user-friendly online portfolio site that allows designers to create a professional-looking portfolio in minutes without coding. It enables you to choose well-designed themes to create a professional design portfolio site. Moreover, with up to 3GB of online storage space, you can also freely upload your design works and images as you wish. And you can also quickly get feedback and suggestions by reading comments from different site visitors.
What you can get:
Its Free account allows designers to upload 10 design works for free and has 10 MB of free online storage space.
Support site visitor rating and commenting.
The top-rated design works and portfolios can be listed on its Home page for free.
Overall, if you want to get more storage space for freely uploading more design cases, files and photos, Portfoliopen can easily meet your needs.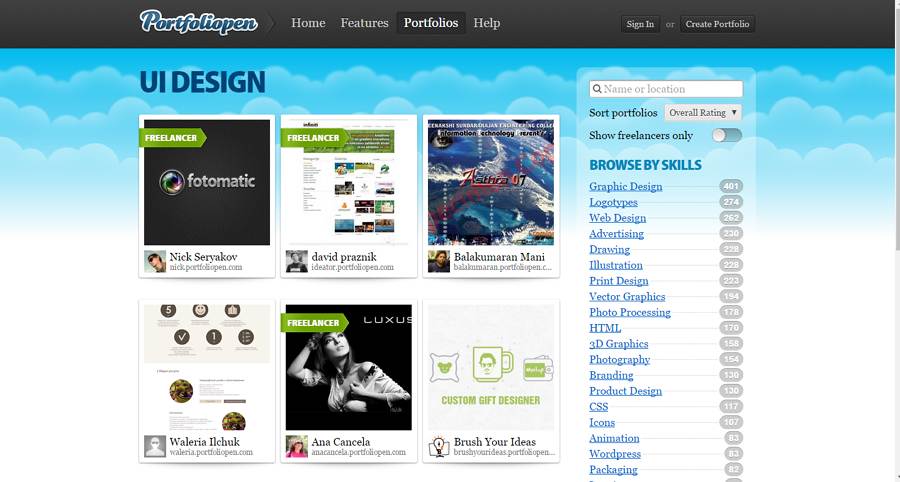 13. Jobrary (Offer free account)
Jobrary is a simple online website that allows users to create both an online resume and portfolio site. And while trying to edit a personal portfolio site, you are allowed to add images, PDF files and videos to showcase your design work. It also offers users a unique portfolio URL. Moreover, it also supports sharing both of their resumes and portfolio sites on different networking sites with simple clicks.
So, if you want to build both of your resume and portfolio on the same site and edit, browse, share and print them more conveniently, Jobrary would be an ideal choice.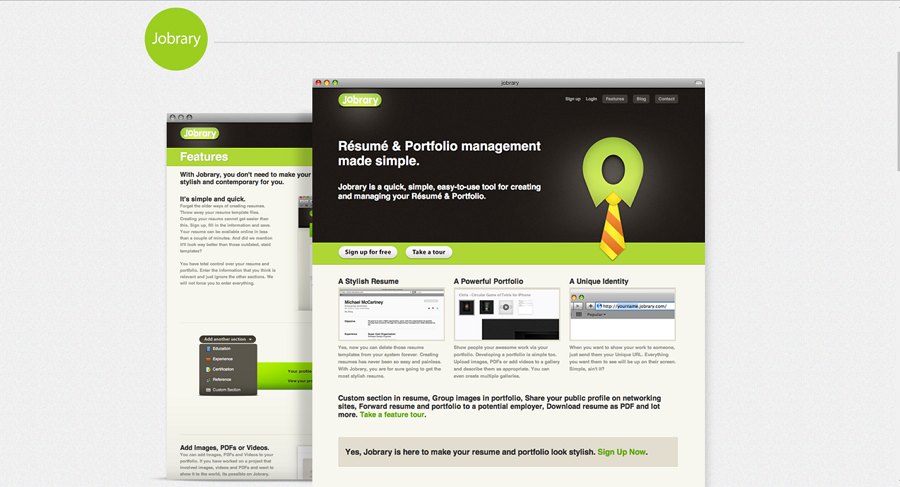 More than just an online photography community, Flickr is a popular portfolio website where photographers, designers, and artists can create online portfolios and find inspiration. You can group things you like on the site under headings such as "Web Design" or "UX Design". This can help advertise your work more effectively to people searching and exploring Flickr.
What you get:
Free to sign up for an account and upload images with one click.
Add titles and tags for keyword searching.
Create groups for your picture resources to enable easier management: different groups for different jobs.
Contact friends and family easily, viewing and sharing profiles.
In short, Flickr is a portfolio website that offers designers a rich source of inspiration for portfolio building.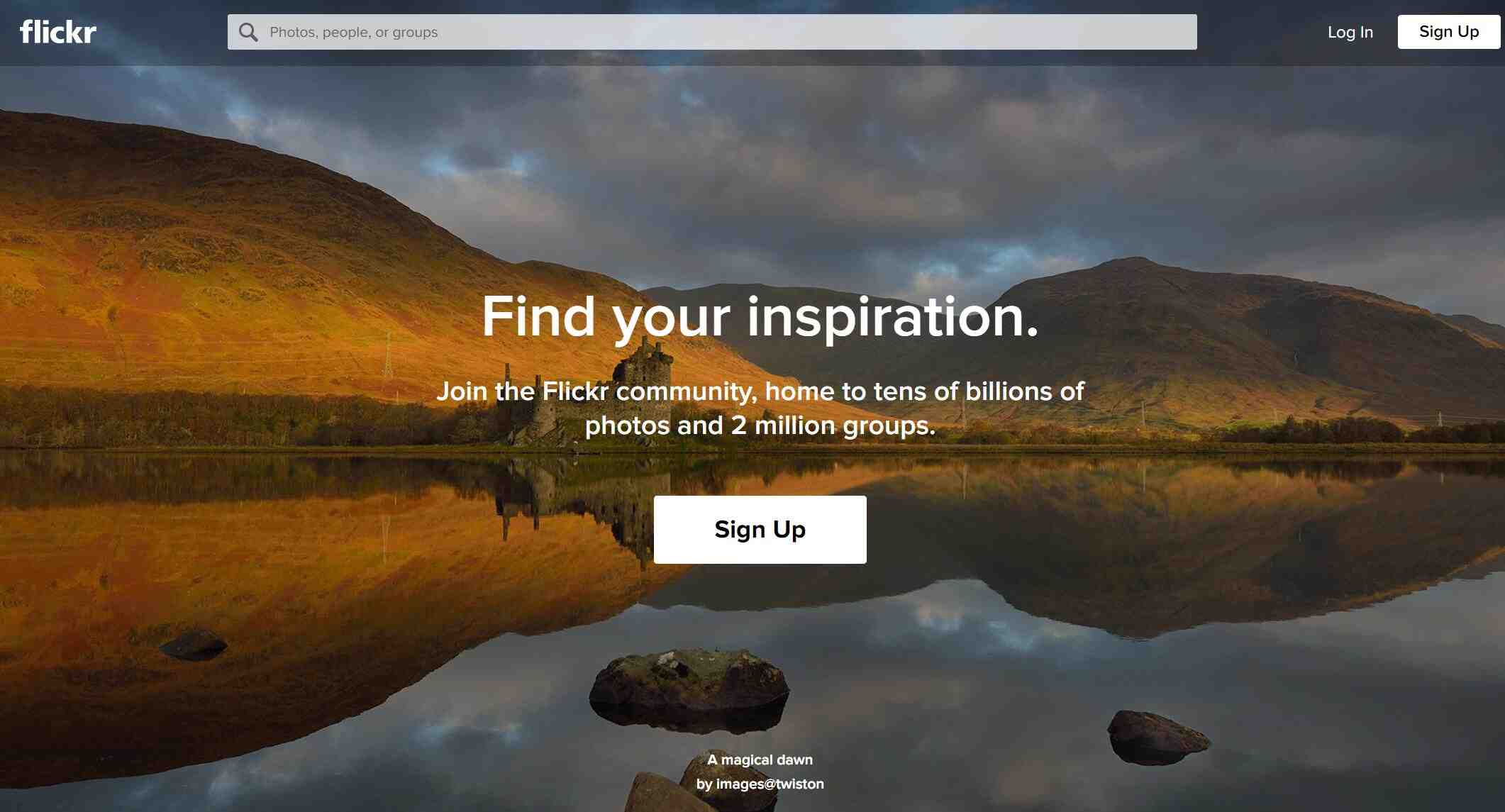 15. Wix (Free)
Looking for an online portfolio builder? You simply cannot ignore Wix. It's an innovative drag-and-drop builder with advanced design features and sophisticated business tools, making it easy for anyone to create a website for free.
What you get:
Create the stunning online portfolio you have dreamed of with just a few clicks.
Choose from more than 500 designer templates.
The site's ADI(Artificial Design Intelligence) helps you give your website that professional touch in just a few minutes.
Users who pay can access popular web services such as beautifully designed marketing materials, emails, launches for online stores, live support, and much more.
Give your website a memorable custom domain.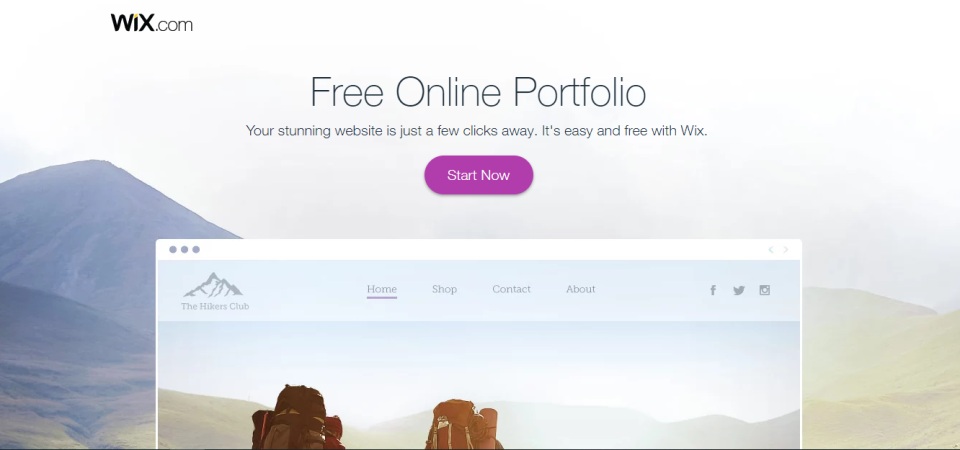 Another drag-and-drop portfolio website builder. Weebly's free website generator makes creating websites, blogs, or online stores a breeze for UI/UX designers! It's easy to find custom templates, domain names, and easy-to-use tools for a variety of business websites.
What you get:
Access to customizable webpage designs and useful tools to build your website and grow your ideal business.
An easy-build free website with a touch of style to help you get discovered and to grow your customer base.
A variety of responsive portfolio templates; they are easy to build and will save you time and money.
Free website hosting, with no restrictions.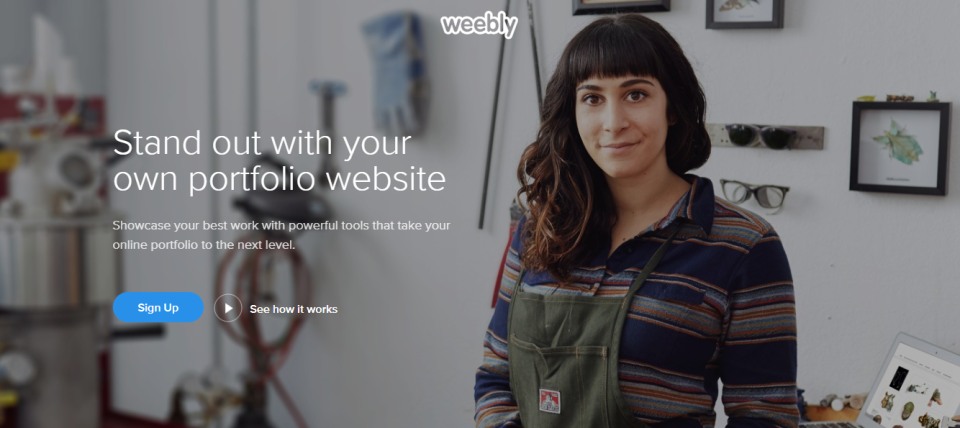 With Journo Portfolio, you can create a stylish and modern portfolio online with ease. Unlike other portfolio website builders, Journo provides a full set of services for building websites and portfolios. It offers flexible and intuitive editing, enabling users to add multiple pages and group articles in sections.
What you get:
A free yourname.journoportfolio.com domain (up to 10 articles).
Multiple pages and themes to choose from.
Grabbing articles by URL, giving the title, publication date, content, and an image.
The built-in JournoPortfolio dashboard allows users to quickly measure visitors to the site.
Integration with Google Analytics to access all their raw data.
JournoPortfolio allows writers to create a unique customizable online portfolio without branding or ads. The SEO and automatic back-up help writers save time and allows them to relax with more security for their content.
18. Format (Offer free account)
As a professional online portfolio website builder, Format provides lots of carefully crafted themes so that UI/UX designers can showcase their work in the best possible light on all browsers and on both tablets and smartphones. It has six flexible page and layout choices for designers; you can choose to display your UI/UX design work in grid or a full-screen mode. Professional typefaces allow you to modify font weight, size, color, and positioning, giving a personalized look to your portfolio.
What you get:
Beautiful, responsive themes, enabling UI/UX designers to showcase their work on all platforms.
A flexible page template and layout support—customizable by adding codes.
Drag-and-drop tools for building your pages.
Streamline the workflow with the built-in client proofing tool.
Integrate with social media accounts such as Instagram.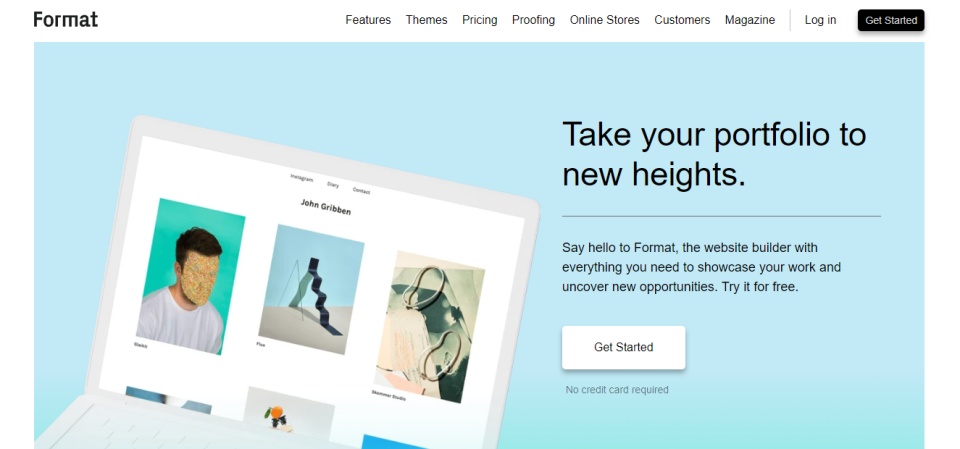 19. FolioHD (Offer free account)
As an easy online portfolio and website builder, FolioHD provides services for various user groups such as designers, photographers, and artists. Users can set up stunning websites and portfolios without needing to know how to code.
What you get:
Personalize your site by uploading your own logo.
Personalize your portfolio by choosing from a variety of color palettes and fonts that have been designed specifically with each theme.
Integrate with Google Analytics to track hits, count visitors, and learn about user experience.
Integrate seamlessly with Fotomoto to sell your work.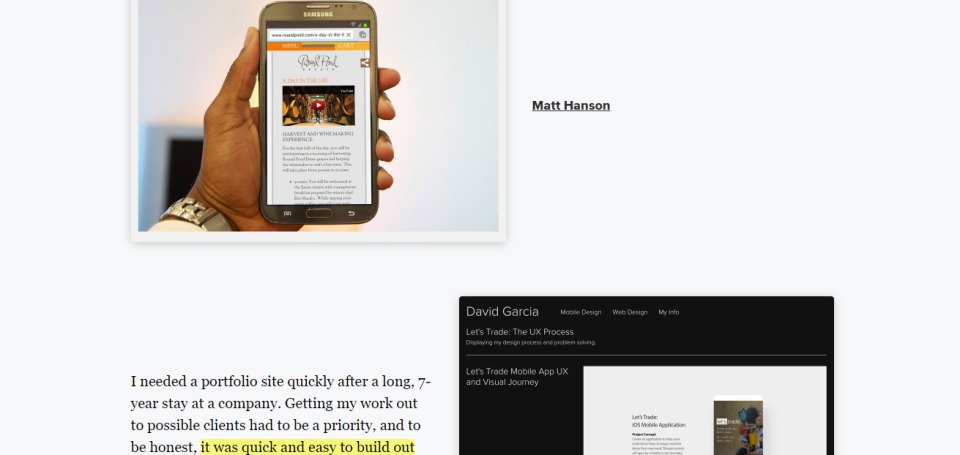 20. Jimdo (Offer free account)
With Jimdo, creating a portfolio website will be no problem for designers and creatives. Just follow the simple steps outlined on the site to get your work online and on its way to reaching a larger audience.
What you get:
Clear step-by-step guide on how to make an online portfolio.
Beautifully designed appearance to help UI/UX designers make an impact with that important first impression.
Easy slide shows, lots of storage, and a media library.
Several portfolio themes are available for designers, photographers, artists, and creatives.
21. YouPic (Offer free account)
Pictures are one of the most important elements in UI/UX design; designers are always looking for great online resources, especially for creating portfolio websites. So YouPic is a website you need to know about. Here you can craft a free stunning portfolio to showcase your work.
What you get:
Upload unlimited HQ photos, private and public. Right-click protection and all your rights preserved.
Create your own fully customized photography website.
Online training to improve your photography skills.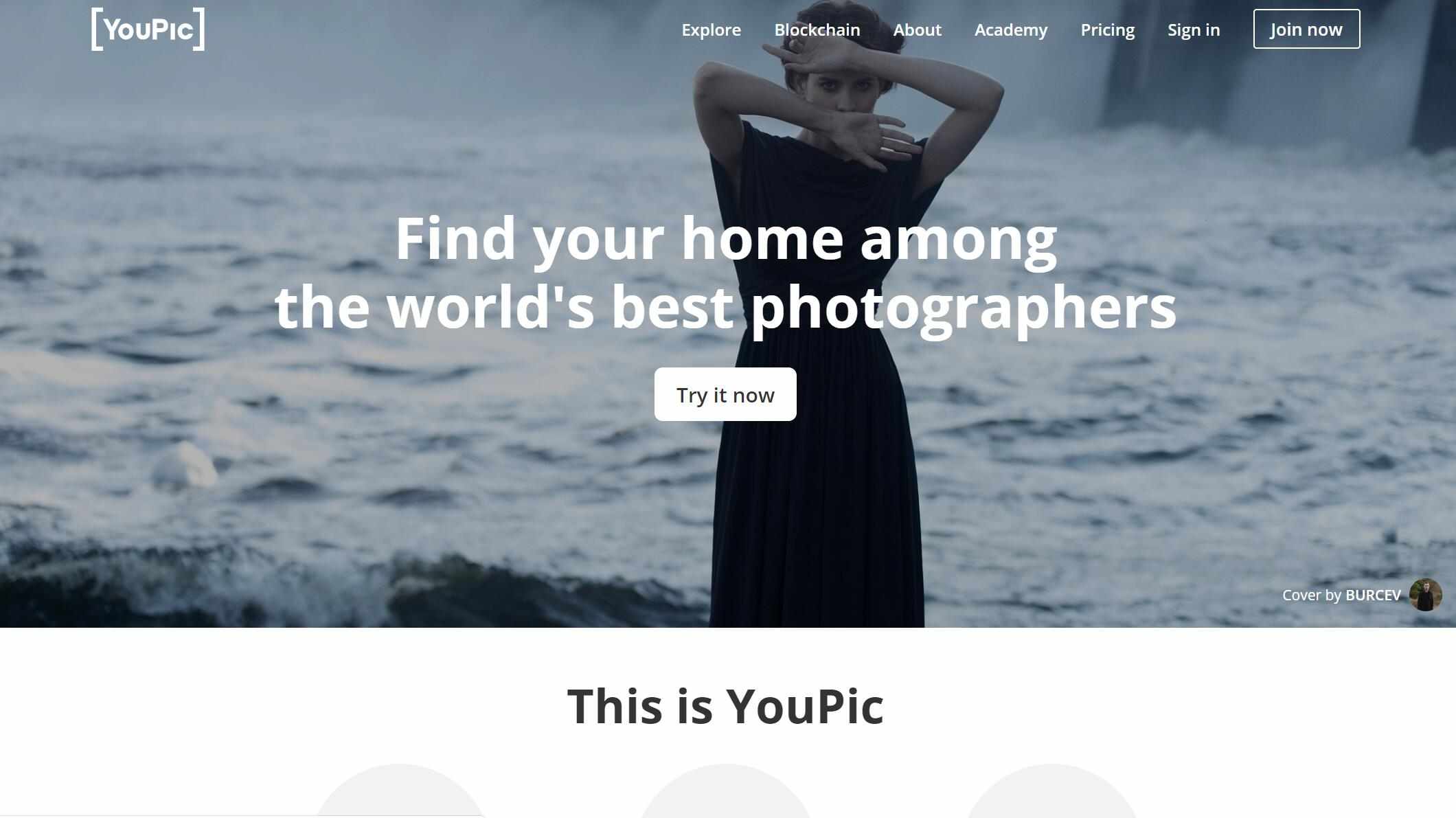 Artmoi is an initiative with the goal of simplifying the process of documenting art. It provides services for art studios and galleries. With the Portfolio, UI/UX designers can create websites that sync automatically with their ArtMoi studio or gallery account. There are fully responsive templates to choose from and you can get an API to integrate its services with your existing website.
What you get:
Clean and simple pre-designed templates.
The free account can publish 18 creations and four templates.
Fully responsive design for websites and use on mobiles.



23. Fabrik (Offer free account)
Fabrik is designed specifically to enable creatives to showcase their best work. You can choose from more than 9,000 possible layout combinations across different themes, picking one to suit your profession: designer, filmmaker, artist,etc.
What you get:
Flexible layout to showcase your work effectively.
Unique domain to connect your Fabrik portfolio for a truly professional site.
Support for instant social media integration such as adding video and audio to your portfolio.
Customize your portfolio appearance without coding.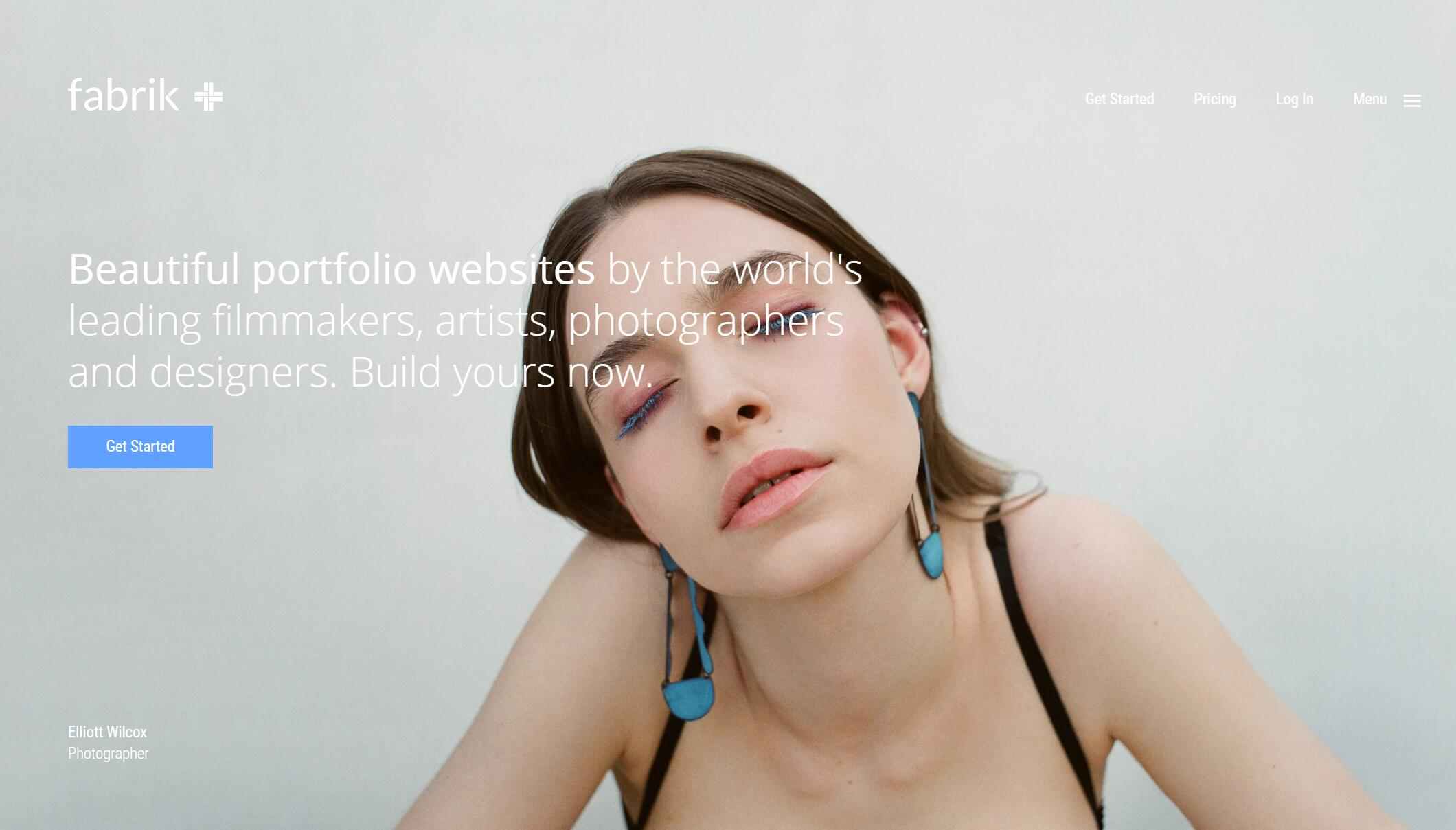 Moonfruit lets you customize the style and layout of your site so that it reflects your brand—without needing to understand any coding, such as HTML or CSS.
What you get:
Cool, stylish, and flexible template designs.
Everything from Google fonts to background animation effects and SEO-focused analytics.
With Moonfruit, you can create a beautiful responsive website in a matter of minutes.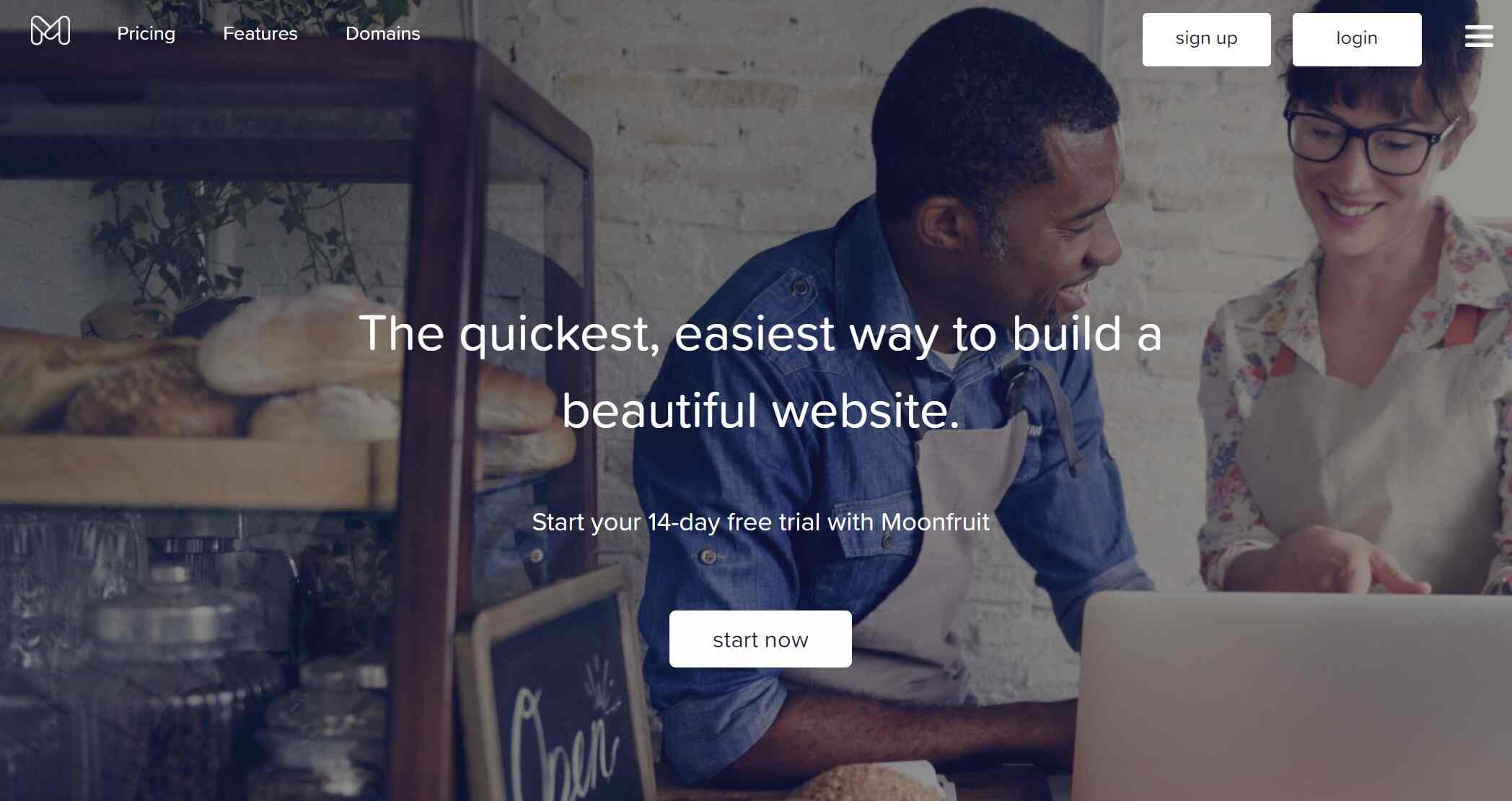 Conclusion
Above all are our top 23 best free online portfolio websites for you to create perfect UX/UI portfolios on the web. And in order to increase the chances of getting noticed by potential clients/recruiters, you'd better also use and create two, three or more portfolio sites with different styles and characters together.
Moreover, also do not forget to add these portfolio links in your resume so that interviewers, recruiters and hiring managers can easily access and know your UX/UI design skills. Hope you will choose the most suitable online portfolio site to create a beautiful and unique UX/UI design portfolio online.