Nowadays, the Internet has changed not only the way we live, but also the way we work together.
In fact, with a good network connection, and the help of an excellent online collaboration tool, even team members (designers, developers, product managers, customers, stakeholders, etc) from different countries and places can break the limit of time and distance, communicate with each other and work together completely online.
That's why a good collaboration tool for business is so important.
If you are looking for a suitable online collaboration tool to boost your product team's efficiency, below are 20 of the best online collaboration tool examples for you:
To help you choose the right tool, we have categorized them into 5 types as follows:
Online communication tools
Design collaboration tools
Project collaboration tools
Document collaboration tools
Other virtual collaboration tools
First, Why to Use Online Collaboration Tools?
An online collaboration tool is a tool that allows you and your team to work together online, edit, manage and share projects for better products.
Even though different collaborative tools in the market are created for different purposes, the reasons for using collaboration tools are often similar.
Below are the 5 main reasons for using collaboration tools:
1. Save time and money
One unified online collaboration platform helps connect remote workers together, saving traveling time and money effectively.
2. Improve team productivity
Instead of wasting time and energy in traveling and waiting, the entire team can focus on the projects at hand, improving team productivity.
3. Ensure project security
These days, many online collaboration tools allow team members to save and keep the sensitive data online with password protection and permission management systems, helping ensure the security of the important information.
4. Avoid switching tools frequently
As we all know, to complete a design project, we always need to use a series of tools.
For example, to create a web/app design, the design team first needs Sketch/PS to draw design drafts. Then, use a prototyping tool (like the faster, easier and smarter prototyping tool, Mockplus) to translate design ideas into interactive prototypes. And, collaborate and handoff designs with a good collaboration and handoff tool, like Mockplus iDoc.
However, with a comprehensive online collaboration tool, you can do multiple things in one platform, eliminating the need to use and switch tools frequently.
5. Collaborate online in real-time
In comparison with sharing and delivering designs/documents through email or social media over and over again, a good collaboration tool always helps team members collaborate online in real-time.
Overall, a practical online collaboration tool will benefit you and your team a great deal.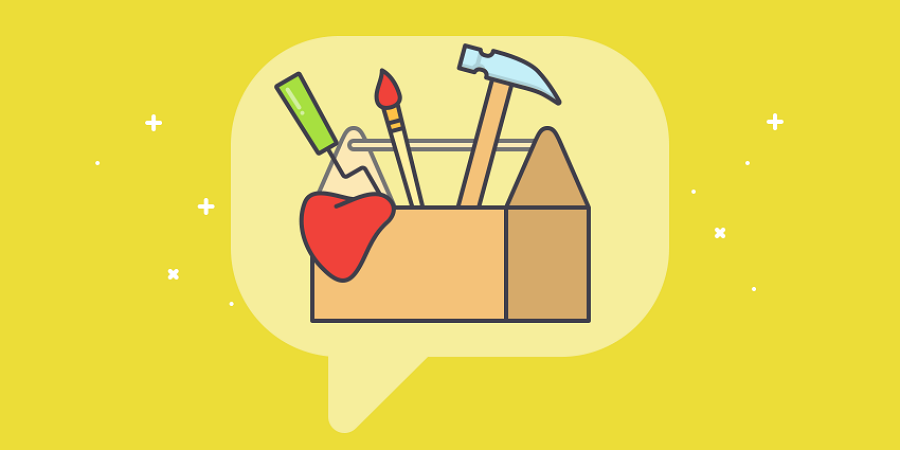 How to Choose the Right Online Collaboration Tool for Your Team?
The right online collaboration tool will help improve your team's efficiency effortlessly. However, how do you choose the most suitable online collaboration tool for your team? Here are 6 essential tips to help you pick the right collaboration tool:
Tip1. Figure out your team's purposes and needs
Before you make a purchase, the first thing you should do is determine your team's purposes and needs. For better team collaboration online, it is best for you to seek suggestions and consult on the team's needs first.
Tip2. Check whether there is a free trial
A free trial helps you fully test a tool to determine whether it meets our needs before any purchasing.
Tip3. The learning curve of your picked tool
A tool with a high learning curve always makes things worse, and sometimes even delays your team project. So, it is better for you to choose a simple and user-friendly tool versus a complicated one so long as it meets your needs.
Tip4. How much will it cost?
Price is one of the most important factors to consider when purchasing a product. It is best for you to review a few similar collaboration tools and pick the most suitable one for your team that fits your budget.
Tip5. Is your data secured and backed up well?
To keep your data safe, it is best for you to check whether your online project or document data is safely protected and backed up well before any purchasing.
Tip6. How about customer support? Are there any after-sale services?
Customer support is another important factor that you should take into consideration. After-sale services can alleviate problems that arise while using the product. So, it is best for you to confirm if these services are available before you make a decision.
We hope these 6 essential tips can help you choose the right collaboration tool for your company or team.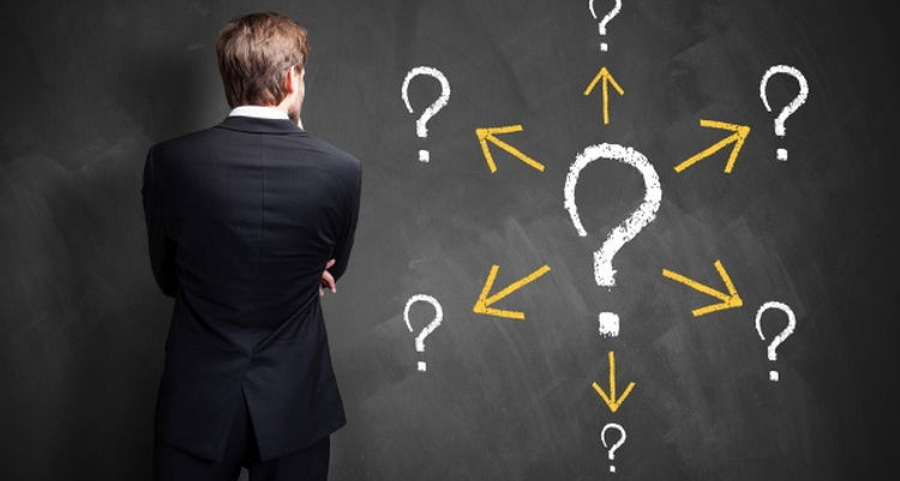 Top 20 Online Collaboration Tools That Productive Team Should Not Miss Out
Then, keep the six tips above in mind and check out 20 of the best online collaboration tools below to see which one of them suits you and your team best:
Online communication tools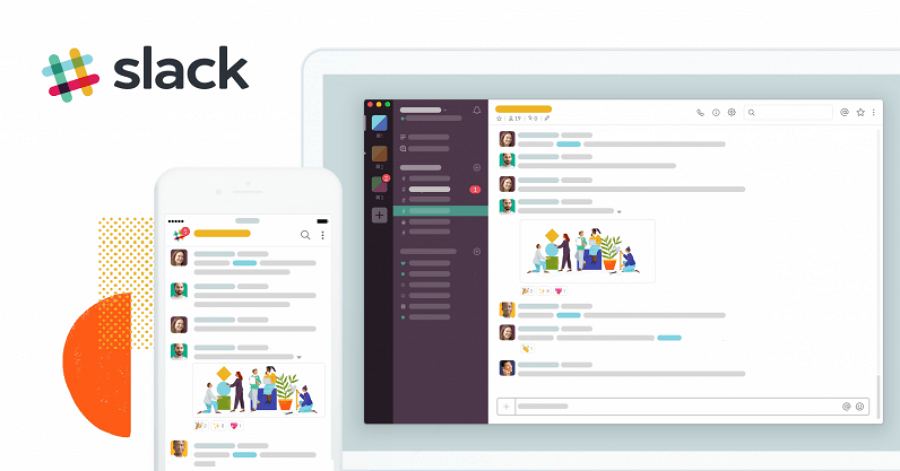 Slack is one of the most popular online communication and collaboration tools out there. It allows team members to discuss a topic together online by sending messages, images and videos freely.
A company or team can easily create diverse channels to discuss and track different topics/projects for better productivity.
Its powerful tool integrations (such as Trello and Intercome) and numerous bots are also worth trying.
Price: Basic free (up to 10k messages); Standard $6.67/month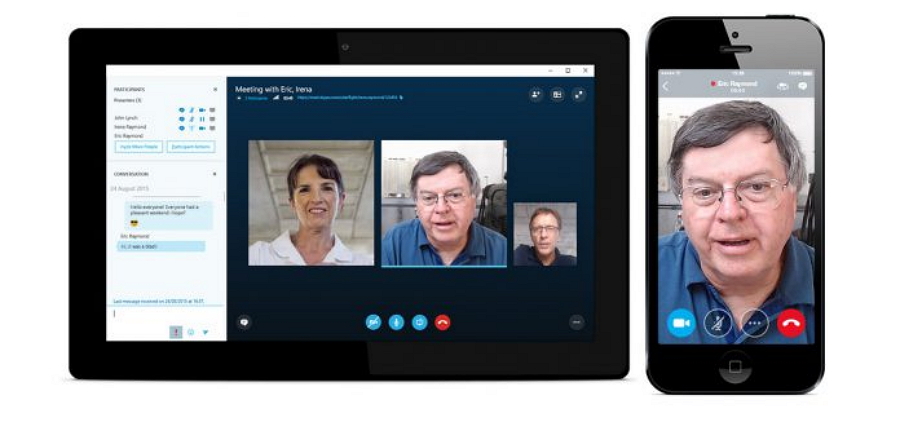 Skype is another popular communication tool that allows users to talk and collaborate online. It supports smart messages, audio and video calls between different digital devices. The other powerful features, such as the group video calls and screen sharing, help user communicate and collaborate effortlessly.
Price: Basic free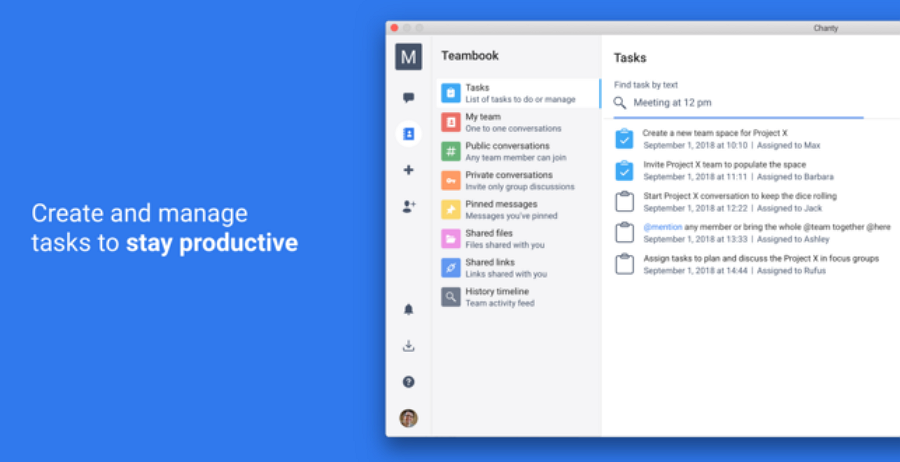 Chanty is a simple communication tool for small teams/companies, which offers users many effective features, such as instant messaging, audio and video calls, unlimited search history and easy file sharing, for seamless communication and collaboration online.
Price: Basic free; Business $3/month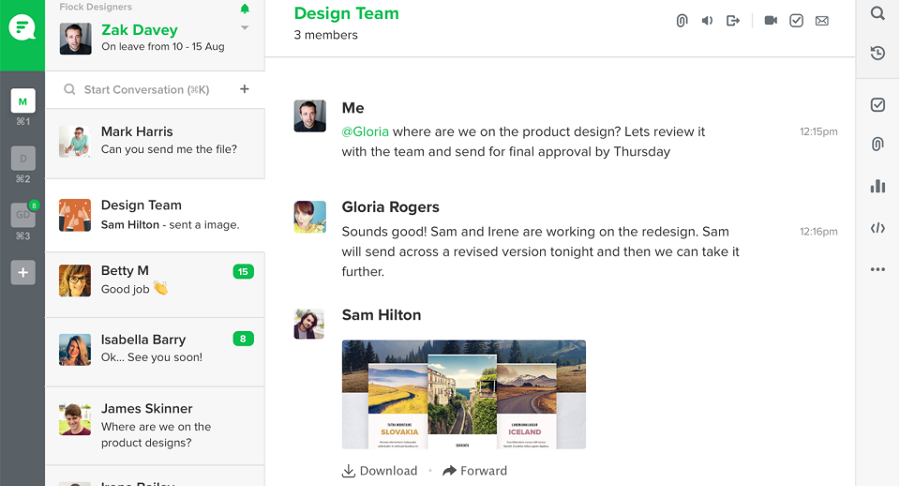 Flock is a good online platform for a company or team to communicate and collaborate seamlessly online. With this communication and collaboration tool for business, users can easily send messages and make video/audio calls, create and manage team projects, poll, share and notify members for better team efficiency.
Price: Basic free (up to 10GB file storage); Pro $4.5/month
Design collaboration tools/Design team collaboration tools
Mockplus iDoc is a popular all-in-one online design collaboration tool that allows designers, developers and product managers to import, prototype, test, share and handoff web/app designers with automatic specs, assets, code snippets.
Product team can easily import designs from Sketch/PS/XD, create UI flows and interactive prototypes, check and download design assets/specs/code snippets, upload and preview files from Axure/JustinMind/Mockplus/Office/Excel, handoff designs, and manage team members with ease.
Its advanced team and project management feature is also worth trying.
Price: Basic free (5 projects and 5 team members); Professional $9/month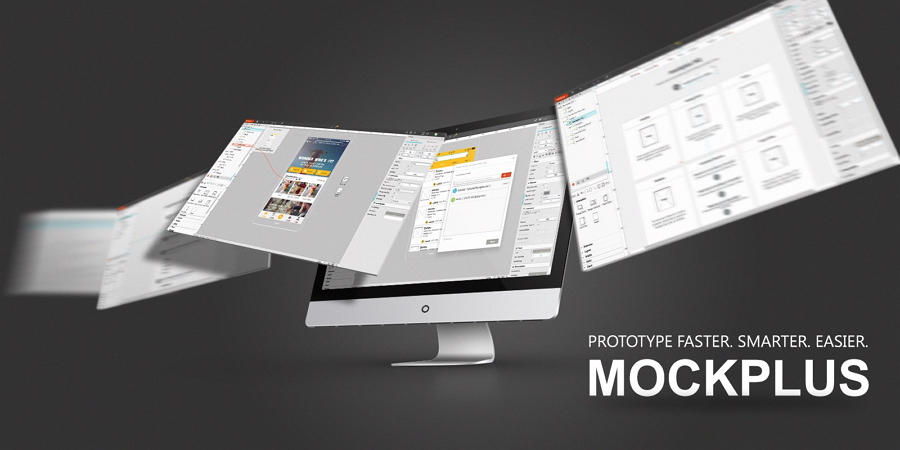 Mockplus is a simple, fast and smart prototyping tool that allows designers and product managers to create, test, share and iterate interactive prototypes with ease. It offers design teams a specialized team collaboration option to edit and improve a design project online effortlessly, test, share and gather feedback quickly.
Its powerful features, such as the powerful icon library, component library, component style library, page and sample library, etc, ease and fast your design process effectively.
Price: Basic free (basic features are free forever); Individual Pro $16.5/month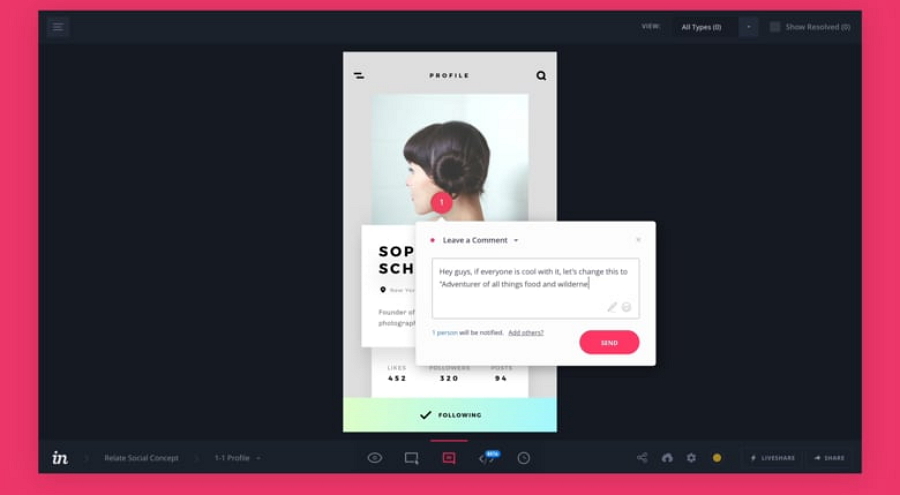 InVision is another prototyping tool that allows designers to import designs and create clickable prototypes. It enables designers to upload designs, make interactions, gather feedback and collaborate a project seamlessly online.
If necessary, a design team can also manage their projects from a single dashboard.
However, InVision offers no section for designers to create interfaces or elements directly. Designers always need to build and edit their designs with PS or Sketch in details. And then, upload them to InVision for making interactions or design presentation collaboratively or separately.
Price: Basic free (1 prototype); Starter $15/month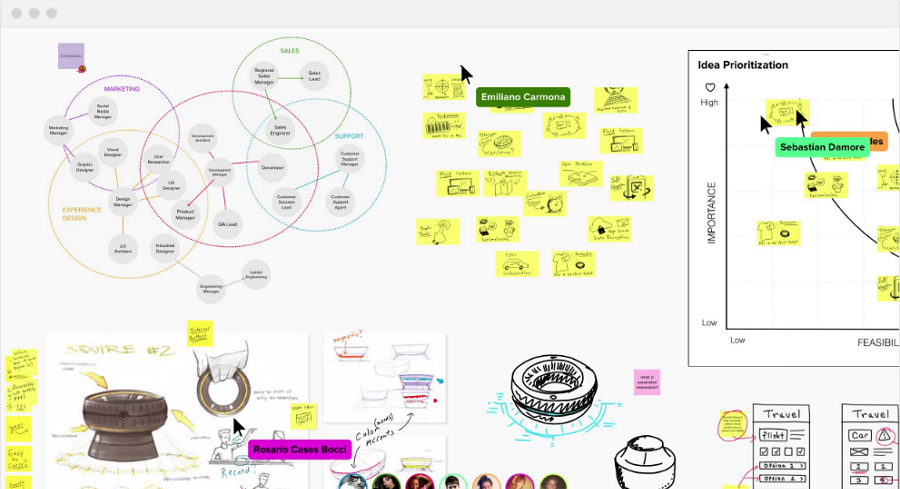 Mura is a good online brainstorming and collaboration tool that allows users to collect inspiration and gather team feedback with a special whiteboard-style design. Designers can easily add links, documents and other media files to demonstrate their design ideas in the whiteboard-style interface with simple drag-and-drop. For better communication, you can also voice your feedback.
Price: Starter $12/month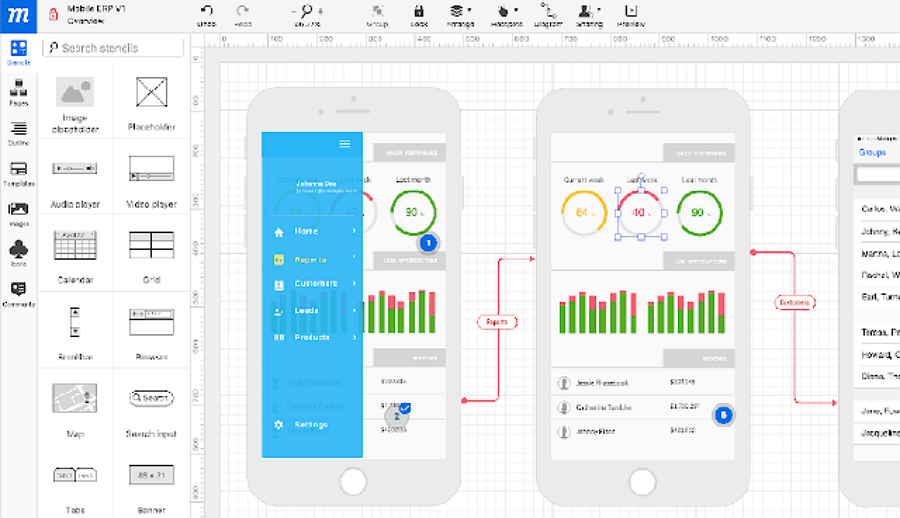 Moqups is another online mockup, wireframe and collaboration tool that allows users to create and collaborate a mockup, wireframe and prototype smoothly online. It offers designers great integration with Slack, Google Drive, Google Fonts and Dropbox, etc.
Price: $19/month
Project collaboration tools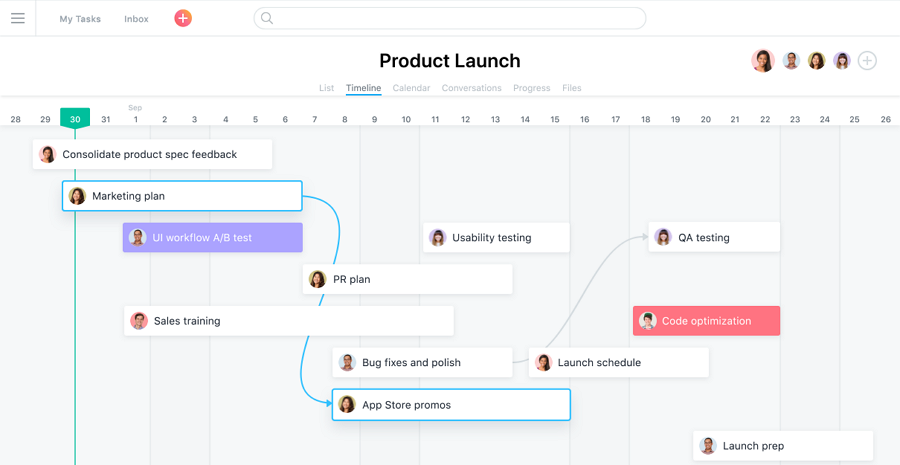 Asana is one of the leading project collaboration and management tools for users to organize projects, tasks, files and calendar in one place.
It offers users customizable features for each task. For instance, you can easily set a deadline to make sure that a project is processed on time.
It supports a large range of tool integration for smooth collaboration online, including the well-known Slack, Adobe, DropBox, etc.
Price: Basic free; Premium $9.99/month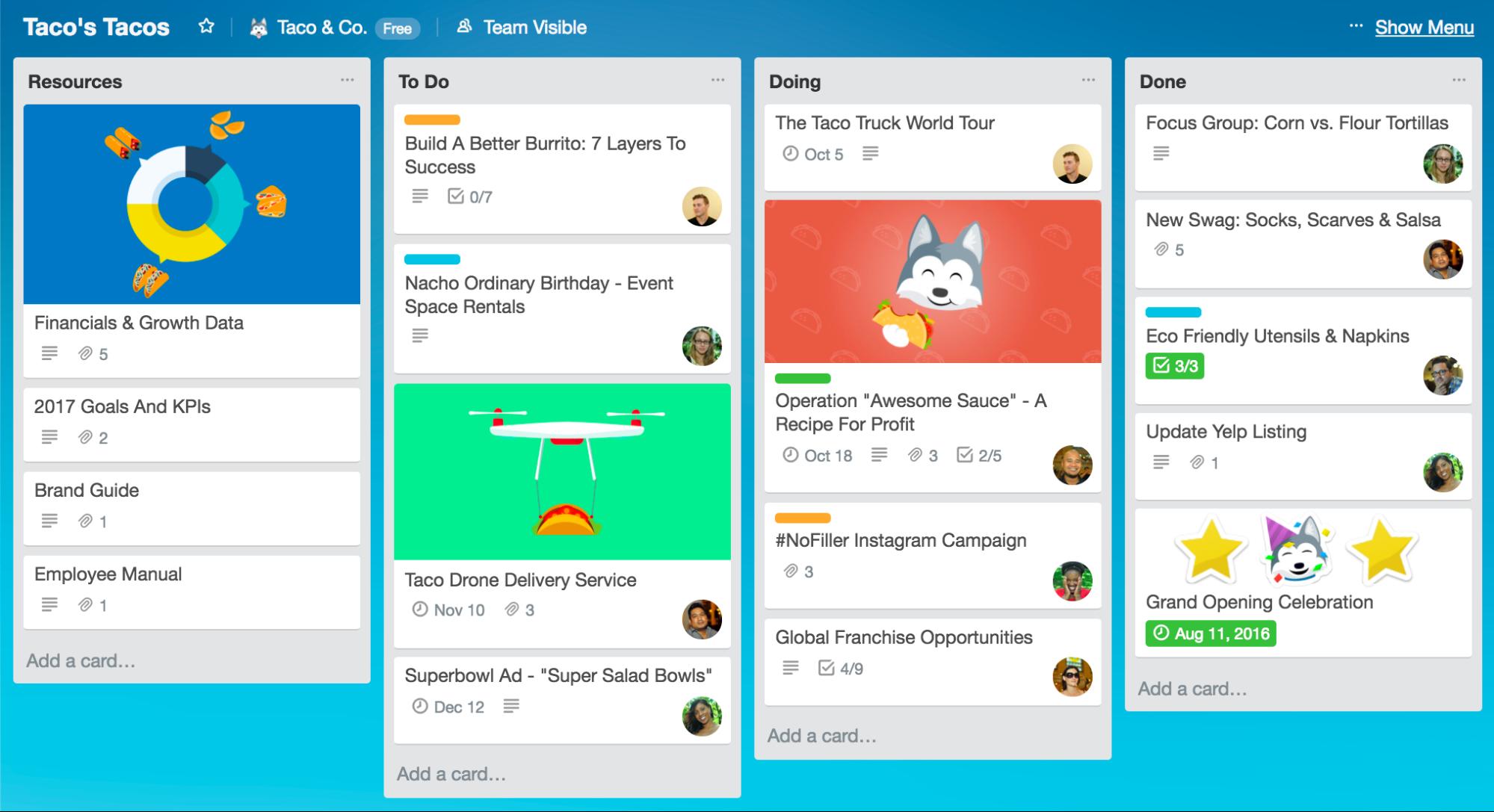 Trello is one of the most popular project management and collaboration tool that allows team members to keep track of everything. With this tool, users can easily organize and prioritize projects by using its intuitive boards, lists and cards in an easy and funny way.
You can add comments, attachments and more files directly to project cards for better management.
Price: Basic free; Business $12.5/month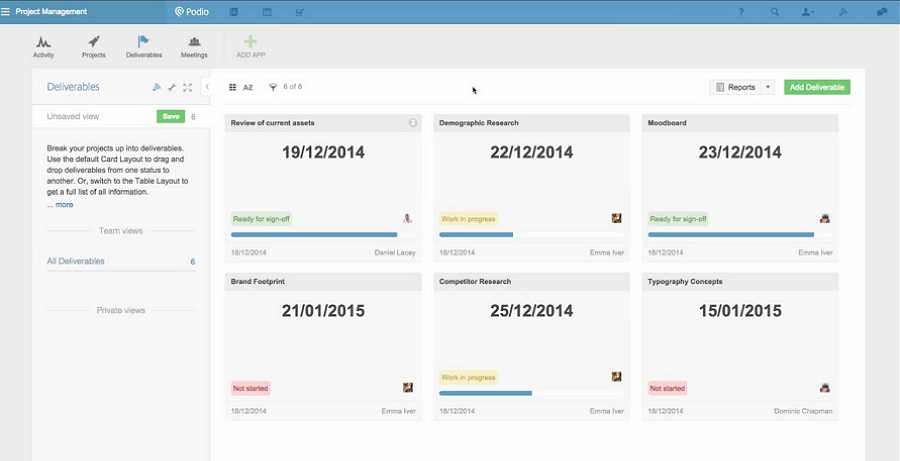 Podio is a customizable project management and collaboration tool that allows team members to build, customize and sync team projects and workflow online. It gives users a way to share files, view the status of the ongoing projects, get feedback, update and manage projects online.
Price: Free (5 members); Basic $9/month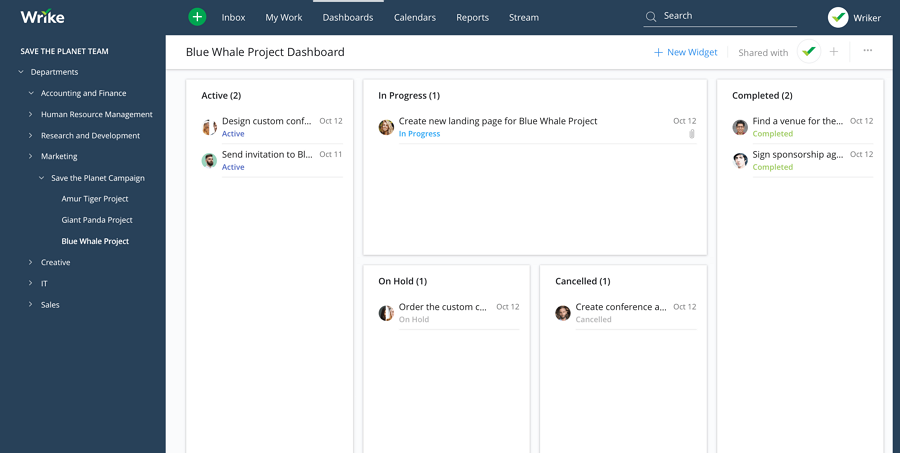 Wrike is a scalable cloud-based collaboration and project management software that allows a company or team in any business to break large tasks into smaller goals and pieces for better tracking and management.
Its tree-like structure design helps organize tasks and subtasks perfectly, creating a clear hierarchy and enhancing UX.
Price: Basic free (5 users); Professional $9.8/month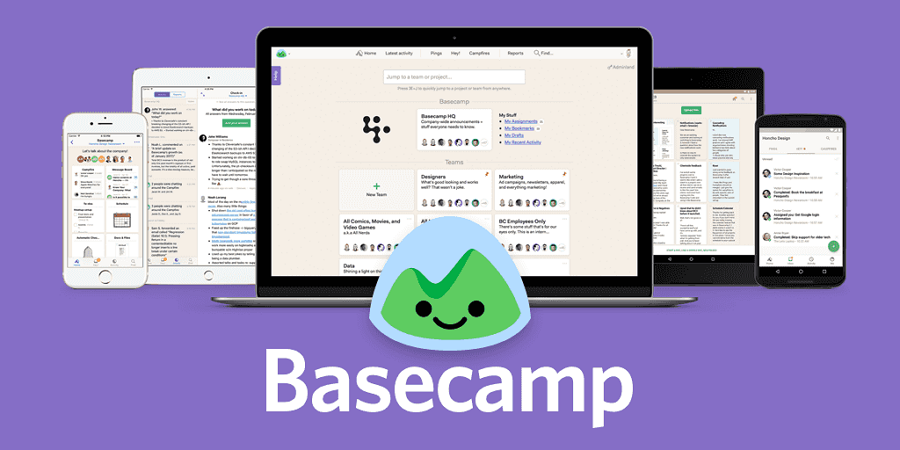 Basecamp is one of the most beloved project management and team communication tools used by small/growing companies in the world.
It offers users all features that a good project management tool should have, such as creating to-do lists, scheduling projects, storing and sharing project related files and documents, starting a real-time group chat, etc.
It becomes popular for its client-centered UIs and features. It is an ideal choice for small businesses.
Price: 30-day free trial; $99/month
Document collaboration tools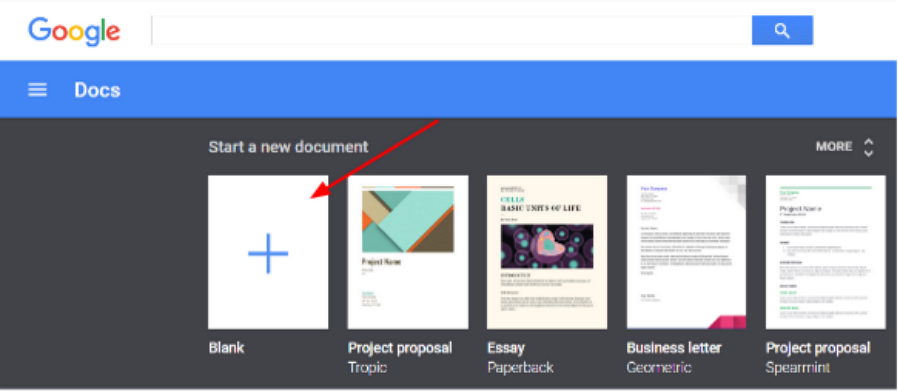 Google Docs is a well-known free online document collaboration tool for a small company or team.
As a tool produced by Google, once you've registered and created a Google account (or use an existing Google email), you can directly get started to use Google Docs to write, edit, sync, share and collaborate your documents, make spreadsheets and presentation at any place and any time.
Price: Free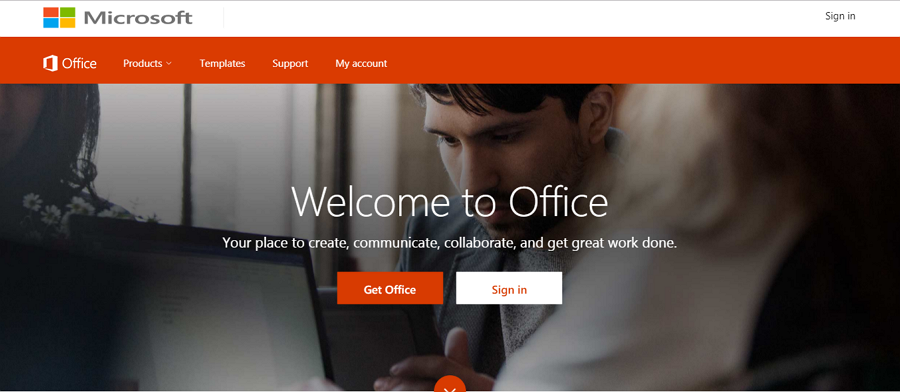 Microsoft Office 365 is another widely-used cloud-based document collaboration solution that allows teams to communicate and collaborate online with the common Word, Excel, Powerpoint, OneNote, SharePoint and far more document tools.
It supports nearly all digital devices, such as computers, tablets, mobile phones, etc.
Price: $8.25/month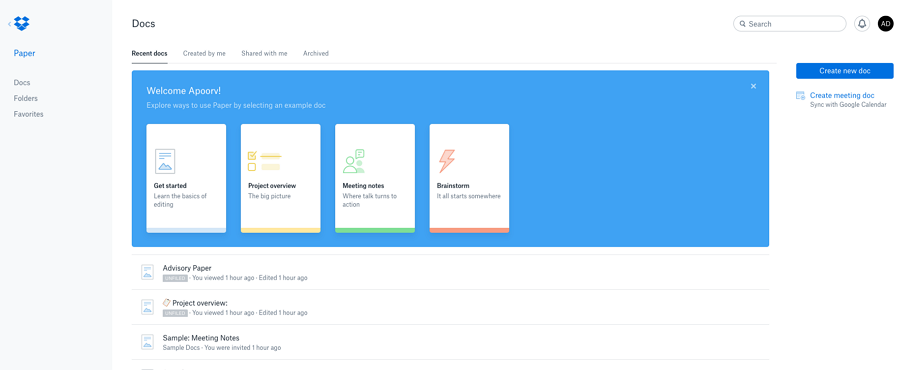 DropBox Paper is a perfect document collaboration platform for design teams to create, edit, brainstorm and review designs, manage tasks and even run meetings online with rich media (including texts, images and videos, etc).
It is a nice alternative to Google Docs and a perfect choice for your team to work internally and collaboratively online.
Price: $9.99/month
Confluence is another handy cloud-based document collaboration tool that allows teams to create, organize and discuss work online. Users can easily record team meeting and memos, creating and editing strategy documents, budgets and more team collaboration contents based on different needs.
You can set permissions for different contents to protect the sensitive data in Confluence.
Price: $10/month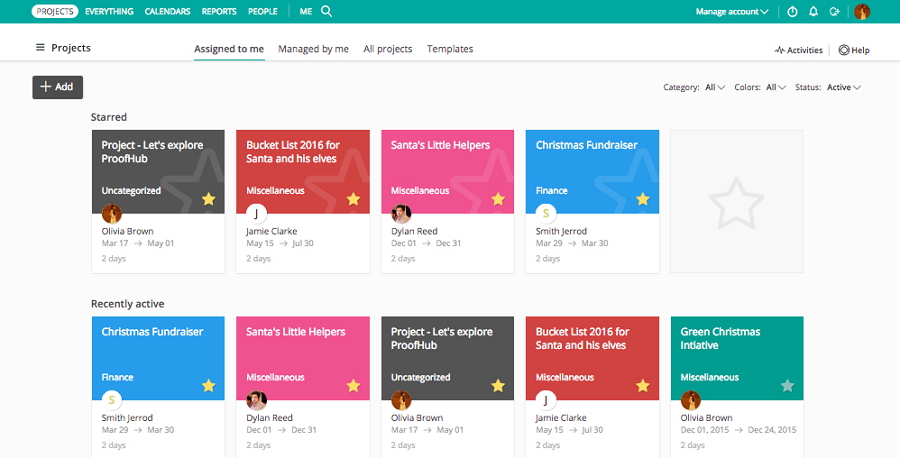 Proofhub is an advanced online project management and collaboration software that offers users plenty of options to plan everything about a team project and stay more productive at work.
To ensure your company project is completed securely and smoothly, also set roles and define different access levels for different team members.
Price: 30-day free trial; $99/month
Other virtual collaboration tools

Box is a virtual digital platform for business teams to share, store, manage and collaborate files and contents online. In comparison with the mentioned Dropbox paper above, it focuses more heavily on file security
Price: Individual plan free; Business plan $17.3/month
We hope these online collaboration tool examples can help you pick the right tool for you and your team.
Please note: Many of these introduced tools offer comprehensive features and do not absolutely fall into one certain category.
For example, Mockplus iDoc is a design collaboration tool in this article. However, it can be used as a prototyping tool as well as a team collaboration tool.
It is best for you to check each one and choose the best based on your own needs.
Wrap Up
No matter which type of online collaboration tools you are looking for, these essential online collaboration tool examples are good choices to save time and boost your business productivity.
You May Also Like:
The Ultimate UX Tools in 2019 to Help Designers out of the Box
Top 10 Project Collaboration Software to Make Your Collaboration Easier than Ever
5 of the Best Design Collaboration Tools to Empower Your Design Team
9 Best Sketch Prototyping Tools With Plugins to Create Modern Design