Open source networking and technological advances make the field of web development an ever-changing, constantly evolving landscape. And it does so quickly. In this "network era", the so-called web development experts are actually those who are excellent learners, open to absorbing and applying new information. If you want to remain competitive as a web developer, it is imperative that you keep up-to-date with the latest development news and trends in your field.
Fortunately, you can easily find information on the latest web developer/development news and technologies - whether you are learning a new UX design application or merely following up on the latest web development trends.
The Mockplus team has done the legwork for you by compiling 11 of the best web development blogs today. For the purposes of this article, the blogs have been placed under two separate categories, but note that some of them may fall under both categories.
Best Web Development Blogs
1. Smashing Magazine
Focus on: UI/UX design, web design, web development news, HTML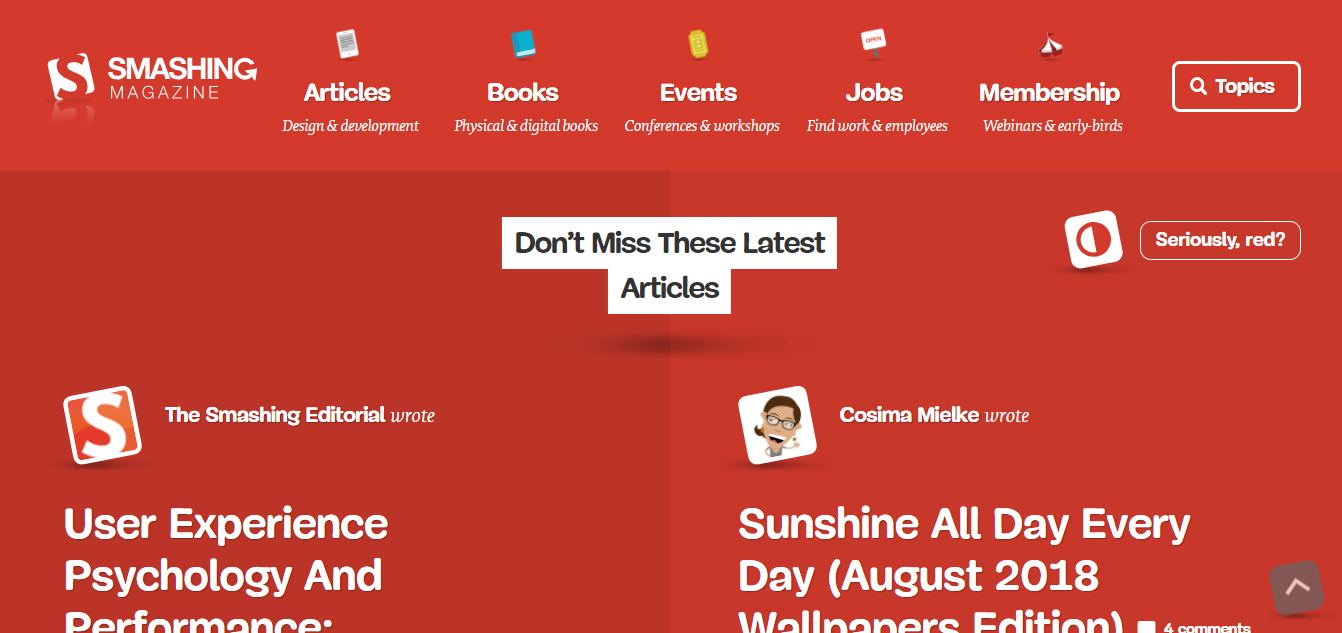 Smashing Magazine is an online magazine for professional web designers and developers. It is a very famous web development news site that professionals can't afford to ignore. It publishes articles every two days, providing a wealth of resources on HTML, CSS, and Java-related topics. This is a great resource for those who want to master front-end web development technology. You can search the blog using keywords to discover new topics such as design, coding, graphics, user experience, mobile development, and CMS framework.
2.Six Revisions (webpagefx)
Focus on: website design, website development, SEO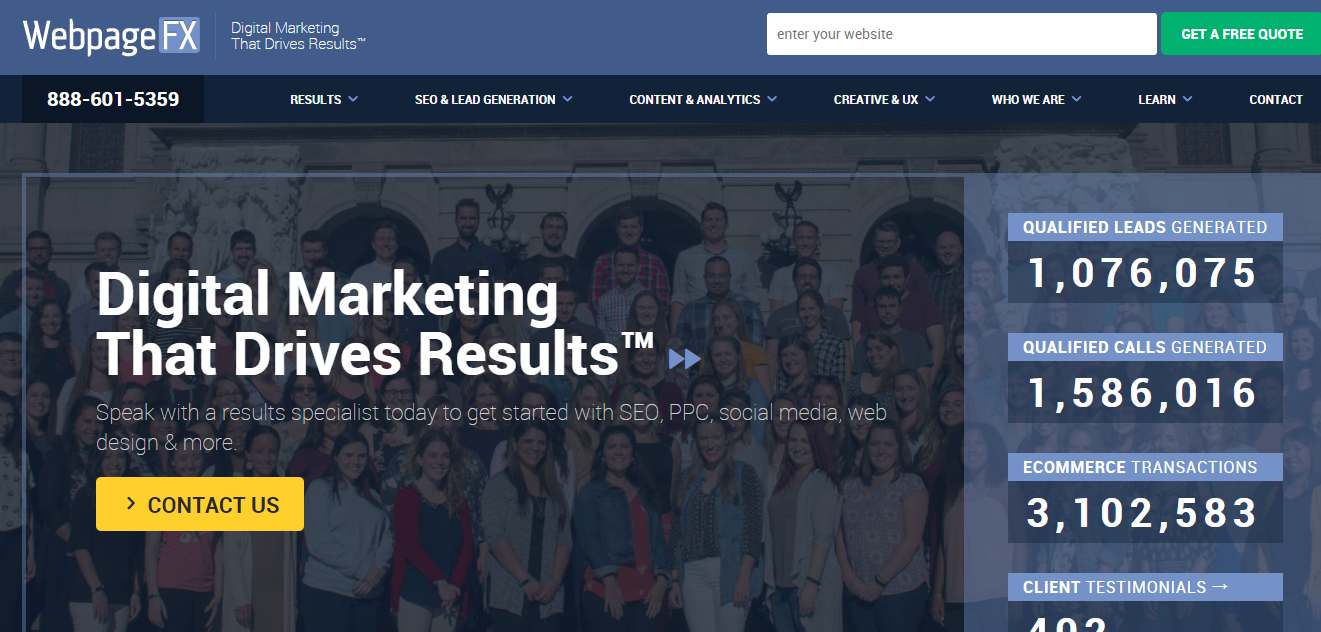 Six Revisions, now renamed Webpagefx, is a site for designers and web developers. There are numerous web design and development tutorials and resources targeted at web professionals. Founded in February 2008, SixRevisions is constantly updated with the latest material authored by professional web developers and designers. New content is published every 2-5 days by writers from all over the world. The content is highly readable and informative.
3. Specky Boy
Focus on:CSS,JavaScript,iQuery, wireframe design
Speckyboy Design Magazine is a design-oriented blog about CSS, JavaScript, UX design, and other technologies. The site also covers business relationships between designers and users. Additionally, it provides insights into workflows that can help with your prototyping and deployment cycle. Specky Boy's publisher, Paul Andrew, is not only concerned with design resources but also has a deep insight into the latest web technologies. This site is especially useful for front-end developers who want to keep an eye on the industry's latest news.
4. David Walsh
Focus on: Web Development Tutorials, Features, Demo, and Web Development Blog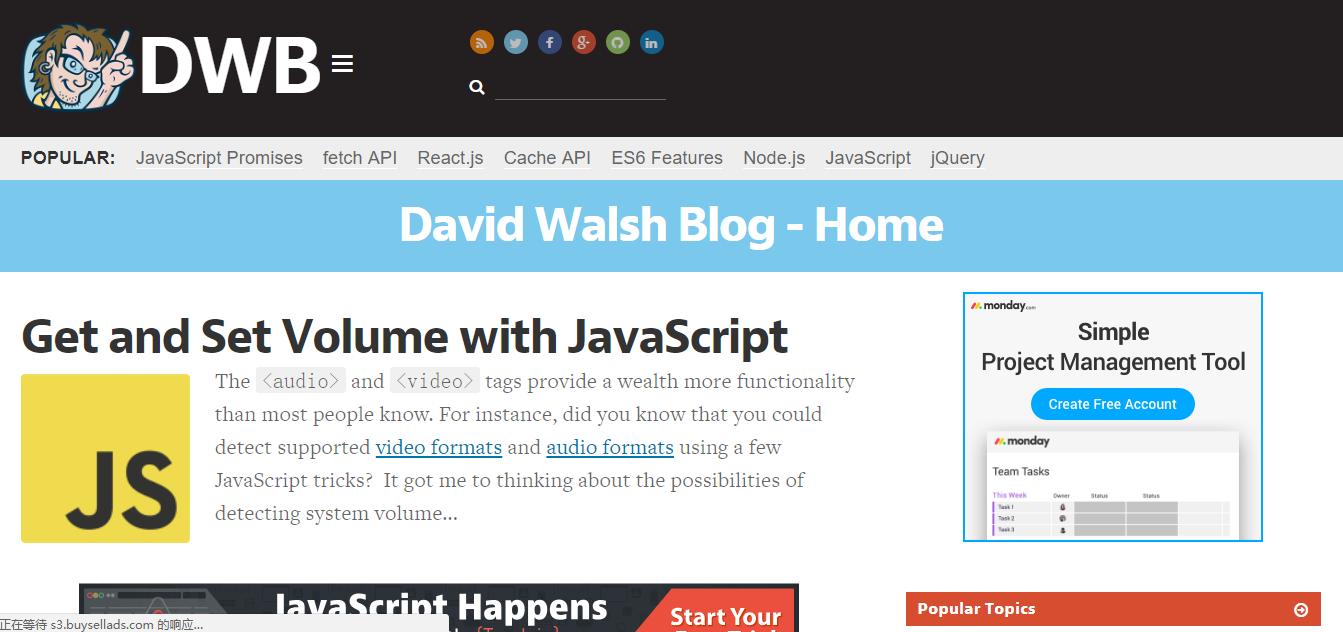 David Walsh is a personal blog that publishes articles on various front-end and back-end technologies for web development such as AJAX, Canvas & SVG, CSS, Dojo, Firefox OS, HTML5, JavaScript, jQuery, Node.js, etc. If you are particularly passionate about software development, you will definitely like David Walsh's blog. Although the content is not very detailed, it does solve a lot of common development problems, making the blog well worth your time.
5. Sitepoint
Focus on: HTML and CSS, Javascript tutorials, paid ebooks and videos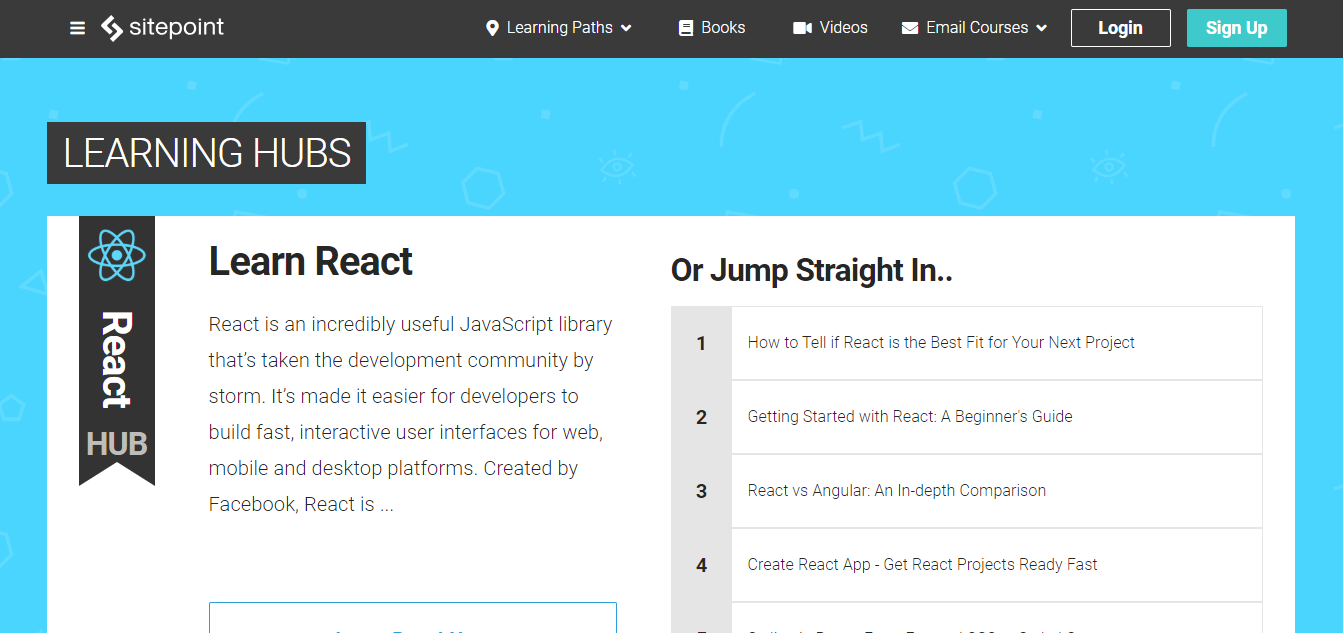 Compared to others on the list, SitePoint is more like an online learning platform than a web development blog. Its forum is also one of our favorite online development communities. SitePoint's primary goal is to help beginners understand the programming languages and technologies they choose, and, going forward, to improve their knowledge. Other areas of learning include web development, web design, technical writing, and user experience.
6. Onextrapixel
Focus on:web design, web development
The content of web design and web development is usually complementary, and at the end of the day, they have the same goal - to create a good website. From this perspective, OXP can both be a web development and a web design blog. It provides many resources, articles, and tutorials. Topics include design, graphics, WordPress, CSS, social media, development, giveaways, toolkits, and events. Tutorials include step-by-step instructions for writing code, modifying images in Photoshop, and more. Whether you're searching for useful HTML5 tips or articles from the new jQuery library, you will find them here.
7. Noupe
Focus on: Independent web development section, development language, and tutorial classification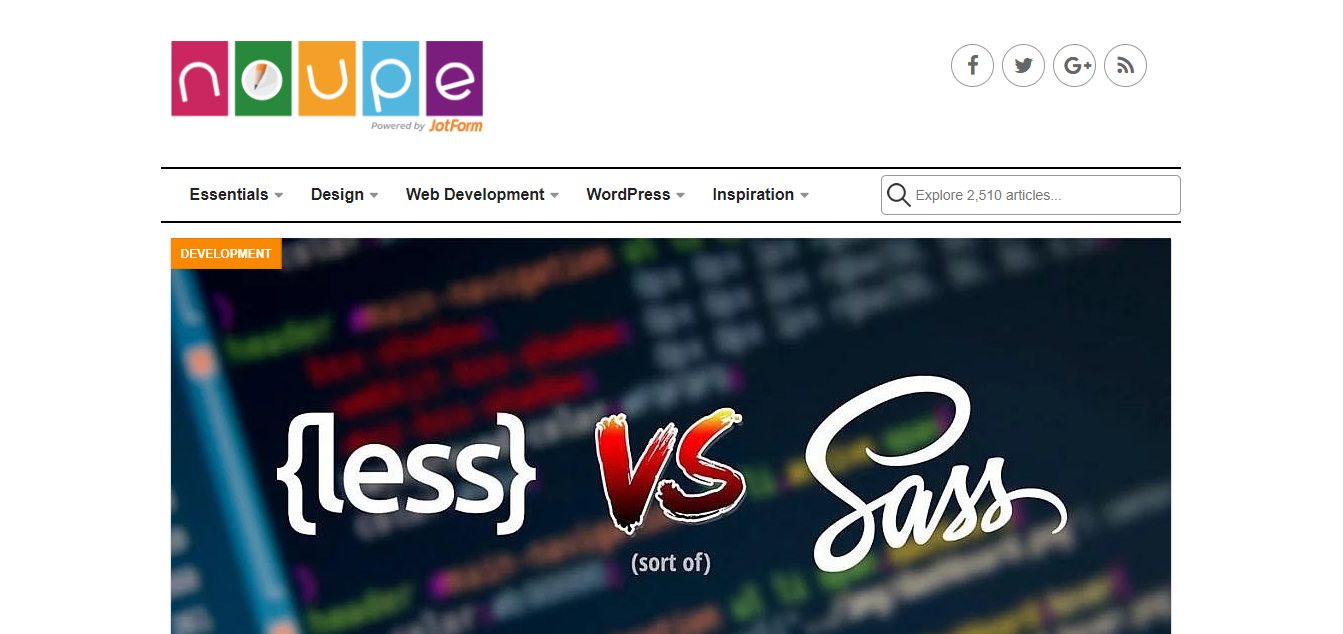 Noupe is a website from Germany offering resources for website design and website development. The site provides web designers and web developers with a wide range of up-to-date tools and tutorials, as well as relevant dynamic news. This site covers all aspects of design: CSS, creating interactive web applications without sacrificing popular browser compatibility (Ajax), Java scripting, website design, website graphics and icons, web page layout, advertising, and more. The goal of the website is to help users communicate effectively with other users through the functional interface of the website.
8. Mockplus blog
Focus on: web design, excellent web development case resources
Mockplus is a website for prototyping tools. But in addition to providing prototyping, it also pays great attention to the process of designing the specification for prototyping to implementing the development process. Its blog provides a wealth of design resources, including excellent web design templates and resources related to excellent web development cases. Although it is not a dedicated web development blog, the content provided can also bring some inspiration to developers. Reading the blog will lay a solid foundation for excellent web development starting from the initial prototype design.
Web Development Community Website
1. Stack Overflow
Focus on: Q&A community, simple design, no ads, no pop-up window
StackOverflow is probably the most active programmer community in the world. Users can submit questions, browse questions, index related content, and use simple HTML when creating a homepage. On the question page, no ads, sales information, JavaScript windows, etc. will pop up. Recruitment information is also displayed on the right side of the website to provide quality employment channels for developers around the world.
2. Reddit
Focus on: Q&A community, multi-development board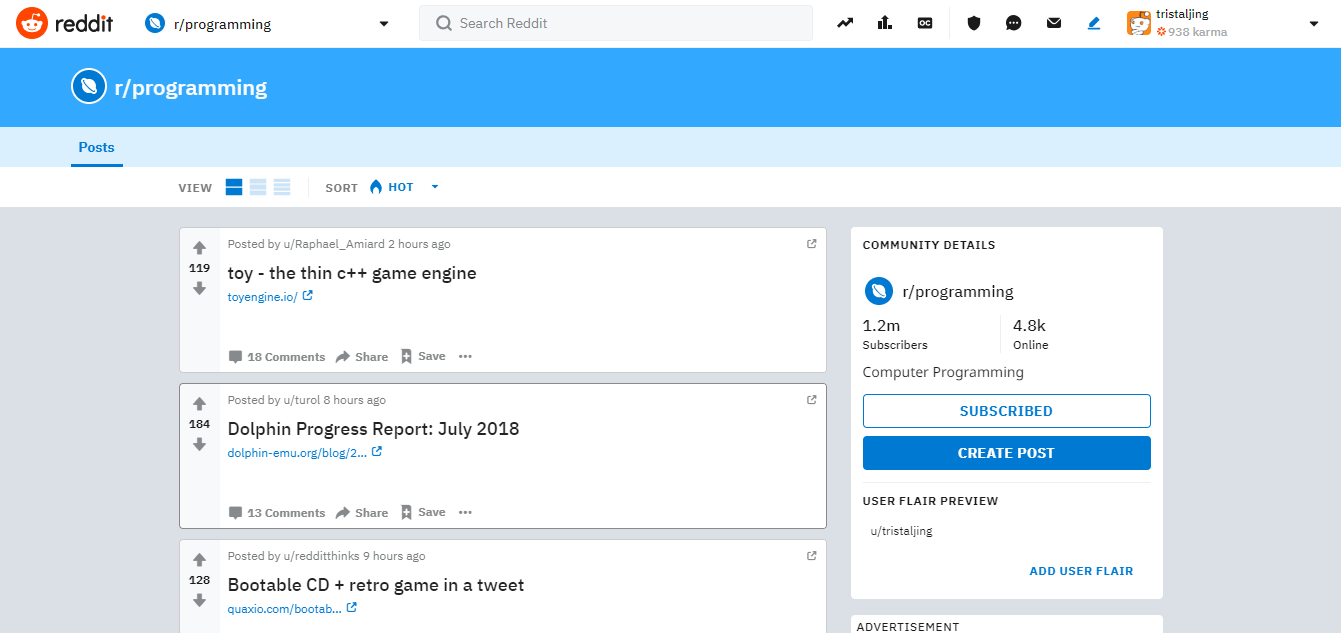 Although Reddit is not a dedicated developer information site, you can subscribe to subReddits focused on web development. As a member of a subReddit, you can follow and start topic threads, as well as join discussions. With some of the sharpest minds being active on Reddit, you will learn a lot from your peers.
3. Github
Focus on: open source code website
Github is a code-hosting platform. You can choose to share your code with the public and let everyone participate. At the same time, GitHub is also a very useful version management tool. Developers submit their own code and you can share work results. The more famous open source software developers also will release their own code via the platform. You can learn from each other, learn from others' code, ideas, and make progress together.
Summary
As a developer, keeping a mindset open to learning is what will make you an expert. Whether you're a beginner or a seasoned developer, the 11 web development blogs listed above are well worth your attention.
More about website blog:
How Long Does It Take to Learn Web Development and Get a Job?
Top 20 UX Design Blogs and Resources You Should Follow in 2018 (Updated)