Updated 8/11/2022: We added more tools to improve your work efficiency.
Teamwork, collaboration, and productivity are vital elements of a team's success. A good team collaboration means more communication and more iteration between people involved in project development. But only when you have the right collaboration tool, it's possible to make your collaboration easier and productive.
1. Why use the online collaboration tool?
An online collaboration tool is a platform that connects an entire team, it allows you to collaborate with your remote and in-house team members without any problems. It helps to ensure everyone is on the same page and they get the latest updates.
Online collaboration platform helps connect remote workers together, saving time and money.
Improve team productivity
Connect remote team members and streamline the workflow.
Many online collaboration tools allow team members to provide access to sensitive data online with password protection and permission management systems.
Avoid switching tools frequently
As we all know, to complete a design project, designers, project managers, and developers often have to switch between various tools.
When you have to switch between tools daily, you become less productive.
A comprehensive online collaboration tool eliminates the need to switch between tools. It helps you to streamline your workflow.
Collaborate online in real-time
Compared with the traditional share & deliver methods, such as email apps, collaboration platforms allow you to interact with other people in real-time.
No matter if your team shares the same workspace or different team members are located on different sides of the globe, you can communicate with them with ease. So, never hesitate to try a new collaboration tool since you don't know how much time it will save you.
2. Who needs to use the online collaboration tools?
Online collaboration tools are used in many industries today. Here are six user groups of users who may benefit from these tools:
Designer (web designer, UX/UI designer, graphic designer, etc.)
Project manager or product manager
Software engineer
Website developer
Here is a list of the top 19 project collaboration tools to choose from. Let's dive in!
Project management tools
Design collaboration tools
Team communication tools
Document collaboration tools
Bug tracking and collaboration tools
Project management tools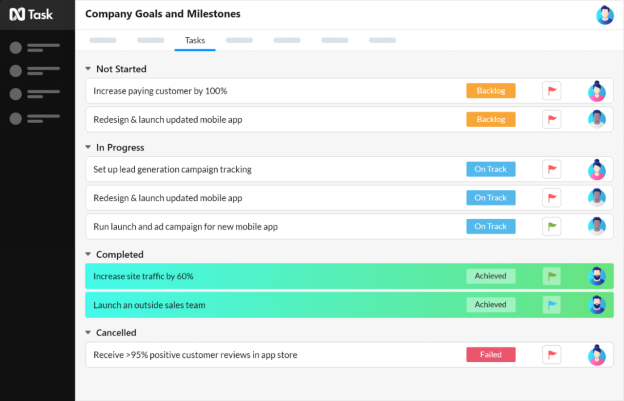 Platform: Web, iOS, Android
Price: Premium - $3/user/month, Business - $8/user/month
Integration: Zoom, Google Calendar, Apple Calendar, Outlook Calendar, Microsoft Teams
nTask is one of the best online collaboration tools that you can use right now in 2022.
The application is incredible team management, task management, and project management tool that allows you to collaborate and communicate on the tasks and processes that you perform as part of the project development process.
The tool also helps makes sure that these tasks are tracked and managed to complete the development process in time without any hurdles.
Pros:
- Easy and Intuitive interface
- Flexible management mode
- Timesheet management and Time tracking
- Meeting management
Cons:
- Lack of customization
- Lack of reporting features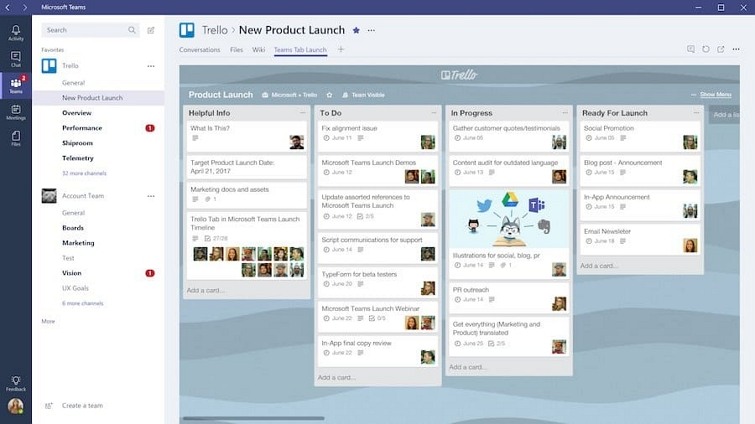 Platform: Web, iOS, Android
Price: Business - $9.99/per user/month, Enterprise - $20.83/per user/month
Integration: GitHub, Google Drive, Slack, etc.
Trello is currently one of the most popular collaboration management apps. It allows team members to create and distribute projects, as well as categorize items through the platform in a very simple manner. It also allows you to track the progress of a project at any time. If you have ever searched for project collaboration tools in Google, you've come across Trello for sure.
Pros:
Clear and user friendly UI design.
Tasks presented in a format of cards.
Flexible management mode.
Effective time tracking for each task.
Cons:
Limited storage space - Gold member gets 250 MB per upload, basic member gets only 10 MB per upload.
Comment cannot be modified, but only write a new one.
Not suitable for a large project.
Requires internet connection. No offline mode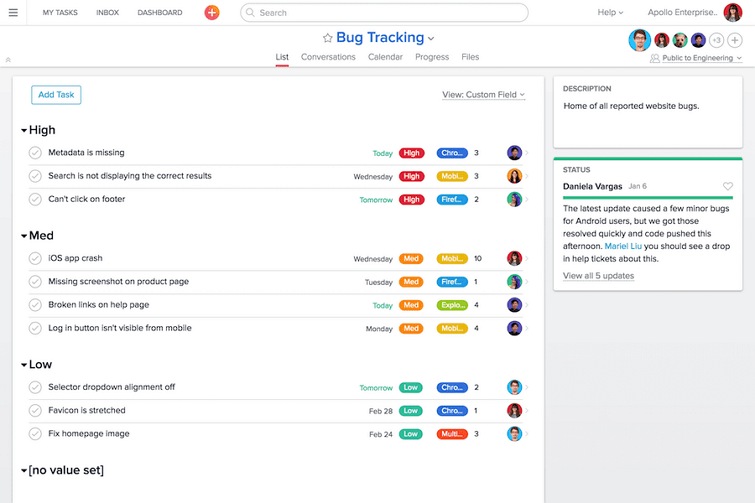 Platform: Web, iOS, Android
Price: Premium - $10.99/per user/month, Business - $24.99/per user/month
Integration: Slack, Dropbox, Github, etc.
Asana is one of the leading project collaboration management tools today. It's an all-in-one platform including email, office documents, and communication.
Through this platform, you can organize all your projects in a list or board. You can create tasks directly and invite team members to join a project. You can set deadlines for individual tasks to be on track.
Moreover, team members can make a comment directly below a task, which facilitates communication between team members in real-time.
Pros:
Free plan offers for small companies.
Colorful, interactive interface design that creates a positive impression on users.
Various integrations - Salesforce, Slack, Dropbox, Google Calendar, and more.
Secure data storage.
Customizable dashboards for companies, job applicants, customer queries, and for group conversations.
Cons:
Non-zero learning curve. New users have to invest their time to learn how to use the tool
Some features and options are only relevant for large companies.
No time tracking. It's hard to calculate how much time a member spends to complete a task.
Limited exporting functionality. No PDF and Excel export.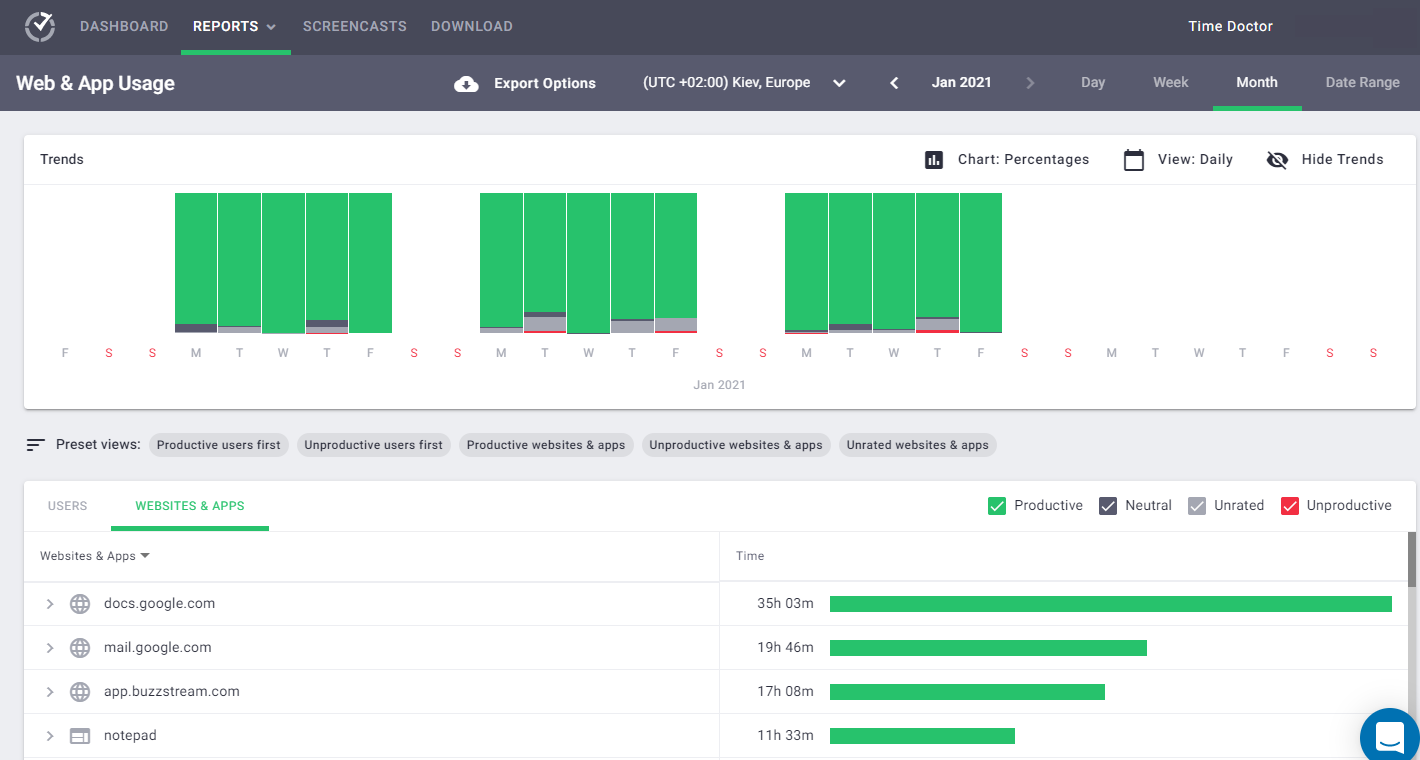 Platform: Web, iOS, Android
Price: Basic - $7, Standard - $10, Premium - $20
Integration: Asana, Clickup, Evernote, Freshbooks, FreshDesk, Gsuite, Github, Ring Central, Intercom, Jira, Office 365, PipeDrive, Pivotal Tracker, Plutio, Podio, Salesforce, Sentry Slack, Spiceworks, Taiga, Teamwave, Teamwork Projects, Todoist, Trainual, Transferwise, Trello, Unfuddle, Wordpress, WorkflowMax, Worksection, Wrike, Zapier, Zendesk, Zenkit, Zoho
Time Doctor is an all-in-one employee time tracking and performance management tool. It helps teams work productively by giving them an easy-to-use interface to manage time. From tracking time spent on websites and apps to excellent integrations with various workplace software like Salesforce and Jira, Time Doctor provides an efficient solution to employee monitoring for remote teams.
Pros:
User-friendly and intuitive interface.

Manual and automatic time tracking.

See time worked on multiple projects and tasks accurately.

Payroll and payment feature for paying employees quickly.

Access daily/weekly work summary reports.

Online and offline time tracking.

Strict privacy and data security policies.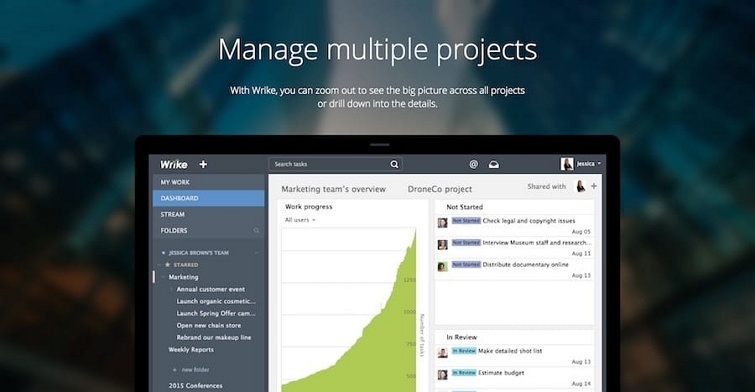 Platform: Web, iOS, Android
Price: Pro - $9.8 /per user/month, Business - $24.8/per user/month
Integration: Jira, Dropbox, LinkedIn, Zapier, Salesforce, etc.
Wrike is an award-winning online project collaboration management platform. It helps product teams to collaborate, plan, and get work done faster. They are able to collaborate, plan, and get work done faster. With Wrike, you can manage and track your team's projects easily. Likewise, Wrike supports real-time editing, so it allows you to view real-time reports and the status of all of your team's projects at any time.
Pros:
Attractive and modern UI design.
Various view methods - list, table, kanban board, Gantt, etc.
Real-time editing & viewing.
Easy report builder.
Ddd stakeholders without extra costs.
Cons:
UI design requires polishing (the difference of a folder, a project, and a task is not notable).
Interaction design also requires some attention (the folder/project/task panel should be much easier to open and close).
Expensive add-on.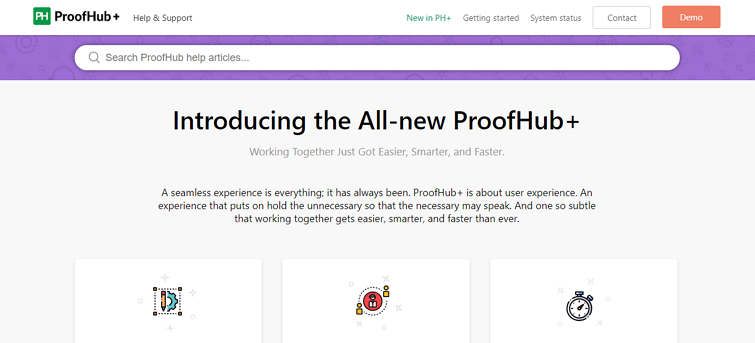 Platform: Web, iOS, Android
Pricing: Essential - $45/month, Ultimate control -$89/month
Integration: Freshbooks, Google calendar and iCal, Box, Dropbox, Google Drive, Onedrive, and Outlook.
ProofHub is an all-in-one tool that brings your projects, remote teams, and clients to the shared collaboration space. Having project management software makes it very easy for a manager to keep track of who is doing what, know how much each team member is working and what they are producing. You can keep everything organized in one central place rather than in various email threads.
Pros:
Drag & drop files directly from Google drive or Dropbox to Proofhub.
Easy project management.
Record and highlight for important events and milestones.
Clear task and project management.
Cons:
Clunky user interface.
Notification overload.
Cannot separate files into proper folders.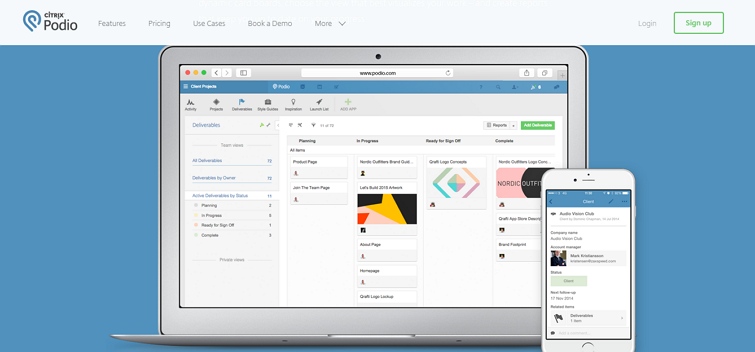 Platform: Web, iOS, Android
Price: Basic - $9, plus - $14, premium - $24
Integrations: Dropbox, Google Drive, Evernote, Sharefile, etc.
Podio is a customizable project management and collaboration tool that allows team members to build, customize and sync team projects and workflow online. It gives users a way to share files, view the status of the ongoing projects, get feedback and timely updates.
Pros:
Instant messaging and video chat for quick communication.
Automated progress reporting and calculations.
Any app, workflow, form, and logic can be customized to fit your business.
Cons:
Complex setup process.
Pdf file export is not available.
Slightly dated user interface.
Platform: Web, iOS, Android, Mac, and PC.
Price: 30-day free trial; $99/month
Integrations: Zapier, Mr.ToDo, Userback, etc.
Basecamp is one of the most beloved project management and team communication tools used by small/growing companies in the world.
It offers users all features that a good project management tool should have, such as creating to-do lists, scheduling projects, storing and sharing project-related files and documents, starting a real-time group chat, etc.
It becomes popular for its client-centered UIs and features. It is an ideal choice for small businesses.
Pros:
Files & docs provided for each project.
Affordable pricing.
Easy way to customize notification settings.
Drag & drop file upload.
Easy to create, search and assign tasks.
·
Cons:
No time tracking feature
No project archive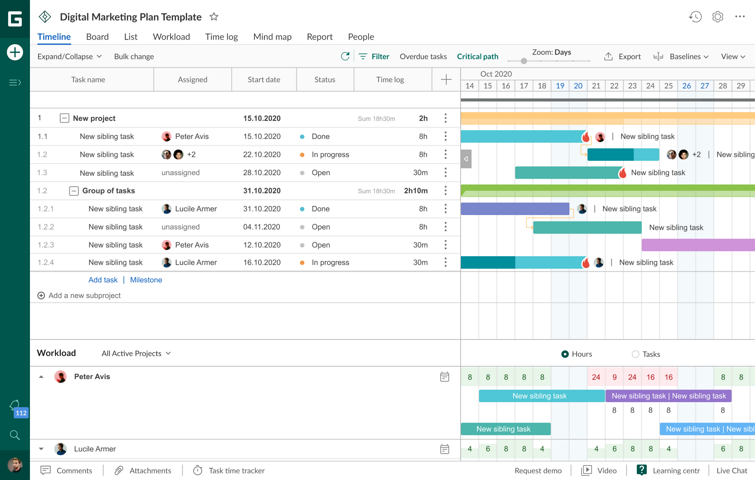 Platform: Web
Price: Individual - $15/per user/month, Team - starts at $4.5/per user/month
Integration: JIRA Cloud, Google Drive, Slack, etc.
GanttPRO is one of the most recognized multiple award-winning project management tool based on Gantt charts. It allows project managers, teams, and stakeholders to get an instant view on every project detail.
With the help of this software, you can manage and track all of your tasks, their progress, and assignees, collaborate and communicate with a team, manage resources, their cost, and overall budget, as well as track time spent on tasks.
GanttPRO offers a highly intuitive and attractive interface.
Pros:
Clean and user-friendly UX design based on a flexible Gantt chart timeline.

Short learning curve.

Smartly designed resource management and allocation.

Project export and sharing, even with unregistered users.

Different views: Gantt chart, board, list, calendar, etc.
Cons:
Design collaboration tools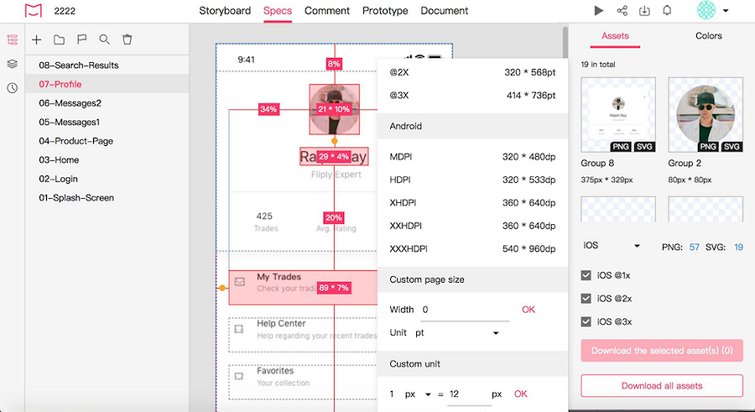 Platform: Web, iOS, Android
Price: Free (5 members with unlimited collaborators)
Team - $39/month (unlimited projects and collaborators)
Team Pro - $129/month (unlimited projects and collaborators)
Plugin: PS, Sketch, Adobe XD
Mockplus iDoc is a powerful project design collaboration tool for designers and developers. It creates a connected online space for product teams and streamlines designer-developer collaboration. Mockplus automatically creates a 'dev-friendly' view of your design files, capturing CSS styles, fonts, colors, and slices. In short, it gives developers exactly what they need to bring designs to life. It offers many useful additional features such as version history and more.
Pros:
Export designs in one click from Sketch, Adobe XD, and Photoshop..
Generate accurate specs, assets, and code snippets automatically.
Show design tasks and workflow in full-view storyboard.
Comment right on designs and receive instant feedback.
Build hi-fi interactive prototypes with real design files.
Upload various types of product documents and preview them online.
Cons:
UI requires polishing.
Should be more user friendly.
Download the following plugins to start your design journey:
·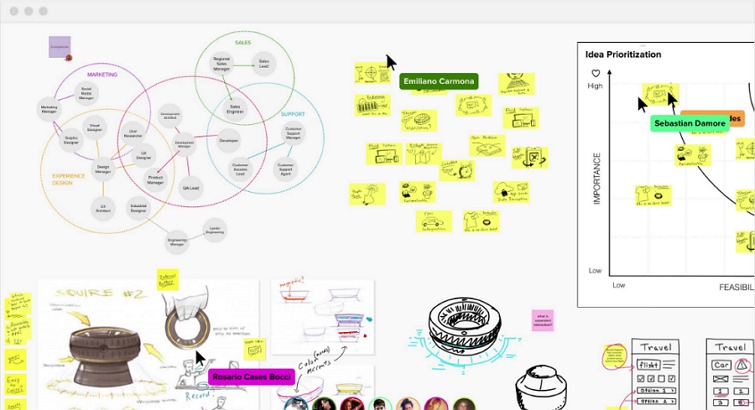 Platform: Web, iOS, Android, Mac, and PC.
Price: Starter - $12/user/month, Plus - $20/user/month
Integrations: Slack
Mural is a good online brainstorming and collaboration tool that allows users to collect inspiration and gather feedback on a digital whiteboard. It's easy to add links, documents and other media files to demonstrate your design ideas. For better communication, you can also use voice-based feedback.
Pros:
Mural can run on any ColdFusion or Java application server.
Highly customizable.
Unlimited guests access.
Cons:
For tech-savvy users.
UI requires polishing.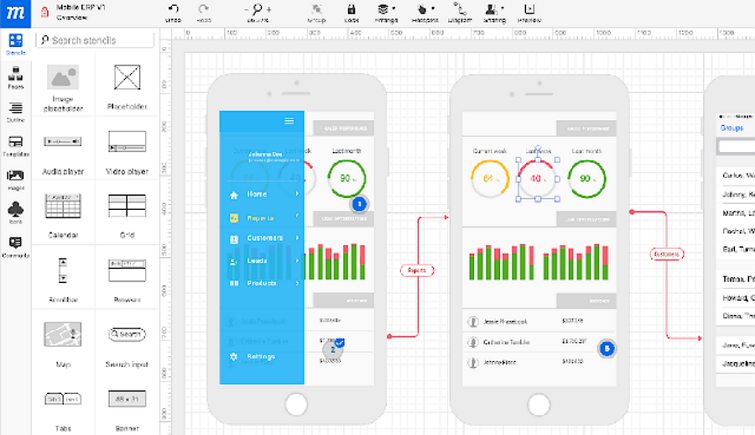 Platform: Web, iOS, Android, Mac, and PC.
Price: Personal- $13/user/month, Team - $20/user/month
Integrations: Atlassian, Slack, Google Drive, Google Fonts and Dropbox, etc.
Moqups is another online mockup, wireframe and collaboration tool that allows users to create and create mockups, wireframes and prototypes together. It has built-in integration with Slack, Google Drive, Google Fonts and Dropbox, etc.
Pros:
Easy to create low fidelity wireframes to communicate your ideas quickly.
Easy to share your design with designers and developers.
Cons:
Customer service needs to be improved.
Non-zero learning curve.
Team communication collaboration tools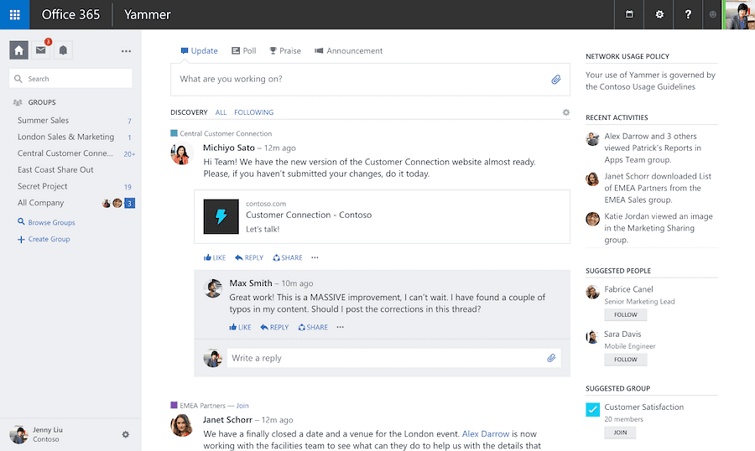 Platform: Web, iOS, Android, Mac, and PC.
Price: Business - $8.25/user/month, Premium - $12.5/user/month
Yammer is a social networking platform launched in September 2008. It brings small, mid-sized, and large teams together and helps companies boost collaboration. What makes Yammer unique is a strong focus on privacy—only people from the same domain can access the shared space.
Yammer helps you establish a community where people can interact with each other based on their interests and share ideas and opinions.
Pros:
It works on different operating systems.
Can be used as an in-house platform for corporate news.
Easy to learn how to use.
Cons:
Mobile UX should be improved.
Lack of integration with many Office365 features.
Competes with other products from Microsoft family such as Microsoft Teams or Kaizala.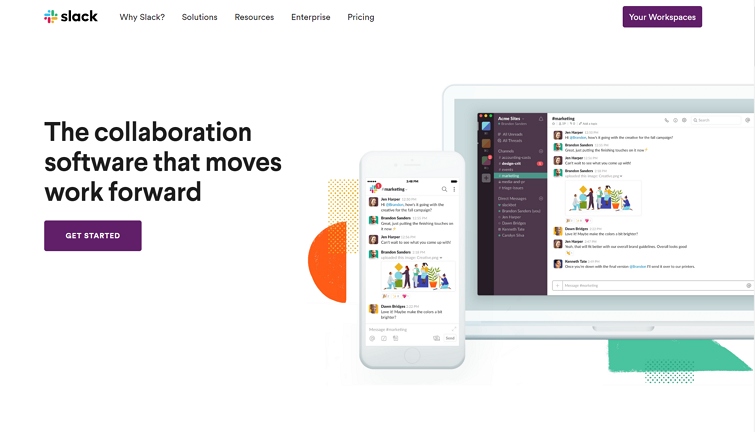 Platform: Web, iOS, Android
Price: Basic free (up to 10k messages); Standard $6.67/month
Integrations: Google Drive, Trello, etc.
Slack is a powerful collaboration tool for all your communication, which offers real-time communication, file sharing, archiving, and search functions between team members. Anyone can tag anybody in Slack; and when you tag someone, they will receive a notification about that.
You can create multiple channels for different categories or departments such as UX design, web development, project management, etc. This feature makes Slack extremely valuable because team members can filter the content.
More importantly, Slack provides powerful integrations such as email, SMS, Google Drive, Twitter, Trello, Asana, GitHub, etc.
Pros:
Easy to customize notification preferences. You can set up to receive or mute certain channels.
Separate channels for different types of messages help to prioritize signal over noise.
Built-in emojis, "reactions," and gifs.
Cons:
The browser app sometimes does not send notifications on time.
Too expensive.
Platform: Web, iOS, Android
Price: $5 for 30 GB of storage
Google Hangouts is a free instant messaging app that enables you to chat and talk to your colleagues anytime, anywhere. It also allows you to gather your team on a group call using your Google account.
The key advantage of Hangouts is its simplicity. It is accessible for users with various tech skills.
Pros:
Available both on mobile and desktop.
High quality audio and video.
Easy to add and remove contacts.
Cons:
File sharing is not very friendly.
Limited UI controls.
Confusing groups.
Platform: Web, iOS, Android
Price: Basic- free, United States - £2.40/month, India - £6.60/month, North America - £6.00/month
Skype is another popular communication tool that allows users to talk and collaborate online. It supports smart messages, audio and video calls between different digital devices. It offers a lot of helpful features such as group video calls and screen sharing, which help users communicate and collaborate effortlessly.
Pros:
Screen sharing is available.
Support group calls.
Easy to install and use.
Free calls between Skype users.
Cons:
Language translation service is not supported.
No access to emergency services.
Calling quality based on the internet service.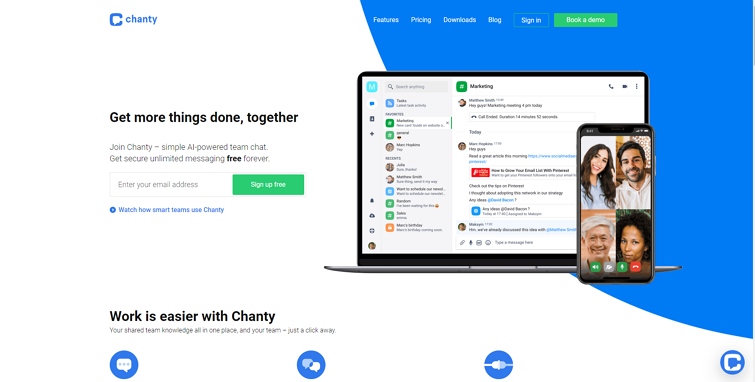 Platform: iOS, Android, PC
Price: Basic free; Business $3/month
Chanty is a simple communication tool for small teams/companies, which offers users many useful features, such as instant messaging, audio and video calls, unlimited search history and easy file sharing, for seamless communication and collaboration online.
Pros:
Reach your team and stay synced with text, voice or video.
Zero learning curve.
Free form search is great.
Unlimited message history.
Great customer support service.
Cons:
No option for leaving audio messages.
No GIFs.
Lack of custom emojis and advanced customization.
·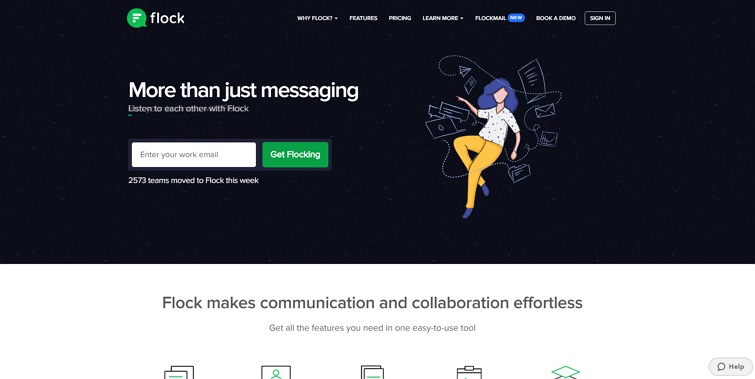 Platform: PC, iOS, Android
Price: Basic free (up to 10GB file storage); Pro $4.5/month
Integration: Google Drive, Dropbox
Flock is a good online platform for a company or team to communicate and collaborate seamlessly online. With this communication and collaboration tool, users can easily send messages and make video/audio calls, create and manage team projects and polls, share and notify members.
Pros:
Support real-time communication.
Support sharing via Google Docs, Codes, etc.
Team members can create to-do lists.
Offers a Do Not Disturb feature.
Cons:
Limited number of messages (the total number of messages per user is 10,000).
Noisy notifications.
Document collaboration tools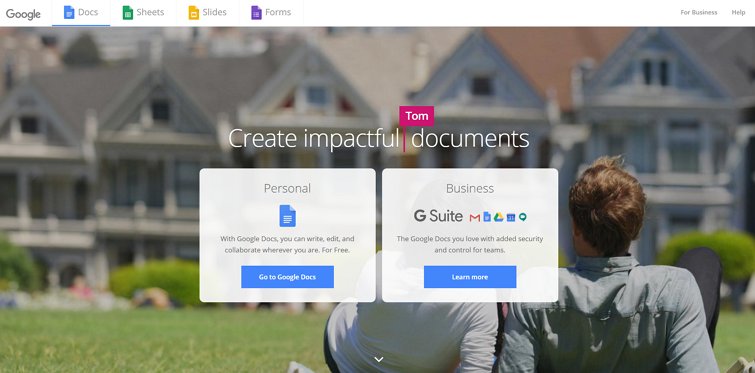 Platform: Web, iOS, Android
Price: Free
Google Docs is a powerful online collaborative office tool that allows you to create, edit, and collaborate on documents anytime, anywhere - and for free. On Google Docs, multiple people can edit the same document online simultaneously, with changes being automatically saved as you make them. Users can also add comments and tag relevant team members.
What's more, there are hundreds of fonts you can choose from, and you can add links, images, and drawings, etc.
Pros:
Documents autosaved.
Simultaneous editing makes teamwork more effective.
History of changes (view and rever to any versions).
It is seamlessly integrated with Gmail.
Cons:
Impossible to set a "default" font.
Users must log in to use it.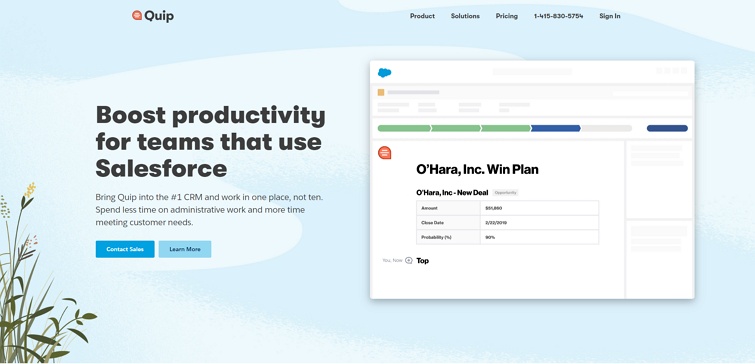 Platform: Web, iOS, Android
Price: Starter - $10/user/month, Enterprise - $25/user/month
Integrations: Google Drive, Slack
Quip is also a document processing tool for team collaboration, allowing multiple people to edit documents at the same time. Unlike other products, Quip supports instant messaging. If you encounter any problems in the process of collaboration, you can directly communicate with other team members. Quip enables users to get their work done faster by reducing email and meetings, thus significantly improving team efficiency.
Pros:
Easy to learn how to use the tool.
Zero delay during collaboration.
Custom templates are available.
Cons:
Lack of internal task delegation or planning.
Lack of report generation feature.
UI should be improved.
·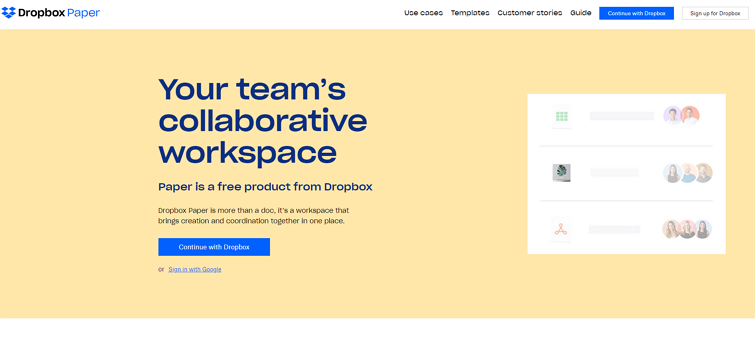 Platform: PC, iOS, Android
Price: $9.99/month
Dropbox Paper is a perfect document collaboration platform for design teams that helps them create, edit, brainstorm, and review designs, manage tasks and even run meetings online with rich media (including texts, images, and videos, etc.).
It is an excellent alternative to Google Docs and a perfect choice for your team to work internally and collaboratively online.
Pros:
Transparent and straightforward file sharing.
Easy to use.
Dynamic documents supported by pre-built rich media and code snippets.
Templates are available.
Cons:
Limited export forms.
The service is only available when you are online.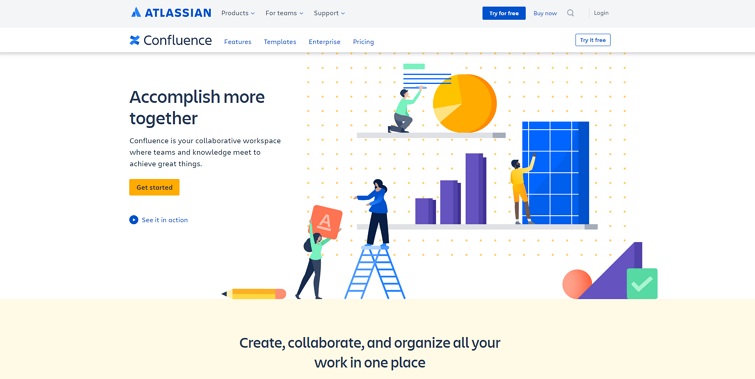 Platform: Web
Price: $10/month
Integrations: Jira, Trello, Slack, etc.
Confluence is another handy cloud-based document collaboration tool that allows teams to create, organize and discuss work online. Users can easily record team meetings and memos, creating and editing strategy documents, budgets and more team collaboration contents based on different needs.
Confluence allows you to set permissions for different contents and protect the sensitive data.
Pros:
Team members can track project status and their personal tasks.
Team members can add links.
Project status can be shared with non-team members.
Custom themes and color combinations are available.
Cons:
Unstable backup service.
Not very user-friendly.
Navigation is not always intuitive.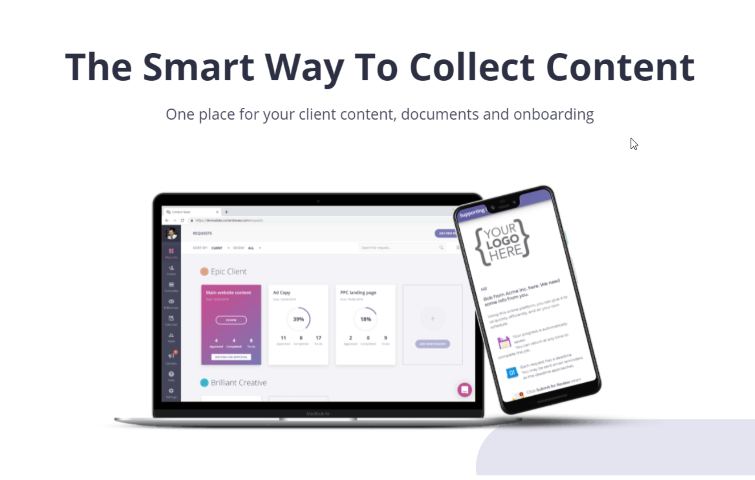 Platform: Web
Price: $29/month
Integrations: Zapier, webhooks
Content Snare helps marketing agencies, web designers and professional services collect content and files from their clients. Chasing clients to send information is a big roadblock for almost every project. Putting a system in place helps keeps projects on track and improves the relationship with the client.
Pros:
Automatic email reminders
Can save templates for future use
Technophobe-friendly interface for clients
Cons:
No option to bulk send requests
Can not be white-labeled
Bug tracking and collaboration tools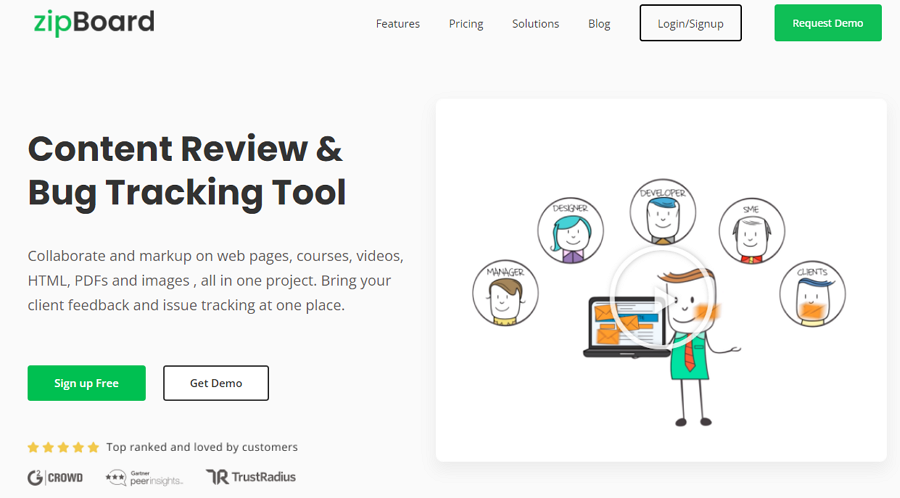 Platform: Web - No on-premise software required.
Pricing: Starter - $39 / month, Enterprise - Custom
Integration: Slack, Jira, Microsoft Teams, Lambda Test, Wrike
A collaborating and bug tracking tool for all your project management needs. Zipboard is a visual feedback and issue tracking tool that specializes in collaboration with all, be it, team members, clients or other stakeholders. It lets you annotate on live web pages and simplifies your bug tracking process for web developers and eLearning reviewers. With zipBoard, review all your online proofs on a centralized platform regardless of the digital content and get rid of the endless email chains and screen-sharing meetings.
Pros:
Easy to use, simple UI, especially for non-technical people.
Intuitive project management features such as Kanban and Table view.
API creation on demand.
Traceability of all versions and changes.
Clear designation of roles for confusion-free collaboration.