Summary:
It is a known fact that efficiency plays a vital role in business success. There is a saying that "the best way to maximize efficiency is to make full use of the tools available to you." There are multiple tools that help you collaborate effectively as you monitor task progress or keep track of your objectives.
If you are a project manager or a designer looking for a new tool and have no idea which one would be a good fit, then you're in the right place. Here is a list of the top 10 project collaboration tools to point you in the right direction.
Let's dive in!
The Tools:
Project management tools
Design collaboration tools
Team communication tools
Document collaboration tools
You'll find these tools useful if you are a:
Designer (web designer, UX/UI designer, graphic designer, etc.)
Project manager
Product manager
Software engineer
Website developer
Business operation
Trello is currently one of the most popular collaboration management apps. It allows team members to create and distribute projects, as well as categorize items through the platform in a very simple manner. It also allows you to track the progress of a project at any time. If you have ever searched for project collaboration tools in Google, you've come across Trello for sure.
In addition, Trello's interface is user-friendly. All of your team tasks are displayed using cards. Each column represents different parts of a project, and you can organize different tasks according to your needs. There is no doubt that Trello enables team members to work together effectively.
Platform: Web, iOS, Android
Integration: GitHub, Google Drive, Slack, etc.
Features: Create task lists, clear and friendly user interface, flexible management mode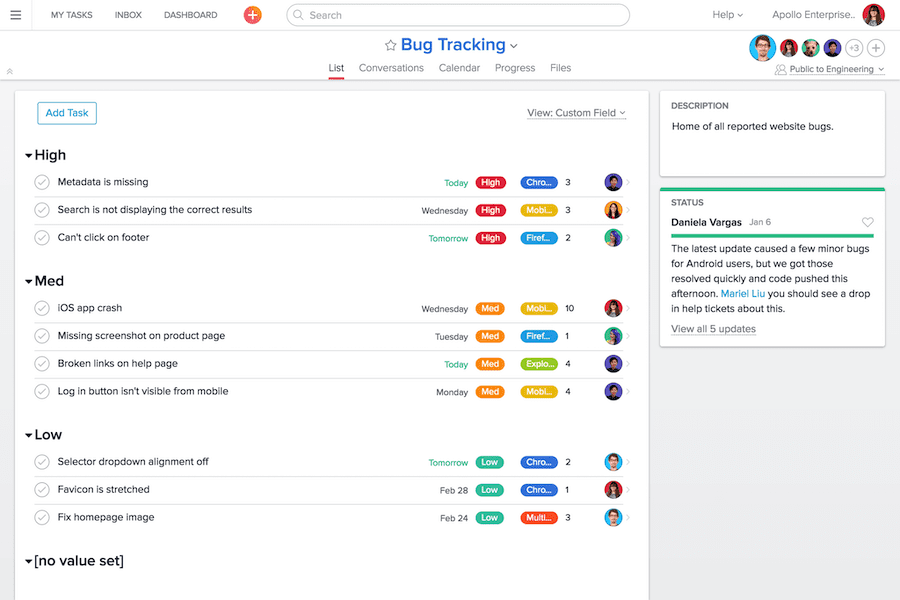 Asana is one of the leading project collaboration management tools today. It integrates email, office documents, and communication. Through this platform, you can organize all your projects in a list or board. You can create tasks directly and invite team members to join a project. To ensure that a project progresses as desired, you can set deadlines and further emphasize urgency.
Moreover, everyone can make a comment directly below a task, which facilitates communication between team members in real-time.
Platform: Web, iOS, Android
Integration: Slack, Dropbox, Github, etc.
Features: Project priority set, to-do list, more than 100 integrations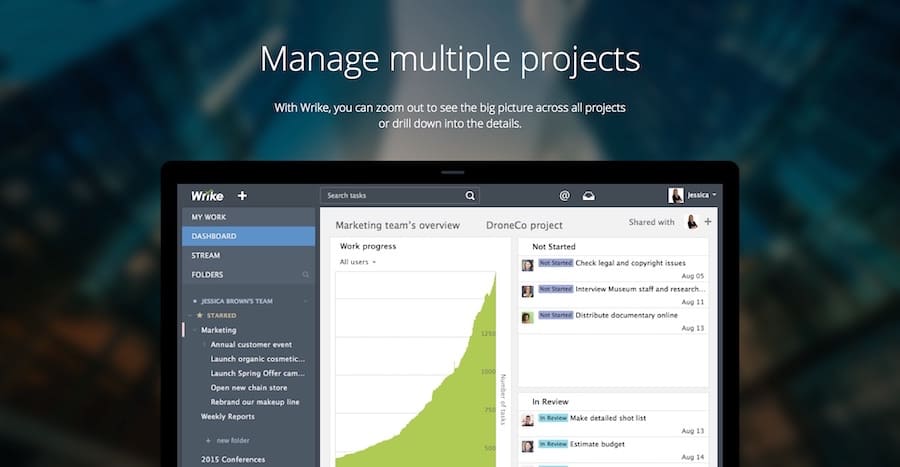 Wrike is an award-winning online project collaboration management platform which helps team members get involved in every project. They are able to collaborate, plan, and get work done faster. With Wrike, you can manage and track your team's projects easily. Likewise, Wrike supports real-time editing, so it allows you to view real-time reports and the status for all of your team's projects at any time.
Platform: Web, iOS, Android
Integration: Jira, Dropbox, LinkedIn, Zapier, Salesforce, etc.
Features: Real-time editing, customized dashboards, document sharing, version control, easy-to-use workspace

ProofHub is an all-in-one tool that brings your projects, remote teams and clients under one roof. Having a project management software makes it very easy for a manager to keep a tab on who is doing what, to know how much each team member is working and what they are producing. You can keep everything organized in one central place rather than many long email threads.

Other than this, ProofHub comes packed with features such as online proofing, Kanban boards, Gantt charts, time-tracking, calendar, reports, and many more to help remote teams to focus better.


Platform: Web, iOS, Android
Integration: Freshbooks, Google calendar and iCal, Box, Dropbox, Google Drive, Onedrive, and Outlook.
Features: Proofing, custom roles, task management, reports, time management.
Backlog is the all-in-one collaborative project management app for teams. Combining project management, bug tracking, and version control, Backlog brings project and code management together at last. With Kanban-style boards for tracking tasks and issues, Gantt and Burndown charts for tracking projects, and Wikis for documenting shared knowledge, your team will be well prepared to deliver their best work. Push notifications, history threads, and drag & drop file management make keeping everyone on board a breeze.
Platforms: Web, iOS, Android
Integrations: Jira, Dropbox, LinkedIn, Zapier, Salesforce, etc.
Features: Custom fields, Subtasking, File sharing, Kanban-style boards, Gantt Charts, Burndown charts, Git & SVN repositories, Wikis, and more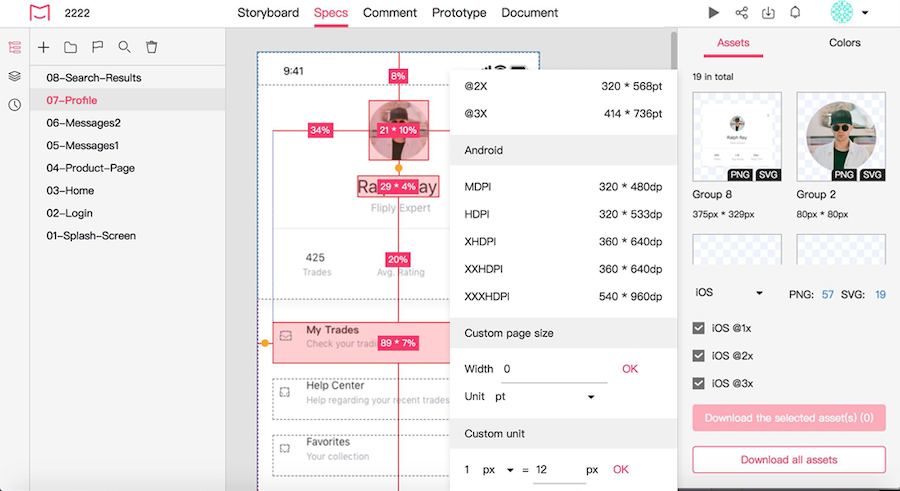 Mockplus iDoc is a powerful project design collaboration tool for designers and developers. Its strength lies in creating a connected online space for product teams. It excels at facilitating designer-developer collaboration. Mockplus automatically creates a 'dev-friendly' view of your design files, capturing CSS styles, fonts, colors, and slices. In short, it gives developers exactly what they need to get cracking on bringing your designs to life. There are also useful additional features such as version history and more.
Platform: Web, iOS, Android
Plugin: PS, Sketch, Adobe XD
Features:
Export designs in one click from Sketch, Adobe XD, and Photoshop
Generate accurate specs, assets, and code snippets automatically
Show design tasks and workflow in full-view storyboard
Comment right on designs to give instant feedback
Build hi-fi interactive prototypes with real design files
Support uploading of various types of product documents and preview online
Download the plugin to start your collaborative journey:
Invision is an efficient prototyping collaboration tool which allows designers to create prototypes easier. You can upload your designs, create actions, and receive feedback seamlessly from your colleagues and clients via this platform.
Platform: Web, iOS, Android
Plugins: PS, Slack, etc.
Features: High fidelity prototype, online review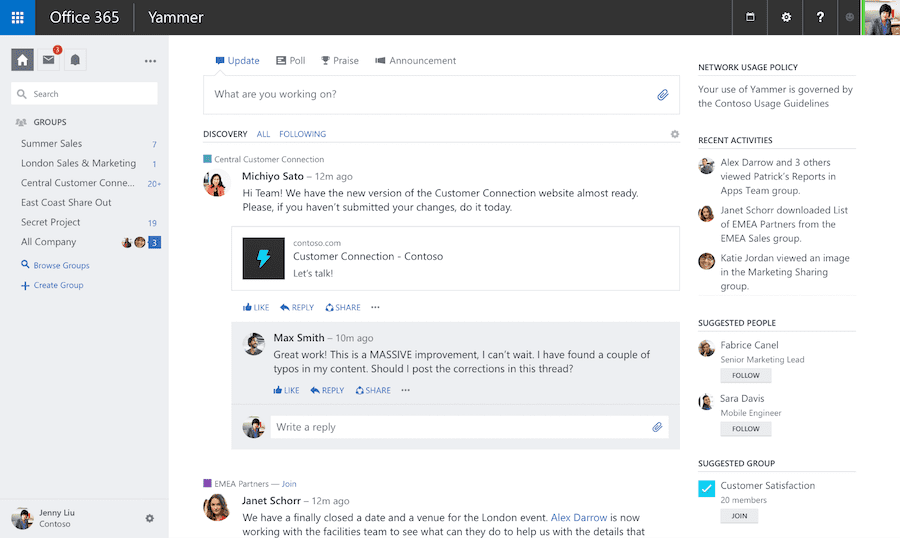 Yammer is a social networking platform launched in September 2008. It brings small, mid-sized, and large teams together and helps companies boost collaboration. What makes Yammer unique is that it can only be accessed with a working email registered in the company's domain, ensuring privacy.
Yammer helps you establish a community where people can interact with each other based on their interests and collect ideas and opinions from the entire network of colleagues.
Platform: Web, iOS, Android
Features: File sharing, online communication
Slack is a powerful collaboration tool for all your communication, offering real-time communication, file sharing, archiving, and search functions between team members. Anyone can tag anybody in Slack; and when you tag someone, they will receive a message that notifies them that they have been tagged. You can create multiple channels for different categories or departments such as UX design, web development, project management, etc. This feature makes Slack invaluable as it adds a level of organization and makes it possible for team members to filter out noise.
More importantly, Slack provides powerful integrations such as email, SMS, Google Drive, Twitter, Trello, Asana, GitHub, etc.
Platform: Web, iOS, Android
Features: File sharing, online communication, friendly user interface, powerful integrations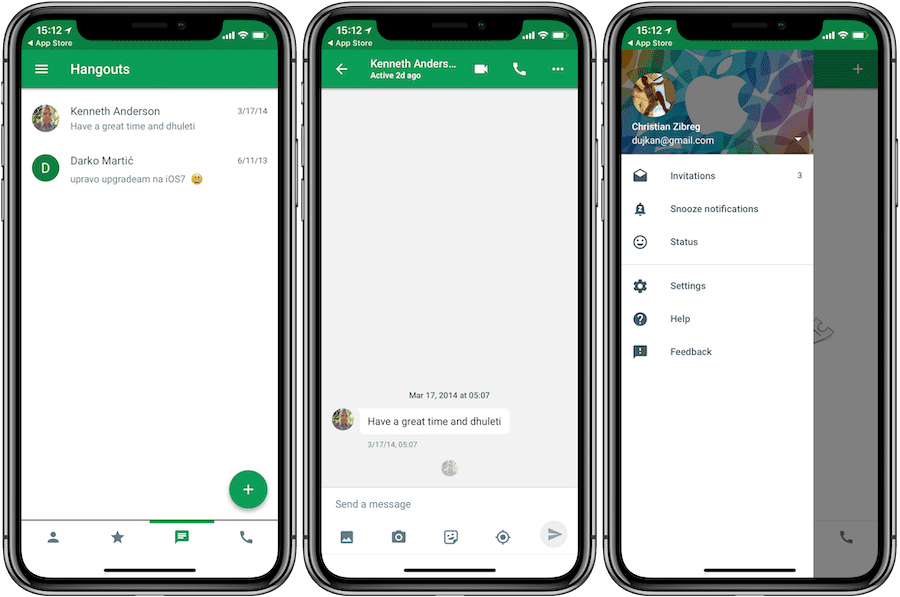 Google Hangouts is a free instant messaging app which enables you to chat and talk to your colleagues anytime, anywhere. It also allows you to gather your team for group meetings via your Google account.
Hangouts has the advantage of simplicity. On top of its user-friendliness, Hangouts is accessible to practically anyone, what with Gmail being as ubiquitous as it is.
Platform: Web, iOS, Android
Features: Simple, free, multi-person calls

Troop Messenger, the perfect Slack Alternative is specially designed with a unique feature set for teams to collaborate faster, and better. This SaaS-based model comes in the pricing variants of premium and Enterprise with one more delivery variant of self-hosting. No other tool of the same genre offers such unique features to improve teams' work productivity as Troop Messenger does. It gives teams a real-time work collaboration environment where they can seamlessly conduct all work-related conversations and updates with the best time-saving features designed in it.
It supports many native integrations to improve team efficiency. It offers a wide range of chat supportive and calling features such as to reply, edit, forward, respond later, recall, message-info, voice-video calling, video conferencing, and more.
Platforms: Windows, Mac, Linux, Android, iOS, and browser.Features: Instant messaging, Group conversations, Voice-video calling, Screen sharing, Burnout, Fork out, Read Receipts, Advanced-Data Filters, and more.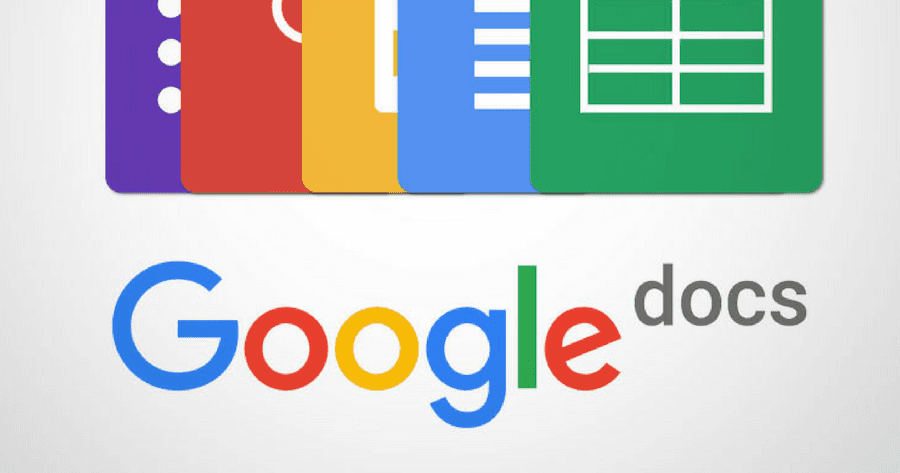 Google Docs is a powerful online collaborative office tool which allows you to create, edit, and collaborate on documents anytime, anywhere - and for free. On Google Docs, multiple people can edit the same document online at the same time, with changes being automatically saved as you make them. Users can also add comments and tag relevant team members.
What's more, there are hundreds of fonts you can choose from, and you can add links, images, and drawings, etc.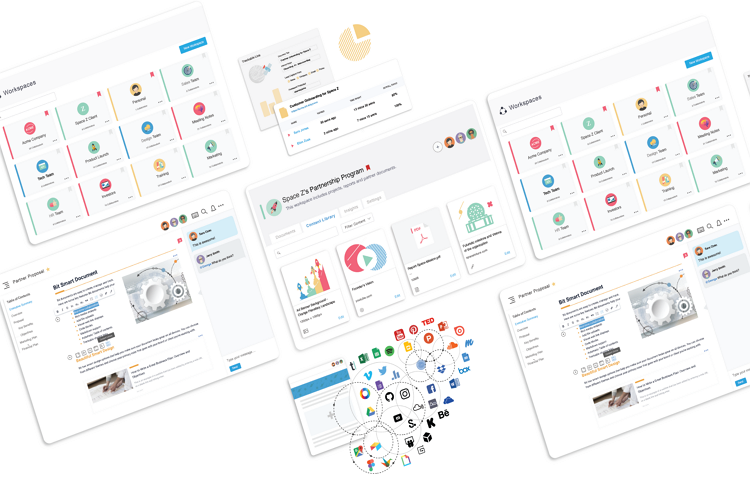 Bit.ai is a new-age Smart Document Collaboration Platform that helps teams create, share, track and manage all company documents, files, and other content in one place. It's a platform designed for the modern-day workplace and use cases giving your documents more freedom. It encompasses the features you use today, streamlined with less clutter, and is powered with innovative features to make your work life a breeze as you share knowledge and content internally and with clients.
Bit serves as a central hub where collaborators, content, and communications can be accessed in one all-inclusive document.
Platforms: Web
Features: Document tracking, content management, real-time collaboration, chat, etc
Integrations: Google Drive, Airtable, Dropbox, Microsoft Office Apps, GitHub, Spotify and many more.
Quip is also a document processing tool for team collaboration, allowing multiple people to edit documents at the same time. Unlike other products, Quip supports instant messaging. If you encounter any problems in the process of collaboration, you can directly communicate with other team members. Quip enables users to get their work done faster by reducing email and meetings, thus greatly improving team efficiency.

Content Snare is a client portal helps digital agencies, marketing teams and professional services collect content and documents from clients.
This removes one of the biggest bottlenecks in the client onboarding process and boosts productivity.
Platform: Web
Features: Document management, content collection, content approval, client portal
While there are a lot of collaboration tools in the market, choosing the perfect fit needs some consideration. . Here are some critical factors to bear in mind:
1. Company requirements
Determine whether the project collaboration tool really helps you simplify teamwork or increase productivity based on company needs and culture.
This is undoubtedly one of the most important factors when choosing any tool. It won't help the team's collaboration efficiency if too much time is required to learn how to use a tool. It is imperative to pick a simple, intuitive online collaboration tool (e.g., Mockplus iDoc - an easy-to-learn tool that helps designers facilitate handoff by taking designs from Photoshop, Sketch, and Adobe XD and exporting them into a format that can easily generate code snippets, style guides, specs, and assets).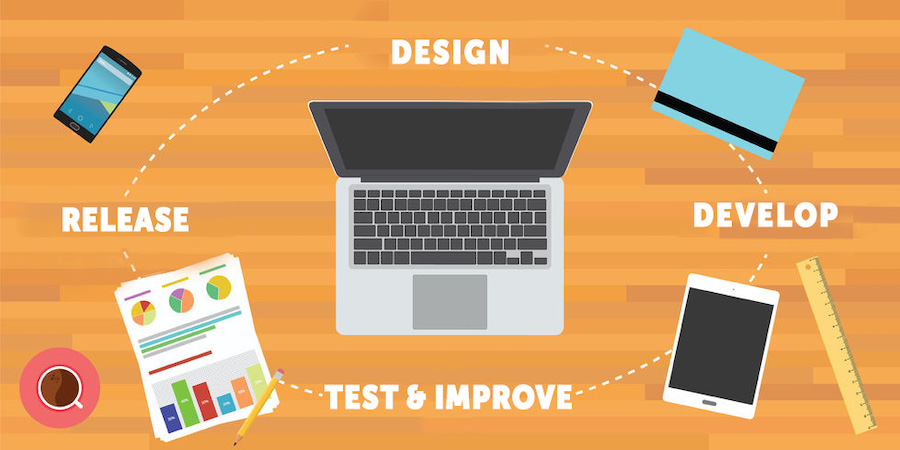 3. Security and privacy
Privacy is an inherent requirement in today's connected society. Every project needs to be secure from prying eyes, so be sure to check privacy options and features before selecting a collaboration tool.
4. Integrations and compatibility
Bear in mind that everyone uses different devices - some use a PC while others prefer to use a Mac. It is thus crucial that your tool of choice supports multiple operating systems. Otherwise, some team members won't be able to communicate, negating the goal in the first place.
These are 10 of the most popular project collaboration tools you can find today. I hope you'll find one - or two - that fits your requirements perfectly and helps you improve your team's efficiency.
Related articles:
Top 12 Free Inspirational Real Estate Web design Examples & Templates
30 Best Free Sketch App Resources - UI Kits, Wireframes, Plugins
8 Best Free Responsive CSS Website Templates for Building Your Website