Updated Oct. 16, 2020: We added more information on each blog and 11 more blogs for your inspiration, let us know what you think.
When it comes to designing a top-notch website, web designers need to stay abreast of the latest trends, innovations, and developments in the field. Those things are, however, constantly evolving and changing more often than not. Designers, like writers, often run up against periods of creative slowdown. Designers can also suffer from a "creative block" when inspiration is lacking.
To make things easier for designers and developers, we've gathered together 27 awesome web design blogs. If you work in web design or any other creative work and need some new ideas, these blogs could be a great inspiration to you. Sometimes, you just need a spark to get your creative juices running!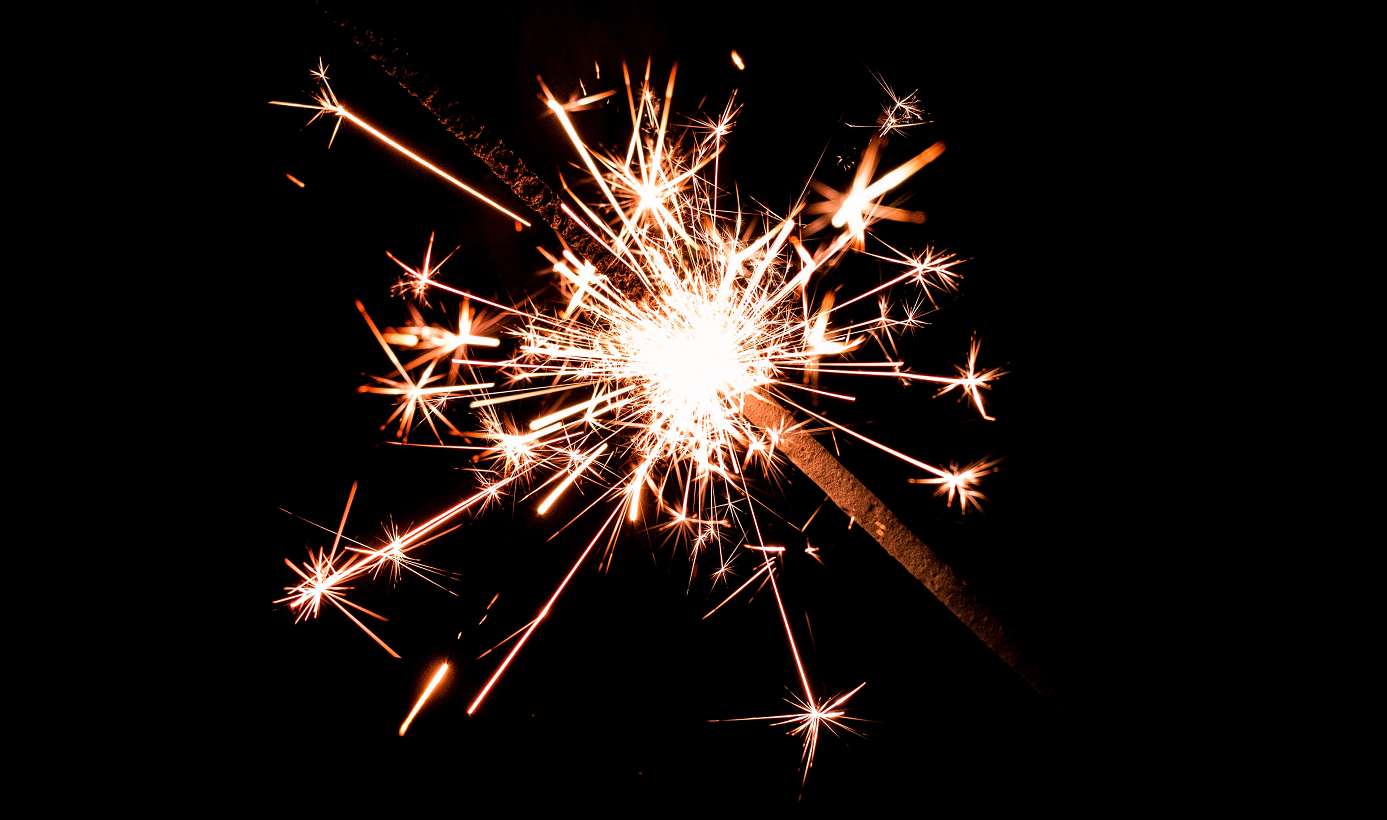 Now, let's check out these blogs one by one:
1. Smashing Magazine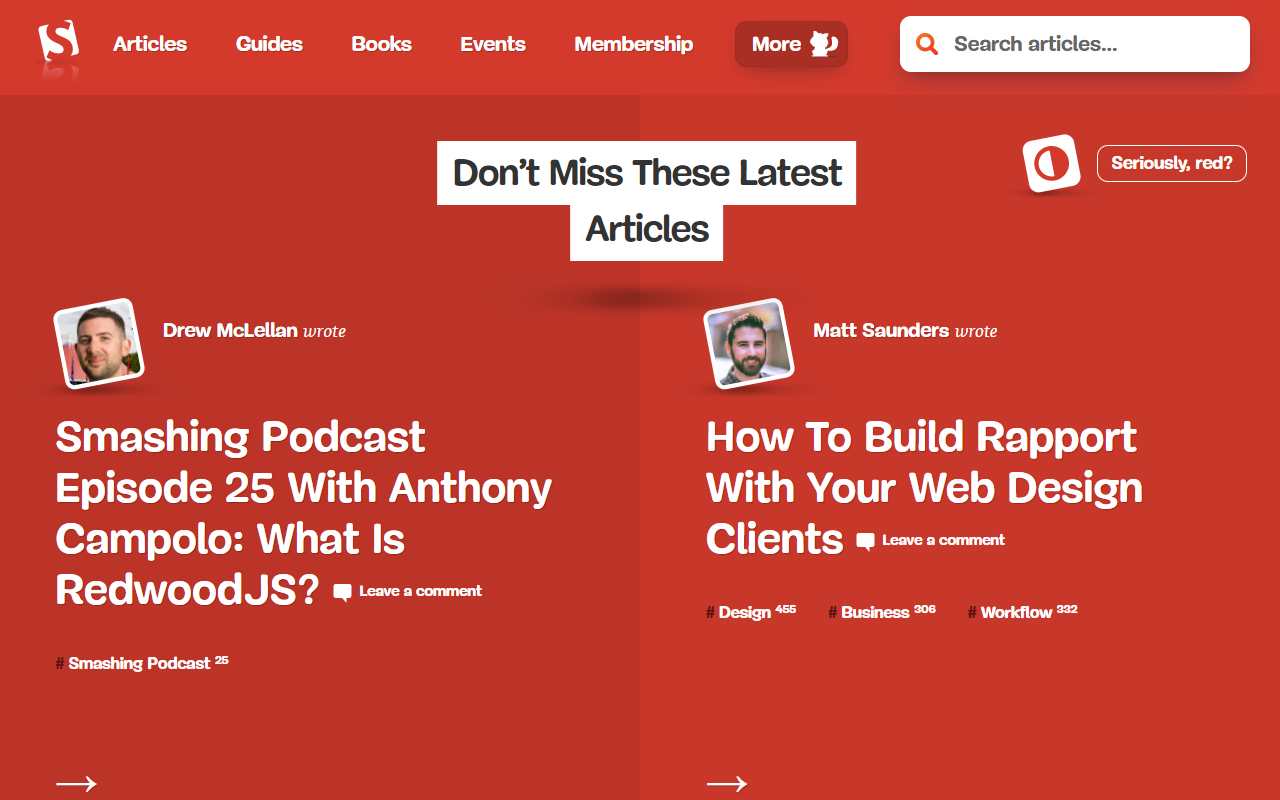 Smashing Magazine is one of the most famous web design blogs. It has a massive volume of high-quality articles covering topics such as CSS, graphics, and typography. Founded in September 2006, this German blog has been delivering useful, reliable, and most importantly practical articles to web designers and developers.
On this web design blog, you have access to many freebies, including plugins and templates. This site is also highly regarded as a go-to place for anything related to web design. You can post questions and get answers from peers or veteran designers. There are also printed books and e-books in PDF, ePUB as well as for Kindle that you can buy, a newsletter you can subscribe to, and SmashingConf workshops and seminars you can attend online.
2. Webdesigner Depot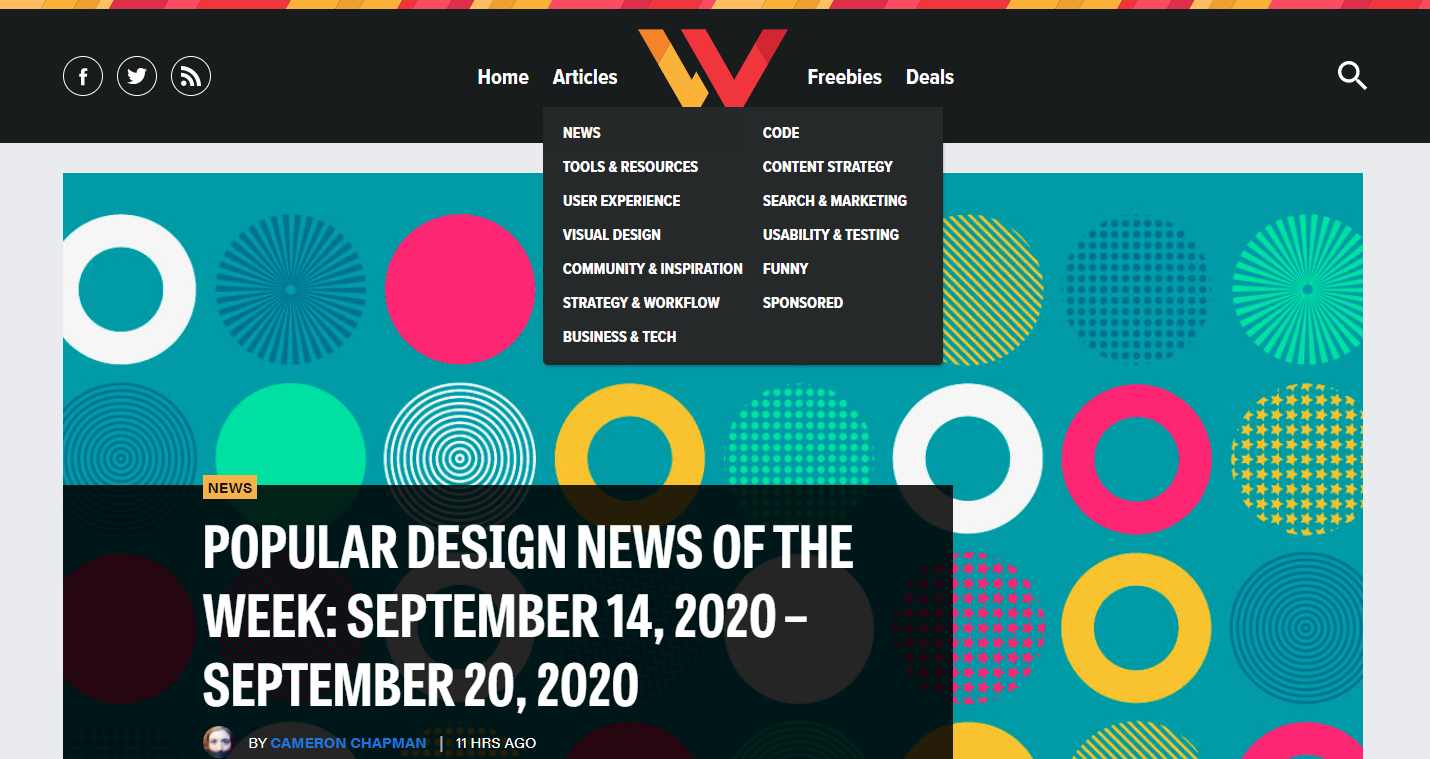 Webdesigner Depot gives you daily updates about anything that you need to know about web design. It has news, views, resources for website design and website development. If you subscribe to the newsletter, you will get informative posts every day. You can also follow them on Twitter or Facebook, or just simply enjoy the daily email updates.
A rich variety of detailed articles on web design are there for you to learn about design, user experience, freelancing, accessibility and more. You could easily find lots of useful materials and resources, such as templates, mockups, free fonts, icon packs and more on this site. There is also a feature for you to vote and comment on the blog links in similar fashion to Reddit.
3. Mockplus Blog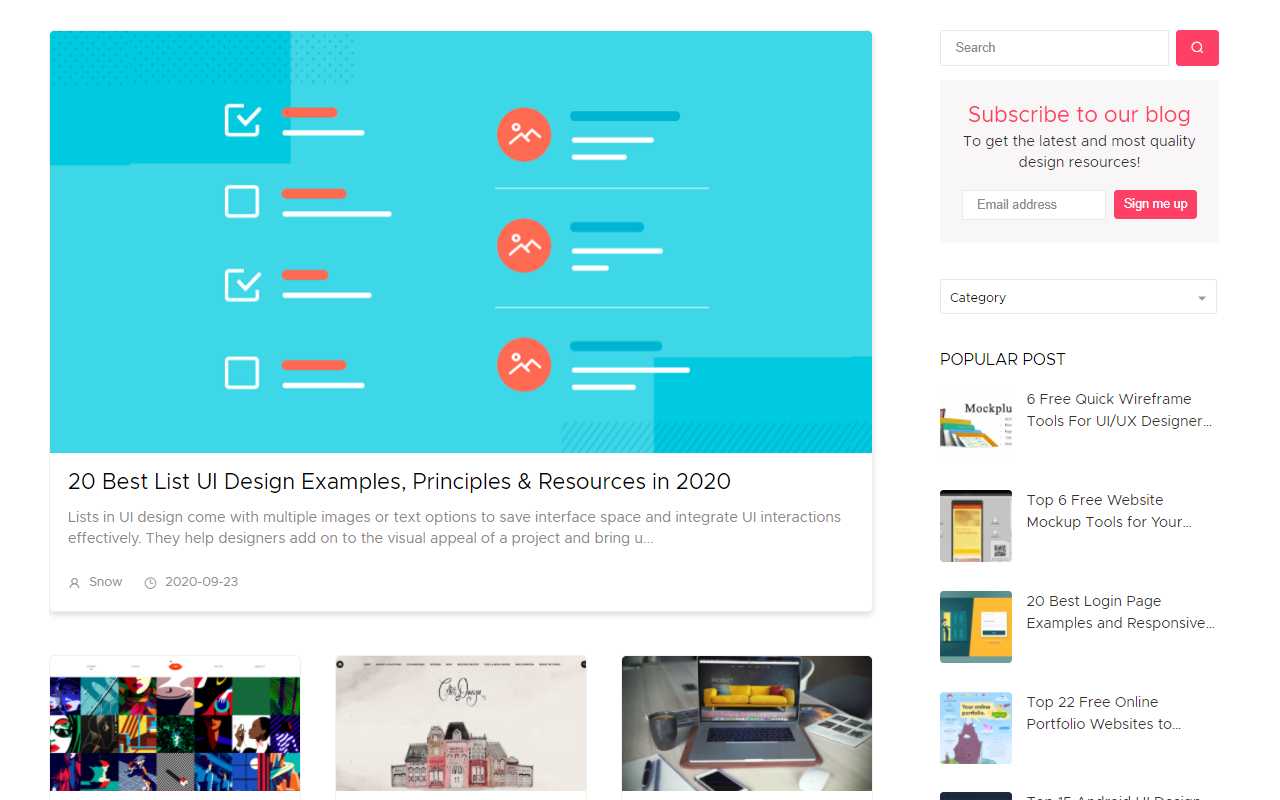 Mockplus Blog, one of the most popular web design blogs out there on the internet, provides the latest UI/UX design resources, inspirations, templates and UI kits to keep designers informed. If you are looking for fresh ideas and inspiration, this blog is tailored for you.
With multiple posts a week, you will be able to keep up with the latest design developments. Mockplus not only focuses on web design, prototyping and collaboration, but also the latest web design trends, and popular prototyping tools. If you are a web designer, you can sign up for bulletins from prototyping experts at Mockplus.
4. Webdesign Ledger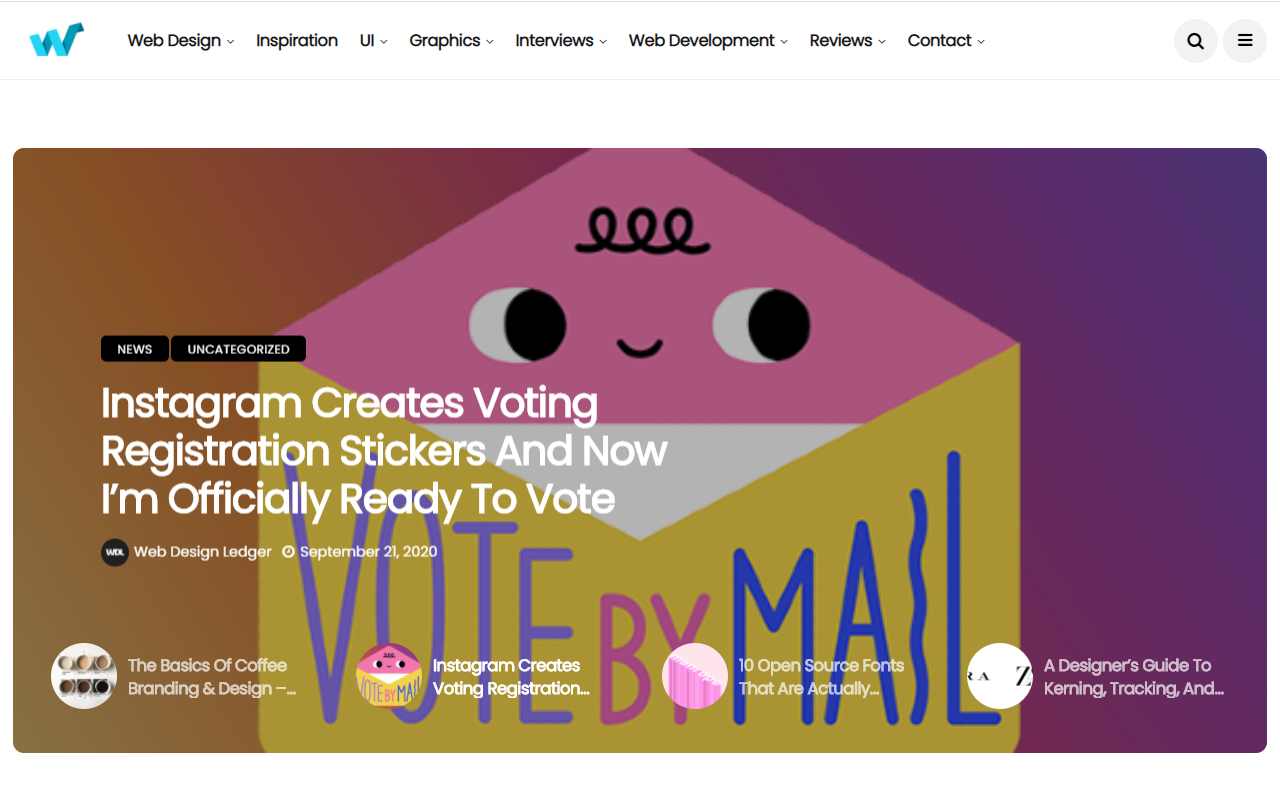 Webdesign Ledger is also one of the best practice design resources that all web designers can benefit from. It covers a wide range of topics, such as UI, graphics, web design and web development. As a well-organized site, they produce thought-provoking articles that are helpful for web designers. In the web design and web development sections, there are five categories respectively for you to check out.
Two sections are dedicated to inspiration and interviews with web designers and developers. Learn from interviews with Fabio Sasso, the founder of Abduzeedo and also Nicholas C. Zakas, front-end engineer (Yahoo! & Box). You'll also find book recommendations there.
5. A List Apart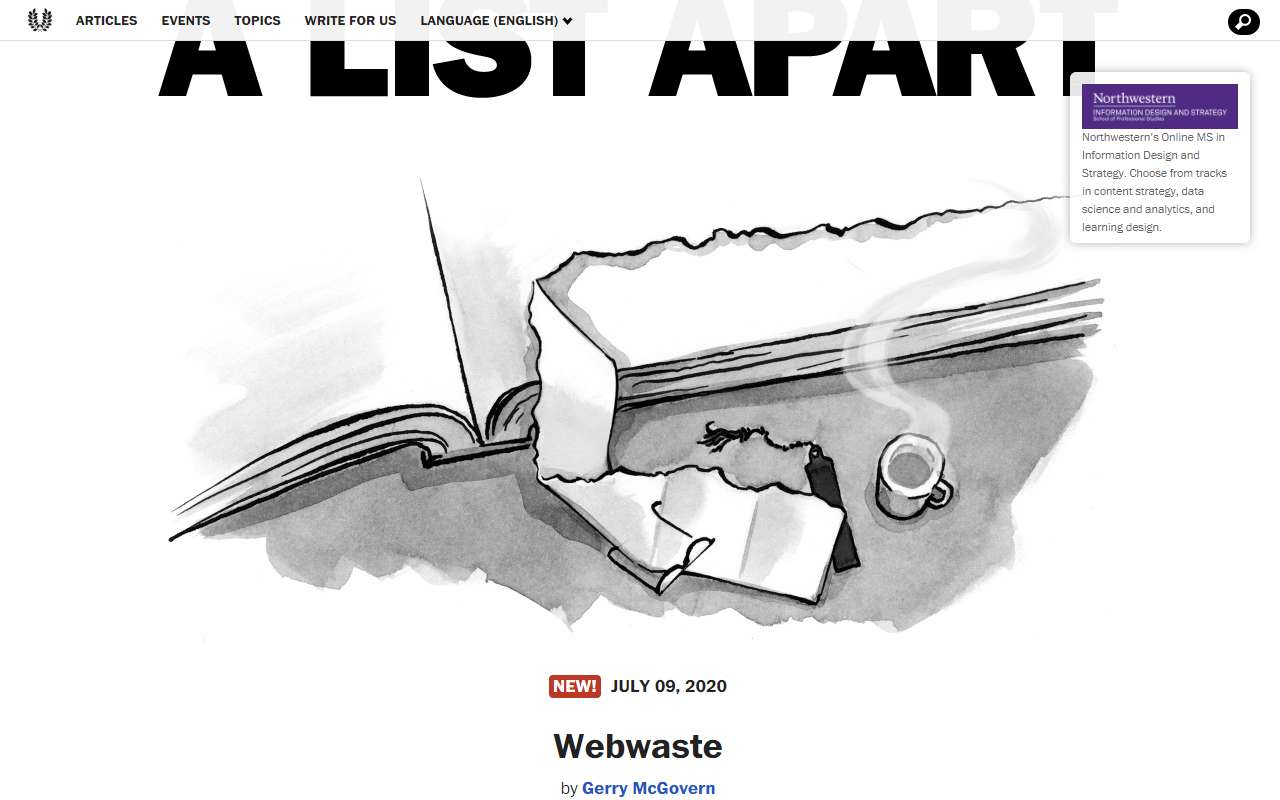 A List Apart, as its name indicates, is unique and different from the rest crowd. It's famous for quality articles and minimalist web styles. Unlike typical design sites or blogs, it explores the design, development, and meaning of web content, with a special focus on web standards and best practices, touching upon things like content strategy, graphic design, accessibility, information architecture, user research, state of the web and more.
This site really goes the extra mile. The content it provides goes a few steps beyond the typical freebie and resource roundups you find at most design blogs. I especially love its founder's notes, by Zeldman: "Editing was the key. Many members submitted comments and topics each day; we dumped the dross, published the gold, often selecting pieces for their thematic relevance to one another. "
6. Hacking UI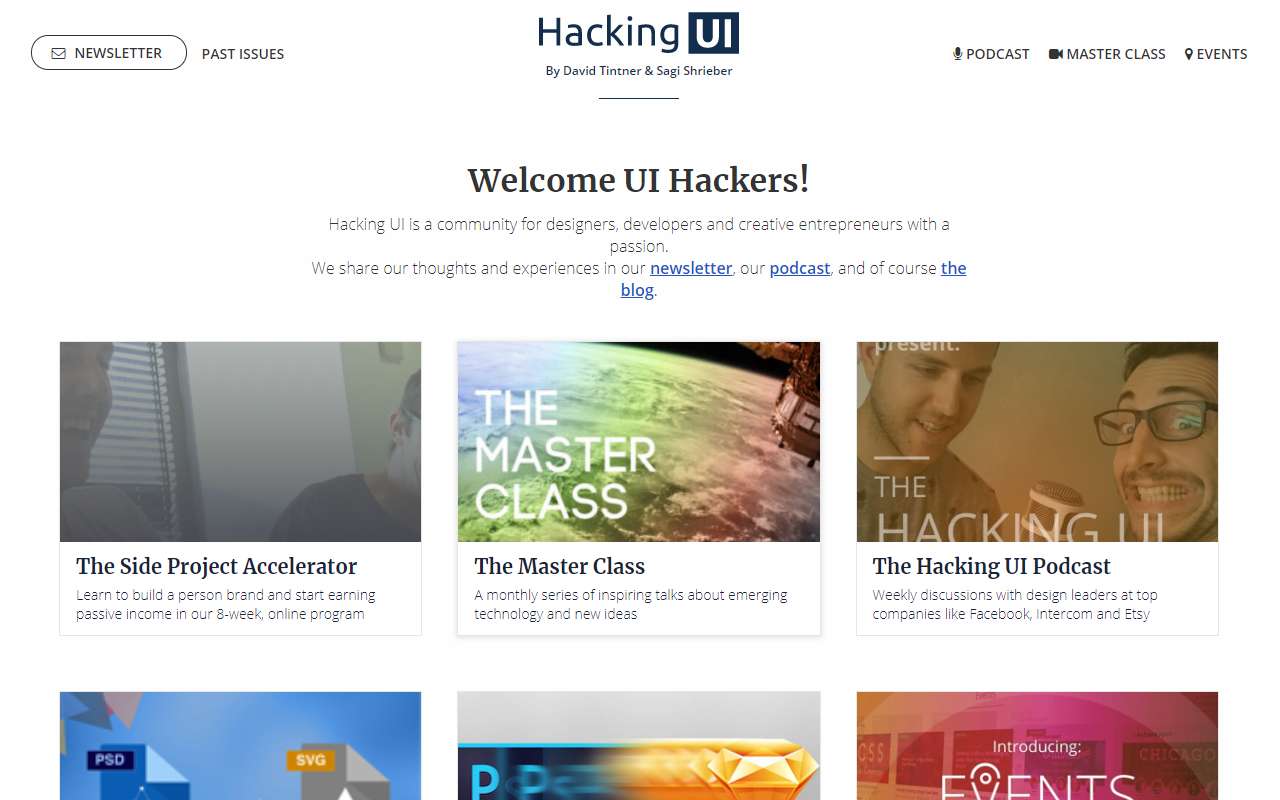 Hacking UI is an interaction design and front-end development blog. This site is intended for designers, developers and entrepreneurs. Founded by a designer and a developer, this blog offers a unique perspective, sharing their thoughts on forums, podcasts, and newsletters.
7. Inspired Magazine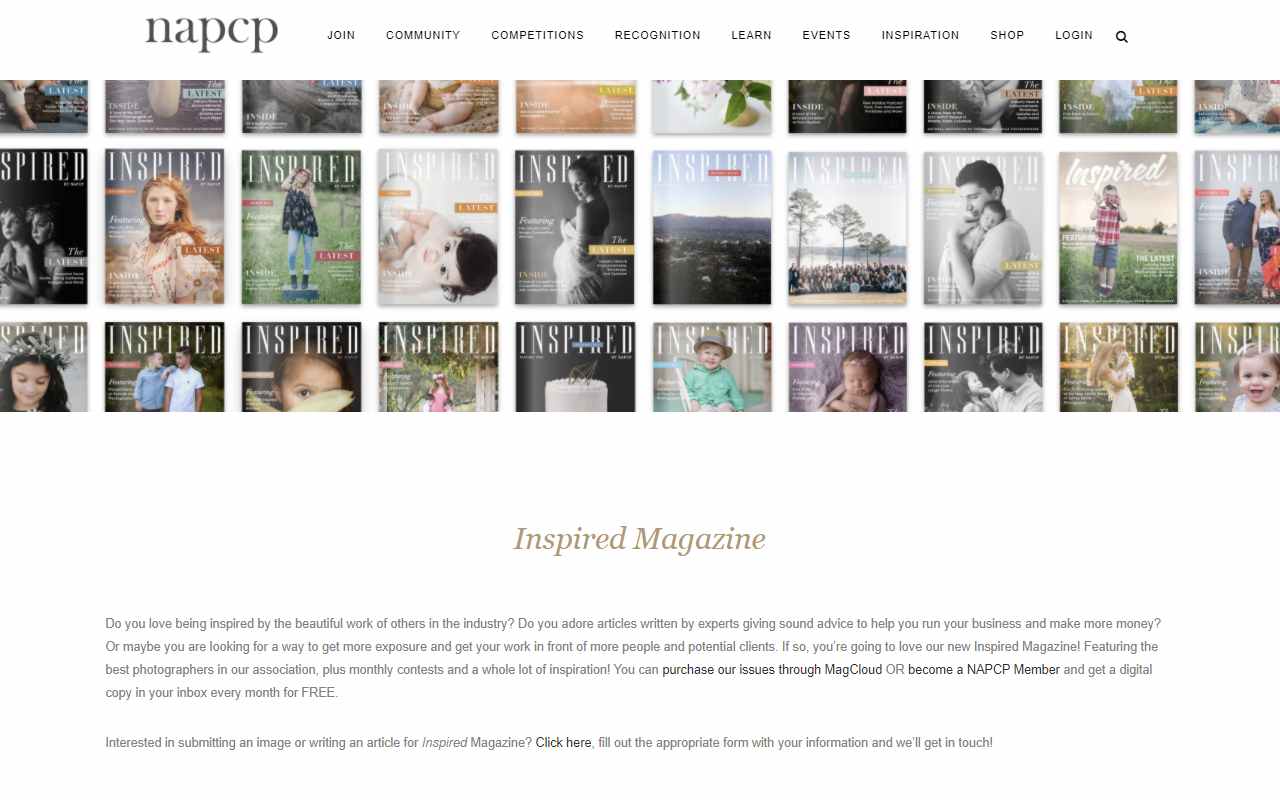 Inspired Magazine is one of the best sources for web designers to find inspiration. The layout is clean and simple. While you have to purchase the magazine before you can read the articles, it definitely lives up to its name and provides a boost of inspiration.
8. Creative Bloq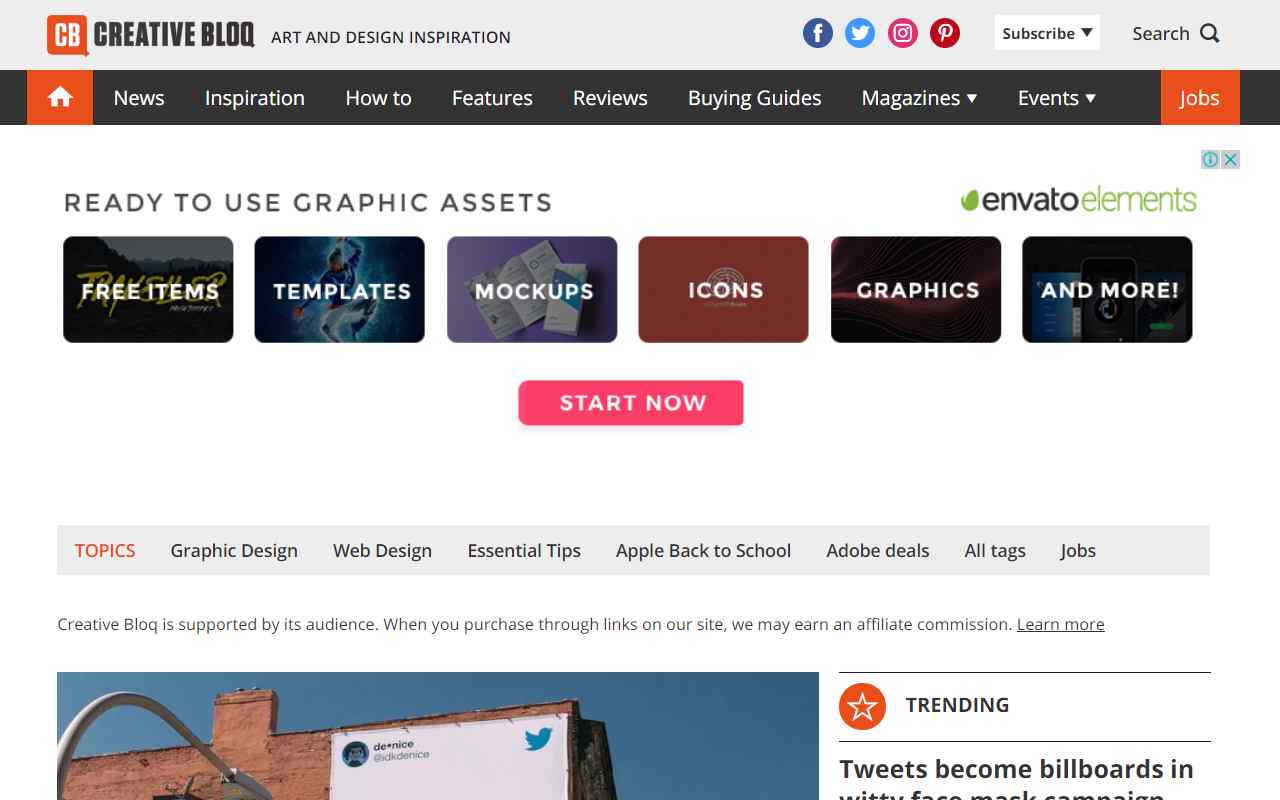 Creative Bloq is officially known as Net Magazine, but we like to call its online version Creative Blog as it matches the web address. It's a monthly magazine that publishes content on design and web development. The site is intended for novice and professional web designers alike. As a design forerunner, this blog has grown from obscurity to eminence and gathered 10 million monthly readers.
The key focus for this blog is creativity. This site does not provide you with cut-and-dried advice but gives you fresh, creative and practical tips. A myriad of blogs relating web design also helps you think out of the box and find design inspiration. If you want a career change or are hunting for a job, the job board on this site is there for your daily reference.
9. Webdesign Tuts+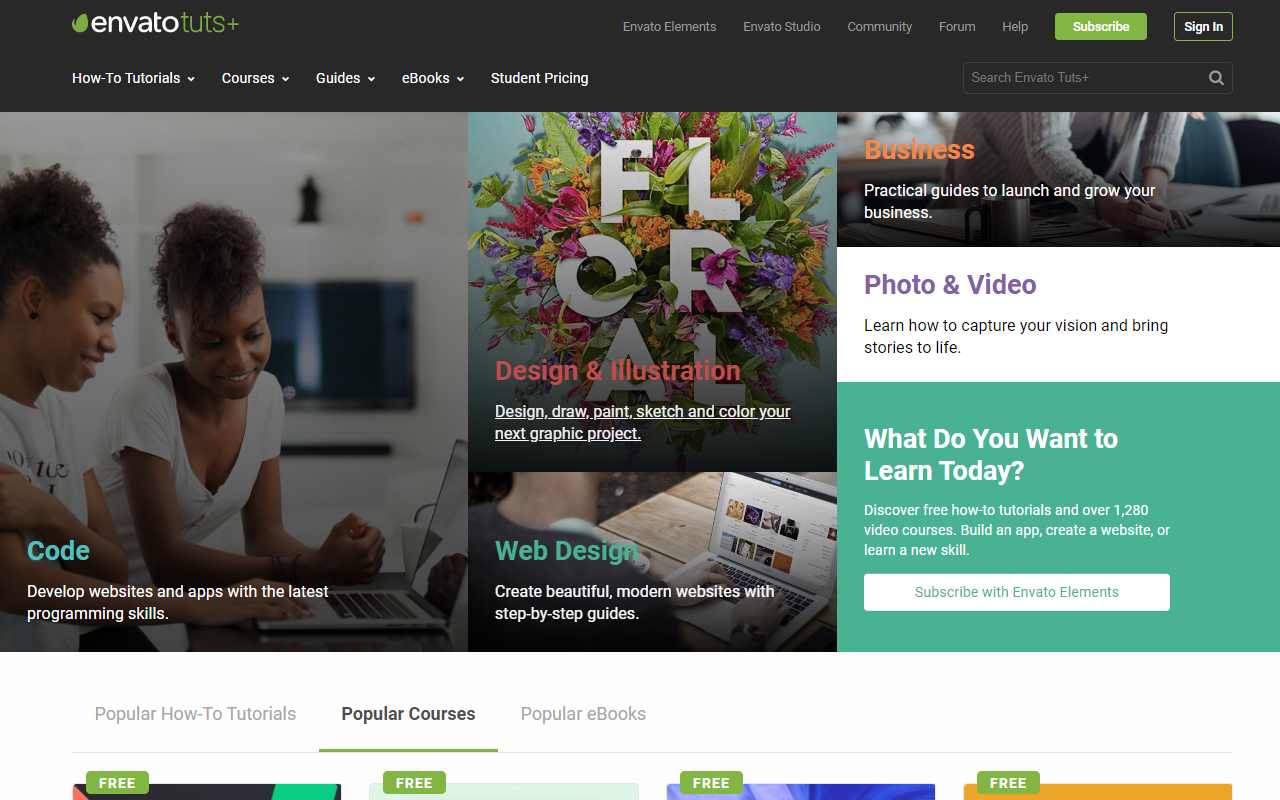 Webdesign Tuts+ aims to help you learn creative skills and how to earn money using these skills . The mission of this site is to "help people learn and earn online".
This blog is also a great place for web designers and developers. There are lots of useful guides for beginners, including free tutorials, learning guides and online courses. They also have e-books that touch on web and graphic design.
10. Design Bombs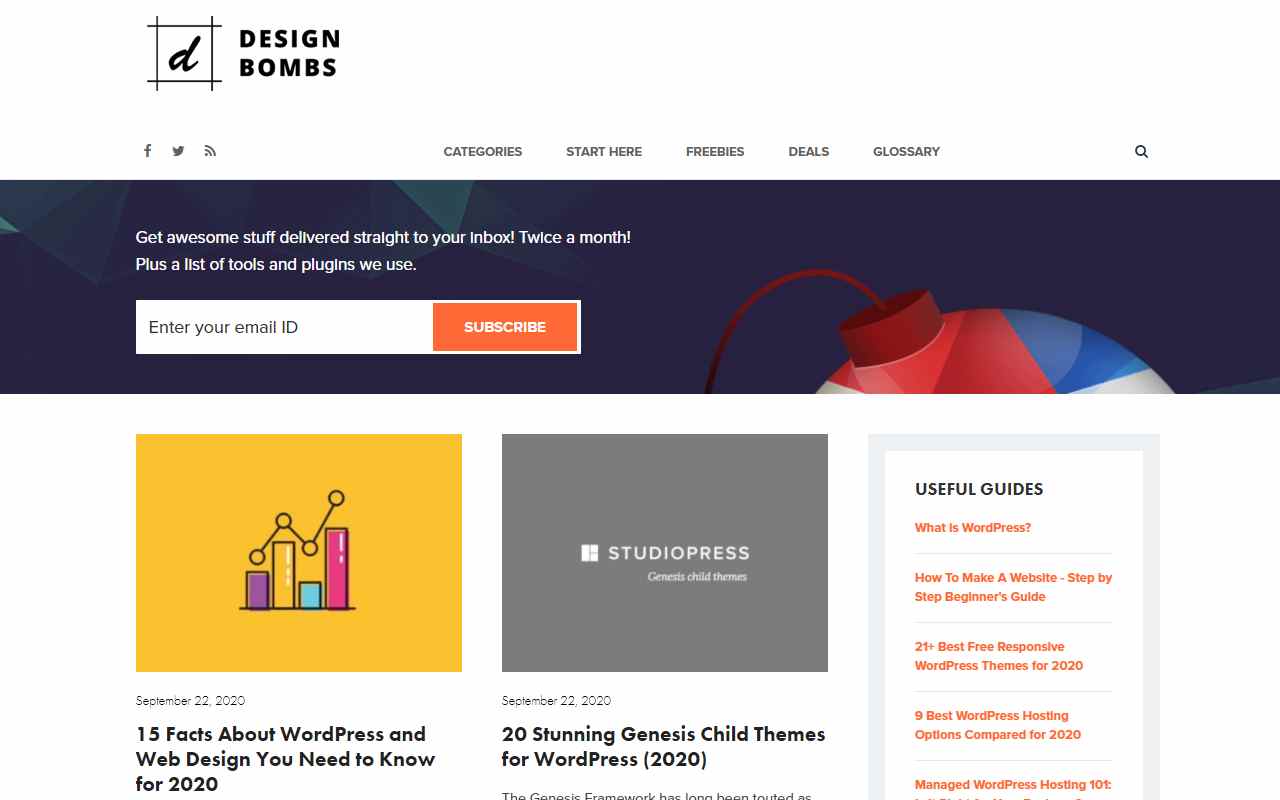 Design Bombs, as its domain name suggests, strives to bring fresh ideas to web design and development. As an online publication, this blog aims to provide in-depth tutorials, exclusive deals, well-researched guides and other useful content. The layout of this site is clean and simple, which gives you a sense of freshness.
It started as a web design gallery, but has since become a wonderful place for designers and developers to share ideas, tutorials, and other helpful resources. If you are running short of inspiration, this is the place for you to find your mojo and get your creative juices flowing.
11. Designmodo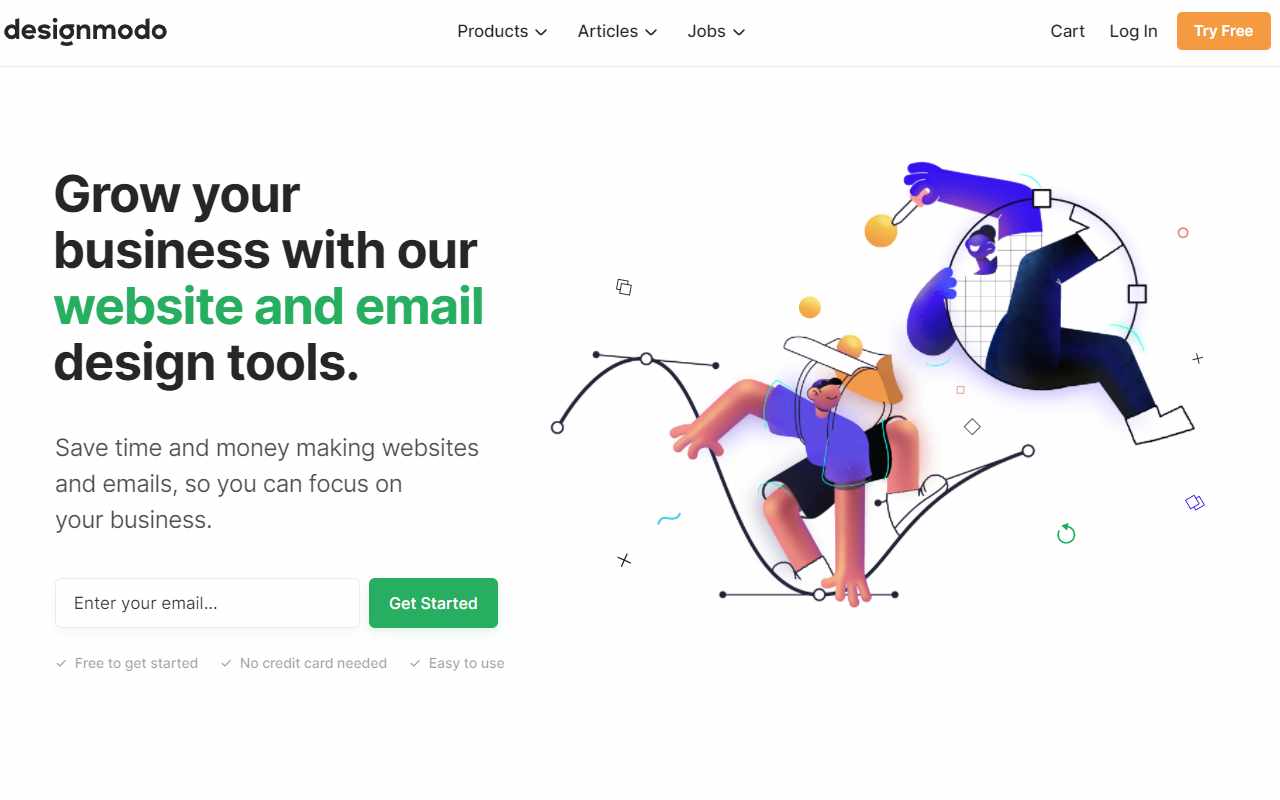 Designmodo is a design and web development blog. It's created and designed for web designers, developers and non-tech users. Many design and coding professionals from small- to large-sized companies often visit this site, as it provides articles, tutorials, and industry news about trends and techniques.
12. Web Designer Wall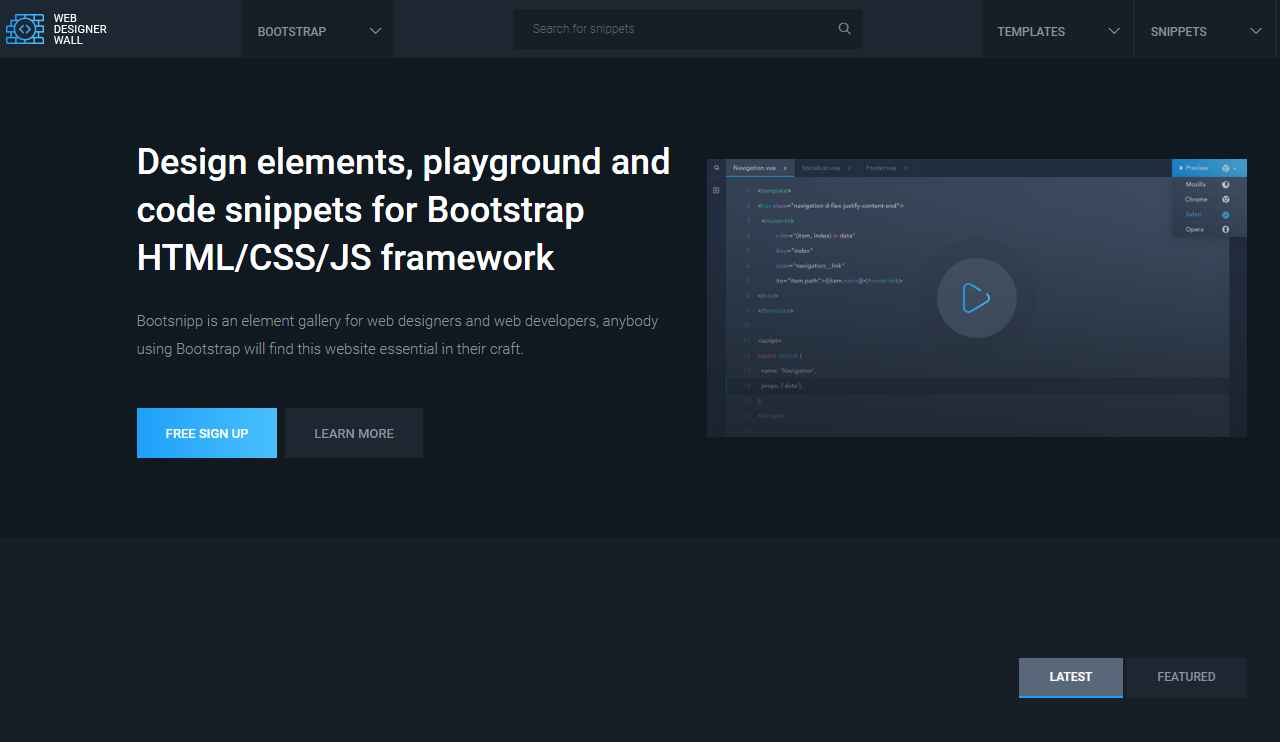 Web Designer Wall was founded in August 2007 by Toronto-based web designer and illustrator Nick La. It is a web design blog that has been recognized and featured many magazines and galleries due to its quality content and beautiful design. Most people love this site because of its illustrative design, web design trend reviews and amazing coding tutorials.
13. Design Shack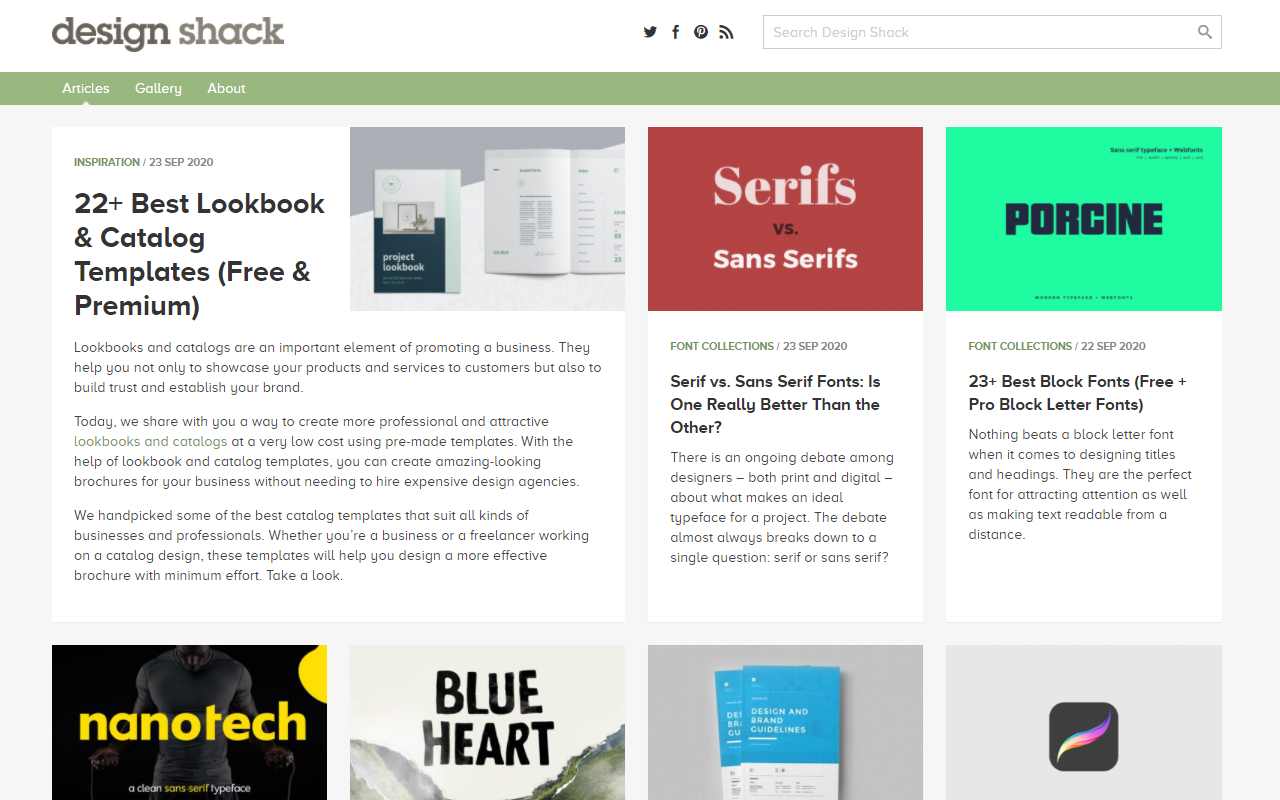 Design Shack, which was founded in 2003, is also a popular online blog or magazine for designers. It explores a wide collection of articles that centers on design-oriented and business-related content. If you search "tips" on the site, you can access loads of useful tips on web design and other related topics. This blog has a clean layout that makes it easy to find your way around.
In terms of design and development, it has gathered nearly everything in one place. Trends, mobile, UI/UX, CSS, PHP, HTML, JavaScript, software, freelancing and navigation. You name it; they've got it. All are helpful if you want to hone your skills and keep updated. With its over 15,000 members, all these topics are covered on a regular basis. Once you dive in, it won't take too much time before you become a fan of this blog.
14. Onextrapixel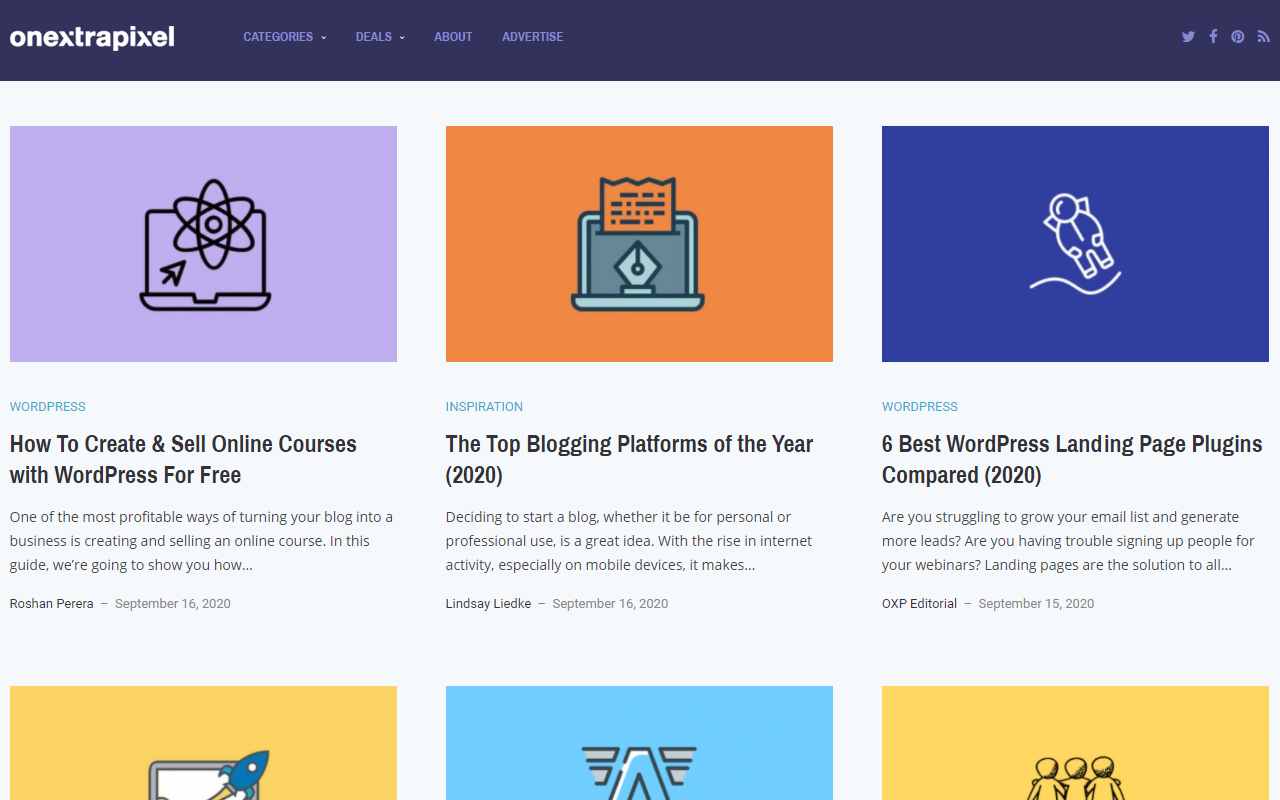 Onextrapixel (OXP) is also a leading online magazine and resource site for designers and web developers. The Singapore-based portal aims to explore, and share useful tips and resources on design, development and other useful topics.
If you subscribe to the newsletter, you will always find something here that is useful and interesting. Definitely add this blog to your list of bookmarks. There is one more thing that sets this site apart from others which is their case studies that are based on trial-and-error web designs.
15. CSS-Tricks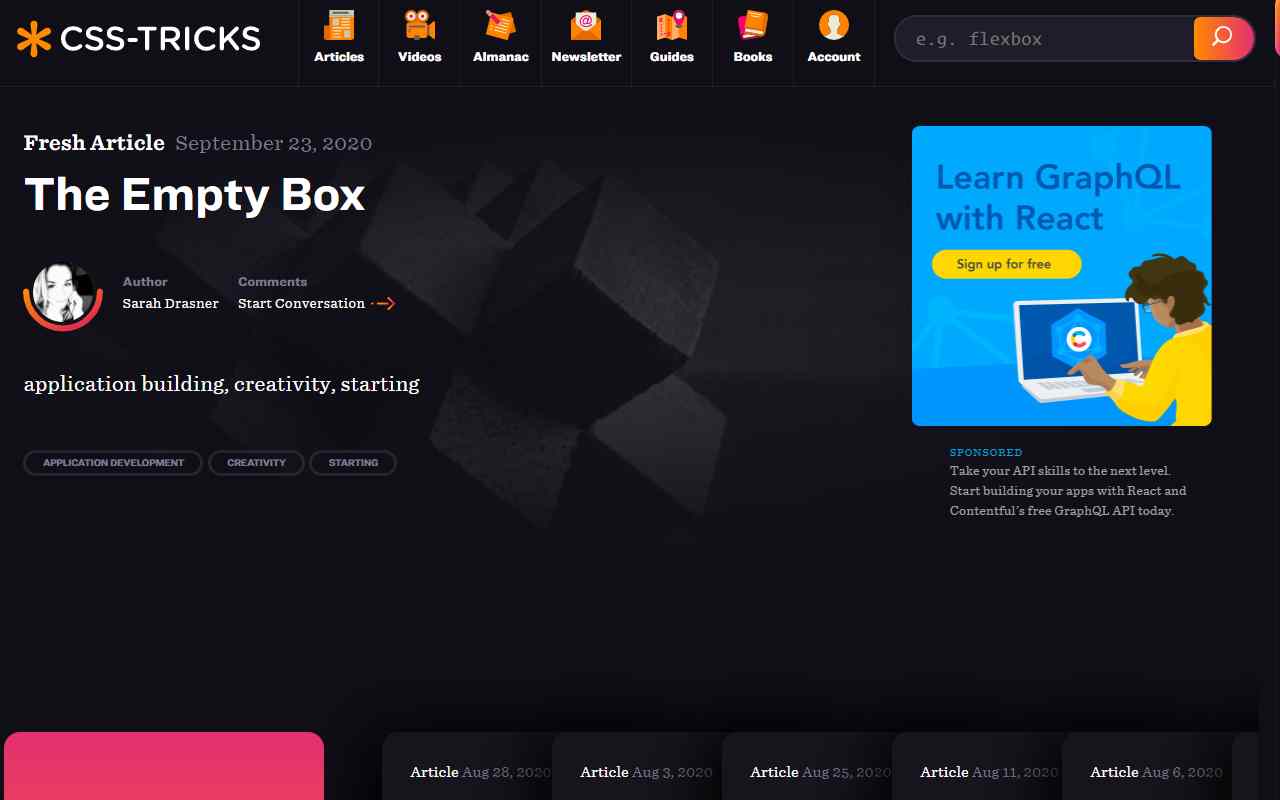 CSS-Tricks is created, written by, and maintained by Chris Coyier and a team of experts. When this site was kicked off on July 4th 2007, Chris Coyier, the founder of this site, started writing about CSS and, by extension, HTML too. Now, it has evolved into a fully-fledged site.
If you are a seasoned front-end developer or just starting out, this site will guide you through the process. To be honest, I like this blog's creator a lot and how the content leads you through his learning process. You'll find articles on topics like JavaScript, Wordpress, jQuery, Sass, Responsive Design and many more. And lastly, I want to share this super important legal document: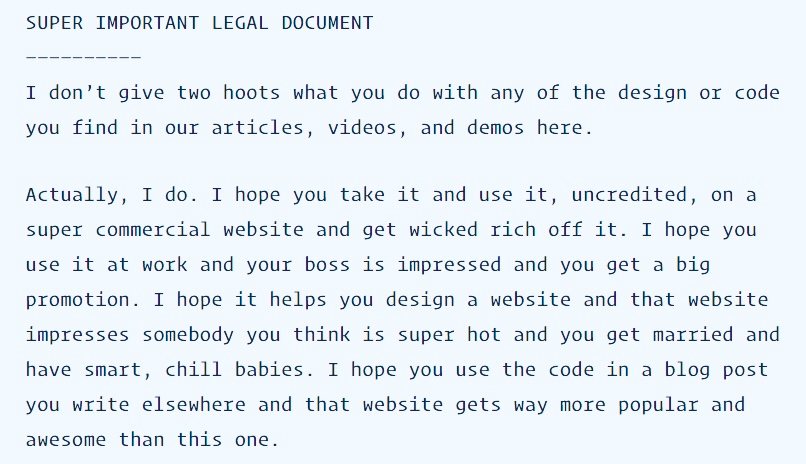 As you can tell, the founder of this site is really a GEEK.
16. 1st Web Designer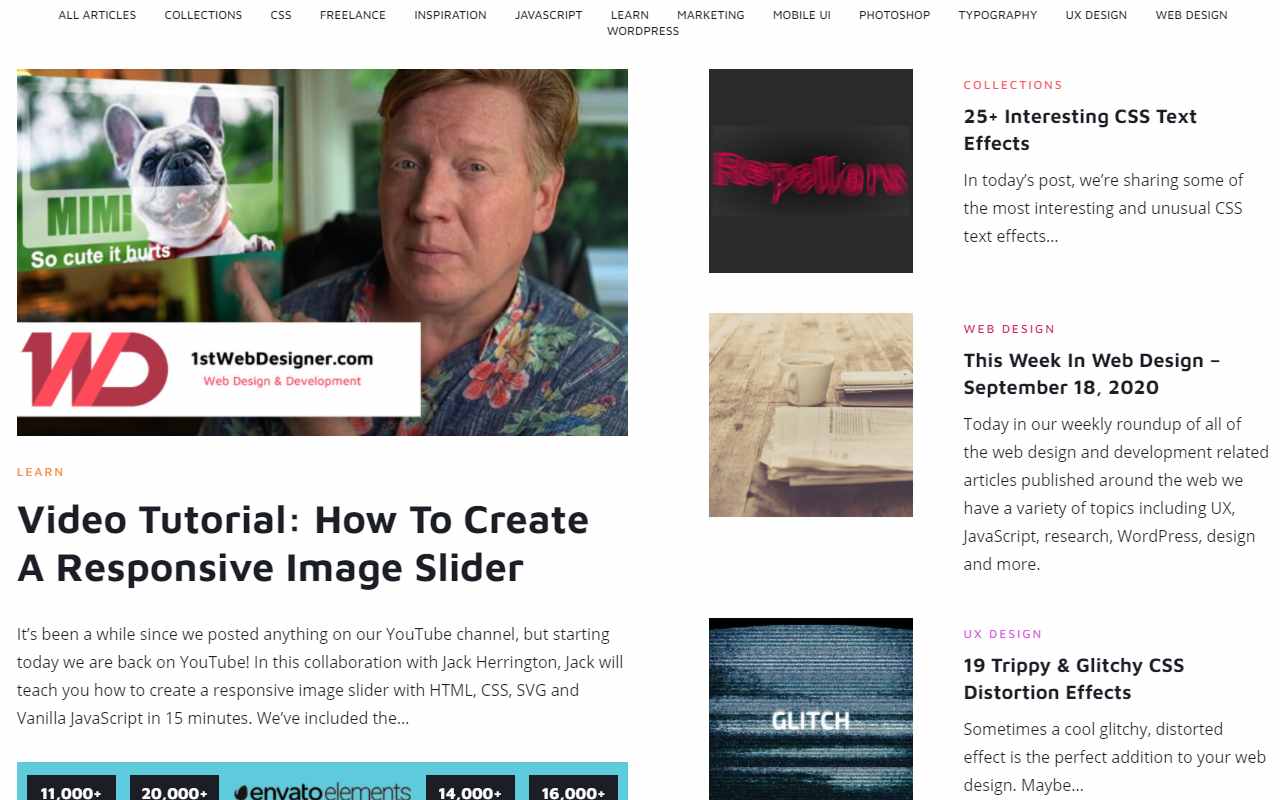 1st Web Designer aims to help designers build a better web. They publish articles covering a wide range of topics, such as web design, graphic design, UX design, social media, programming, tutorials and more. Whether you're interested in learning more about web design or you want to contribute your work to the web design community, this blog is an ideal place for you.
17. Codrops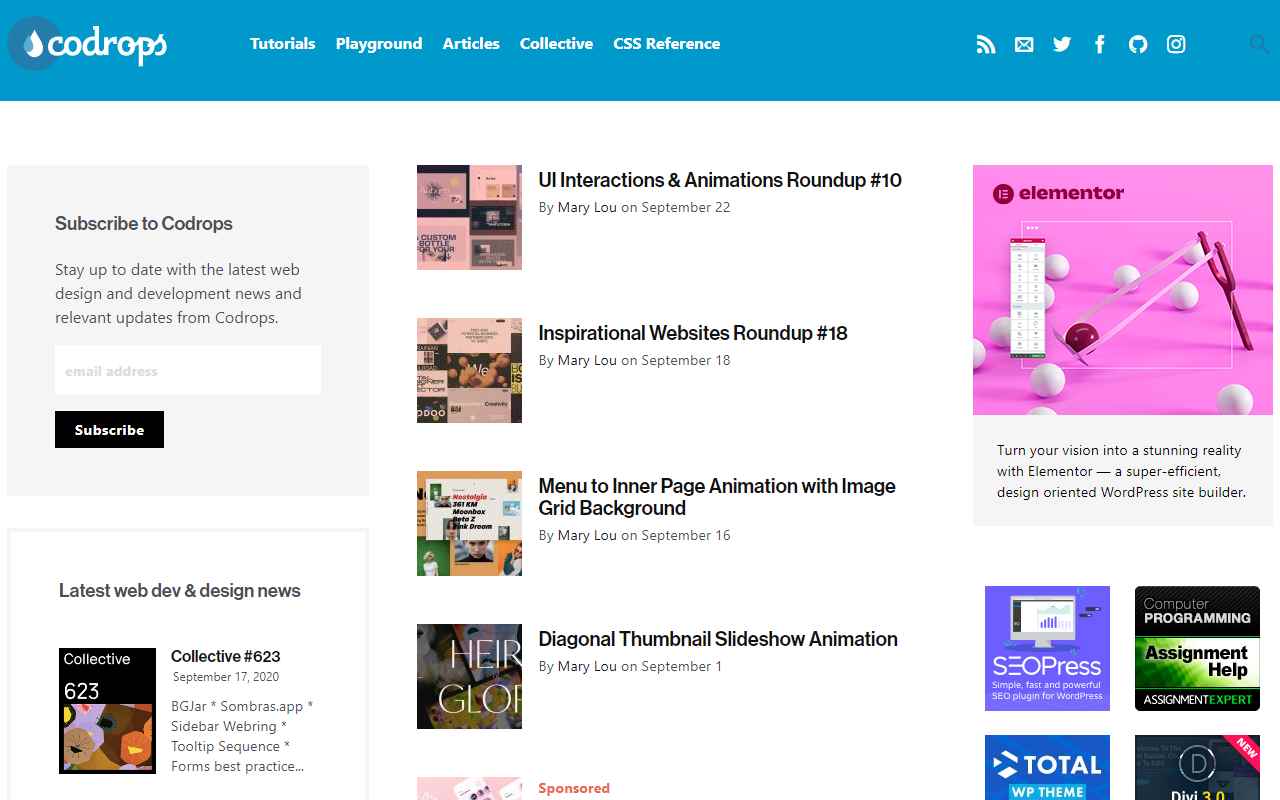 Codrops is a web design and development blog that publishes articles and tutorials about the latest web trends, techniques and new design techniques. The team of Codrops is dedicated to providing useful, inspiring and innovative content that is free of charge.
18. Design You Trust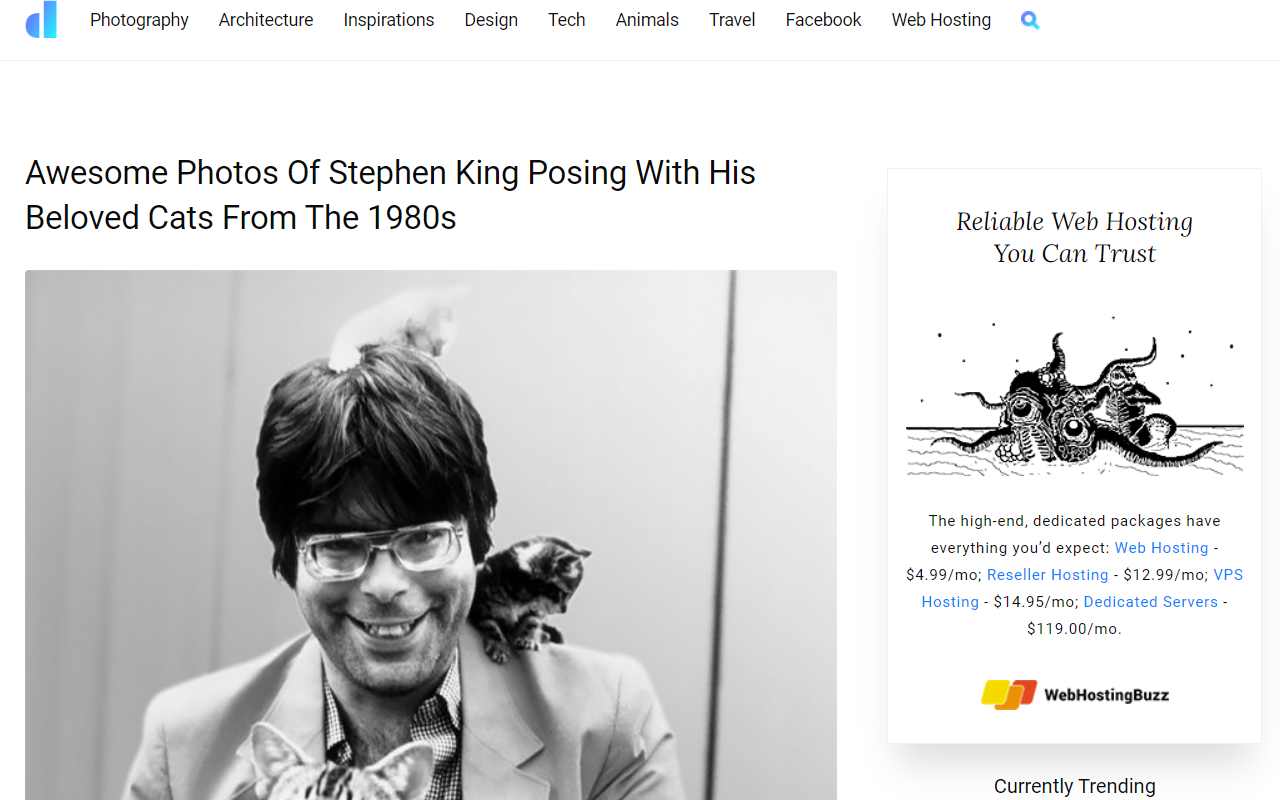 Design You Trust is not exclusively centered on web design, but it's this reason that makes it so unique. If you are a web designer, it's insightful to catch a few glimpses of other designers outside of your field. With its torrential updates, you will learn everything about the latest trends and design approaches.
19. Awwwards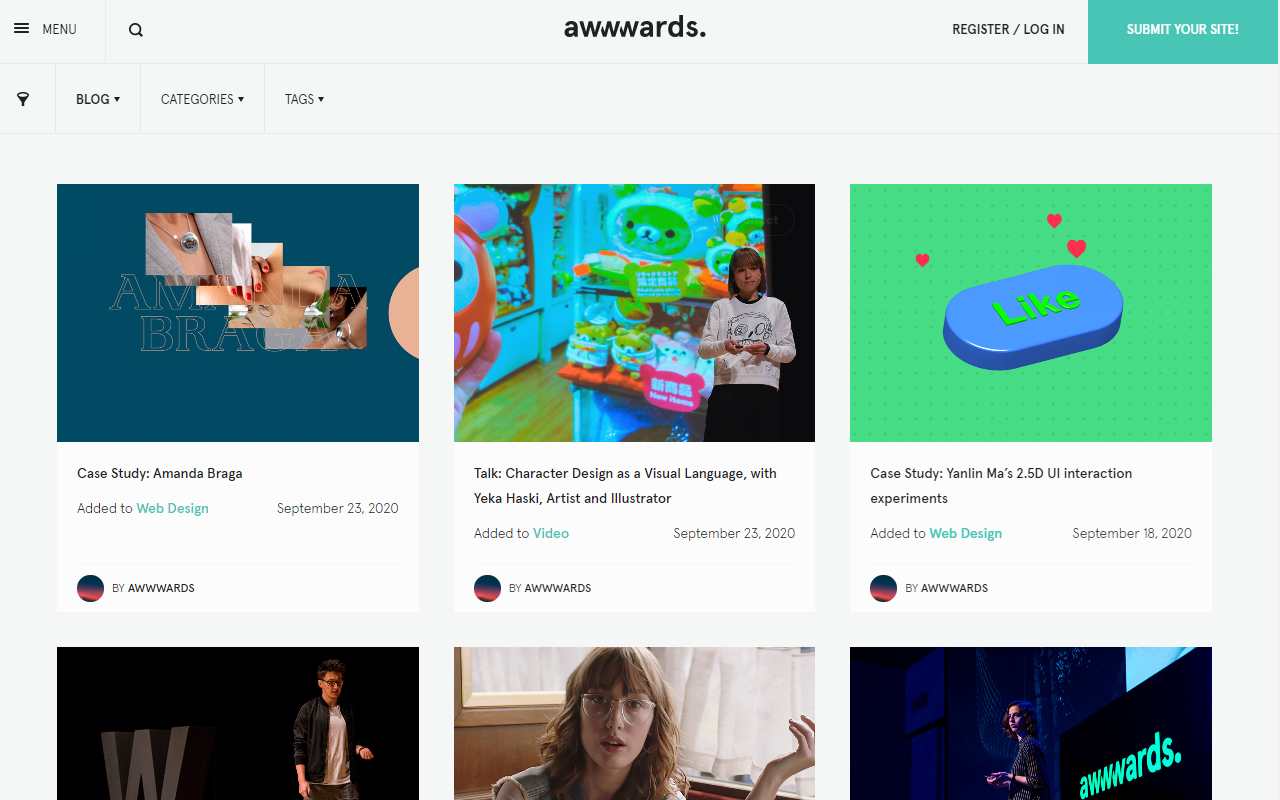 Awwwards is a professional web design and development competition body. It aims to recognize and promote the best of innovative web design. As the name suggests, it awards some of the best and most creative website designs on the internet with the prize-giving ceremonies taking place in various cities across Europe and the States.
20. Line25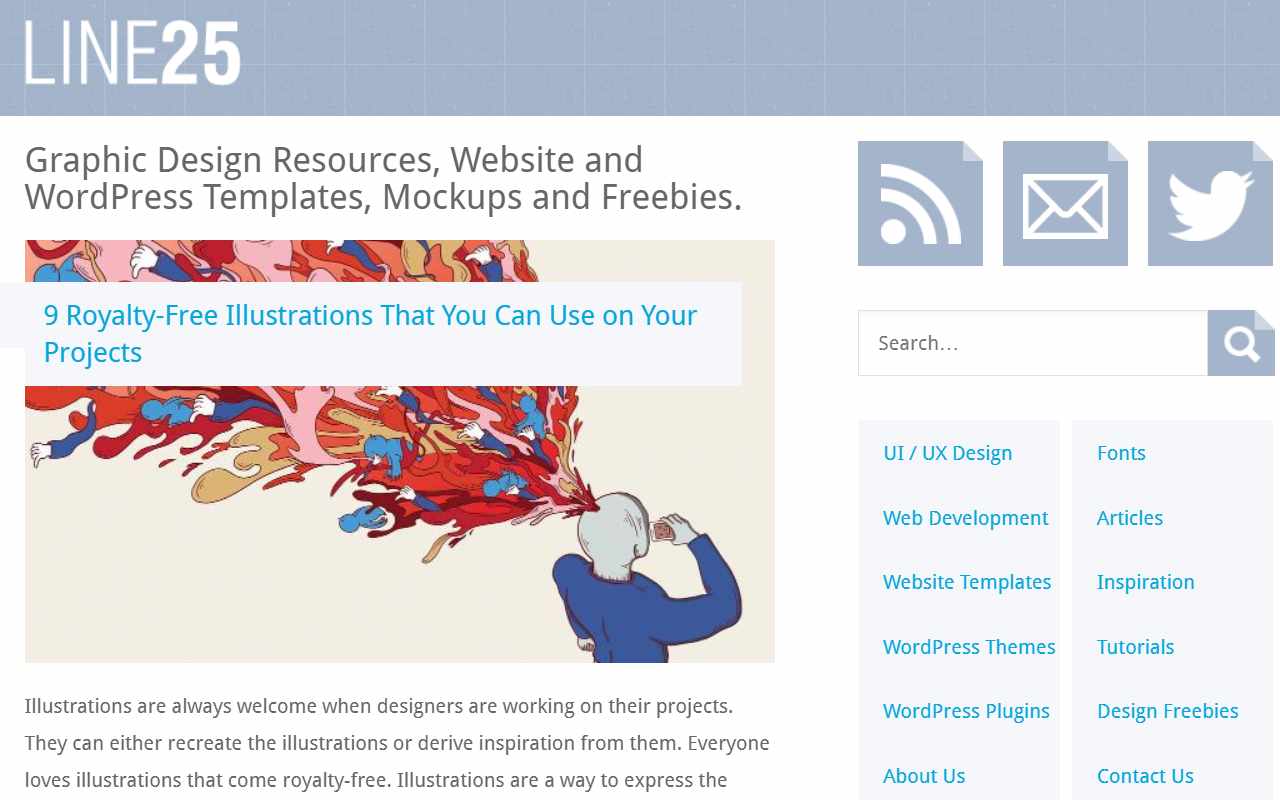 Line 25 was created in March 2009. It's now a popular blog where you can share web design ideas and inspiration through articles, tutorials and examples of site designs. The layout of this site is clean and sleek. If you're feeling stressed, there are even tips for you to handle stress.
21. Material Design Blog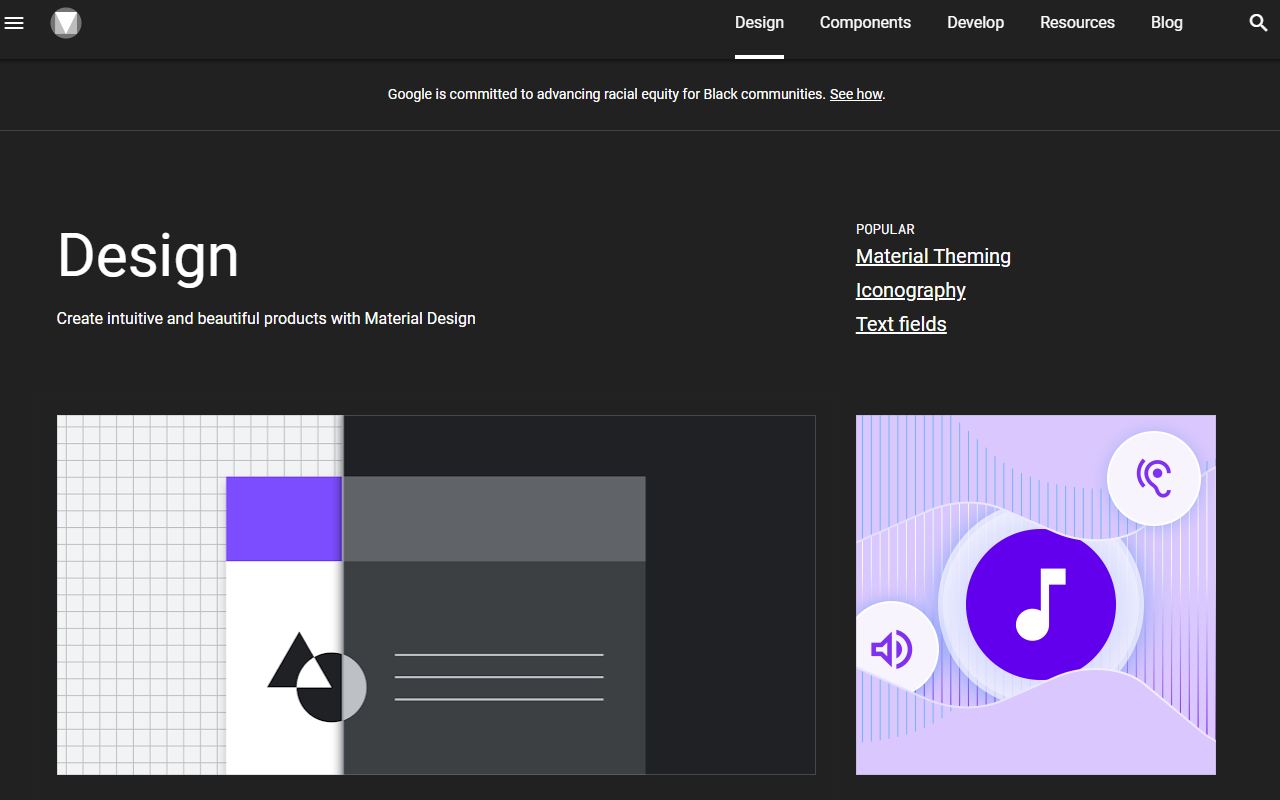 Material Design Blog is a design system created by Google to help teams build high-quality digital experiences for Android, iOS, Flutter, and the web. It's all about material design, including apps, templates and websites.
22. Designrfix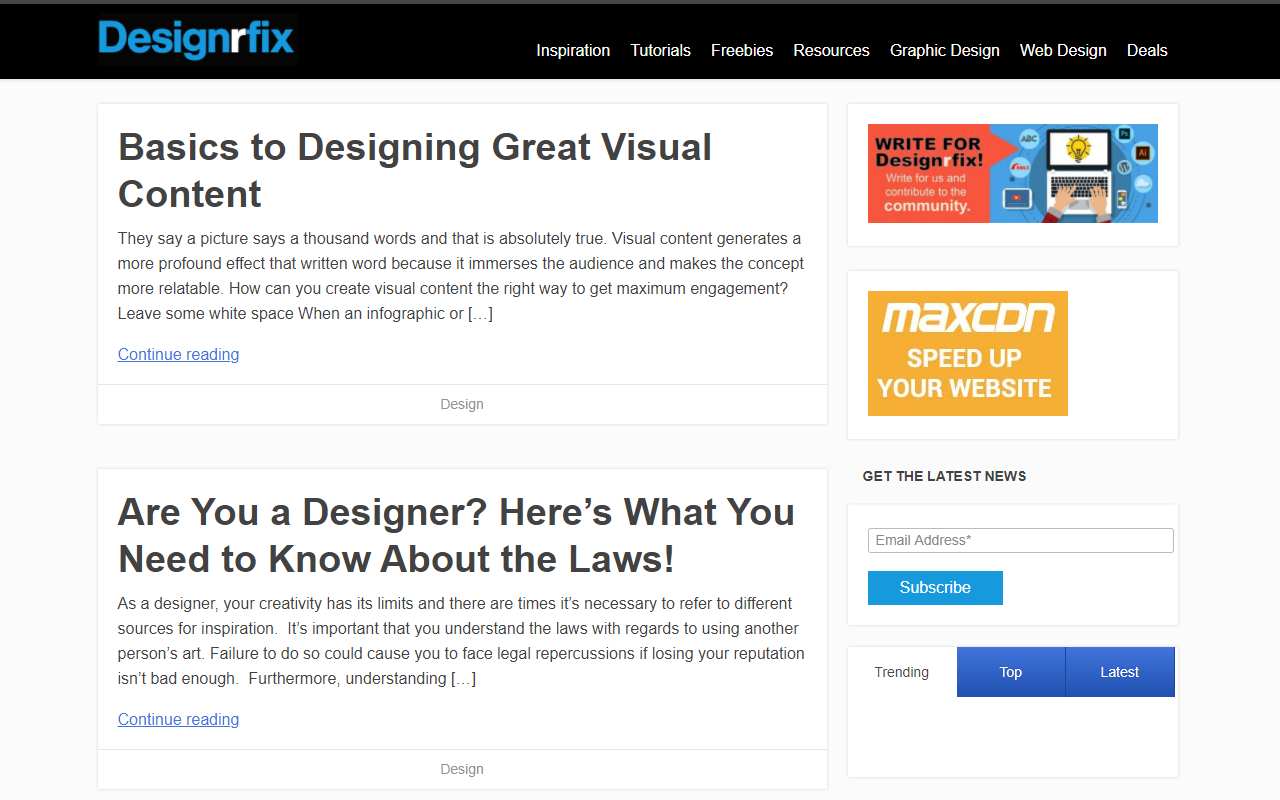 Designrfix is among the best blogs when it comes to graphic design resources. The blog has a diverse team spanning the entire globe, providing design patterns examples, web backgrounds and logo design.
23. Noupe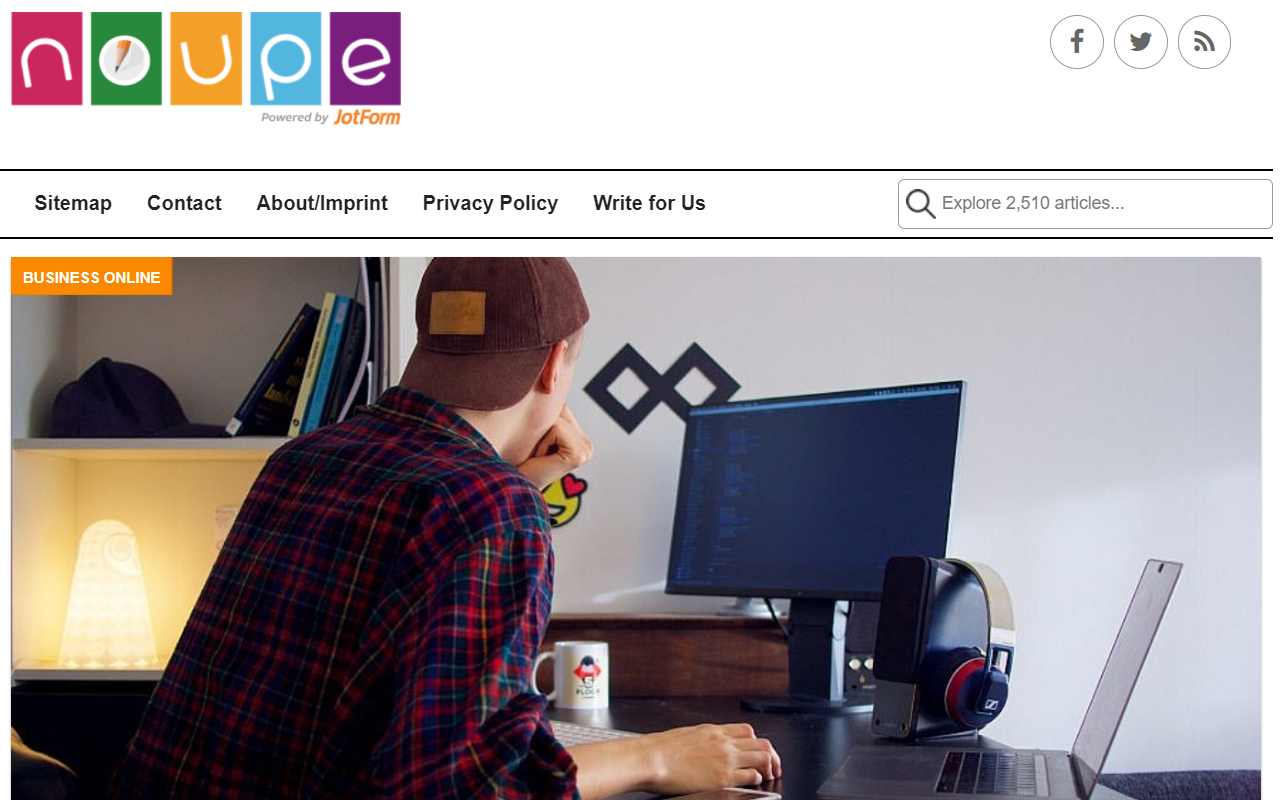 Noupe delivers stylish and dynamic news resource for designers and web developers across the globe. They cover topics such as CSS, Ajax, JavaScript, web design. These articles focus on enabling you to create better designs and communicate effectively across the web.
24. Hongkiat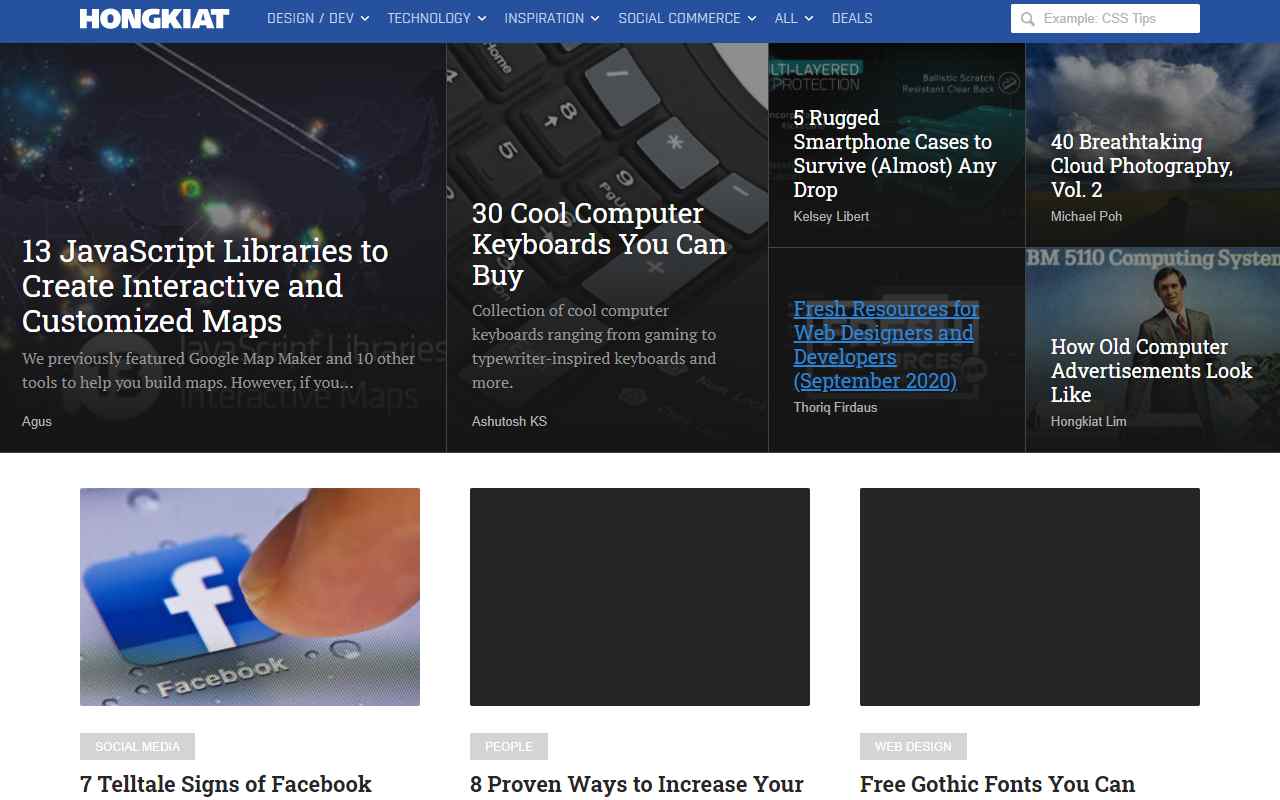 Hongkiat is one of the leading design websites. This blog features several contributors who present their perspectives on the same subject, which is highly valuable for bloggers, web designers, web developers and graphic designers.
25. Speckyboy Design Magazine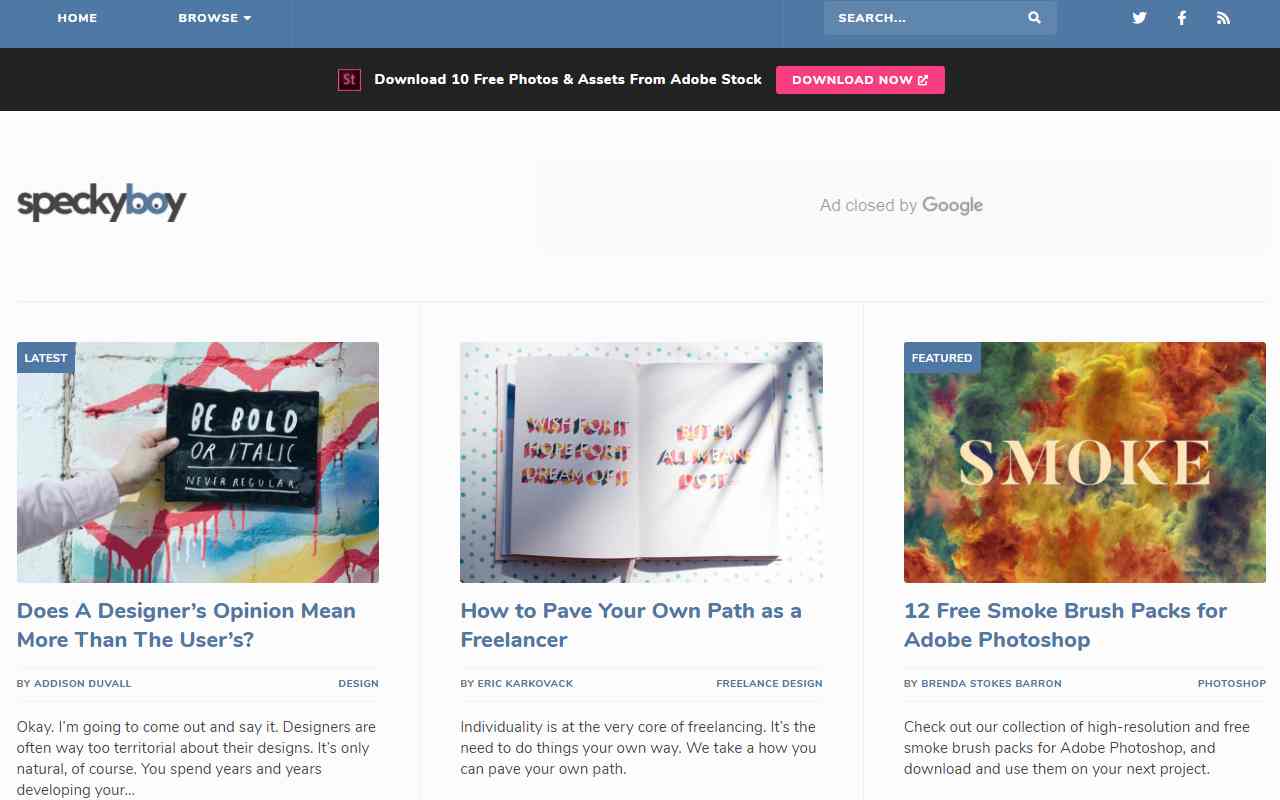 Speckyboy was launched with the purpose of becoming an inspirational hub for designers. This blog has a wide range of content, such as tips, tutorials techniques and resources. There are teams of design experts working day in and day out to keep you attuned to the latest trends in web design today.
26. Site Point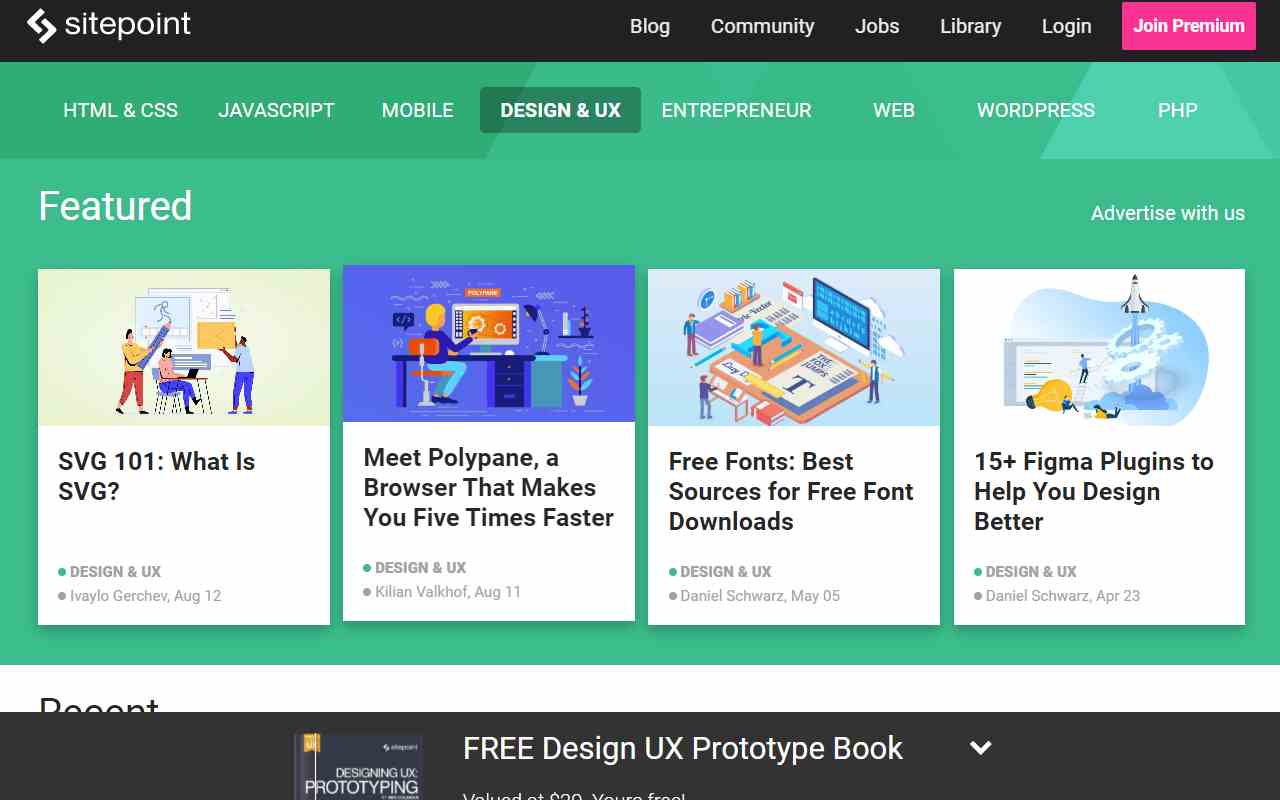 Site Point is a Melbourne-based website, and publisher of books, courses, and articles for web developers. In the library section, you can find lots of useful guides, also covering CSS, HTML, PHP and JavaScript.
27.Vectornator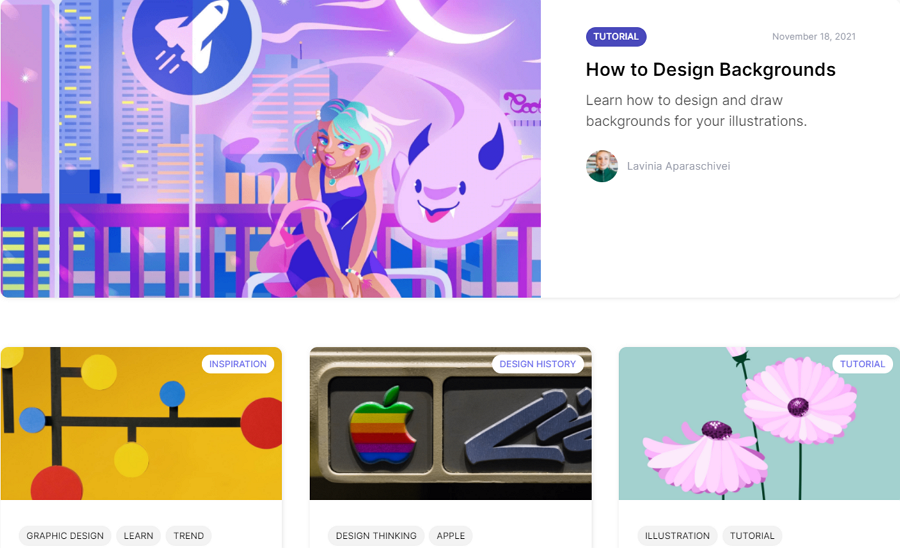 Vectornator's blog is full of design-related long-form content that is both insightful and exciting to read. Written by the Vectornator team, the blog touches upon current graphic design trends, logo design, color theory and meaning, design principles as well as drawing tutorials.
The articles are accessible to both designers and those who are new to the field and want to learn more about graphic design and design in general. With beautiful visuals accompanying each article, the content is a pure joy to read, discover, and be inspired by. The blog also features product updates, interviews with the team, and tips and tricks related to various creativity topics.
The blog is updated regularly and each new article checks all the boxes: it's well-written, insightful, and inspiring.
Wrap up
Web design blogs are one of the easiest and most effective ways for designers and developers alike to learn about the latest trends and developments. We hope this roundup of 27 design blogs helps you pick out your favorites to support your career growth in design and development and provides you with ongoing inspiration.