A well-designed website leaves a good impression on the audience, provides a better UX, and increases sales. That's why, in order to create good websites, most UI/UX designers and developers prefer to join professional web design forums for staying on top of web design trends.
These 15 of the best web designing forums have been picked for both UI/UX designers and developers, to keep up the latest trends, learn and share website design skills, and get help or website design jobs with ease.
Why should you join a web design forum?
A website design forum or community is a place where hundreds or even thousands of designers and developers can get together, communicate and discuss an idea, share the latest design drafts, and grow together. It is a website that can bring you a lot of benefits, such as:
Post a tricky problem or issue and get help quickly.

Share a design idea or draft and get feedback instantly.

View other design works to get inspiration for your next project.

Exchange or share design ideas or experiences with others freely.

Establish connections with other famous experts.

Download design resources for free.

Share or search for web design jobs.

Keep pace with the latest design trends and news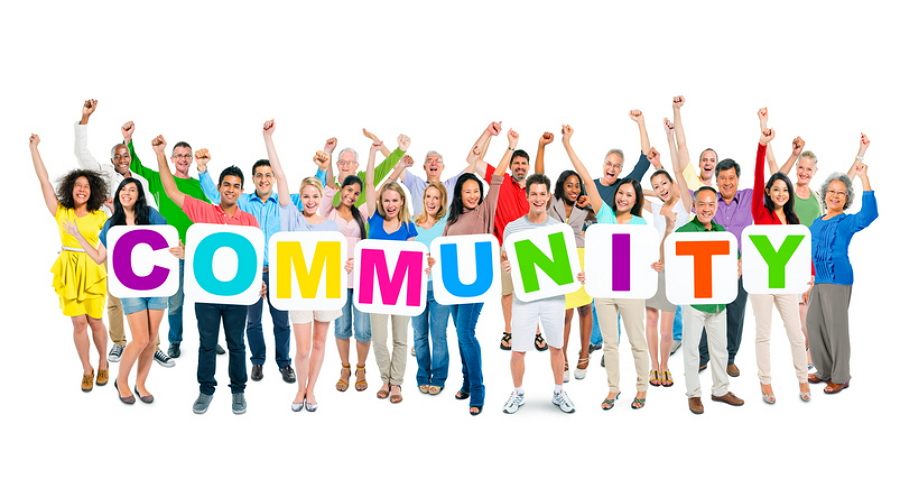 What makes a good website designing forum?
A detailed and clear post guideline can help you post all ideas, design works, and news easily. A wide range of post category options, such as tutorials, discussions, articles, Q&A, etc, can also help share your ideas in the right section and get solutions to your problems quickly.
When something is incorrectly published, good and fast modification can help you save much time and energy.
To further explain your idea, sometimes you may need to attach images, videos, documents, or even website or app mockups. Whether the website design forum has the facility of attaching multimedia document matters a lot.
Fast response to posts can make a website design forum stand out from others easily. The ability of users to leave feedback or share a post via social media is an important point that you should consider.
How to choose a good website design forum?
There are many website design forums out there and most of them have their own personalities. To choose the one that suits your needs best, you should remember several points:
Figure out your purposes
No matter whether you are a new designer or developer, before selecting a forum, you should figure out your purposes. Since different forums have different focuses, you should choose the one that matches your goals perfectly.
For instance, if you are looking for forums to learn design skills or get free design resources, a website design forum that focuses on web designing is OK. But, if you are looking for forums to get tips on CSS or website coding, websites that focus on web development are good options.
The forum introduction or comments from the forum users can help you make a decision easily.
Evaluate the forums
After knowing your purposes, a lot of website design forums would be eliminated from your list. And then, the next step is to evaluate the rest one by one. All the factors of a good website design forum should be considered, such as:
Are there any guidelines to help you post a problem?

How many categories are offered to help you post your queries?

Is it possible to modify a published post?

How long does it take to get a response to posts?

Is it possible to attach images, videos, or anything else?

Can you download free design resources there?

Write down all your needs and evaluate them all one by one.
Never focus on only one forum
Different forums have different focuses. When one forum cannot meet your needs, you can easily join and follow several forums instead. The more forums you participate in, the more information you will get.
No matter why you are looking for a website design forum, this list of 15 of the best and most popular web design forums for designers and developers can help you choose your desired ones quickly:
1. Web Design Forums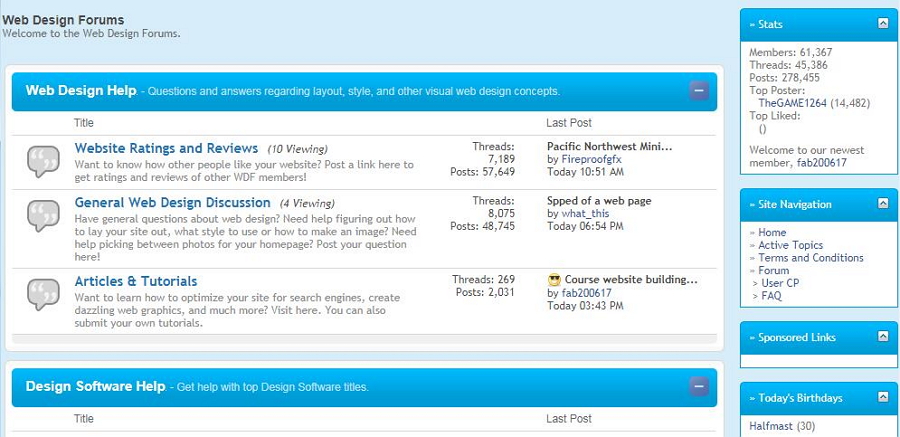 Rating: ★★★★★
With over 60,000 members and 300,000 posts, Web Design Forums is the largest web design community on the web. Thousands of discussions, user-submitted articles and tutorials covering web design, design software, programming and development, hosting, server set-up, and web marketing are shared.
No matter whether you are a beginner or expert in website design, you can find plenty of answers there to solve your problems with ease.
Even programmers and developers can get help there easily.
2. Web Designer Forum UK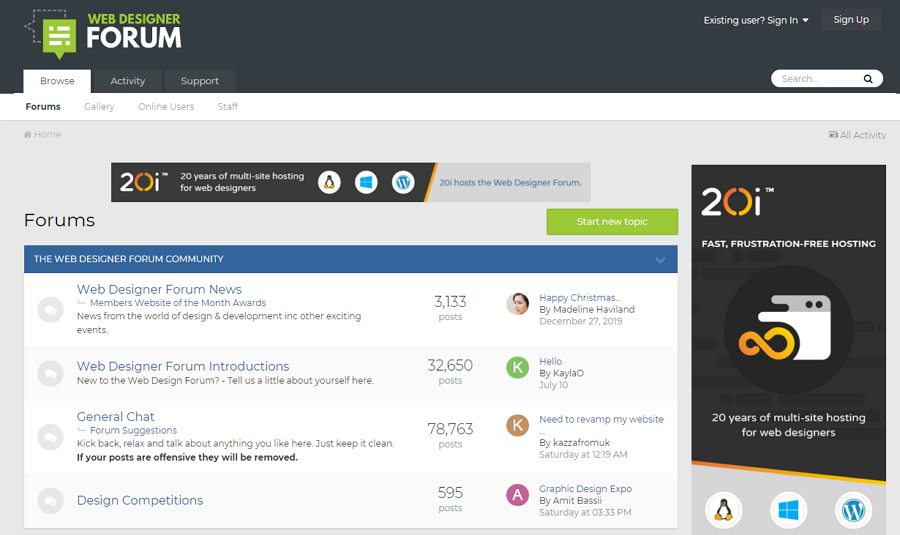 Rating: ★★★★
With over 3,000 users and 39,000 posts, Web Designer Forum is a popular web designer forum based in the UK. It allows users to discuss ideas on web design, graphic design, SEO, photography, marketing, freelancing, and more. Some latest website design resources and news are also shared, such as web design tutorials, photography, and stock imagery, etc.
If you are looking for a website to establish connections with designers from the United Kingdom or getting the latest web design or development news, this forum would be great.
3. Designer Hangout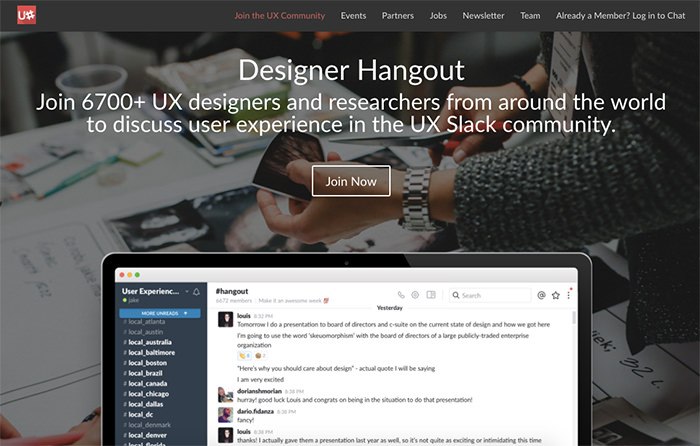 Rating: ★★★★
Designer Hangout is a professional design community for UX designers with over 18,000 practitioners and 18,000 skilled designers and researchers. Its goal is to "create the world's most reliable brain trust for UX designers in a fast-paced age".
Furthermore, it is invite-only which means that you need to request an invitation before you can join. And this can take some time.
So, if you are a UX designer and want to find a professional web design forum, this forum can help you build a network, get and share advice, and meet other experienced UX designers.
4. Web Design Forum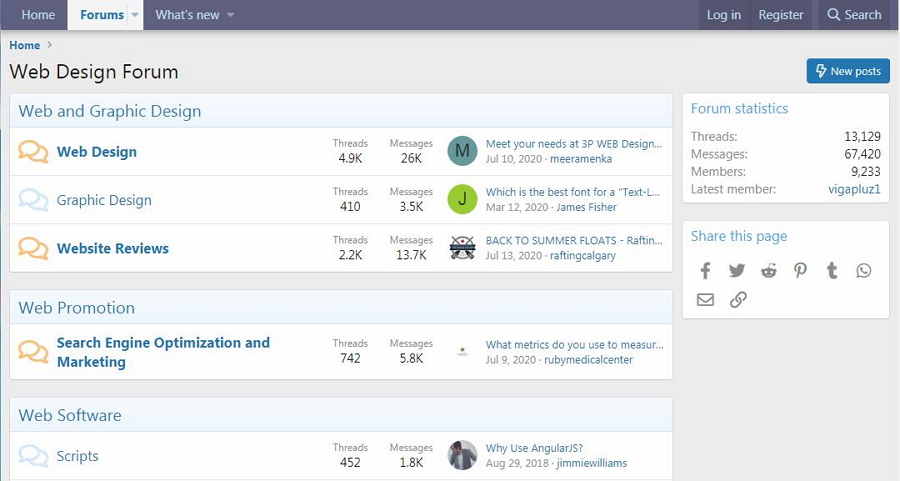 Rating: ★★★
Web Design Forum is a good community for designers, especially design beginners, to design and make a professional website for their businesses.
With over 9,233 members and 13,129 posts, it is not as popular as the forums listed above. However, it covers a wide range of topics, including the web and graphic design, website reviews, website promotion, and software. It is a good website for web traders to advertise their services.
So, if you are looking for a website to learn website designing skills or sell your website designs, this forum can be good.
5. Web Developer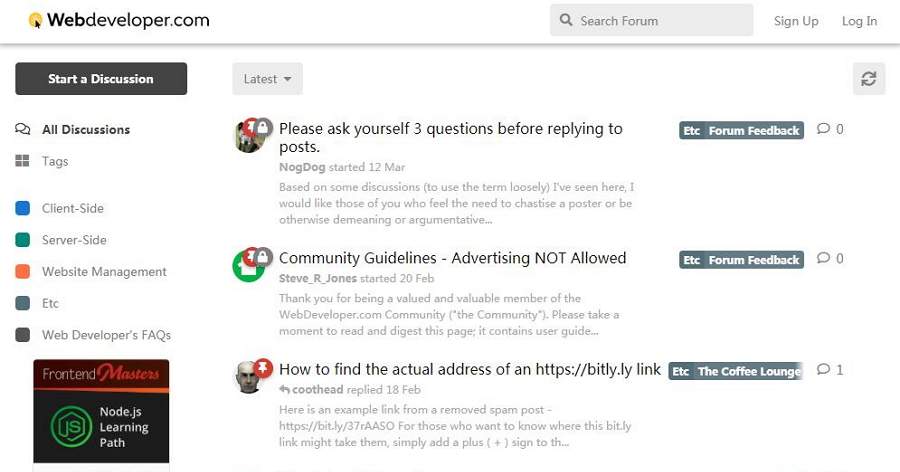 Rating: ★★★★★
Web Developer is one of the most popular web development forums for web developers and designers to learn and share how to design websites, build apps, write code, HTML, and more. It has many useful topics in several sections, like client-side development, server-side development, website management, and so on.
It is a good web developer forum to take you from beginner to professional level.
6. Web Dev Forum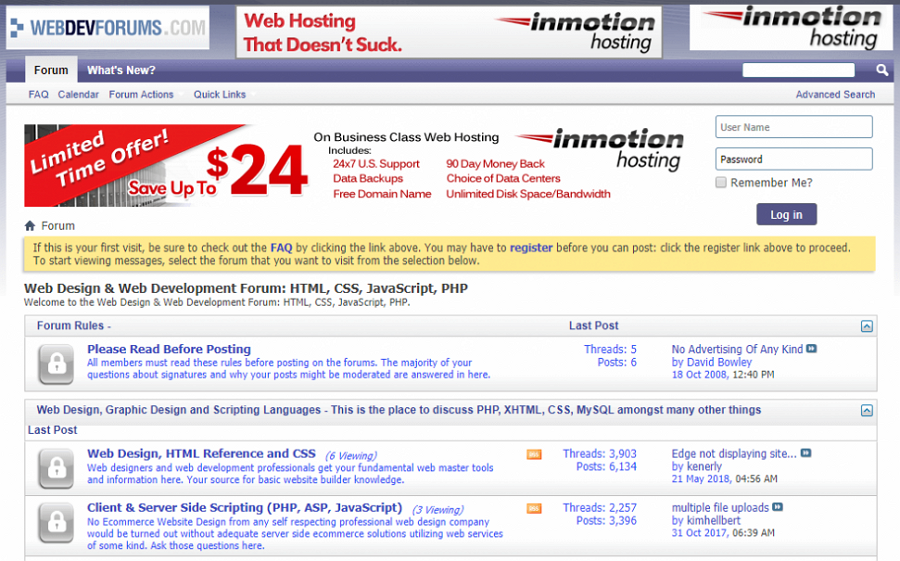 Rating: ★★★★
With more than 34,000 members and 4,000 threads, Web Dev forum is one of the busiest web development forums for designers and developers to discuss nearly all aspects of website design and development, graphic design, and scripting languages like HTML, CSS, JavaScript, PHP.
Even a beginner can find useful tutorials, discuss and exchange ideas, and get feedback about their websites here to hasten the process of becoming a professional website designer or developer.
7. Site Point Forum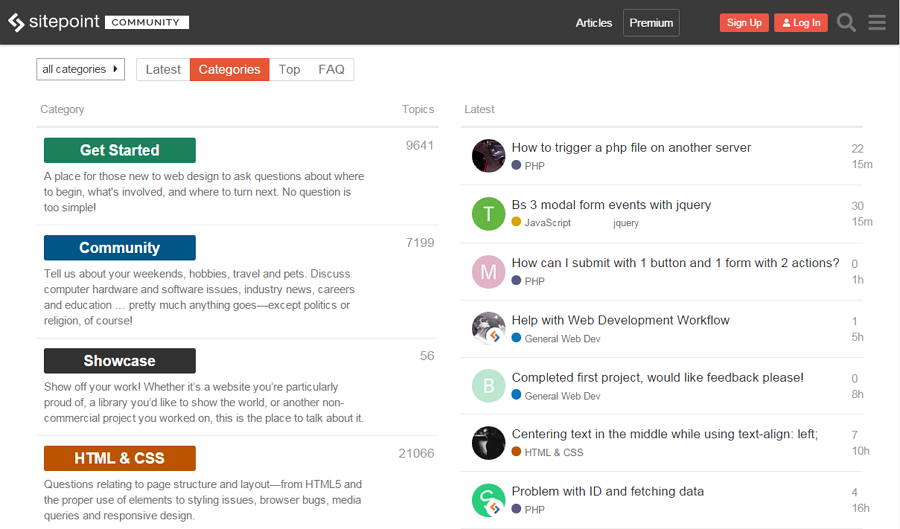 Rating: ★★★★
Site Point Forum is an intuitive web design community for web designers and developers to discuss and get feedback about HTML, CSS, JavaScript, PHP, web design, UX design, databases, SEO, hosting, and more. With clean layouts and clear categories, it is well-managed and well-maintained attracting more than 250,000 members and thousands of active members.
It is a great website to share ideas and find answers about both front-end and back-end web designing tricks and skills.
8. Stack Overflow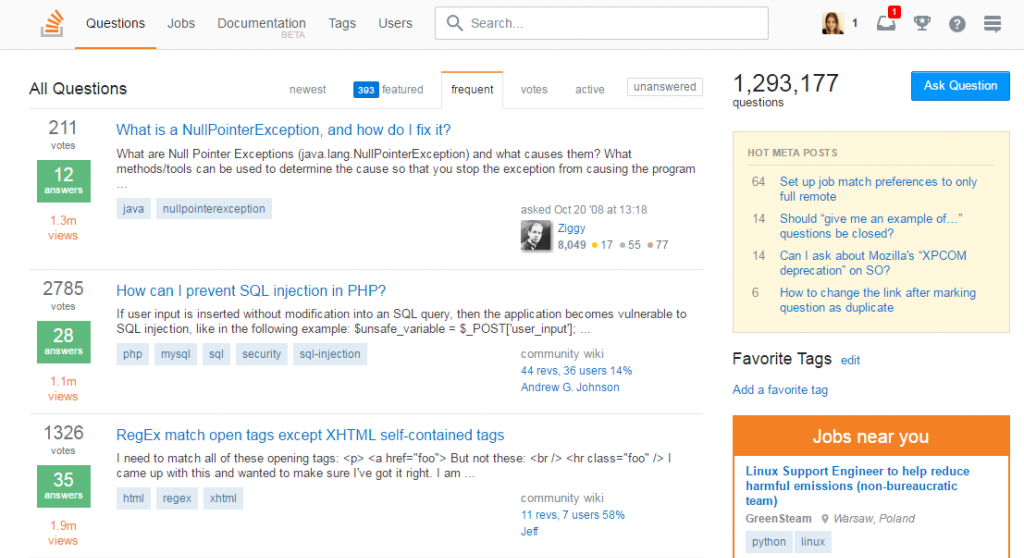 Rating: ★★★
Got a very tricky coding issue and don't know how to crack it? Stack Overflow is the perfect website for you to post the issue and get answers quickly. As an open community for anyone who codes, it is also one of the most popular developer communities with questions and answers.
Moreover, like Reddit and Quora, this forum also enables users to vote questions up and down, and make them rise to the top for higher views and reputation.
9. Bootstrap Community Forum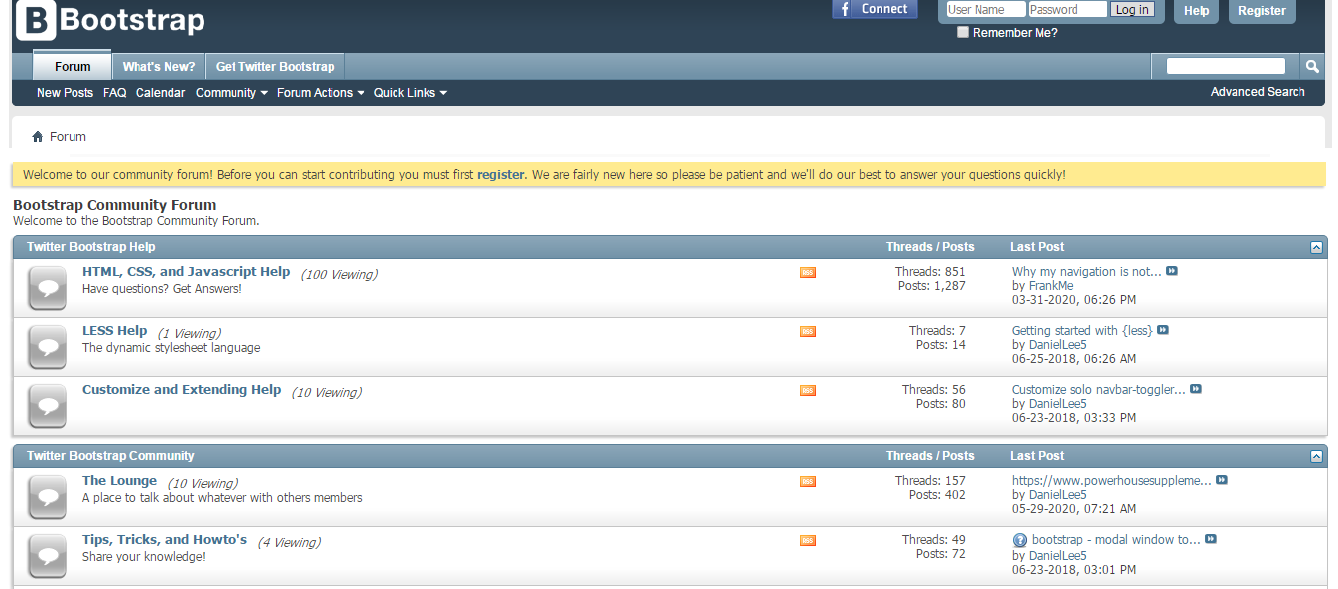 Rating: ★★★
With over 1,200 posts and 1,885 active members, Bootstrap Community Forum is a website for designers and developers to learn the latest Bootstrap trends, tips, and tricks. If you have any questions about the Bootstrap framework, it is the perfect website to get it answered.
10. HTML Forum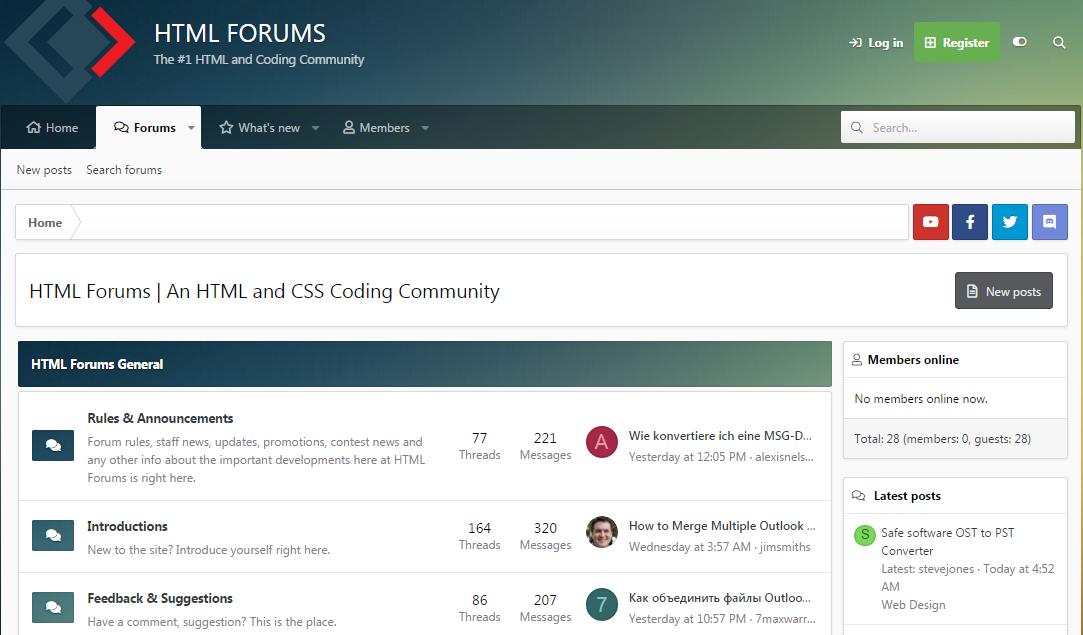 Rating: ★★★
With over 30,000 members, HTML forum is a website where you can discuss everything about HTML. You can also find information and discussions there about server administration, marketing, website design, and development, etc.
11. Kirupa Forum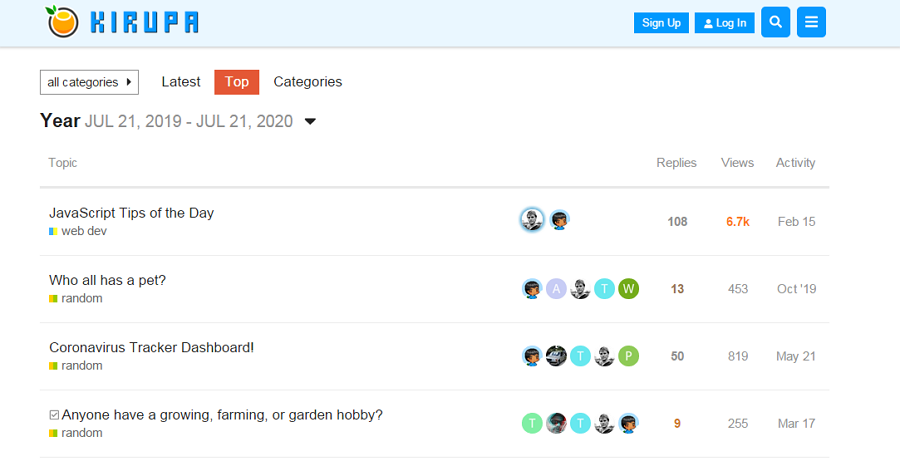 Rating: ★★★
With more than 100,000 members, Kirupa forum is a helpful web design community that can help designers become better developers. You can easily find answers about topics like web design, programming, web design jobs, web design contests, and many more uncategorized topics.
12. Designer News
Rating: ★★★★
Designer News is the perfect website for designers and developers to read about the latest design and technology news. Many interesting articles, stories, and news are covered, like the latest mobile design trends, CSS preprocessors, and more. You can also easily join the community to get access to the latest designer deals, and exclusive job offers under its "Jobs" section.
If you are looking for a website to stay informed about the latest web design news, especially web design job news, this forum is perfect for you.
13. CoffeeCup Forums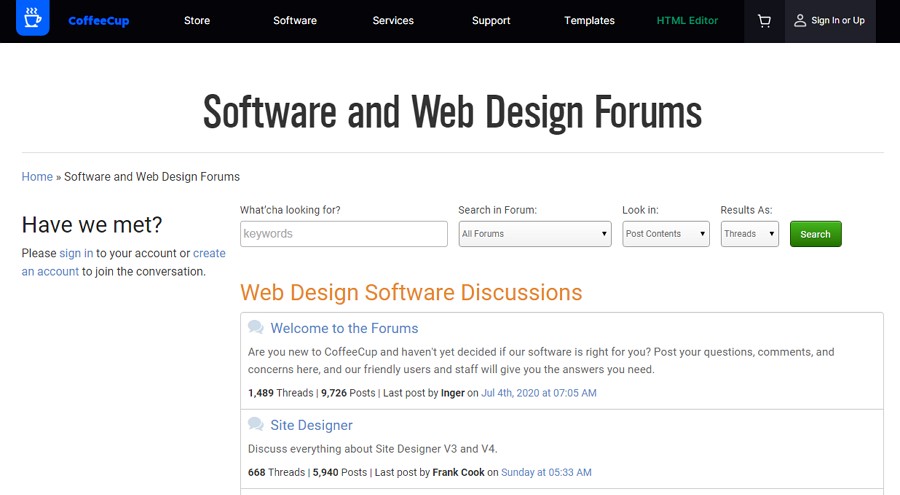 Rating: ★★★
Coffee Cup, which is originally known as a simple HTML editor, is a very valuable online forum that can help users design and create a better website. Even though most of its sections focus on Coffee Cup products, it is a good website to discuss website design topics.
If you are using Coffee Cup products, this forum is a good option for getting help about how to create a better website with these products.
14. WordPress Support Forums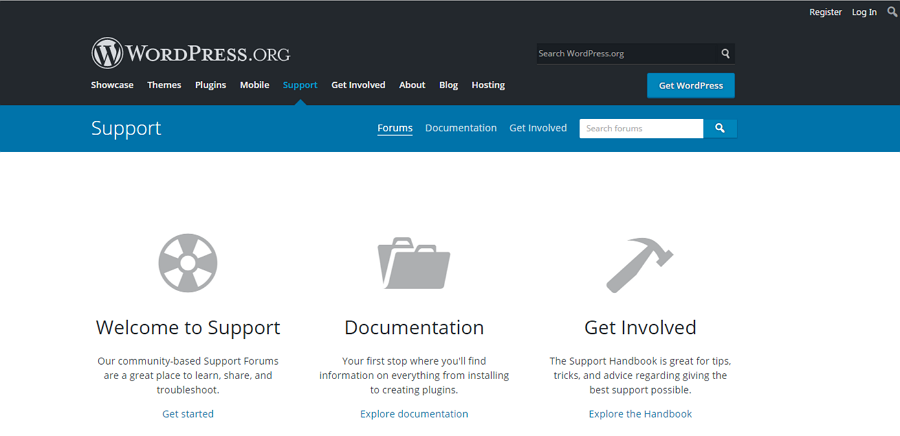 Rating: ★★★
WordPress Support Forum is the professional support forum for WordPress users. All discussions are organized around installing WordPress, development, networking, themes, plugins, and more.
If you are using WordPress to create a website, this forum would help you a lot.
15. Talk Freelance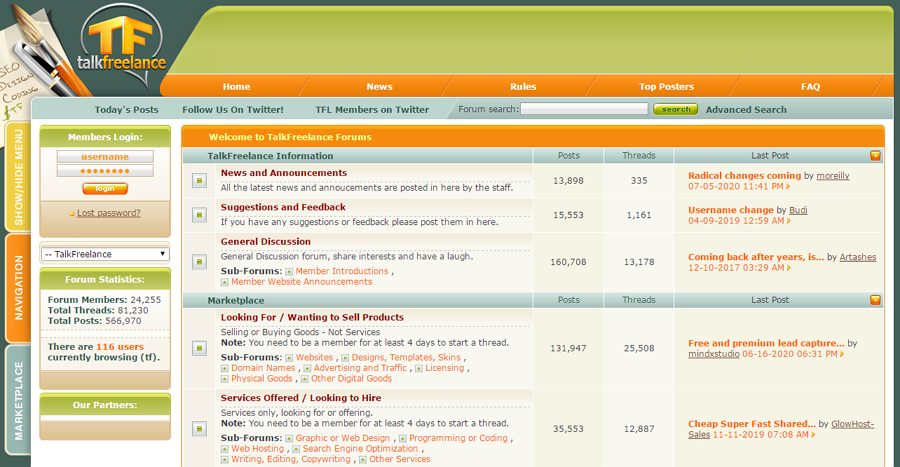 Rating: ★★★
Talk Freelance is a community for the freelancing aspects of website design. It is the perfect website to sell website products or find a freelancer job.
Wrap Up
Web design forums are powerful tools that can help you communicate with other designers and developers, exchange ideas and experiences, get answers for tricky problems, share latest design drafts, and grow together.
We hope all the above information can help you choose the best forums and drive your website design career effectively.