Every creative and designer faces the same dilemma through their UX journey, the infamous portfolio. Crafting the ultimate UX design portfolio will require a holistic approach to showcase your unique design capabilities and best work. The UX portfolio is the opportunity to let your personality and creative flare shine through. Anyone looking for a UX job will almost always have to submit a portfolio.
This is often the first thing any recruiter or hiring manager will look at which should display your best work, design processes, and your unique personality, voice, and brand. The UX portfolio is equally and if not more important than a CV or resume, especially for creatives and UX designers.
It may seem like a daunting task to create the best portfolio possible which can result in procrastination, perfectionistic tendencies, and unfinished portfolios.
Streamline and simplify this process by creating a solid action plan and understanding the key components of what makes for an excellent UX design portfolio and current best practices.
So how do I craft the best design portfolio and where do I start? This article aims to answer your questions and cover the basics of UX design portfolios, explore 20 excellent best examples of UX design portfolios, and offer portfolio tips for Entry-level, Junior, and Senior UX design portfolios.
What is a UX design portfolio?
A UX design portfolio will highlight your unique professional experiences, skills, and design process, and showcase UX/UI case studies and examples. UX/UI case studies can include the following:
1. Sketches, wireframes, and prototypes
2. User flows and customer journey maps
3. Mood boards and style guides
4. UX writing & relevant articles
5. Design thinking workshops & process mapping
6. UX design tool, user research and usability testing
While the list can go on, the most important thing to take in mind is your potential user (hiring managers, recruiters, other UX designers, etc.) and adjust accordingly. Portfolio content will vary depending on your UX specializations, experience, seniority, and local market expectations.
20 Best UX Design Portfolio Examples
What do all good UX design portfolios share? At the heart, the best portfolios provide an optimal user experience while harnessing the power of creativity and individuality. This is your time to show your best work, assets, and creative superpowers.
All UX Portfolios are unique and tailored according to individual design styles, thus there are no perfect examples. But there are many inspirational, impressive, and near-perfect portfolios to invoke your own creativity and UX portfolio direction.
Here are some of our favorite UX Design portfolios based on overall usability, aesthetics, and unique tone of voice. The best design portfolios often are often straight to the point and avoid much fluff and filler content while providing well-documented case studies that show UX processes and real user solutions.
No matter what level of seniority, whether you're a Junior or Entry level designer following the best practices of the industries leading designers is the best way to make the best portfolio. Set those expectations high!
1. Sophie Brittain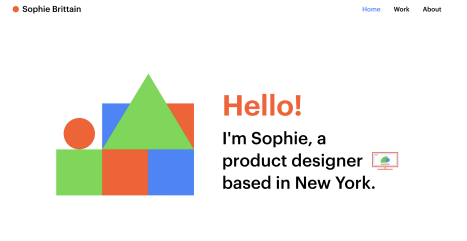 Sophie's portfolio offers a friendly user-friendly design that highlights her creativity, color theory, and usability. Her case studies clearly highlight her UX approach and design style while offering the user a seamless experience. It is straight to the point and you can instantly interpret Sophie's creativity and unique design process.
2. Dayla Green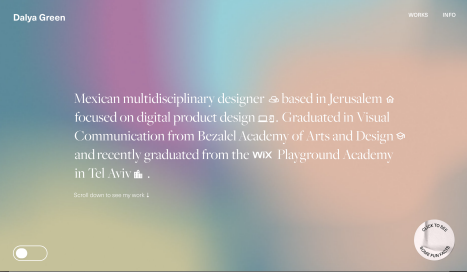 Dalya takes her UX portfolio to the next level of interactivity and personality. Her website is interactive and showcases Dalya's unique character through interactions and fun UX writing. The design is equally beautiful and aesthetically pleasing leaving the user with a sense of ease.
3. Jung Hoe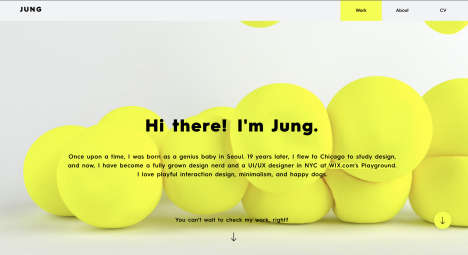 Jung knows how to tell his story through playful interaction design and UX writing. Jung does a good job of storytelling and captivating the user's attention and eye through a sleek minimalist design. Kudos Jung!
4. Saloni Joshi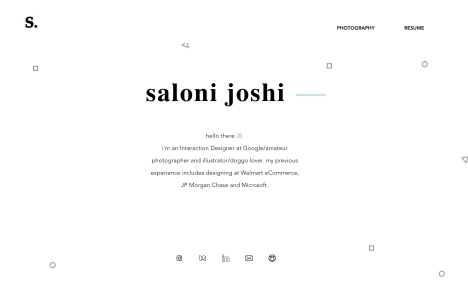 Salano is another example of a multitalented designer with her passions shining throughout her portfolio. Her bio instantly gives her credibility which allows her to focus on more of her creative aptitudes like photography and illustration.
5. Michaela Twersky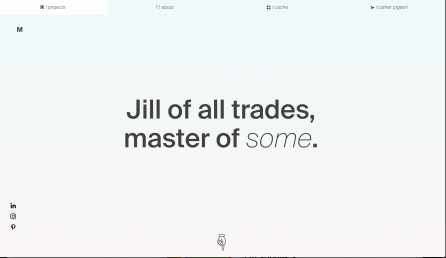 Michela's profile offers a fun play on words and her multidisciplinary spirit. A "Jill of all trades, master of some" is a perfect descriptive bio for a UX Designer who is looking for a unicorn role where they can wear many hats and master various trades.
6. Emi Lantz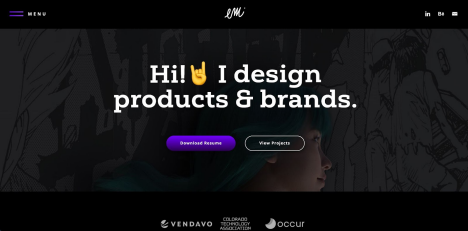 Emi offers the user two options that limit decision fatigue and guide the user directly to where she wants them to go, which is her projects and resume. Emi offers her users to download her resume, which will undoubtedly help in the hiring process. This user-friendly portfolio is simple and gets the user straight to the point.
7. KOCO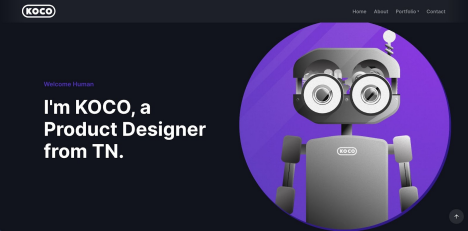 Koco is clearly an essential designer with a knack for designing robots. His clean approach to design and personality and well-balanced and offer the user a different portfolio experience.
8. Max Berger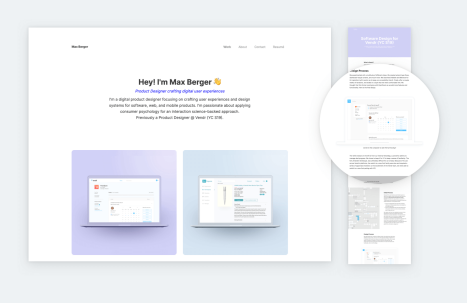 Max uses a sleek minimalist portfolio that is easily navigable and gets straight to the point of showcasing his best UX case studies. This portfolio was built on portfolio website building (UXfolio) which may be more suitable for entry level or junior designers.
9. Aaron Rudyk
Aaron knows how to tell his story through playful interaction design and UX writing. Aaron does a good job of storytelling and captivating the user's attention and eye through a sleek minimalist design.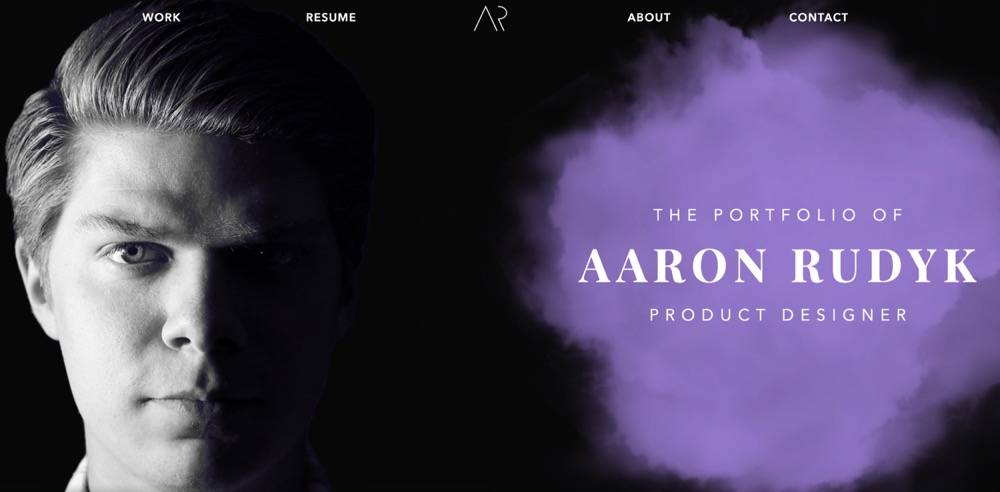 10. Danielle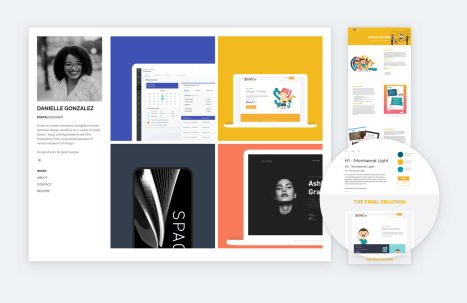 Danielle offers a friendly design that invites the user to see her wide range of work and overall style. Her use of color and contrast allows the user to easily navigate from block to block without being overwhelmed by information or text.
11. Doran Toussy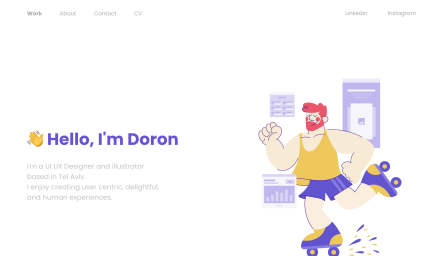 Doran highlights his multiple skill sets with a personal and fun illustration. It is noticed that Doran has a friendly and humorous approach to design.
12. Niya Watkins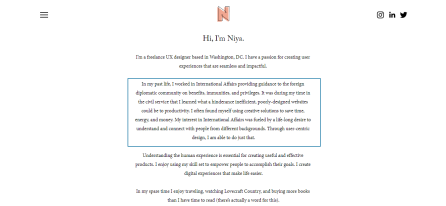 Niya does a wonderful job of storytelling and connecting her past experiences to her current role as a designer. This is a great example for anyone potentially transitioning careers from International relations to UX Design, and showcasing transferable skills such as user research and understanding human behavior in an International setting.
13. Lisa Labbe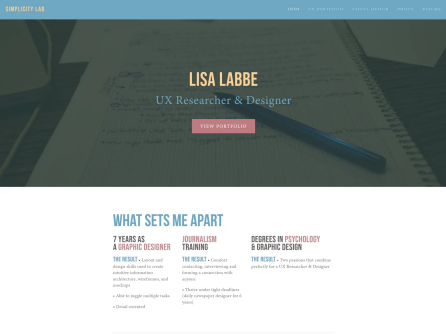 Lisa does a good job of highlighting her multi-disciplinary experience in both journalism and design. This is a good example for those graphic designers looking to make the transition to UX Design.
14. Elizabeth Lin
Lin's portfolio also represents yet another whimsical UX storyteller piecing her journey together through strong visual case studies and interactivity.
15. Gloria Lo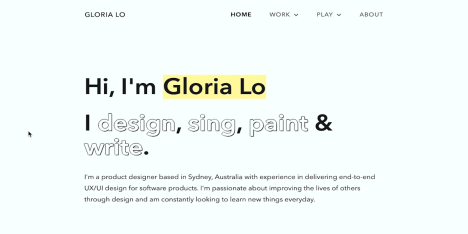 As we can see, Gloria Lo is a multi-passionate designer, artist, painter, and writer. Lo is a creative powerhouse and uses her headline design to demonstrate her unique style and skillsets instantly.
16. Shawn Weston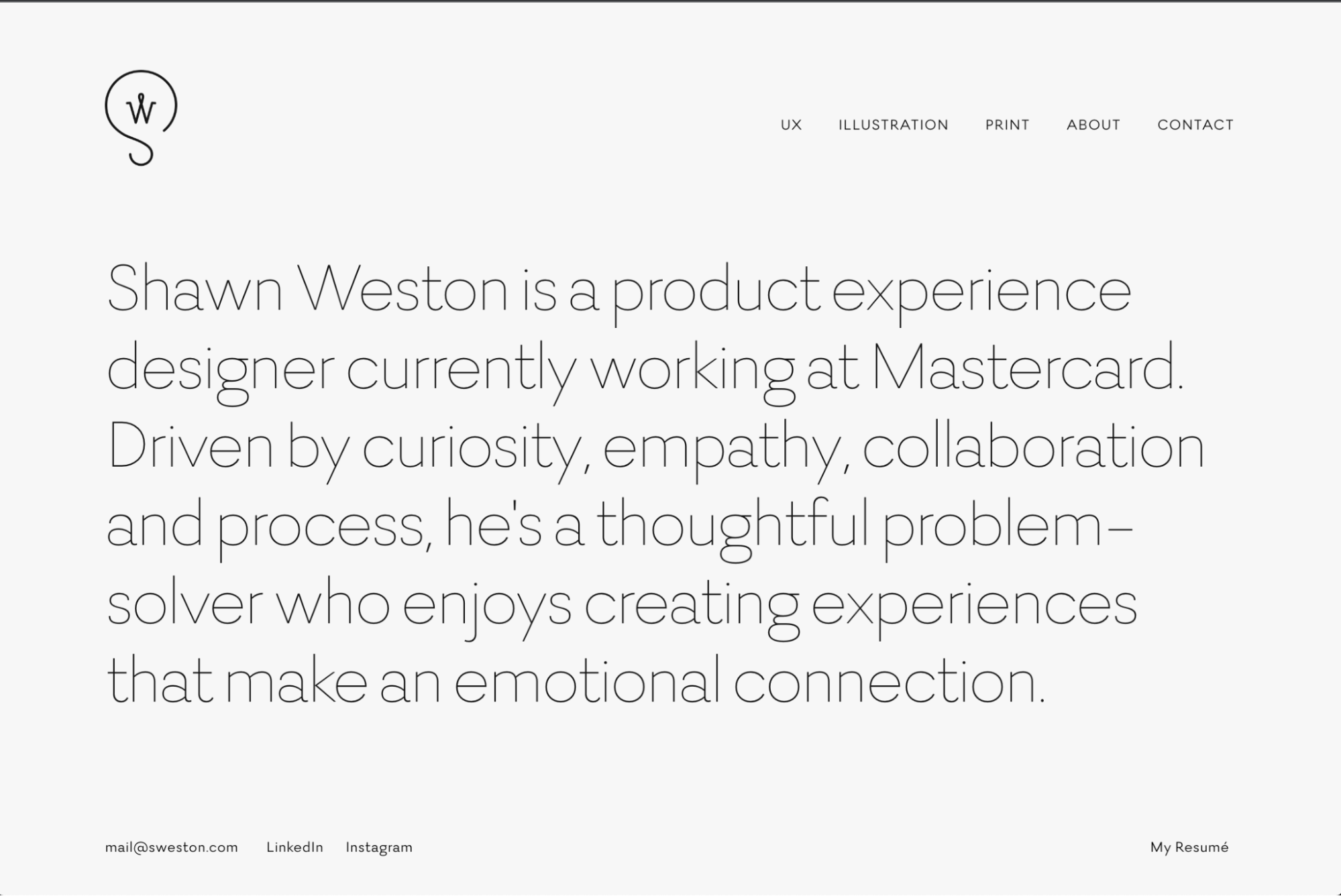 Shawn uses a minimal design that is user-friendly and minimalist.
17. Olivia Truong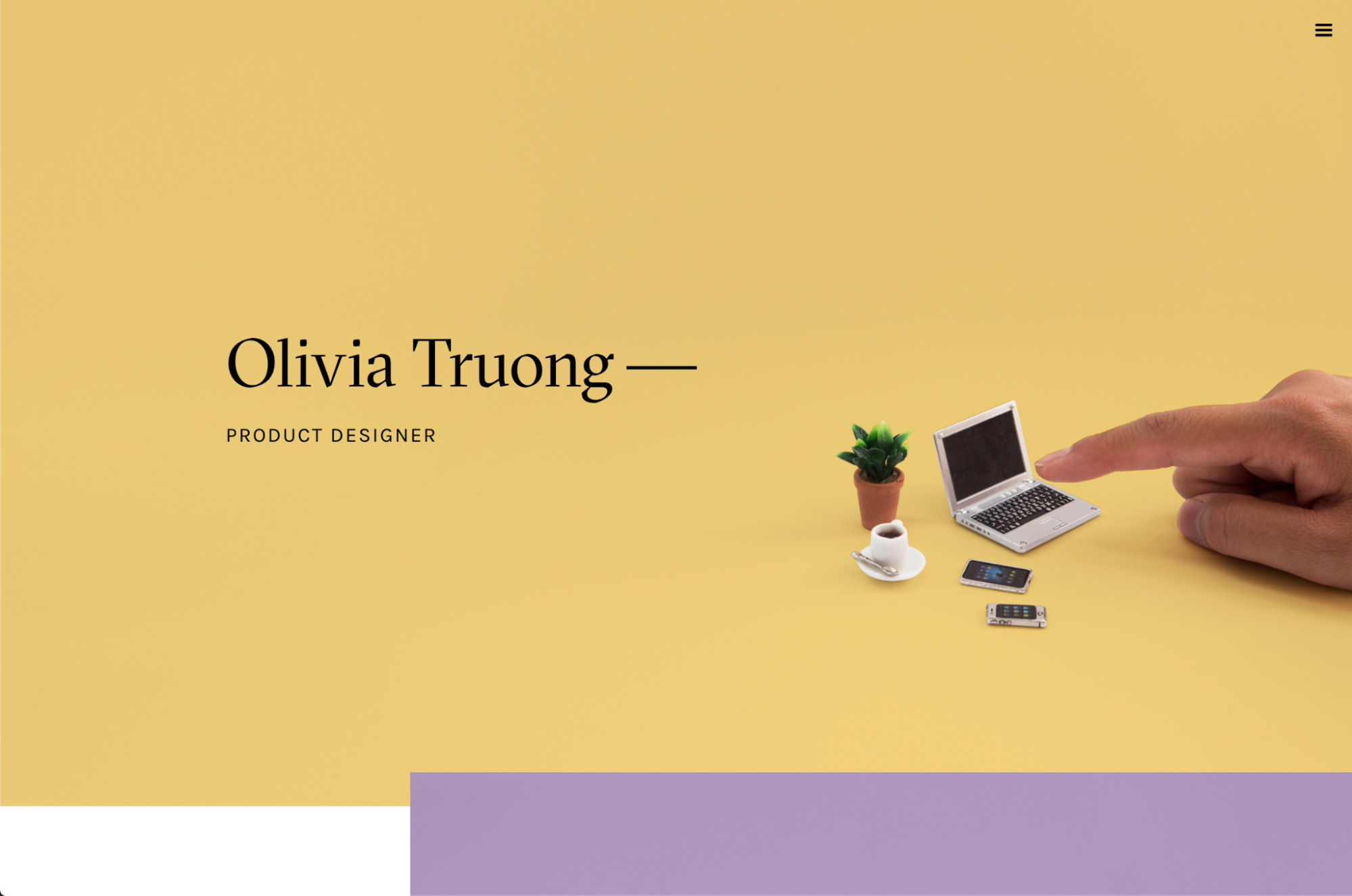 Olivia uses an even more minimalist design style which clearly guides the user through her case studies and experience, without providing an overwhelming amount of text.
18. Peter Noah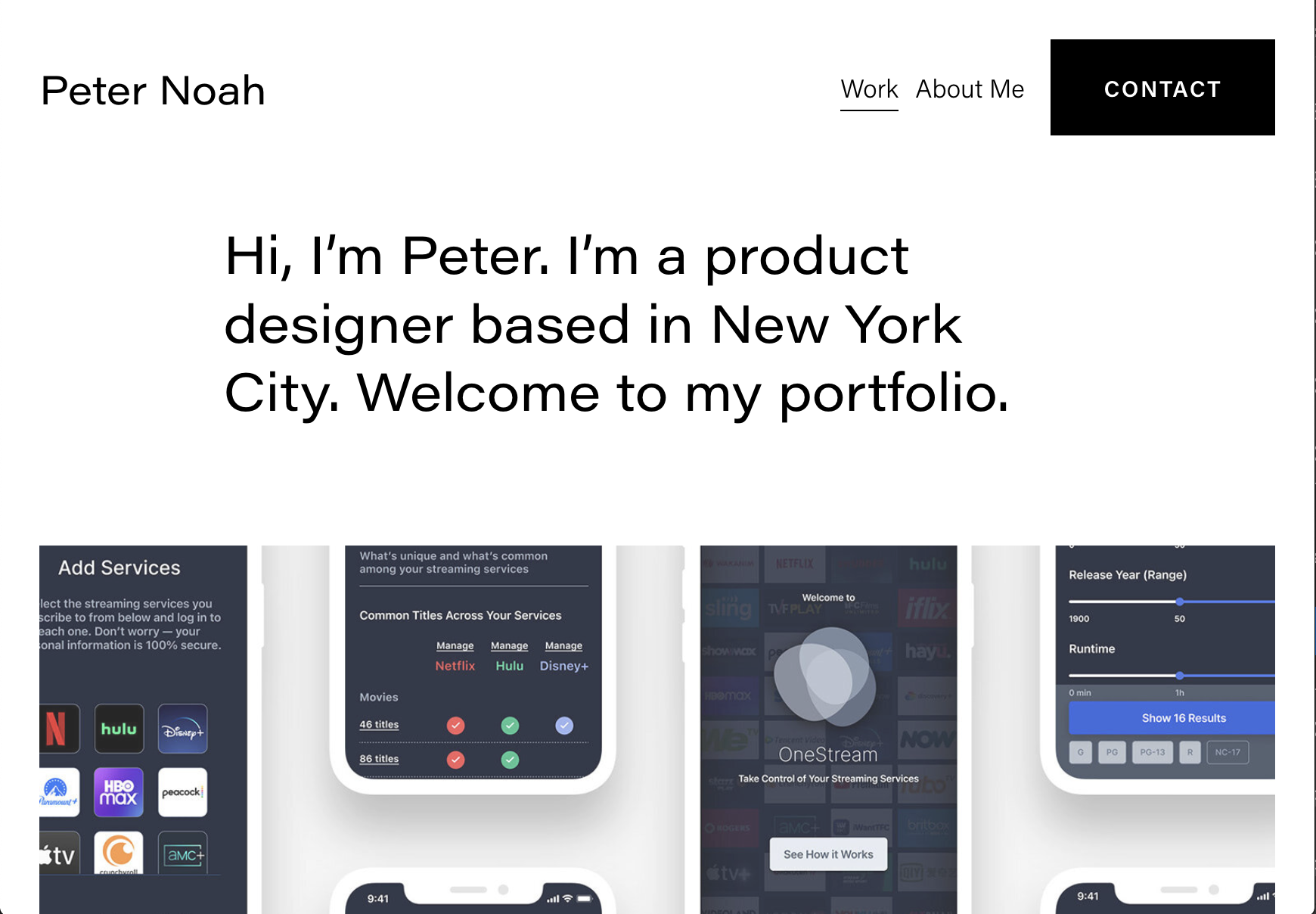 Noah offers a sleek design that instantly shows his UX case studies which is effective. We can instantly see multiple screens and we already want to hire him.
19. Josie Rochela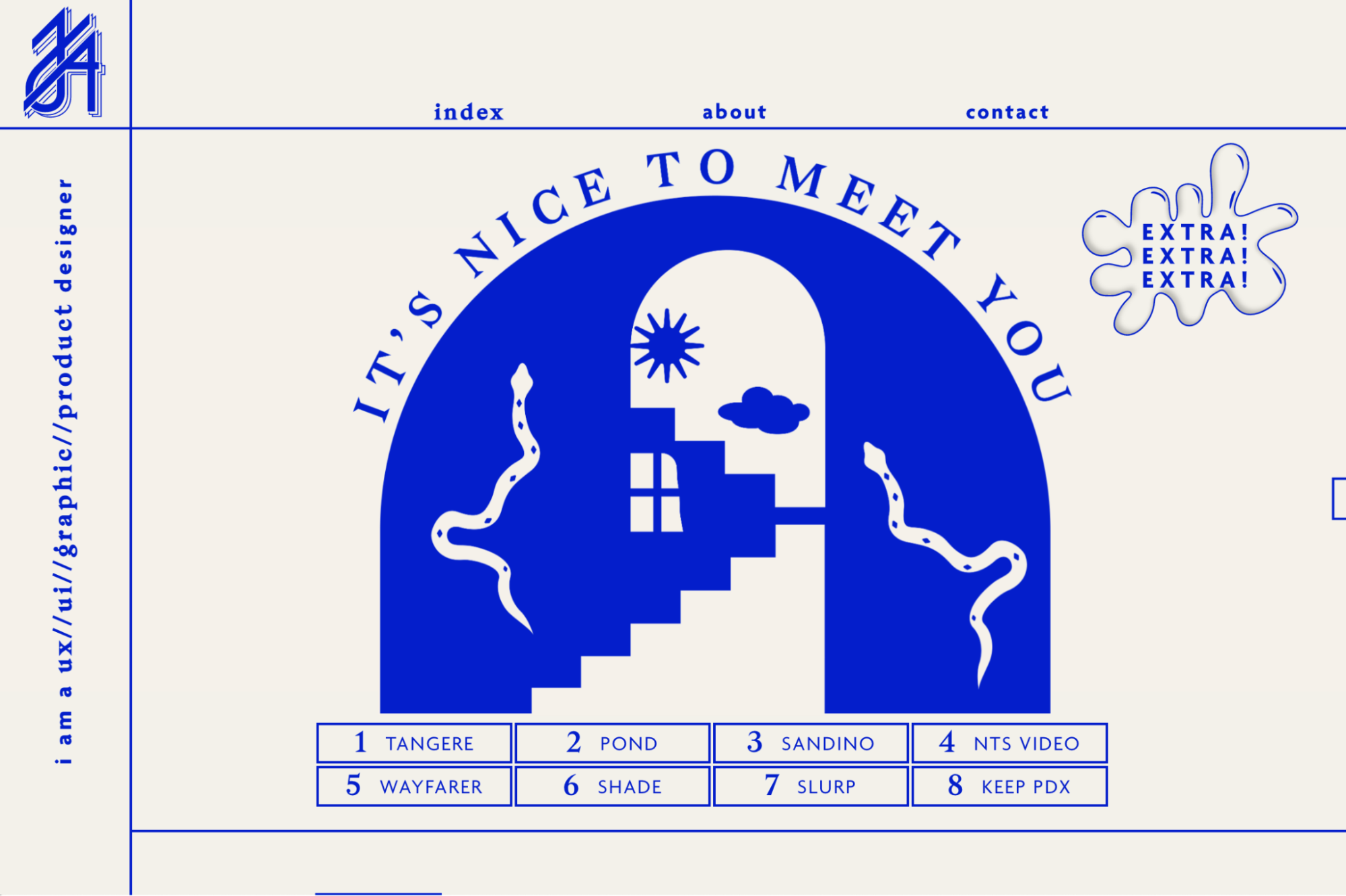 This UX portfolio is extremely personalized and unique to Joise. You can clearly see her design perspective and even though there is maybe "a lot" going on, she presents her case studies in avery different way which shows her creativity and out-of-the-box thinking.
20. Jason Mei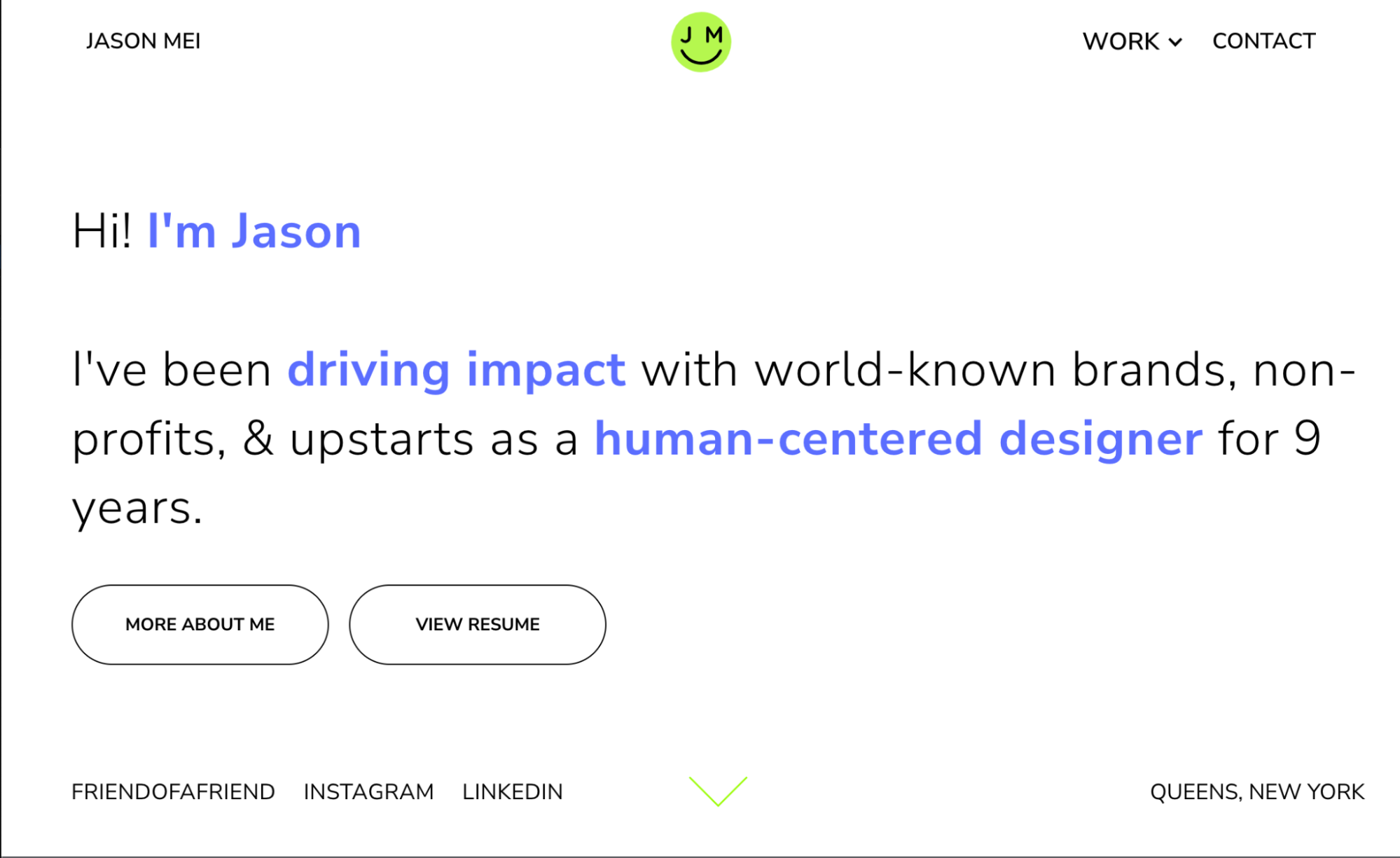 This portfolio is a great example of user-friendly design while also showcasing Mei's unique design style. Its easy to read and navigate and puts the user at ease.
What makes a good UX portfolio?
As we can see, some of the most impressive UX portfolios show strong skills in storytelling, and usability, and showcase each designer's unique qualities and characteristics.
Your portfolio should convey your process and design thinking mentality while also keeping in mind to showcase high-quality case studies that show clear results and UX processes. The UX portfolio should find a happy balance between creativity and functionality.
The basic components of a UX Design portfolio include the following:
Intro/homepage introducing yourself

Easy navigation

Case studies with strong documentation

About me page

Contact page

Resume/CV (PDF)

Links to design-relevant social media—LinkedIn, Behance, Dribbble
Of course, you should keep in mind when applying for jobs the company culture, design standards, and style to better adapt your case studies or experiences. Get creative and
keep up with design trends to better assess the market and the talent you may be competing against in the UX design job search and portfolio process.
Entry-level UX Designer Portfolio
For the entry-level UX Designer, crafting a portfolio can be a lofty task with many questions. How do I create a UX Design portfolio without experience? What should my case studies entail? What type of format should I follow?
Entry-level UX Designers can conduct fictitious projects with real users and also fill their portfolios with unsolicited website redesigns. The key is to document each UX process during these stages and use the documentation as a key part of your case study.
Test your projects with real users to beef up your case studies and portfolio. An entry-level UX Design portfolio really only needs 2-5 solid case studies and an overall user-friendly design. Keep it simple, maintain your unique design style, and show your creativity and design thinking strategies through fictitious work.
Another option to gain real-world experience and portfolio content are to volunteer your UX skills for free on a volunteer basis typically for nonprofit organizations. This is a great chance to work with real clients and problems while being of service.
Junior UX Designer Portfolio
Similarly to the entry-level designer portfolio, Juniors will use the portfolio to highlight their core skills and aptitudes while displaying fewer real-life projects and clients. Junior UX Designers should focus their portfolio efforts on showing their core competencies such as wireframing, prototypes, and user surveys.
Employers are more interested in your hard skills as a Junior designer, such as design skills, sketches, and user research. Soft skills such as empathy are also important to showcase but kind in mind the job description and your key competencies that can be proven through your portfolio.
Senior UX Designer Portfolio
Senior UX Designer needs to showcase their mastery of the entire UX design process from beginning to end. They should shine their unique personality, storytelling abilities, and creative approach to UX design.
As a Senior Designer, you already understand the market expectations and your unique value and qualities. Many companies will hire UX Designers according to "company fit" so aim to apply for roles where your design process and perspective will be celebrated and valued.
Being a cultural fit goes both ways and as a creative, you will want to make your unique personality as clear as possible in order to attract the right clientele and projects. We must own our design process and essentially convince others to invest in our unique methodology and process.
A Senior UX Designer is a leader and will have to be confident in their abilities to convince others of their process and methods. Senior Ux portfolios should also clearly demonstrate business, managerial, and collaboration skills as well as their ability to work cross-departmentally with key stakeholders.
How to create a UX design portfolio?
As we have learned, the best portfolios showcase creative storytelling, strong personality, usability, and friendly case studies that properly display design processes and methods.
The end user should be able to easily navigate your portfolio and see your major skills in less than 10 seconds. Make it clear, concise, and accurate.
As a reminder, a UX Design portfolio should always include the following:
Intro/homepage introducing yourself

Easy navigation

Case studies with strong documentation

About me page

Contact page

Resume/CV (PDF)

Links to design-relevant social media—LinkedIn, Behance, Dribbble
The best piece of advice for anyone crafting their UX design portfolio (regardless of your seniority) is to design with the end user in mind. Keep it user-friendly and don't forget about the overall user experience.
Can a UX portfolio be a PDF?
Often time employers will ask for static UX portfolio PDFS along with your online portfolio or website. PDF UX portfolios should include greater detail and in-depth walk-throughs of each case study. Typically, these PDFs will be sent directly to the hiring manager or in applications.
Feel free to add your PDF to your website, however, know that the nitty-gritty details of your work and process will be accessible to anyone with your website link. Sometimes it is better to save this additional information for select recipients and send it directly to hiring managers and potential employers.
Overall, every UX Designer should have an online portfolio. A static PDF is not always required to share but they will just increase your credibility and showcase more of your design process. It's never bad to include, just make sure if makes sense and is not overcrowded with information.
Which platform is best for UX portfolios?
Deciding on which platform to use will vary from designer to designer. However given the current design software, there are many free options to get started. Some of the best platforms for UX portfolios are the following:
1. Notion
2. Google Drive
3. WordPress
4. Squarespace
5. Wix
6. Webflow
7. Behance
8. Dribble
9. Self-coded static websites

We hope these resources and examples have given you a more clear direction on tackling the daunting UX design portfolio process.