A good artist portfolio website gives artists, painters, photographers, musicians and other creatives a way to showcase their works with high-quality images and videos online. An effective portfolio also helps creatives find more clients over the internet. Building a beautiful artist website has become the starting point of their success.
If you are an artist, designer, photographer or painter looking to design an online portfolio website or update an older one, here are 30 of the best artist web design examples and templates for your inspiration.
(To create an artist website that truly sells design works, you should keep an eye on the way they showcase their design work and see how they design the visuals to attract users.)
Amazing artist website design example for your inspiration
1.Phillipa Rice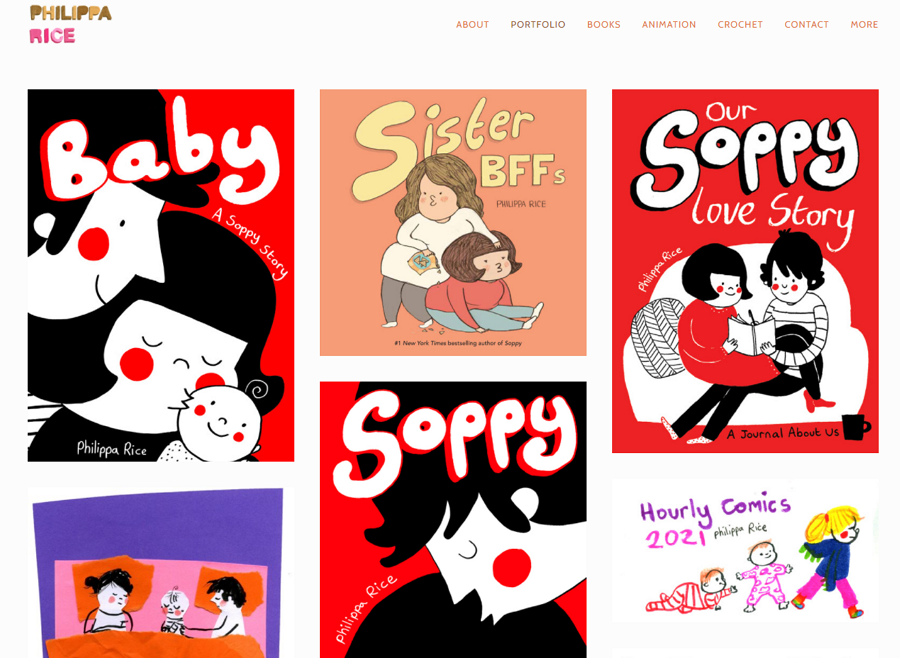 Phillipa Rice is a talented artist that has a great passion for creating comics, illustrations, animations and crochet. Her online portfolio website directly presents comic images or videos in an asymmetric grid layout to showcase her design projects.
The unique comic book style and color schemes make her work attractive for visitors looking to find design ideas for creating children-relevant websites or themes.
2.Raku Inoue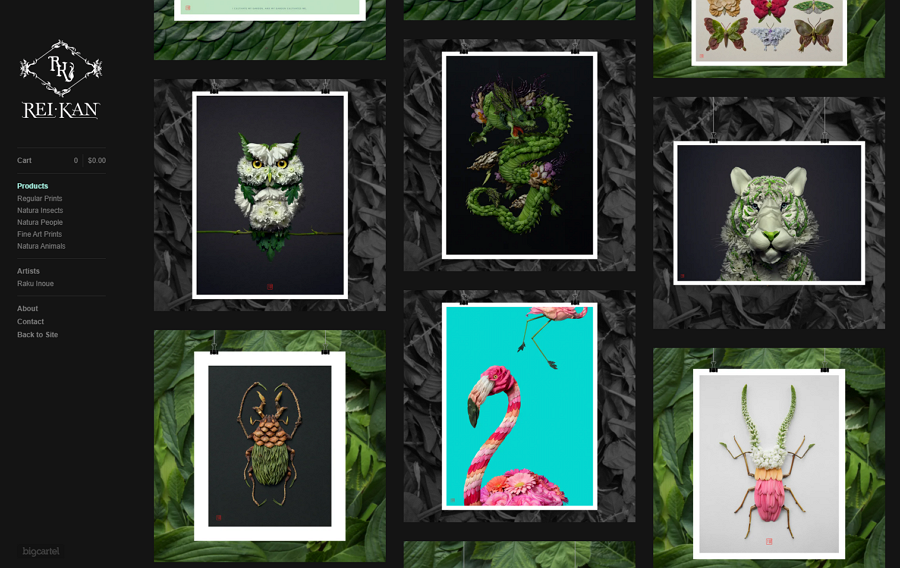 Raku Inoue is a multidisciplinary artist that has recently attracted international attention for his gorgeous works made of organic materials such as flowers, leaves, and stems of various flora species. His online website is an all-around website design that combines the online shop, biography, portfolio and Contact page in one place.
This website shows off Inoue's creative design works while having a simple, non-distracting design and theme.
3.Levon Biss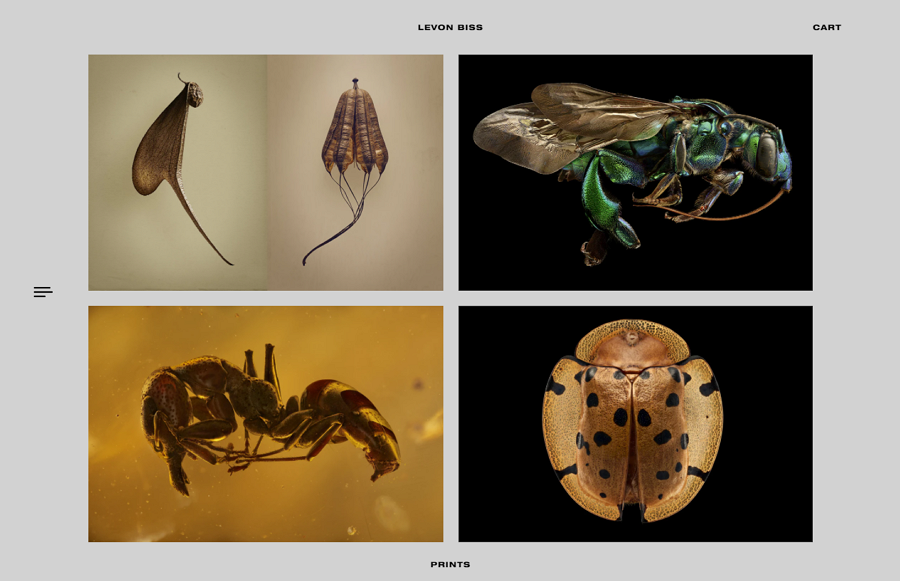 Levon Biss is a photographer that has a rich imagination to display his works in a unique and breathtaking light. His personal website incorporates a minimal design style to show you how to extend the screen space as much as possible to present design works. There is also a foldable navigation menu to help web visitors navigate between different web pages.
4.Nathalie Lete
Nathalie Lete's online website is a beautiful website that looks like a sketchbook with a gridded background. The hand drawn fonts paired with hand drawn images create a very creative and unique visual style. When clicking to enter a project, there are also clean and neat grid layouts to present all projects in detail. This website is a perfect example of how to create a unique, personalized website.
5.Michelle Carlos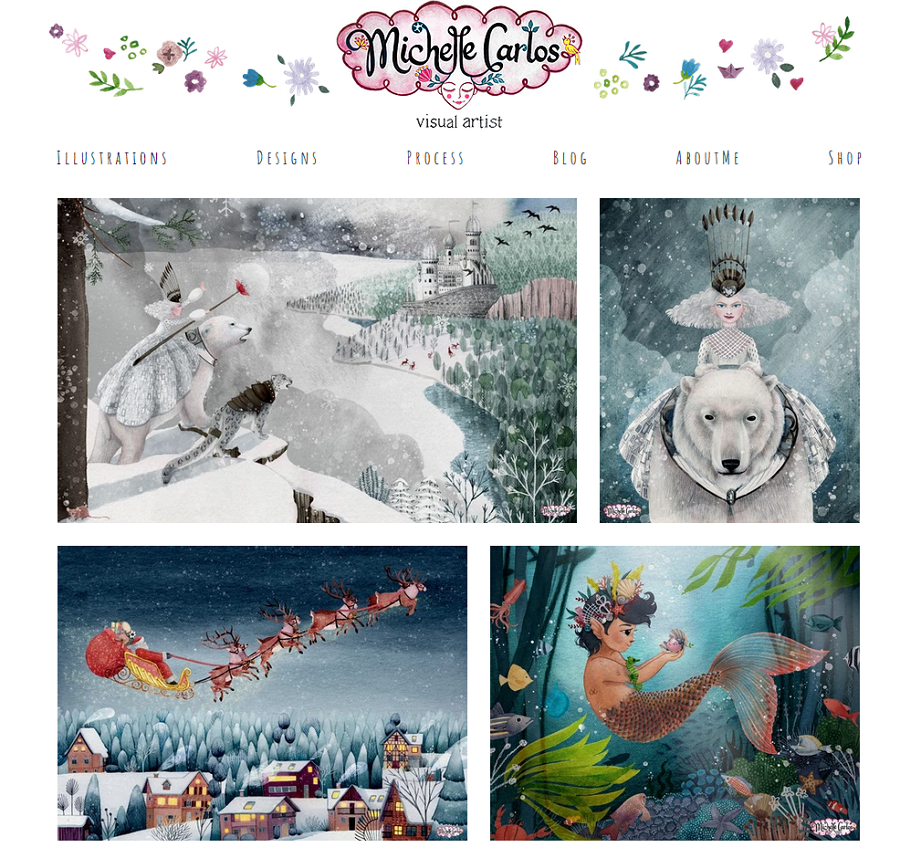 Michelle Carlos's website is an imaginative wonderland that consists of illustration works inspired by the designer's dreams, travel and childhood memories. The whole website features a hand drawn design style, like the hand drawn fonts, decorations and images.
This website also has a blog sharing interesting design stories and a free online shop to let you download some coloring sheets for free.
6.Jon Burgerman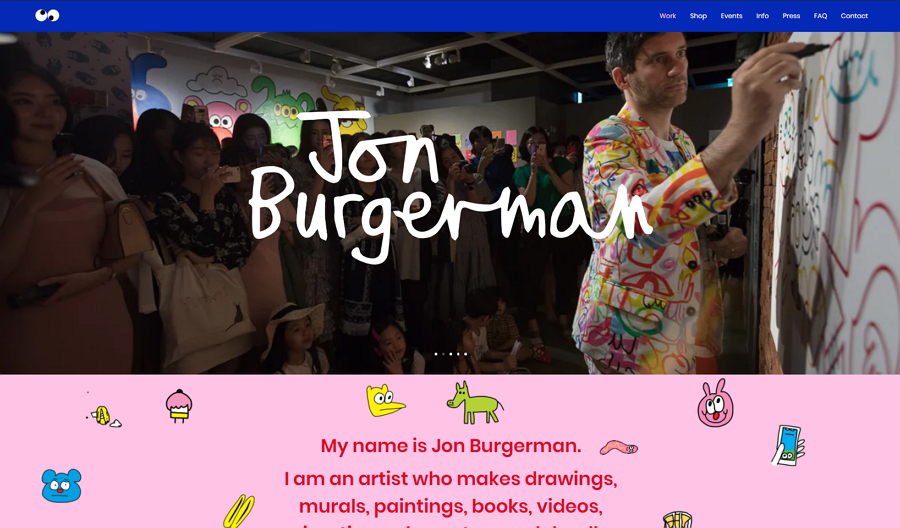 Jon Burgerman is a famed artist that has unbelievable talent in hyper-realistic drawings, doodles, characters and murals. The home page of his online website uses a full-screen image slider to share his stories. The parallax scrolling, super fun gifs and bright colors help create a distinctive user experience.
It is a good modern artist website that you should check before you get started.
7.Pedro Campos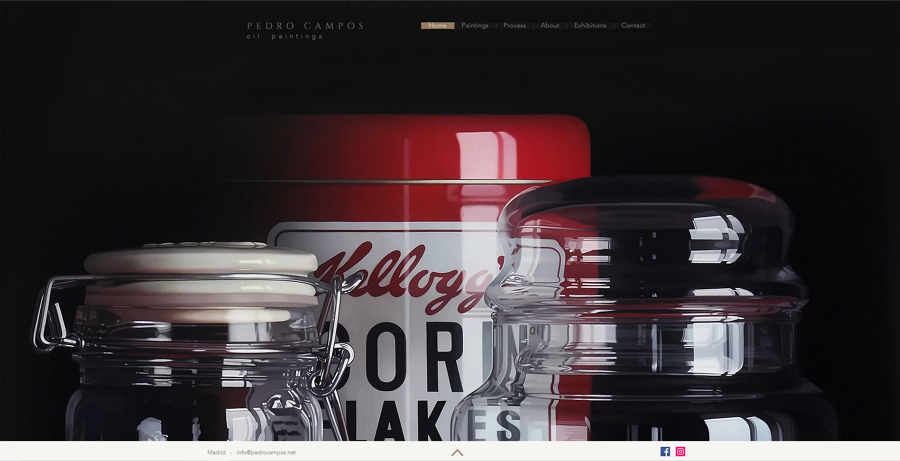 Pedro Campos is an artist known for his photo-like realistic paintings. The online website uses full-screen images to directly showcase his best paintings, and a one-page design layout simplifies users navigation. The whole website shows off a fade in/out effect when you switch between different web pages.
8.Maegan Guerette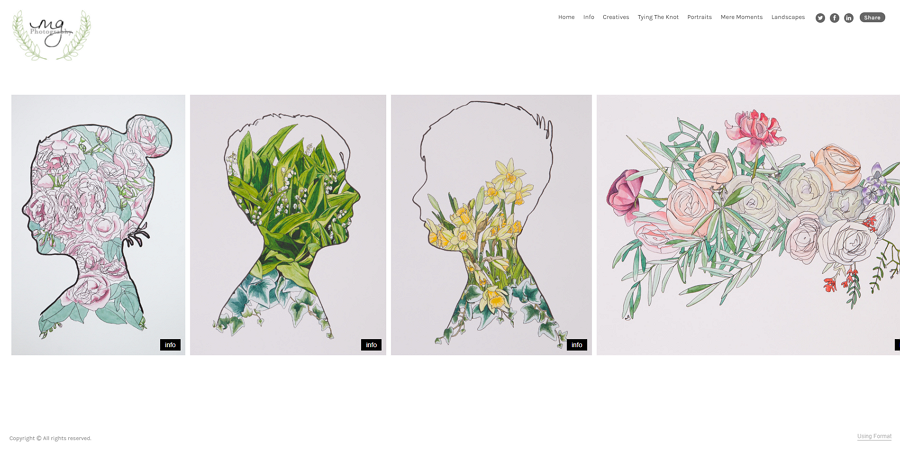 Maegan Guerette is a freelance photographer that offers photography services for weddings, families, engagements,promotions, and more. The online website has incorporated a photo gallery that scrolls horizontally to showcase all fabulous works. This website also shines for a powerful navigation bar.
9.Alice X Zhang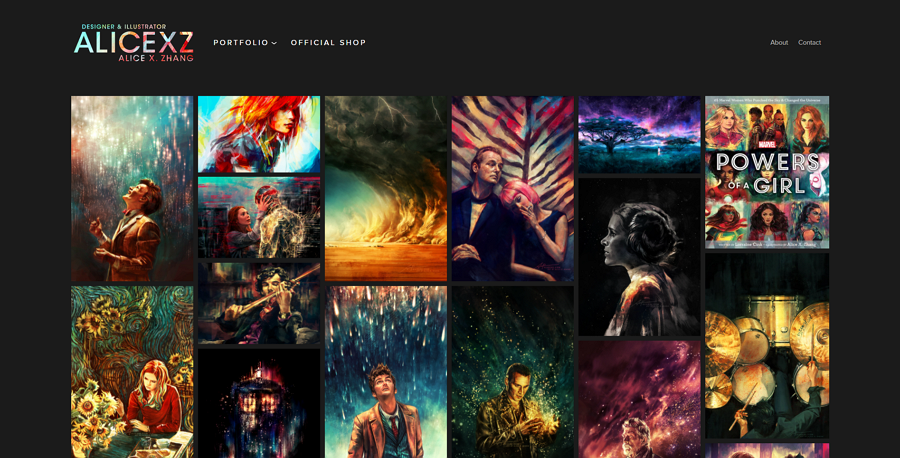 Alice X Zhang is an illustrator and artist known for her expressive, emotive portraits. Her website uses a high-end dark theme to take visitors into a fancy art world that is full of life, colors and emotions. There is also an online shop for selling some high-quality fine art prints, artist prints, signed works and other originals.
Want to build your own fancy art world online? This portfolio website is the one that you must check.
10.Signalnoise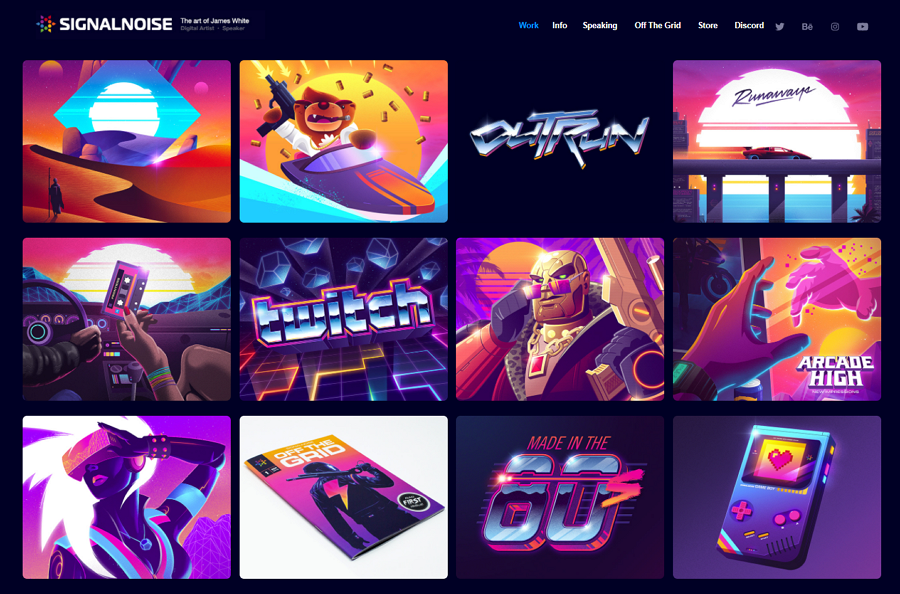 Signalnoise is the online portfolio website from Canadian digital artist James White. As a talented visual artist and designer, James displays fantastic neon-infused artworks to create a unique sci-fi world that can only exist in the future.
11.Ze Tan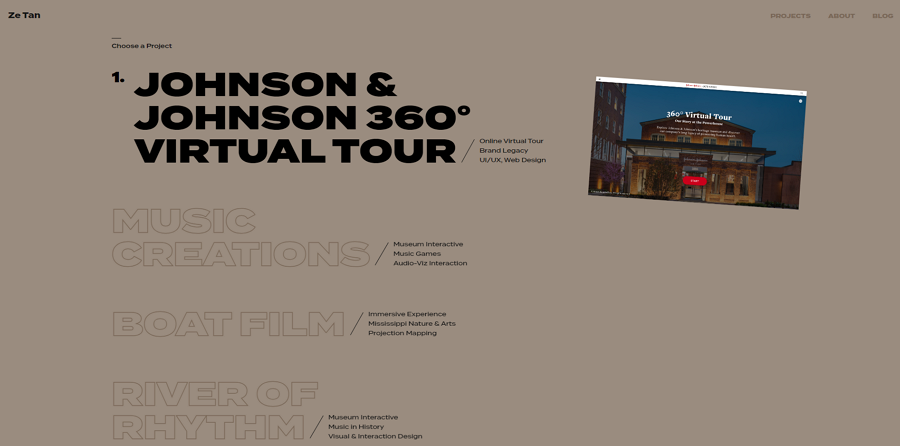 Ze Tan is a visual designer based in New York. To create a distinctive user experience, his website has taken the form of a brutalist website. The home page directly lists all design projects using a unique and oversized font. When hovering over the oversized project name, an image pops out to let you see an overview of the relevant project.
This is a great way to present your design work by adding in your own personality.
12.Maria Marie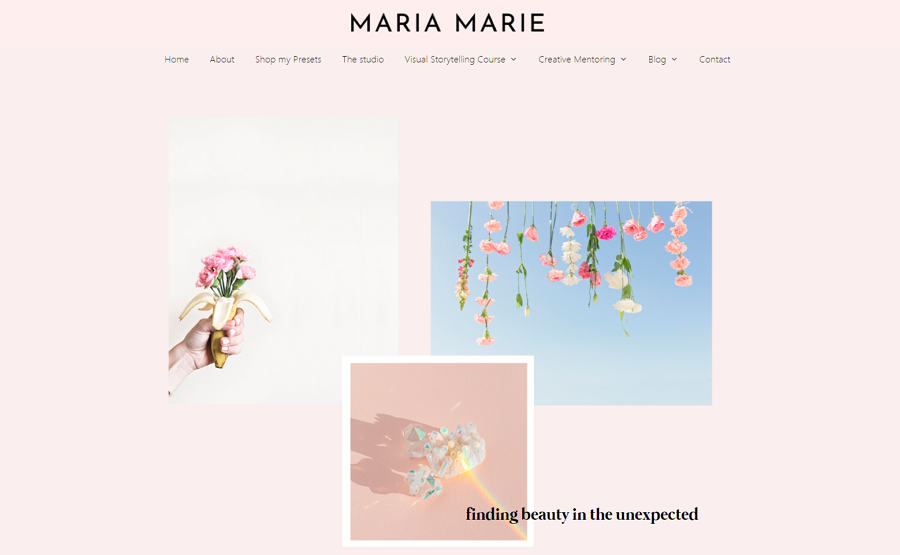 Maria Marie is a creative photographer and stylist that has a good sense of composition and color. Her website uses a broken grid layout to present all photos freely. The sweet black and white color scheme along with the pink photos, pair nicely with the clear text explanation and beautiful photo galleries. This all creates a stylish and engaging portfolio website.
Furthermore, this website also hosts a blog, a visual storytelling course and an online shop to enrich users' experience here.
13.Leslie David Studio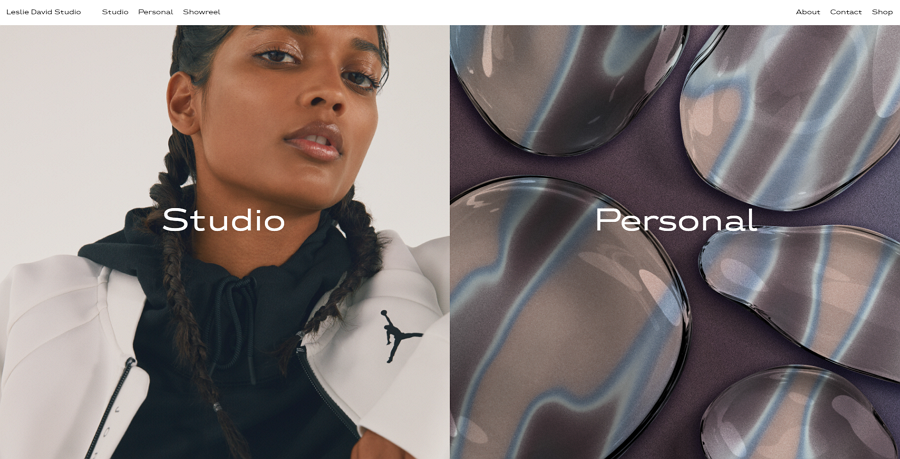 Leslie David Studio is a creative design agency studio founded by Art Director Leslie David. The online website of this studio hosts both the studio official website and the personal portfolio website in one place.
When visitors enter this website, a split-screen offering two options - "Studio" or "Personal"- will appear to guide visitors to their desired page. Different options mean different user journeys. This is a good solution to provide a better user experience for everyone.
14.Dennis Krawec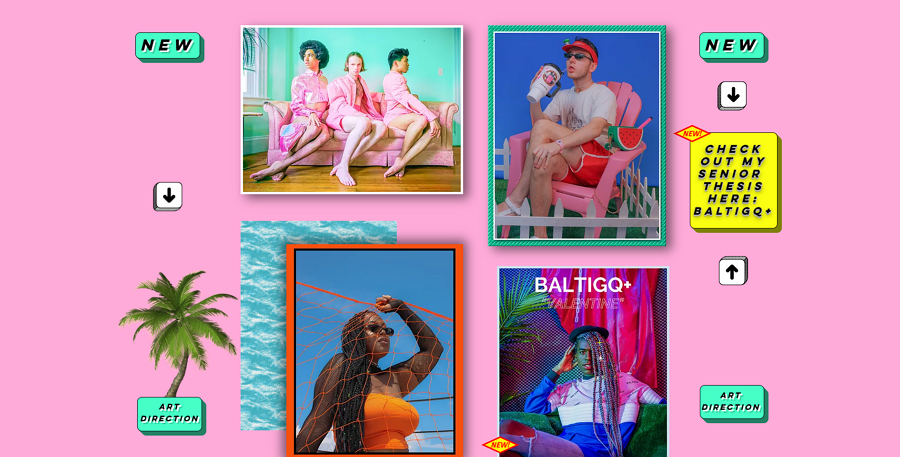 Dennis Krawec's website is an award-winning website that features fun visual designs. As a designer who specializes in graphic design, photography, video and music productions, Dennis has mixed all his masterpieces with super fun gifs, 3D buttons, and other trendy designs on the home page.
The photos with different shapes and frames, eye-catching color schemes and stylish design layout create an immersive and colorful art world.
15. Micheal Bulk Studio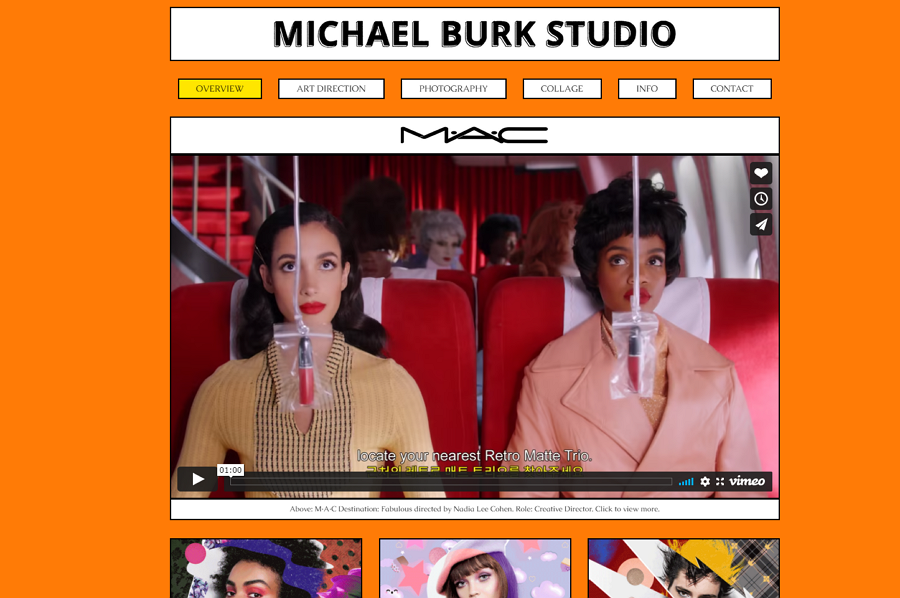 Micheal Bulk Studio is an eye-catching website with a fresh outlook. The home page not only uses a video background to display the artwork of the designers, and the background color will also change.
16.Artist Portoflio Concept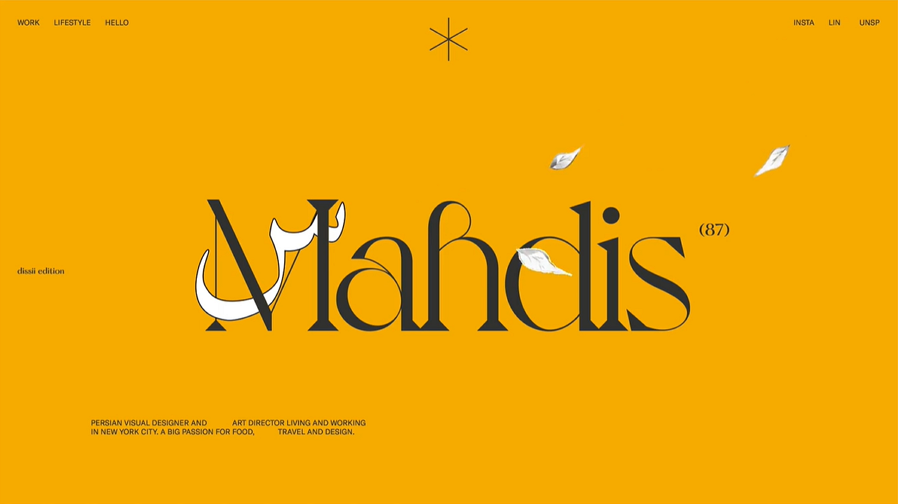 This artist website portfolio is designed by visual designer Mahdis Mousavi. This project adds a number of interesting animations and transitions to enrich the user experience.
17.Artist Portfolio Website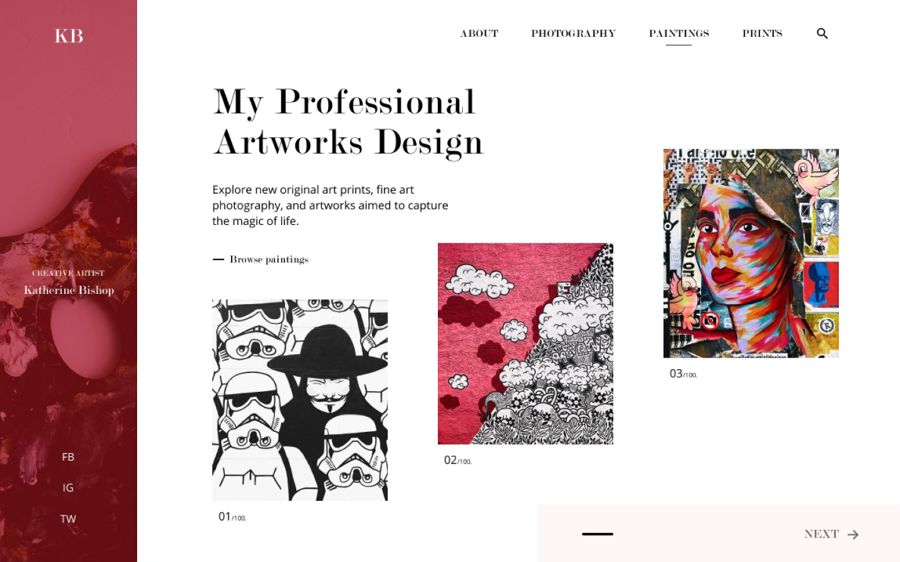 This website is a design concept found on Dribbble. The designer uses a creative layout to present the design artworks - clean and clear. The left sidebar will also help users navigate around with ease.
18.Norah Jones Website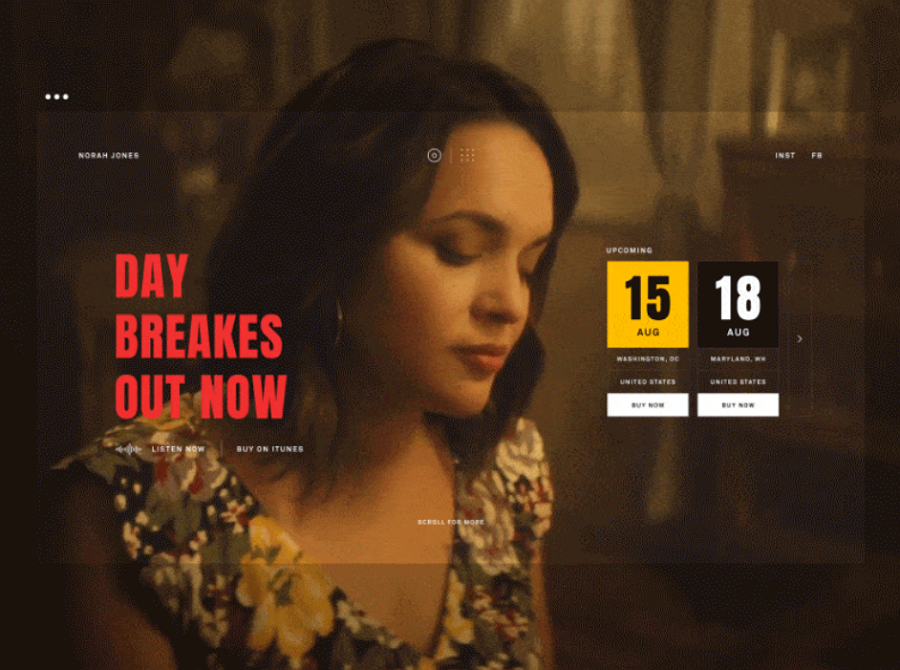 This example is a concept design for theAmerican singer Norah Jones. Unlike the existing website that presents all her songs and stories with black and white colors, this concept website uses far more colors and is far more unique. A music video is also running in the background to directly introduce the singer.
19.Toma Li's Portfolio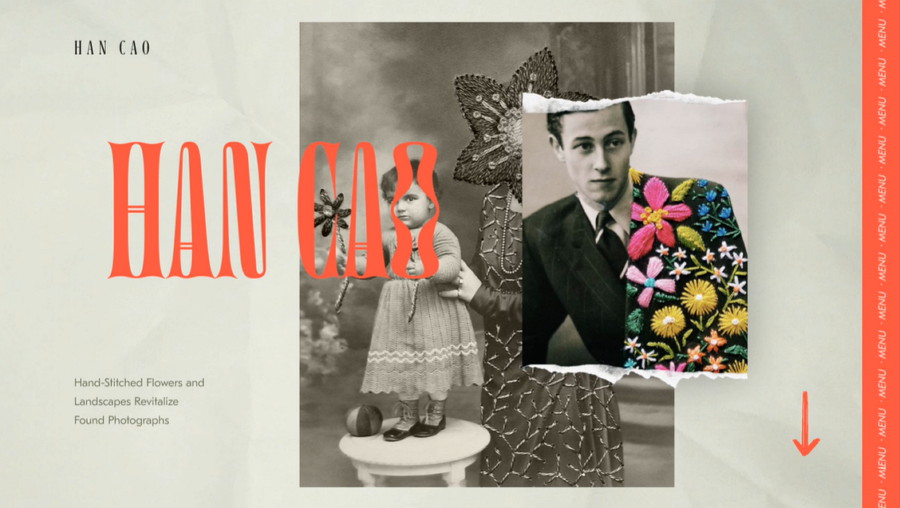 This portfolio site is another concept that explores brutalism. The designer also shares a series of posts to present his ideas about the menus, animations and transitions, and photographic designs. If you are interested in this concept design, do not forget to view them all to get inspiration.
20.Hattie Stewart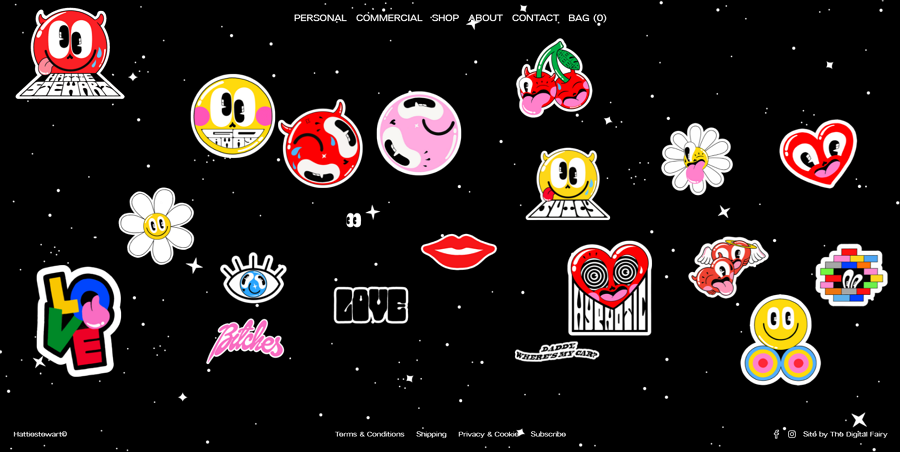 Hattie Stewart's website has a fun and interactive home page. When visitors click, some cute illustration emojis show up exactly at the position that you've clicked, giving you a glimpse of the designer's style.
When you click on a project, an image gallery appears to showcase all the project images. This is a good example for designers looking to create a fun website.
21.Jam Factory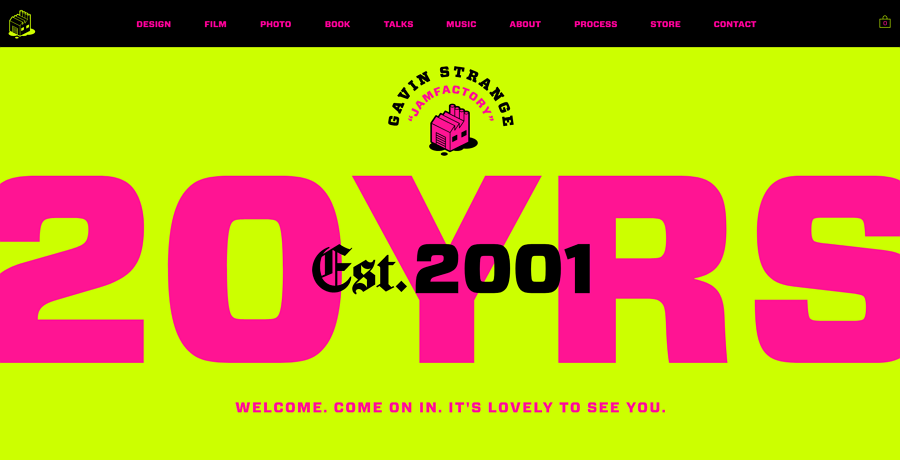 Jam Factory is the personal portfolio of creative director and designer Gavin Strange. This portfolio website incorporates many trendy designs, like oversized fonts, parallax scrolling, bright and bold colors, fun gifs and animations, to create a really wonderful art world.
22.Mike Perry Studio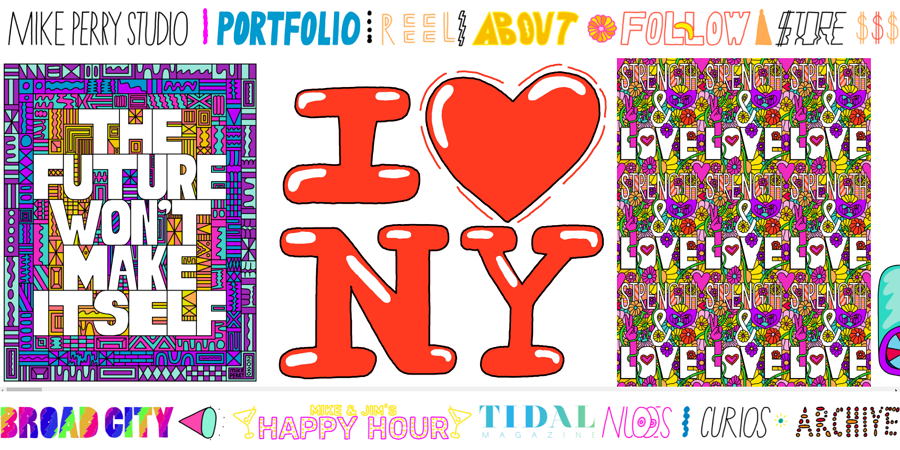 This studio website features a great photo gallery that scrolls horizontally. All navigation options are presented with fun gifs. Clicking on these gifs, you will be taken to other parts of this website.
Best artist website templates that get your portfolio started quickly
23.Sunzine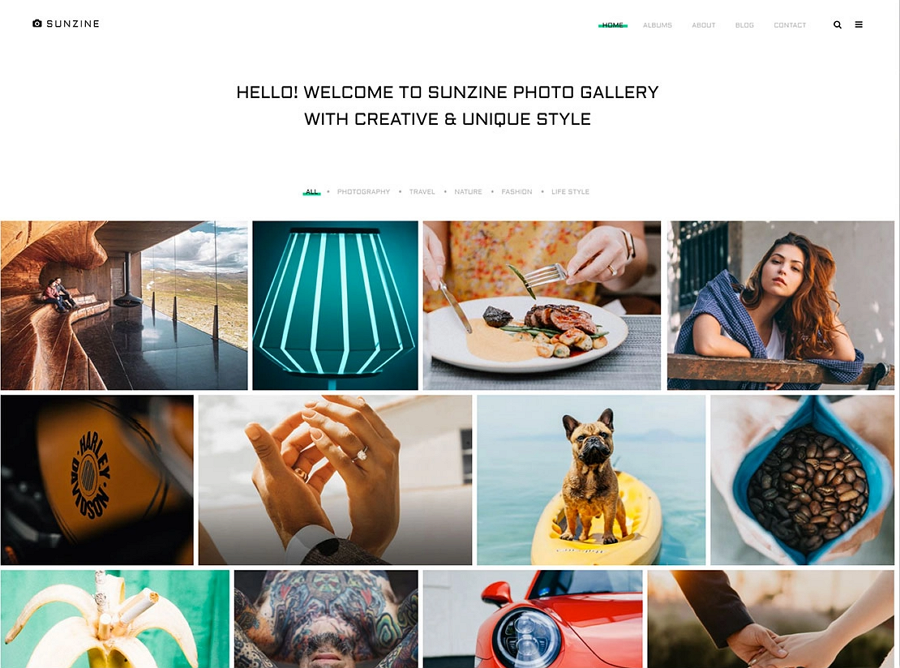 Sunzine is a modern artist website template with a clean image gallery. It gives users a sticky navigation bar to help them jump between different web pages. The top category bar is also easy for visitors to quickly filter between different work.
Whether you are a photographer, a designer, or an illustrator, this striking website template is great to showcase design works and attract more clients.
24.Billey Artist Website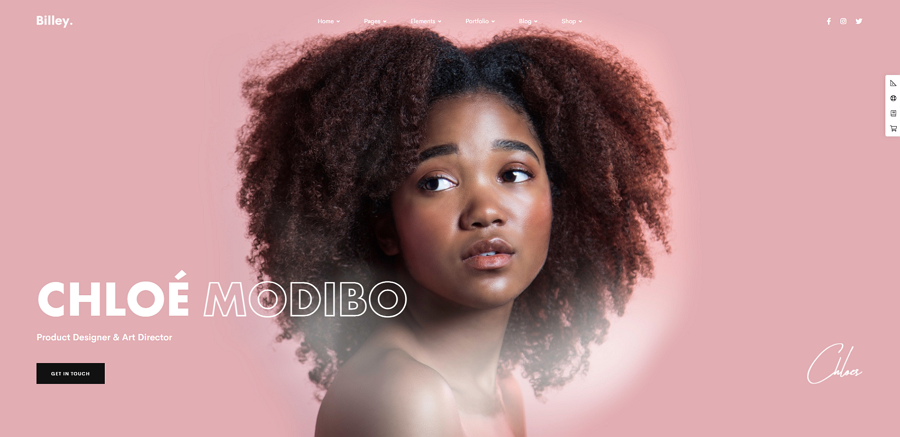 Billey is a creative artist portfolio template with a minimal and colorful look. It provides users with 20 ready-to-use demo home pages, 26 portfolio layouts and 85 customizable objects to help quickly craft your own artist portfolio website.
25.Evans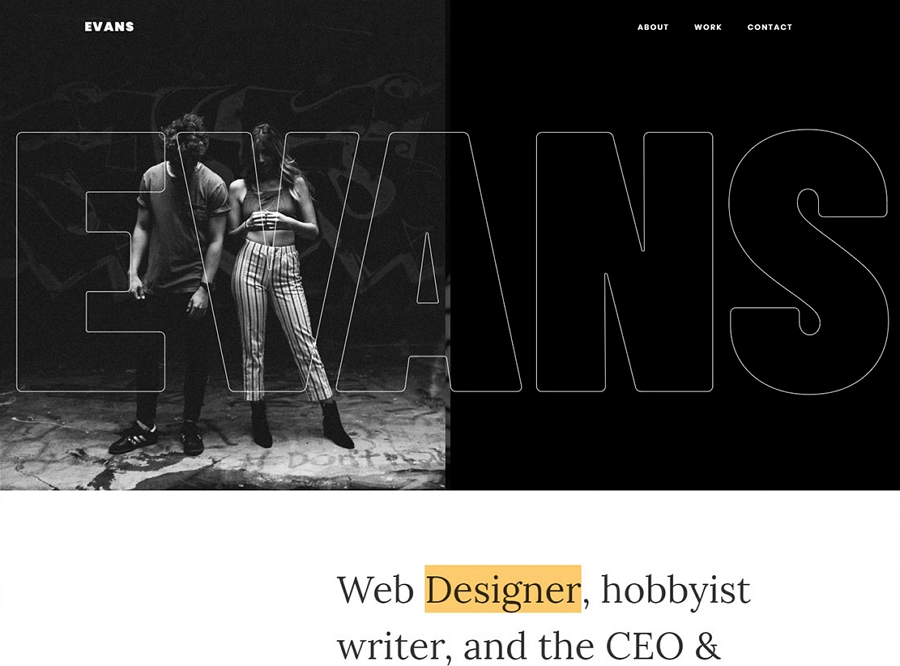 Evans is a creative personal website template for artists, designers and other creatives. It has an attractive split-screen slider to showcase design works in a breeze. The oversized bold fonts, parallax scrolling and high-quality images make it a good option for presenting and promoting artworks. All basic pages and elements are included in this template, allowing you to quickly try it with your own work.
26.Colega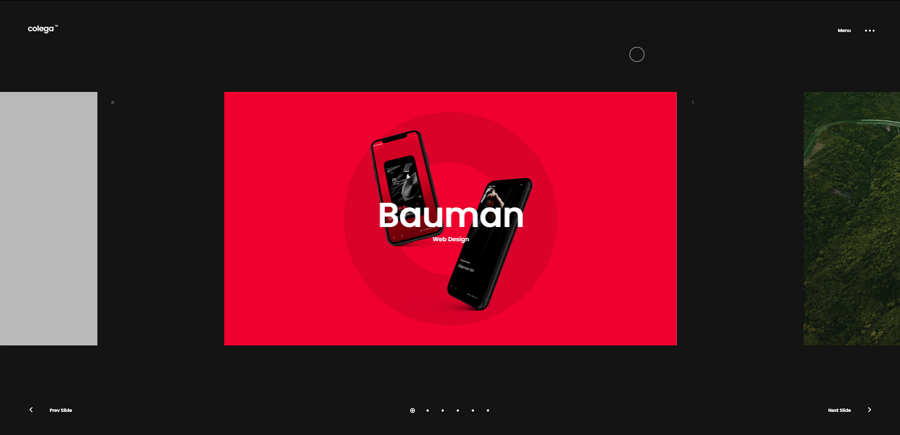 Colega is an innovative website template that features the crazy-fast Ajax page load, customizable portfolio sliders and grids, video background support and much more. This template is an option you should never miss if you are looking to create a portfolio website with personalities.
27.Maree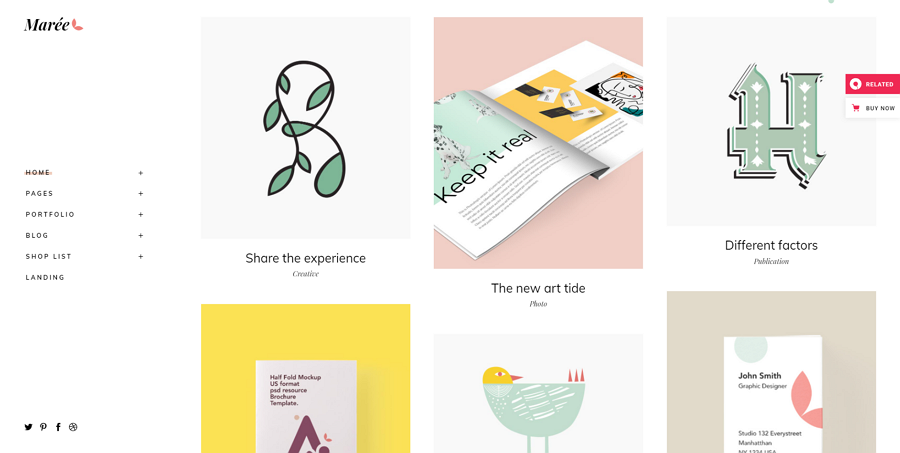 Maree is a fresh website template for illustrators and designers. It brings 9 adorable portfolio layouts, 4 header types, 7 contact forms and other customizable elements to match your design needs. This is a must-have tool to help you create a professional personal or portfolio website online.
28. Odam Luiran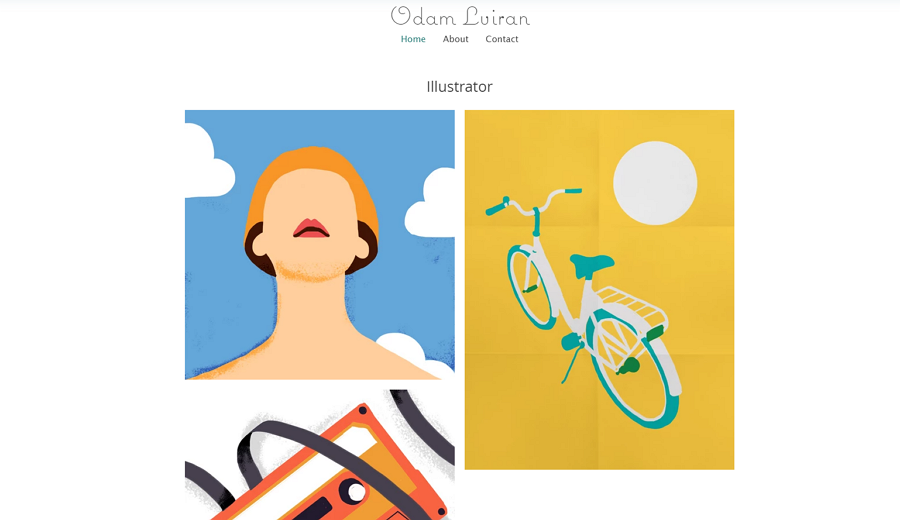 Alt: Odam Luiran
Odam Luiran is an illustrator website template that features a fresh and minimal look. There is also a creative image gallery to present your design works and add a simple description for every design work.
29.Elias Cole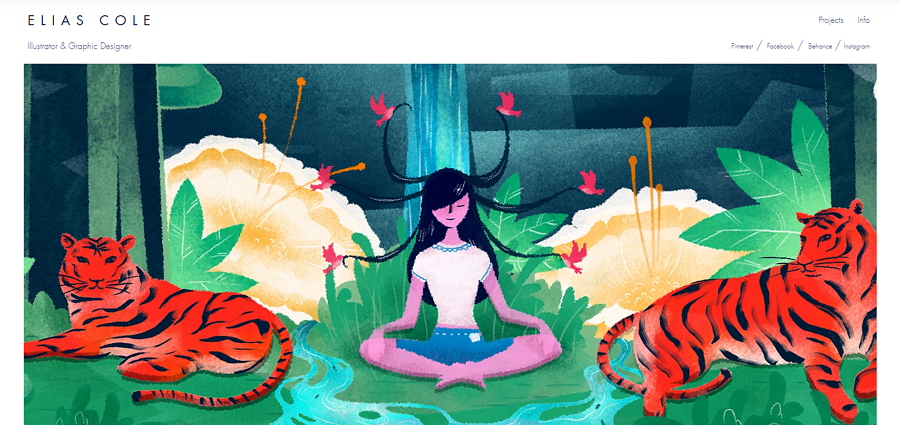 Elias Cole is a minimal artist website template that features full-screen art images. It has a good design for fast social media sharing. Elias Cole's template is ideal for illustrators, photographers and graphic designers to create their own similar website quickly.
30.Elijia Louis
Elijia Louis is a responsive portfolio template for designers and artists. This website features a bold grid layout, making it easy for visitors to scan around and find desired information quickly.
Conclusion
Artist portfolio websites help artists, designers and other creatives present their design works in an attractive way, and help them get access to far more clients or interviewers. Overall, creating a good online website has become essential to the success of any artists, designers or creatives.
We hope these amazing artist website examples and templates can inspire you.