Building an App from scratch can be a time-consuming and painful task for most of us, and that's where these well-built mobile app templates come in handy. The tech scene today is flooded with a mind-boggling range of mobile apps. So, we're here to help you identify the best mobile apps with excellent UX/UI design.
There is no doubt that an App's interface will have a major impact on the user experience. For those looking for inspiration to sharpen their design skills, the hands-on experience and templates provided by industry experts and professionals will be a great help.
We have hand-picked the 23 best mobile app templates which offer great UI experience, covering everything from photography to news, games to recipes, real estate to online shopping, and much more.
In this list you will find exactly what you're looking for. Enjoy!
Android App Templates
1. Quiz – Game App
Editorial Ratings: ★★★
Price: $155
System Requirements: Android 8.0+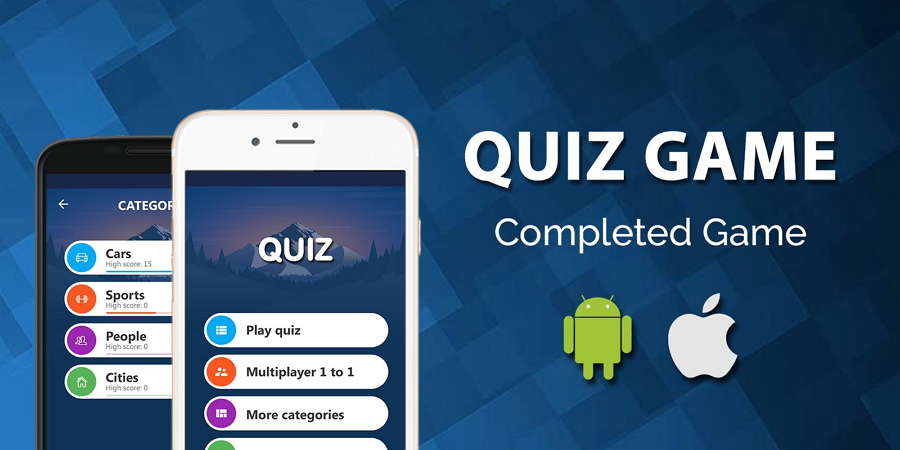 This is a quiz app template for Android, with a PHP backend. It lists all the main features including the categories, questions, scoring, and multiplayer, etc. The list system is logical and clear, very easy to learn. The Audio can be also used to provide quiz prompts, and integrating Google Leaderboard enables users to share their scores with friends in real time.
Features:
Features listed by categories.
Rich customizable elements.
Choose different theme colors for categories.
2. Android News App – News App
Editorial Ratings: ★★★★
Price: $18
System Requirements: Android 4.0-8.1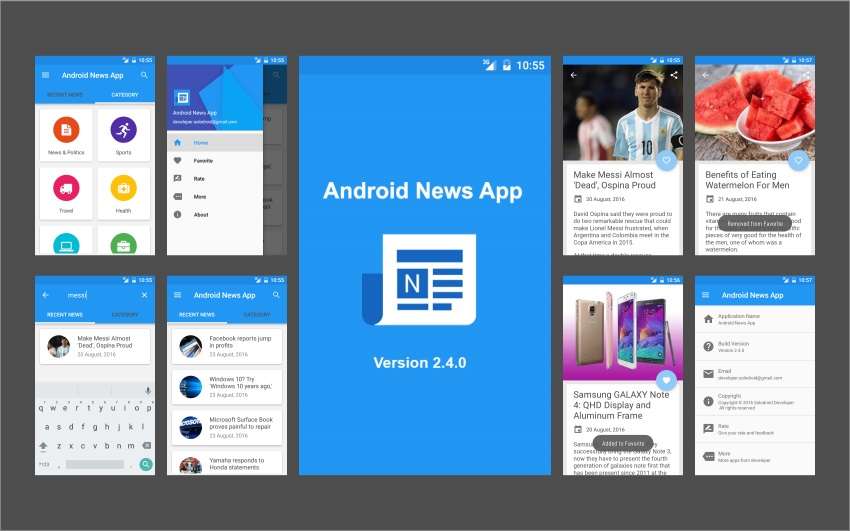 This app template has two components: an Android client and a PHP with MySQL server. It enables you to set up your own news platform with minimal effort. A key feature is that it allows users to enable/disable some functionalities according to their individual requirements. You can even add multiple languages other than English!
Features:
A multi-language template.
Material UI design.
Bottom navigation bar.
Easy to customize.
3. City Guide – Daily Life App
Editorial Ratings: ★★★★
Price: $25
System Requirements: Android 4.0-8.1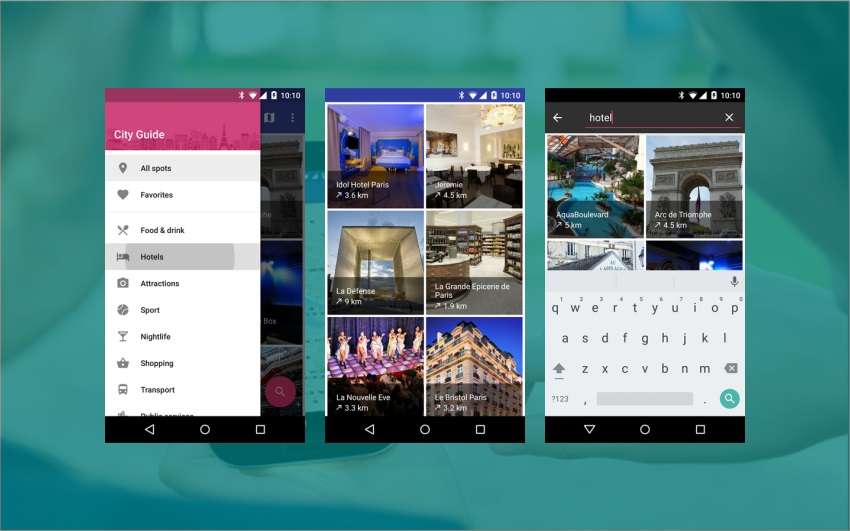 This App template offers real-time positioning and navigation with eight different color schemes. It also supports animation, responsive design, and has other advanced features. One big advantage of this App is that it will store the data in the local SQL database, minimizing reliance on your Internet connection.
Features:
Styled with material design.
Developed with Android Studio & Gradle.
Fully responsive design.
Animated action bar.
4. Recipes – Food App
Editorial Ratings: ★★★★★
Price: $25
System Requirements: Android 4.0-8.1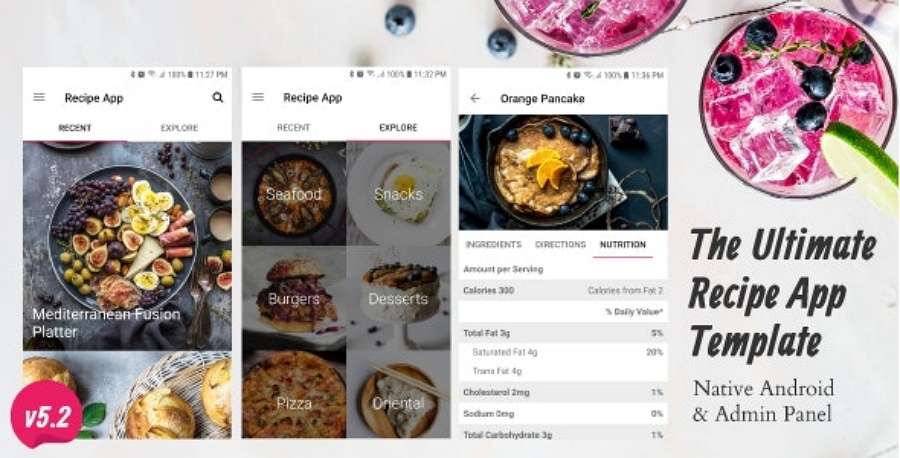 This is a cooking app helping users share and organize their recipes. It has different categories accessible from both the home screen and menu. Users can also set up push notifications, make in-App purchases, compile shopping lists, and much more. Besides that, the prototyping tool Mockplus offers ' prototype recipes', which includes scrolling and amazing micro-interactions with images. Finally, this app is particularly useful for beginners.
Features:
All app screen displayed.
Grid view.
HTML supported.
A powerful admin page to manage, edit, create recipes, etc.
5.BRIX - Mobile App landing page HTML Template
Editorial Ratings: ★★★★★
Price: $25
System Requirements: iOS 8.0-12, Firefox, Opera, Chrome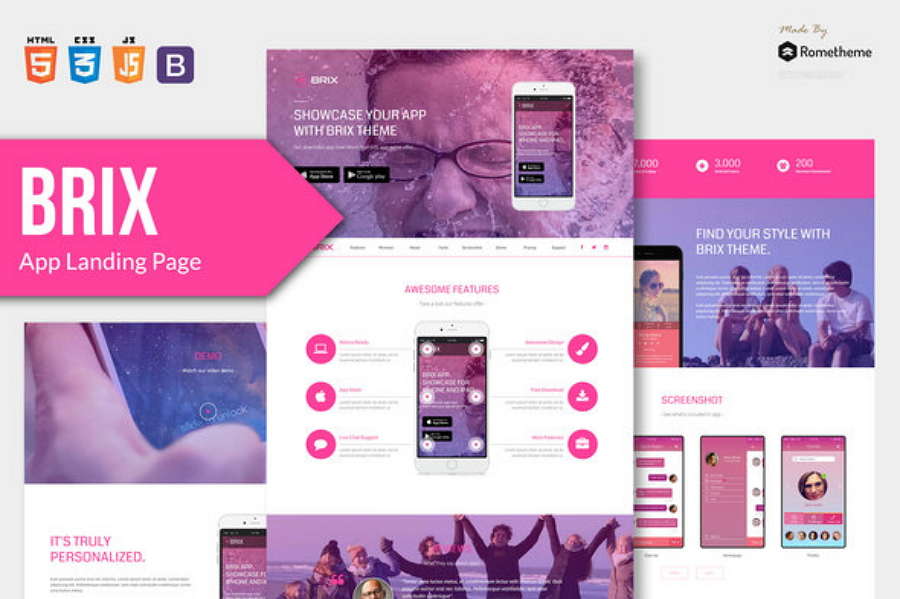 BRIX is a fully responsive HTML template with an attractive app UI set-up, designed for Android & iOS. The wide range of applications, including agency, creative studio, freelance, personal, or indeed any type of business service, gives it great potential as a practical tool. Built with Bootstrap, HTML 5, SASS, CSS3, and iQuery, this template is highly responsive and easy to customize into a personal app.
Features:
Fully responsive design.
Font Awesome.
Wide range of application.
6.Violet Dreams - Business App
Editorial Ratings: ★★★★
Price: free
System Requirements: iOS & Android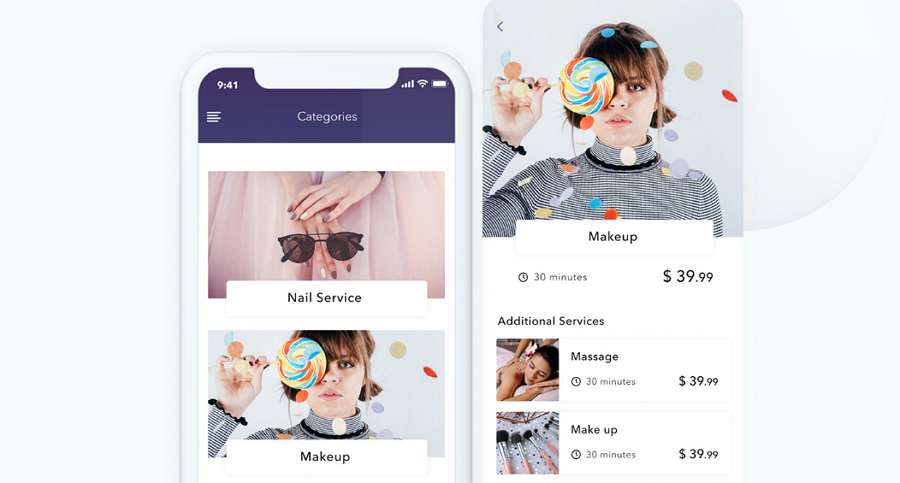 This mobile app template is built for Android & iOS platforms. Like the other business apps, it has all the usual commercial features like Shop, Booking, Feed, Gallery, Personal Profile, Chat, and so forth. Each of them has a beautiful UI design with logical interaction. To enable users to create their own app quickly, this template is highly customizable, allowing them to choose any of the available features for a quick build.
Features:
Cross-platform template.
Comprehensive commercial features available.
Highly customizable.
7.Paperpillar - Meeting App
Editorial Ratings: ★★★★★
Price: $24
System Requirements: Android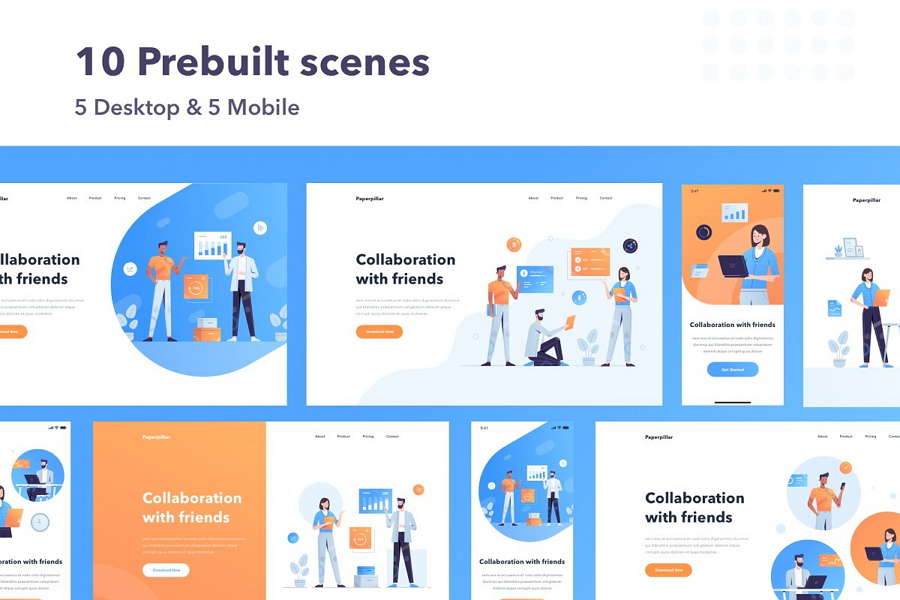 This is a complete Android app-design template with more than 100 objects and 10 prebuilt scenes. It is easy to drag and drop the various rich components to build your own scenes, and it works for mobile or web. All the kits are suitable for any app design, web design, or software project. You can import the template into Sketch or AI for further enhancement because the elements provided are 100% vector.
Features:
100% vector elements are compatible with Sketch & AI.
Modular with 100+ objects.
The prebuilt scenes are suitable for app design, web design, and software design.
8.Music App concept - Music App
Editorial Ratings: ★★★★
Price: Free
System Requirements: Android
Nowadays, more and more mobile apps benefit from well-crafted UI design with beautiful interfaces and smooth animation. The days of ugly and slow Android apps are long gone. Even though this is just a concept design, it offers an inspiring resource for designers looking to create excellent Android apps.
Features:
Elegant UI design.
Smooth animation.
9.Job Portal App
Editorial Ratings: ★★★★★
Price: Free
System Requirements: Android
This is a job-search template for Android app. All the elements in this template have flat-design styles. The app also provides an inspirational card UI design from which you can use vibrant colors to create a fashionable mobile app.
Features:
Nice color palette.
Card UI design.
10. Material Interaction Design - Material App
Editorial Ratings: ★★★★★
Price: Free
System Requirements: Android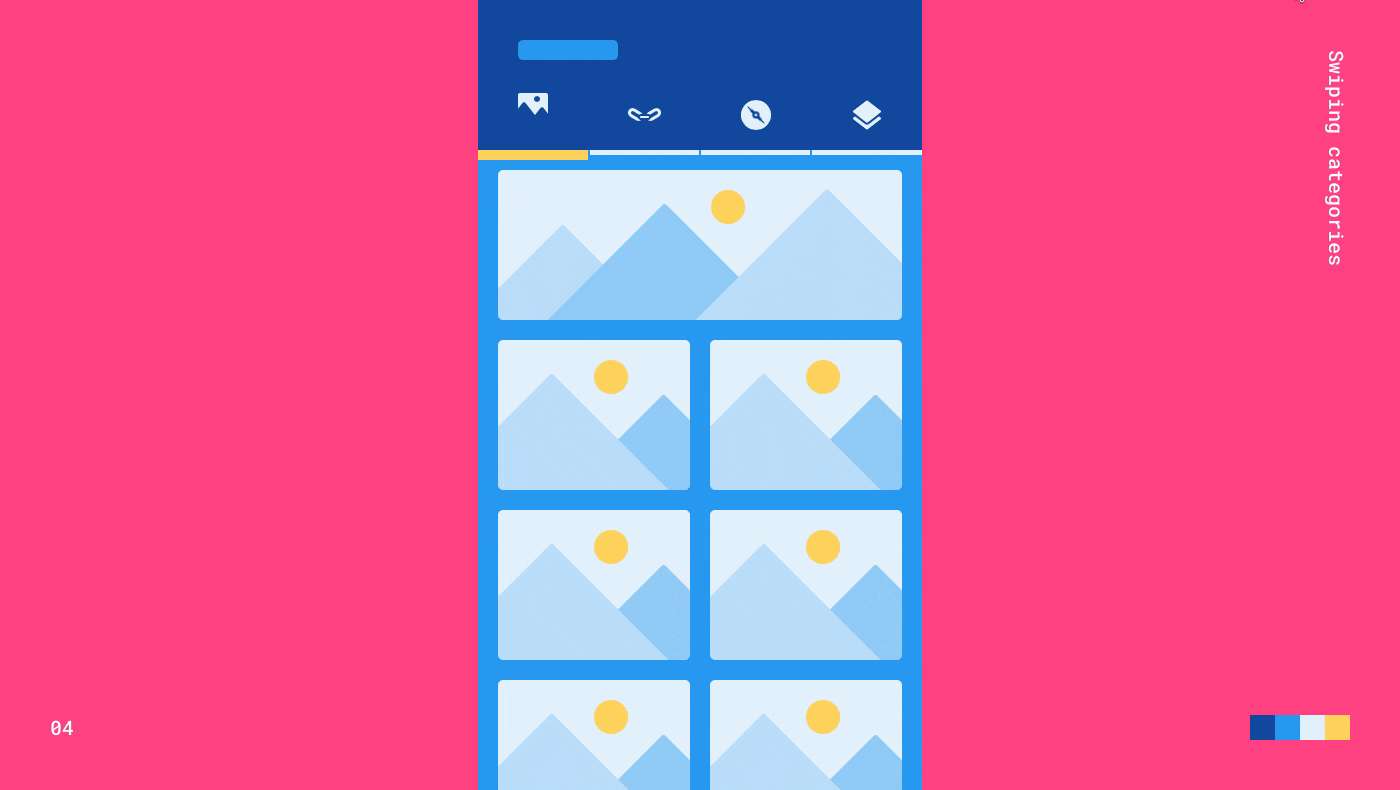 We already know that most Android apps are material UI design – see the Best 9 Android Material Design Apps in 2018. But, there was no single template that specialized in the interactions of material design. This template fills that gap – it is just what we need to produce great interactions when building Android apps. It's time to kiss goodbye to that old stereotype of the unromantic Android app!
With this app, you can access most of the interactions you need for app building, such as filtering, scrolling images, adding albums, swiping, video player, expanding, and many more.
Features:
Material design user interaction.
Rich interaction styles grouped for different categories.
A special & unique collection of interactions.
iOS App Templates
11. Photo Gram – Photography App
Editorial Ratings: ★★★★
Price: $25
System Requirements: iOS 8.0-12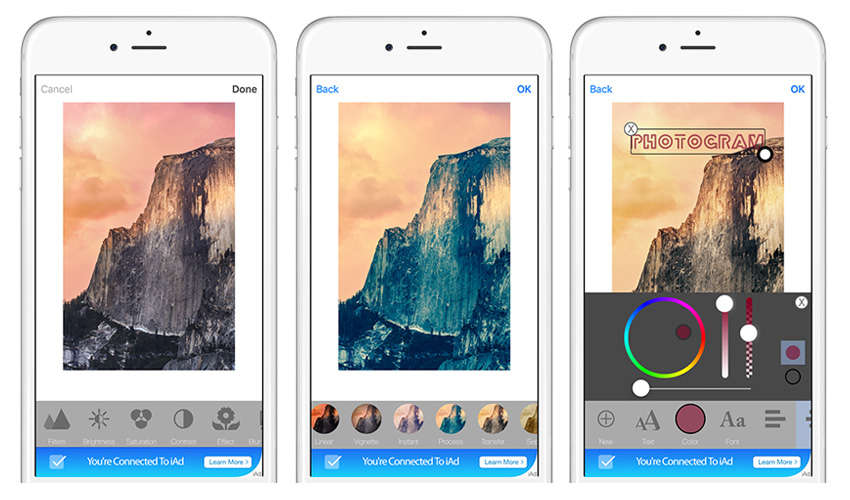 This is a highly-customizable photography template which offers a variety of highlighted features, including filters, tonal adjustments, cropping, resizing, and integration of text and video. Users can share their photos on various social platforms such as Facebook, Twitter, Instagram, etc. This app has been shown to be "clean code" and "easy to customize."
Features:
Easy to use.
Clean Code.
iPhone and the iPad version available.
12. Task Reminder – Project Management App
Editorial Ratings: ★★★★
Price: $29
System Requirements: iOS 7.0-10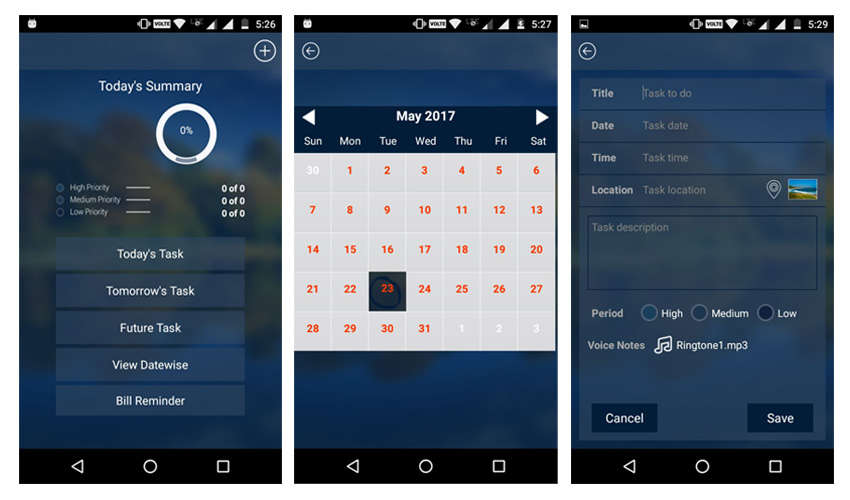 If you agree that having a good plan is half the battle, then this template will be just your cup of tea. This is one of the most popular project management Apps, with unlimited tasks and reminder lists. It has a range of cool features that will appeal to developers in the market for an organizing App.
Features:
Simple all-In-one reminder.
User-friendly task management.
Intelligent notifications.
13. Instagram - Social App
Editorial Ratings: ★★★★★
Price: Free

System Requirements: iOS
This is a new mockup template for Instagram. It provides many brand-new elements for the design of screens, icons, blocks, and much more. The newly designed layer structure is more convenient and intuitive for use. If you want to design for your own app, this would be a useful reference point. Sketch and PSD files are available to download.

Features:
Improved layer structure for more comfortable use.
New screens designed.
A rich icon library for use.
14. Smart Home App
Editorial Ratings: ★★★★★

Price: Free

System Requirements: iOS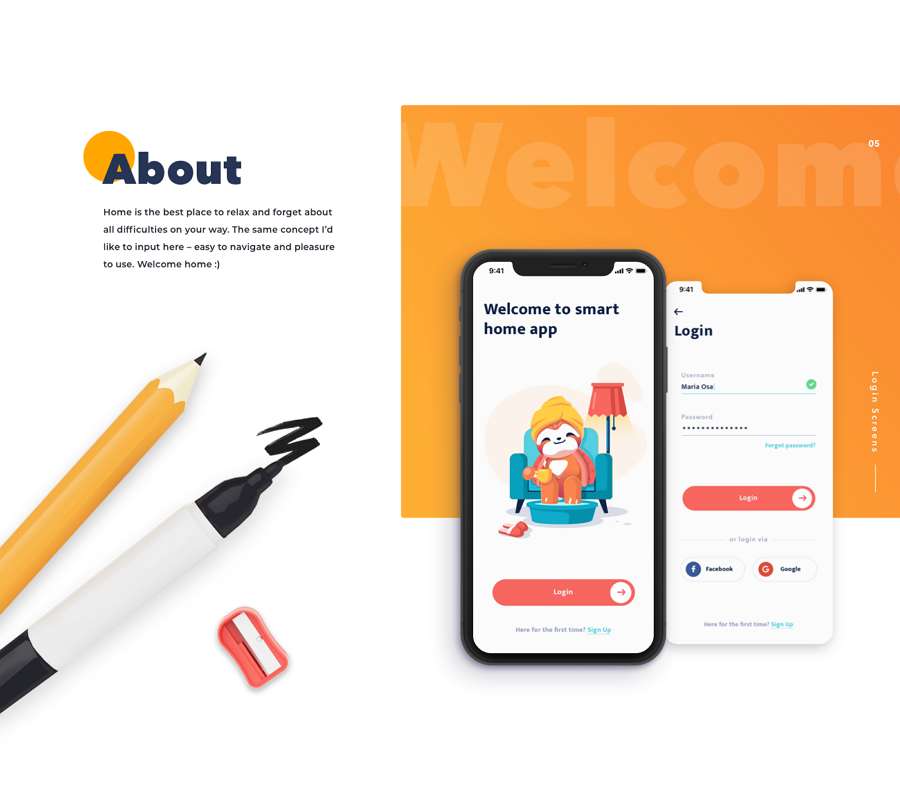 The Smart Home app allows you to achieve full management of all your devices, and to enjoy the power of science and technology. You can turn lights or music devices on and off, and get notifications from your home wherever you are. This template provides you with a comprehensive design process, guiding you from typography and wireframe to the final visual design. From the very start, this app works like as a tutorial in app design.

Features:
Fullscreen displayed for a global view of this app.
Smart control design.
The comprehensive design process involved.
15. Play to - Movie App
Editorial Ratings: ★★★★★

Price: Free

System Requirements: iOS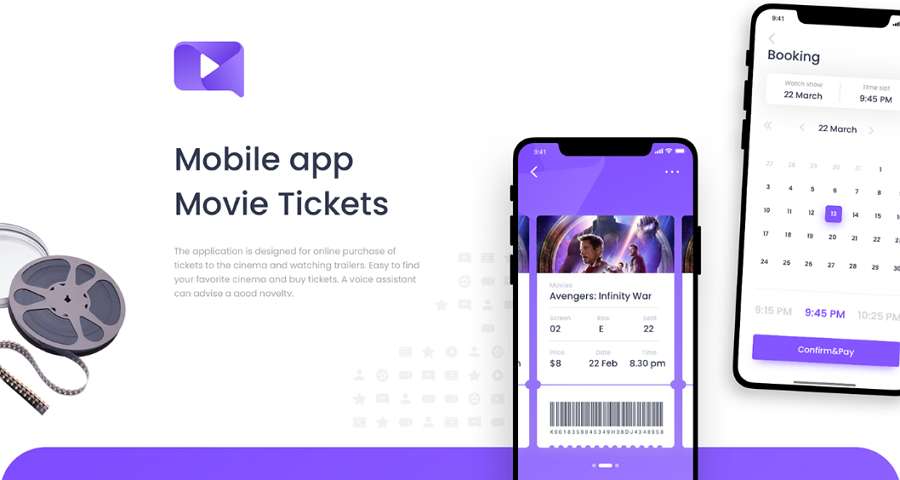 This is a commercial app, designed for booking movie tickets, which will save the modern movie fan a lot of time. This app makes buying tickets very simple, requiring just a few clicks. Modern app design techniques make the whole process of registration, booking tickets, and check-in beautifully simple and logical.

Features:
Clear and logical user flow & prototypes presented.
Smooth interactions.
Preloaders are available for bad internet connection.
16. E-bot - Chatbot App
Editorial Ratings: ★★★★★

Price: Free

System Requirements: iOS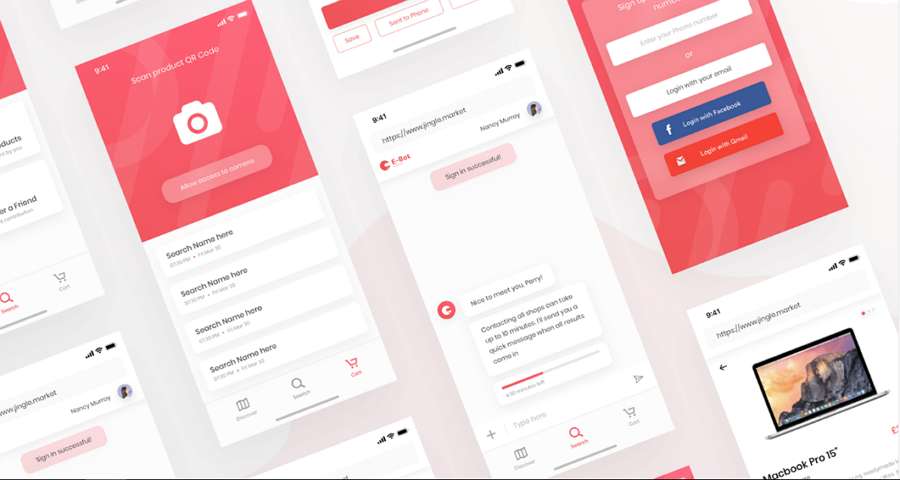 Technology makes our lives easier and keeps the economy moving. But modern communication enables us to have friends who live or work in different places, even on the other side of the world. Chat apps have become a popular way for friends to stay in touch. This is a chatbot app template which lays out the whole design progress for beginners: from the typography and UI flow to the visual design. You can use it in any other kind of app design.

Features:
Intelligent design with AI-supported.
Smart notification.
17. B1 - Mobile Bank App
Editorial Ratings: ★★★★★

Price: Free

System Requirements: iOS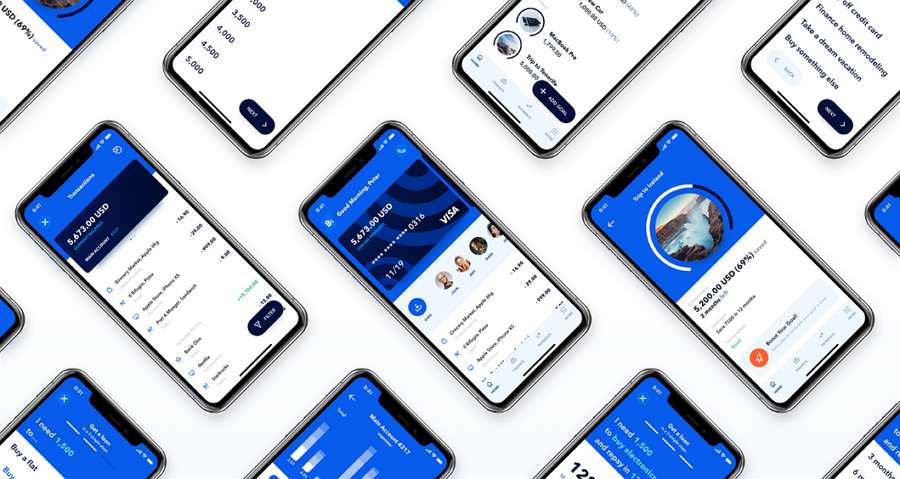 Another 'wow moment'! As technology changes the world around us, it seems there is almost nothing you can't do on your mobile phone. No need to go out shopping; your home controlled by remote control; every aspect of your finances sorted without going near a bank. This is a very well-crafted iOS app design template.

Features:
Landing pages with statistics.
Intuitive UI/UX design.
Clear UI design indicates simple operation processes.
18. Booking.com App
Editorial Ratings: ★★★★★
Price: Free

System Requirements: iOS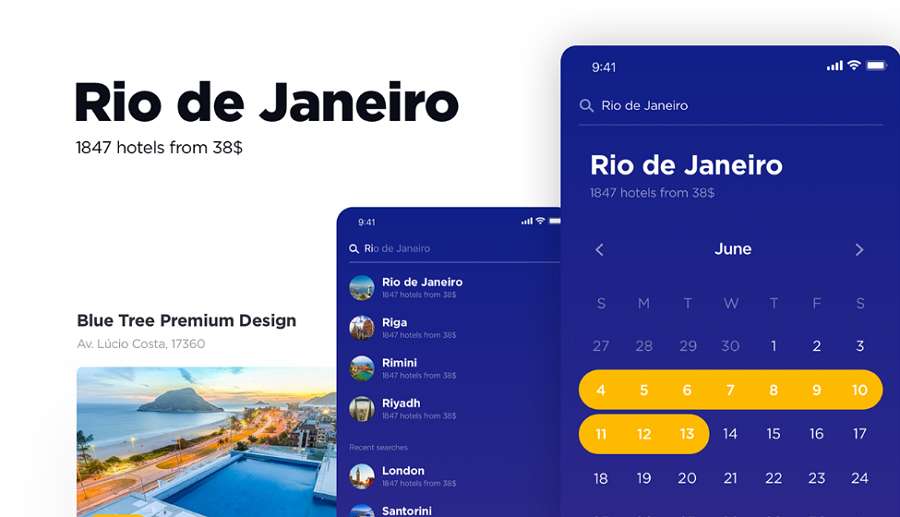 In our busy lives, many you people are also searching for inner peace to bring some spirituality into their lives. For many this involves travel which, of course, needs to be booked. Compared with the current version of Booking app, this is a redesign concept which seeks to improve on the UI design, icon, fonts, and color matching. This will help you break any writer's block and unleash your creativity.

Features:
Bold & bright color.
Smart searching.
Vector icons.
19. Delyo UI Kit - Food Delivery App
Editorial Ratings: ★★★★★

Price: Free

System Requirements: iOS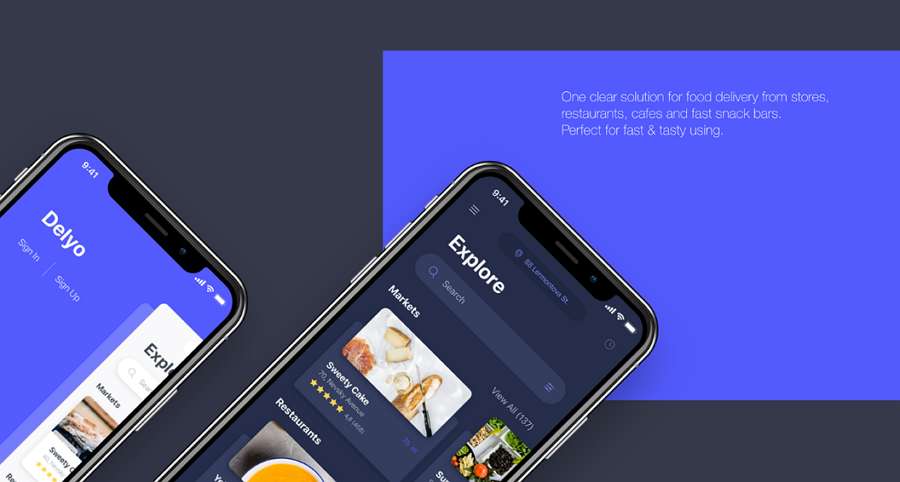 This app offers a great solution for food delivery from your favorite stores. The template sorts the pages from each section of app design that you will need.

Features:
160+ screens.
Black & white color schemes.
15 onboarding screens.
Black mode design available.
20. Brightscout - Online Shopping App
Editorial Ratings: ★★★★★

Price: Free

System Requirements: iOS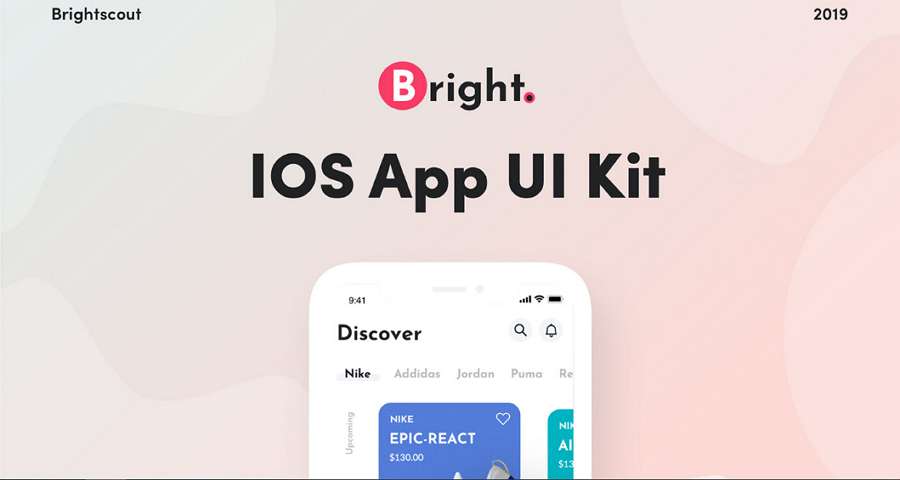 This is a comprehensive mobile app design resource which is an ideal way for new starters to learn about app design projects. The nested symbols and components are easy to customize. Everything related to the design has been included in this template. So, what are you waiting for? Get designing!

Features:
90+ high-quality screens.
Well organized layers.
Free Google fonts.
Fully customizable.


21.Store Finder - Online Shopping App
Editorial Ratings: ★★★★★
Price: $21
System Requirements: iOS 8.0+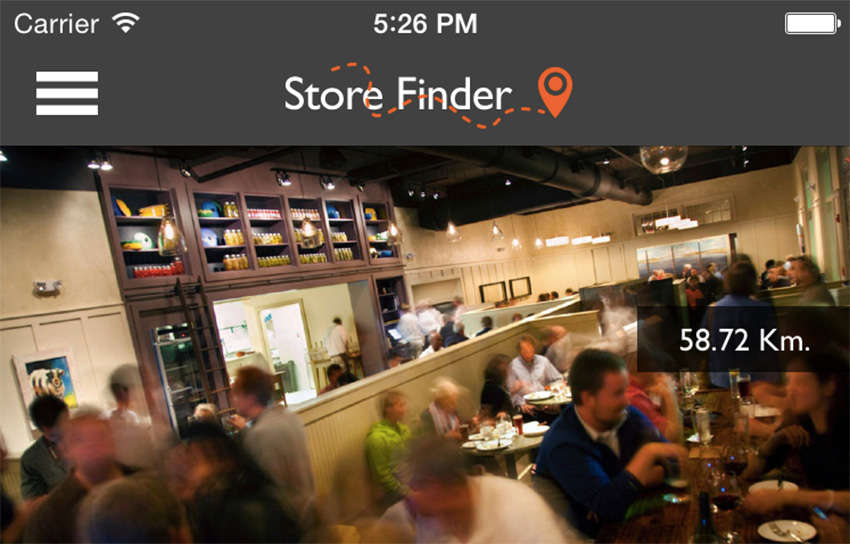 Online shopping has become an indispensable part of daily life. But most of us still like to visits stores in person at times, for example, to see whether clothes or shoes fit. For this, the Store Finder template can be a great tool. It supports pinch and zoom functions, with offline usage.
Features:
Social login.
Cool mobile UI interaction.
Intelligent store matching.
Image pinch and zoom.
22. Real Estate Finder – Real Estate App
Editorial Ratings: ★★★★
Price: $23
System Requirements: iOS 7.0-12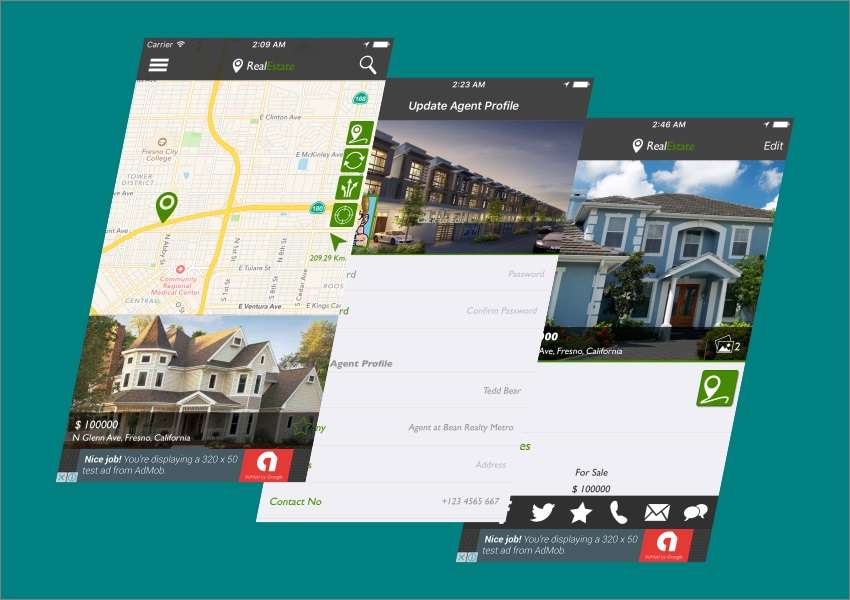 As its name suggests, this App helps users access information on Real Estate. The search and navigation features make it a stand-out product compares to other Apps. It offers multiple communication options: phone, text message, and email.
Features:
Unique paper fold interaction.
Social login/share.
Advanced searching.
Cross-Platform & Multi-Purpose Templates
23. ionWordPress
Editorial Ratings: ★★★★★
Price: $19
System Requirements: Android 4.0+, iOS 6.1+, WordPress 4.0+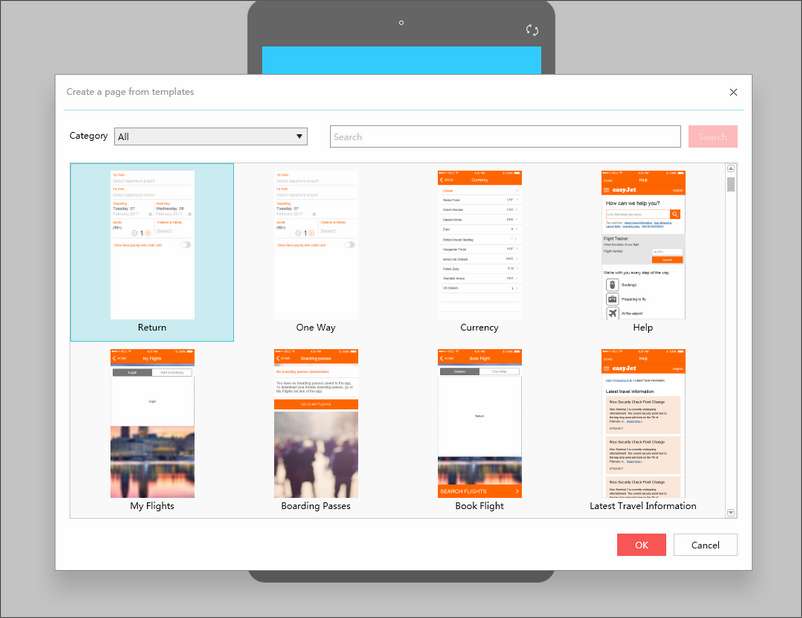 This is a multi-purpose template that can be used on multiple platforms, including Android, iOS, WordPress, and more. It includes a delicate interface and enables users to build hybrid mobile apps with HTML5, JavaScript, and CSS. A number of pages are available for common use: sign-in; sign-up; menu; details pages, and so on.
Features:
Full Integration with Wordpress.
Easy to customize.
AngularJS controllers, directives, filters, services, factories
The 23 best mobile app templates for Android & iOS listed above have all been skillfully created by top designers and developers. If you're looking for a mobile app template builder that will give you a professional-looking template, then why not try Mockplus? With a wealth of 200 components and 3,000 UI icons, Mockplus can help you refine your design to a high standard – and it's quick and easy.
What's more, since the 3.2 release, it allows users to import the ready-made page templates of their choice into the design – a great way for beginners to get started.
Mockplus is not just a design tool, it also provides a wealth of design resources. Here is a list of the best free mobile app templates made by Mockplus. Click on the one that interests you to learn more.
Other best places for templates, sample projects, and other UI resources:
1. Themeforest - The industry-leading market to explore website templates and themes.
Learn more: https://themeforest.net/tags/mobile app
2. W3Layouts – Free and responsive mobile website templates design.
Learn more: https://w3layouts.com/mobile-application-templates...
3. Graphicriver – A marketplace for buying graphics and design templates.
Learn more: https://graphicriver.net/tags/mobile app
4. Pinterest – A picture-based platform to discover style inspirations and other ideas to try.
Learn more: https://www.pinterest.com/explore/mobile-website-template
5. Template Monster – The biggest collection of website templates online.
Learn more: https://www.templatemonster.com/
6. PNGTree – Millions of PNG images, backgrounds, and vectors for free.
Learn more: https://pngtree.com/
Have these top 23 mobile app templates given you some inspiration and ideas? We hope so. But remember, while browsing for creative mobile app templates to keep your design ideas fresh is important, for mobile app designers, good collaboration with developers and product managers will also help you build the best mobile apps.
For this, we recommend Mockplus iDoc, which is an excellent online design collaboration tool that enables designers, developers, and product managers to work together effectively online to create the best apps possible!
Mockplus iDoc offers powerful plugins (including Adobe XD plugin, Photoshop plugin, and Sketch plugin) to export designs easily.
It also helps generate design specs and assets automatically, and it enables developers, designers, and product managers to leave comments and discuss web designs online so that they can create interactive prototypes for previewing and sharing. Related documents can be uploaded with just one click.