Nowadays, there are many free, excellent website templates available on the internet. Web designers and developers are happy to share all kinds of free website templates. Here, Mockplus recommends 20 of the best bootstrap website templates, mostly free, to help you create a website with virtually no effort.
Bootstrap is one of the most popular and simplest ways to build a website. Especially with the development of mobile terminals, responsive design has undoubtedly become the trend of web design. The following 20 free high-quality Bootstrap website templates cover a wide range of website design types, including resumes, personal websites, portfolios, startups, hotels, blogs, medical, education, food, and more.
1. Coming Soon - Bootstrap html template for landing page design
Coming Soon is a Bootstrap 4 coming soon theme, perfect for your user construction project. It features a video background image with a newsletter singup form.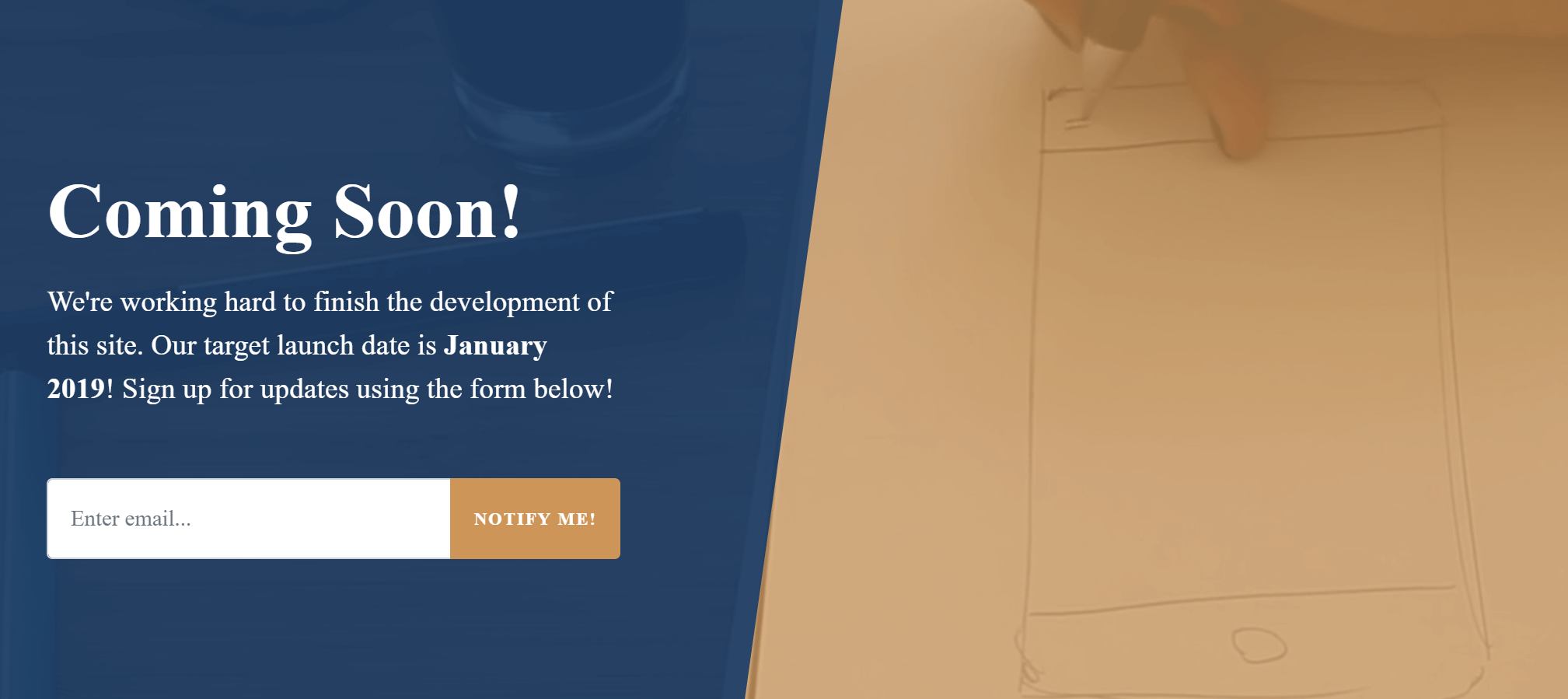 Features:
MIT License
Built to support the latest, stable releases of all major browsers and platforms.
Fully responsive HTML template created with Bootstrap 4
Video background with mobile fallback image
Newsletter opt-in signup form
2. Creative - Responsive bootstrap templates for small business website design
Creative is a one page Bootstrap theme for creatives portfolios, small businesses, and other uses. The theme includes a number of rich features and plugins that you can use as a great boilerplate for your next Bootstrap based project.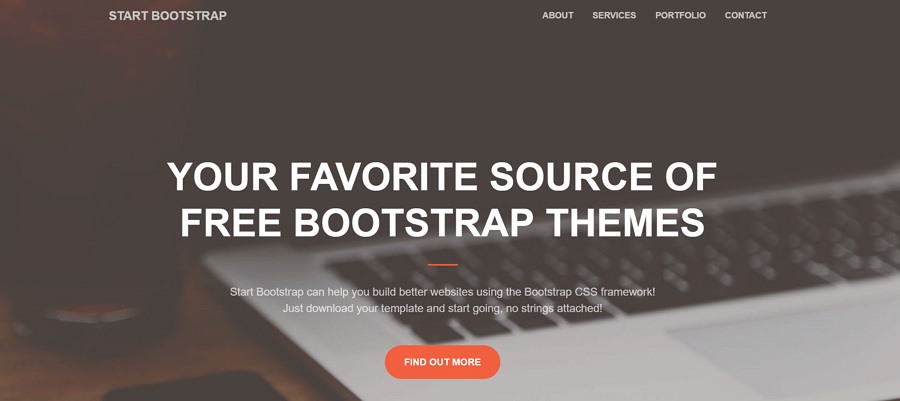 Features:
Built to support the latest, stable releases of all major browsers and platforms.
Fully responsive HTML template created with Bootstrap 4
Custom fixed navigation menu with scrolling animations
SASS/SCSS files included for deeper customization options
Semantic markup with nav, sections, and asides
Custom button styles
Subtle on page scroll reveal animations
Full-page image header banner with vertically centered content
Unique, modern design
Fully functional portfolio image grid with hover effects and working lightbox gallery
3. Resume - Bootstrap 4 template for resume landing page design
Resume is a Bootstrap resume or CV landing page theme to help you beautifully create easy to use, stylish resume websites. You can use this template to create an excellent homepage design.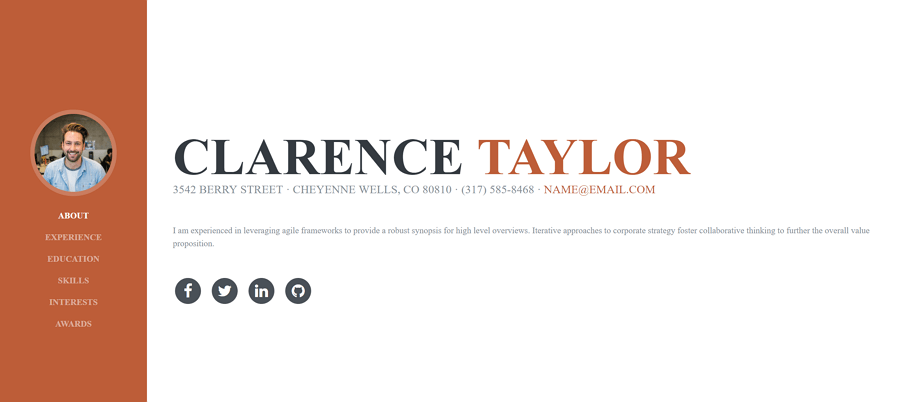 Features:
MIT License
Built to support the latest, stable releases of all major browsers and platforms.
Fully responsive HTML template created with Bootstrap 4
A fixed side navigation with scrolling page anchors
Resume sections to feature work experience, education, skills, and more!
4. Clean Blog - Free Bootstrap theme for blog website design
Clean blog is a carefully styled Bootstrap blog theme that is perfect for personal or company blogs. This theme features four HTML pages including a blog index, an about page, a sample post, and a contact page. It's a clean, Bootstrap blog theme ready to hook into your favorite CMS or blogging platform.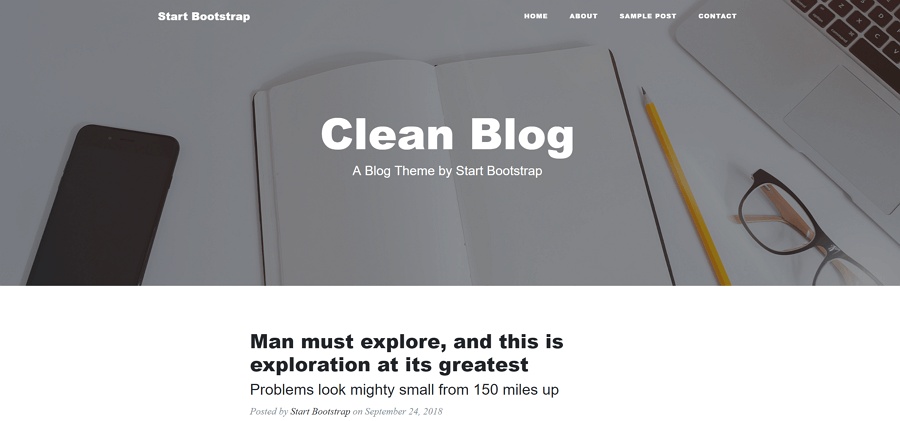 Features:
Built to support the latest, stable releases of all major browsers and platforms.
Fully responsive HTML template created with Bootstrap 4
Modern design with a subtle, customizable splash of color.
Distraction free blog text optimized for legibility with a menu bar interface that conveniently appears when you scroll up.
Working PHP contact form with validation - just add your email address to the PHP file included
Footer with social links and copyright information
SASS/SCSS files included for deeper customization options
5. Stylish Portfolio - Bootstrap portfolio theme
Stylish Portfolio is a one page Bootstrap portfolio theme with off canvas navigation and smooth scrolling through content sections.
Features:
Updated design featuring two custom button styles
Off canvas navigation with custom toggle button
100% height header section with full page background image and vertically centered content
Smooth page scrolling using jQuery
Call to action sections
Services section with Font Awesome icons
Portfolio image grid
Google Maps integrated footer
Footer with social icons
6. Modern Business - A fully loaded Bootstrap 4 website starter template
Modern Business is a full website template framework for building Bootstrap 4 websites. It includes 17 HTML pages along with a working PHP contact form. You can use this template to create larger, multipurpose websites.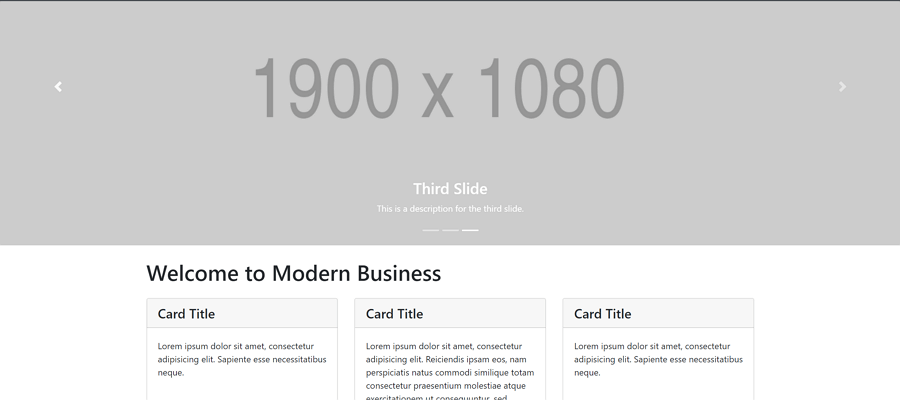 Features:
Built to support the latest, stable releases of all major browsers and platforms.
Fully responsive HTML template created with Bootstrap 4.
Updated page layouts and additional elements added.
17 HTML pages.
Easy to edit, working PHP contact form.
Homepage with full width image slider and captions.
4 portfolio page options with portfolio items.
Various custom-styled elements, call to actions, and more.
7. Groovin - Html5 bootstrap templates for multiple use
Groovin is a one page free bootstrap website template based in Html 5. It is fully responsive and easy to use for multiple usage patterns.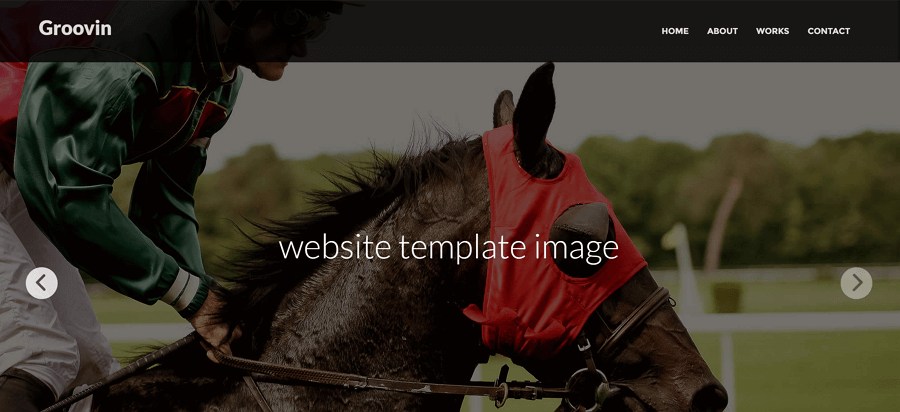 Features:
Bootstrap made
HTML 5
Fully responsive with 4 columns.
Dark on light.
Black, green, light grey, and white icons.
Author specific license.
8. The Charity - Free HTML website template
If you plan on starting a non-profit organization, market yourself properly with The Charity free HTML website template. It is a modern, clean, easy to use and highly adaptive tool for building a fundraising page quickly and effortlessly.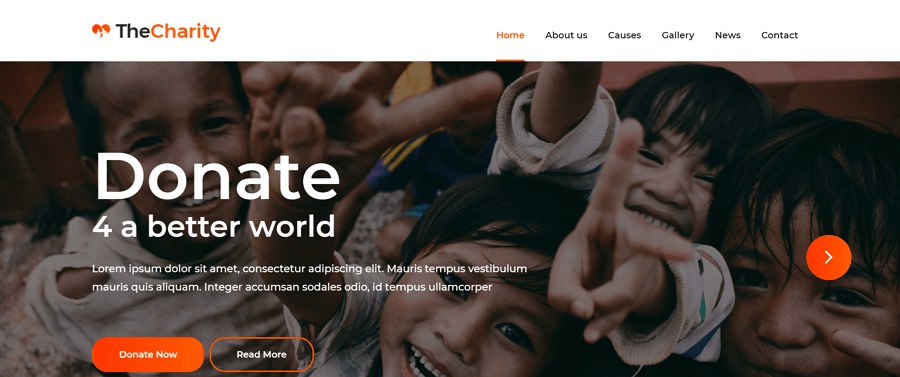 Features:
Professional home page
Predesigned and ready to utilize sections
Donate Now buttons.
Photo gallery.
Blog feature.
9. Sublime - Free minimalist design eCommerce website template
Sublime is a free, minimalist template for eCommerce website designs. You can use it for all types of products. Gadgets, furniture, apparel, accessories, you name it, Sublime will help you sell your merchandise and start taking first orders shortly after the launch. This supreme template for online store uses all the modern technologies for a smooth and seamless experience.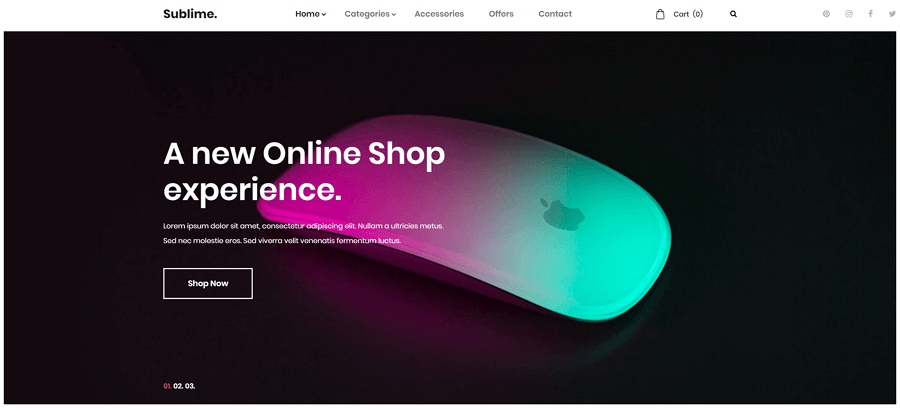 Features:
Licence: CC BY 3.0 (footer credits must remain in place)
Slideshow that includes both text and call-to-action buttons.
Sticky drop-down navigation.
Newsletter subscription form.
Social media icons.
Functional contact form with Google Maps
10. Royal - Free Bootstrap Hotel Template with Booking Form
Provide your hotel a home on the internet with the free HTML5 hotel website template, Royal. It has all you need in regards to web design, is responsive, and packed with features.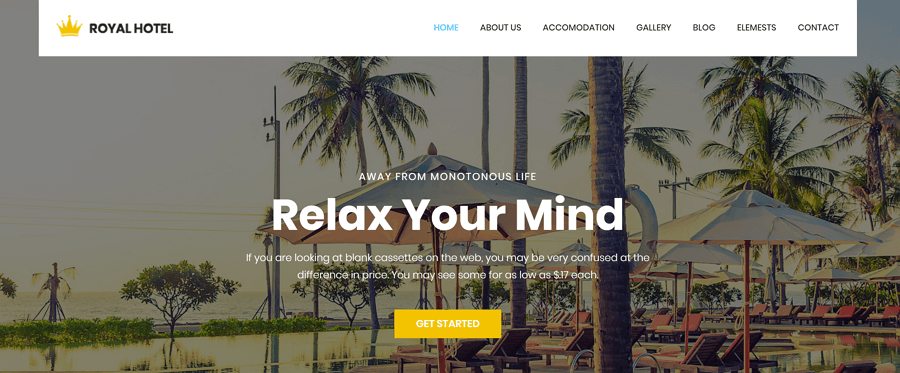 Features:
Powerful and popular Bootstrap Framework.
Simple to use and modify.
Hotel reservation form.
Parallax scrolling.
Integrated Instagram feed.
On hover effect.
11. Unapp - Free business app website template
Unapp is a free business app website template that you can use to bring your big project online to share with the masses.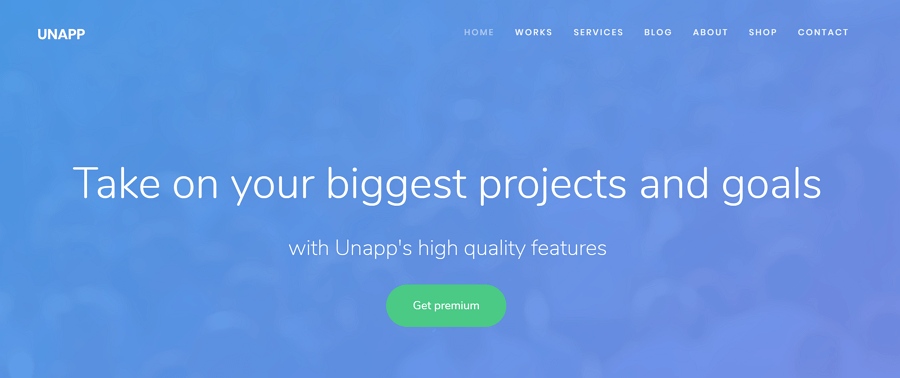 Features:
Meant for apps of all types
Implement content marketing with a blog
Expand your web presence with an online shop
Licence: CC BY 3.0 (footer credits must remain in place)
12. Essence - Free eCommerce website template
Essence is a cleanly designed free eCommerce website template. It is best for selling men and women's fashion, accessories, bags, shoes, glasses and other trendy items.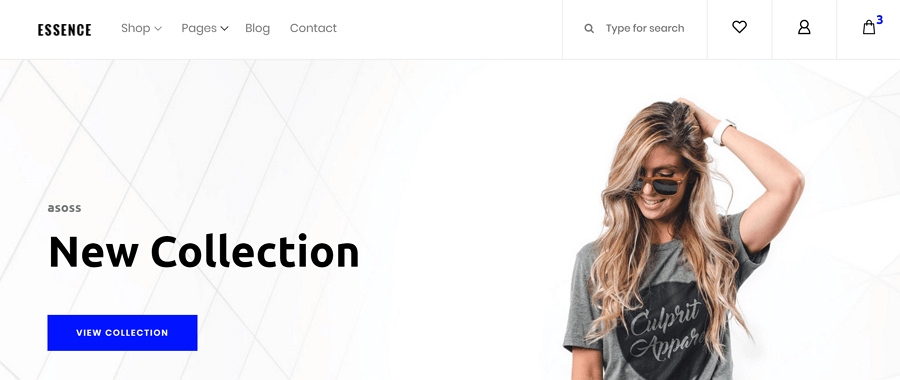 Features:
Responsive, retina ready, and powered by Bootstrap 4.
Top-notch online shop.
Super fine home page to other inner sections for shop, product, and checkout.
Flexibility and stability.
Subscription form in the footer.
A full fashion blog included in the kit.
13. Personal - Free personal portfolio design website template
Personal is a free personal portfolio website template for the creative minds out there who want something more for themselves. It is based on the popular Bootstrap Framework to ensure flexibility and stability.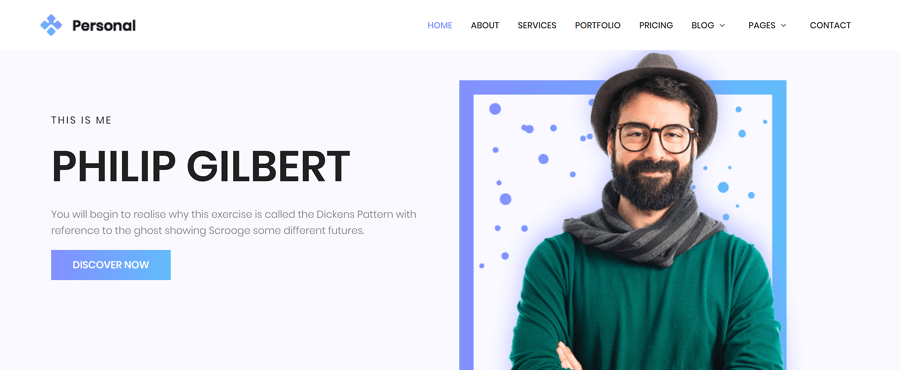 Features:
Animated statistics.
Lovely and filterable portfolio.
Testimonials slider and pricing tables.
Stunning blog pages.
Pricing tables.
14. Stuff - Free HTML5 multi-page, content-focused, bootstrap blog theme
Stuff is a free and responsive blog and news website template with a strong attention to detail. Whether you are using texts or visuals, Stuff makes sure it appears online in a clean and straightforward way. You can use Stuff for a personal, food, fashion, sports or pretty much any other niche blog you can think of.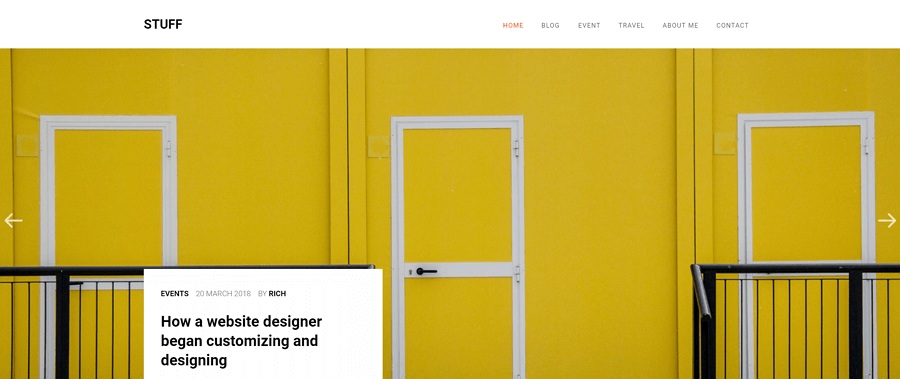 Features:
Cleanness and simplicity.
Fascinating blog or news website.
Hover effects and sliders.
Video support.
Integrated Instagram feed.
Widget rich footer.
Functional form and Google Maps.
Sierra is a free Bootstrap startup website template that gives your project a boost. It is packed with a horde of features for you to take advantage of. Sierra has the assets of a premium template without the cost, it's completely free.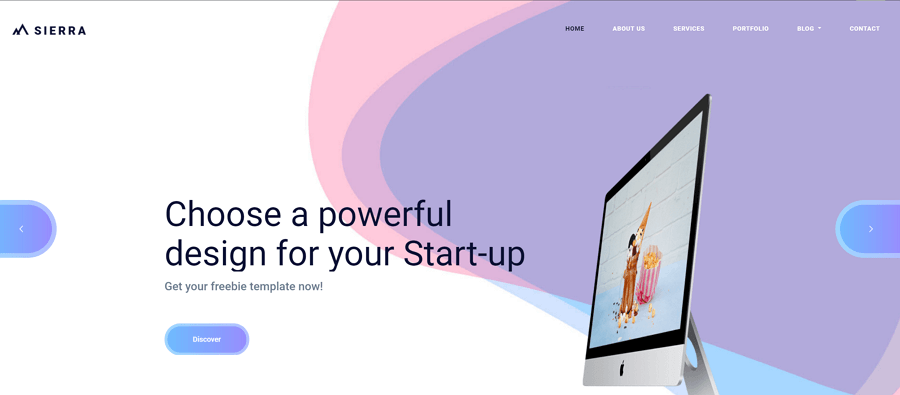 Features:
Professional and elegant predesigned template.
Responsive and retina ready.
Cross-browser compatible.
Loads fast for top-notch performance.
Meet Sonar, the all-new free HTML5 photography template. It showcases your photography and offers superior engagement. This template provides Bootstrap 4, an unconventional design, brilliant graphics, and more.
Features:
Bootstrap 4 Template.
Creative Burger Menu.
Sticky Navigation.
Multi-page Layout.
Ghost Button.
Attractive Preloader.
Social Media Icons.
17. Ezuca - Free HTML5 education template for modern websites
Creating a learning website becomes easy with a free HTML5 education template like Ezuca, which provides several modern features, such as Bootstrap 4 and Owl Carousel.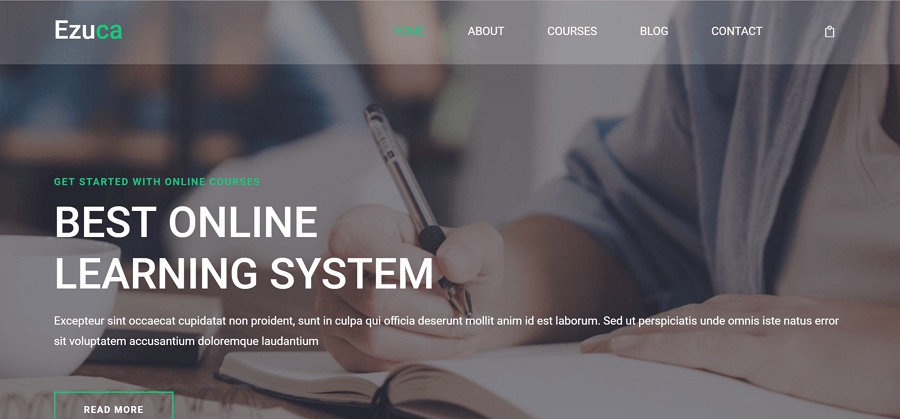 Features:
Bootstrap 4 Template.
Top Search Bar.
Ghost Button.
Themify Icons.
Video Section.
Email Subscription.
18. Original - Clean and Minimal Free HTML5 Bootstrap Blog Website Template
Blogging is a modern-day phenomenon, and you can create an influential website with this free Bootstrap blog website template. Original uses Bootstrap 4 in its backbone to provides a responsive website.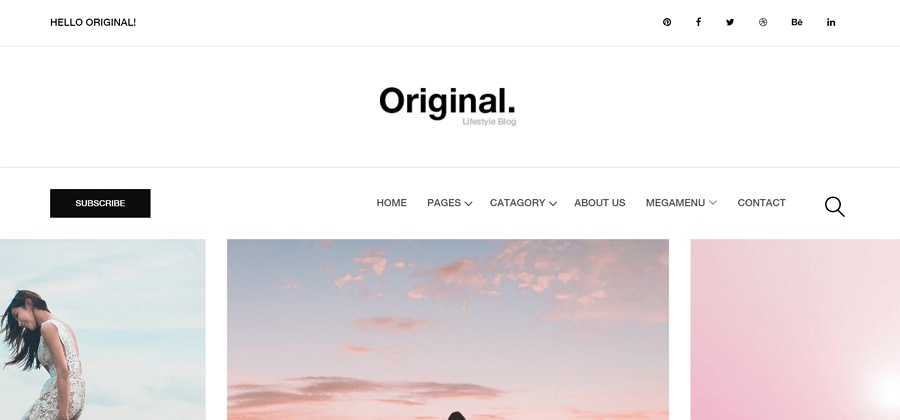 Features:
Multi-Page Layout.
Bootstrap 4 Template.
Preloader.
Sticky Navigation.
op Social Menu.
Black and White Theme.
Multi-level Dropdown.
19. Sports - Free HTML5 bootstrap sports template
Sports is a free Bootstrap sports template for multipurpose gaming websites. The template makes it easy to provide necessary information about games and sports. Although it is a free Bootstrap template, it carries a bundle of trendy features that power up its strength.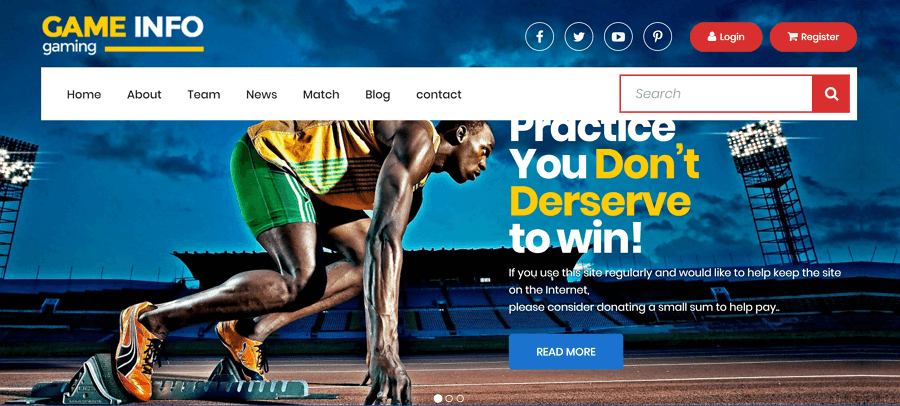 Features:
Multipage Template.
Search Bar.
Device Responsive.
Social Media Icons.
Login and Registration.
Full-screen Slider.
20. Wedding - Multi-page free HTML5 bootstrap wedding website template
You can make your wedding more festive with this free Bootstrap wedding website template that is elegance in design and simplicity in the overall look. In addition, the navigation is smooth and it is very easy to scroll through the entire layout. Also, it contains the latest web technology, such as HTML5, CSS3, jQuery, SASS, and more.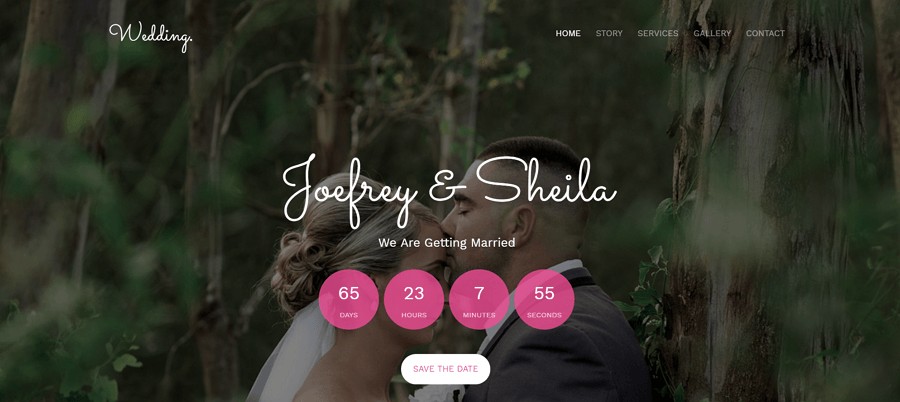 Features:
Countdown Timer.
Drop Down Menu.
Google Fonts.
Animated Scrolling.
Font Awesome Icons.
On-hover Effect.
Contact Form UI.
More bootstrap templates free download resources:
Free simple Bootstrap templates
Free Bootstrap responsive templates and themes
Best Bootstrap website templates
Complete collection of Bootstrap themes and templates
Summary
Above are the 20 best free Bootstrap website templates in 2018 from my side. if you are looking for a useful, powerful bootstrap template, just download!