Attending product or UX conferences is truly a great way to broaden your horizon and level up your design skills, no matter whether you are a design beginner or an expert. However, the COVID-19, social-distancing measures and much more similar things make it impossible to attend a conference in person, even after heading into this much brighter 2021.
Hopefully, many companies and organizations move their conferences to virtual platforms instead, allowing all designers to access any desired UX conferences online without any region or country limited.
In this article, Mockplus has handpicked 20 of the best upcoming online UX conferences that you can attend and see what new design trends, skills and inspirations you can expect from those conferences:
UX conferences in March
1.The UX Conference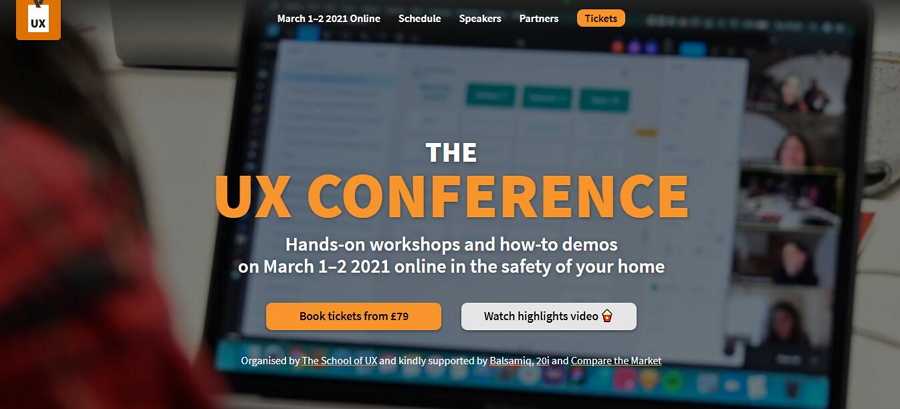 Date: March 1-2
Location: Online
Price: Online tickets start at £79
The UX Conference is a two-interactive-day conference that includes how-to demos, practical workshops, Q&A with the speakers, some design quizzes and more interesting things. The conference is organized by the School of UX and gathers designers with working experience at Amazon, Dropbox, Google, Uber and others.
No matter what level you're at now in your design career, this conference is a great opportunity for you to learn something useful from great designers.
2. Measuring Experience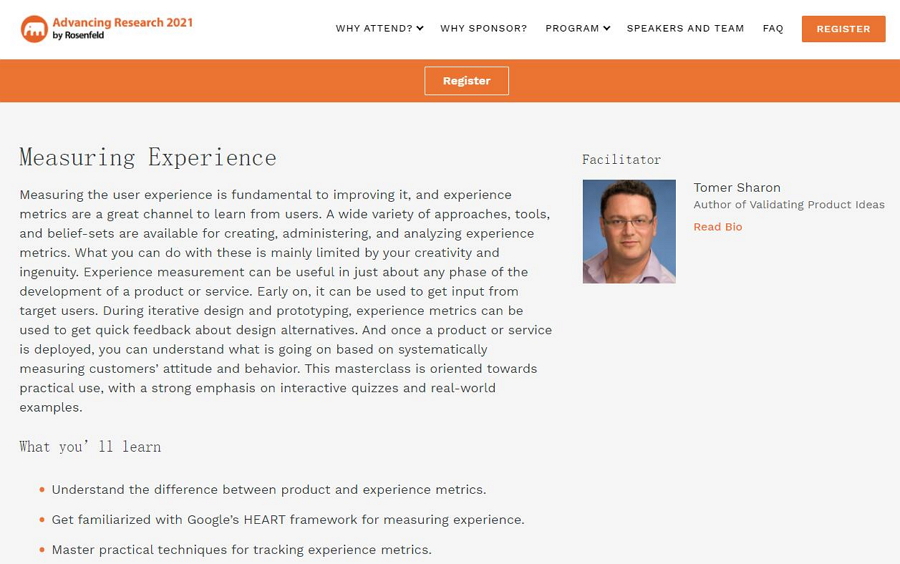 Date: March 3-5
Location: Online
Measuring Experience will last for three days talking about the importance of measuring user experience, and a wide variety of approaches and tools to measure user experience in different design cases. The speakers will share interactive quizzes and real-world examples to help you better understand everything well.
What can you expect from this conference:
There are three things you can learn from this conference:
Understand the difference between product and experience metrics.

See what Google has done to build its core framework for measuring experience.

Share and practice practical techniques for tracking and measuring experience metrics.
3.UXDX APAC Conference 2021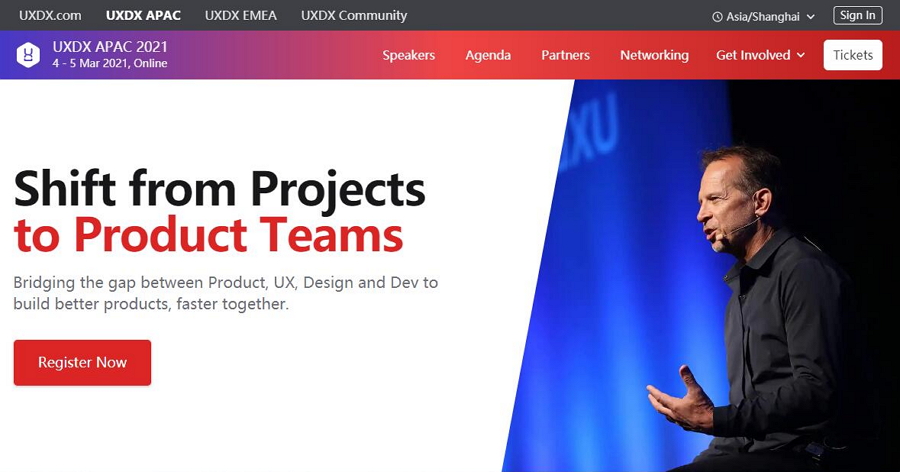 Date: March 4-9
Location: Online
Price: Online tickets start at $449
This online conference discusses how you can shift from projects to product teams and learn how to close the gap between product, UX, design and development to build better website or mobile app products together. Many great speakers from eBay, VISA, Shopify, Microsft, Seek and other famous companies will share their ideas and experiences there.
What can you expect from this conference:
There are four aspects that you may be interested in:
Inspiring case studies to help you build better products

Learn techniques and approaches to scale product teams effectively

Learn how to foster change

Meet and build connections with like-minded experts
4. Advancing Research 2021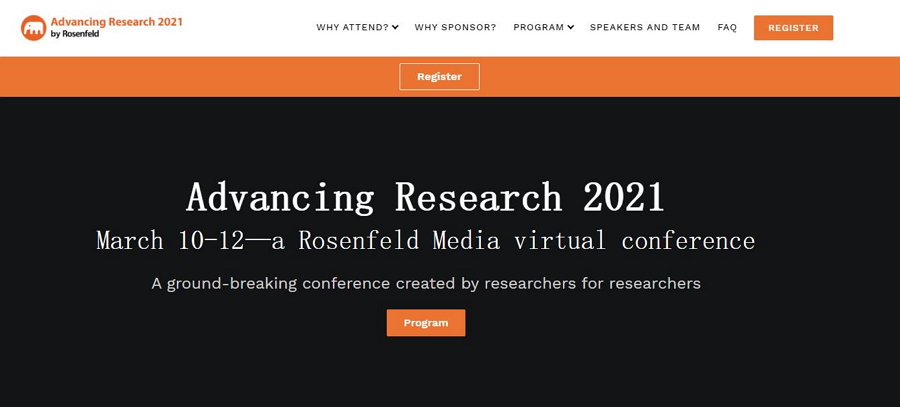 Date: March 10-12
Location: Online
Advanced research 2021 is a ground-breaking program for designers looking to knowing more about design research. The conference, driven by real researchers, discusses the importance and business impact of design research, and shares the real ideas from a variety of industry thought leaders to identify important opportunities to advance the practice of research.
What can you expect from this conference:
Three different topics are discussed every day:
Look back at the design research in 2020 and forecast the challenges we may encounter in 2021.
Discuss how we can improve our research skills to deal with the increasingly complicated user needs and business environments.
Discuss the business impact of research in-depth.
5. Canvas Conference 2021 - March 15-18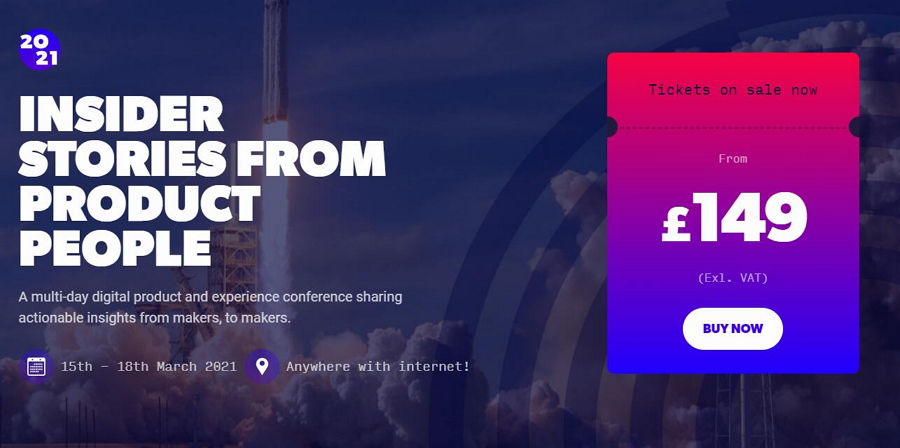 Date: March 15-18
Location: Online
Price: Standard tickets start at £149
Canvas conference is a four-day program that talks all things digital and product. Many leading industry experts from Google, Bumble, Vodafone, 1Password and more renowned companies would share their experiences and learning.
The conference seems a must-go event for people who design, make and deliver digital products and experiences.
6. UX Copenhagen 2021

Date: March 25-26
Location: Online
Price: Standard tickets start at $600
UX Copenhagen is a two-day live stream conference filled with interaction, inspiration, networking, new knowledge, and insights. The conference talks about community-driven design, futurism, design-driven social initiatives, democratizing design, celebrating intersectionality and differences, and much more information that will help designers at all levels.
7. Virtual UX Life Science Conference 2021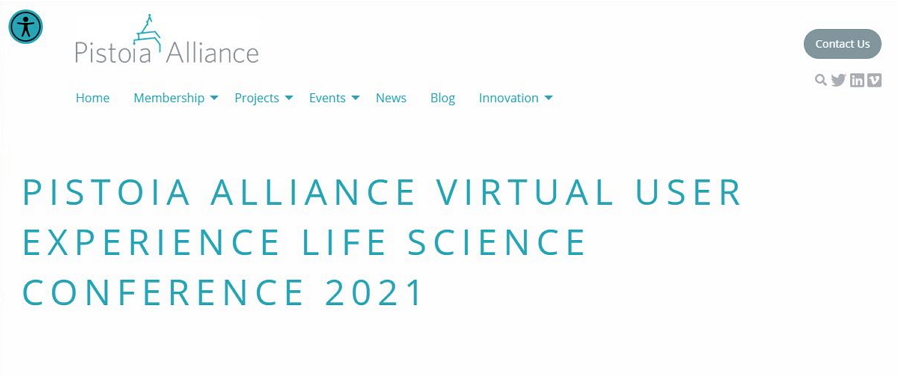 Date: March 16-25
Location: Online
This UX conference focuses on sharing the UX best practices in life sciences, which makes it a good option for designers, researchers and other people who are interested in applying UX to life sciences.
UX conferences in April
8. Health Experience Design Conference 2021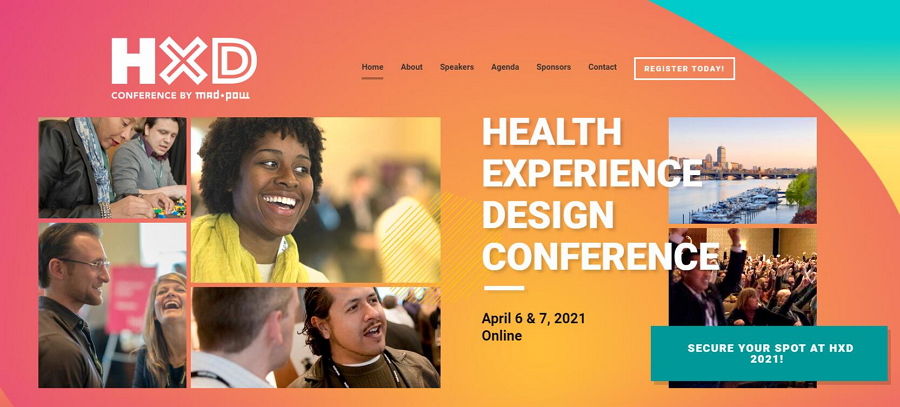 Date: March 6-7
Location: Online
The COVID-19 pandemic makes all people around the world realize the importance of the health system. But what a designer, practitioner or product team can do with this in the coming years?
This conference discusses the topic, sharing insights about how to accelerate the transformation of the health system in design, innovation, research, strategy technology and other aspects. If you are also interested in such a topic, never miss this conference.
9. UXinsight Festival 2021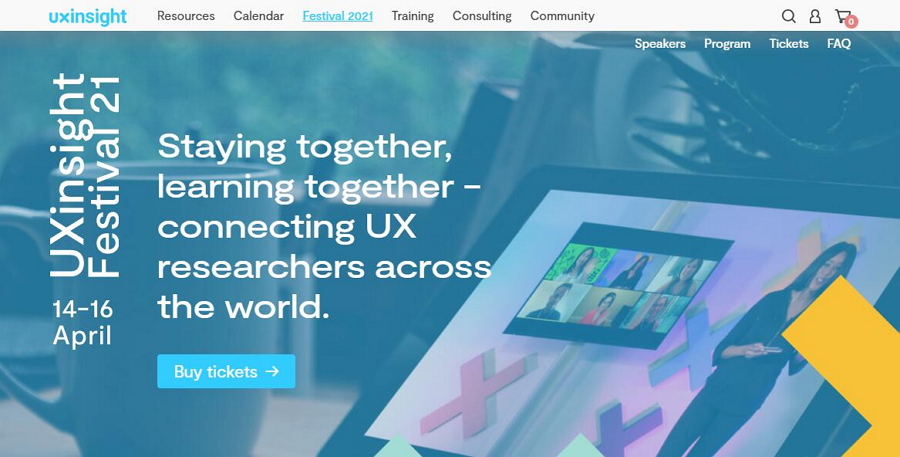 Date: March14-16
Location: Online
Price: Tickets start at €149
This Festival Conference shares a wide range of topics and inspiring cases that some design experts have been through to help you learn from failing.
What can you expect from this conference:
A full set of inspiring topics are covered in this conference:
How to become a master in failure

How to fail at building an in-house UXR practice

How to create safe spaces to learn from experiences

Interactive sessions and networking
10. Infomation Architecture Conference 2021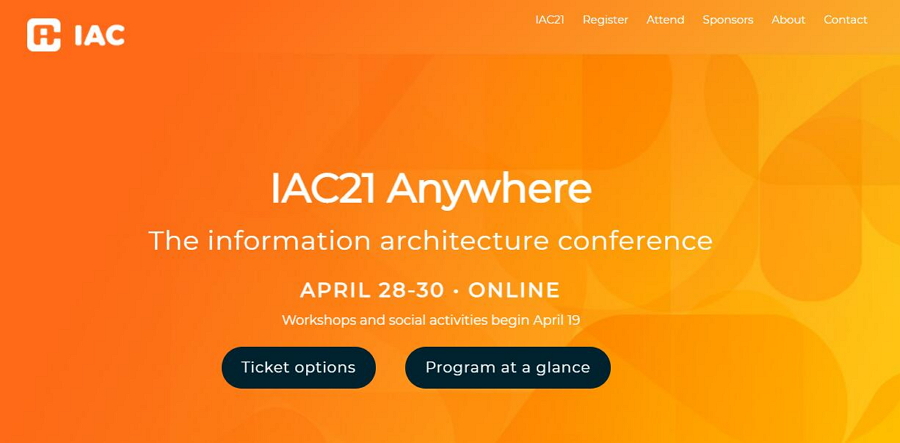 Date: March 28-30
Location: Online
Price: Single sections start at $125
This conference is an online 3-day event that specializes in all things upon information architecture and experience design. It gathers great talks talented thinkers, practitioners, and even students with working experience in information architecture, making it a great program for students to take their UX design learning to a whole new level.
If you are a student and interested in attending this conference, also do not forget the check its special student offer.
UX conferences in May
11.Confab 2021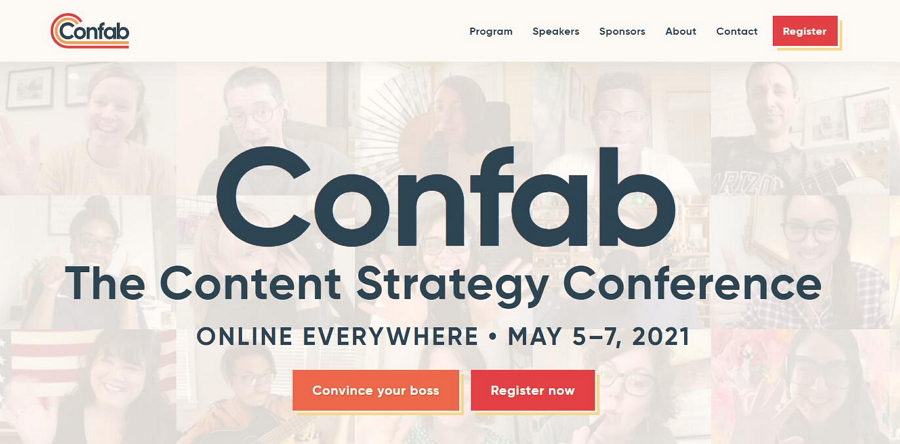 Date: May 5-7
Location: Online
Price: Early-bird tickets start at $895
Confab is a three-day live broadcast conference talking about content strategy. It shares ideas from UX to accessibility, structure to storytelling, and gathers content designers, engineers, marketers, managers, and UX writers around the world each year.
So, it is a must-go conference for people who care much about creating better content for their users.
What can you expect from this conference:
Several areas related to content strategy will be covered this year:
Research, analysis, and strategy

Content design and UX writing

Analytics and performance

Accessibility and inclusivity

Workflows and stakeholders

Teams and leadership
12. CHI 2021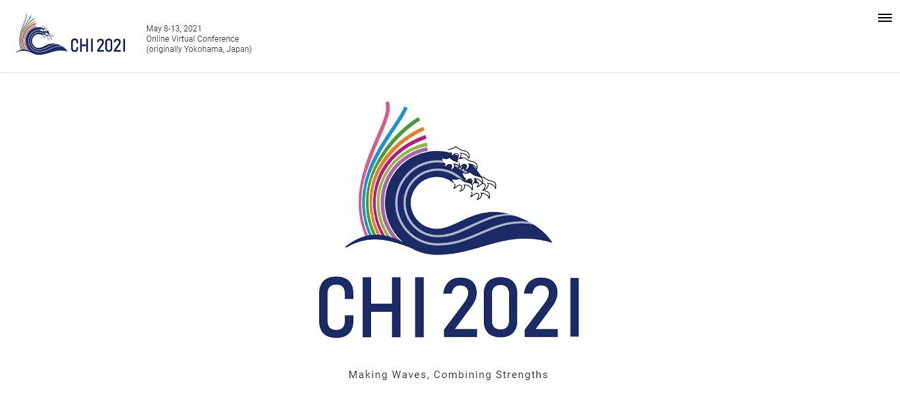 Date: May 8-13
Location: Online / Originally Yokohama, Japan
Price: Early-bird tickets start at $260
Are you seeking for conferences to learn more about Human-Computer Interaction? CHI 2021, the virtual conference on human factors in computer systems is exactly what you need. Many professional researchers and practitioners will gather there to discuss the latest in interactive technology.
UX conferences in June
13.UX Fest 2021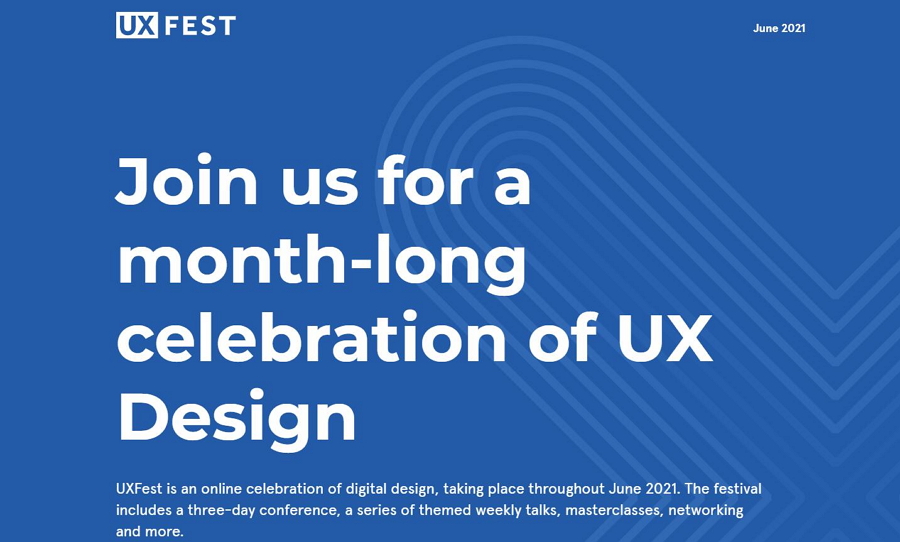 Date: Throughout the entire June
Location: Online
Price: Super early-bird tickets start at £270
UX Fest 2021 is a month-long event that celebrates digital designs. It consists of a three-day conference, a series of themed talks, masterclasses and much more. Different aspects and areas of UX will be discussed each day throughout June 2021.
UX conferences in August
14.UX Australia 2021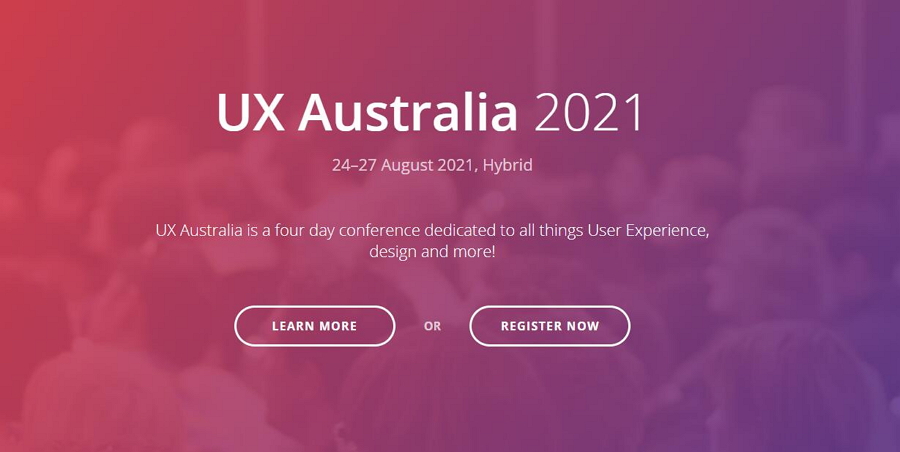 Date: August 24-27
Location: Online / Sydney, Australia
Price: Standard tickets start at $450
This conference is a four-day event that covered topics and ideas relevant to all things about user experience, design and much more. The hybrid style event has attracted experienced designers, practitioners and newbies around the world for over 12 years.
The UX focus also makes it suitable for everyone who is interested in learning something useful about UX, from graduates to experienced practitioners.
UX conferences in September
15. Product Management Conference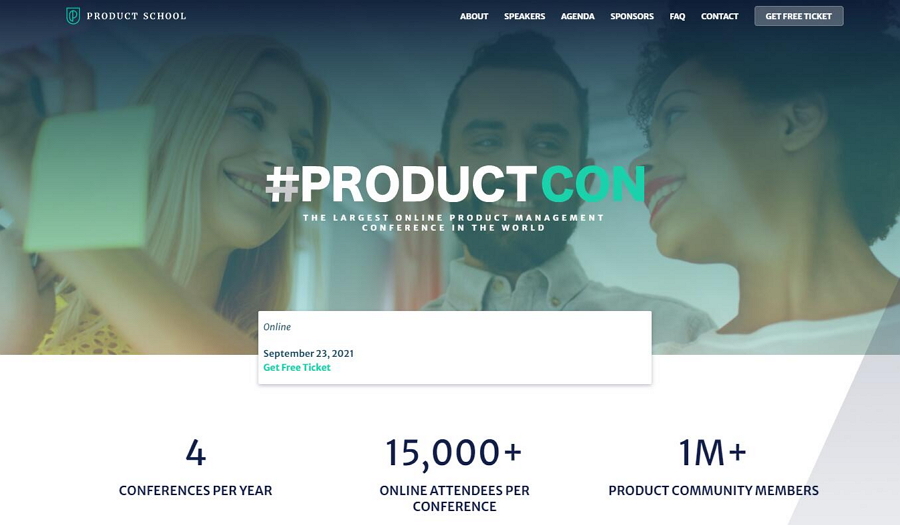 Date: September 23
Location: Online
Price: Free online viewing; General admission tickets start at $149
This conference, organized by Product School, is regarded as the largest product management conference in the world. It brings product leaders from top companies like Google, YouTube, Facebook, Amazon and others to share their tactics and best practices. Everyone paying for a ticket can watch presentations, interact with speakers, access slides and much more.
More UX conferences
16. From business to button 2021 (held in Stockholm, Sweden) - May 5-7
A premier user experience and service design conference for people that wants inspirations and advice on how to boost businesses by creating a great experience.
17. App Design & Development Conference (held in Barcelona, Spain) - June 23-25
This conference provides an opportunity for designers and developers to gather and discuss a new way to better communicate and collaborate in one space, including using an online product design collaboration tool or others.
18. Human-centered design (held in Orlando, USA) - August 30-September 1
A three-day conference focusing on digital design, UX, content, code and more.
19. Interaction London 2021- (held in London, UK) - October 14
A great design conference that gathers the best leaders from UX, design, AI and data to explore the roles of digital design, user experience, artificial intelligence, and more in our society.
20.CanUX 2021 (held in Ottawa, Canada) - November 4-7
A four-day event showcasing modern experience design trends. A good opportunity for designers to find inspiration, learn and exchange design ideas, and make friends working in the experience design field.
Wrap Up
UX conferences focus on a hot topic and share great ideas from experts or authorities worldwide, which is one of the fastest ways for designers to keep pace with the latest design trends. We hope this virtual UX conference collection can save you lots of time and help you find the right conferences that you've love to attend.