Competition is everywhere. A product with a poor user experience, will always struggle in the market. Similarly, a designer who doesn't know how to please customers with great UX design will find it hard to stand out in the industry. That's why designers should be constantly trying to improve their understanding of UX design.
A UX podcast is a great place for designers to learn about UX design. It enables designers who are short of time to learn anywhere, any time. Whether you're walking down a street or sitting on a bus, you can have the industry's experts and thought leaders right there on tap.
To give you a good overview of the excellent UX podcasts out there, our Mockplus team have collected a list of the best UX podcasts and UI podcasts that you can use for quick reference. This list will make it easy to decide which podcast will be worth your time.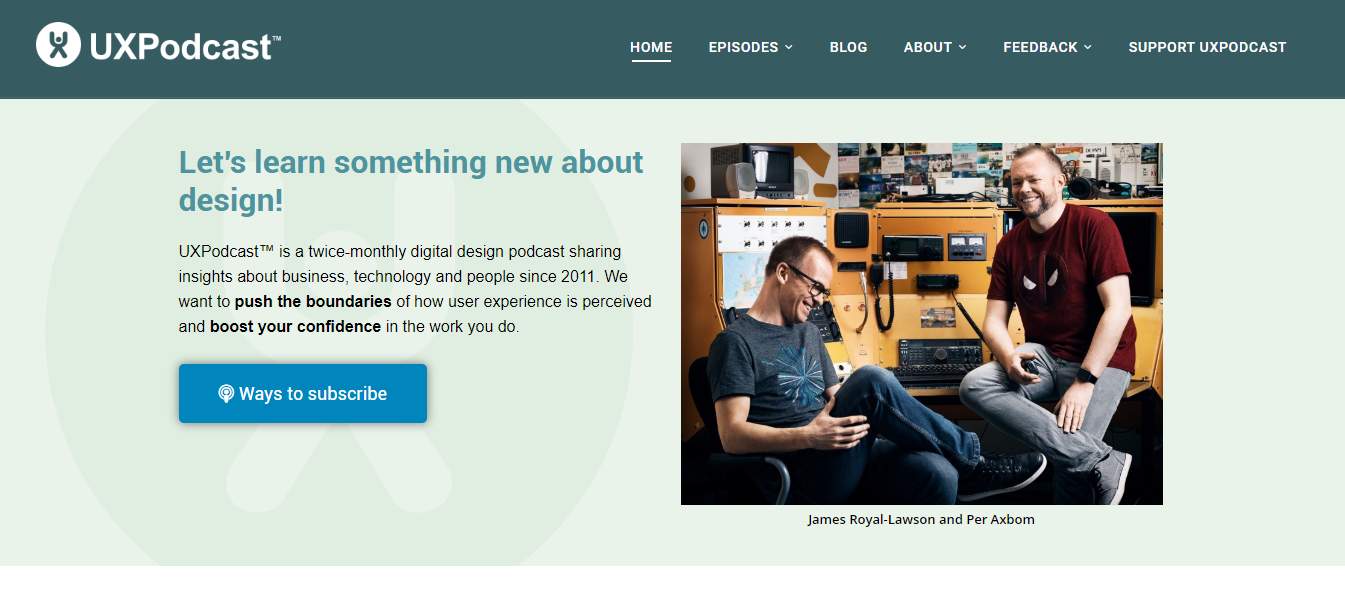 UXpodcast is a digital design podcast website hosted by James Royal-Lawson and Per Axbom. It aims to share insights about business, technology, and people. It sets out to bust some of the myths about UX and how it is perceived. Above all, the aim is to give designers confidence when it comes to UX design.
UX podcasts are classified into the guest show and the link show. James Royal-Lawson and Per Axbom usually invite UX design experts to discuss key issues like UX strategy, information architecture, integrating lean and agile methods, and many more. Or, they will share one or two useful articles on the podcast to help you develop your UX thinking and kick-start your creativity.
Subscribe: Apple Podcast, Android, Spotify, and RSS
2. The UX Intern - Recommend for UX beginner
Hosted by Wesley Noble, a UX intern who each month interviews experienced UX designers from an intern's perspective. Through his interviews you can learn about what the UX experts have done and how they have achieved their success. Moreover, each expert shares advice from their individual viewpoints for aspiring UX designers.
The podcasts have been presented in episodes and you can follow each guest to learn more about them.
3. Google Design - Recommend content for UX beginners' learnin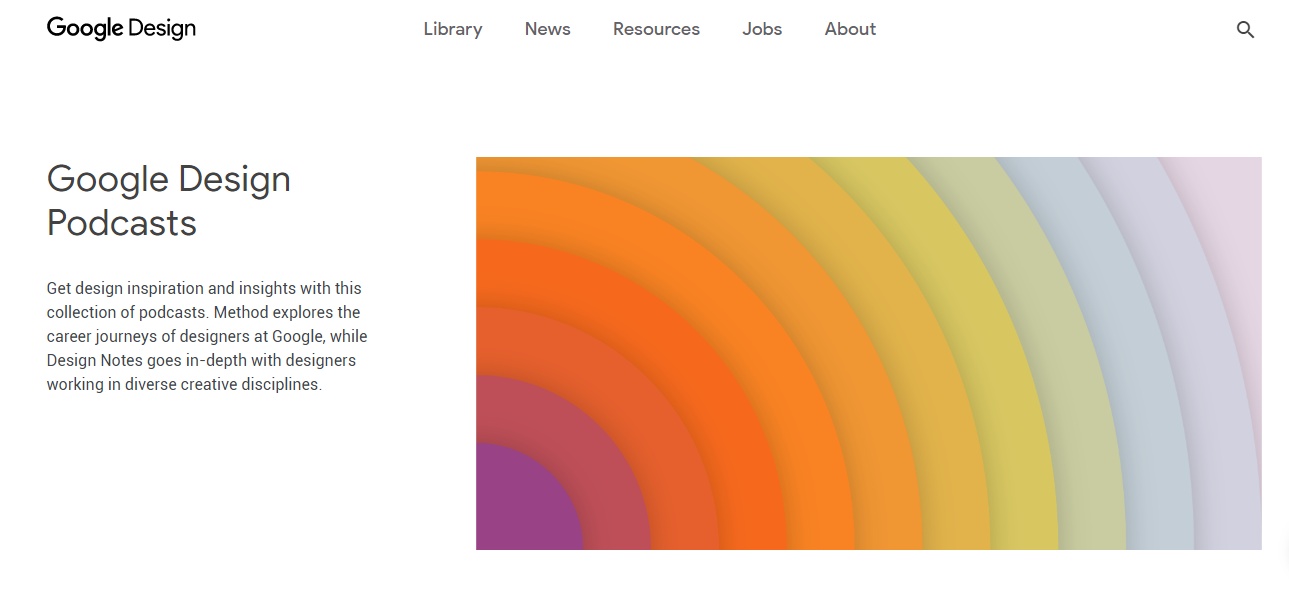 This is produced by a group of designers and developers who present their work and experience in Google. This podcast is bound to give you inspiration and insight into the world of design.
The content is listed under the heading "Method" and is arranged to focus on exploring the career journeys of designers at Google. There is then "Design Notes" which goes in-depth with designers working in a range of creative disciplines.
Subscribe: Google Podcasts, iTunes, Spotify, Pocket Casts, RSS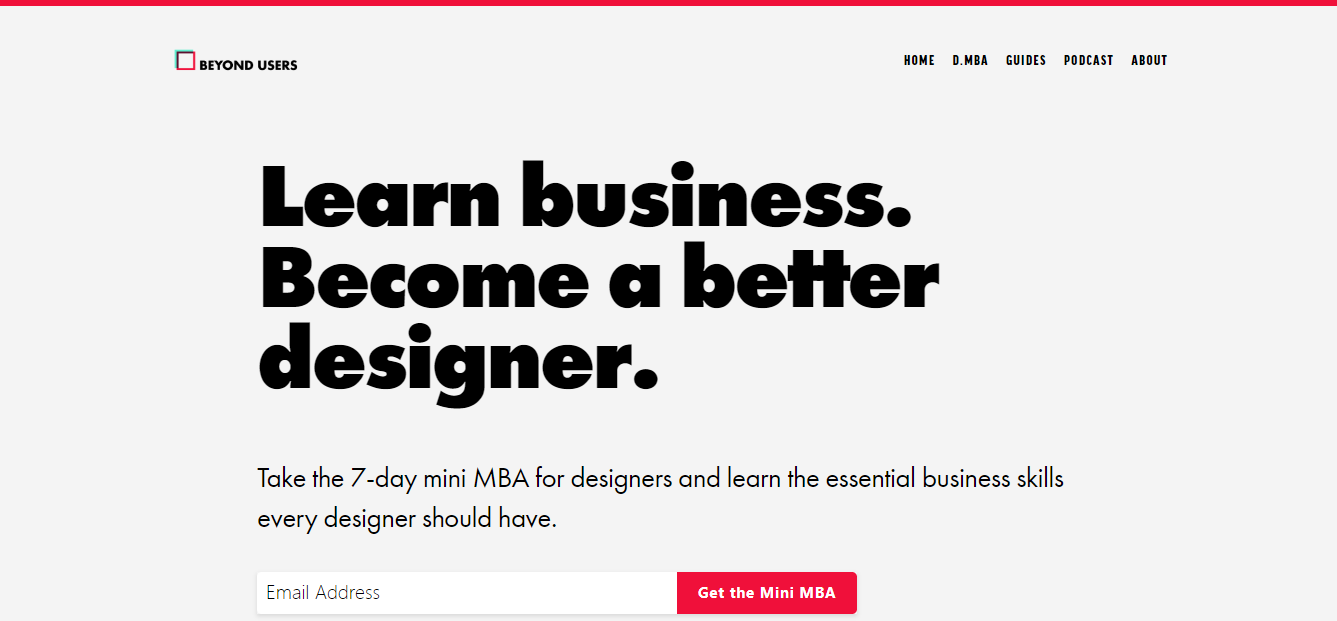 Thomas J. Watson said, "Good design is good business." That philosophy guides Alen Faljic who operates this website where he tries to help designers learn not just about UX design but also about business issues they will need to understand.
The podcasts will teach essential business skills you will need as a designer. Before diving into the podcasts themselves, there is a handy guide showing what is covered in each episode, so you can choose the one that interests you most. An MP3 file is available for each broadcast.
Subscribe: iTunes, Overcast, Stitcher, Spotify, Google Play (only in the US) and CastBox.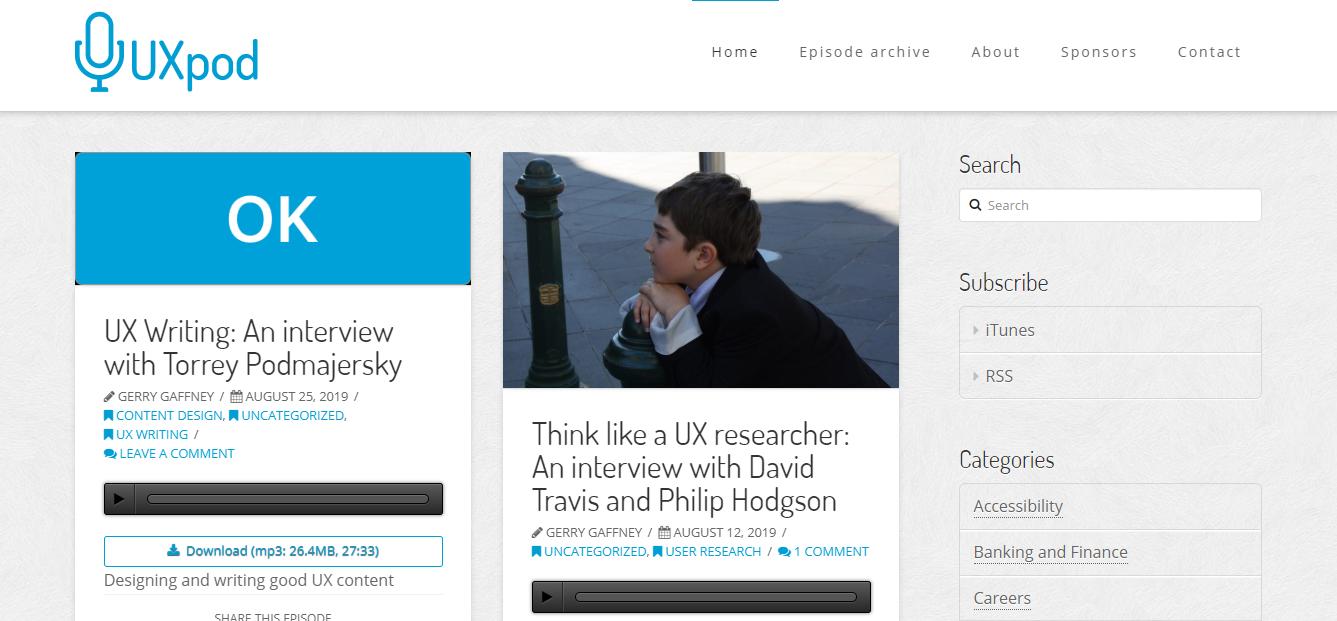 Hosted by Gerry Gaffney since 2006, this is a platform for discussion of topics related to UX design, such as design thinking, content design, global UX, interaction design, and much more. Some topics go beyond pure UX design.
Unlike the websites mentioned above, the content and layout on this site has a more professional feel. Topics, thumbnails, tags, and Mp3 files are all available to guide users around the content of the podcasts. This site provides a good user experience.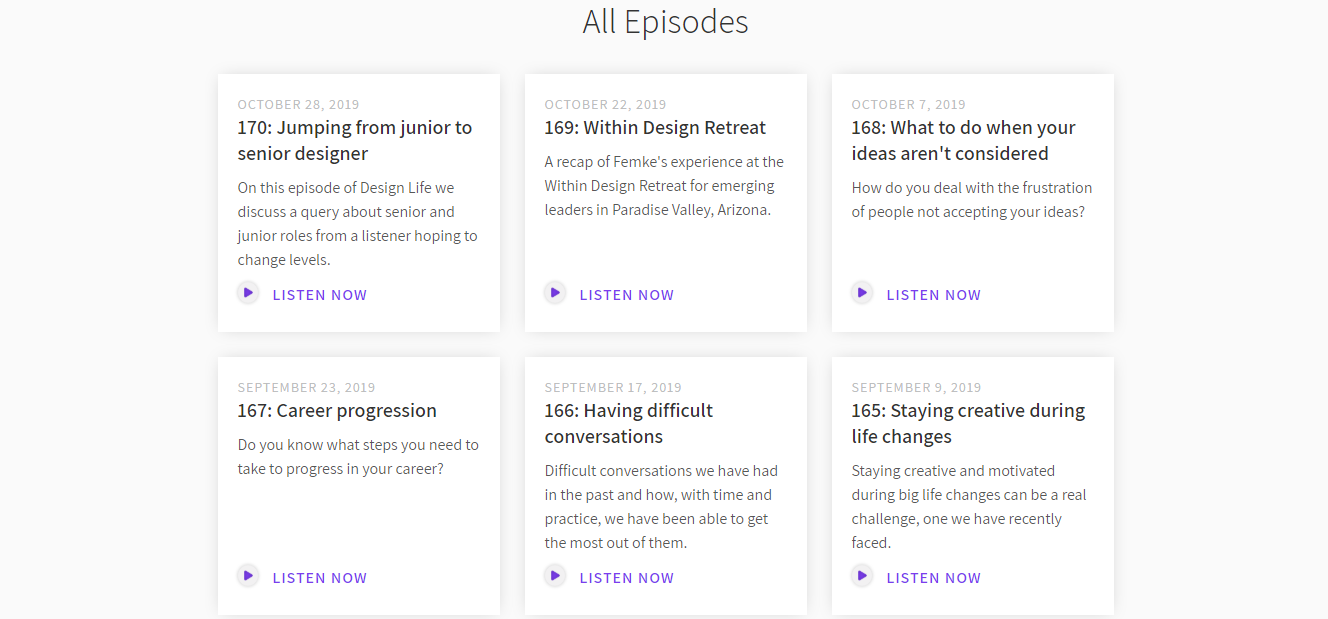 It is good to see more women succeeding in the design industry. This website is hosted by Charli Prangley and Femke van Schoonhoven and looks at design and related projects for really motivated creators.
All conversations here focus on design and issues that young creatives are likely to face in their careers.
Subscribe: RSS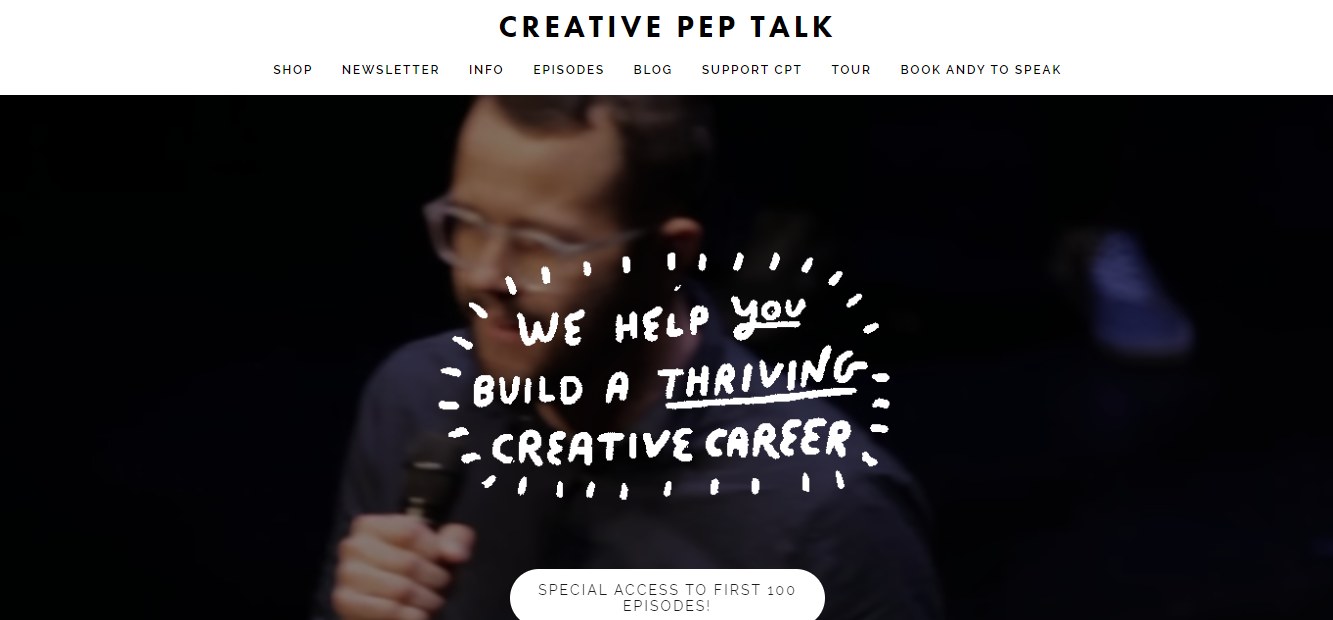 Whether you are a UI designer, illustrator, or graphic designer, creativity is the foundation of all your work. So everyone expects designers to be creative and inspiring to others at work.
But, how do you find your individual style as a designer. This is an important question as the answer will have a major impact on your work. Through the episodes on this platform, you'll learn how to develop your creativity and how to benefit from it.
Subscribe: Soundcloud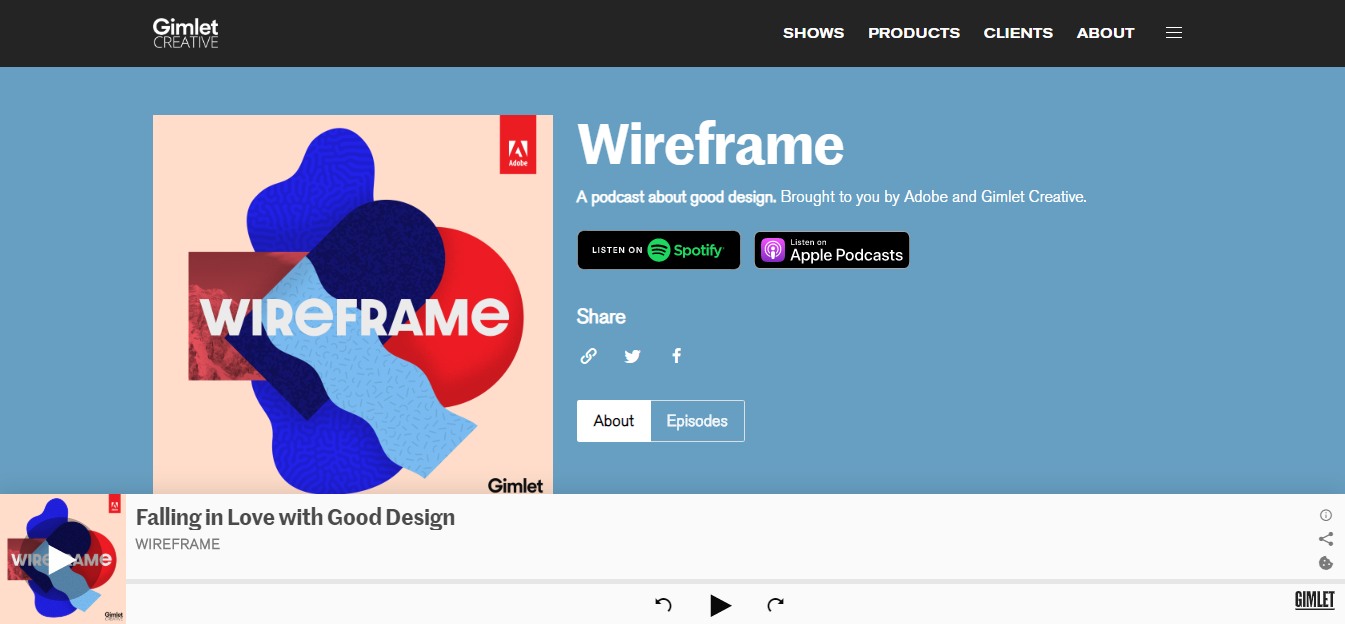 A podcast hosted by Khoi Vinh, an expert UX designer at Adobe and Gimlet Creative. The content of this podcast varies from a basic introduction of wireframe to the stories based on real career examples from UX/UI designers and graphic designers.
Started in 2018 and updated regularly, this site not only teaches you the key points of wireframe but will also help you fall in love with good design in a bright and supportive atmosphere.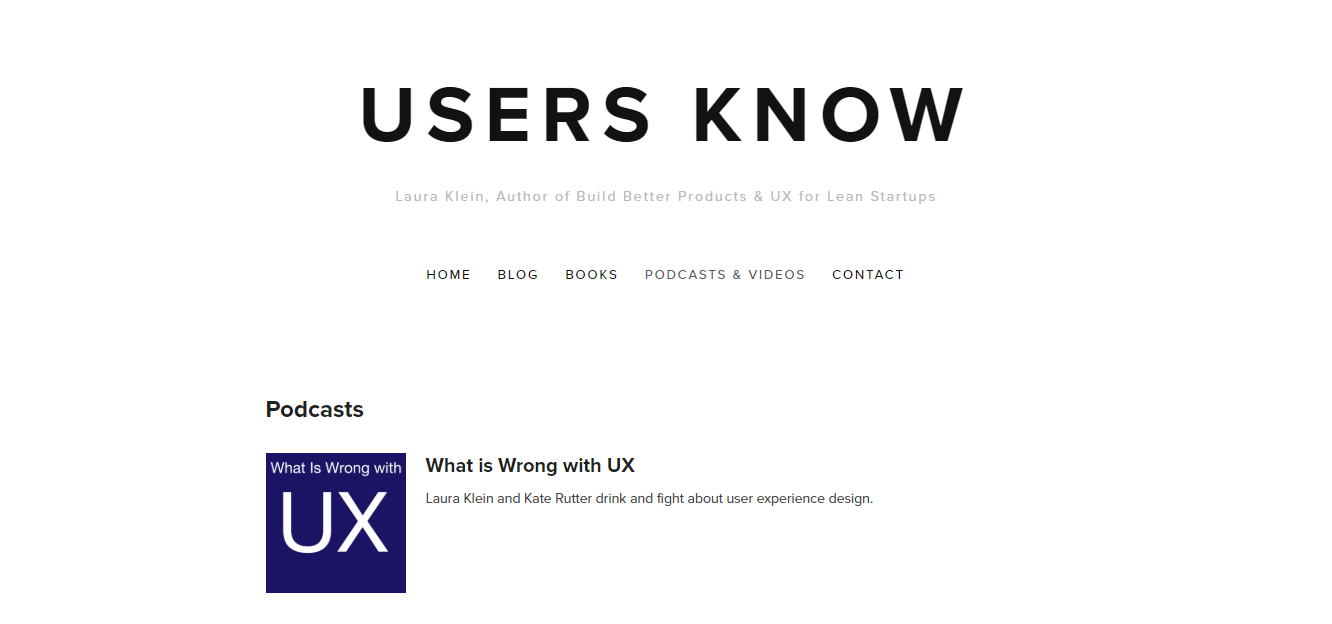 As a UX designer or product manager, if you think users don't appreciate what you have done behind the scenes, you are wrong. Users have changed, and they now understand the process far better.
Hosted by a dynamic duo of Laura Klein and Kate Rutter who are designers, teachers, and lecturers specializing in applying UX to the start-up world, this website aims to teach UX beginners, as well as the users about what can go wrong with UX. In a series of episodes, the topics vary from basic UX education to requirements and on to trouble-shooting during the UX design process.
Subscribe: RSS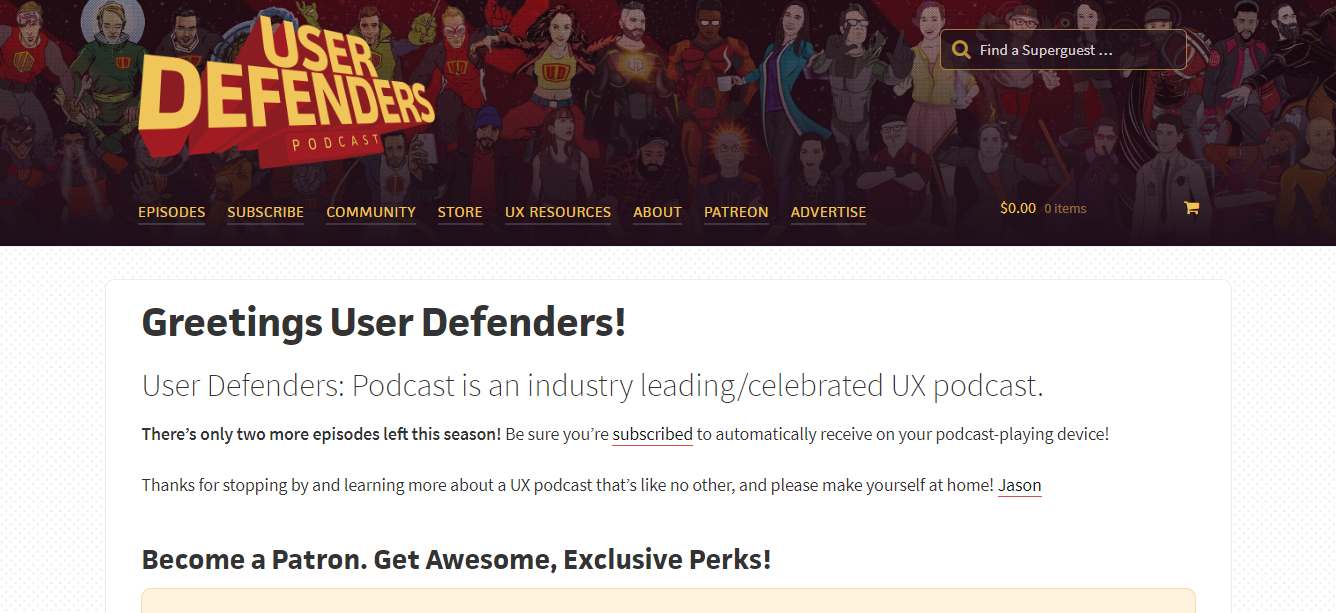 Hosted by Jason Ogle, this podcast has achieved ratings of more than 4.7 (out of 5) on Apple Podcast. With the world now awash with wearables, the 'connected life' and ever-accelerating technology, this is a great time to be a UX designer.
Guests invited to take part in the podcast are all talented and inspiring. The topics covered range from AI to empathy, as well as methods of building an effective UX portfolio. Each episode usually lasts around an hour, and a table of the content with time references is available so you don't miss any of the key points.
Subscribe: iTunes, Spotify, Android, Google Play, RSS
Five Best UX Design Channels on Youtube
The Internet has made learning easier and there is now more choice than ever on offer. Just like UX podcasts, the online UX design channel on Youtube is another great resource where designers can learn new skills and improve their output.
11. What Is UX Design? - A Full Overview (2019)
What is UX design? A good question for beginners but a simple one for experts. In this video, the UX design expert, Dee, who has over 10 years of UX design experience, will answer your questions, using practical examples of GOOD and BAD UX Design. Moreover, you will learn what a good UX designer should be doing to improve the user experience on an existing product.
12. UX Design - How To Get Started (For Beginners)
This episode focuses on how beginners can get started in UX design. In the video, the designers share a range of tangible tips that anyone can use to get started in UX Design. Also, they share a list of resources, links, and tools related to UX/UI design that will be very useful for beginners.
13. UX Design Process: Mental Modeling Framework, Deep Dive, How To & Tips
Nicole is a UX designer based in Los Angeles. She is passionate about technology start-ups, cars, education, and music. As an experienced UX designer, she shares her working experience of the whole UX design process at Iconmobile, helping you build your own mental modeling framework. In addition, there is a wealth of useful tips.
14. The UX Infinity Gems 6 Ways to Create Great UX
It's always important for a product to have great UX design. But how do you achieve that? Here, Jordan Lawrence will guide you through six killer ideas for creating great UX, starting from the very beginning with the data you need for the design, to details and tips on how to take it forward, many of which you can try at home.
15. 11 Essential UX Design Interview Questions – And How To Answer Them
Whether you are a freelancer or working in-house, there's no avoiding interviews. In this video, the career specialist Mike and UX designer Jeff present 11 essential UX design interview questions and the best answers to give. This could be vital reference material for anyone preparing for an interview. Questions start with the basic, "Tell us about yourself" to the more tricky "How would you improve the UX of our product?" You'll learn how to prepare for, and tackle the challenges of a skills-based interview.
Top UI Design Podcast Resources Recommended By Designers
Industry experts share their knowledge and insights about UI/UX trends, products, marketing, and more.
Hosted by Sagi Shrieber and David Tintner, the Hacking UI Podcast discusses topics, using interviews with well-known companies like Facebook, Intercom, Invision, and more.
UI Narrative is a design podcast that shares industry secrets on how well-known professionals got started in UI design and their experience creating user-centric designs. Each episode is about half an hour.
A UI podcast hosted by Resonant Arc which discusses what elements are involved in creating smooth and enjoyable UI for video games. There are time codes provided for each point to make your learning more efficient.
The Most-Welcomed UI/UX Design Podcast Recommended By Redditers
22. UX Like Us by Roman Bercot & Larry King
Conclusion:
We hope that this list of the 20 best UX and UI design podcasts will be invaluable reference for you in 2020. There is so much to learn here, and we are confident you will find in these podcasts much to inspire you.