Website mockups are the best way to showcase your design to colleagues and clients so that they see its full potential. Getting your presentation right will not just show off your website, it will also convince clients of your professionalism. When thinking about a mockup, your first choice has to be getting the right template so that your design looks unique and attractive.
A static mockup can do a good basic job. Perspective mockups are more popular as they give an impression of a website from different angles. Whatever you choose, the best way to show off your website in all its glory, quickly and easily on different devices, is to use a website mockup template!
This collection of the best website mockup templates should help you make the right choice. Moreover, as well as listing our favorite website mockup tools, you will find plenty of top tips for creating the perfect mockup!
Why do you need a website mockup?
We have posted before on wireframes, prototypes, and mockups and why we need them in the product development process. Here I will emphasize why we need a website mockup before we start coding.
1. Easy for design iteration
A mockup allows you to iterate your plans so that you can perfect the final UI/UX design. If your clients or colleagues have issues with the design, you can produce different iterations of the site's final appearance. For example, you could change the colors if they don't fit the style you're after, or move the logo and other elements around.
2. Good collaboration and communication
Another advantage of a website mockup is that it will facilitate collaboration and communication among your colleagues and clients. This can make a real difference when it comes to design handoff; it can accelerate your product development.
Generally, a complete website mockup should include the style guide with design specifications, patterns, and elements, all of which will make life easier for designers and developers.
A good website mockup will give designers and developers a clear and accurate impression of what the website is going to look like and how it will work. This is the foundation on which they can then build the site with enhanced collaboration and communication.
iDoc is an online mockup tool for building high-fidelity clickable website mockups. Its built-in collaboration features make it much easier for designers and developers to work together. Communication is important but can eat into your time and money. iDoc's instant notification system will make the process much more efficient and cost-effective.
3. Improving UX design
A Mockup is a great way to improve your UX design. In particular, it can be used to get early user feedback on the site, giving you the chance to re-work and perfect your ideas before you start the expensive process of coding.
A website mockup can also simulate user flows, usability, functions, visual effects, design styles, and the layout—all crucial building blocks to getting the UX design right.
4. Simulating for real effect
Compared with prototypes and wireframes, a mockup is a more high-fidelity product that gives a truer picture of the website. Colors, layouts, and typography, all look more like the real thing, which makes it much easier for designers to get a feel for what the site is all about.
5. Saving cost
As we mentioned above, preparing a mockup is a process that allows designers, collaborators, and clients to get good feedback and new ideas for further iterations of the plans. Making changes to a mockup is much easier and quicker than changing the coding on a full project. Making full use of a mockup will save you a lot of money.
Start your web design in the 30 Best Free Website Mockups
For your creative inspiration, here Mockplus has put together 30 best and free website mockups with PSD, Sketch, XD, PNG and SVG file forms in good and high quality, which may provide some ideas for your next website design.
6 best website mockups in PNG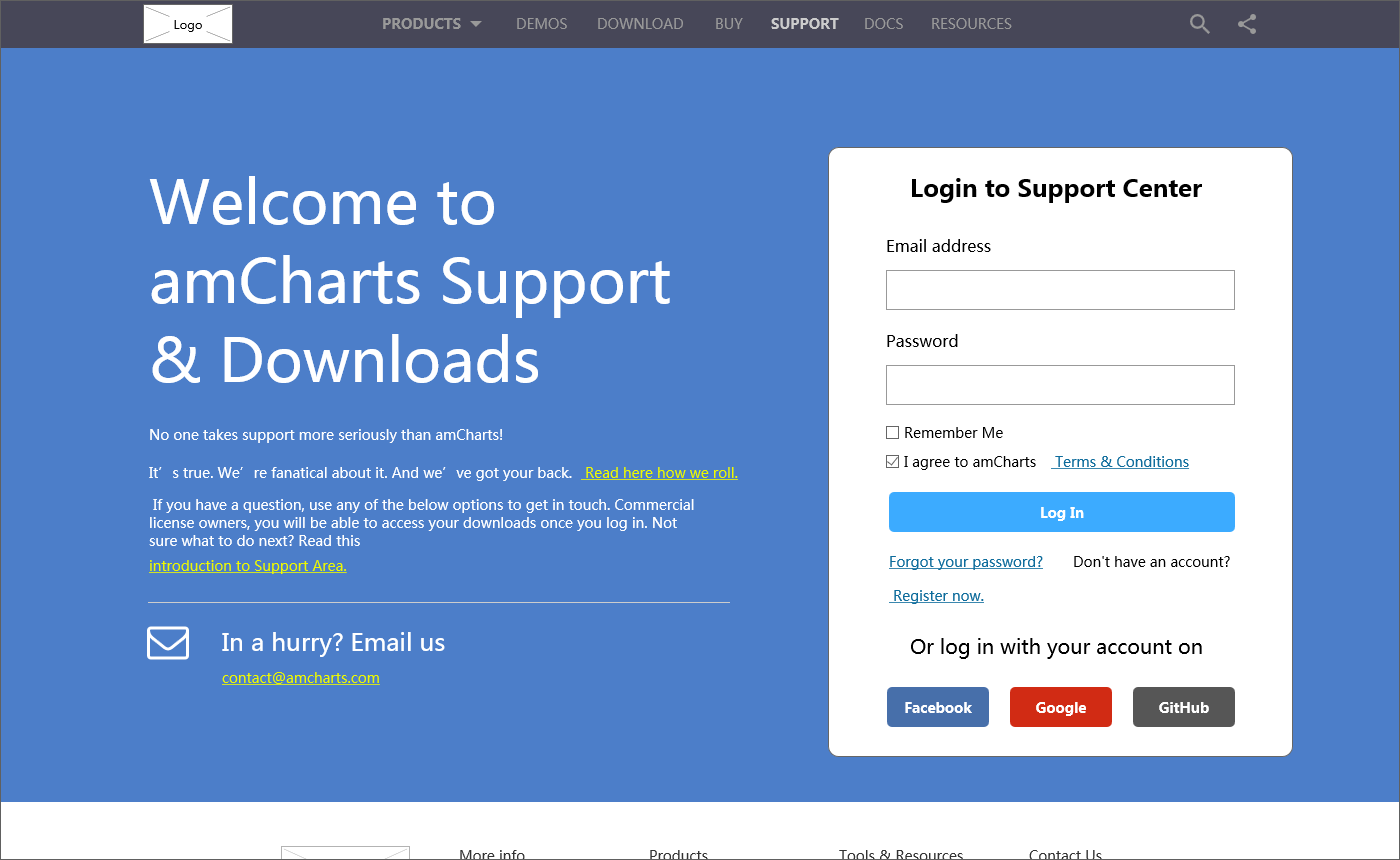 Amcharts is a company that develops and provides JavaScript Charts and map libraries. It is also a good JavaScript/HTML chart development tool with good compatibility so it will be likely to be able to meet most development needs.
Its template has excellent floating navigation bars and footers. In terms of interactive effects, it uses Scroll Box and the Popup Panel components of Mockplus, a mockup tool, to show or hide pages and menu options.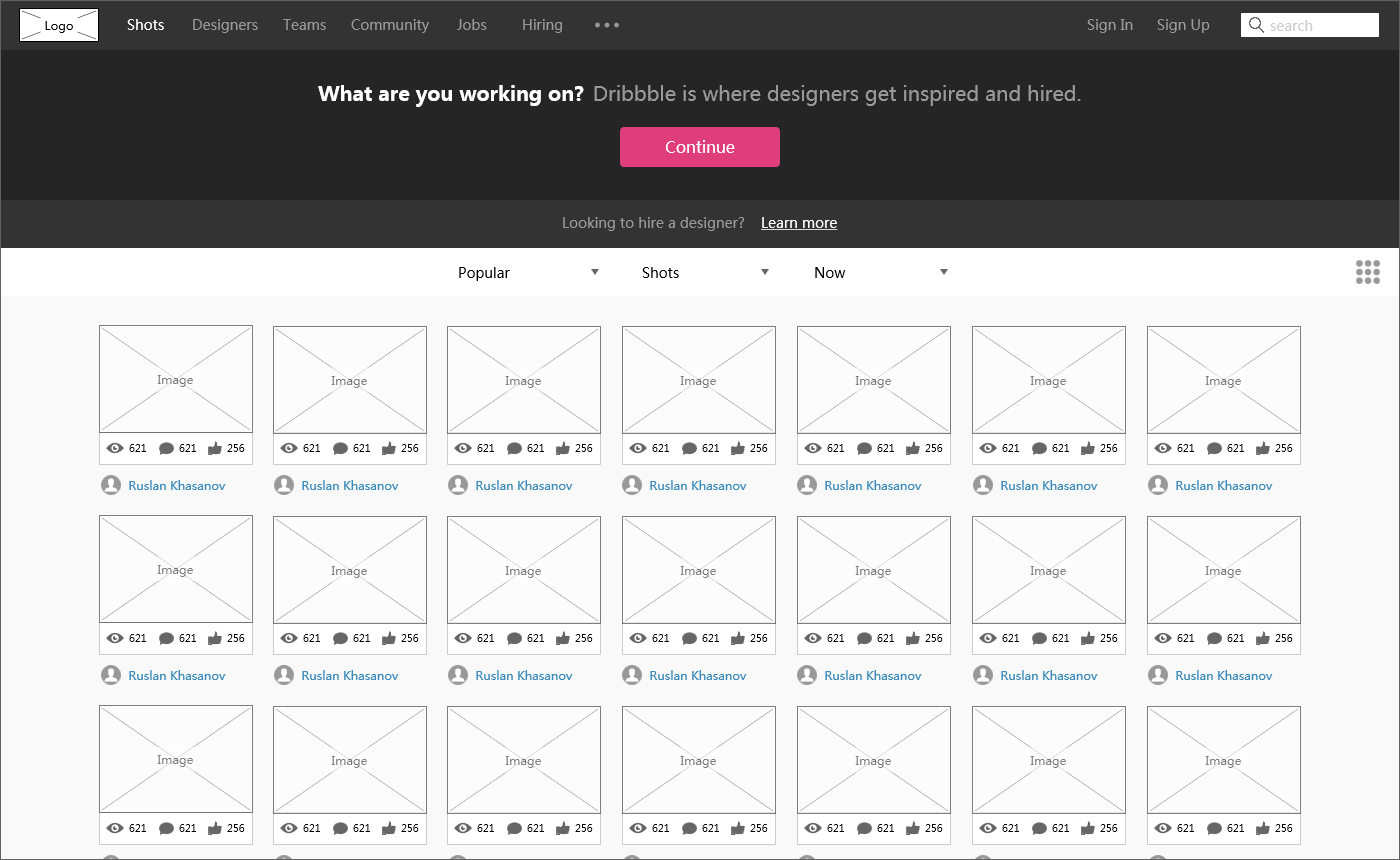 Dribbble is an online design platform that offers services for creators, artists, designers and anyone else involved in creative design work. As one of the best online design platforms, it not only showcases many useful sources and links to creative design work, it also boasts excellent graphics and clear layouts.
You can learn how to deal with multi-graphics and multi-links with this website mockup template, as well as graphics and text integration, and how to use graphic links in web page layouts. You can reference the homepage, designer page, job search page, and many more.
3. BBC - Website Mockup for News site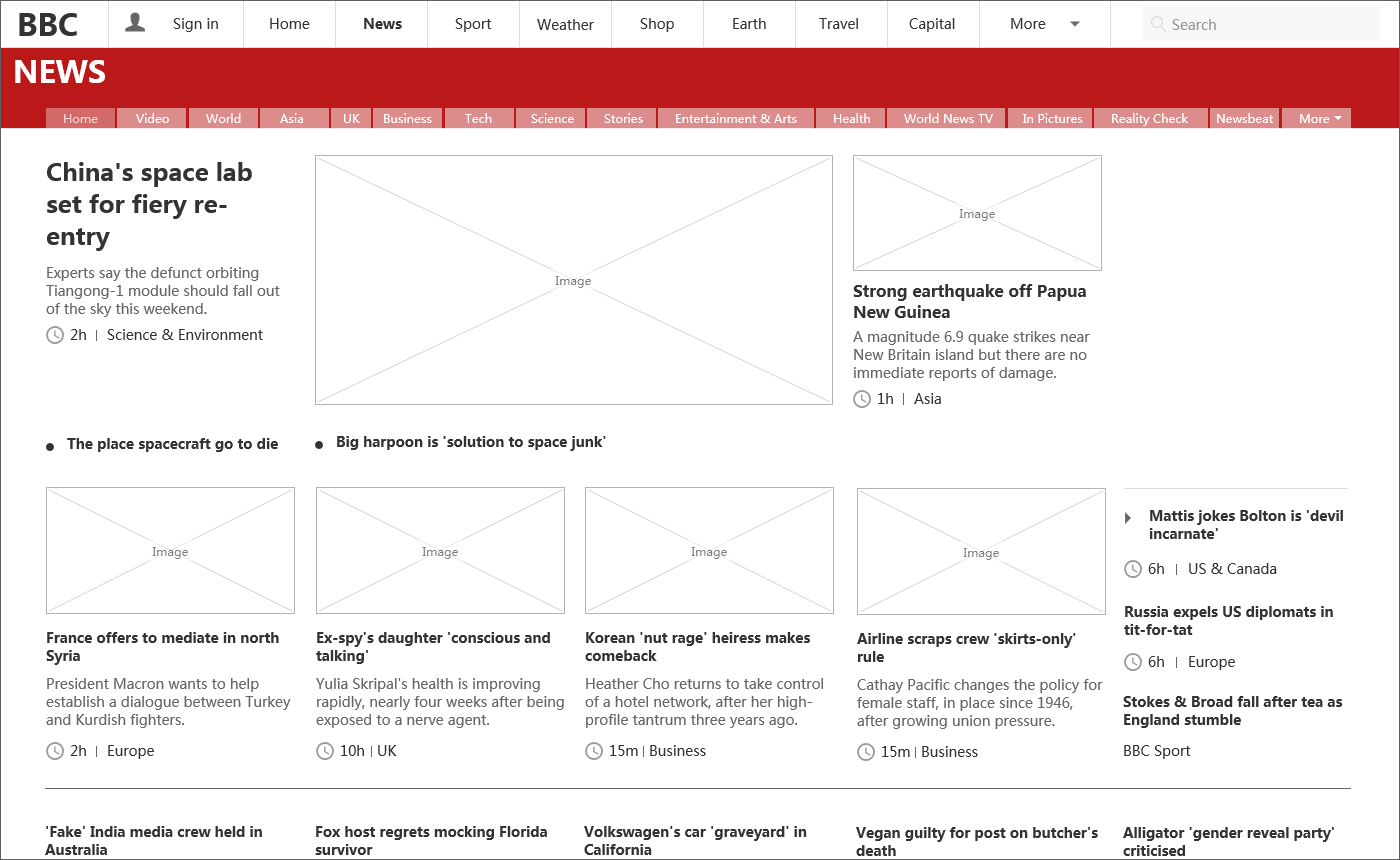 The BBC is the largest news broadcaster in the UK. As a news website, it focuses on the news rather than on fancy content.
From this site, you will learn about the layout of information typesetting. The pages that can be referred to include the homepage, news page, weather page, video page and so on.
4. Shopify - Website Mockup for the e-Commerce site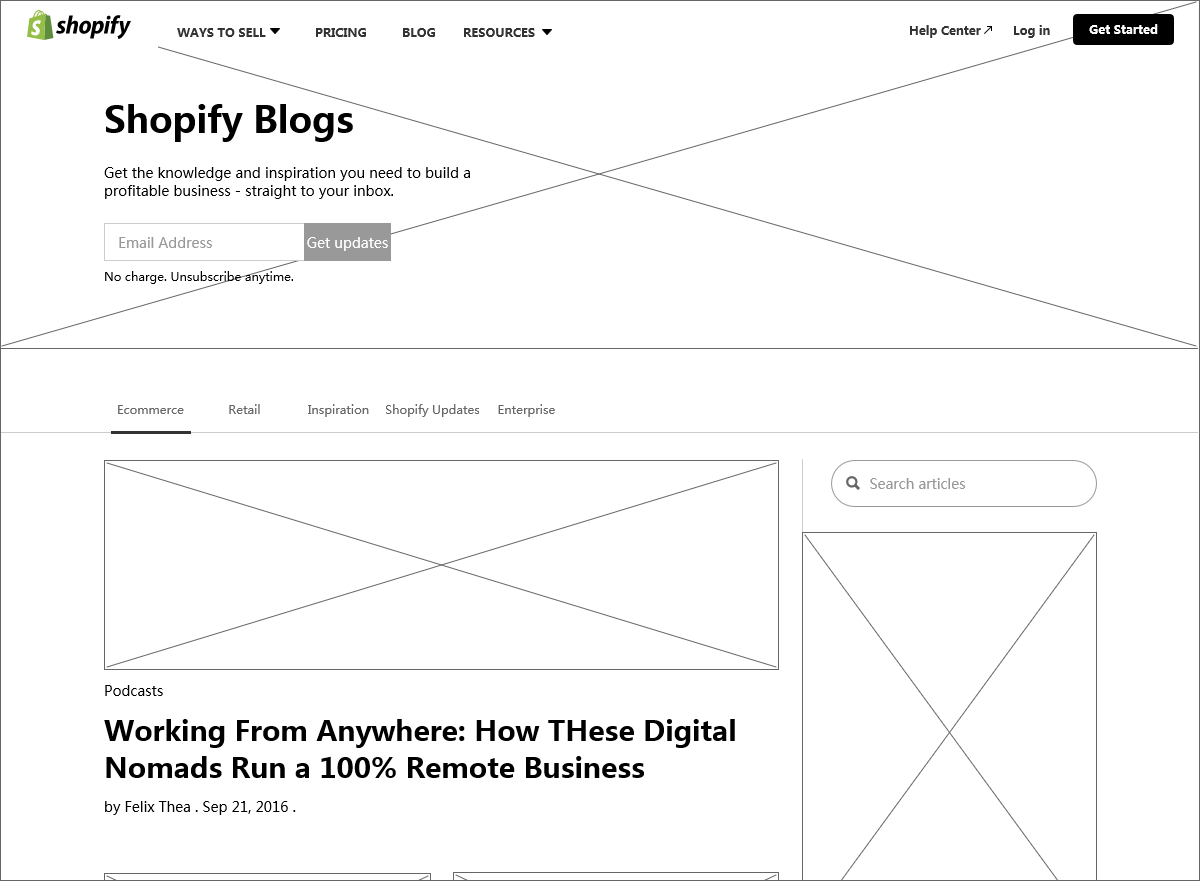 As a typical online e-commerce platform, Shopify not only provides professional e-commerce website construction services but also conducts e-commerce based on social networks. In other words, sellers can use Shopify to market their products on Facebook, Pinterest, Twitter and other mainstream social networking platforms.
This template mainly shows the design of the landing page, homepage, sales method page, price page, blog page and so on. This template is not to be missed if you are thinking of venturing into e-commerce and want a creative and beautiful way to show off your products.  
5. edX - Website Mockup for education site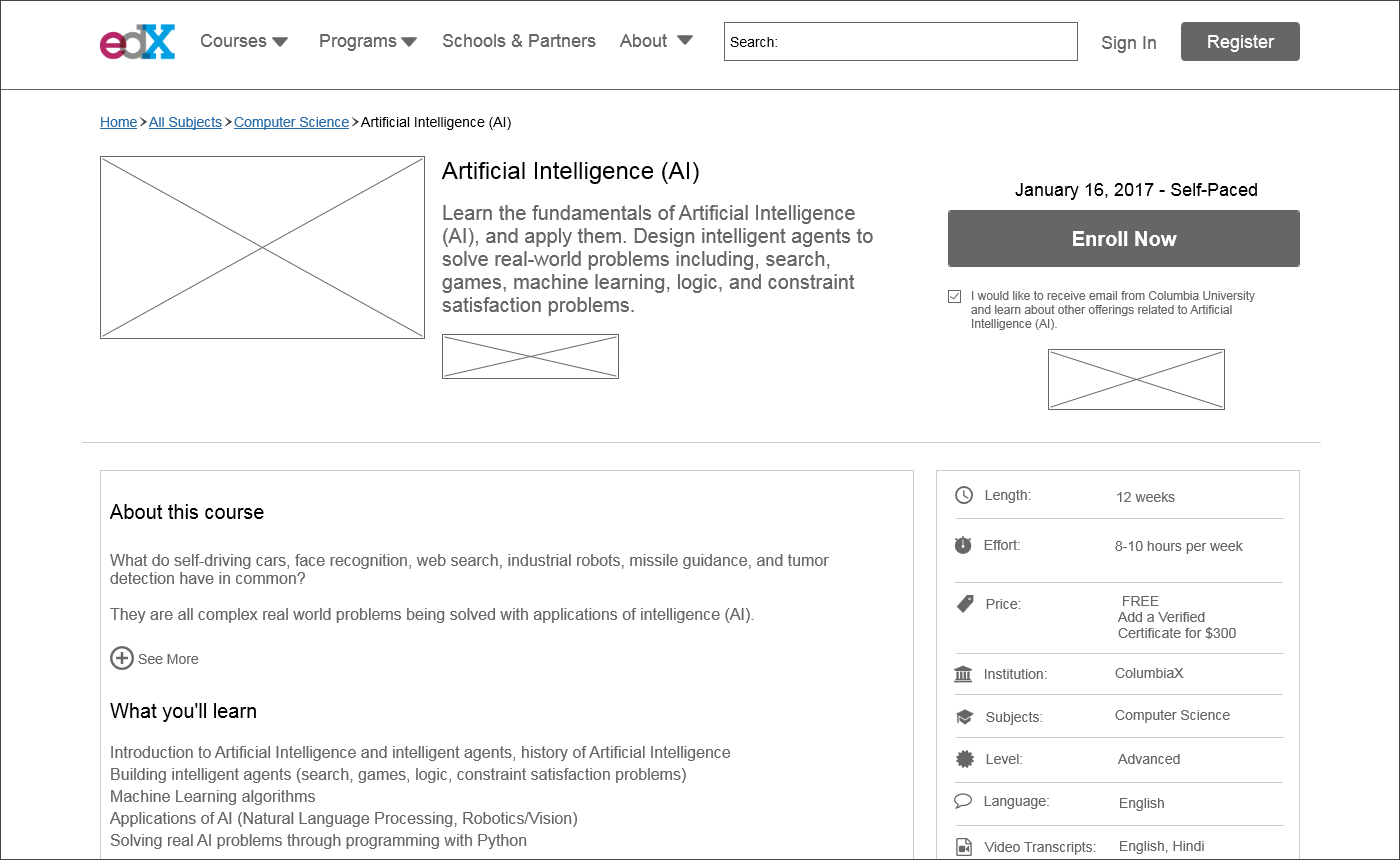 edX is a website that offers online college courses in various disciplines to students all over the world; some of the courses are free. You can see that the components of this template are mainly pictures, texts, and icons. The logic is clear; it is concise and intuitive.
The main pages of this mockup template are the homepage, the course list page, course details page, program page, and the 'About' page. This template would be a good fit for educational institutions or others offering online courses—the design of the course introduction page could be particularly instructive.
6. Pexels - Website Mockup for picture site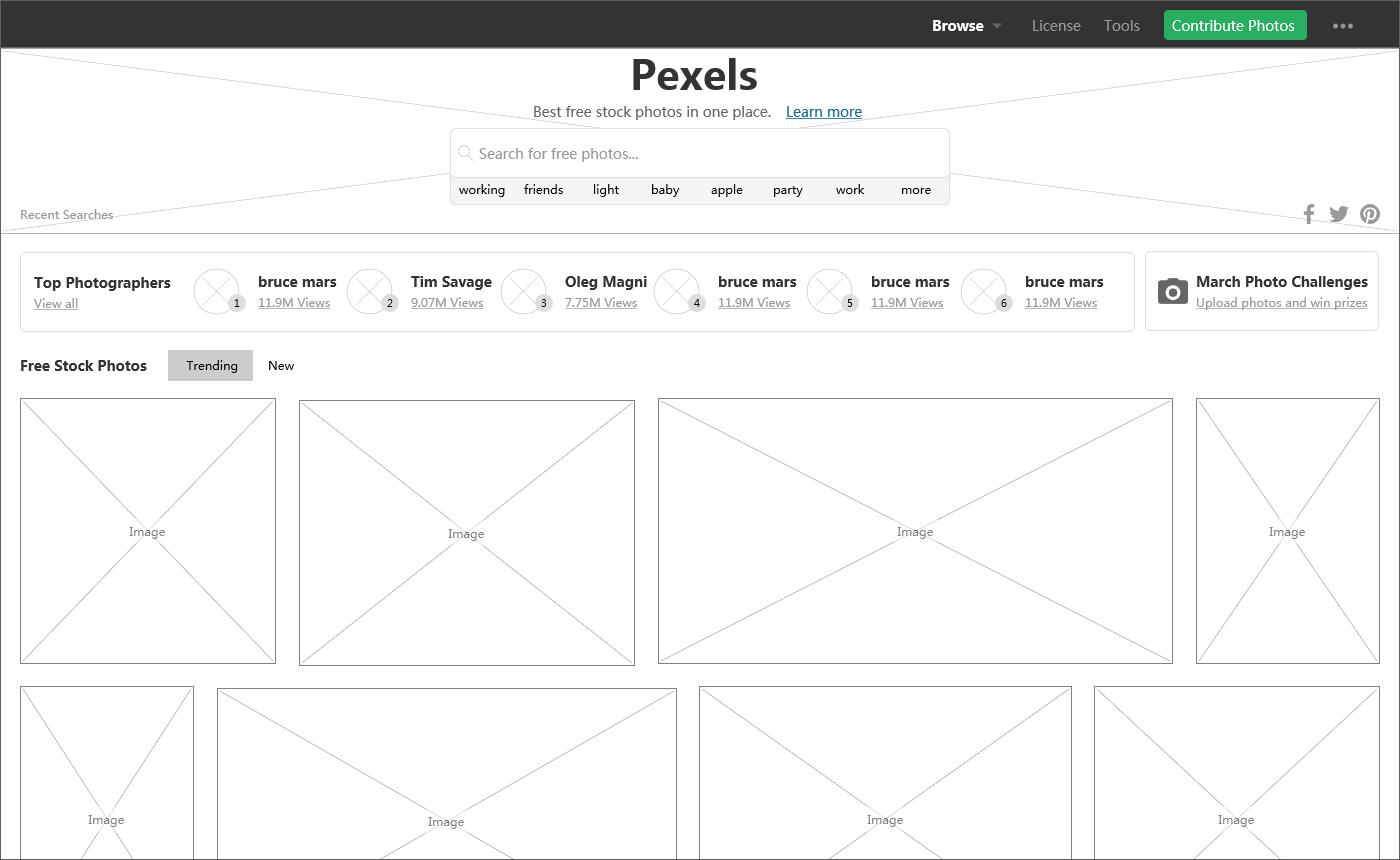 Pexels is a high-resolution photo download site that provides free stock photos for users all over the world. It uploads new photos every week.
In this template, the home page uses a floating design. The menu bar and the bottom bar are suspended in a fixed position, while the content area is scrollable. Pictures in the homepage are arranged in the style of a waterfall stream, with multiple pictures scrolling down. The template includes: a browse page, download page, registration page, and the landing page.
6 Perspective Website Mockups in PSD
7. Perspective Website Mockup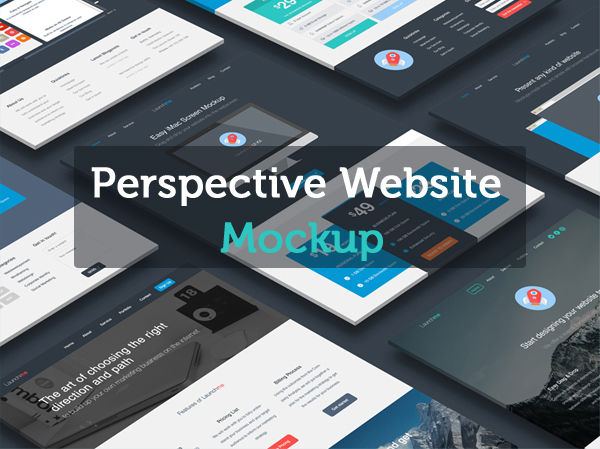 This perspective website mockup is a simple model that can display your work with great perspective. This PSD mockup allows you to switch designs to isometric angles. If you need more than one page, you can change the number of views easily in the template.
8. Perspective Website PSD Mockup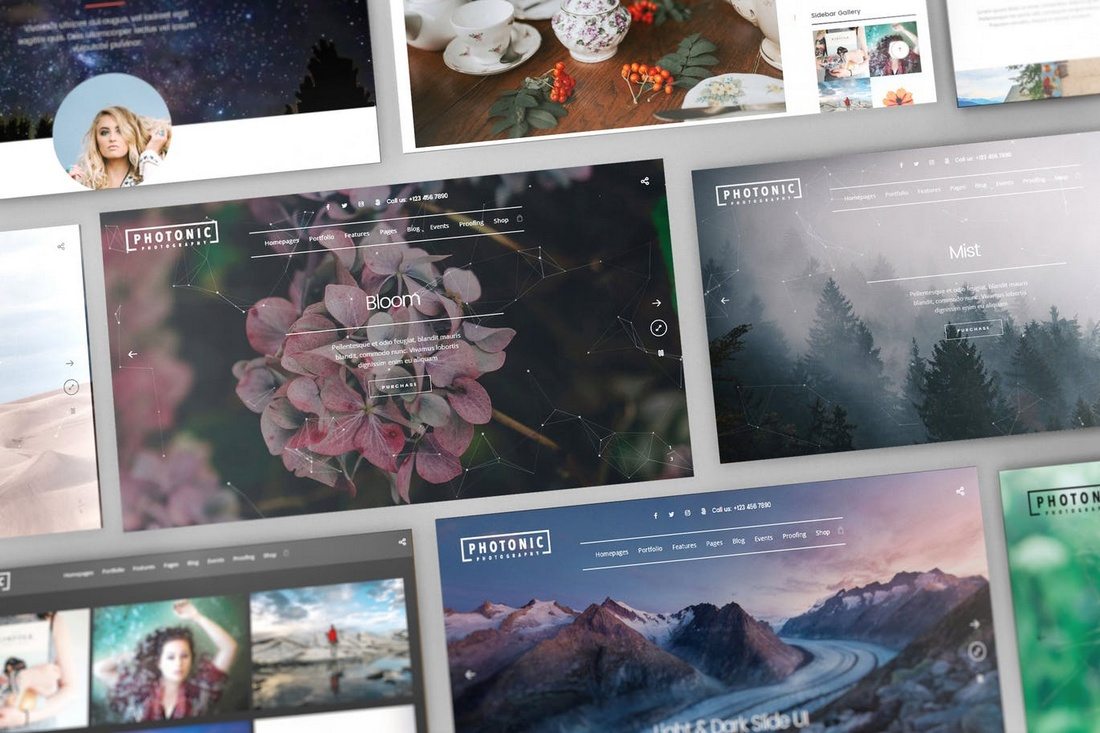 This template offers a genuinely unique perspective. With diverse layered designs and eye-catching visual experiences, the template gives a real high-class feel to a design. Perspective is added by the site automatically changing the background with smart objects.
9. The Screens Perspective PSD Mockups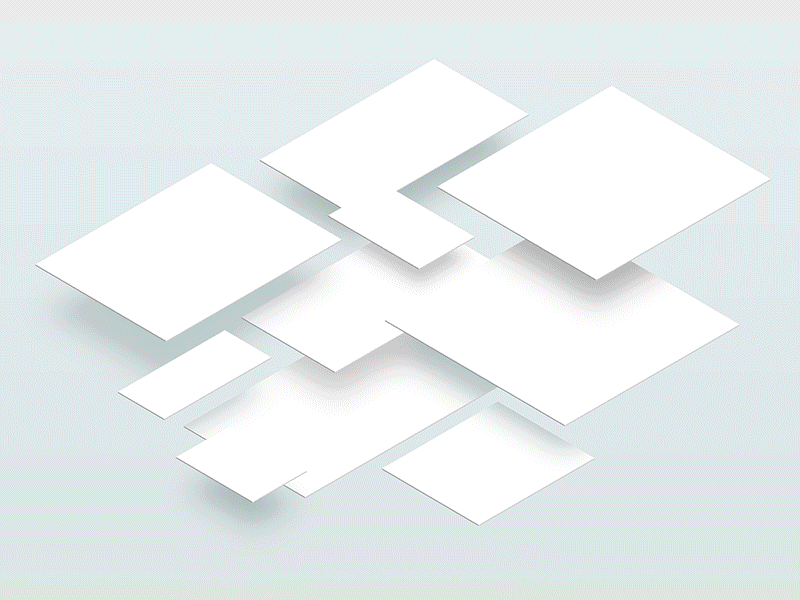 The Screens is a free website mockup PSD used by designers on Behance and Dribbble to showcase their projects. High-resolution visual effects make it extremely contemporary. This is a smart perspective PSD mockup, making it easy to add your own design and create shadowing, resize, edit the screen, and customize the backgrounds.
10. Misocial – Free Website PSD Mockup Template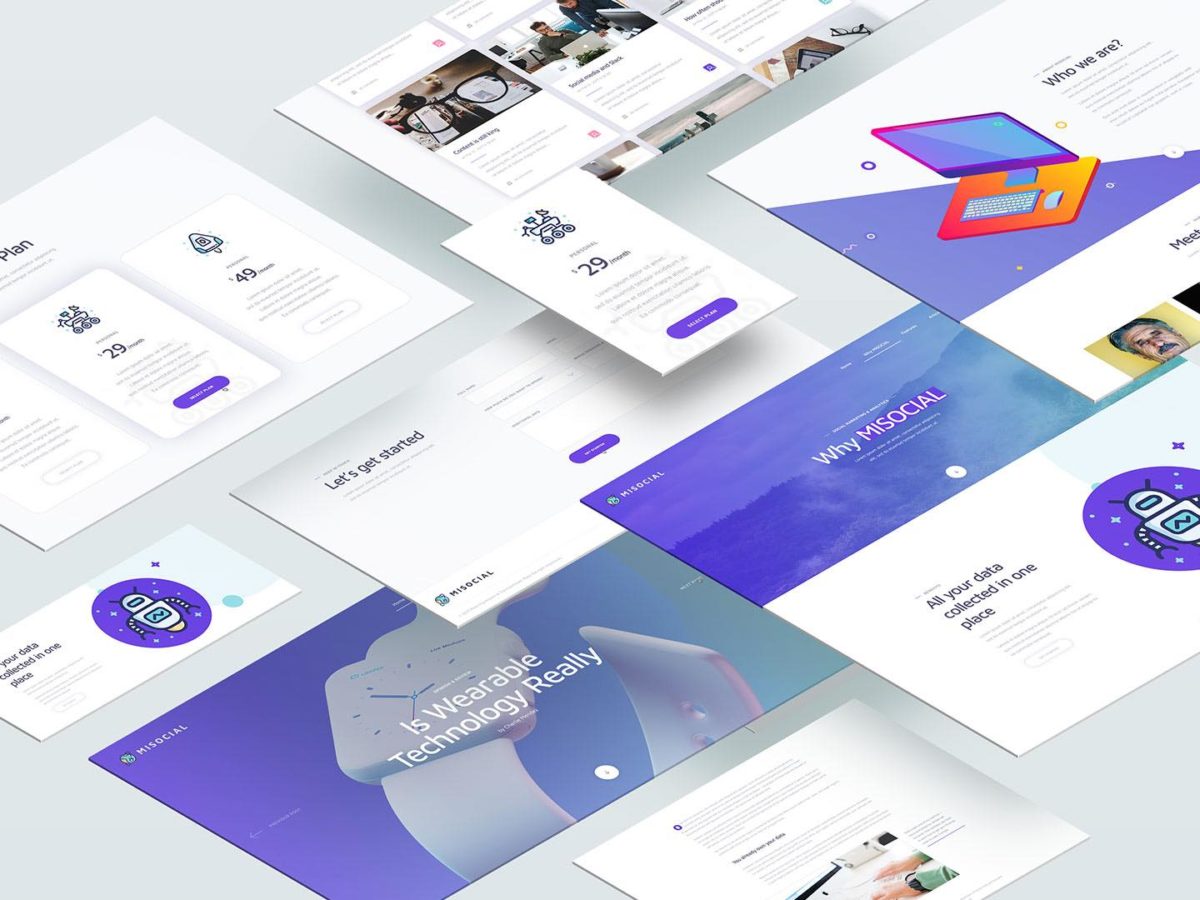 MiSocial is a free website PSD mockup template for music sites. It has been well received and much shared by Behance users. It has helped a lot of people create new websites quickly and easily.
In their own words…. "We have crafted seven pages that contain the essential elements for the development of a new website. These images are free and included in smart objects. The font we use is free Google fonts."
11. Free Isometric Website Mockup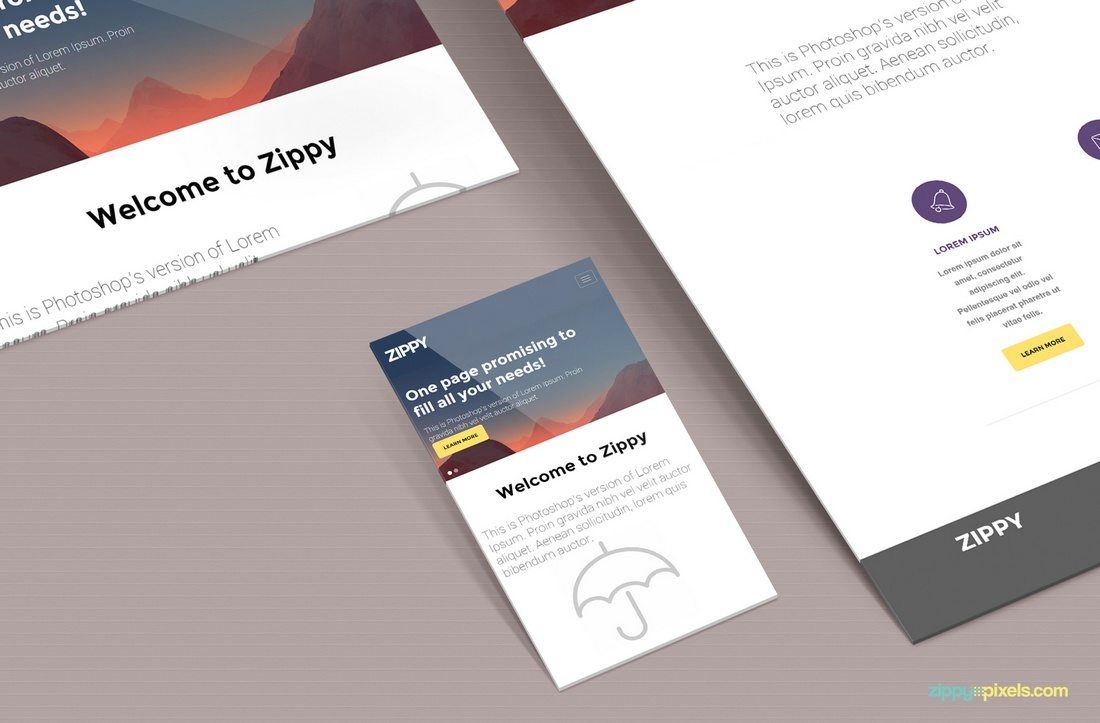 This website template aims to present your web screenshots in an elegant, unique, and attractive way. It consists of isometric Smart objects so that you can incorporate your unique design into two models. The files are layered by smart objects, giving you a perspective view. You can also use the template and customize the elements of the page yourself.
12. Perspective Presentation Web Mockup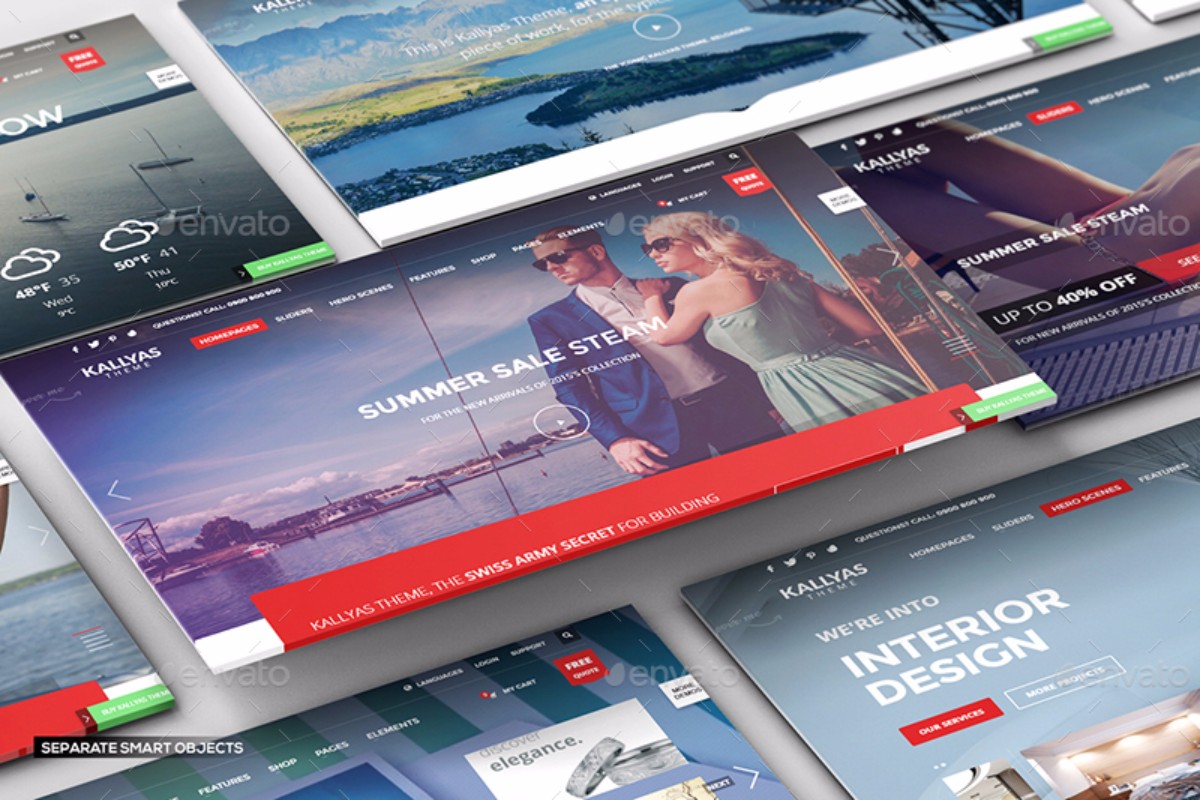 This template provides a close-up of a perspective on your website design with a high resolution of 3000×2000px. In addition, it can layer elements with smart objects and change backgrounds, enabling you to customize for different themes. It also includes a pre-designed template to help you get started quickly.
Best Free Website Mockups in Sketch
13. MI Fashion - Free Sketch App Template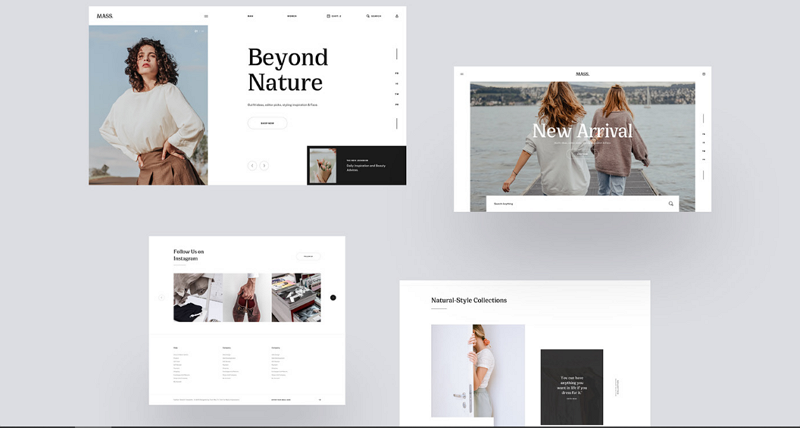 MI Fashion is a highly sophisticated fashion website mockup designed in Sketch app. It has a clean and clear design style. It simulates a real website and displays all the pages and functions.
14. MI Business - Free Sketch App Template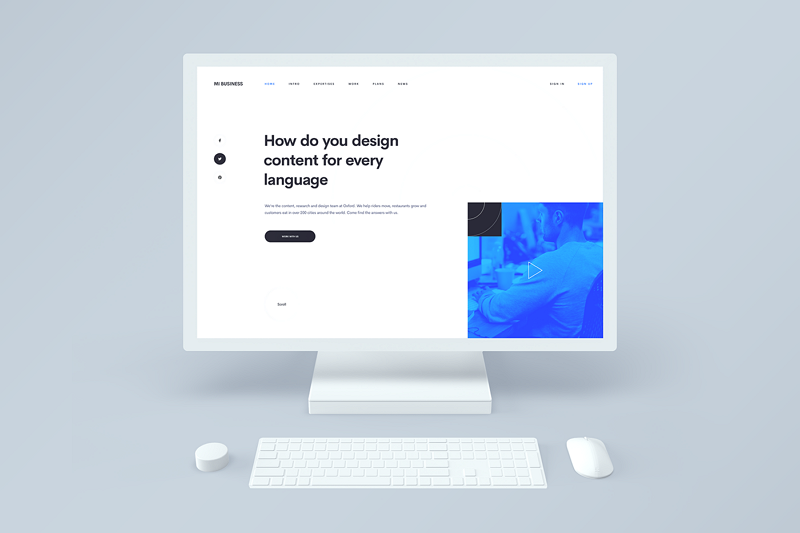 MI Business is another work created by Tran Mau Tri Tam and Mass Impressions. It is a multi-purpose, free Sketch app template suitable for a range of areas such as business, technology, creative, branding, agency websites, and more.
Unlike MI Fashion, MI Business does not just present the website mockup with a variety of scenarios on PC and mobile devices, it also simulates the website on real website pages, divided into 13 sections. The artboard is fully editable, layered, and carefully organized.
15. Technician at home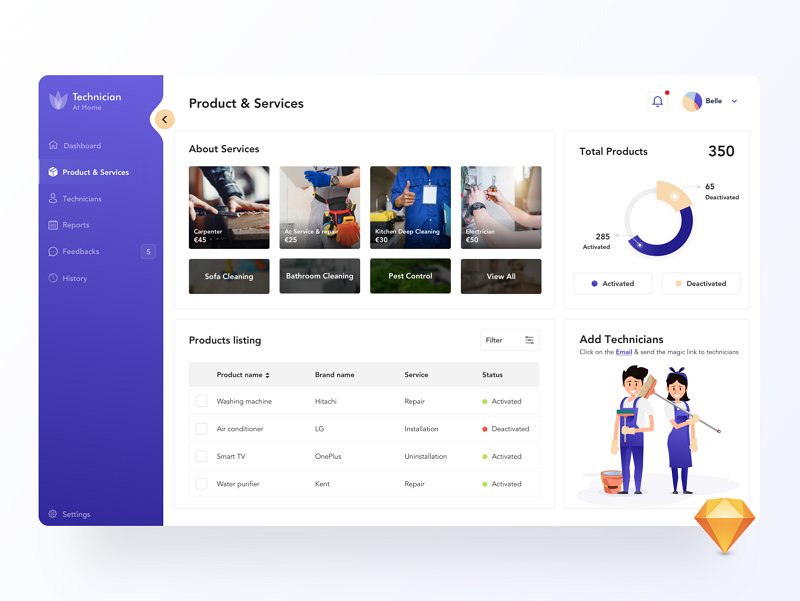 Technician at home is a clean and modern dashboard design for technicians and professionals. This template gives you a clear view of how the plans for your products and service are going, what tasks you completed, and what is still to be done. What makes this sketch mockup special is that it is a website app but is so much more than just a website. What is more, this template will teach you how to create a dashboard on a website.
16. Shopper Ui Kit - Freebie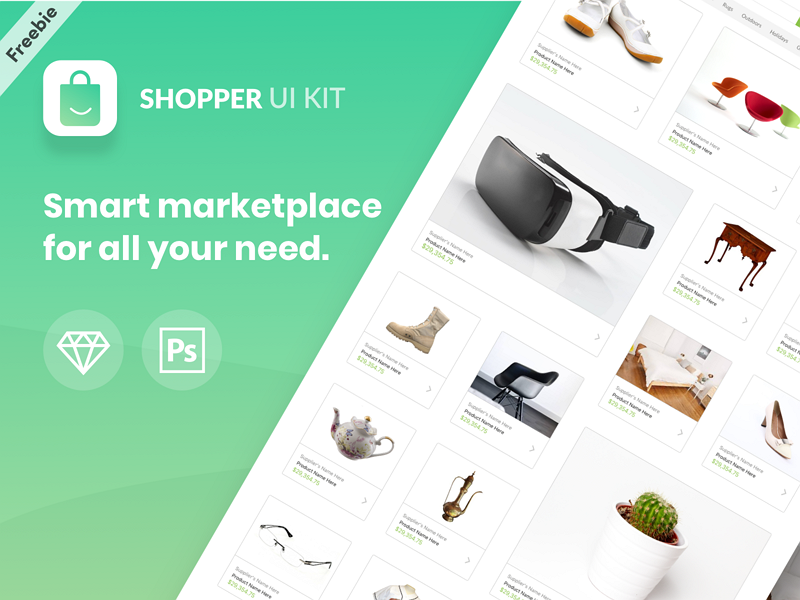 Shopper UI kit is a commercial website mockup that covers each and every detail that you might need to create your next e-commerce website. Everything a business website needs can be found here. With this template, you can create a design which will be every bit as clean as it is effective.
17. Beats (Sketch freebie)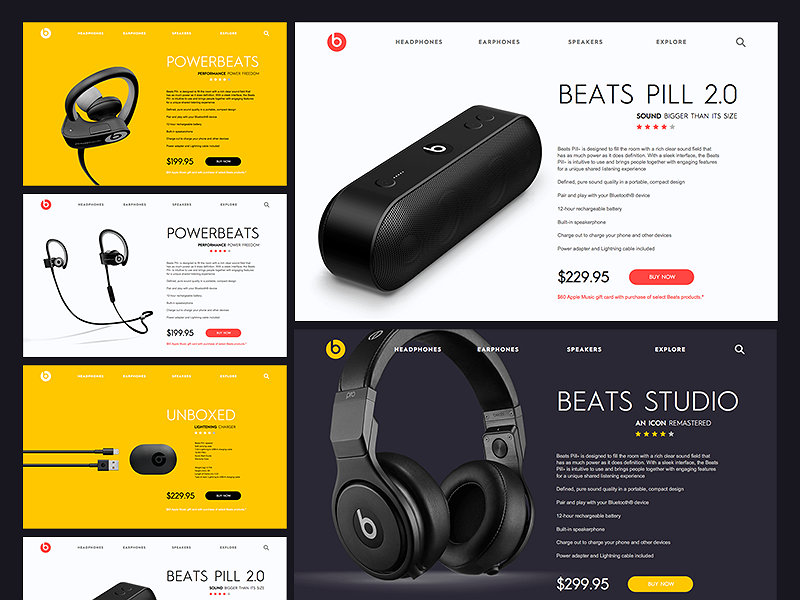 Here's a great free Sketch mockup of the Beats website. It really is a great piece of work that is every bit as good as the final design. All the picture resources belong to Beats. This mockup has just been redesigned by Ranjith Alingal who has created different layout and typography.
18. Distributel app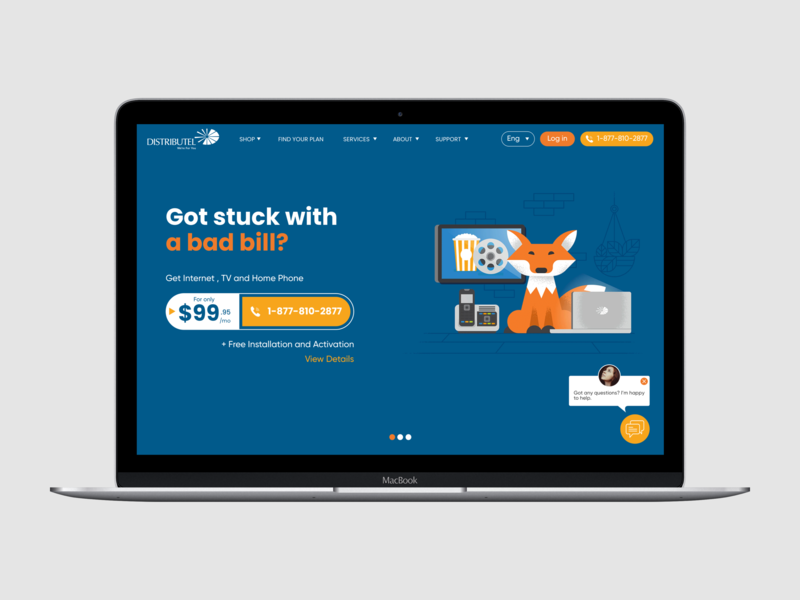 As one of the pioneers of the independent service provider industry in Canada, Distributel has evolved from its early roots as a long distance provider to become a growing, national, full-service telecommunications provider.
With a Macbook mockup, you can see clearly how the website will look on a computer. Sketch files are available for downloading and customizing.
Best Free Website Mockups in XD
19. Woodland - A Company that Designs and Builds Houses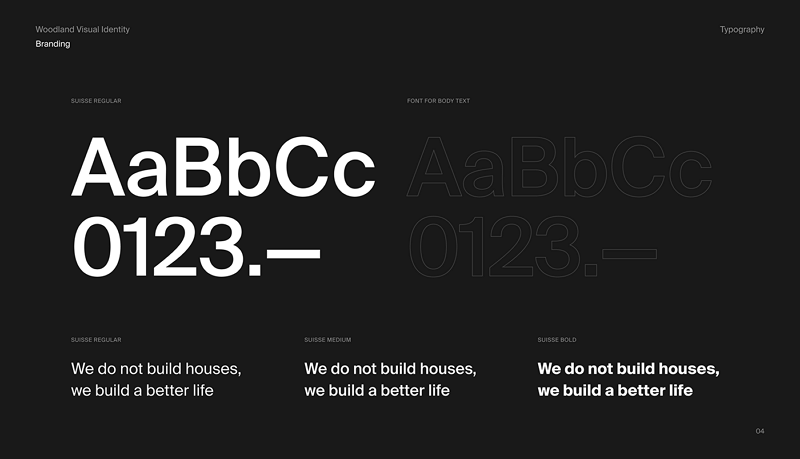 Woodland is a modern, technology-based company that designs and builds green turnkey country houses. It presents dynamic videos on its website mockup in a creative way that makes the design look more real. What's more, the designer has created the website mockup not just for PCs but also for mobile devices.
20. Sense
This is a top quality website mockup with a dark feeling. The color matching with the dark style looks clean and expensive! If you want to create a textured website with a dark background, just download this template and learn how to arrange the fonts, colors, and typography.
This template is available for XD, AI, and PS form.
21. QIWI Landing Page Concept in Adobe XD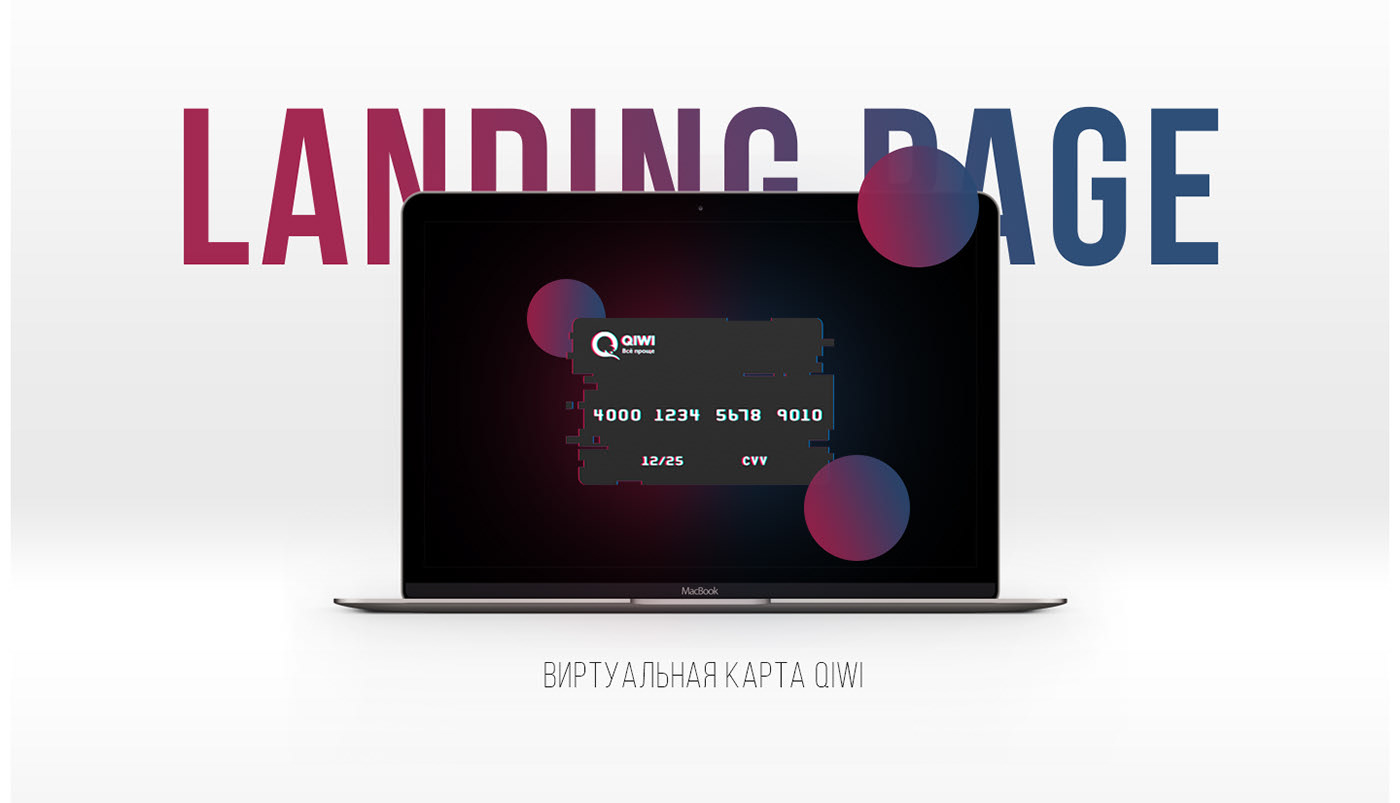 QIWI is a website mockup designed in Russian. The whole mockup design focuses on the landing page that showcases the starting process of how to register and log in to a website.
22. Medicare Apps Landing Page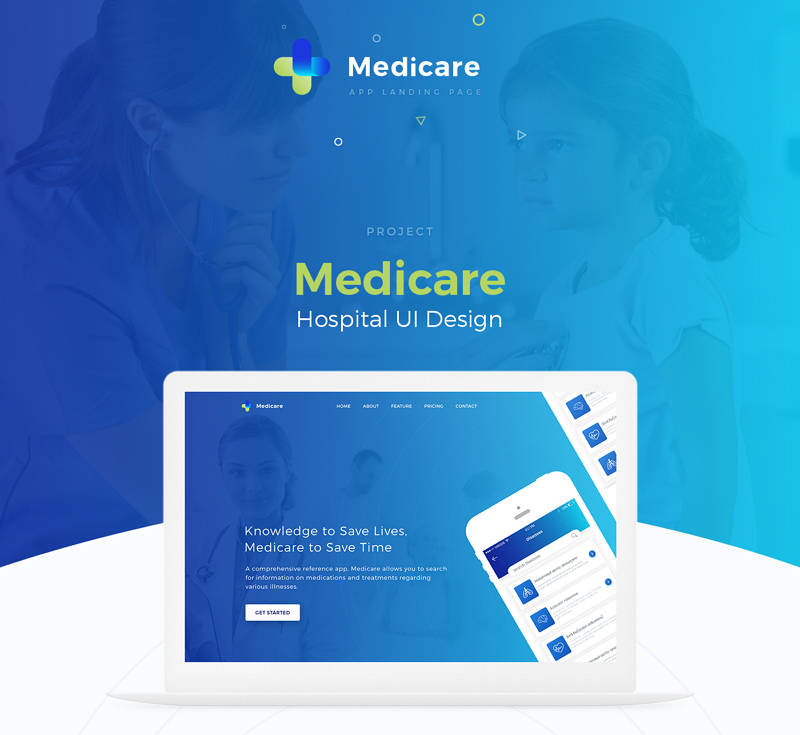 Medicare is a hospital landing page with an eye-catching modern and clean style. This template displays the whole website design in a logical and clear fashion. Even the comfortable blue color is ideal for making users feel relaxed and at ease.
As well as the website design, the designer has also the color palettes and typography available to learn from and for useful reference.
23. Design Systems Semantic UI Kit for Adobe XD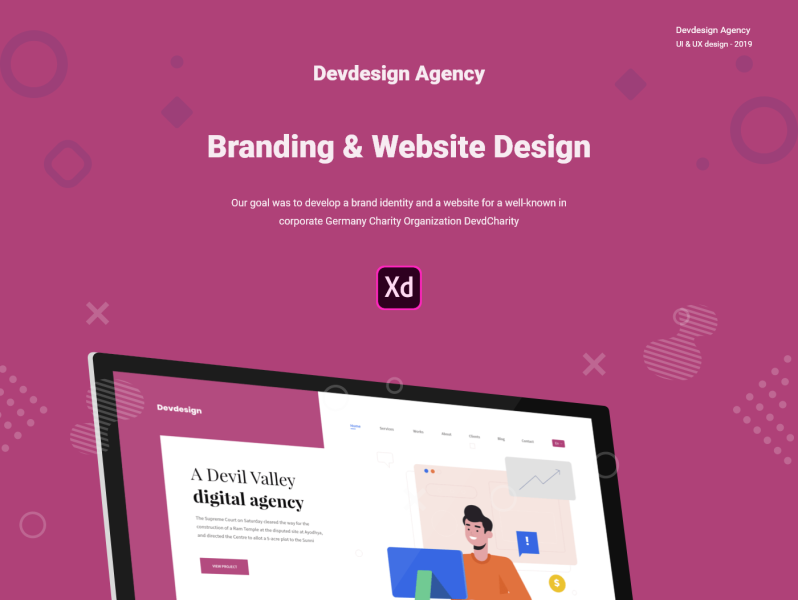 This Dev/Design agency website template is a clean, modern, and professional mockup created in Adobe XD using Bootstrap 4.0. It has 12 columns and layers which are completely editable layers. The template includes one fully layered editable XD File that is easy to customize.
24. Bold Landing Page Template for XD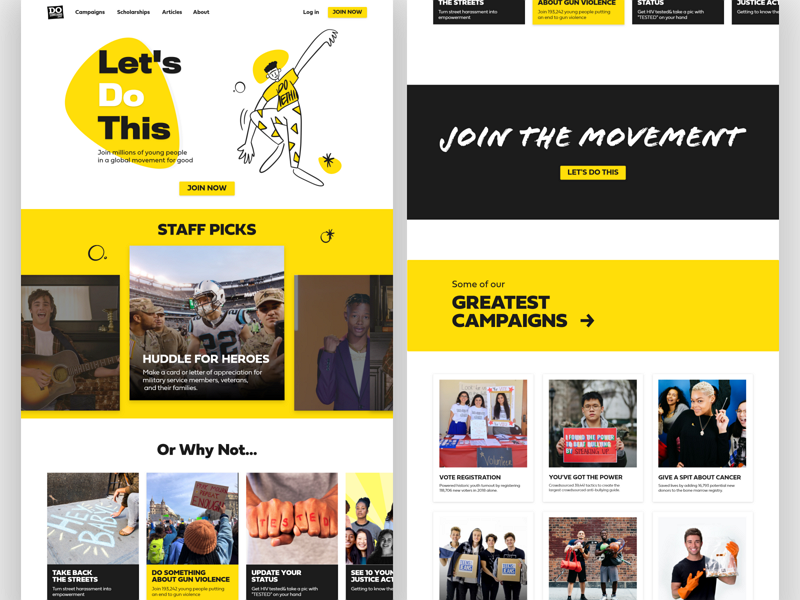 A website with regular content and picture layout tends to look like a serious news website. So in creating this mockup website, the designer has tried to add bold and bright designs, colorful elements, and creative layouts to really bring the site to life.
Best Free Website Mockups in SVG
25. Guitar Mockup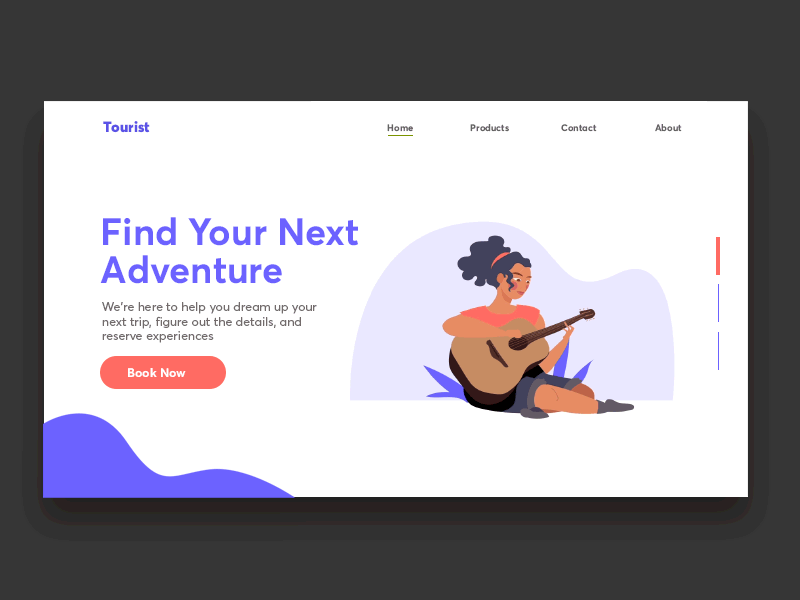 Guitar Mockup is a creative template created by combining animation and illustration. Built with HTML, it has 16 layers which are completely customizable. It provides accurate color values for faster, easier use.
26. InfraLytiks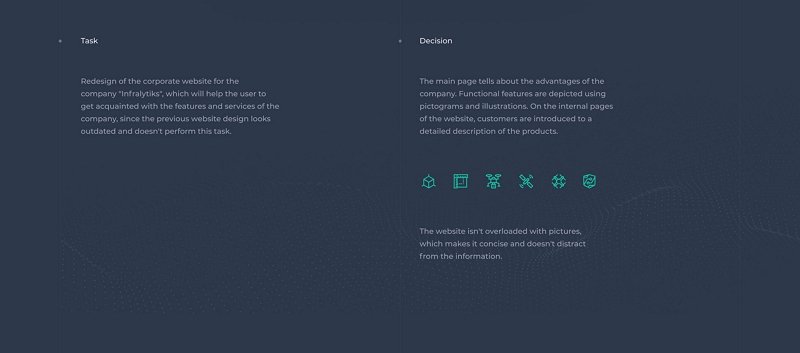 A responsive website mockup created by Illustrator. The dark background with bright animated components is a great combination for a distinctive website. On the homepage and product page, the designer has compared the differences between PC and mobile websites. There is some good design thinking here that produces a popular and responsive design.
27. Travel landing page with photo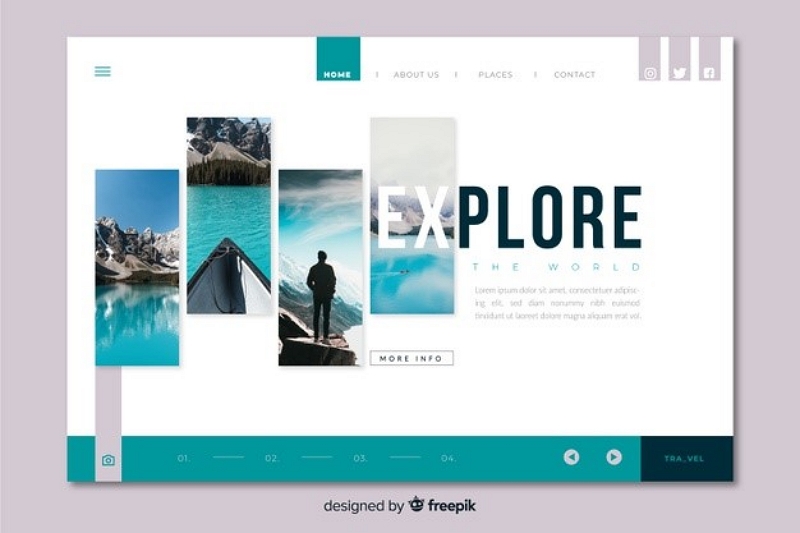 This is a mockup template for a travel website which grabs your attention with attractive travel photos. All the pages are free to download in Illustrator to be edited and redesigned.
28. Teamwork business landing page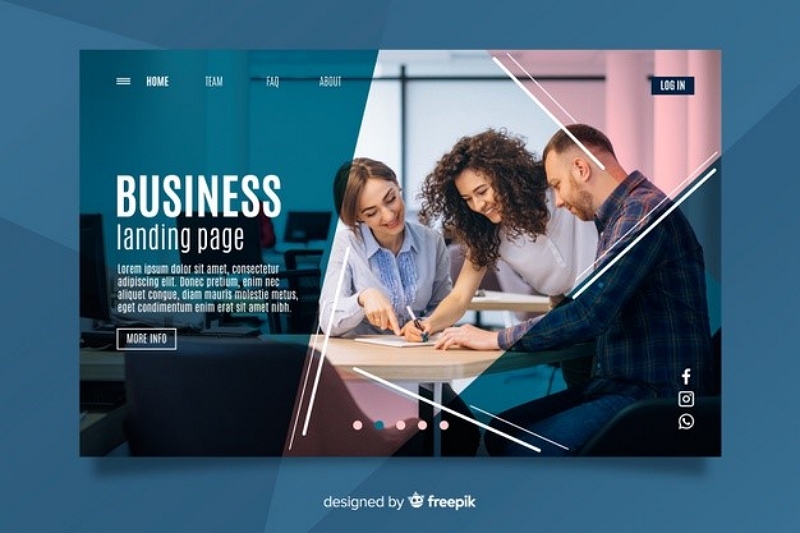 A professional business landing page for teamwork. A range of modern elements for website building are included. You can download and learn how to arrange these components in a contemporary urban style.
29. Sport landing page with photo Free Vector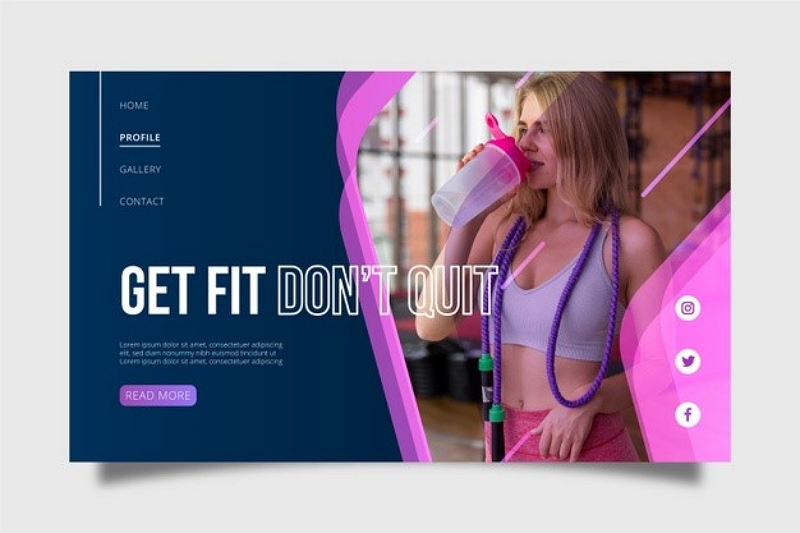 Have you ever tried to do a mockup for a sports website? Here you will find all the elements you'll need for such a site, including layout, colors, photos, fonts, and more.
30. Professional teamwork landing page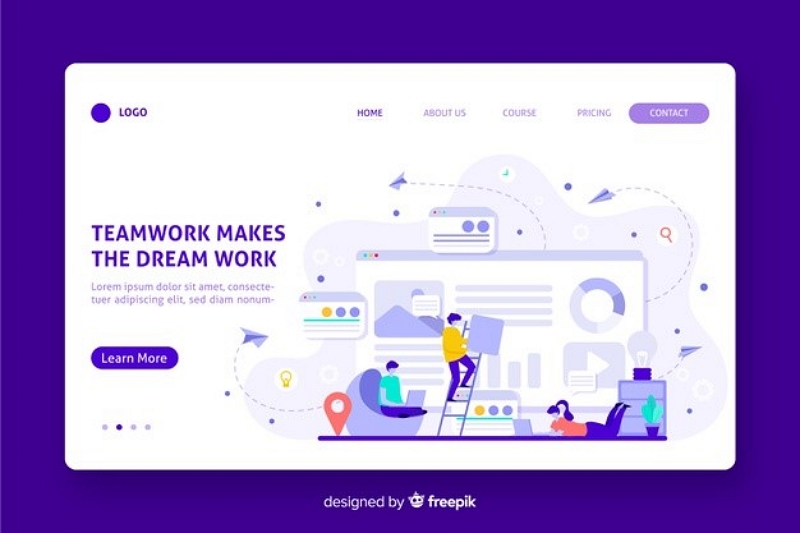 Here's another great mockup using illustrations. This one aims to facilitate teamwork. Illustrations are a popular design trend and are being used in a variety of design environments, such as websites and mobile apps. So, it is a good idea to learn how to apply these trendy elements to your own designs.
How do I make a website mockup?
Once you've learned how to apply website mockup templates to your designs why not try making a website mockup yourself? Here is some help and advice from our Mockplus team.
A great website mockup requires a lot of different elements. So, let's go through some of the key ones.
Graphic elements
These are the main visual elements that will dictate your overall website style: colors, typography, images, fonts, icons, and so on. Together, these should lay the foundation for your website. It can all be done in high fidelity to give users a really good impression of your website.
Interaction design
No website is going to work without good interaction design. We have discussed the importance of interaction design and its principles many times before. What role does the interaction design play in a mockups. In simple terms, it is what guides users around the site and gives them a good experience.
A good interaction design results in users being able navigate the site smoothly with no bumps or hiccups along the way.
Usability

Since a high-fidelity website mockup is a version of the design that is close to the final version, your clients need to see that is has excellent usability.
Be responsive
Nowadays, everything needs to be responsive on a website. So you can't ignore the responsive elements at the mockup stage. In the examples above, you will see that many are designed with full responsiveness built in so that they work well on both PC and mobile.
Start with mockup design tools
Professional mockup design tools should be considered for great mockup design. They provide easy and simple editors for quick design. Also, some of them given the text and video tutorials for quick starting without a long learning curve.
Here we will talk you through designing a good website mockup. But a key to this is getting the right mockup tools. First things first, a mockup can be designed in low or high fidelity and that can be done quickly or slowly. Here we describe for you the four best free website mockup design tools.
1. Mockplus - Simple and Fast Website Mockup Design Tool
As a website mockup tool, Mockplus turns in an outstanding performance in prototype and wireframe design. Compared to other online mockup tools, Mockplus not only excels in static mockups but also has unique and unparalleled advantages in interactive design.
Its newly released Repeater and Data Auto-fill features are the perfect fit for the multi-text layout examples described above, such as Dribbble. With this feature, designers can quickly fill in names, dates, text (sentences or paragraphs) and emails, text types, common avatars (realism/cartoons), office, food, and other high-definition images. It saves designers a lot of time when getting their materials sorted.
Moqups is a great, free HTML5 application that lets you create and collaborate in real-time on wireframes, mockups, diagrams, and prototypes.
It is very simple to use, it has built-in templates and can be used directly (the templates include radio buttons, links, image placeholders, text boxes, sliders, and much more). The disadvantage is that it can only create static web page presentations. It cannot perform dynamic operations in actual presentations.
Mockingbird is another popular web-based wireframe application that boasts some powerful features for linking and sharing your web page model. It allows you to use the drag-and-drop editor to quickly create an interface.
Unlike other website mockup tools, Mockingbird has no fancy design on its homepage. But is does guide you smoothly through the design process. With this tool, you can focus all your concentration on the design and on getting it right.
Great Website Mockup Resources
1. Dribbble - A great design resource library—not to be missed.
2. Behance - Extensive mockup and design resource library (like Dribbble).
3. Iconfinder - Find the best icons for your mockup design.
4. Placeit - Insert the iPhone, easy to create website mockups.
5. FreePik - A source of great website templates.
6. Mockup World - Lots of handpicked and free mockup templates and PSD designs.
Summary:
We hope this list of the best website mockup templates and the mockup tools will be helpful to you when you are creating your own website—a website that will achieve your goals and win you more business opportunities.