Increasingly, with the development of technology, more and more people are getting involved in design. For beginners, it's important to know the difference between UI and UX design. Having a comprehensive theoretical understanding about design is the first and necessary step in becoming a UI/UX designer.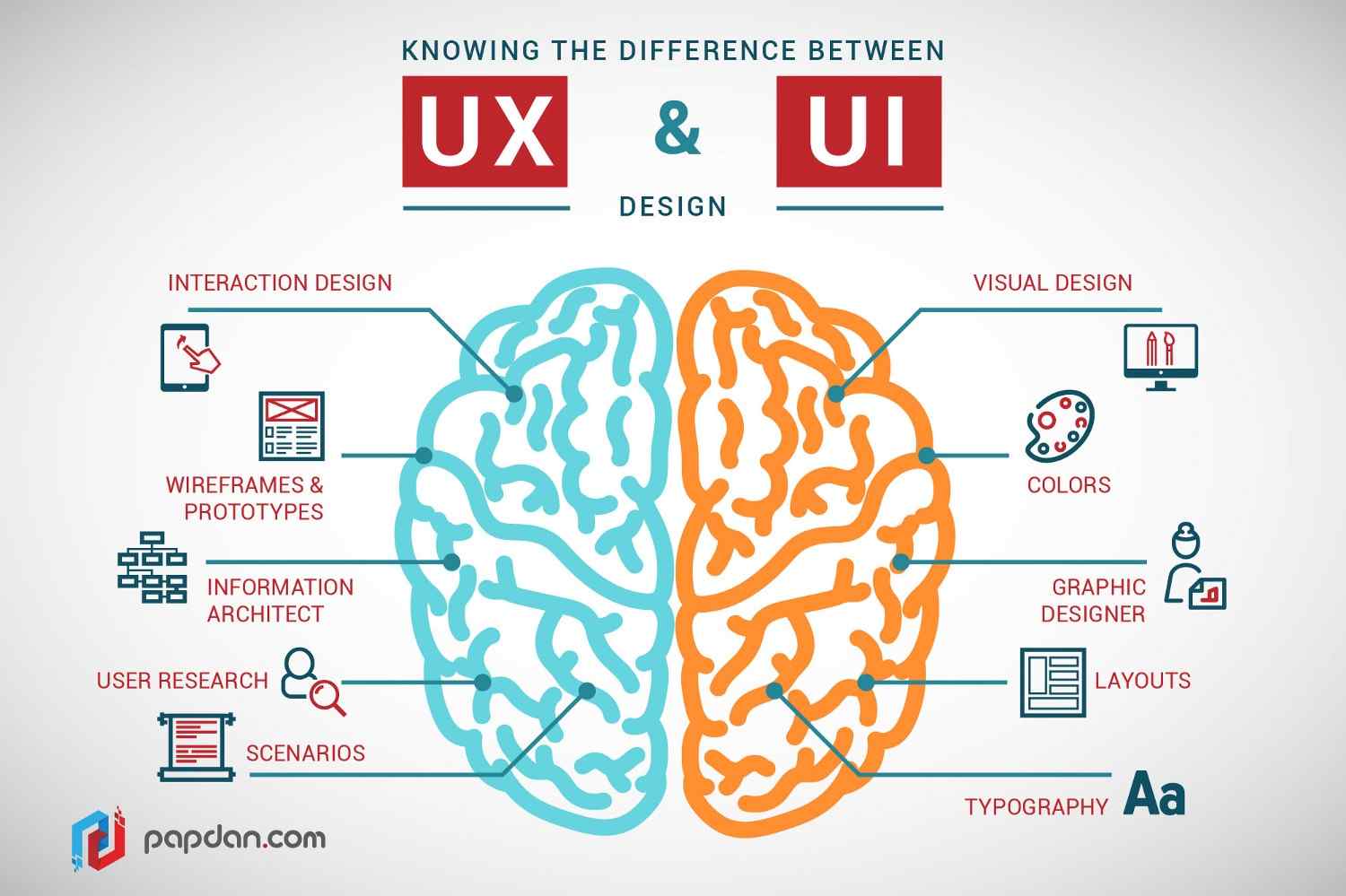 What is User Experience Design?
User experience design is the process of building relationships between a company, its products, and its customers.
User experience design is the process of researching, developing, and improving all aspects of user interaction with a company 's product to satisfy its users. The goal is to improve the user's experience with the product through test results, ultimately creating a product that is useful and valuable, as well as easy to obtain, pleasing to use.
UX design contributes to a product that provides an effective user experience. It includes different disciplines, such as visual design, interaction design, usability, and more.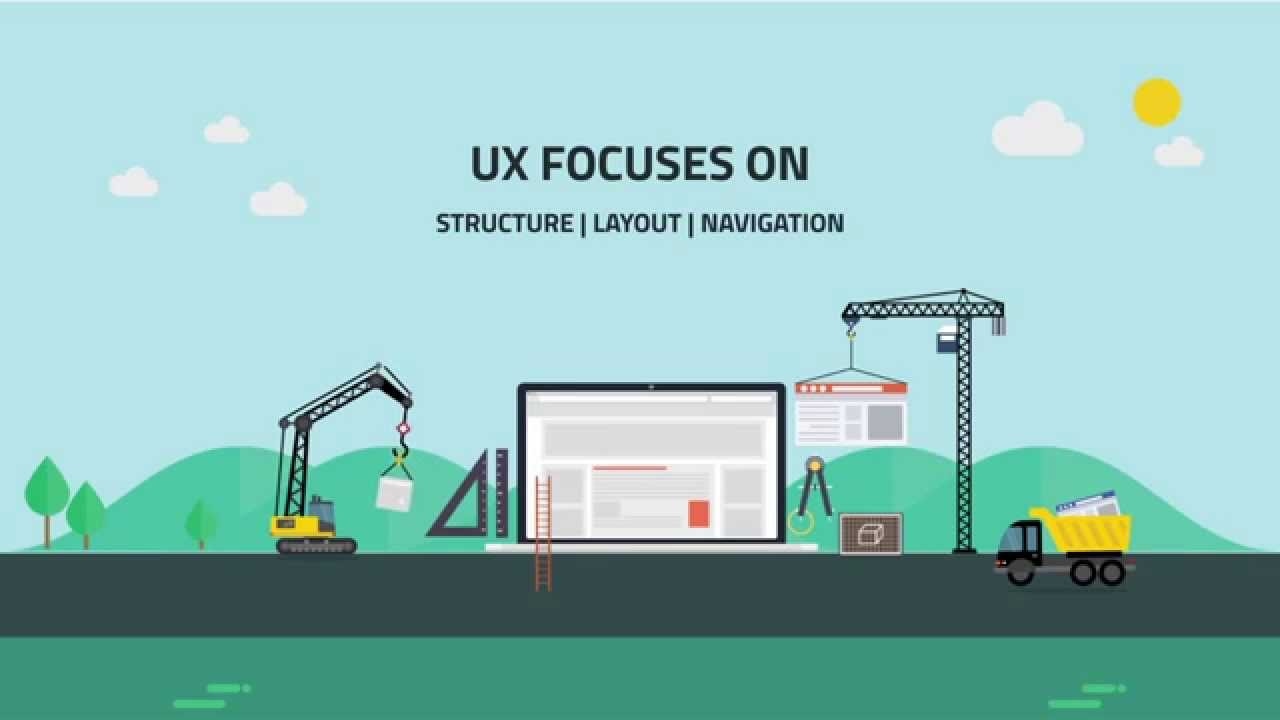 What is User Interface Design?
The user interface is the visual appearance of a product, and UI designers decide how to visually design the product for effective user experience. A good UI design helps attract users and ensures a pleasant product experience.
The elements of UI design include content such as documents, text, images, videos; forms including buttons, tags, text fields, checkboxes, drop-down lists, graphic designs; and behaviors like what will happen when the user's click/drag/enter.
It requires UI designers to have a good sense of aesthetics and technical skill. A creative role, the goal of the UI designer is to create a compelling, beautiful user interface that elicits an emotional response from the user.
Simply put, if you first saw a website and marveled at it its visual appeal, it was mainly due to a UI designer.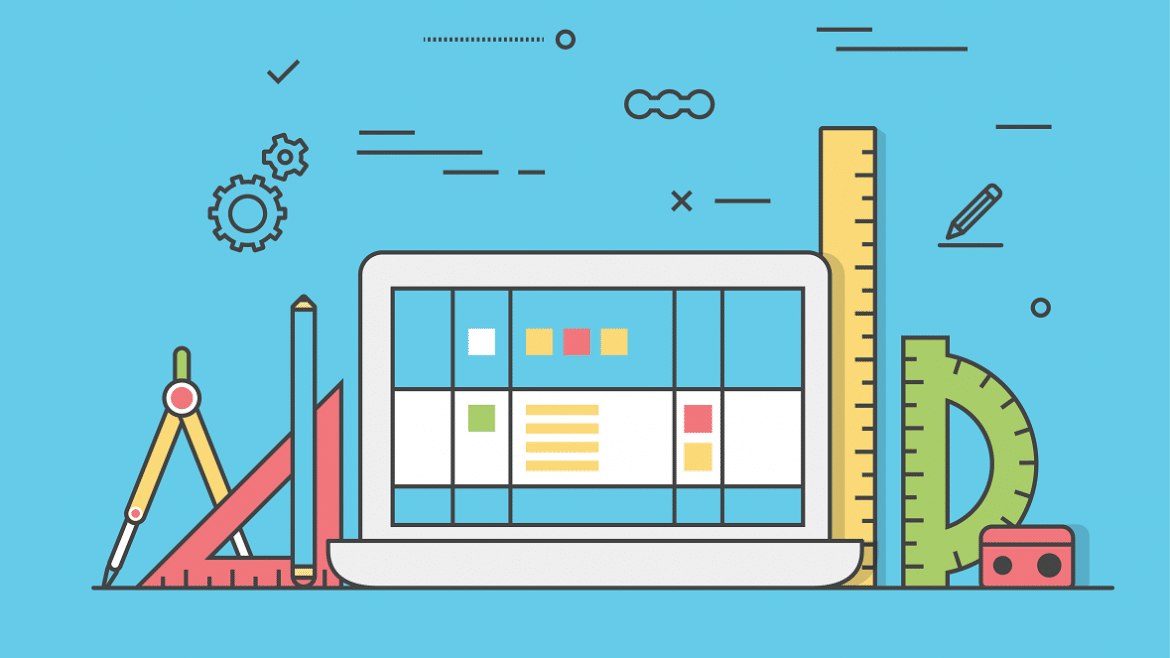 What's the Difference Between UI and UX?
UI design and UX design always overlap, but are you really clear about their differences? Simply, UX design refers to user experience design, and UI design refers to the user interface design. They have a close relationship in product design but serve different roles.
In terms of functionality, UI is how things look, UX is how things work. UX is a process, while UI is a deliverable. But people easily confuse the two since they tend to have a symbiotic relationship. As Rahul Varshney, co-creator of Foster.fm puts it:
"User Experience (UX) and User Interface (UI) are some of the most confused and misused terms in our field. A UI without UX is like a painter slapping paint onto canvas without thought; while UX without UI is like the frame of a sculpture with no paper match on it. A great product experience starts with UX followed by UI. Both are essential for the product's success."
So the obvious differences between UI design and UX design result in different roles.
1. Different focus
The most important difference between UI and UX designers is that they have a different use for prototyping. Many UI designers believe a prototype should be a hi-fi model. However, for the UX designer, fidelity is an afterthought; they care more about logic. Simply speaking: when you're going to meet your customers, show them the design made by the UI designer. When you're going to meet the programmers, take the prototype made by the UX designer.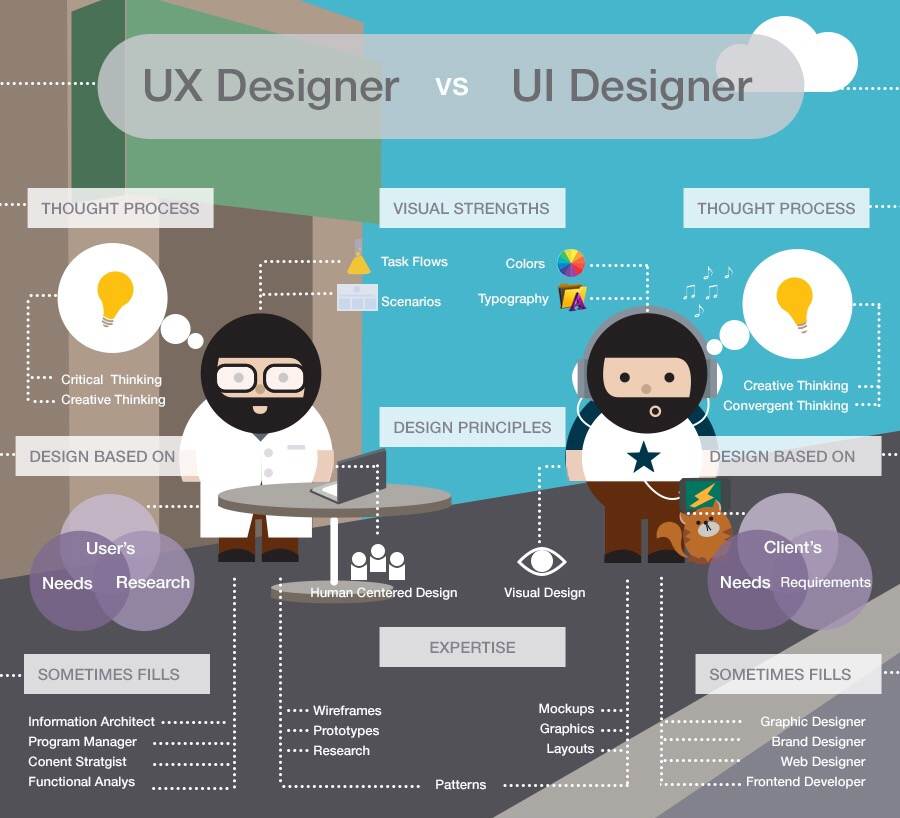 The reason is really simple too. UI designers pay more attention to the interface- the front end, while UX designers focus on the back end.
2. The colors they use
UI designers tend to design prototypes in full color. Conversely, UX designers generally use only three colors in prototype design: black, white and gray.
This difference can be seen commonly in designing and using icons. For example, when you need to create a bottom navigation bar, UI designers will spend lots of energy making it as realistic as possible, including the button color before and after clicking. On the contrary, UX designers would insert the button in the right place, then leave a note: Gray after clicking.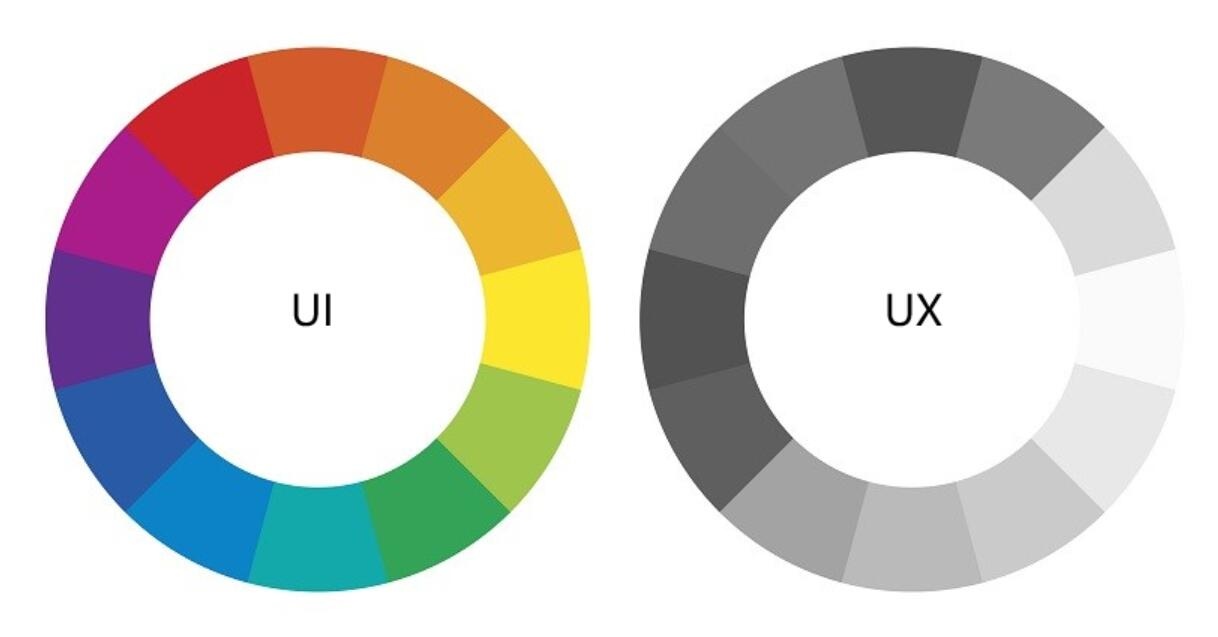 3. The tools they use
Since there are so many differences in the roles between UI and UX designers, the tools they use must be different. For UI designers, designing images is of prime importance. Hence, tools like Flinto and Principle, which are bounded to Sketch, have an advantage. InVision is also an option and the team collaboration function makes it a competitive option.
UX designers will favor a wireframe as it saves time and makes designing more efficient. There are lots of qualified prototyping tools: Mockplus with its easy and transparent to operate, Balsamiq with sketch style, and Axure with comprehensive functions. What's more, there's a unique advantage to using Mockplus; it has 8 ways to test and preview projects. This is especially helpful during testing.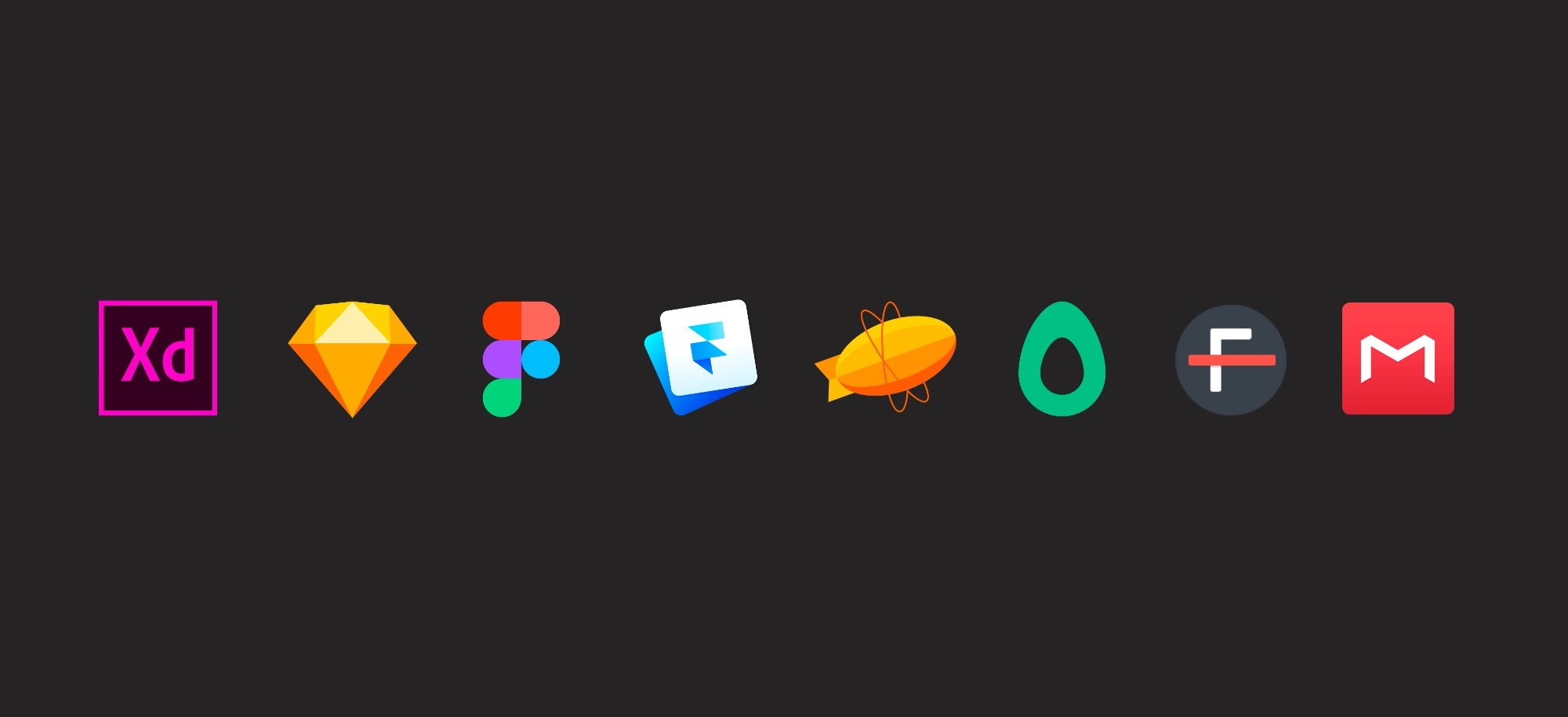 UX is Not UI
"Design is not just what it looks like and feels like. Design is how it works"
-SteveJobs
Theoretically, UX design includes wireframing/prototyping, interaction design, and user testing. UI design includes visual design and interaction design.
Note that both UI design and UX design requires interaction design. Interaction design guides the user's feelings and behavior.
If you are confused by the terms mentioned above, have a look at our article UX vs UI vs IA vs IxD to build up your design thinking.
UX is not UI, but they do complement each other:
UX makes interfaces useful, UI makes interfaces beautiful.
UX helps users accomplish goals, UI makes emotional connections.
UX design precedes UI design.
UX design occurs throughout products, interfaces, and services; UI only pertains to interfaces.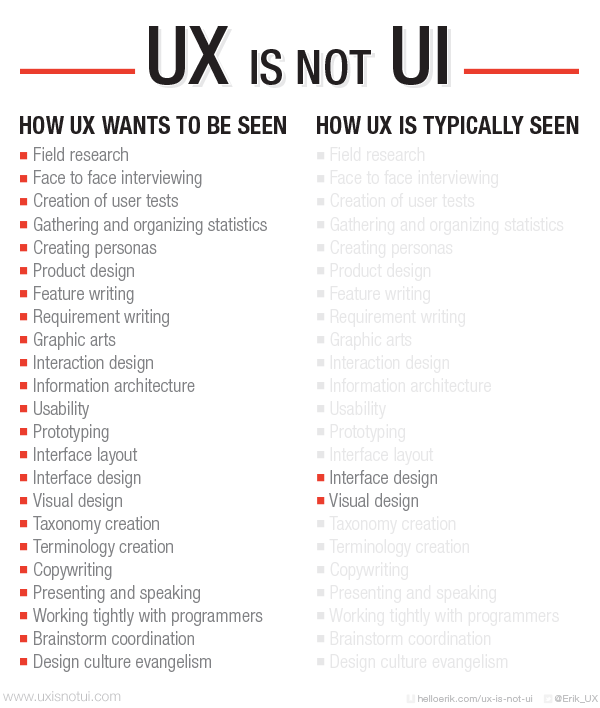 What Do UI/UX Designers Do?
The best way to learn what UI/UX designer do is to peruse job descriptions. You can find many real UI/UX designer job descriptions on recruitment websites.
Career Foundry illustrates the key responsibilities of each position.
UX Designer Skills and Responsibilities
Content/Strategy: Customer Analysis, Competitor Analysis, Product Structure/Strategy
Prototyping and Wireframing: Prototyping, Testing/Iteration, Development, Planning, Wireframing
Analytics and Execution: Coordination with Developer(s), Coordination with UI Designer(s), Analysis and Iteration, Tracking Goals and Integration
So, the User Experience Designer is not only responsible for preplanning and preparing the technology behind the product. They are also responsible for how users interact online and offline, including customer service and analytics.
UI Designer Skills and Responsibilities
Look and Feel: Branding and Graphic Development, User Guides/Storyline, Customer Analysis, Design Research
Responsiveness and Interactivity: Adaptation to All Device Screen Sizes, Interactivity, and Animation, Implementation with Developer, UI Prototyping, Implementation with Developer
UI design creates the skin and appearance of a product. It forms the personality and the brand. It connects the product to the user, building trust, and transferring of the brand concept. The role of UI designer requires collaboration with other team members, such as developers and the UX designer.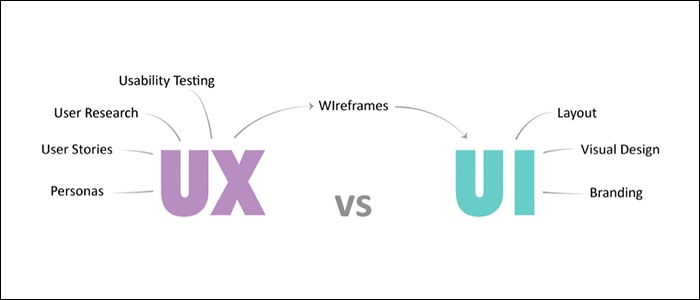 What Kind of UI/UX Design Course Should You Take?
For most beginners, taking a course is the best and quickest way of learning how to be a UI/UX designer. It's not easy and there is no shortcut.
There are many ways that you can f take a UI/UX design course, with many free or paid options. Free UX design courses from top universities is a good place to start, but not enough to advance to a career. Lots of organizations and platforms are now providing good courses and tutorials online. Here are 30 of the best online course websites to learn UI/UX design summarized by the Mockplus team.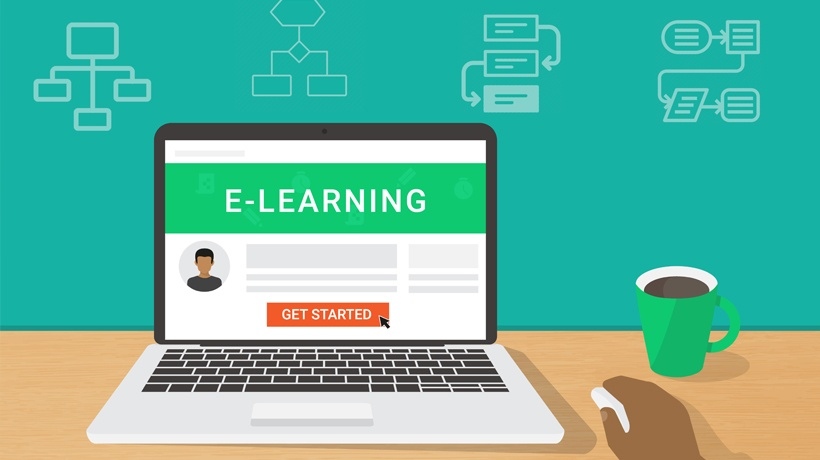 What's is the Salary of a UI/UX Designer?
The salary of a UI/UX designer depends on many aspects, including location, experience, industry, and project/product type.
According to Glassdoor, the average base salary of a UI designer in the United States is $80,450/yr, while the average base salary of a UX designer is $90,697.
For more information, here is a study of UI/UX designer salaries from around the world.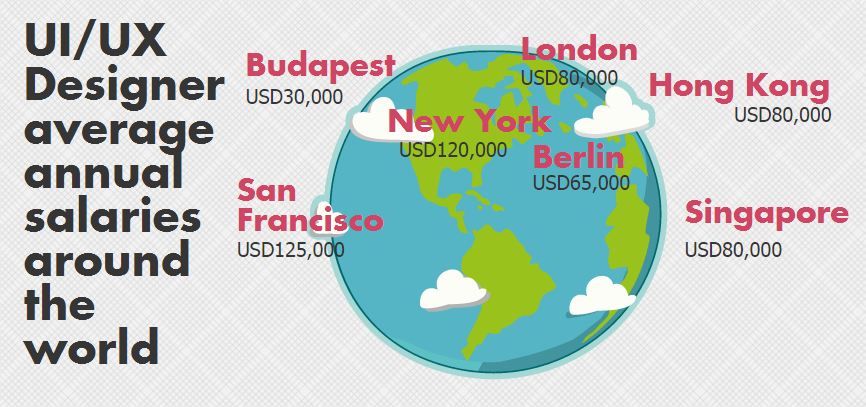 So, do you want to be a UX Designer or a UI Designer?
People face choices every day. Once you get know the differences between UI/UX design, from the theory, to how they work together, resources of where to learn each, as well as how much they get paid, it's your turn to make the decision to be a UI designer or a UX designer.
Resources:
UI/UX Design Tutorials: 6 Amazing UIUX Design Tutorials
UI/UX Design Tools: The Best Mockup & Wireframing Design Tools & Apps for UI/UX Designers
Portfolio Design Websites: 20 Best Examples of Portfolio Design Websites That Bring You Inspiration
UI/UX Design Books: The Best UI/UX Design Books & Resources for Designers