Nowadays, many fresh graduates set their career path as designers. Some of them land their first jobs as UX designers. Some of them choose to be product designers. How about you? Which of them do you want to be?
To help you make a decision, we are going to discuss the differences between a product designer and a UX designer comprehensively. We will firstly discuss the following topics:
The Definition of Product Designer and UX Designer
Responsibilities of Product Designer and UX Designer
The Similarities Between Product Designer and UX designer
Product Designer vs UX Designer Skills
Product Designer vs UX Designer Salary
Part 1. The Definition of Product Designer and UX Designer
The job titles of a product designer and user experience designer can be confused. However their roles are very different. To put it simply, we can define those two terms as:
Product designers: Handle the overall function and working process of the product. They focus on both the users and the project management .
UX designers: Responsible for the function of the user interface and user-friendly experience.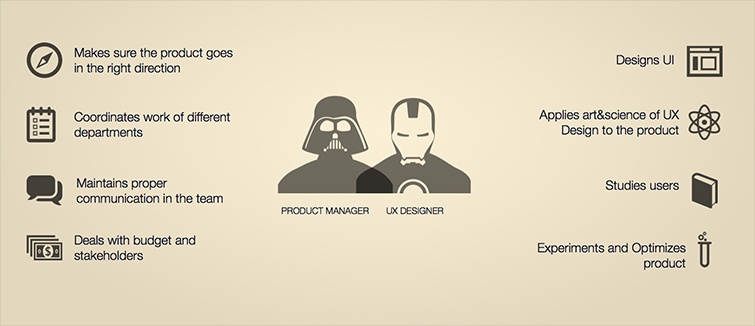 Part 2. Product Designer vs UX Designer: The Different Responsibilities
In fact, no one can accurately classify the responsibilities of product designers and UX designers. After all, different companies have different demands from designers. Based on the job descriptions of product designers and UX designers they post on recruitment portals, I summed up their responsibilities and requirements as follows:
Product Designer Responsibilities and requirements:
1. Study the user demand through the market research. Generate the market requirements document.
2. Be responsible for overall design of new products and draw up a design plan.
3. Take part in or supervise the prototype design of new products.
4. Organize the team for product development and follow up product development to ensure adherence to the process standards.
5. Analyze product operation data, optimize products, and put forward reasonable operation suggestions.
6. Improve the product or design new products based on user experience.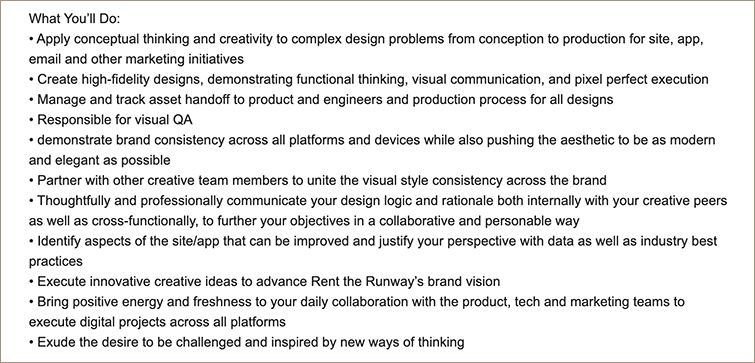 UX Designer Responsibilities and requirements:
1. Make an analysis of competing products from several aspects. Interview users after collecting the relevant data and then issue the requirement document.
2. Draw a user flow chart, make low-fidelity prototypes and modify them.
3. Define interactive design solutions for product prototypes and create high fidelity prototypes.
4. Grasp the interface style and layout of the product. Compose the text of the key page.
5. Test the feasibility of the product after finishing the interaction design. Find out the existing problems.
6. Optimize the design to improve the usability of the product.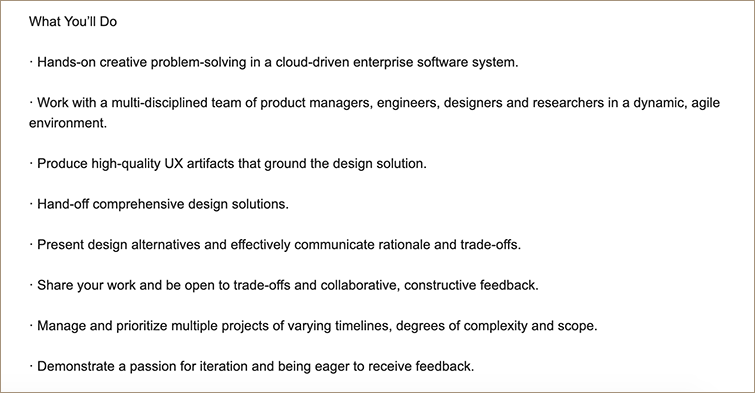 Part 3. The Similarities Between a Product Designer and a UX designer
From the above definitions and responsibilities, you may have realized that there are some similarities between a product designer and a UX designer.
They are both involved in the design thinking process and focus on the user-centered design method while designing a product. They both need to:
Apply design skills to create a user-friendly product that users will love.
Focus on users' needs and use the data they collect to design a product.
Master design tools like prototyping tools and mind-map tools to design a product.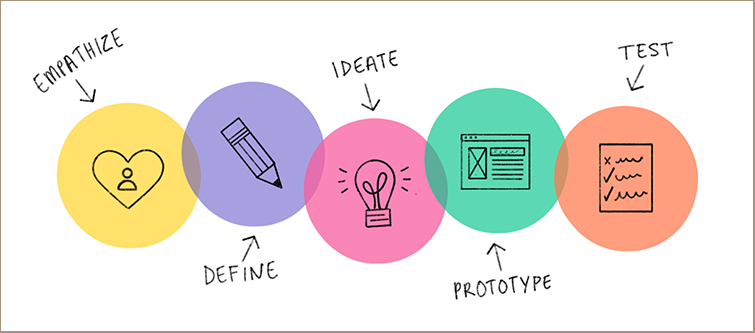 Part 4. Product Designer vs UX Designer skills
First, we need to figure out what product designers and UX designers focus on. Product designers and UX designers have different responsibilities, so their concerns are different.
Product Designers Pay Attention To The Following Questions:
Who will buy the product and how do they use it?
How to make the product convenient and safe to use?
How to make the appearance of products more attractive?
How to make the product cost less?
To answer the above questions, product designers need the following skills:
Making decisions during the design process
UX, interaction and UI design skills
User research skills
Visual design skills
Problem-solving skills
Wireframing/prototyping skills
Technical and creative skills
Communication and collaboration skills
Marketing and commercial skills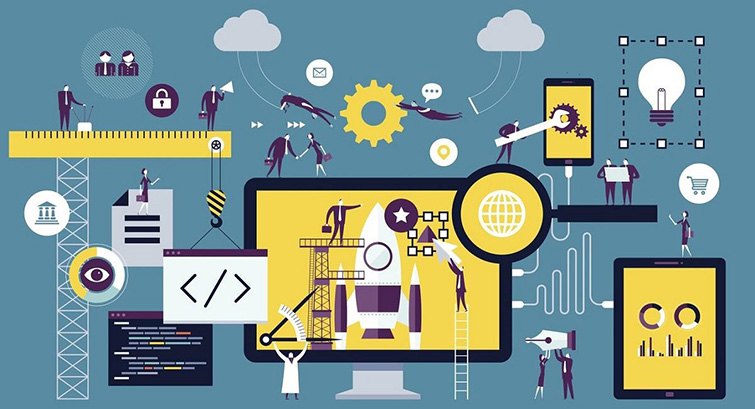 UX Designers Focus on Two Main Aspects:
Is the product easy to use?
How to make a user-friendly design?
To solve the above questions, UX designers needs the following skills:
Expertise in prototyping tools
Problem-solving skills
Communication skills
Wireframing and prototyping skills
Skills to create process flows and sitemaps
User research defining skills
Workflow diagramming skills and engineering support
User feedback gathering skills
Part 5. Product Designer vs UX Designer Salary
Both product designer and UX designer are promising careers. If you wish to choose either of them as your career, the salary is one of the key factors you need to think about. Generally speaking, both of them are highly-paid, and we have also explained why a UX designer's salary is incredibly appealing due to several reasons.
How much does a product designer make?
Product designers are in demand around the world. Based on Glassdoor, the average pay of a product designer is $92,226/yr, which ranges from $65K/yr to $128K/yr. Big companies like Facebook, IBM, Uber and Dropbox have job openings with a handsome salary.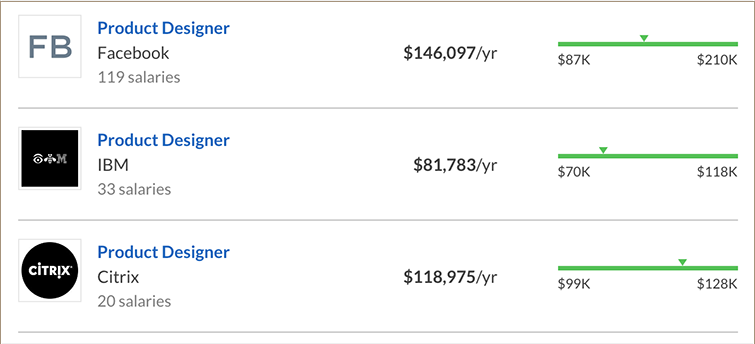 How much does a UX designer make?
UX designer salaries are also quite high. The average salaries are different in different areas. The national average salary for a UX Designer is $85,011/yr in United States. Big brands like Amazon and IBM provides better payment than other IT companies. If you want to know more, check out our post on UI/UX Designer Salaries Around the World.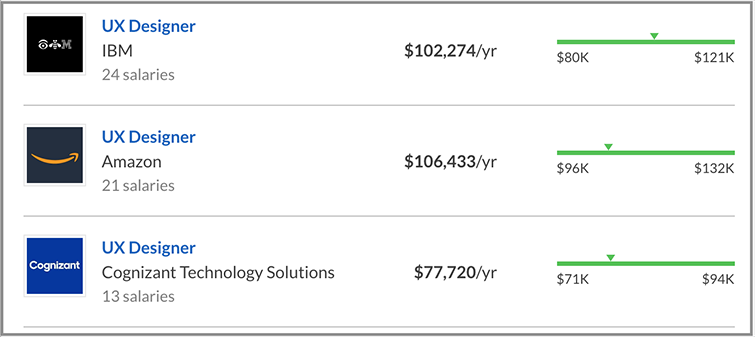 How much does a UX designer freelancer make?
Besides, due to the constantly increasing demand for UX designers, UX designer freelancers have become very popular. According to Paysa, the average salary of a freelance UX designers is $134k/yr. If you want to know more, we have a few tips about deciding to become a freelance UX designer.
Part 6. Best resources to become a product designer and UX designer
Product designer and UX designer courses
We have listed some courses you can take to study product design and UX design. As we mentioned before, those two jobs have similarities, so the following courses are useful for both of them.
5 of the Best Platforms to learn Product Design
1. Udacity
This course is designed to help you materialize your game-changing idea and transform it into a product that you can build a business around.
2. Udemy
This is a complete design education for product designers. You will learn how to research user experience, then design a great user interface.
3. edX
These are free online product design courses to build your skills and advance your career. You can learn about product design and other in-demand subjects with courses from top universities and institutions around the world on edX.
4. Product Design Training and Tutorials
You will learn product design with modo, Rhino, and SolidWorks tutorials that cover how to build 3D geometry from 2D drawings, and how to create product shots, manufacturing-ready parts and assemblies, and more.
5. Coursera
Coursera is one of the world's leading platforms to learn design. There are many product design courses you can choose.
5 UX Designer Courses on Youtube
1. Introduction to UX - UX design course
This is a video on Youtube that teaches you the basics of UX design. It's easy to understand, even beginners can quickly learn them.
2. UX Design - How To Get Started (For Beginners)
Are you looking to get started in UX Design? In this video, you will learn some tangible tips that anyone can take to get started in UX Design.
3. What Is UX Design? - A Full Overview (2019)
This course will explain what UX design is. Dee, a senior product/UX designer who made this video, defines the term 'UX', and describes the 3 essential areas that makes for great user experience.
4. Live UI/UX Design with Johny Vino
Johny is a UI/UX professional who focuses on crafting intuitive interaction design and beautiful interfaces for web and mobile apps. You will learn a lot from his video.
5. What is UX Design? Defining User Experience Design & Explaining the Process
In this video, Jose and Chris explain what UX Design is by working on the redesign of The Skool's website.
We would also like to introduce the 15 of the Best UX Design Courses Worldwide in 2019. You will find everything you need to learn UX design.
Tools are an important part of UX and product design. To meet different design requirements, product designers and UX designers need to use a variety of tools.
Tools for a Product Designer
Mind mapping tools: Xmind. It is easy to use and has a concise interface. There is no learning curve.
Sketch tools: paper and pen. It's simple, efficient, easy to modify, low cost.
Low-fidelity prototyping tool: Mockplus. It is easy to use and and interactions can be added quickly. It can be used to quickly build low-fidelity prototypes.
High-fidelity prototyping tool: Sketch. It can make a rough wireframe more standardized and has good visual effects.
Collaboration tools: Mockplus iDoc and Invision.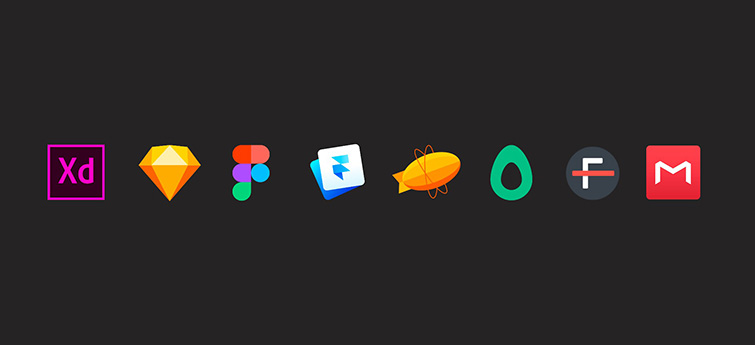 Tools for a UX Designer
Wireframe design tools: Wireframe.cc. It has no complicated icons and toolbar. Both interface style and operation are minimalist.
Interactive design tools: Adobe XD. It positions itself as a lightweight vector graphics and prototyping software. You can freely switch between interface design and prototype interaction.
Prototype design tools: Mockplus RP. It supports high fidelity and low fidelity prototypes. It has good documentation and support. Its plug-in library can be customized.
Actually, the tools that apply to product designers apply to UX designers as well.
Part 7. FAQ about product designer and UX designer
1. What are the frequently asked UX Designer Interview Questions?
If you have set your mind on being a UX designer, you need to be fully prepared for an interview. We have prepared a list of 12 UX designer interview questions you can be asked in a UX designer interview. You can also check 5 tips for a successful UX design interview.
In addition, before you are in the phase of job interviews, you need to apply for jobs, and this is where you might need to write a UX designer resume. We also have some tips for writing an excellent UX designer resume.
2. What degree do you need to be a product designer?
Firstly, a degree is not the only requirement for becoming a product designer. But normally, it is helpful because of a huge competition for jobs.
In my experience of job hunting, job descriptions of design roles and research about the design field, the minimum educational qualification of a product designer is a Master's degrees or higher.
3. Are product designers and UX designers in demand?
Yes, of course. UX designer and product designers are the hottest creative industry careers nowadays. Based on the research of The Bureau of Labor Statistics (BLS) , the number of job openings for UX designers is 3,426,000, and the job growth is 22.1% in 10 years. The trend is the same for product designers. Companies of all sizes have job openings for both product designers and UX designers.
4. How do I start UX design?
UX design is not as challenging that you might think. Actually, one can become a UX designer without experience as long as one follows the right direction.
Those have a design background should be prepared and get a real job as a UX designer. For those have zero experience, we have prepared a step by step guide to become a UX designer with no experience or degree.
Conclusion
What's the difference between a product designer and a UX designer? By reading this article you may have got a basic idea. Do you want to be a product designer? Or you want to be a UX designer? Before making a choice, think about your interests and strengths.