We live in the age of digital design and use dozens of digital products daily. Design plays a crucial role in creating effective and engaging products. UX Design and graphic design are two of the most popular design disciplines. While both disciplines are design-related, they have distinct focuses and goals. In this article, we will learn the difference between UX and graphic design and share answers to popular questions about the disciplines.
What is graphic design?
Graphic design is the art and craft of creating visuals that communicate a specific message or idea to a particular audience. Graphic designers achieve this goal using various visual elements, such as typography, colors, imagery, and whitespace. Graphic design can be applied to various mediums, including print (i.e., creating visuals for posters, books, and packaging) and digital media (i.e., creating visual assets for websites, social media posts, and mobile apps).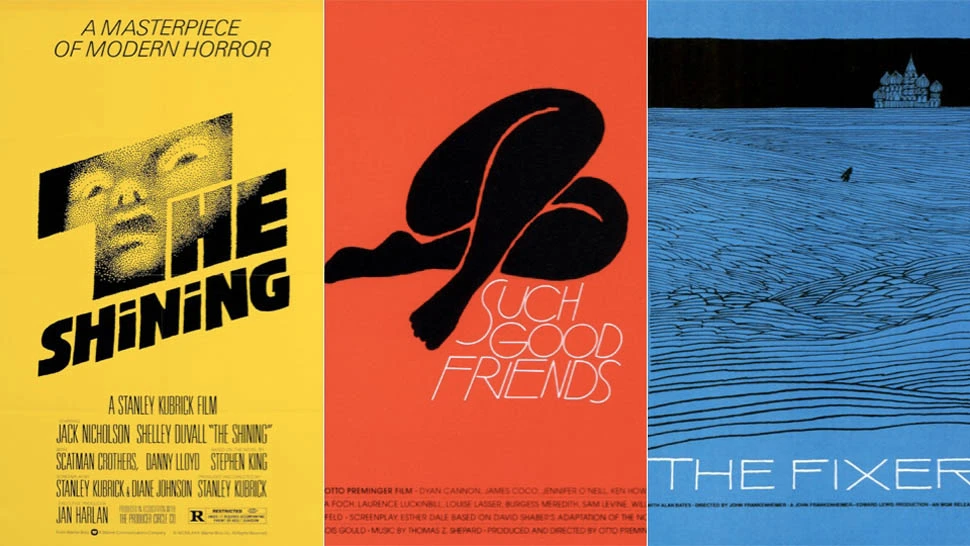 Movie posters created by Saul Bass, an American graphic designer and Oscar-winning filmmaker. Image by Saul Bass.
What is UX design?
UX design stands for User Experience design. It is the process of designing digital products and services that offer a great experience to their users. The goal of UX design is to create products that are not only visually appealing but also functional and useful. That's why when UX practitioners craft new products, they consider the needs, behaviors, and preferences of the target audience.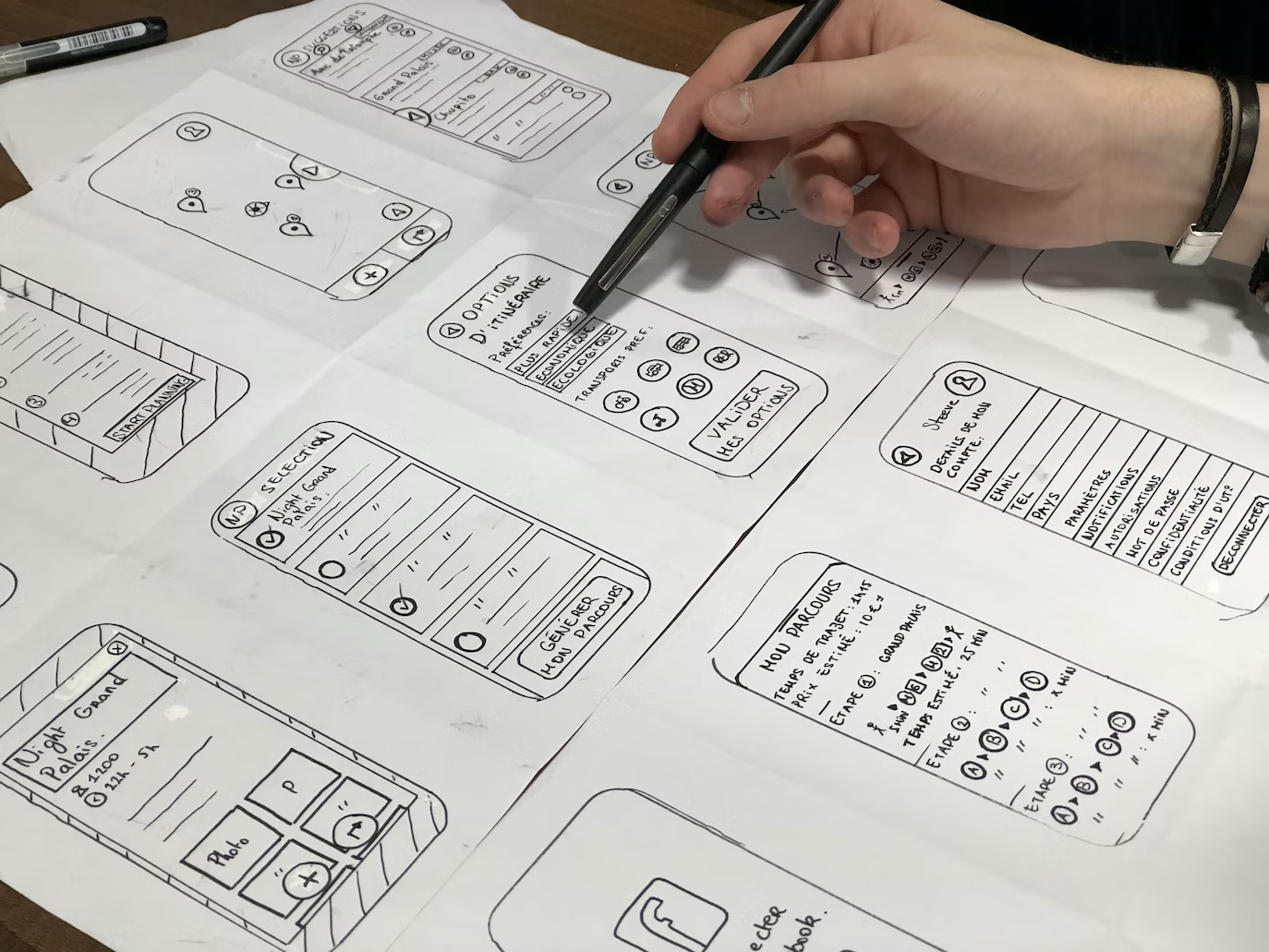 Collection of low-fidelity wireframes for a mobile app. Image by Amélie Mourichon
Difference between UX design and graphic design
While there is some overlap between UX design and graphic design, the two disciplines require different approaches and skill sets. The main difference between UX design and graphic design is the focus of each discipline. UX design is concerned with a product's functionality, reliability, and usability. UX design aims to create digital products and services that are valuable for people and easy to use.
Graphic design, on the other hand, is focused on creating visual content that communicates a specific message/idea. For example, graphic designers can create an illustration of pizza used in a food delivery app. As a result, in digital product design, graphic designers invest primarily in the visual aesthetics of a product. Good graphic design can convey a positive impression on users. As a result, graphic design is often considered one of the subsets of user experience design.
"Design is not just what it looks like and feels like. Design is how it works." -- Steve Jobs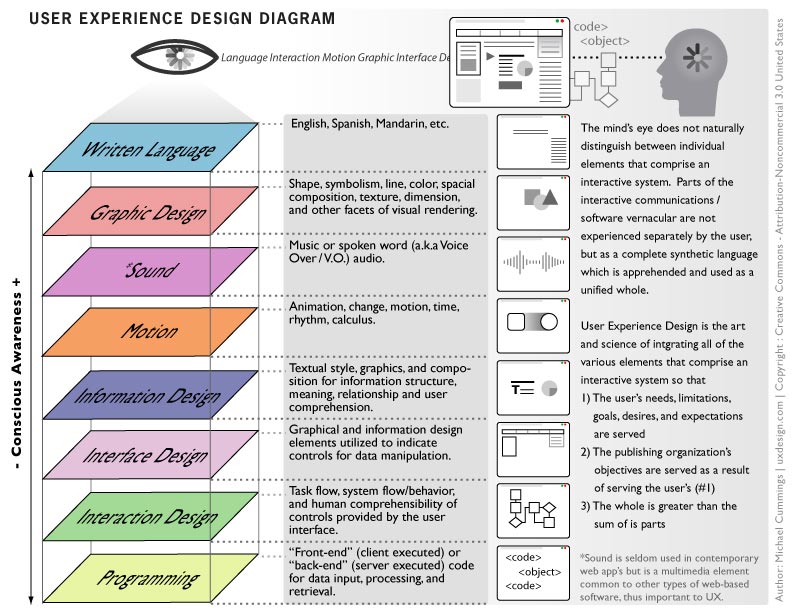 User experience design diagram. The diagram shows how graphic design relates to interface and interaction design. Image by Michael Cummings.
What do UX designers do?
UX designers and graphic designers both work in the field of design, but their roles and responsibilities are different. UX designers work on all aspects of the user experience, including user research, information architecture design, interaction design, and usability testing. They focus on understanding user needs and behaviors and use this information to create intuitive and effective interfaces.
Here are some specific tasks that UX designers might perform:
Conducting user research
User research is a critical component of the UX design process because it helps designers to understand the needs, behaviors, and preferences of the users of a product or service. In many organizations, UX designers are responsible for conducting user research and analyzing the findings.
Creating user personas and user scenarios
Creating user personas and user scenarios is an essential part of the UX design process because they help designers to understand who will use a product and how they will use it. The insights that UX designers learn when creating user personas and user scenarios will maximize the chances of making a design that meets the needs of their target audience.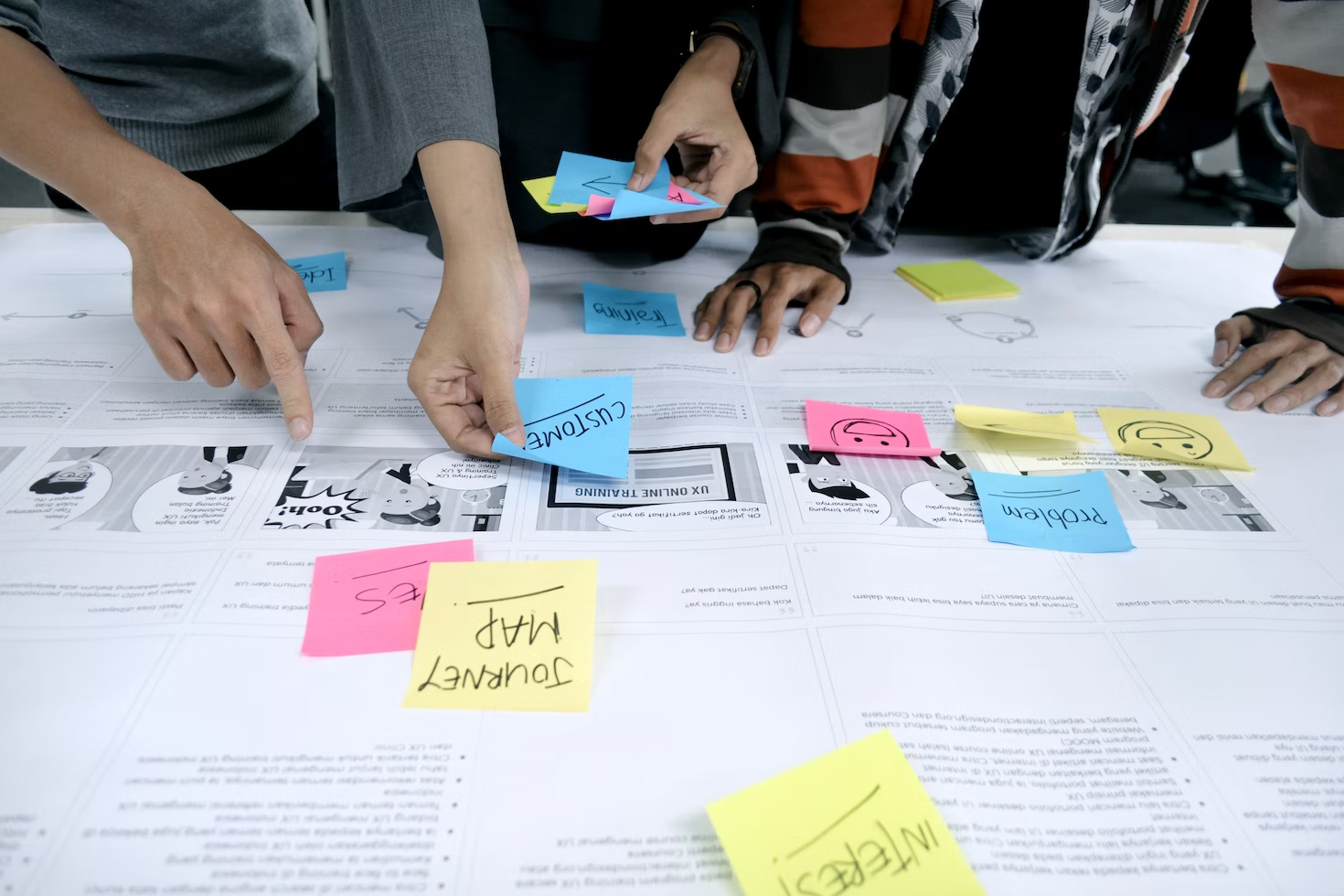 Creating scenarios of interaction. Image by UX Indonesia.
Creating user flows
User flows provide a visual representation of the user journey, including how users navigate through the product or service. By visualizing the user flow, designers can identify potential issues and make changes to improve the user experience.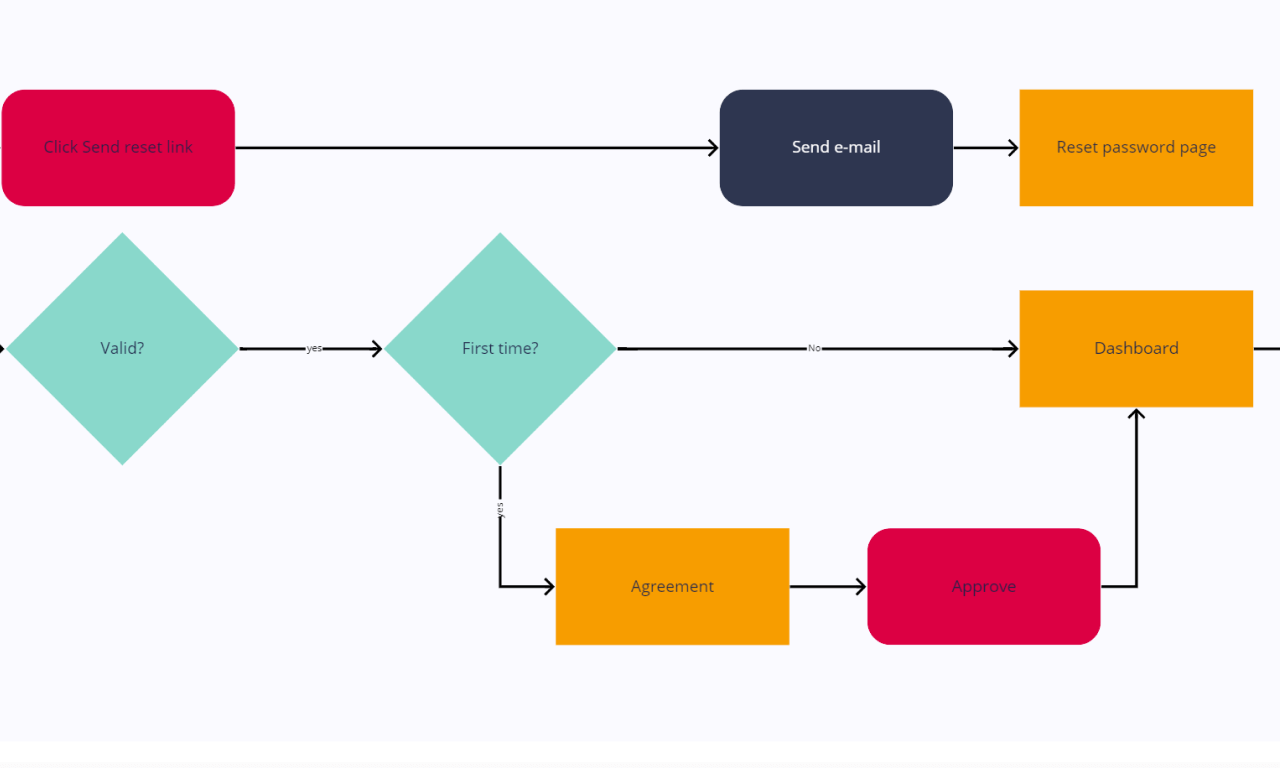 Examples of a user flow diagram. Image by Miro.
Developing wireframes and prototypes
UX designers create wireframes and prototypes to visualize design decisions. Wireframes and prototypes can help to validate ideas before the team invests significant time and resources into development. Wireframes and prototypes also make design tangible so that all team members can interact with the design and form their opinion. Hands-on experience using UX prototyping tools is a must-have skill for all UX designers.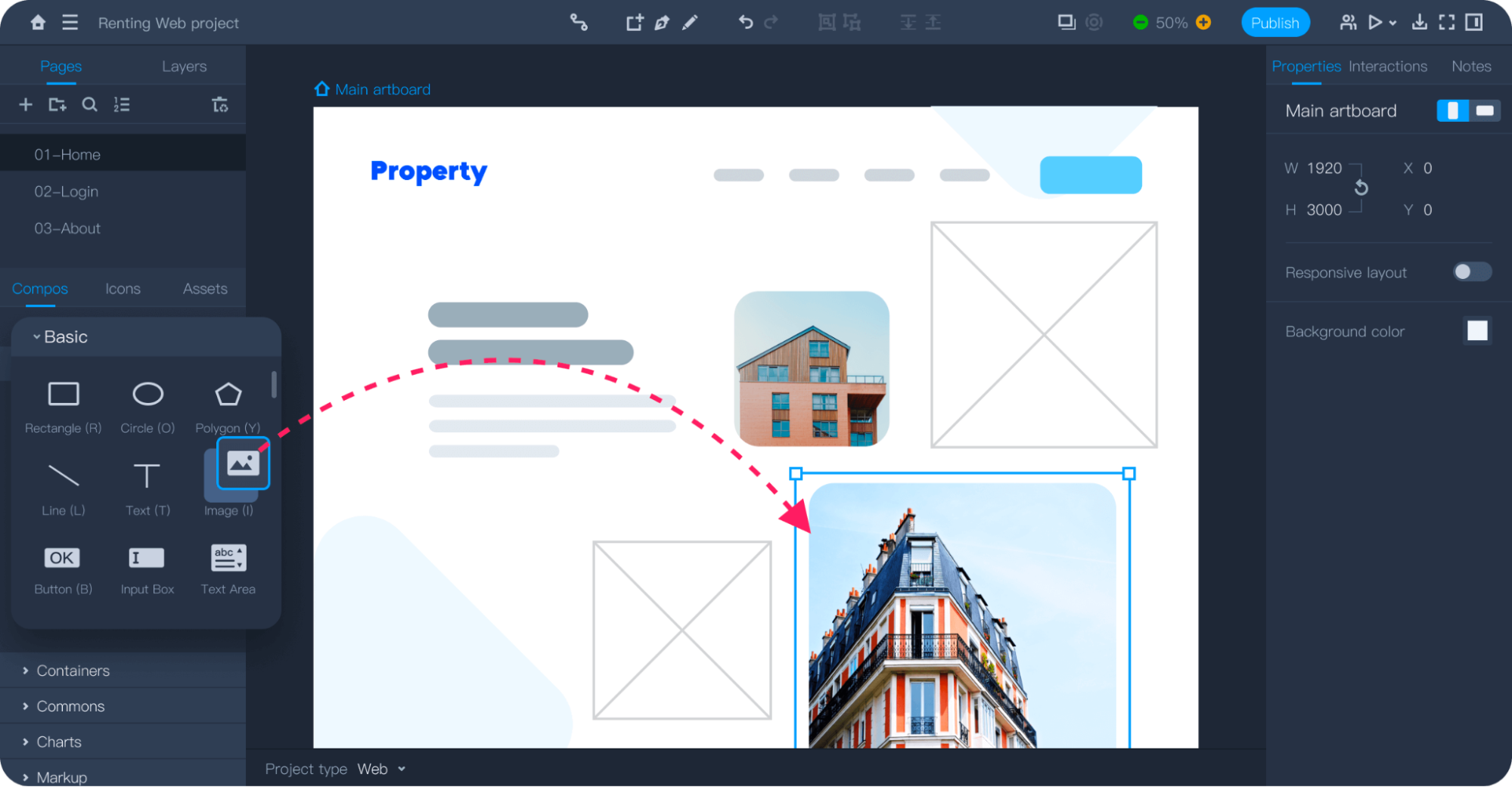 Creating wireframes in Mockplus.
Conducting usability testing
Usability testing can help designers identify design issues, such as confusing navigation, unclear instructions, or poor layout. By identifying UX issues before releasing products on the market, designers can make changes to avoid negative user feedback.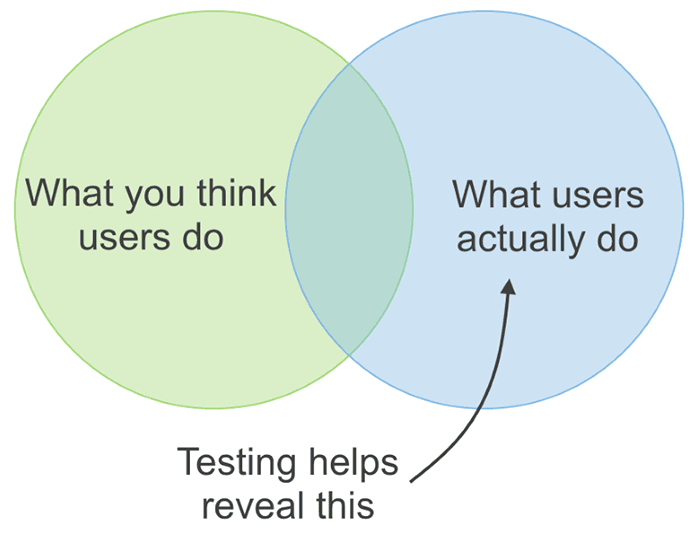 Usability testing will help to reveal how users actually interact with a product. Image by Nick Babich.
What do graphic designers do?
Graphic designers are responsible for creating visual content for a product. They create visual assets such as logos, illustrations, and decorative graphics.
Here are some specific tasks that graphic designers might perform:
Creating visual assets that will be used in a product
Graphic designers are responsible for creating various types of visual assets used in product design, such as logos and illustrations. Graphic designers choose styles that help convey the right mood, meet the client's needs and appeal to the target audience.
Helping with branding guidelines and visual style guides
While brand guidelines and visual style guides are created by UI designers most of the time, graphic designers often work together with UI designers, helping them to structure colors and typefaces used in a product.
Designing print materials for a company
Graphic design isn't limited only to a digital medium. Graphic designers can be responsible for creating physical items such as brochures and posters. Quite often, graphic designers should consider multiple mediums when crafting visual artifacts. For example, a logo that graphic designers create should look both great on a website and in a printed brochure.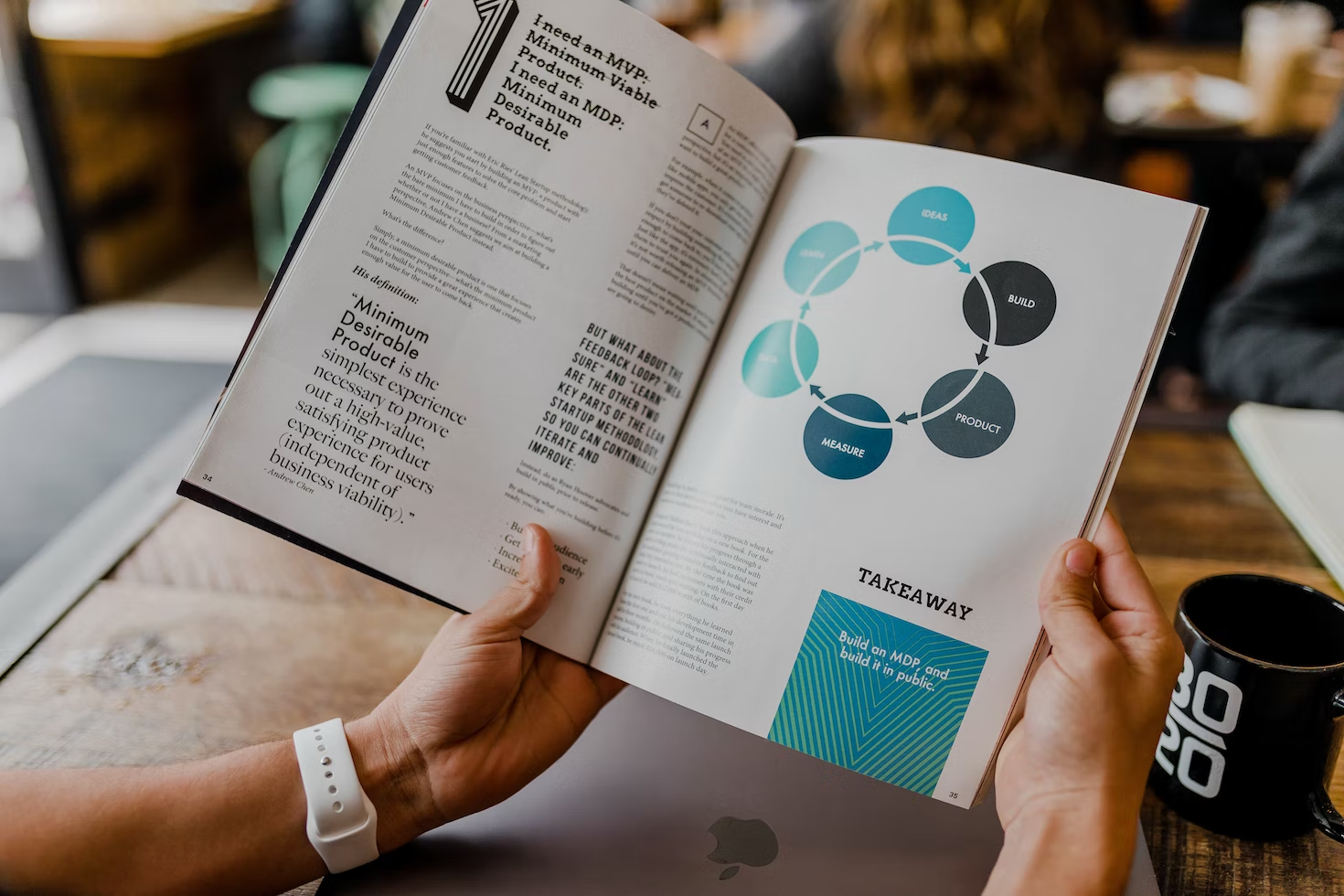 Printed brochure. Image by Austin Distel.
Social media has become one of the most important channels for marketing and sales specialists. The content that companies post on social media can impact the business's bottom line. Graphic designers are often involved in creating visuals that accompany social media posts. Compelling imagery can both communicate the message and capture the viewer's attention.
Can a graphic designer become a UX designer?
Yes, a graphic designer can become a UX designer. As mentioned above, the two fields have different focuses and skill sets, but there is an overlap between them in visual design. Visual design is both the art and craft of implementing text, colors, and images in a way that enhances a design or interaction. If graphic designers have a good understanding of the principles of visual design, it will be easier to move to the UX design field.
But to transition from graphic design to UX design, a designer would need to gain additional skills and knowledge in areas like user research, information architecture, interaction design, and usability. UX design is rooted in user research and business analysis. It means that the process that UX designers follow will be different from that of graphic design.
Instead of starting with creating visuals right away, UX designers first conduct user research to learn more about the target audience and then try to match users' needs/wants to business objectives. The goal is to find a balance between user needs and business wants. After that, UX designers spend time finding the optimal solution for the problem they aim to solve. But the process doesn't stop when this solution is found. UX designers have to create a tangible version of a product design that is called a prototype, and then validate it with the target audience, usually by conducting usability testing.
Do UX designers make more money than graphic designers?
The salary of a design professional can vary depending on various factors such as experience, location, and company size. However, in general, UI designers tend to make more money than graphic designers. According to Indeed, the average salary of a UX designer in 2023 in the US is $96k. The salary ranges from $61k to $149k. In comparison, the average salary of a graphic designer in 2023 in the US is $53k, and it ranges from $30k to $92k.
Should I learn graphic design before UX design?
No, it's not necessarily required for UX designers to have a background in graphic design. However, learning graphic design can be beneficial for many different reasons. Solid graphic design skills will help you effectively use tools like typography, colors, and imagery in your design. The skills can be used in many different contexts—from creating a nice slide deck for stakeholders to crafting high-fidelity prototypes that can help you sell your design idea. Graphic design skills will also be helpful for design critique sessions. It's much easier to provide comprehensive feedback on UI design when you have hands-on experience in graphic design.
Which career is right for me?
There is no universal answer to this question. Deciding which career path to take between graphic design and UX design can be challenging, and, ultimately, your decision should be rooted in your own interests. Here are some questions that can help you decide which path is right for you:
What do you enjoy more: visual design or problem-solving? Graphic design tends to be more focused on creating visual elements, while UX design focuses on solving problems that users face.

What are your strengths? If you have a natural eye for visual composition and enjoy creating visual elements, graphic design may be a good fit. If you have strong problem-solving skills, and enjoy learning about people, you should consider UX design.

What type of projects do you enjoy working on? Graphic designers typically work on projects related to branding, advertising, and marketing. UX designers work on projects related to creating digital products and services, such as websites and mobile apps.

How do you prefer to work? While a graphic design may involve working independently or as part of a team, UX designers should always be part of the team. It's impossible to imagine a UX designer who works in isolation because it's extremely hard to create an effective design when you don't communicate with other team members, such as designers, developers, and marketing specialists.
Ultimately, it's essential to explore both fields before making a decision. The best way to learn disciplines is to participate in a design project. When you solve practical graphic design tasks and UX design tasks, you will understand what works best for you.
FAQ:
Can I be both a UX designer and a graphic designer?
Yes, it is possible to be good at both UX design and graphic design. In fact, many companies are looking for a professional UX/UI designer who is expected to have solid UX design and UI design skills. And often, UX/UI designers are professionals who started as graphic designers.
Is UX design better than graphic design?
It's inaccurate to say that UX design is better than graphic design or vice versa, as they are different fields with distinct goals and approaches. Graphic design focuses on creating visually appealing and aesthetically pleasing visual assets, while UX design aims to create positive and seamless experiences for users. Good design combines the right functionality with nice-looking aesthetics; that's why graphic design should work together with UX designers to achieve this goal.
Can I become a UX/UI designer if I have a graphic design degree?
Yes, you can become a UX/UI designer with a graphic design degree. Having a degree in graphic design can be beneficial when pursuing a career in UX/UI design since the two fields have many overlapping skills. But to transition from graphic design to UX/UI design, you may need to learn additional skills such as user research, interaction design, prototyping, and usability testing.