As a creative professional, have you ever found yourself stuck with "creator's block"? Whether you're a UI/UX designer, developer, or product manager, this list of the 35 top website design inspiration will give you a host of great design ideas and help you create the best website that user love.
Table of Contents
Best website design examples
Best free website design templates
Best website inspiration sites to get inspirations
Best free website design resources
Best website design examples
1. Alan Menken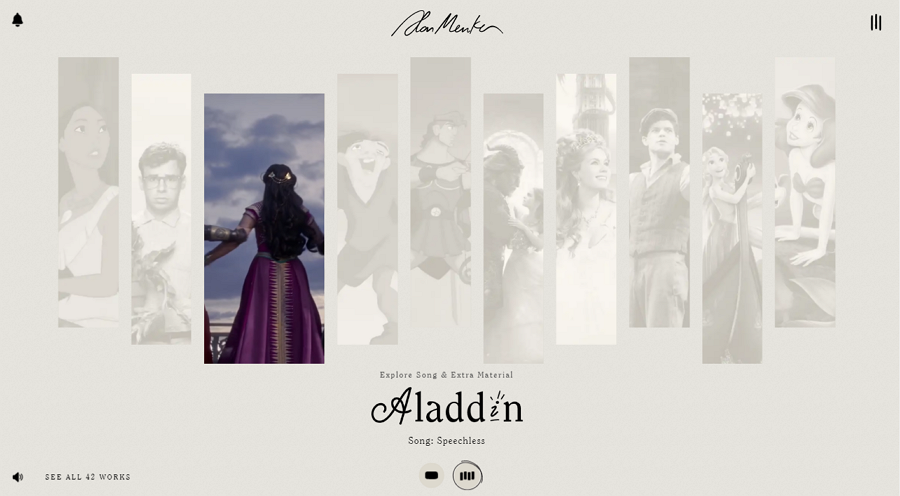 Alan Menken is a legendary composer who has created some of the most well-known and beloved songs and musical scores. His online portfolio features interactive navigation. The vivid fullscreen videos, dreamy background songs, storytelling design, and minimalistic design styles summon up an immersive user experience.
2. Swab The World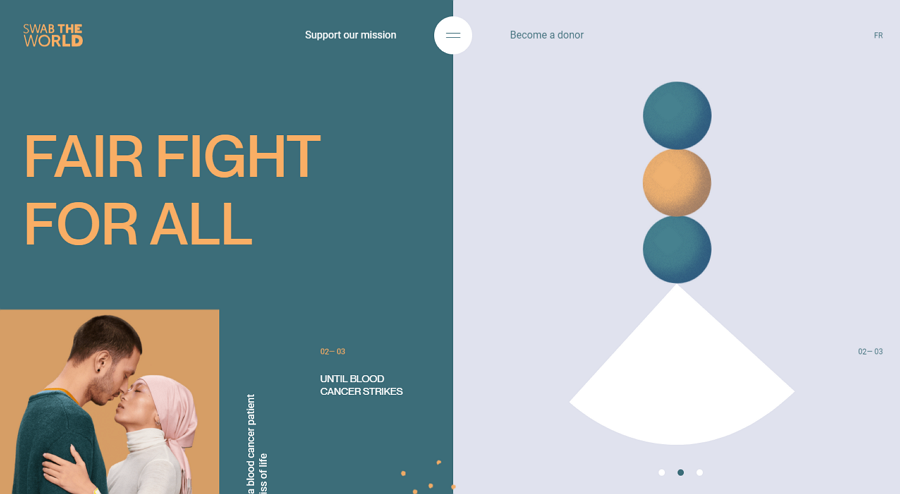 Swab The World aims to boost ethnic diversity in the worldwide stem cell donor base. Its online website uses a two-column landing page to convey different information. The brutalist design style is very effective in enhancing the visual appeal.
3. Greta Thunberg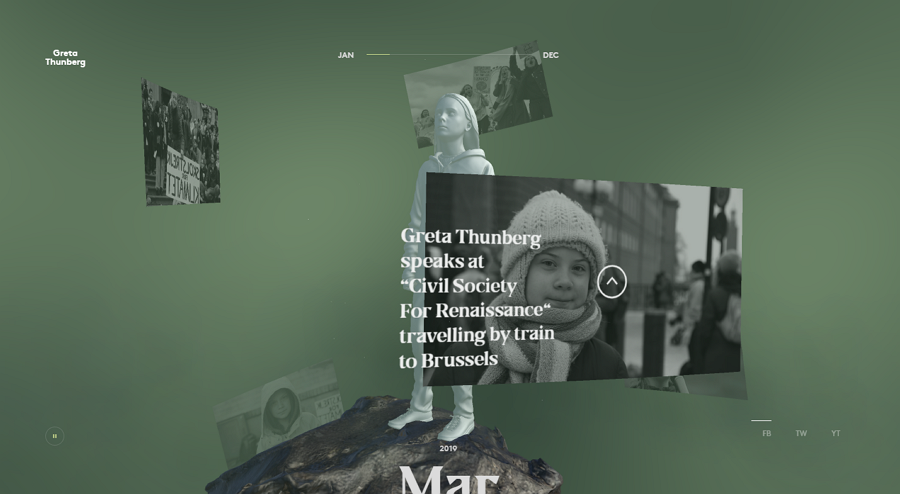 Greta Thunberg is the incredible personal website of the renowned Swedish environmental activist. The use of advanced 3D technology, cool scrolling, high-quality video, and the minimalist design style all combine to give the visitor a completely distinctive experience.
4. Aquest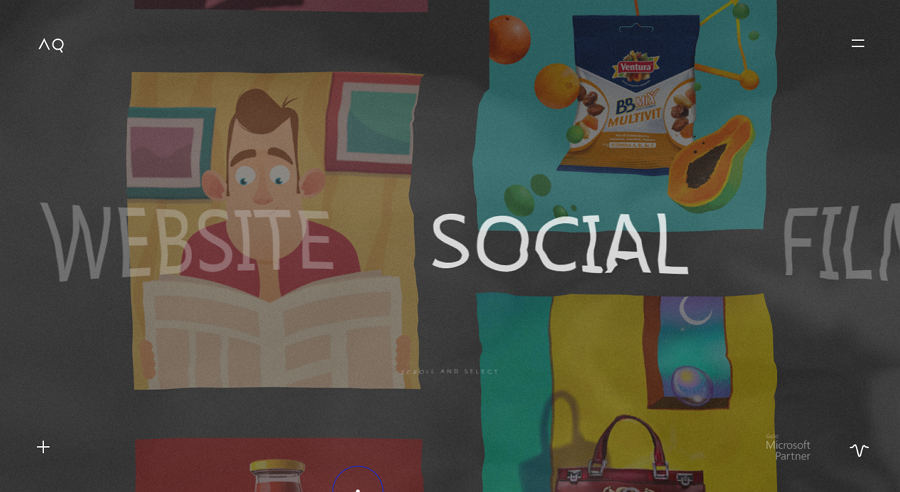 Aquest is a creative product and technology company from Italy. Its official website uses creative scrolling to showcase different design projects. The cool liquid transition effect, big font designs and eye-catching video backgrounds help create a very engaging experience.
5. Cedric Pereira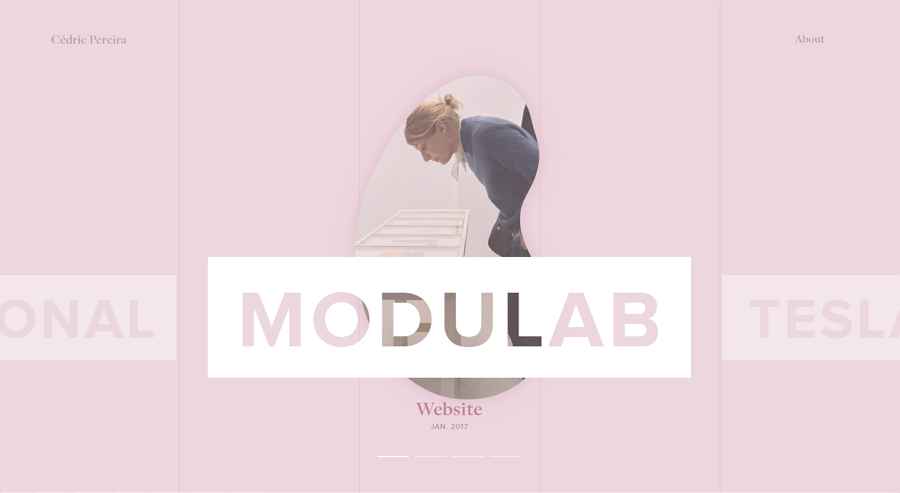 Cedric Pereira is the portfolio website of an interactive and product designer from Paris. This website features bright color schemes, a unique horizontal scrolling experience, and cool big font designs. It has creative scrolling to help showcase different design projects. If we have whetted your appetite, read on for more inspirational websites. Here's 21 hero image website examples may help you.
Best free website design templates free download
6. Sapiens Character Builder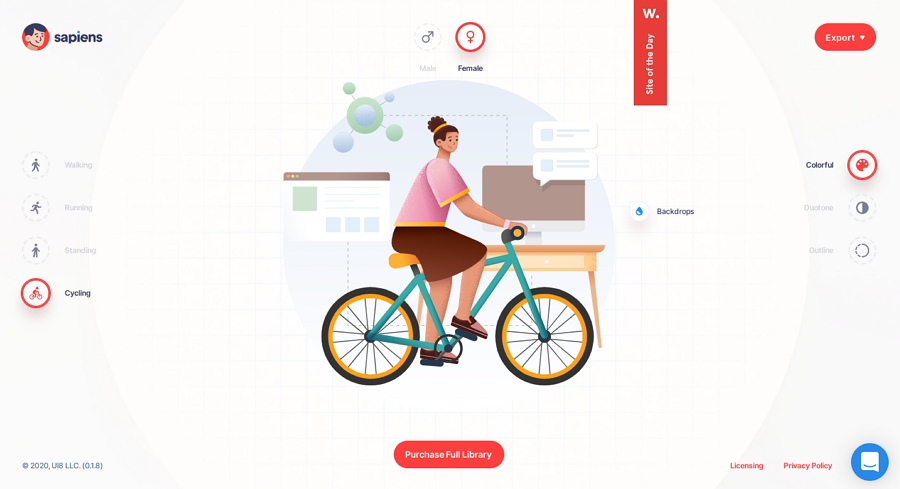 Sapiens Character Builder is a cool illustration style website that can help you create beautiful illustration characters using dozens of components, backdrops, poses, and styles. It is so easy that with just a few clicks anybody can customize the gestures, backgrounds, hairstyles, clothes, and other details of the characters.
7. Ashion Free Bootstrap Template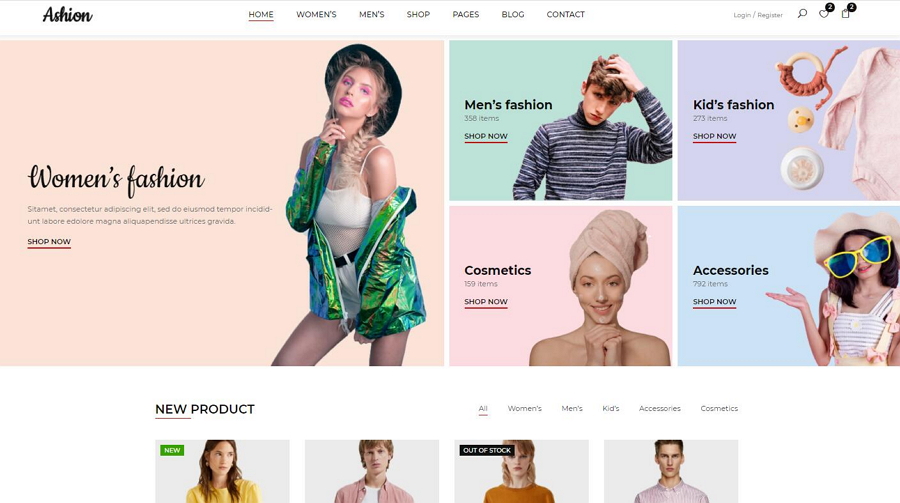 Ashion is a brilliant free Boostrap fashion website template that can help you develop effective ways to promote your clothing brand. The clear top navigation bar, intuitive clothing slider, and countdown timer design for sales, along with its other cool features, will enable you to create a very user-friendly clothing website in no time at all.
8. Modist Free HTML Website Template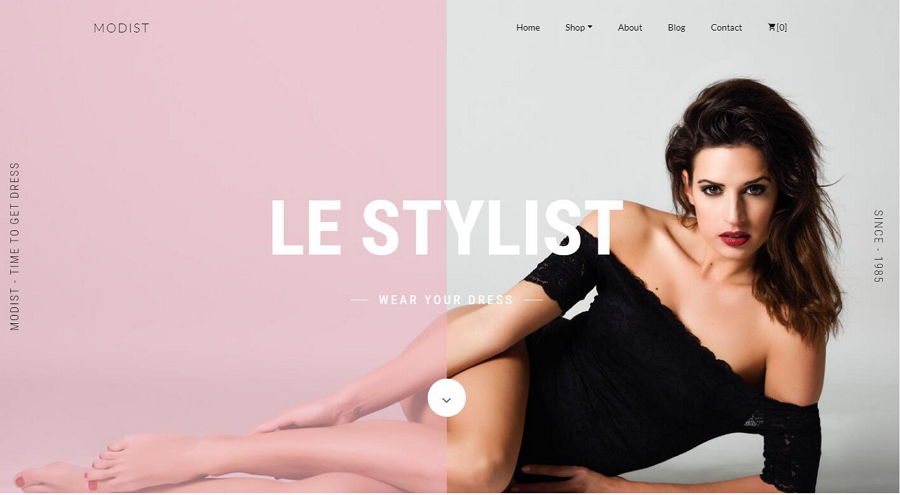 Modist is a modern free HTML fashion website template with a brilliant full-screen landing page. It is fully responsive and customizable. A perfect tool to build an outstanding eCommerce website for your business.
9. Vegefoods Free Ecommerce Template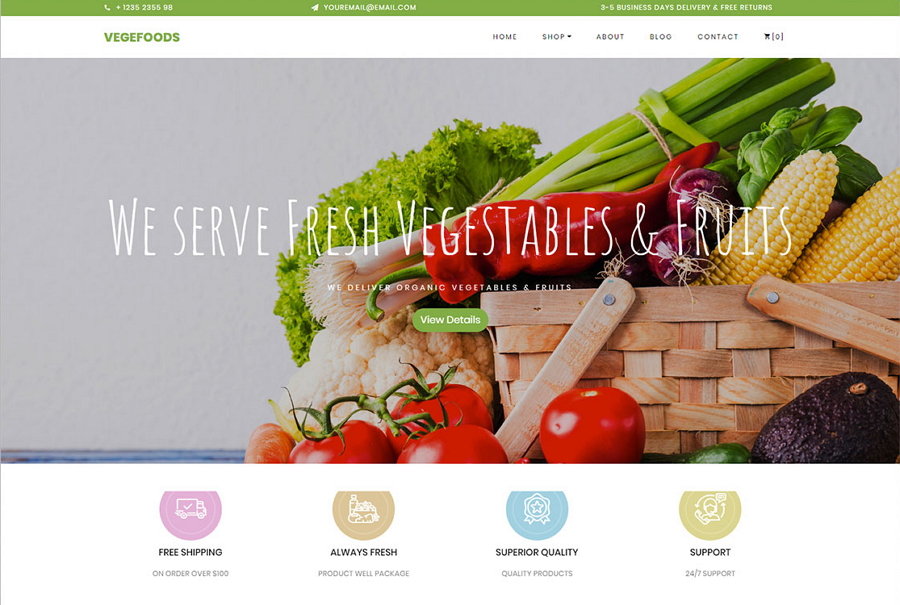 Vegefoods Free Ecommerce Template is an excellent website template for vegetable or fruit shops. The enticing hero image carousels, clear layout, minimal design style, countdown timer for special deals, testimonials, and other great elements together make a compelling and effective eCommerce website. This would be a good choice if you are looking to get started quickly with any kind of food-based eCommerce website.
10. Free Responsive Food Website Template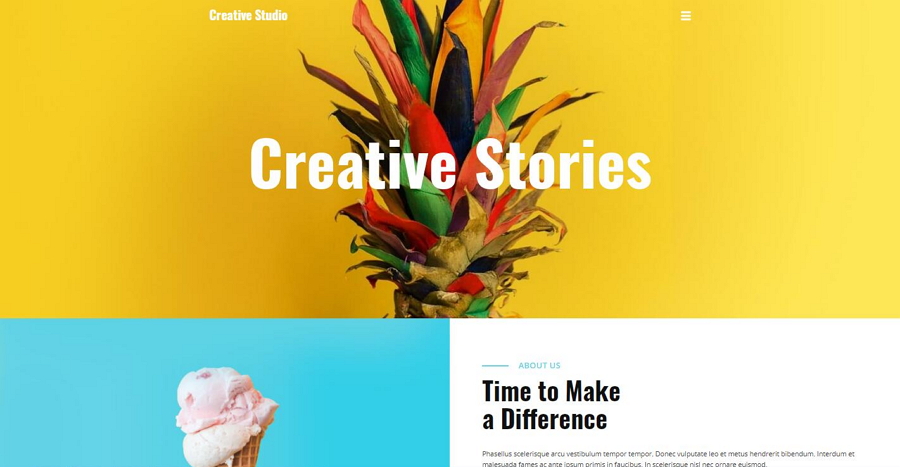 Food Website Template is a free professional website template for selling food. It has eye-catching bright colors and trendy grid designs. It is easy to download and will get you up and running in no time with a brilliant ice-cream or food website. All its elements, including the colors, fonts, headers, footer, layout, and so on are fully customizable.
Have these top five website design templates got you interested? Want to see more? Well, check out our picks of the 15 best free eCommerce website templates.
Best website inspiration sites to boost your creativity
11. Dribbble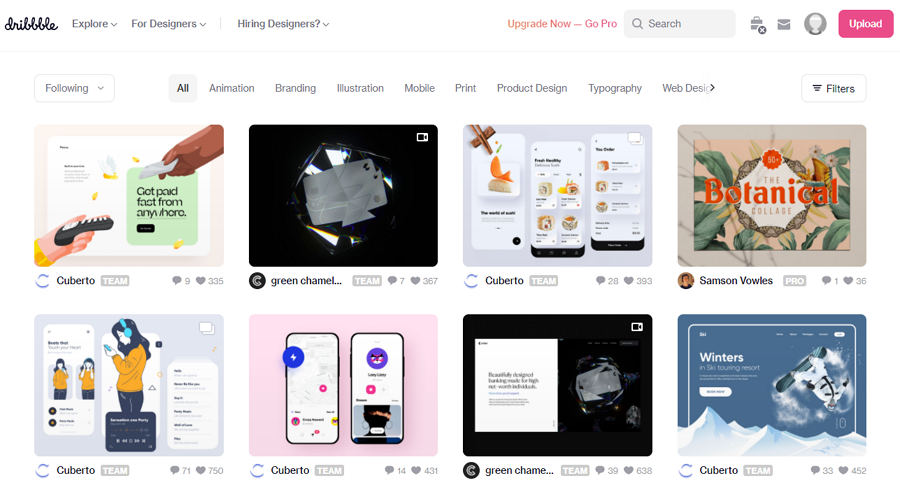 Whether you are a designer, artist, illustrator, photographer, or something similar, Dribbble is always one of the first sites you should go to when looking for inspiration.
It has collected a wide range of cutting-edge design work, giving the visitor easy-to-share resources. This is a great place to grow your skills and get feedback. All in all, this is a great place to discover the latest and most creative trends in web design and pick up some amazing resources.
12. Behance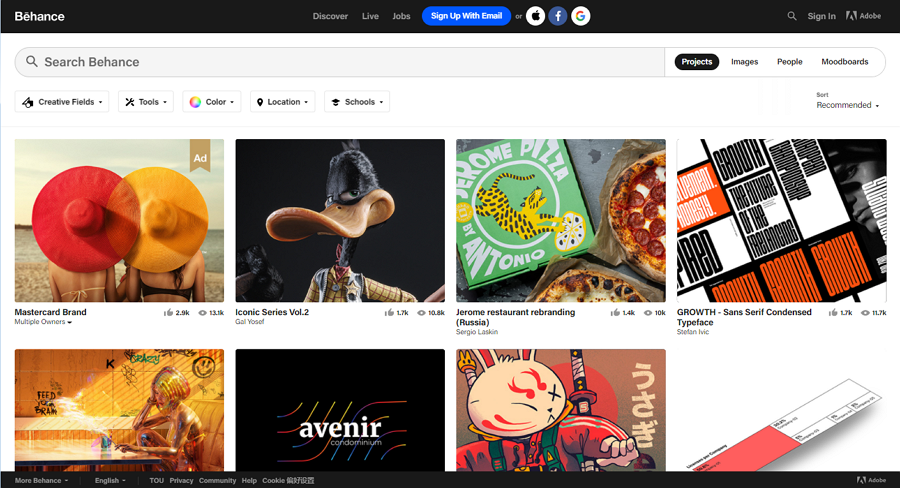 Behance is another inspirational community that you really must take a look at. Like Dribbble, it brings together a wealth of work from designers all over the world.
Visitors to the site can use its powerful search engine to find any web design idea or resource by specifying filters such as timeframes, popularity, or location.
Unlike Dribbble that uses screenshots, Behance offers more detail, such as screenshots, descriptions, and even download links.
13. Pinterest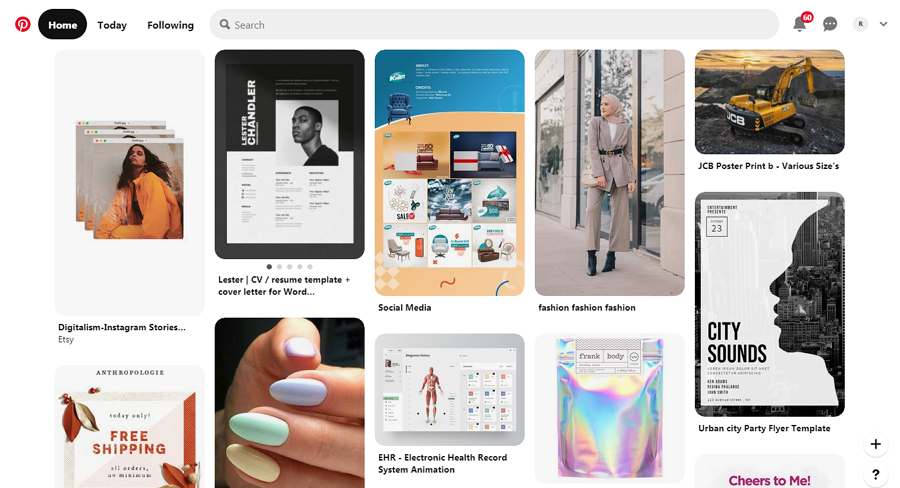 Pinterest is one of the top famous inspiration websites, which can help you discover recipes, home ideas, style inspiration, web inspiration and the like information with ease.
When browsing different designs by using its top searching bar, you can easily save preferable ones to create your own mood boards online directly.
14. Mockplus Blog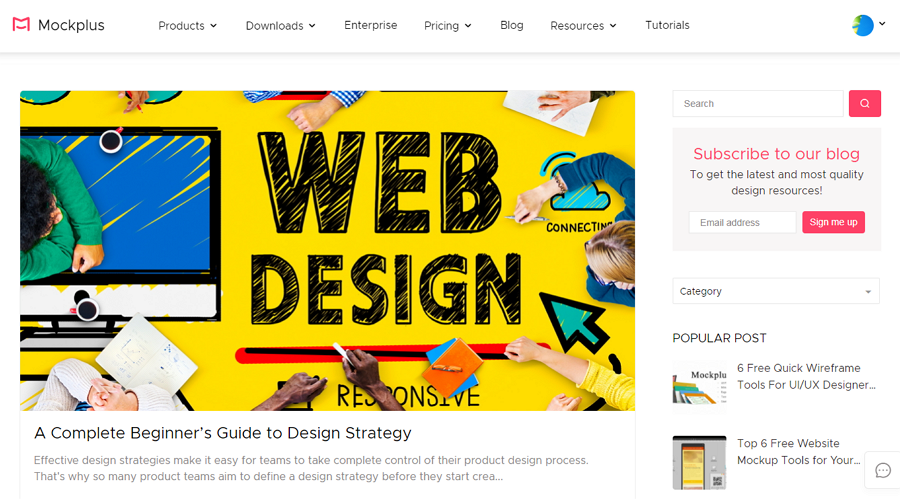 Mockplus Blog is a helpful blogging site for designers and developers working on web and mobile app design.
As well as a wide range of helpful guides and articles for beginners looking to build their websites or mobile apps, it also shares a wide range of website design examples, templates, prototyping tools, online courses, and other free resources to help everyone get off the ground quickly.
15. Medium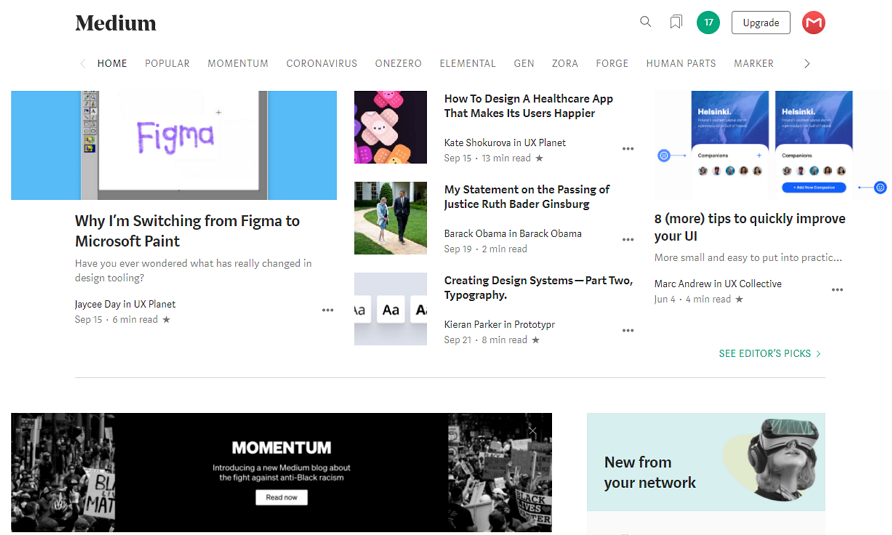 One of Medium's aims is to help visitors find compelling ideas, acquire knowledge, and develop fresh perspectives. To achieve that, Medium shares a wide range of popular, inspirational, and helpful articles and resources in the field of UI/UX/Product design. It is a good place for designers to find great design ideas with which to craft the most stunning projects.
16. Awwwards
Awwwards is a website that seeks to reward the talent and effort of the world's best web designers, developers, and agencies. Thanks to its special system, it attracts a large amount of the latest and most creative high-quality website design work from around the world.
On this site, not only will you find inspiring website design in almost any subject (ecommerce, art and illustration, sport, real estate, fashion, and many more), you will also be able to use the search bar to land any project you want quickly and easily. You can view very subtle page details and preview your results directly online.
17. Site Inspire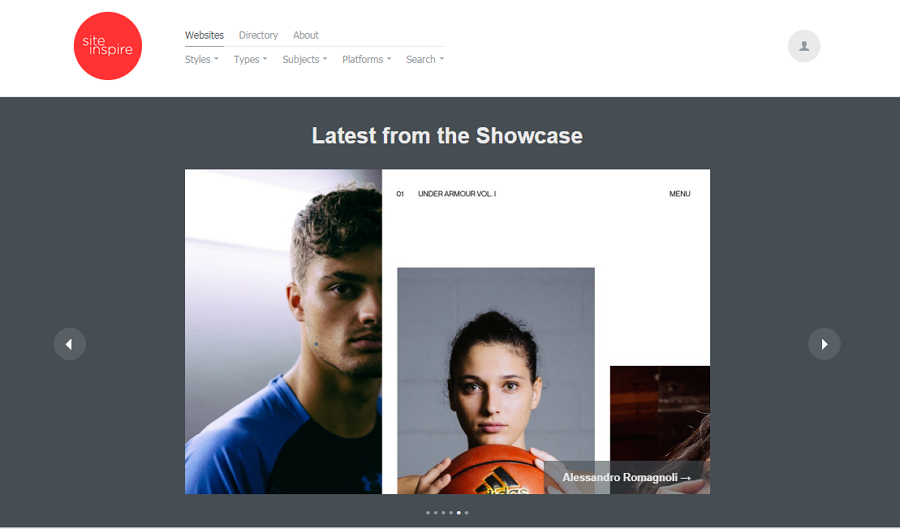 Being able to browse through a large number of the latest website designs in a short space of time is one of the most effective ways in which designers can find inspiration and create on-trend websites.
Site Inspire is a great place to do just that. It provides users with a CSS gallery showcasing the most inspiring website designs from all over the world. Just enter a keyword and you will be presented with a wealth of related website projects to browse at your leisure.
If you register for an account, you can save your search results and review them later.
18. One Page Love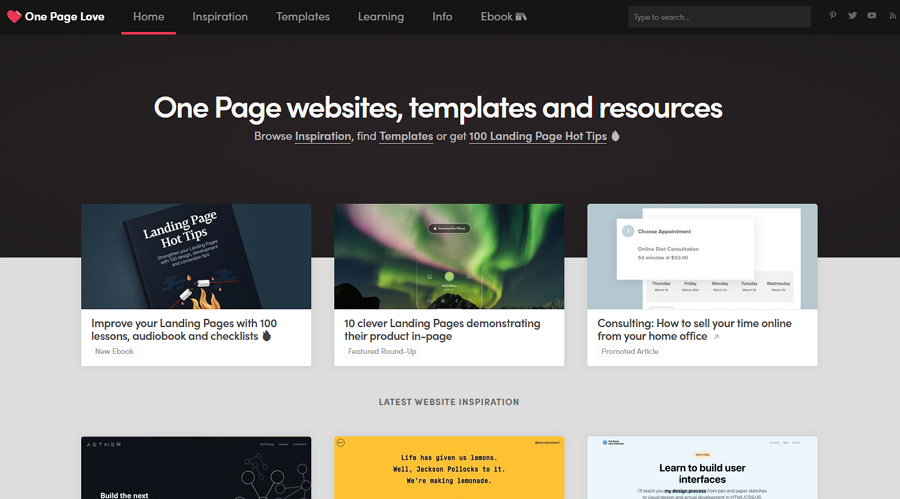 One page websites often load more quickly—something users love. Many designers prefer to create a one page website instead of something more complicated.
If you are one such designer and you are looking for inspiration to create distinctive, one-page websites, One Page Love is the place to go. This site collects all the latest one-page sites and enables you to view page details and test design ideas.
19. Best Website Gallery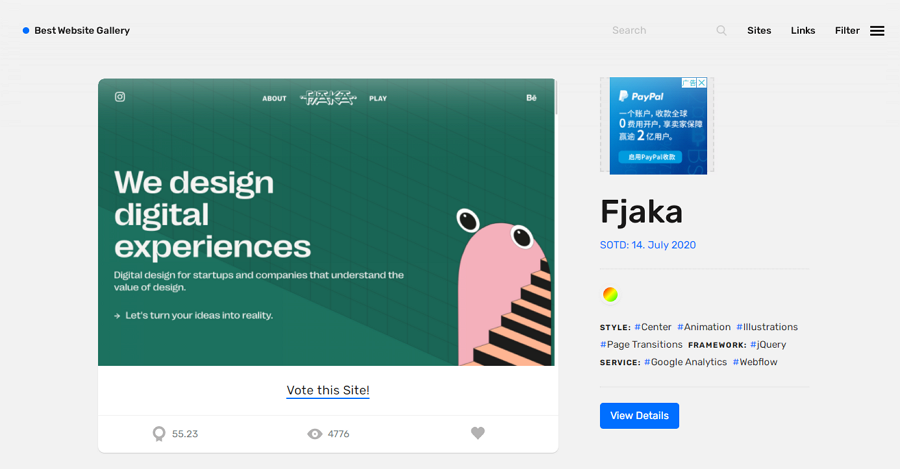 Best Website Gallery is another gallery website that enables you to browse through a treasure trove of trendy website designs. Since it is designed as a visual bookmark collection by its creators, it only collects screenshots from different website designs. Its advanced search and filter systems make it the perfect place for designers looking for inspiration.
20. Web Design Inspiration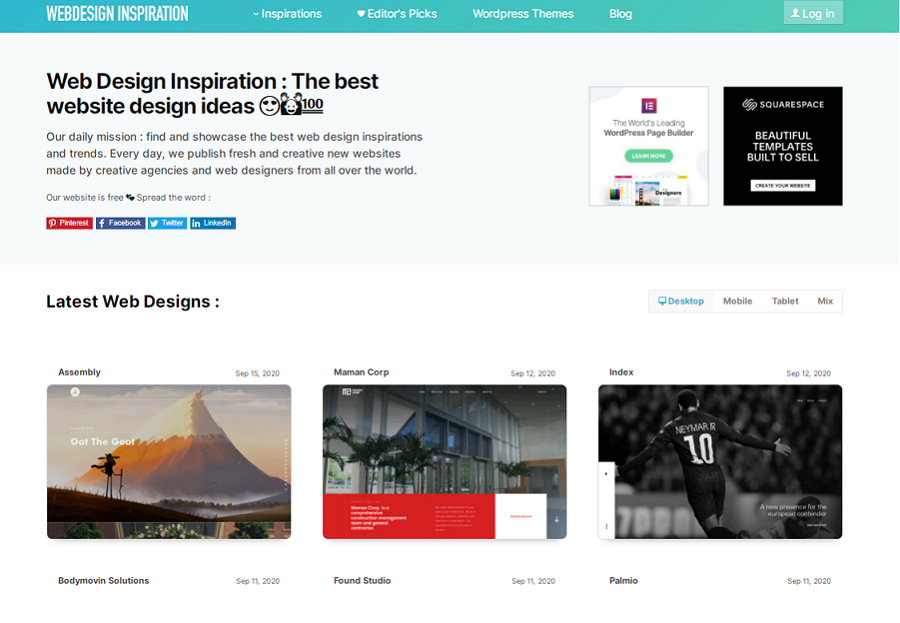 Web Design Inspiration is dedicated to showcasing the best design trends around. It updates the latest creative website projects every day to keep all its design resources fresh. A powerful filter system is provided to help you search for what you want according to type, color, industry, style, and other keywords.
21. The Best Designs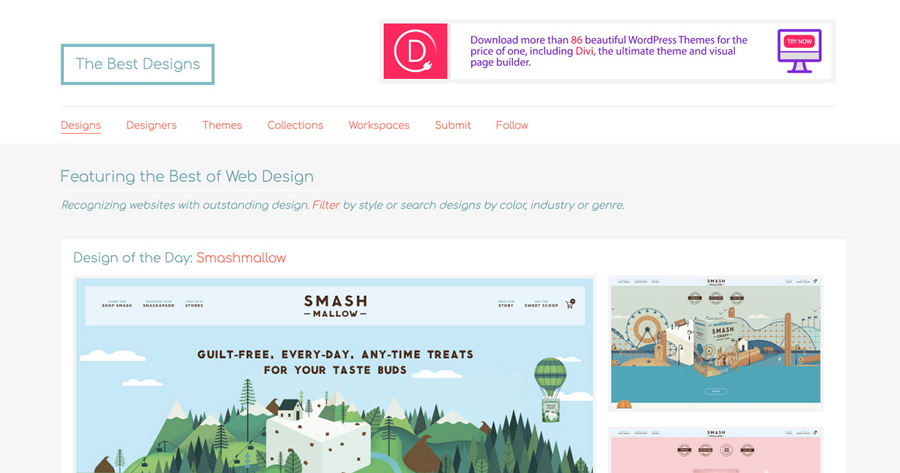 The Best Designs is a simple and straightforward website that collects what it thinks are the best website designs around. Like Dribbble, it is a great place to go looking for inspiration in design.
What's more, if you are looking for a UX/UI designer job anywhere in the world, it serves as a good online portfolio website where you can showcase your work to hiring managers. Don't forget to leave your contact info.
22. 99 Designs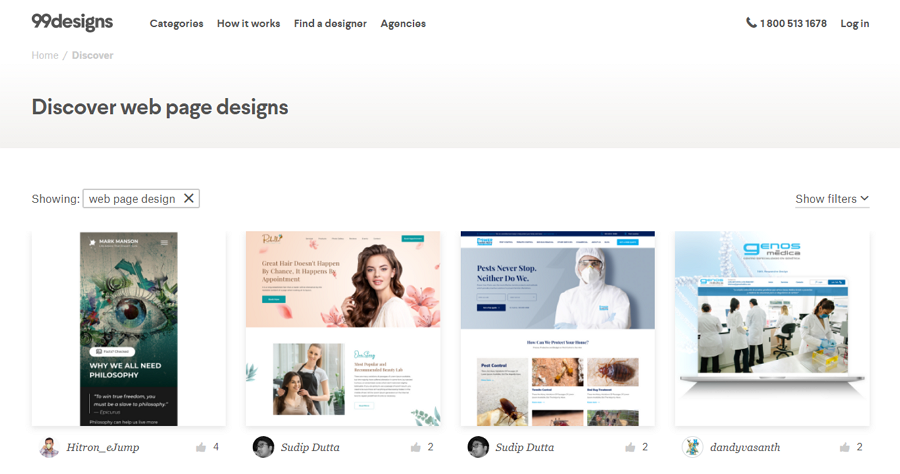 99 Designs is a global creative platform that connects millions of talented freelance designers all over the word. It provides thousands of fresh logo, web, graphics, and other design resources. With an advanced search function, designers at all levels can find inspiration here at the touch of a button.
If you find a website design that you really like, you can even invite the designer to work with you and turn the design concept into reality.
23. Responsive Web Design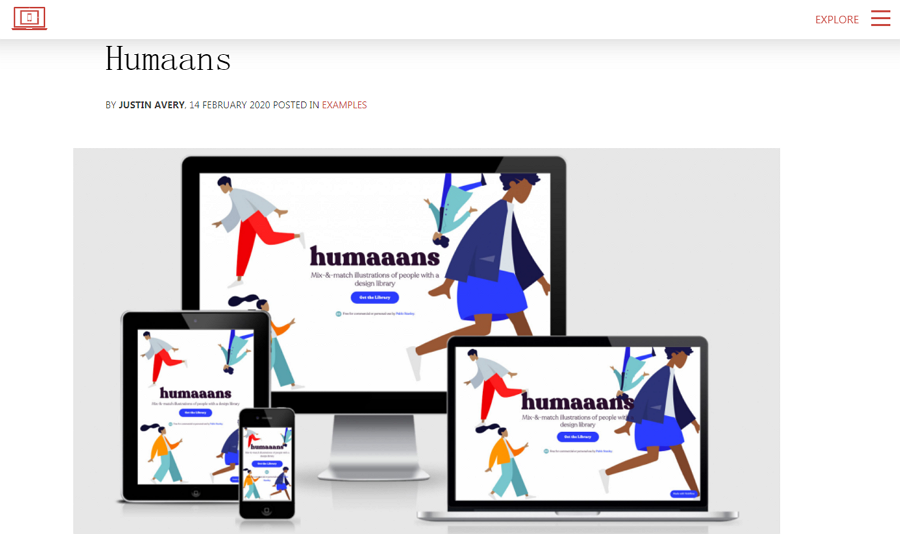 Are you looking for inspiration to design a website project that can be displayed on different screen sizes? If so, Responsive Web Design is the place to go. It shares design tips and articles and, in addition, enables you to search for different design examples. The related CSS/Javascript codes are also covered to simplify your design process.
24. CSS Nectar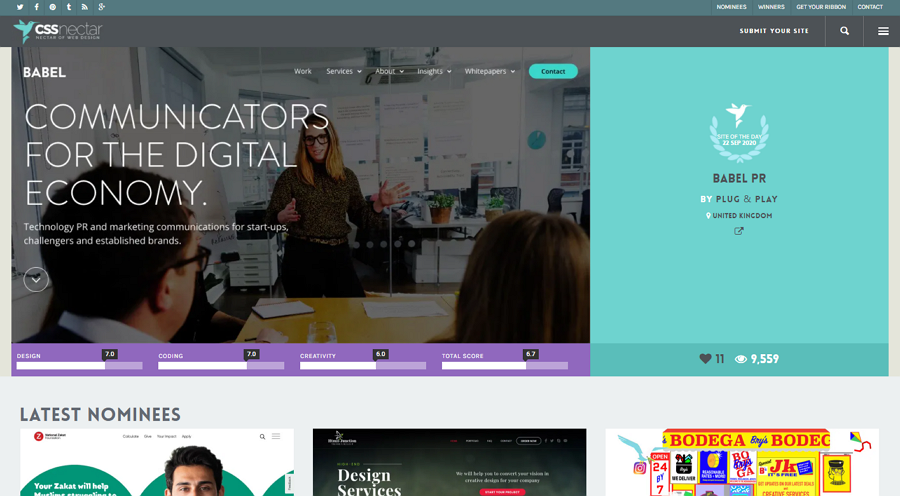 CSS Nectar is another CSS website design gallery for designers and developers looking for inspiration. It uploads new work every day and allows visitors to vote on examples in three categories—Design, Coding, and Creativity—making it easier for designers and developers to find the best websites.
25. Wix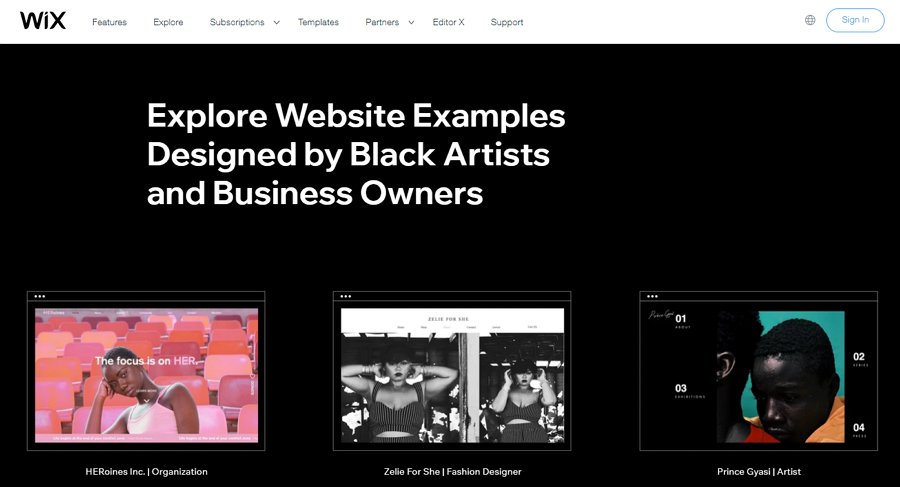 Wix is a simple inspirational website that makes it easy for you to explore the latest website design examples and templates. Nearly all aspects of website design are covered in one place.
26. Colorlib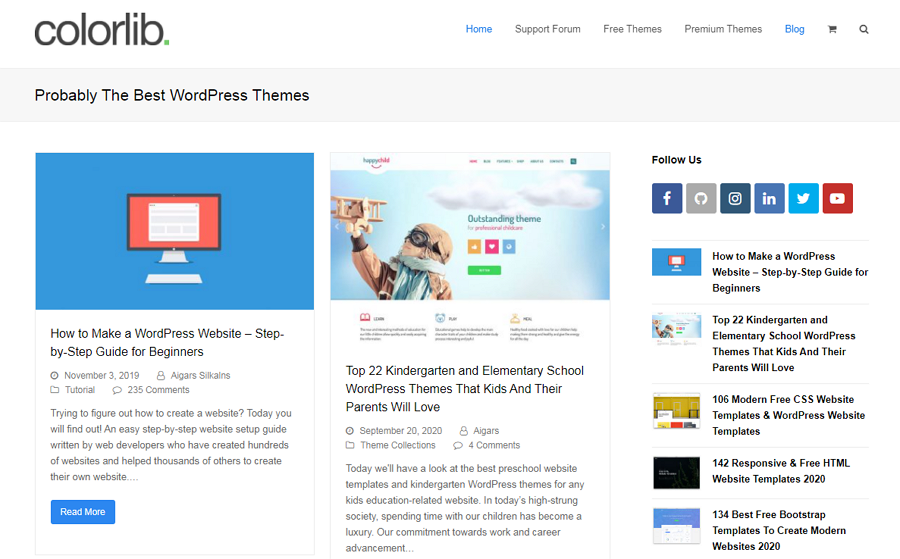 Colorlib is a professional website blog that gathers collections of free WordPress website design templates.
If you are keen to move quickly and are happy to pay for a website template, the articles that share website design collections with different themes are good resources to look at. However, even if you are not planning to buy anything, the shared templates here will still be a rich source of inspiration.
27. Template Monster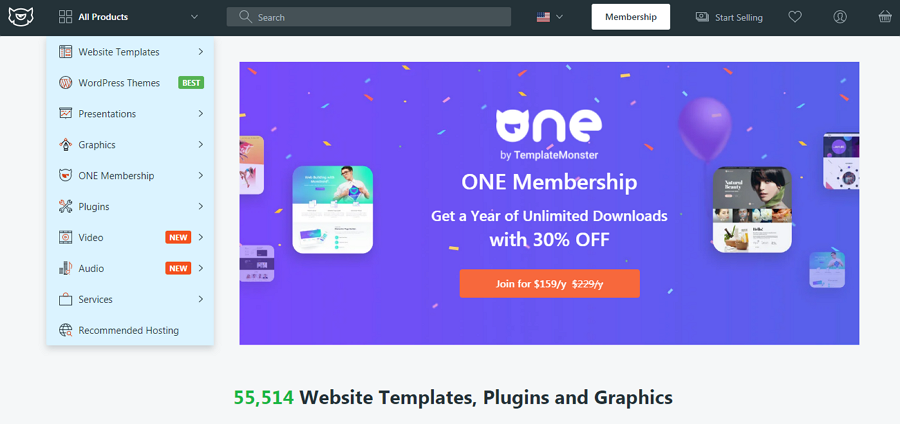 Template Monster provides a big collection of high-quality HTML and WordPress Web templates, eCommerce themes, web graphics, and online elements for users. It is a go-to place for getting great website design ideas. The advanced search function helps you to find the most suitable things quickly and easily.
28. Land Book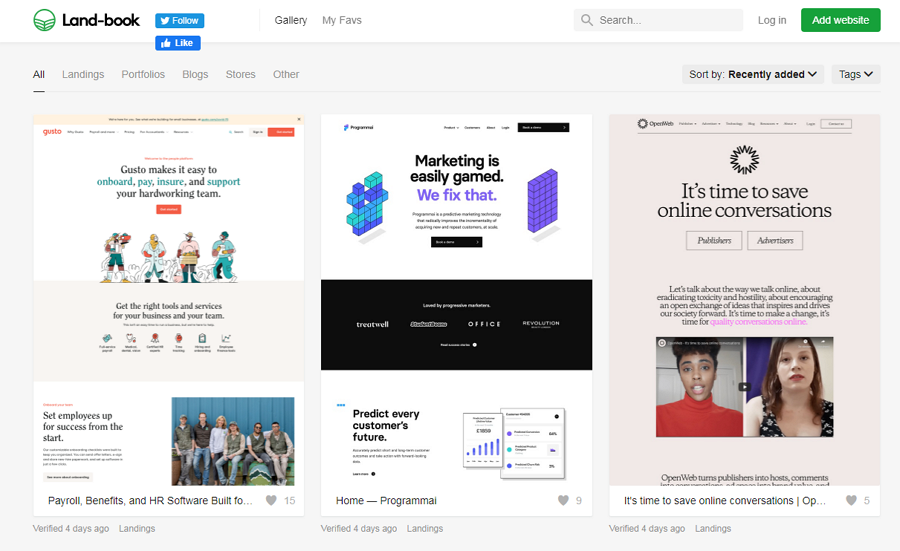 Land Book offers website creatives the finest hand-picked websites. A wide range of design themes is included, such as landing pages, portfolios, blogs, stores, and more. This is another great place for finding inspiration if you are looking to bring your own creations to life quickly.
29. Collect UI
Collect UI is a special website that gathers inspiring ideas from Dribbble every day. Many sources of UI design inspiration—like Sign Up, Checkout, Landing Page, User Profile, and so on—are showcased to help you find on-trend design ideas without the need to search through them one by one on Dribbble.
30. Pttrns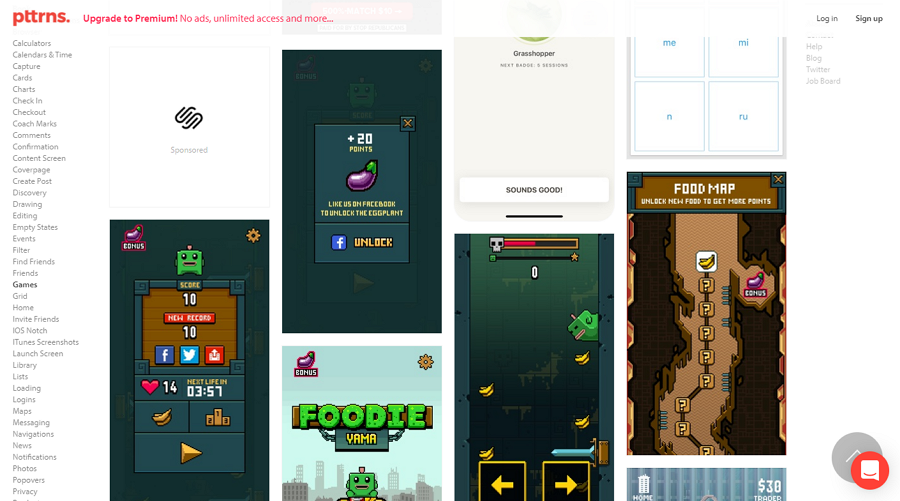 Pttrns collects design patterns, resources, and inspiring ideas for mobile apps. It may seem out of place on this list. But, since designers always need to build responsive websites, it would be wrong to overlook the potential for inspiring ideas in the mobile sphere.
So, if you are looking for mobile inspiration, this is a good option.
31. Brutalist Website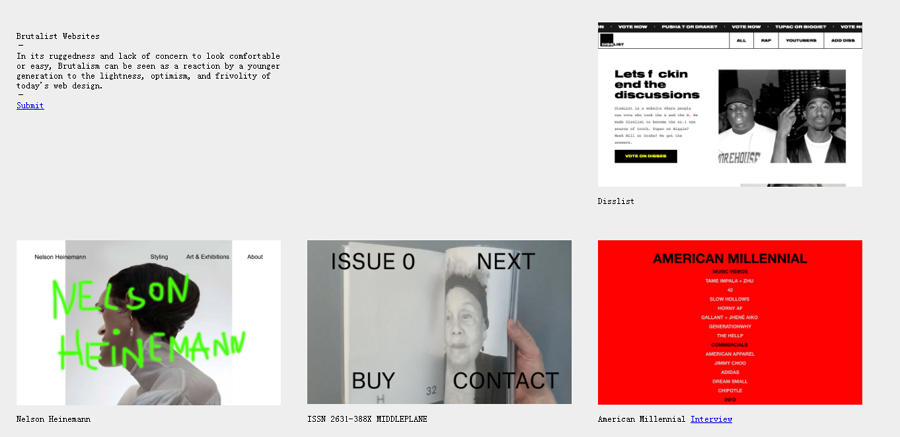 Brutalism has become one of the top trends among designers who have been deploying it to create amazing websites in the last year or so. If you are working with a brutalist style website, Brutalist Website will be a great source of ideas and inspiration for you.
32. Admire The Web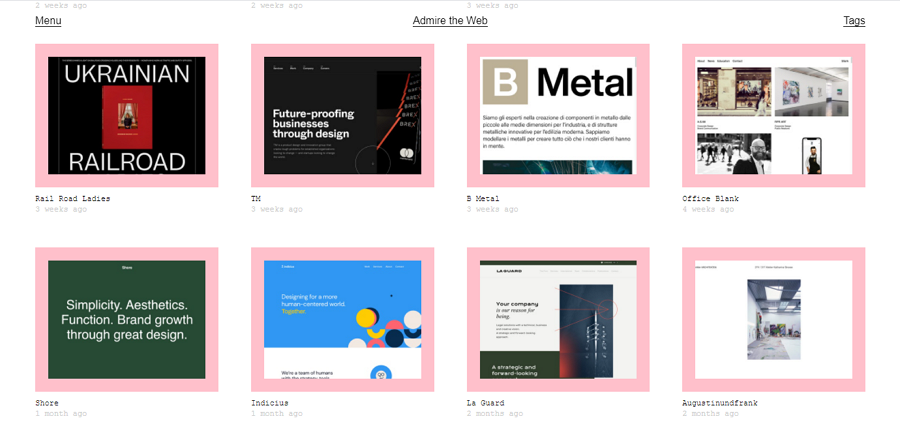 Admire The Web brings together the very best in high-quality web design and resources. Alongside the powerful tag system, the content recommendation section makes it easy to find the website ideas that are right for you.
33. Site See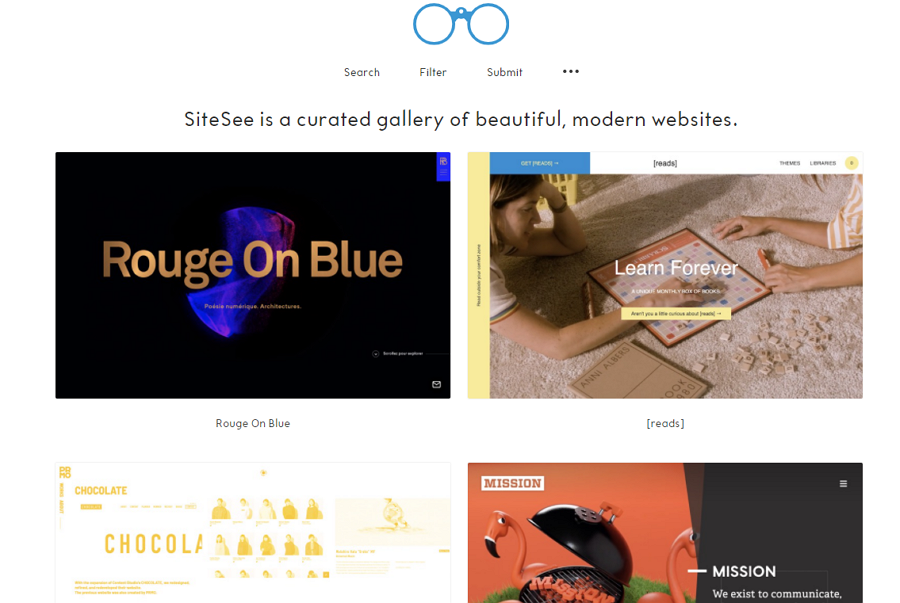 Site See is a wonderful showcase of beautiful and modern websites inspiring designers and developers to create better projects. A user-friendly search and filter system is built to help visitors find different themed website projects.
34. Ecommerce Web Design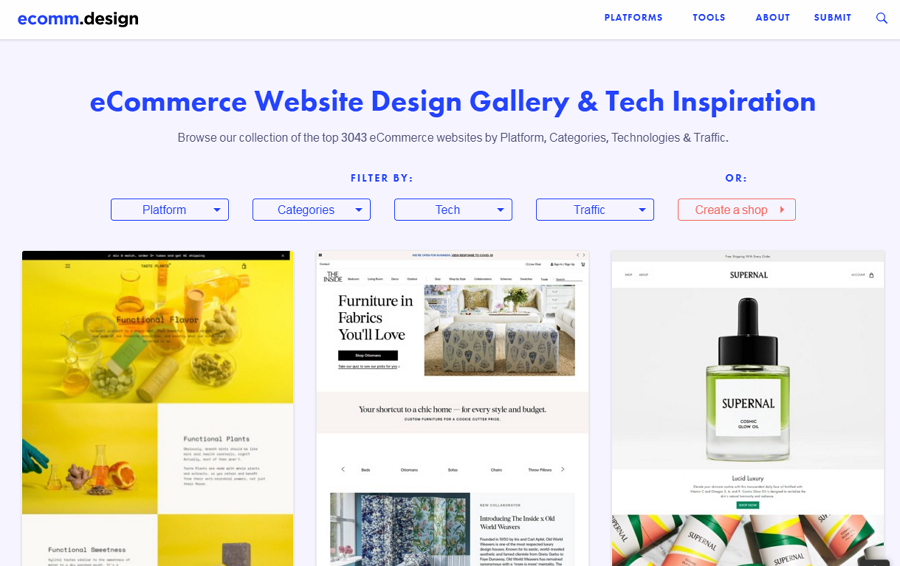 Are you experiencing the creator's block when working on eCommerce website projects? Ecommerce Web Design might help! It collects the most creative eCommerce website design solutions. You are bound to find some inspiration here.
35. Flickr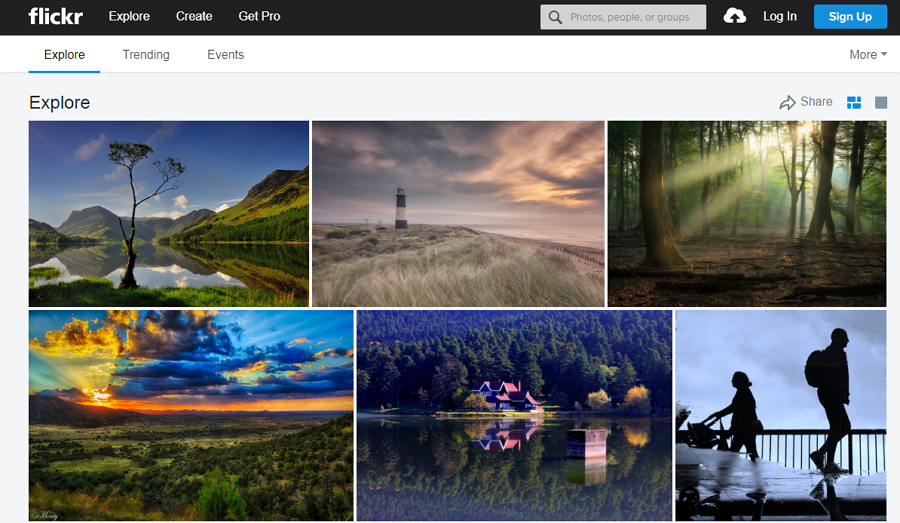 Flickr shares various high-quality images and videos that might be what you need to improve your own website design. It is a good place to search for the best web design resources.
5 best website design resources
40 Best Modern Website Design Examples &Templates
Here is a list of 40 of the best modern website design examples and templates which we are confident will give you inspiration for your own projects.
Top 30 Travel Website Templates for Free Download
Are you looking for templates to create a travel website? Here is a collection of our top 30 travel website templates in 2020. All of them are free and downloadable.
30 Best Free Education Website Templates for Designers
Educational websites are ideal for some online courses or for schools looking to promote their brand and advertise course information. This collection lists 30 of the best free educational website templates which are sure to inspire your own designs.
20 Best Simple HTML Website Templates for Free Download
This is a collection of 20 of the best free simple HTML website templates ideal for streamlining your design process.
20 Best Free Photoshop Design Website Templates [PSD Files]
Here are our 20 best free PSD website templates. These will help you create amazing resumés, personal websites, portfolios, startups, hotels, blogs, medical, education, restaurant sites, and other types of websites.
20 Best Bootstrap Website Templates for Free Download
Here's a list of the 20 best free high-quality Bootstrap website templates. They are free to download and will help you create your own high-quality websites.