The field of UI/UX designing has emerged as one of the most promising careers and is predicted to further increase in the coming years. Though, working as a UI/UX designer is exciting but quite challenging as well.
The success of a website or mobile application, depends greatly upon the right combination of UI and UX design. If users are having a hard time looking for a particular feature or performing a task then they are likely to turn to some other site, so here skills of a designer comes to play. So, here are 10 essential skills that needs to be part of skill portfolio of every UI/UX designer.
This blog covers 10 essential tips that you need to have to thrive in the field of UI/UX design.
1. Know your audience
Every design has a purpose and that is to reach the intended audience effectively. Being a UI/UX designer you need to know who your target audience is and what is important to them. Before you begin designing process, it is ideal to know who you are designing for. Identifying your audience early on in the design process helps you come up with better designs and give you a good starting point to work from.
Remember as a designer you have the power to interpret what your audience looks at when they open a site or mobile application, so to increase the efficacy of your designs, you need to use this knowledge to your advantage. This will help you design a more effective user-interface design.
2. Be a Good User
A designer needs to think like a user. So when designing a UI or UX, it is imperative to make sure you know the users. Just think, how a user will interact with a particular website or mobile application when exploring it. Knowing your users does not mean, only analyzing stats rather you need to dig deeper to find out what they are exactly looking for and how they are using your product, and what kind of feedback they share, are they finding any challenges when using your app or a specific product.
How you can address those challenges with your design while ensuring everything is easy to find and navigate. After knowing users, you will be able to make more clear and informed decisions in your design- from how people use your interface to the kind of content you need to highlight within the interface to make it more engaging for them.
3. Use of Typography
Typography is regarded as an art as it makes the words come to life in your design. How well your design is received by the people depends upon the use of typography in the mobile design. For the success of your UI design, you need to pick a typography that looks elegant but at the same time does not interferes with the readability.
Users like reading content with great typography and if they need to struggle to read a particular piece of content then being a designer you have not done your job well. So, always make sure, you are picking a typography that seamlessly navigates through the content and presents information in an easily digestible format.
Take a look at the below mentioned image: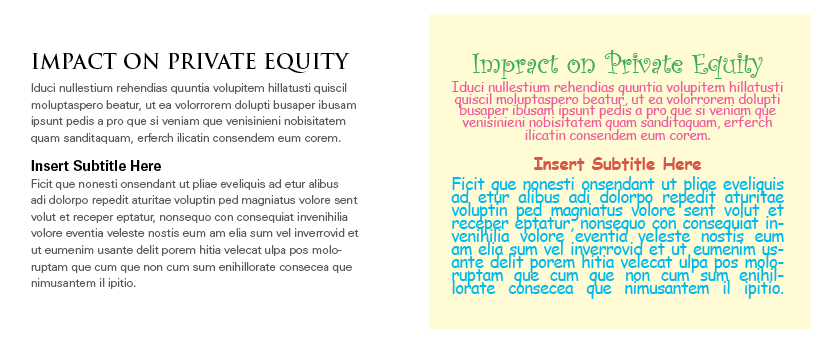 In a glance you can make out content on the left is clear, more legible, and has a consistency whereas content on the right uses so many colors and fonts that it causes distraction to the eye and also looks non-serious. Now, you know how important it is to pick an effective typography that enhances your design and conveys the message effortlessly.
4. Avoid excessive scrolling
In the recent design scene, scrolling has become a very basic feature of a website. However, how effectively you use scrolling decides whether it will engage users in a better way or drive them crazy and turn them to your competitors' site.
There are many types of scrolling such as infinite scrolling, fixed-long scrolling, and parallax scrolling etc. For best results, a designer needs to understand where scrolling will be effective and what type of scrolling should be used else it may get frustrating for users. There are some simple rules that designers need to abide by when using scrolling.
For Example- For website that offers heavy amount of content, here infinite scrolling will be best option. Infinite scrolling can help you set up a rhythm on the web page and allows users to continuously browse fresh content. Majority of popular social networking sites use infinite scrolling such as Facebook, Tumblr and more. Similarly, parallax scrolling is popular with video game sites as it give users a 3D effect when they scroll. The site of popular coffee brand Costa Coffee is one great example of parallax scrolling.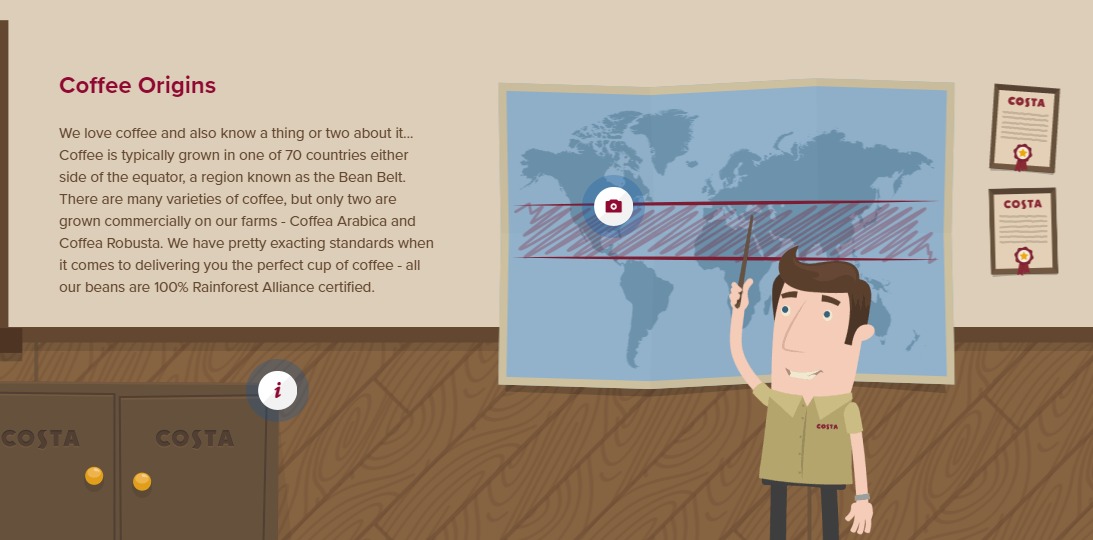 Being a designer you need to keep in mind, the type of scrolling you use on a particular website should majorly depend on the content and purpose of the site. You need to make sure, you are tailoring the experience for users as per your offerings.
5. Content Copy Matters
When it comes to design, importance of right copy for your interface cannot be overlooked. You need to make effective utilization of available space, for this make sure whatever text is added, resonates with the needs of the audience else it would be of no use. So, it is not about the quantity of the content rather quality of the content copy that matters.
To create a compelling content copy make sure it offers all important information or queries that your audience may have. Use of headings, sub-headings, highlighting and breaking into small paragraphs to help viewers scan your web pages quickly also makes your website content user-friendly.
With the growing importance of responsive design, it would be absurd to not consider responsive design practices when designing your interface. As a UI designer, it is important to know, how to effectively design responsive user interface that makes use of flexible layouts, images, and cascading style sheet media queries and more.
So, to become a successful UI designer, it is essential that you educate yourself about best practices in the responsive web design and follow the same. It will help you deliver an optimal experience to users among different devices.
7. UI Testing and Improvement
Once you are done with the designing process, it is important to test, test and test to improve its efficacy. To improve the user experience, a designer needs to do the user-interface testing. It ensures that UI functions rightly and any kind of defects are identified.
Besides, it also includes checking various design elements such as checking the screens using various controls like menu bars, tool bars, fonts, buttons, icons, content etc. Testing to know whether they are responding to user input the way they are supposed to or not and doing improvement where required.
8. Seek Inspiration
There is never a dull moment in the field of user experience, it is ever evolving. So being a UI designer, it is imperative for you to stay up-to-date about the latest design trends and innovations happening in the design field.
So,keep exploring the internet to keep yourself well-acquainted with the latest design trends and get inspired.
9. Effective management of team dynamics
In addition to design aspects, your team dynamics also has a great impact on your interface. During the design process, you will be working with various designers and it is crucial to manage the team dynamics. When discussing a particular design idea, make sure team members have justified reasons while accepting or rejecting a particular idea.
Moreover, learn to take feedback in a supporting way whether it is positive or negative as it will encourage you to come out with effective designs.
10. Keep it Simple
Lastly, all great designs always have one thing in common and that is simplicity. So, strive for simplicity and clarity in your design so that it is well received by the audience in a single glance.
Minimalist and simple designs are easy to understand and are mostly appreciated. Keeping layout, forms, and buttons simple is a good practice to achieve simplicity in the design. But do add relevant images, icons and color where necessary to make your UI visually interesting. Remember, simple and classy designs always rule the design scene and are easier for users to process.
Final Say- To be a successful UI/UX designer or to thrive in any graphic design jobs it is essential to develop said tips and be confident in your abilities and skills. It will enable you to realize your complete potential as a designer and come up with efficient designs. Happy Designing!